This website uses cookies to ensure you get the best experience while browsing it. By clicking 'Got It' you're accepting these terms.
The Best and Worst Midterm Results for the Environment
Nov. 07, 2018 07:48AM EST
Politics
With her win, Alexandria Ocasio-Cortez became one of four Democrats heading to Congress to push for a Green New Deal. Rick Loomis / Getty Images
Results from the U.S. midterm election are mostly in, and, when it comes to what they mean for the environment, they're a real mixed bag.
---
On the plus side, the Democrats took the House of Representatives, which, as BBC News pointed out, means that President Donald Trump can't pass any more major legislation without their approval. Since big legislative pushes in the Republican controlled House over the past two years included an attack on the Endangered Species Act and a Farm Bill that would have limited controls on toxic pesticides and water pollution, this can only be an improvement.
On the minus side, the Republicans increased their majority in the Senate. Since the Senate is the body that confirms all of the president's judicial and political appointments, there will still be nothing blocking Trump from appointing more judges like Brett Kavanaugh with a dubious environmental record. They will also be able to sign off on whoever Trump finally chooses as Scott Pruitt's permanent replacement at the U.S. Environmental Protection Agency (EPA). The House is more likely now to investigate corruption-prone, industry-friendly Interior Secretary Ryan Zinke, but the Senate could go right ahead and confirm a replacement equally likely to sell out public lands to fossil fuel interests.

When it comes to the environmental implications of individual races and ballot measures, the night was about equally full of gains and losses. But it's important to remember that no matter who wins, popular movements can always make a difference. So whether your favorite candidate won or lost last night, you can and should continue fighting to halt climate change and ensure a healthy, thriving environment for all life on earth.
That said, here are a few of the key takeaways from last night.
1. Big Oil's Big Spending Paid Off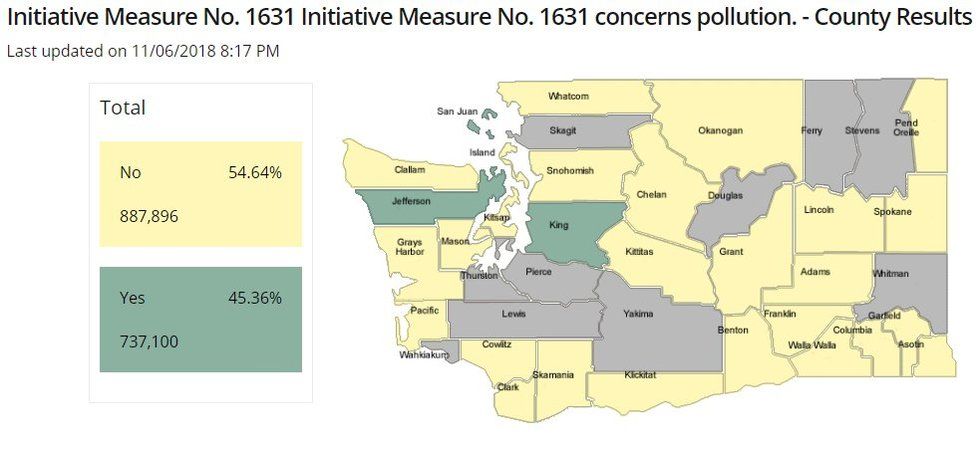 A graphic showing the results of Washington state's voting on I-1631 pbs.twimg.com
Probably the most disappointing result from a climate change perspective is the fact that Washington's Initiative 1631, which would have created the nation's first fee on carbon emissions, was defeated in the polls. Colorado's Proposition 112, which would have banned oil and gas drilling on 85 percent of the state's land, also failed. The fossil fuel industry put more than $73 million into defeating the two initiatives, the Huffington Post reported, so in this case money power was sadly stronger than people power.

In terms of the other ballot measures EcoWatch was tracking, Arizona's Proposition 127, which would have upped the state's renewable energy target to 50 percent by 2030, was also defeated, as was Alaska's Ballot Measure 1, which would have imposed new restrictions on projects that threaten salmon habitat. Florida's unusual Amendment 9, banning both offshore oil drilling and indoor vaping, was the only one to succeed.
2. Climate Change Tipping Point
Climate change was also a campaign issue in several key races, and, while it's hard to pinpoint what issue tipped a candidate over the edge to victory, there were some wins where it might have made a difference.

Before the election, Grist assembled an analysis of five hotly contested races in districts where more than two-thirds of residents were worried about climate change. Turns out, all of the Democrats in those races won or are currently leading in the polls, according to The New York Times.
Anti-pipeline and offshore drilling Democrat Tom Malinowski beat Republican incumbent Leonard Lance in New Jersey's seventh district.
Democrat Colin Allred, who wants to rejoin the Paris agreement, defeated incumbent Republican Pete Sessions, who wants to scale back the EPA. This is in Texas' 32nd district, which saw unusually deadly storms and flooding this fall.
Also in Texas, Republican incumbent John Culberson lost to Democrat Lizzie Pannill Fletcher in the seventh district that includes parts of Houston deeply impacted by Hurricane Harvey last year.
Florida's 26th district is its southernmost point, already grappling with tidal flooding due to sea level rise. Republican incumbent Carlos Curbelo was not a climate denier, and in fact founded the bipartisan Climate Solutions Caucus. But Democrat Debbie Mucarsel-Powell promised more environmental action and won.
The race between Republican incumbent Dana Rohrabacher and Democratic challenger Harley Rouda for California's 48th district, which includes parts of coastal Orange County at risk from sea level rise, is still too close to call. But Rouda, who opposed offshore oil drilling and promised clean energy, is leading.
3. Rise of the Green New Deal:
The Green New Deal: fixing climate and the economy? www.youtube.com
The brightest glimmer of hope to come out of the midterms is the fact that there are now four Democrats in the House who are calling for a Green New Deal, a massive government push to turn away from fossil fuels and build renewable energy infrastructure, The Huffington Post reported.

Alexandria Ocasio-Cortez confirmed her win after her surprise primary victory in New York's 14th district this summer, and she is joined in championing the issue by the first two Muslim women in Congress: Ilhan Omar in Minnesota's 5th District and Rashida Tlaib in Michigan's 13th. Antonio Delgado beat Republican John Faso in New York's 19th district to round out the group.
While some influential champions of the idea, like Florida Democratic gubernatorial candidate Andrew Gillum, lost their races, Penn State University climate scientist Michael Mann said it was important that the idea was gaining ground given the dire warnings of the most recent Intergovernmental Panel on Climate Change report on limiting global warming to 1.5 degrees Celsius above pre-industrial levels.
"This is the sort of bold and audacious thinking that we need when it comes to confronting the ever-pressing challenge of averting catastrophic climate change," Mann told the Huffington Post.
From Your Site Articles
Related Articles Around the Web
EcoWatch Daily Newsletter
A vegan diet can improve your health, but experts say it's important to keep track of nutrients and protein. Getty Images
By Dan Gray
Research shows that 16 weeks of a vegan diet can boost the gut microbiome, helping with weight loss and overall health.
A healthy microbiome is a diverse microbiome. A plant-based diet is the best way to achieve this.
It isn't necessary to opt for a strictly vegan diet, but it's beneficial to limit meat intake.
New research shows that following a vegan diet for about 4 months can boost your gut microbiome. In turn, that can lead to improvements in body weight and blood sugar management.
Students gathered at the National Mall in Washington DC, Sept. 20. NRDC
By Jeff Turrentine
Nearly 20 years have passed since the journalist Malcolm Gladwell popularized the term tipping point, in his best-selling book of the same name. The phrase denotes the moment that a certain idea, behavior, or practice catches on exponentially and gains widespread currency throughout a culture. Having transcended its roots in sociological theory, the tipping point is now part of our everyday vernacular. We use it in scientific contexts to describe, for instance, the climatological point of no return that we'll hit if we allow average global temperatures to rise more than 2 degrees Celsius above preindustrial levels. But we also use it to describe everything from resistance movements to the disenchantment of hockey fans when their team is on a losing streak.
samael334 / iStock / Getty Images
Berries are small, soft, round fruit of various colors — mainly blue, red, or purple.
A glacier is seen in the Kenai Mountains on Sept. 6, near Primrose, Alaska. Scientists from the U.S. Geological Survey have been studying the glaciers in the area since 1966 and their studies show that the warming climate has resulted in sustained glacial mass loss as melting outpaced the accumulation of new snow and ice. Joe Raedle / Getty Images
By Mark Mancini
On Aug. 18, Iceland held a funeral for the first glacier lost to climate change. The deceased party was Okjökull, a historic body of ice that covered 14.6 square miles (38 square kilometers) in the Icelandic Highlands at the turn of the 20th century. But its glory days are long gone. In 2014, having dwindled to less than 1/15 its former size, Okjökull lost its status as an official glacier.
Members of Chicago Democratic Socialists of America table at the Logan Square Farmers Market on Aug. 18. Alex Schwartz
By Alex Schwartz
Among the many vendors at the Logan Square Farmers Market on Aug. 18 sat three young people peddling neither organic vegetables, gourmet cheese nor handmade crafts. Instead, they offered liberation from capitalism.
Hackney primary school students went to the Town Hall on May 24 in London after school to protest about the climate emergency. Jenny Matthews / In Pictures / Getty Images
Bird watching in the U.S. may be a lot harder than it once was, since bird populations are dropping off in droves, according to a new study.