Aerial picture of the Villanueva photovoltaic (PV) power plant operated by Italian company Enel Green Power in the desert near Villanueva, a town located in the municipality of Viesca, Coahuila State, Mexico, taken on April 20, 2018. Alfredo Estrella / AFP / Getty Images
By Gero Rueter
Solar energy has become extremely cheap. In the desert of Saudi Arabia electricity from solar modules is now generated for just $0.01 (€0.009) per kilowatt hour (kWh), and in Portugal for $0.014 cents per kWh.
An increasing number of large solar parks are being built across the globe to help solve the planet's energy needs.
Just how cheap is solar electricity?
Production costs for solar energy have dropped by 90% between 2009 and 2020, according to US investment bank Lazard.
In 2020, electricity from large-scale solar plants cost a global average of just $0.037/kWh. By comparison, the costs of generating electricity from new coal-powered plants was three times that at $0.112/kWh, while natural gas cost $0.059, nuclear $0.163, and wind $0.04/kWh.
"We're going to see solar power plants all over the world. It's the cheapest energy source in the world, with a few exceptions. In some places, wind power is still a bit cheaper," said Christian Breyer, a professor of solar economy at LUT University in Finland.
With large solar farms, Breyer says, production costs can be as low as $0.01 in locations with lots of sunlight, and up to $0.04 elsewhere. He and other experts expect that new and more efficient solar panels will lower costs even more, by 5 to 10% per year.
How big are large solar farms?

The world's largest solar parks have a capacity of 2,000 - 2,200 megawatts (MW), most are located in desert regions in China, India, and the Middle East, Egypt being a prime example. There are also big plants with over 500 MW in the US, Mexico, and southern Europe.
One of the largest solar parks, known as Al Dhafra PV2, is scheduled to begin supplying the United Arab Emirates' national energy provider beginning next year. Under construction to the tune of $1 billion, the 2,000 MW plant will be comprised of four million modules installed over an area of 20 square kilometers near the capital, Abu Dhabi.
Most other solar parks around the world are smaller than the giant facilities in the desert. Germany's largest solar park, for example, located in Weesow near Berlin, has an output of just 187 MW. Its 465,000 solar modules supply the electricity needs of about 50,000 households.
But even in densely populated countries like Germany, larger plants with a capacity of several thousand megawatts are conceivable. One place where they could be built are the quarries of abandoned open-cast lignite mines.
Where is solar power worthwhile for industry?
Globally, the industrial sector requires lots of energy. In Germany for instance it consumes about half of all electricity generated. To save costs, companies are turning to photovoltaics. International mining companies for instance have started replacing diesel power with solar power in remote locations. And more and more chemical companies, aluminum plants, car factories, cement manufacturers, and data centers are getting their power from solar farms.
One example is Facebook's data center in the state of Tennessee, located in the southeastern US, which will get about 110 MW of electricity from a solar park with a capacity of 150 MW. The park is being built and operated by the German power company RWE.
Another example: starting in 2022, several Bayer Group's chemical plants will run on 100% green electricity from a 590 MW-solar power plant in southern Spain.
The energy-intensive steel industry is also reorienting itself. Low-cost solar power is in demand there, as is "green" hydrogen generated by solar and wind power, which is needed for the blast furnace process. Low-cost energy supply is a decisive factor when planning the location of new steel mills.
Solar power is even proving to be worth the investment in regions with less exposure to the sun's rays. One example is Poland's largest solar park in Witnica, which has a capacity of 65 MW. It supplies the neighboring cement plant.
"This is the best proof that solar power, without any subsidies, can be competitive with power from conventional energy sources. Even in a European country as far north as Poland," says Benedikt Ortmann from power plant operator BayWa r.e.
Where should we build solar power plants?
Experts estimate that in the near future, photovoltaic plants with a total capacity of around 60 million MW will be needed to supply the entire world with cost-effective electricity. That's 70 times more than all the existing solar capacity so far.
The area required for solar panels would then be equivalent to 0.3% of the world's land area.
"On a global average, you don't have to worry about land availability," said Christian Breyer of LTU Finland. But if the energy is to be generated as close as possible to cities and large factories, he says, it's a bit more tricky, especially in densely populated regions.
One solution would be to use roofs and facades. According to Breyer, some 20% of the world's solar power demand could be generated there.
So-called agrivoltaics, with solar roofs installed above fields, are also becoming increasingly important.
Another option: building solar panels that float on water. According to a World Bank study, the global potential of floating PV is 400,000 MW even if only one percent of the area of reservoirs is used for this purpose.
So far, the largest solar plants on inland lakes have been built in China, India, South Korea, and Taiwan. There are also smaller plants on lakes and reservoirs in many other countries, including the Netherlands, Israel and Indonesia. India is currently planning a large-scale floating plant with 1000 MW.
Meanwhile, research is underway in the Netherlands to find solutions for installing floating solar farms in the rough North Sea to povide energy for the national grid. But salt water, strong currents and winds still pose huge challenges.
Smaller floating facilities in offshore waters already exist, such as in the Maldives, where they provide electricity to vacation islands.
This article was adapted from German.
Reposted with permission from Deutsch Welle.
EcoWatch Daily Newsletter
imaginima / E+ / Getty Images
During summer, there's really nothing better than diving into a cool, refreshing pool, but once fall and winter roll around, you may be looking for something to keep water temperatures a little higher. Investing in one of the best solar pool heater systems is an energy-efficient way to keep your pool warm year-round.

As you shop, keep in mind that not all solar pool heaters are created equal. What's the best solar pool heater for your home? Consider a few of the top options available in 2021.
5 Best Solar Pool Heaters
As you seek the best solar water heater for your pool, there are a number of factors to consider, including system size, durability, heating strength and overall value. We've reviewed a number of the best solar pool heaters according to these and other criteria. Here are our picks for the best of the best:
| | | | | |
| --- | --- | --- | --- | --- |
| Best Solar Pool Heater | Our Award | Above Ground | In-Ground | Buy Now |
| SunQuest Solar Swimming Pool Heater | Best Overall | ✓ | ✓ | |
| Fafco Pool Papa Bear Economy Heating System | Best for Above-Ground Pools | ✓ | | |
| SunHeater S120U Universal Solar Pool Heater | Best Installation Process | ✓ | ✓ | |
| SmartPool S601 Pool Solar Heater | Best for In-Ground Pools | | ✓ | |
| Sun2Solar Blue Solar Cover | Best Solar Pool Cover | ✓ | ✓ | |
Each product featured here has been independently selected by the writer. If you make a purchase using the links included, we may earn commission.
How Do Solar Pool Heater Panels Work?

As you consider installing one of the best solar pool heater systems, it's important to understand that they work a bit differently than your typical home solar system. Generally speaking, when you buy solar panels for your home, they harness the sun's energy and use an inverter to convert the energy into useful electrical current, which is distributed to your home energy panel.
A solar pool heater uses panels to collect the sun's energy as well, but instead of having that current flow to a mechanism in your pool, the pool water is circulated through the solar collection area, ensuring a consistent warming effect. That water is then pumped back into the pool through a hose and a flow control valve. Your panels' sun exposure will determine how warm your pool water can get.
Types of Solar Pool Heaters
One thing to keep in mind is that, like there are multiple types of solar panels, there are multiple types of solar pool heaters. These include flat plate collectors, evacuated tube collectors and batch collectors. Here's an overview:
Flat plate collectors have copper tubes connected to flat plate absorbers. They are usually made to fit about 40 gallons of water at a time.
Evacuated tube collectors use glass or metal heating tubes, which essentially function like a thermos would.
Batch collectors heat and store water in dark tanks or tubes. Water is distributed on demand.
Generally speaking, evacuated tube collectors are the most efficient option. They are also better suited for colder climates. Flat plate collectors are a bit more prone to ambient heat loss, while batch collectors are not compatible with closed-circuit systems.
How Much Does a Solar Pool Heater Cost?
As you shop for the best solar pool heater, it's only natural to wonder about costs. The price point for solar pool heaters can vary considerably, according to a number of different factors, including size, performance, efficiency, materials and more.
When browsing the different options, you'll notice a wide spectrum: You can get a simple heat-retaining cover for as low as $200, whereas a full, professionally installed system may cost $4,000 or more.
Choosing the Best Solar Pool Heater for Your Home
When considering the best solar pool heater for your home, there are a number of factors to keep in mind.
Design and size: Do the panels have to go on the roof, or can they be assembled on a rack or on the ground? Is a cover included to help retain heat? Make sure you think about how much space the system will require as well, and look for special features like a temperature sensor, which can help you get the most out of your system.
Installation process: Can you install the system on your own, or will you need to hire a pro? Is a full installation kit included, or will you need to buy parts that are sold separately?
Budget: Naturally, the cost of solar panels is going to be a big factor when seeking the best solar pool heater for your home.
Durability and warranty: Always look for a system that is made with high-quality materials, ensuring its longevity. And make note of any warranties that are included, which can increase your peace of mind.
Elenathewise / iStock / Getty Images

Embracing solar power means reducing both your reliance on traditional utility companies and your environmental footprint, but the high upfront cost of solar panels can be a big deterrent for some homeowners.
If you're considering solar, you may have questions like: How much does it cost to install a solar energy system? What are some of the factors that can impact pricing? What else should home- and business owners know about going solar? In this article, we'll touch on each of these important topics, with the goal of helping you make a fully informed, financially responsible decision about solar energy.
Each product featured here has been independently selected by the writer. If you make a purchase using the links included, we may earn commission.

How Much Do Solar Panels Cost to Install?
To begin with, let's take a look at the basic price range for solar panel installation. According to the most recent U.S. Solar Market Insight report, in the first quarter of 2021, the national average price of a residential solar system was $2.94 per watt, which would mean a 5 kWh system would cost $14,700 and a 10 kWh system would cost $29,400.
The exact price you'll pay for solar panels will depend on a number of factors, including your geographic location, the size of your home and more.
Now, you might rightly wonder: What exactly are you paying for? The solar panels themselves usually make up just about a quarter of the total cost. Remaining expenses include labor, maintenance and additional parts and components (such as inverters).

What Factors Determine Solar Pricing?
As mentioned, there are a few key things that can lead to variation in solar system installation costs. Analyzing these can help you determine whether solar panels are worth it for your home. Let's take a look at them in greater detail.
Your Electrical Needs
The solar panels themselves will be rated for a particular wattage, which reflects the amount of energy they can absorb for storage and ultimately for power generation. You will actually pay according to wattage, which means that the greater your household energy needs, the more you'll have to spend to get the correct number of solar panels.
So, how do you determine how much energy you need for your home? The best way to figure this out is through a consultation with a solar installer. (We recommend shopping smart by requesting free consultations with two or three top solar companies in your area.)
Your installer will evaluate your home energy needs based on total square footage, the number of people who live in your home, the number of appliances and power-draining devices that you have connected and more. It can then recommend the ideal solar panel system size to accommodate your energy usage.
Type of Panels and Other Components
Variation in manufacturing can also affect the cost of solar panels. There are three basic types of solar panels, two of which are commonly used residentially: monocrystalline and polycrystalline panels. Of these two, monocrystalline options tend to be more energy-efficient and thus may provide you with greater savings in the long run. They are also a bit pricier on the front end. With that said, homeowners with a smaller roof surface area may benefit from getting the most efficient solar panels, even if the initial cost is a bit steeper.
Other components you'll need to purchase include inverters, wiring, charge controllers, mounts and more. The quality of these materials can affect your total solar system cost. For example, if you spring for the best solar batteries, they may add a few thousand dollars to your investment.
Geographic Location
Another factor that can have a big impact on solar pricing? Your geographic area. Solar installation tends to be most cost-effective in parts of the country that get a lot of sun exposure, and thus a lot of photovoltaic light. This basically means that solar panels can operate more efficiently, and in many cases means that fewer total panels are needed. Those who live in states like California, Florida and Arizona — or really any areas of the Sun Belt or Southwest — will likely get the most out of their home solar power systems.
Tax Incentives
Both state and federal governments have established incentive programs to encourage homeowners to buy solar panels. There is currently a 26% federal solar tax credit, called an Investment Tax Credit (ITC), available for homeowners who install residential solar panels between 2020 and 2022. It is scheduled to reduce to 22% in 2023 and may not be extended thereafter.
Local incentives vary by state, but most of the best solar panel installers will help you identify and apply for these programs so you don't miss out on savings.
Additional Factors
There are plenty of other factors that can impact solar panel installation costs. Different vendors are going to offer different levels of customization, expertise and consumer protections (including guarantees and warranties). The bottom line? It is wise to shop around a bit, determine the average cost of solar panels in your area and evaluate the value of services offered by a few solar installation companies.

Solar Panel Price Vs. Return on Investment
Clearly, your upfront solar panel installation cost may be a little steep. Now, let's look at the flipside: How much money will you actually save? And will your energy savings be enough to offset the initial cost of your solar energy system?
It is not unreasonable to think that you can cut your monthly utility bills by as much as 75% or more by switching to solar energy. Of course, the specific dollar amount will depend on where you live, the size of your home and the number of people in your household.
One way to look at it: The average household energy bill is somewhere between $100 and $200 monthly. It would probably take about 15 years for your energy savings to cancel out the cost of solar panel installation. In other words, within a decade and a half or so, your solar system might pay for itself. Factor in savings from tax rebates and other incentives, and most solar systems pay for themselves in closer to seven or eight years.
Note that most solar energy companies offer free solar calculators, which help you arrive at a ballpark for monthly energy savings. While these calculators are imprecise, they can certainly give you a general sense of the financial benefits you will experience when you convert to solar energy.
Free Quote: See How Much You Can Save on Solar Panels
Fill out this 30-second form to get a quote from one of the best solar energy companies in your area. You could save up to $2,500 each year on your electric bills and receive tax rebates.
Frequently Asked Questions About the Cost of Solar Panels

As you continue to weigh the pros and cons of solar energy, it's natural to have a few questions. The best way to resolve these is really to set up a solar consultation with a local expert, but in the meantime, here are a few general answers to some of the most common solar inquiries.
How much will it cost to maintain my solar energy system?
In general, solar systems are designed to run smoothly for decades without requiring any maintenance or upkeep. As such, you should not really need to factor maintenance into the equation for the first 20 years or so after you install your system. (And most solar companies will offer you warranties and guarantees to give peace of mind on this front.)
How will solar energy impact my property values?
Many homeowners want to know how going solar will impact the value of their homes. Going solar increases property values. In fact, the U.S. Department of Energy has reported buyers are willing to pay an average premium of about $15,000 for a home with a solar panel system. With that said, you are only going to see your property values go up if you own your solar system outright, as opposed to leasing it.
How can I finance the cost of solar panels?
Different solar installers may offer different financing plans, allowing consumers some flexibility. With that said, there are three basic options for paying for your solar energy system:
Purchase your solar energy system outright (that is, pay in cash).
Take out a solar loan to purchase the system, then pay it back with interest.
Lease your system; you will pay less month-to-month but won't actually own the system yourself.
Which is better, buying or leasing my solar system?
It all depends on your motivation for going solar. If you want to maximize long-term savings and increase the value of your home, then purchasing your solar system is usually best. However, if you just want a low-maintenance way to reduce monthly energy costs and practice environmental stewardship, then leasing might be a better option. Also note that leasing can be a good option for those who do not plan on being in their home for exceptionally long.
How can I be sure my roof will accommodate a solar system?
If your roof faces south, has ample space and has little to no shade cover, it should work just fine. Even roofs that are not optimal can still be utilized with a few tweaks and adjustments. Your solar energy consultant will advise you on whether your home is a good fit for solar energy.
How long will my solar energy system last?
Solar systems are designed to be exceptionally durable. With just the most basic upkeep, most solar energy systems should continue to work and produce power for anywhere from 25 to 35 years.

Make the Best Choice About Solar Energy
Solar energy is not right for every homeowner, nor for every home. With that said, many homeowners will find that the initial cost of solar panels is more than offset by the long-term, recurring energy savings. Make sure you factor in cost, energy needs, tax incentives, home value and more as you seek to make a fully informed decision about whether to embrace solar power.
A motel sign destroyed by a wildfire in Oregon in 2020. The climate crisis is one example of how a 1972 study warning of limits to growth appears correct. ROB SCHUMACHER / POOL / AFP via Getty Images
In 1972, a group of Massachusetts Institute of Technology (MIT) scientists published an alarming prediction: If industrial society continued to grow unchecked, it would exhaust Earth's resources and lead to civilizational collapse by the middle of the 21st century.
That study, called The Limits to Growth, sparked controversy and concern when it first emerged. But now, new research published in the Yale Journal of Industrial Ecology says we are currently on track to living out its warnings.
"The MIT scientists said we needed to act now to achieve a smooth transition and avoid costs," Gaya Herrington, the author of the new study, told The Guardian. "That didn't happen, so we're seeing the impact of climate change."
The original Limits to Growth paper used a model called World3 to predict how factors like global population, birth rate, mortality, industrial output, food production, health and education services, non-renewable natural resources and pollution would interact to shape the future. They used the model to show different potential scenarios for the future, some leading to collapse, or a steep decline in social, economic and environmental conditions.
"Given the unappealing prospect of collapse, I was curious to see which scenarios were aligning most closely with empirical data today," Herrington, who is also sustainability and dynamic system analysis lead at major accounting firm KPMG, said on its website. "After all, the book that featured this world model was a bestseller in the 70s, and by now we'd have several decades of empirical data which would make a comparison meaningful. But to my surprise I could not find recent attempts for this. So I decided to do it myself."
Herrington found that we are currently closest to two of the original study's potential futures: BAU2 (business-as-usual) and CT (comprehensive technology). In both of these scenarios, growth would start to decline in about ten years from now. In the BAU2 scenario, Herrington told VICE, this would lead to collapse starting around 2040. In the CT scenario, the decline would be more gradual, leading to what Herrington called "relatively soft landings" in the paper. However, even though the CT scenario does not indicate total collapse, it does still suggest that the status-quo cannot remain in place.
"Both scenarios thus indicate that continuing business as usual, that is, pursuing continuous growth, is not possible," Herrington wrote in the study.
Neither of these scenarios are locked in place, of course. However, Vice noted that the data indicates policy makers have about 10 years to meaningfully act to change course. Still, Herrington argued in favor of taking that action.
"The key finding of my study is that we still have a choice to align with a scenario that does not end in collapse," she told The Guardian. "With innovation in business, along with new developments by governments and civil society, continuing to update the model provides another perspective on the challenges and opportunities we have to create a more sustainable world."
Ultimately, avoiding decline means turning society towards "another goal than growth," Herrington concluded in the study.
From Your Site Articles
Related Articles Around the Web
Climate activists and Indigenous community members gather on the river for a traditional water ceremony during a rally and march to protest the construction of the Enbridge Line 3 pipeline in Solvay, Minnesota on June 7, 2021. KEREM YUCEL / AFP via Getty Images
By Kenny Stancil
In a development progressives called a "huge legal win in the fight against Line 3," a Minnesota court on Friday ordered police in Hubbard County to stop impeding access to the Giniw Collective's camp, where anti-pipeline activists have been organizing opposition to Enbridge's multibillion-dollar tar sands project.
The ruling comes less than a week after Tara Houska, an Indigenous rights attorney and founder of the Giniw Collective, and Winona LaDuke, an environmental justice advocate and co-founder of Honor the Earth, filed for a temporary restraining order against Hubbard County, Sheriff Cory Aukes, and the local land commissioner in northern Minnesota.
"We want to thank the court for informing Hubbard County about the rights of property owners, and hope that the sheriff's continued preoccupation with the repression of water protectors can be focused on real criminals," LaDuke said Friday in a statement.
Last month, Aukes unlawfully blockaded a 90-year-old driveway that serves as the only means of entry and exit to the Giniw Collective's camp, which is a convergence point for Indigenous-led protests against the expansion of the Line 3 pipeline. Police officers also cited and arrested individuals who attempted to use the driveway to travel to and from the camp.
According to the Center for Protest Law and Litigation, which represented the plaintiffs alongside EarthRights International and local counsel Jason Steck:
Under the pretext that the small portion of the driveway extending from the camp's private property onto Hubbard County property is now suddenly a "trail" and not designated for vehicular traffic local sheriffs have either physically blocked access, at times by forming a line of over 20 officers, several armed with clubs, or issued citations to water protectors who have driven vehicles on the driveway, even when delivering food, water, or other necessary supplies.
The sheriffs' departments in the region are being paid by funds from the Enbridge pipeline corporation for their time spent acting against the pipeline's opponents through a "Public Safety Escrow Fund." Enbridge has paid more than $1 million to "reimburse" local sheriffs' departments, effectively privatizing Minnesota's public police forces in service to efforts to repress opposition to the pipeline.
In response to the court's ruling, Houska said that "although much of the state appears to have forgotten who their duty is owed to, I'm glad to see some refusing to bend to Enbridge and instead choosing to uphold constitutional rights and basic tenets of law."
"Just because the Hubbard County sheriff and Hubbard County attorney are opposed to Native people protecting our homelands should not mean they can engage in violent, unlawful repression without consequence," Houska added. "Giniw Collective is glad to have rightful access to our home back."
By granting the plaintiffs' motion for a temporary restraining order (pdf), the court prohibited the county's law enforcement officials from "barricading, obstructing, or otherwise interfering with access to" the camp, and from arresting, threatening to arrest, or issuing citations to passersby, unless requested by the property owner or authorized users.
This is a HUGE legal win in the fight against Line 3!! The court put a *restraining order* on the police from block… https://t.co/ewrzuGwKvf

— Jamie Henn (@Jamie Henn)1627053740.0
Line 3 opponents celebrated the court's ruling and vowed to seek a permanent injunction to protect the constitutional rights of land defenders and water protectors.

"The Hubbard County sheriff has been served notice that his illegal campaign of militarized harassment and obstruction against our clients must end now," said Mara Verheyden-Hilliard, director of the Center for Protest Law and Litigation, a project of the Partnership for Civil Justice Fund. "Any ongoing effort by him to blockade the camp, turn it into an open-air prison, or criminalize people for coming to and from the property will subject him to a contempt action."
"This has been an outrageous abuse of law enforcement authority serving the interests of the Enbridge corporation against its environmental opponents," Verheyden-Hilliard added. "We will be moving for a permanent injunction to protect land defenders and water protectors from these abuses."
Marco Simons, general counsel for EarthRights, echoed Verheyden-Hilliard's message.
"This ruling is a decisive victory for our clients, Indigenous water protectors exercising their constitutional rights to oppose the expansion of the Line 3 pipeline," said Simons. "The sheriff admitted that this unprecedented interference with access to private property was intended to target water protectors protesting the Line 3 pipeline, and it follows a global pattern of harassing environmental protectors. This order is an important step toward listening to these communities and respecting their property rights."
As Common Dreams has reported, climate justice and Indigenous rights advocates are opposed to the expansion of the Line 3 pipeline because it would send 760,000 barrels of tar sands oil every day from Alberta to Wisconsin — crossing North Dakota and Minnesota, traversing more than 800 wetland habitats, violating the treaty rights of Anishinaabe peoples, and putting current and future generations at risk of polluted water and a degraded environment.
Not only does the spill-prone pipeline threaten local ecosystems and communities, it would also exacerbate the carbon pollution driving planetary heating, which is why scientists and activists have described it as a "climate time bomb."
Water defender Winona LaDuke says the Biden administration "is throwing Indigenous people under the bus" by allowin… https://t.co/mFOwmGhmyK

— Democracy Now! (@Democracy Now!)1627051920.0
Earlier this month, more than 200 activists, celebrities, Democratic donors, and environmentalists sent a letter demanding that President Joe Biden stop Enbridge's pipeline project — like he did with the Keystone XL pipeline on his first day in office — and to "firmly establish the principle that we will move forward toward real climate solutions."

That letter came after the Biden administration infuriated opponents of Line 3 last month by filing a legal brief in support of the U.S. Army Corps of Engineers' approval of the project under former President Donald Trump.
The Biden administration's legal brief came less than three weeks after the U.S. Department of Homeland Security repressed a mass mobilization of water protectors by using low-flying helicopters to kick up sand and debris.
Biden's refusal so far to stop Line 3 has not deterred the pipeline's critics from continuing to fight against it in court and on the ground with peaceful acts of civil disobedience that have, at times, halted construction.
Reposted with permission from Common Dreams.
Svetlana Gomboeva of Team ROC is treated for heat exhaustion during the Tokyo 2020 Olympic Games at Yumenoshima Park Archery Field on July 23, 2021 in Tokyo, Japan. Justin Setterfield / Getty Images
The 2020 Summer Olympics kicked off in Tokyo on Friday and there are already signs the toughest part of the competition may just be the extreme heat and humidity in what is expected to be the hottest Olympics on record.
Temperatures in Tokyo this time of year are usually in the high 80's, but a heat wave is pushing temperatures into the 90s. The heat index on Saturday made it feel like 100°F and humidity levels were above 80% on Sunday. Temperatures in July and August are 5.15°F/2.7°C warmer than they were last time Tokyo hosted the games in 1964, and on average, there are eight more days of 95-plus-degree weather.
Athletes are feeling the heat already: ahead of the Opening Ceremony on Friday, Russian Archer Svetlana Gomboeva collapsed during a qualifying event due to the heat. The Tennis tournament, which began Saturday, was also affected by the heat, as Russian player Anastasia Pavlyuchenkova required a medical timeout after feeling dizzy due to the heat. Then, several athletes participating in the triathlon, which finished Monday morning, had to be helped off the track due to overheating.
Extreme heat is now the deadliest weather event, and it is only getting worse as the planet continues warming. Despite this, currently, the International Olympic Committee doesn't take climate change into consideration when selecting host cities. Japan's proposal to host the 2020 games, for example, claimed "this period provides an ideal climate for athletes to perform their best" because of its "many days of mild and sunny weather."
For a deeper dive:
Overview: The Wall Street Journal, Popular Science; Weather: NBC News, Axios, The Washington Post; Gomboeva: Yahoo, Reuters, AP; Tennis: Reuters, AP, Insider; Health: Vox; Commentary: Dan Wetzel, Yahoo
For more climate change and clean energy news, you can follow Climate Nexus on Twitter and Facebook, sign up for daily Hot News, and visit their news site, Nexus Media News.
From Your Site Articles
Related Articles Around the Web
In the diminishing refrains of a bird's call, signs of our world disappearing around us.
Insights + Opinion
A bobolink in Golden Gate National Recreation Area, San Francisco, CA. Jason Crotty / CC BY 2.0

What happens to us as the wild world unravels? Vanishing, an occasional essay series, explores some of the human stakes of the wildlife extinction crisis.
Our small family knew bobolinks from a bird refuge four hours away. Each spring my partner and I made the trip to Oregon's Malheur National Wildlife Refuge with our daughter in hopes of seeing the 90-plus species of migratory birds we typically spotted over the course of a binoculared weekend. As we headed West we anticipated the winnowing, sky-dance displays of Wilson's snipe, the oranges of Bullock's oriole flashing high in the cottonwoods, and the bright spots of sunshine that dart through riparian thickets — the yellow warbler.
But the bobolink was like a sentinel, the first to greet us each year.
When we found the bobolink's tuxedoed back and rambling song rising from the fields alongside the dirt road leading to our campground, we knew we'd arrived just where we should be — and right on time. This moment marked not merely the end of our drive but also the bobolink's astounding feat of flying over 12,000 miles since we'd last heard his call. Bobolinks, who tend to be seen singly, attested to the braiding of wings and land and sea, to the astonishing rhythm of spring's abundances, and to the persistent migrations of birds, songs and birders.
One year, just after a bobolink greeted us, we pitched camp at dusk beneath the cliff where hundreds of nesting cliff swallows performed their evening skyward wheelings. As our 5-year-old daughter worked, her little arms pounding tent stakes, she began to sing for the bobolink. Inspired by the bird's flitting from grassy perch to golden ground, by his piccolo song, we three found ourselves crafting a round.
Listen here.
You know rounds, those woven songs — three layered voices, each joining a line or two after the last until a trio of distinct melodies harmonizes in circling chords. The round ends in a perfect reversal of its beginning, the first voice departing the plaited strain, then the next, until final notes resolve into silence. Early in life, our daughter learned to hold her part as we sang rounds in the car, on the trail, paddling the canoe. We sang popular ones like "Dona Nobis Pachem," the elegiac notes of that repeated phrase evocative of a wood thrush fluting in pine forest: Give us peace, give us peace, give us peace. Other times, we made up the songs.
That night at the refuge, tent secured, we practiced new harmonies as the sun set in bronze browns over the distant squawks and trumpeting of sandhill cranes. Our completed round rang staccato notes rising and falling, like the bird's twinkling call (Allegro!):
Bobolink-link-link-link-link-link-link,
Bobolink-link-link-link-link-link-link,
You will miss Bobolink if you blink.
Bobolink, you make me think!
Bobolink made us think because we worked hard to find the bird as we drove into camp. Each breeding male requires a broad territory of tall-grass meadow, so we scanned a wide swath for yellow-backed head, black chest, black-and-white back. We surveyed fence posts and the heads of tall grasses. We rolled down the windows, batting back mosquitoes, hoping bobolink's chattering call might draw our ears and then our eyes. We had to pay attention.
In the years that followed, our bobolink round became a ritual we performed while setting up camp, celebrating his sentinel welcome and garrulous song. But then one year our song went unsung, our round vanishing with the bird.
We didn't see bobolinks that spring. Or the next. Maybe our timing was off, we thought. Most likely bobolinks were absent from those fields because they were suffering, their status "declining." During my lifetime alone, the global population of bobolinks has fallen by more than 65% — this according to the Cornell Lab of Ornithology, which includes bobolinks in a list of species "most at risk of extinction without significant conservation actions." So we sat in silence at the campground, our daughter wondering how a song no longer suited its own habitat.
Sure, we could sing other rounds, like the one made up of the words for numbers, each numeral corresponding to a note of the scale, complex in its dissonance but perfect for distracting little legs tired from hiking on mountain trails. Or growing girls mourning missing birds in quiet fields. There's also the funny round her dad made up, something about magpies sitting on fenceposts until they eat animal roadkill. ("Yuck, Dada," our daughter says before she joins in, too.) Yes, our daughter knows about nature red in tooth and claw, or beak and talon. She knows, too, about species death — that passenger pigeons, for example, were driven extinct across generations, disappearing entirely in the course of someone's childhood-still-in-progress.
In recent years the bobolinks have returned to the refuge fields. A wildlife biologist reports that their numbers are actually increasing there, but both she and I know better than to give up our concern, because the birds' presence at this one protected location belies their globally diminishing numbers. Without the deliberate preservation of more prairies, fields and meadows, without changes to the frequency of agricultural mowing across wide swaths of land, bobolinks may die off entirely.
Our daughter, now a teen prone to raising her eyebrows when we start singing rounds and to issuing occasional dramatic outbursts, says, "Nature is dying!" But her sentiment isn't just teenage angst. How can I express to her my grief over the very real possibility that her melodies will soon have no referents in the landscapes that inspired them? Will she become so accustomed to forms of life falling away that she thinks living means witnessing countless losses due only to human disregard? If so, how can she possibly feel safe loving her world? How can she feel safe loving anything?
For now, she knows two types of bobolink song. I hear them too sometimes, wafting from the occasional bird in the fields or from the reluctant lips of our teenager, who's thriving and becoming more complex. Unlike her earth.
I find myself mixing notes and phrases in my head, straining to make verses that fit her world, old refrains merging with new into a song more requiem than round:
Give her peace, give birds peace, make us think.
We will miss bobolink if we blink.
Explore the rest of the Vanishing series and discuss these and other #VanishingSpecies on Twitter.
Rochelle L. Johnson is a writer, professor of environmental humanities and president of the Thoreau Society.
Reposted with permission from The Revelator.
Related Articles Around the Web
The restriction will come into effect at the beginning of August, the Italian government has confirmed. Campaigners say the liners cause damage to Venice's ecosystem.
Popular
MSC Magnifica is seen from one of the canals leading into the Venice Lagoon on June 9, 2019 in Venice. Miguel MEDINA / AFP / Getty Images
Large cruise ships will be banned from entering the Venice lagoon as of August 1, the Italian government announced Tuesday.
It follows years of warnings they risk causing irreparable damage to Venice's ecosystem.
"The decree adopted today represents an important step for the protection of the Venetian lagoon system," Italian Prime Minister Mario Draghi said in a statement.
The move affects vessels longer than 180 meters (530 feet) or higher than 35 meters.
Venice and UNESCO Concerns
The decision comes just days before UNESCO convenes over proposals to add Venice to its list of endangered heritage sites.
Venice was put on the prestigious list in 1987 after describing the city as an "extraordinary architectural masterpiece."
But the UN body said last month the city needed a "more sustainable tourism management."
Venice's Fragile Ecosystem
Capital of northern Italy's Veneto region, Venice is built on more than 100 small islands in a lagoon in the Adriatic Sea.
Environmental activists say giant ships generate large waves that wreck Venice's foundations and cause severe damage to the lagoon's ecosystem.
The city is without roads and its canals are lined with Renaissance and Gothic palaces.
Reposted with permission from Deutsch Welle.
From Your Site Articles
Related Articles Around the Web
Two-time WSL Champion John John Florence of Hawaii on Dec. 20, 2020 in Oahu, Hawaii. Tony Heff / World Surf League via Getty Images
By Sally Warner

For the first time, surfing is on the Olympic stage.
The surfing event will last for three days and has to run within the dates from July 25 to August 1. The reason for this window? Not all waves are created equal, and organizers and surfers will wait for the best day full of the best waves to hold the competition.
As a recreational surfer and physical oceanographer, I spend a lot of time thinking about waves. But for many people, this year's Olympics will be their first time watching the sport. They might be wondering:
What generates the waves that surfers will ride at the Olympics? Where do the waves come from? And why will the new Olympians be surfing at Tsurigasaki Beach?
Wind Creates Waves
Think for a few seconds about what happens when you throw a stone into a serene pond. It creates a ring of waves – depressions and elevations of the water's surface – that spread out from the center.
Waves in the ocean act similarly by propagating outward from where they are generated. The key difference is that the vast majority of ocean waves are formed by wind. As the wind blows over the surface of the water, some of the energy of the wind is transferred into the water, creating waves. The biggest and most powerful wind-generated waves are produced by strong storms that blow for a sustained period of time over a large area of the ocean.
The waves within a storm are usually messy and chaotic, but as they move away from the storm they grow more organized as faster waves outrun slower waves. This organization of the waves creates "swell," or regularly spaced lines of waves.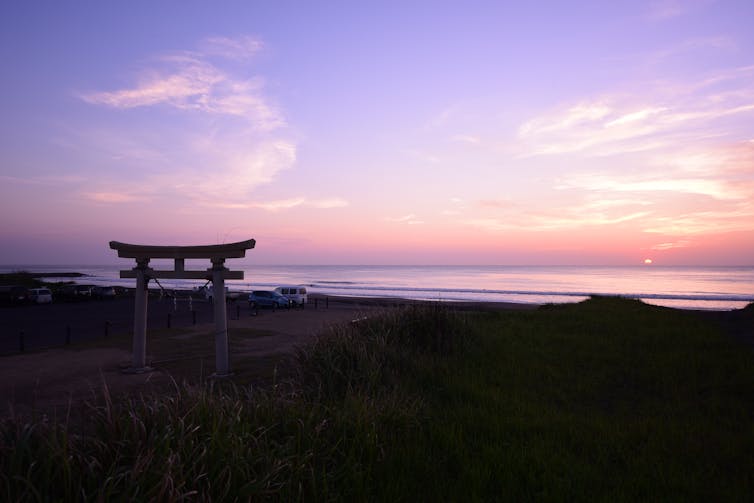 Seafloors Break Waves
As waves travel across the ocean, they don't actually bring water with them – a wave from a storm 1,000 miles away isn't made of water from 1,000 miles away. Waves are actually just energy moving from water molecule to water molecule. This energy doesn't just move through the top layer of the ocean, either. Ocean waves extend far below the surface, sometimes as deep as 500 feet. When waves move into shallower water close to shore, they start to "feel" the seafloor as it pulls and drags on them, slowing them down. As seafloor gets shallower, it pushes upwards against the bottoms of waves, but the energy has to go somewhere, so the waves grow taller.
As the waves move toward shore, the water gets ever more shallow and the waves keep growing until, eventually, they become unstable and the wave "breaks" as the crest spills over toward shore.
It is only here, after a wave has traveled perhaps thousands of miles, that the surfing starts. To catch a wave, a surfer paddles toward shore until their speed matches that of the wave. As soon as the wave starts to break, the surfer stands up quickly and maneuvers the surf board with their feet and weight to ride the wave just ahead of the crashing lip.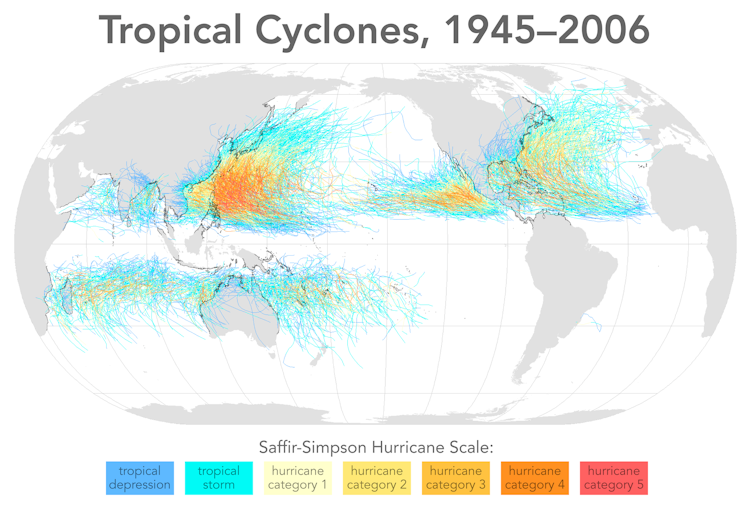 Waves at the Olympics
The waves that surfers ride at Tsurigasaki Beach for the Olympics will be generated from one of two different types of wind: trade winds and typhoons.
Trade winds consistently blow around 11 to 15 mph (18 to 24 kph) in a band that stretches across the Pacific Ocean from approximately Mexico to the Philippines. These winds generate small "trade swells" that propagate northward toward the east coast of Japan and are usually a few feet tall when they arrive.
But if the surfers and spectators are lucky, a typhoon with wind speeds greater than 74 mph (119 kph) will be supplying powerful waves for the event. Typhoons are what hurricanes are called in much of Asia and are common near Japan and China during summer and fall. Winds in a typhoon are much stronger than the trade winds. Therefore, they generate much bigger waves. Olympic surfers obviously do not want a typhoon to hit Japan. What they want is for a typhoon to form about 500 to 1,500 miles (800 to 2,400 km) to the southeast of Japan and generate big waves that will hit the coast of Japan after traveling across the ocean for one to three days.
Based on the current weather and surf forecasts, it looks like just such a situation will happen. As of July 22, 2021, weather models are predicting that a tropical cyclone or typhoon will almost certainly develop to the southeast of Japan over the next few days, and the winds from this storm will send a powerful swell to the Olympics. Currently, models are predicting that the waves could be 7 feet (2.1 m) at Tsurigasaki Beach, just in time for the surfing event to start.
Once the swell from the trade winds or a far-off typhoon reaches Tsurigasaki Beach, it is the seafloor that will determine where the waves break. Tsurigasaki Beach is a "beach break," which means that the seafloor is sand, rather than rocks or coral reef. There are a series of human-made rock walls, called groins, sticking out perpendicularly from the beach. These have been engineered to prevent sand from moving along the beach and are meant to slow erosion. These groins create shallow sandbars a few hundred yards from shore that incoming waves will break on. This is where the athletes will surf.
When you tune in to watch the surfing competition at the Olympics, marvel at the amazing skills of elite surfers, but remember too the far-off storms and the underwater sandbars that come together to create the beautiful waves.
Portions of this article originally appeared in an article published on Dec. 3, 2020.

Sally Warner is an assistant professor of climate science at Brandeis University.
Disclosure statement: Sally Warner does not work for, consult, own shares in or receive funding from any company or organization that would benefit from this article, and has disclosed no relevant affiliations beyond their academic appointment.
Reposted with permission from The Conversation.
adamkaz / Getty Images
A good RV camper offers the serenity of nature along with the basic comforts and conveniences of the modern world. To make your travels more eco-friendly, it's smart to invest in one of the best solar panels for RV use.
Gas generators are fairly common in the RV world, yet they tend to be quite noisy and can disrupt your outdoor idyll. A better option may be to embrace the clean, renewable energy of the sun, investing in solar panels to keep everything in your RV humming along.
In this article, we'll break down the five best solar panels for RVs and what to look for when buying a solar power system for your RV.

5 Best Solar Panels for RV Use
To help you make an informed purchasing decision, we've evaluated many of the best solar panels for RV camping, rating them according to durability, performance, efficiency, cost and other factors. We've determined that these are the five best options when it comes to solar panels for an RV roof:
| | | |
| --- | --- | --- |
| Best Solar Panels for RV Use | Our Award | Buy Now |
| Renogy 400W 12-Volt Monocrystalline Solar RV Kit | Best Overall | |
| WindyNation 100W Solar Panel Off-Grid RV Kit | Best Basic Kit | |
| Renogy 100W 12-Volt Flexible Monocrystalline Solar Panel | Best Flexible Panel | |
| Goal Zero Nomad 100-Watt Monocrystalline Portable Solar Panel | Best Portable Panel | |
| Renogy 100W 12-Volt Monocrystalline Solar Starter Kit | Best Kit Under $200 | |
Each product featured here has been independently selected by the writer. If you make a purchase using the links included, we may earn commission.
Here is a quick overview of each product.
How Do RV Solar Panels Work?

As you shop for the best solar panels for your RV, it may be helpful to know how solar panels actually work.
Generally speaking, a solar power system for an RV works like a residential solar system. The panels draw energy from the sun and an inverter turns it into an electrical current, which is then distributed throughout your RV's electrical system. A battery may be used to store any excess power that's generated by the solar cells so that you can still power your system on low-light days or at night.

Types of RV Solar Panels
There are three basic types of solar panels for RVs: monocrystalline, polycrystalline and thin-film solar panels.
Monocrystalline and polycrystalline solar panels are both made from silicon. The difference is that monocrystalline panels are made with a single, unbroken silicon crystal, while polycrystalline panels are pieced together from silicon fragments. As such, monocrystalline panels tend to be a bit more efficient, but also quite a bit more expensive.
Thin-film panels can be made from a number of different materials. They're the least expensive option, and also the least efficient. One big plus is that they tend to be more lightweight, flexible and portable, which makes thin-film solar panels well-suited for RV use.
Types of Batteries for RV Solar Systems
Battery banks are an important component of an RV solar power system. Most RVs will only need a 12V battery, but some owners may opt for higher voltage depending on what needs to be powered.
You'll also need to choose between lead-acid batteries and lithium-ion batteries. While lead-acid batteries are a common choice, they typically need to be replaced and maintained more frequently than lithium-ion ones. If you camp most of the year, springing for the more efficient, longer-lasting lithium-ion batteries is probably a good idea.
How Much Do RV Solar Panels Cost?
The cost of an RV solar system can vary according to a number of different factors: Size, type of panels, number of panels and more. If you want the best RV solar panels, it may not be cheap. Although you can get a single, high-quality panel for under $200, a full, professionally installed system may total more than $2,000.
Keep in mind that the price point can also fluctuate depending on accessories you acquire, like extra panels, batteries, mounting equipment and more.

Choosing the Best Solar Panels for Your RV
Ultimately, there are a number of factors to consider when choosing the best solar panels for your RV. Primary considerations include:
System size: You'll need to think about the number of appliances and accessories that need to be powered, as well as the size of your RV and the total surface area that's available for solar paneling. Also, consider the number of nights you'll be staying at a designated campground with a power hookup versus off-grid boondocking.
Installation process: Ease of installation is another important point: Will you be able to install your panels yourself, or will you require a professional? And will you need to buy additional parts or accessories before your solar panels can be used? Look out for features like pre-drilled holes that fit specific mounting brackets.
Budget: The cost of solar panels is always a driver when seeking the best system for your setup. You may need to spend a little more if you plan on using your panels as the primary power source for a full-size RV, as a low-watt solar kit will likely not put out enough energy.
Durability and warranty: Always seek high-quality materials and robust warranties when you buy solar panels, as these can provide you with some peace of mind about the longevity of your solar panels. A corrosion-resistant aluminum frame and a highly rated junction box are sure to hold up long-term, for example.
Final Thoughts: Is an RV Solar Power System Right for You?

After learning more about mobile solar systems, it's time to decide: Are solar panels worth it for your RV camper?
Solar can be a great option if you consistently camp at sites that have electric hook-ups and you wish to reduce your environmental footprint. They can be an even wiser investment if you frequently camp where you don't have access to the power grid. Make sure you do your due diligence, finding the best solar panels for your RV, your budget and your camping lifestyle.
Greenpeace Australia called Friday's World Heritage Committee vote "a victory for one of the most cynical lobbying efforts in recent history."
Oceans
A green sea turtle is flourishing among the corals at lady Elliot island. Jonas Gratzer / LightRocket / Getty Images
By Jake Johnson
An intense lobbying campaign by the pro-fossil fuel Australian government succeeded Friday in keeping the Great Barrier Reef off a list of World Heritage Sites considered "in danger," despite experts' warnings that the biodiverse ecosystem is increasingly imperiled by the global climate emergency.
The 21-nation World Heritage Committee — organized by the United Nations Educational, Scientific, and Cultural Organization (UNESCO) — voted down a push to categorize the Great Barrier Reef as endangered, an effort that the right-wing Australian government fervently opposed with the backing of Saudi Arabia and other oil-friendly countries.
Instead of designating the Reef as "in danger," the World Heritage Committee on Friday instructed the government of Australia to produce a progress report on the structure's condition by February 2022.
David Ritter, CEO of Greenpeace Australia, said in a statement that Friday's vote "is a victory for one of the most cynical lobbying efforts in recent history."
"Under the UNESCO treaty, the Australian government promised the world it would do its utmost to protect the Reef — instead it has done its utmost to hide the truth," said Ritter. "This is not an achievement — it is a day of shame for the Australian government."
Lesley Hughes, a spokesperson for Climate Council, an Australia-based advocacy organization, slammed the government lobbying blitz and said lawmakers "must stop censoring science."
"The science is clear: climate change is accelerating and is the single, greatest threat to the Great Barrier Reef. In the past five years it has been repeatedly and severely damaged by three marine heatwaves," said Hughes, a professor of biology at Macquarie University in Sydney. "Until we see credible climate action, and the phasing out of fossil fuels like coal, oil, and gas, this situation will worsen, not improve. The Great Barrier Reef is in danger, and trying to hide the facts won't change a thing."
Relentless lobbying by the Fed Gov has once again seen UNESCO back away from placing the #GreatBarrierReef on its "… https://t.co/COPmAAlR0A

— Climate Council (@Climate Council)1627040227.0
Home to hundreds of types of coral and more than 1,000 species of fish, the Great Barrier Reef has been badly damaged in recent years by mass coral bleaching fueled by warming ocean temperatures — which is why scientists have been pushing Australia and the international community to formally recognize the system as endangered.

The World Heritage Committee's vote Friday came a month after UNESCO issued a report warning that the Great Barrier Reef's condition has "further deteriorated from poor to very poor" due to human-caused climate change. The U.N. body advised that the reef be listed among the world's "in danger" sites — a call endorsed by scientists around the world.
UNESCO's recommendation sparked furious backlash from the Australian government, which launched an aggressive lobbying push to prevent the listing.
As The Guardian reported, "More than a dozen ambassadors flew from Canberra to Cairns, Queensland, for a snorkeling trip on the reef," and "Australia's environment minister, Sussan Ley, was dispatched to Europe on an RAAF diplomatic jet to visit Budapest, Madrid, Sarajevo, Paris, Oman, and the Maldives."
"Australia — a major producer and exporter of coal and gas — initially won support from oil-rich Saudi Arabia and Bahrain, both members of the committee, to delay any decision on the danger listing until at least 2023," the outlet noted. "But after an interjection from Norway, the committee decided instead the reef's health would be considered again at next year's meeting."
Sarah Hanson-Young, an Australian senator with the Greens Party, warned following Friday's vote that "the decision to delay the 'in danger' listing for the Great Barrier Reef is ridiculous and will cost Australia in the long run."
"Everyone knows the climate crisis is threatening the Reef," she added. "Delay is denial, and a sop to fossil fuels."
Reposted with permission from Common Dreams.
From Your Site Articles
Related Articles Around the Web
A group of inmate firefighter watch as the El Dorado Fire burns a hillside near homes in Mountain Home Village, California, inside the San Bernardino National Forest, Sept. 9, 2020. Kyle Grillot for The Washington Post / Getty Images
A California couple's gender reveal party went wrong when they set off a pyrotechnic device that ignited the 2020 lethal El Dorado fire, which killed a firefighter and set blaze to more than 22,000 acres of land. They've been charged with 30 crimes, including involuntary manslaughter, local authorities announced on Tuesday.
The fire, which was allegedly started on Sept. 5, 2020, surged across 2 counties, destroying five homes,15 buildings, injuring 13 people, and took the life of a firefighter, Charlie Morton, according to The Guardian and The Washington Post.
"Obviously, he wouldn't have been out there if this [fire] hadn't started in the first place," San Bernadino County District Attorney Jason Anderson said of Morton at a news conference on Tuesday, according to The New York Times. "He's fighting a fire that was started because of a smoke bomb. That's the only reason he's there."
Morton was one of more than 1,350 firefighters who tried to quench the flames, according to The Washington Post. The fire blazed for 23 days and took the efforts of at least six fire departments to stop it.
A photograph of fallen Big Bear Interagency Hotshot Charles Morton, a firefighter who was killed battling the El Dorado wildfire, is displayed at a memorial service for Morton on Sept. 25, 2020 in San Bernardino, California. Mario Tama / Getty Images
In addition to one count each of involuntary manslaughter, Refugio Manuel Jimenez Jr. and Angela Renee Jimenez are also facing three felony counts of recklessly causing a fire with great bodily harm, and four felony counts of recklessly causing a fire to inhabited structures and 22 other misdemeanor counts, according to The New York Times.

"You're obviously dealing with lost lives, you're dealing with injured lives, and you're dealing with people's residences that were burned and their land that was burned," Anderson said at the news conference according to CNN. "That encompasses a lot of, not only emotion but damage, both financially and psychologically."
The southern California couple pleaded not guilty to the charges and were released without having to post bail, according to The New York Times.
This is not the only disaster connected to gender-reveal parties, where parents announce the sex of their unborn child. This type of event has led to a fatal plane crash, partygoers' deaths, other wildfires and brushfires, and a massive explosion in New Hampshire, according to the Washington Post.
Additionally, around half of Western wildfires in the U.S. are started by people, from things like downed power lines, cigarettes, and untended campfires, while the other half of fires are caused by lightning, according to The New York Times.
The Jimenzes could face several years in prison if they're convicted, Anderson said, according to The New York Times.
Audrey Nakagawa is the content creator intern at EcoWatch. She is a senior at James Madison University studying Media, Art, and Design, with a concentration in journalism. She's a reporter for The Breeze in the culture section and writes features on Harrisonburg artists, album reviews, and topics related to mental health and the environment. She was also a contributor for Virginia Reports where she reported on the impact that COVID-19 had on college students.
From Your Site Articles
Related Articles Around the Web
Researchers found 28 previously unknown viruses in the glaciers of the Tibetan Plateau. Wolfgang Kaehler / LightRocket via Getty Images
Researchers have uncovered 33 viruses preserved in ancient glacier ice, and 28 of them are previously unknown to science.
The research, published in Microbiome on Tuesday, was based on two ice samples from the Tibetan Plateau in China that are nearly 15,000 years old. It offers an example of how scientists can study glaciers to better understand the history and future of global change.
"Glacier ice archives information, including microbiology, that helps reveal paleoclimate histories and predict future climate change," the study authors wrote.
Glaciers are useful knowledge banks because they accumulate ice year after year, with each layer preserving the atmospheric conditions at the time of its formation. These particular ice cores came from the Guliya ice cap, 22,000 feet above sea level.
"These glaciers were formed gradually, and along with dust and gases, many, many viruses were also deposited in that ice," study lead author and Ohio State University Byrd Polar and Climate Research Center researcher Zhi-Ping Zhong told Ohio State News. "The glaciers in western China are not well-studied, and our goal is to use this information to reflect past environments. And viruses are a part of those environments."
The viruses they found were largely unknown to science. Four of them had been previously catalogued and were viruses known to infect bacteria. In general, they concluded that the viruses in the ice had originated with soil and plants and not humans or animals. And about half of them shared a unique characteristic: They survived precisely because of the frigid conditions in which they were found.
"These are viruses that would have thrived in extreme environments," study co-author and Ohio State microbiology professor Matthew Sullivan told Ohio State News. "These viruses have signatures of genes that help them infect cells in cold environments – just surreal genetic signatures for how a virus is able to survive in extreme conditions."
The study of glacier-trapped viruses is an emerging field: Only two previous studies have also found viruses in ancient glacier ice. However, the climate crisis has made this a topic of increasing concern.
"We know very little about viruses and microbes in these extreme environments, and what is actually there," senior study author and Ohio State earth sciences professor Lonnie Thompson told Ohio State News. "The documentation and understanding of that is extremely important: How do bacteria and viruses respond to climate change? What happens when we go from an ice age to a warm period like we're in now?"
Climate change also raises the concern that the melting of ice could unleash frozen microbes on human hosts. This is especially the case with the Arctic permafrost. A boy in the Arctic circle, for example, died from anthrax poisoning, potentially after coming in contact with a reindeer carcass that had thawed after 75 years.
"As a consequence of permafrost melting, the vectors of deadly infections of the 18th and 19th Centuries may come back," Boris Revich and Marina Podolnaya wrote in a
2011 study
, as EcoWatch reported in 2017, "especially near the cemeteries where the victims of these infections were buried."
From Your Site Articles
Related Articles Around the Web