For the past seven years, Pathway to Paris has been using the power of music to inspire people to act to solve the climate crisis.
That's why this coming Saturday they are celebrating this year's Climate Week NYC with a block party in an imperiled urban greenspace.
"This year during Climate Week NYC, we are joining forces to reimagine NYC as a city free of fossil fuels, a lush eco city fueled by 100% renewable energy," the group wrote in a press release sent to EcoWatch. "NYC has the opportunity to ramp up its efforts and design and implement the most ambitious climate action plan yet, setting an example for cities around the country and the world."
The BLOCK PARTY IN THE GARDEN will take place this coming Saturday, September 25 from 2 p.m. to 7 p.m. at the Elizabeth Street Garden. It will feature musical guests including Patti Smith, Nikolai Fraiture of The Strokes, local doowop group Acapella Soul, Pathway to Paris co-founder Jesse Paris Smith and DJ Jonathan Toubin.
The BLOCK PARTY IN THE GARDEN will take place this coming Saturday, September 25 from 2 p.m. to 7 p.m. at the Elizabeth Street Garden. Noam Galai / Getty Images
The event is co-hosted by Helm Bike, a new electric bike company, which is offering free test rides. There will also be boxing lessons from Overthrow New York, yoga classes from Modo Yoga NYC, a raffle, workshops, refreshments, chances for local action and activities for children. In case of rain, the event will be rescheduled to Sunday.
The Elizabeth Street Garden is a rare urban greenspace in lower Manhattan that is currently under threat from development. Since 2012, its supporters have been fighting to protect it from city plans to convert it into affordable housing for senior citizens, Thrillist reported. A non-profit organized to protect the space sued the city in 2019, and a decision is still pending.
"We absolutely need truly affordable housing, but we also need community green space," the garden's standing Executive Director Joseph Reiver told Thrillist. "One should never come at the expense of the other. Not when alternatives exist."
Pathway to Paris further argued that protecting the space was critical given environmental conditions in the city and the planet.
"Losing green space that is vital to community building and connection, in a district with one of the lowest ratios of public open space in the city, would be a major step backwards in the pathway to reimagining NYC," the group wrote in its press release.
Pathway to Paris was founded in 2014 by musicians and activists Jesse Paris Smith and Rebecca Foon and has worked since then to unite musicians, artists, activists, experts and ordinary people through a series of events dedicated towards turning the Paris agreement into reality.
Climate Week NYC is a yearly event hosted by the Climate Group and the UN to promote climate action.
"It is the time and place where the world gathers to showcase leading climate action and discuss how to do more, fast," the group explained on its website.
This year, it is running from September 20 to 26.
EcoWatch Daily Newsletter
Emilija Manevska / Moment / Getty Images
Why would anyone want to eat something called a chokeberry? Well, they're considered one of the best sources of antioxidants, which have a plethora of health benefits, that's why. Aronia berries get their nickname because eating the small, darkly colored fruits raw can dry out your mouth, but they are often added to jams, teas, purees, juices and even wine.
Native to North America, the berries grow on shrubs and were traditionally used by Native Americans as a cold remedy. And you don't have to puree them. If you can handle the sharp taste, eating them raw or frozen is just as good for you! So what are these health benefits?
1. Reduce Risk of Cancer
Research is showing that aronia berries can protect the body against certain cancers — particularly breast cancer and colon cancer. These test tube and animal studies showed that the anthocyanins present in the berries might stop colon cancer cells from growing, reducing growth by up to 60 percent in one study.
Berry extracts, when taken by women suffering from breast cancer, have been shown to reduce free radicals in their blood, which in turn reduces oxidative stress on the body.
2. Increase Heart Health
The anti-oxidant effects not only help with cancer, they also may make your heart healthier — specifically alleviating conditions that fall under the umbrella of metabolic syndrome, like high cholesterol and triglycerides.
Two studies on the heart health effects concentrated on taking chokeberry extract, but since supplements aren't regulated by the FDA, it may be hard to determine the appropriate amount for each individual. That said, no side effects have been shown in people using the extracts. Blood pressure can also be reduced according to a small study of 25 people taking 300 mg of the extracts.
3. Fights Diabetes
Aronia berries might also prevent diabetes by fighting insulin resistance in the body. Not only that, but the berries have been found to lower blood glucose levels and decrease obesity, in addition to boosting immune function and reducing inflammation related to the disease.
4. Antioxidant Rich
All these health benefits are tied to the antioxidants present in the berries, so let's talk about those. When compared with other berries, in fact, chokeberries had superior antioxidant levels. Specifically, aronia berries are a great source of polyphenols which inhibit free radicals in the bloodstream.
And it's not just immune function in general. A study of 30 people found that aronia berry extracts reduced oxidative stress brought on by taking anti-psychotic medication. The berries also have been shown to reduce harmful bacterial activity, as well as decreasing cancer cell growth and inflammation, like we mentioned before.
5. Supports Organ Health
These antioxidant benefits go a step further into direct organ health, as well. At least in rats, a study found that aronia juice relieved the symptoms and severity of liver damage. Shortly after that, another study found that the juice might also prevent liver damage from occurring in the first place. It's not limited to the liver, either. A third rodent study showed the juice helped minimize severity of damaged stomach linings.
More human research is needed to prove these findings, but it's a start.
6. Combats High Blood Pressure
High blood pressure results from artery contraction forcing blood to flow through our bodies under more intense pressure than it should. This can become a permanent fixture in the bloodflow as arteries can have trouble relaxing, hindering blood flow long term, which can result in coronary artery disease. A 2015 study and a 2013 study showed that aronia berries can protect against this by relaxing that tissue lining and dropping blood pressure.
7. Boosts Immune System
Back to those antioxidants, but, seriously, the antioxidant levels in these berries not only support your immune system, they can strengthen it. Extract from the berries has been shown to reduce harmful bacteria activity by decreasing its production of a protective biofilm.
Human studies showed strong reduction in urinary tract infections in nursing home patients, and the more juice they drank, the larger the reduction. The berries may also inhibit the body's release of inflammatory substances, decreasing likelihood of inflammation-induced illnesses. And, while not yet studied in humans, a study in mice found the berry extract might even protect against the flu.
8. High in Nutrients
On top of all these direct health benefits, the berries are full of nutrients like vitamin C, manganese, vitamin K and fiber. They also have folate, vitamin A, vitamin E and iron, in addition to the polyphenols we talked about before.
Takeaway
The best place to find chokeberries are in health food stores or online. Once you have them, you can make your own jams, purees and syrups with the raw berries or powder. If you don't like the mouth-drying effects of the berries themselves, consider mixing them into smoothies or juices with other fruits, adding them to cakes, muffins or pies, or mixing them with sugar for other desserts. While the extracts and powders aren't regulated by the FDA a typical serving size is one teaspoon of the powder to a serving of yogurt, juice or smoothie.
Darlena Cunha is a freelance writer and a professor at the University of Florida, with degrees in communications and ecology.
If you live in an apartment without its own roof or if you're a business owner renting a commercial space, a community solar project may help you save on electric bills. Community solar power is a great option for individuals and businesses who can't install their own solar panels.
You can join a community solar project by purchasing a share or by paying a subscription. Then, the electricity production that corresponds to your ownership percentage or subscription will be measured and subtracted from your power bills. This is possible even if the community solar panel installation isn't located in your neighborhood — by investing in the project, your share of the solar generation is simply subtracted from your bill.
In this article, we'll outline the pros and cons of community solar subscriptions and help you decide whether to invest in your local program.
What is Community Solar?
Community solar is a term used to describe photovoltaic systems that are shared by many consumers, including homeowners, renters, businesses, nonprofit organizations and more. Electricity savings and other benefits from the solar project are split among its shareholders and subscribers at a rate based on the level of investment.
When starting a community solar project, developers will establish the geographic area from which consumers are eligible to join. Some programs have installed multiple solar power systems in the same area, allowing a larger number of shareholders and solar subscribers.
Community solar power is possible thanks to virtual net metering. Through this process, a percentage of the electricity produced by the community solar panels is subtracted from the total amount of power you use in your home even though the panels aren't located on your property. Here are a few key things to note:
The kilowatt-hours produced by a community solar project are measured for each billing period and are divided based on ownership shares.
If a community solar array produces 10,000 kWh of electricity and you own 5% of the project, you get 500 kWh for that billing period.
The value of those 500 kWh will be subtracted from your power bill, so if you use, for example, 750 kWh of electricity in your home, you'd only pay your utility company for 250 kWh.
Benefits of Community Solar
The main benefit of community solar is saving on power bills, especially in places with high electricity prices and abundant sunshine. However, the concept of sharing a solar array brings many other benefits, both technical and economic. These include:
Community solar can be used by homeowners or renters who can't install rooftop or ground-mounted solar panels. Some roof structures are not suitable for solar panels, and others are too shaded from surrounding buildings or objects to be effective. Community solar may also be an option if you live in an apartment without its own roof or if you simply don't like the appearance of rooftop solar panels.
You can easily take your solar savings to another home or apartment. If you install solar panels and decide to move in a few years, you must either sell them or take them with you. On the other hand, when joining a community solar project, you can simply assign the savings to your new address.
You can sometimes sell or donate your community solar share (depending on program conditions). This is useful if you move to a location that is not covered by the community solar program or if you decide to install your own solar panels in the future.
Community solar supports a more diverse customer base. To install your own solar panels, you must have the cash for an upfront payment or qualify for a loan. This financial barrier is eliminated with community solar — consumers can pay a monthly subscription or can purchase a small share according to their budget.
With community solar, you can forget about maintenance and part replacements. Solar panels need regular cleaning to stay productive, and components like inverters and solar batteries must usually be replaced after about 10 years. However, you don't have to worry about maintenance with community solar, as there is a project developer in charge.
Community solar shareholders are eligible for the federal solar tax credit. When purchasing a share of a community solar project, you can deduct 26% of your investment on your next tax declaration. Just keep in mind that this benefit is not available when joining as a subscriber, since technically you don't own a part of the community solar farm.
Community solar is an easier alternative to installing your own solar power system. The project developer is responsible for financing, installation, operation and maintenance, and you can reduce your electricity bills by simply buying a share of the project or subscribing.
However, installing your own solar power system also brings many benefits. You save the full economic value of the electricity generated, for example. Onsite solar power also increases the value of homes and commercial buildings, and many incentive programs are only available when you buy solar panels directly.
If you're weighing each option, it can be helpful to get a free quote for a home solar installation. Fill out the form below to get connected with a top solar company near you.
How Does Community Solar Work?

In a few words, community solar lets you save on power bills with a shared photovoltaic array, instead of having your own system. However, not all community solar projects are alike, and they can be classified into several types:
On-site vs. off-site
Ownership vs. subscription
Community solar should not be confused with group purchasing, which happens when many homeowners or businesses purchase individual solar systems at bulk prices. This does not count as community solar, since the project is split into many private installations.
On-Site Vs. Off-Site Community Solar
Many real estate developers use on-site community solar projects in their residential, commercial or mixed-use projects. The electricity generated by solar panels reaches consumers through a private power system, without depending on the local electric grid. On the other hand, off-site community solar is supplied via the grid.
Here are the main benefits and drawbacks of each type of community solar project:
| | On-Site Community Solar | Off-Site Community Solar |
| --- | --- | --- |
| Pros | On-site community solar systems often achieve higher savings — because they don't use the local electric grid, they don't pay transmission and distribution fees to a utility company. | Off-site community solar projects can serve a larger number of customers. You can also keep your ownership share or subscription when moving to another address, as long as you stay within the project's service area. |
| Cons | On-site community solar is only available for local property owners and tenants of communities that have installed these energy projects. | Depending on limitations with your local power grid, you may not yield as high of savings with off-site community solar. |
Ownership Vs. Subscription Model
Community solar projects offer ownership shares and subscriptions. Some projects only have one option available, while others let you choose. You can save on power bills with both options, but understanding the differences between them is important:
When you purchase an ownership share in a community solar project, the corresponding percentage of power generation is yours for the entire service life of the project. Also, since you're a partial owner of the system, you can claim 26% of your investment as a federal tax deduction. However, owning part of a community solar project means you must have the capital to pay upfront.
When you subscribe to a community solar project, there is no upfront investment. Instead, you pay a monthly fee. This means there is an ongoing cost, but the corresponding power bill savings are higher than the subscription fee. Keep in mind that subscription costs may increase over time, while an ownership share represents a single upfront payment.
Each option has pros and cons — you will generally save more when you become a shareholder in a community solar project, but a subscription comes with zero upfront cost. Also, consider that you must sell your share if you move to a location not covered by a community solar project, while a subscription can be easily canceled.
Is Community Solar Available Near You?
Community solar offers many benefits, but it is not available nationwide. To scale these types of projects, state governments must first enable this business model by law. Also, developers are more likely to invest in community solar projects if market conditions are favorable. Generally, the best states for solar power are those with incentive programs, abundant sunshine and/or high electricity prices.
There are currently 40 states with at least one community solar project in operation, and the Solar Energy Industries Association (SEIA) reported that 3.1 GW of community solar were online and operational by the end of Q1 2021. There is an optimistic outlook for community solar, and the SEIA has forecast a growth of 4 GW over the next five years. Each gigawatt of solar power can cover the electricity needs of around 186,000 American homes.
If you're interested in community solar power, you can check local government and utility websites — there could be several projects available near you.
FAQs: Community Solar
Is community solar legit?
Like all power generation projects, community solar systems are subject to laws and regulations. If you look for a developer that uses high-quality solar components and qualified installers, community solar is a reliable option to save on power bills for many years.
Is community solar a good deal?
To join a community solar project, you must become a shareholder with an upfront investment or pay an ongoing subscription. The power bill savings achieved will be higher than your monthly utility payments in both cases, but depending on the pricing model of your community's program, one option may present a better deal than the other.
What is community solar, and how does it work?
Community solar is an alternative to installing your own solar panels: You participate in a shared solar project as a shareholder or subscriber, and you get part of the electricity produced. This is a great option for individuals or companies who can't install their own solar panel systems due to lack of space or other limitations.
How does community solar make money?
Based on your ownership share or subscription type, you get part of the electricity produced by a community solar array. The kilowatt-hours generated are subtracted from your power bill — just like when you own solar panels directly.
Leonardo David is an electromechanical engineer, MBA, energy consultant and technical writer. His energy-efficiency and solar consulting experience covers sectors including banking, textile manufacturing, plastics processing, pharmaceutics, education, food processing, fast food, real estate and retail. He has also been writing articles about energy and engineering topics since 2015.
Joshua Tree National Park, California. casey kiernan / Moment / Getty Images
By Julia Conley
A federal court in Los Angeles this week ruled that under former President Donald Trump, the U.S. Fish and Wildlife Service violated the law when it failed to list the Joshua tree as a threatened species under the Endangered Species Act — a decision that the Biden administration has continued to defend.
The U.S. District Court in the Central District of California said in its ruling on Monday that the USFWS now has one year to reconsider its decision and must take into account all scientific evidence, including climate change models, when deciding whether the Joshua tree should be protected under the ESA.
WildEarth Guardians — which first filed a petition to ensure the tree was protected in 2015 and launched a legal challenge after the service declined to list the species in 2019 — called the ruling "groundbreaking" and "a monumental step forward for the Joshua tree."
The Court order now directs the U.S. Fish and Wildlife Service to reconsider its decision, taking into account the… https://t.co/SvxWDPYkq7

— WildEarth Guardians (@WildEarth Guardians)1632329462.0
The ruling also has implications "for all climate-imperiled species whose fate relies upon the service following the law and evaluating the best scientific data available with respect to forecasting future climate change impacts," said Jennifer Schwartz, a staff attorney for WildEarth Guardians and lead attorney on the case, in a statement Wednesday.

When the USFWS decided not to list the tree, the court found, it disregarded numerous scientific studies that forecasted the decline and loss of the Joshua tree's habitat.
"Several of those studies projected the nearly complete loss of [the Joshua tree] by the end of the century," the court said.
The court ruled that the USFWS relied "on speculation and unsupported assumptions" when it alleged in 2019 that the climate crisis would not affect Joshua trees, despite evidence in "five recent, available, sophisticated [species distribution models] showing widespread loss of suitable Joshua tree habitat by the end of the century due to climate change, which the service did not address."
WildEarth Guardians said Wednesday that all evidence shows "Joshua trees will be in danger of extinction throughout most of their current range by century's end from climate change-driven habitat loss, invasive grass-fueled wildfire, and other stressors."
The organization decried the Biden administration's unwillingness "to voluntarily walk away from the terrible Trump decision," leading WildEarth Guardians to file several emergency petitions this year demanding protection for the species following the Cima Dome fire that killed an estimated 1.3 million Joshua trees in the Mojave National Preserve.
"The time and money the federal government spent defending a decision that the court could clearly see was wrong — instead of using these funds to conserve species and determine how to mitigate massive biodiversity loss from climate change — is tragic and, unfortunately, telling," said Lindsay Larris, wildlife program director for WildEarth Guardians.
Larris called on the USFWS "to take swift action to protect species and habitat, not just deliver nice messages about the importance of fighting climate change while defending the damaging actions of the prior administration."
"Our climate-imperiled species — plants and animals alike — do not have time for political gamesmanship that questions unambiguous science," said Schwartz. "Now is the time for action to preserve what we can of the natural world before it is too late."

Reposted with permission from Common Dreams.
From Your Site Articles
Related Articles Around the Web
A gas flare burns in the Permian Basin in Texas. Bronte Wittpenn / Bloomberg Creative Photos / Getty Images
Royal Dutch Shell's sale of all its Permian Basin fracking assets to ConocoPhillips for $9.5 billion may reduce the company's emissions on paper, but nowhere else, experts say.
Shell has come under increasing pressure to reduce its climate pollution, including a landmark ruling from a Dutch court this spring, but selling its Permian oil extraction operations just means it gets the pollution off its own balance sheets – and onto ConocoPhillips'.
"You're not reducing emissions, you're just transferring who produces them," said Arvind Ravikumar, head of UT-Austin's Sustainable Energy Transitions Lab, to The Texas Tribune.
Shell may also hope to do some reputational rehab by selling off its assets in the Permian Basin, specifically. "The Permian Basin has gained a notorious reputation," said Luke Metzer, head of Environment Texas. "Many Wall Street people have said it has a black eye for failing to address methane emissions and flaring."

As reported by The Texas Tribune:
"This is not a symbol of global movement to take climate action," said Kenneth B. Medlock III, senior director at the Center for Energy Studies at Rice University. "This is a symbol of what two different entities viewed was in their own commercial best interest."

For a deeper dive:

For more climate change and clean energy news, you can follow Climate Nexus on Twitter and Facebook, sign up for daily Hot News, and visit their news site, Nexus Media News.
From Your Site Articles
Related Articles Around the Web
Babies have more plastics in their stool samples than adults, a new study found. John Howard / DigitalVision / Getty Images
Babies haven't spent a lot of time on the planet, but apparently it's still enough time to be exposed to lots of plastic.
A new study published in Environmental Science and Technology Letters Wednesday found an average of 36,000 nanograms of polyethylene terephthalate (PET) microplastics (MP) per gram of infant feces, compared to 2,600 nanograms for adults.
"Our study suggests that infants are exposed to higher levels of MPs than adults," the authors wrote.
Microplastics are what happens when plastics break down in the environment into bits less than five millimeters long, Wired explained. They have been found everywhere from Mount Everest to the ocean floor, but the researchers wanted to test exposure in infants.
To do this, they collected dirty diapers from six one year olds and filtered the poop for microplastics, Wired explained. They also tested three samples of meconium, an infant's first feces, and 10 adult stool samples. They tested all of the samples for two types of microplastics: PET, which is used in clothing and plastic bottles, and polycarbonate (PC) plastic, an alternative to glass.
Some of the meconium samples had up to 12,000 nanograms per gram of PET and 110 nanograms per gram of PC plastic, the study authors wrote. Microplastics were found in all of the infant samples, however, averaging 36,000 nanograms per gram for PET and 78 nanograms per gram for PC. Most of the adult stool samples had PET and all had PC, but at much lower concentrations than the infant stool samples. The researchers were then able to use their data to estimate the average daily exposure to microplastics in both adult and infant diets. They calculated that infants are exposed to 83,000 nanograms of PET per kilogram of body weight and 860 nanograms of PC per kilogram of body weight. Adults, on the other hand, were exposed to 5,800 nanograms of PET and 200 nanograms of PC.
In some ways, this is not surprising. A study published last year found that the process of preparing baby formula in plastic bottles prompted those bottles to shed microplastics, so that infants could be swallowing millions of microplastics every day. Microplastics have also been found in placenta, as The Guardian reported in 2020.
Babies also have a tendency to stick plastic toys or clothing that may contain microplastic fibers in their mouths, Wired noted. Baby foods are often wrapped in plastic and many baby utensils, like sippy cups, are made from plastic. The indoor environment is also full of plastics from carpeting and dust.
"Unfortunately, with the modern lifestyle, babies are exposed to so many different things for which we don't know what kind of effect they can have later in their life," study co-author and New York University School of Medicine environmental health scientist Kurunthachalam Kannan told Wired.
Right now, scientists still aren't sure what the impact of ingesting microplastics is for humans. The main concern is the chemicals that microplastics contain, which can either be part of their manufacturing or adhere to them in the environment. One worrying class are endocrine-disrupting chemicals that can impact reproductive, metabolic and neurological health. This is a big deal for infants because their endocrine system is still developing.
"I strongly believe that these chemicals do affect early life stages," Kannan told Wired. "That's a vulnerable period."
Parents who want to protect their newborn babies can take the following steps, Wired said:
Don't heat formula in a plastic bottle. Heat it in a glass bottle and move it to a plastic bottle once it is at room temperature.
Vacuum and sweep frequently to remove microplastics from the floor.
Avoid plastic wrapping and containers.
From Your Site Articles
Related Articles Around the Web
People enjoy a warm afternoon beside the artistic installation "Ghost Forest", by artist and architect Maya Lin, in Madison Square Park on May 13, 2021 in New York City. Spencer Platt / Getty Images
Art about climate change is becoming increasingly common in museums and galleries, but some artists are moving outside and sharing their work in public spaces to reach a broader audience. From parks, to interactive experiences, to underwater landscapes, these displays have a unique capacity to communicate the severity of climate change and our current environmental crisis to onlookers.
These current exhibitions and installations around the world teach their viewers about climate change, habitat destruction, and our relationship with the natural world through non-traditional means.
1. The Garden of Earthly Worries – Daniel Libeskind – Apeldoorn, Netherlands
Designed by Polish-American architect Daniel Libeskind, The Garden of Earthly Worries is the first piece of contemporary art to be displayed in the garden of the Netherlands' Paleis Het Loo.
In contrast to the piece's namesake – the famous painting by Hieronymus Bosch, The Garden of Earthly Delights – four three-meter-high sculptures curve over the heads of visitors, depicting fragments of a shattered Earth. Each represents a chemical compound that is contributing to climate change, standing in stark contrast with the idyllic, 17th-century gardens surrounding them. Libeskind's work brings into question our technological advancements as a society and our intrusion into nature, and asks onlookers to consider the "imbalance of humankind in nature" and the environmental cost of our progress.
The sculptures will remain in the garden until the end of September.
2. Putting Green – Brooklyn, New York
While artistic excellence doesn't usually factor into the definition of a mini-golf course, Brooklyn's Putting Green is far from the classic, windmill-ed course, but rather was built to provide both entertainment and education through its artistic design and messaging about climate change. The 18-hole course was built atop a former industrial site on the North Williamsburg waterfront, designed using environmentally conscious methods, repurposed materials, and native plant species. While visitors play a round of golf, they're immersed in a different scene related to climate change at each of the holes: a society adapting to sea-level rise, habitat loss, and the changing shoreline of Manhattan, to name a few. The holes were all designed by different community groups, environmental organizations, schools, and local artists.
Proceeds from the course go towards New York nonprofits addressing climate change through their work. Ticket prices range from $2-10 dollars based on age and visiting hours.
3. Birds Watching – Jenny Kendler – Chicago, Illinois
This striking piece was originally created for Storm King's Indicators: Artists on Climate Change, and now resides on the elevated 606 Bloomingdale Trail in Chicago, Illinois, where it will be on display until mid-December 2021.
Jenny Kendler's Birds Watching depicts one hundred eyes, each of a species of bird threatened by climate change, which are illuminated when hit with light from the sun, a camera flash, etc. Kendler's piece reminds us that we aren't the only species on Earth through this mutual gaze facilitated between onlooker and bird; she reminds us that birds (and other non-human creatures) aren't just part of the backdrop of our life, but an equal part of the world – creatures that we continually sacrifice as we ravage the planet for our own benefit. The piece reminds us that, when we look at nature, it looks back.
4. Totemy – Alicja Biała and Iwo Borkowicz – Poznań, Poland
These nine-meter pillars were erected outside MVRDV's Bałtyk tower in Poznań, Poland, and while their vibrant colors and whimsical shapes may seem abstract, their textures, shapes, and colors correspond with data and statistics related to climate change. Viewers can therefore visualize the scale of different environmental issues – timber felling, air pollution, and exploitation of fisheries, to name a few – and scan a QR code on each structure to read more about the issues symbolized by the artwork.
Biała and Borkowicz made a deliberate choice to put this piece in a very public place, making it much more accessible to people as they walk by, rather than paying to visit a museum.
5. Ghost Forest – Maya Lin – Manhattan, New York
Forty-nine towering, leafless, naked cedar trees were erected in Madison Square Park this May, which artist Maya Lin hopes will raise awareness of climate change among the forest's many passersby. These cedars used to cover much of the Atlantic seaboard, and, thanks to the Cornell Lab of Ornithology, visitors can listen to field recordings on the park's website of species once common in Manhattan, such as elk, bears, and wolves.
With this bleak, striking landscape of dying trees in the middle of a lush, public park – one of New York City's busiest – Lin hopes to draw attention to our detached relationship with nature, and the slow but sure loss of biodiversity in the world. Extreme weather events – including hurricanes, drought, and flooding – and rising sea levels will create more of these "forest graveyards;" yet, we so rarely pay attention to the natural world around us, that we might not even notice this decline until the flora and fauna we're used to living among are gone.
Ghost Forest will be on display in Madison Square Park until mid-November.
6. Beuys' Acorns – Ackroyd & Harvey – Tate Modern in London, UK
Visitors of London's Tate Modern this fall can immerse themselves in a forest of saplings: Beuys' Acorns, created by artists Heather Ackroyd and Dan Harvey.
The installation is named for Joseph Beuys, artist and co-founder of the German Green Party who planted 7,000 trees in Kassal: a "social sculpture" he called 7000 Oaks, meant to alter the cityscape and bring attention to the climate movement. Ackroyd and Harvey collected acorns from these oaks in 2007, and have now brought 100 of the successful saplings to the Tate Modern to create a living piece of artwork where visitors can reconnect with the natural world after the pandemic-induced lockdowns. The trees are placed directly above Beuys's work The End of the Twentieth Century in The Tanks below.
Seven of the trees will be planted locally when the show concludes in November, and the others will be planted elsewhere by 2025.
7. MUSAN – Jason deCaires Taylor – Ayia Napa, Cyprus
Jason deCaires Taylor is famous for his site-specific, permanent, underwater sculptures – more than 1,000 of which are on display around the world.
Snorkelers and divers can now visit his Museum of Underwater Sculpture (MUSAN) in Ayia Napa, Cyprus, where 93 sculptures of trees and other figures cover a stretch of empty sand within a protected marine area. Taylor's underwater museum both draws attention and offers a solution to the heavy overfishing in the Mediterranean Sea; the sculptures are made from pH-neutral materials and act as an artificial reef for aquatic creatures. They are situated at various depths for sponges, coral, algae, and other marine life to use for breeding areas and protection. Bottom trawling – a hugely destructive practice used in large-scale, commercial fishing – rips up coral that marine life depends on, and removes herbivorous, algae-eating fish from the ecosystem, resulting in large, harmful algal blooms. The artwork is meant to restore some of this destruction, and be a part of the landscape, rather than merely placed within it.
Sculptures of children play amongst the trees, reminding us of the human need to explore and connect with nature. The reef also draws tourists away from other, more popular reefs, where fragile species often suffer physical damage from too many visitors.
8. Arcadia Earth – Valentino Vettori – Manhattan, New York
Created by New-York-based artist Valentino Vettori, Arcadia Earth has reopened in New York City after a pandemic-induced hiatus, showcasing art by twelve different artists.
At "the first immersive augmented reality journey through planet earth," visitors learn about the small-scale life changes that have a big impact on our planet's future. The immersive, interactive art exhibit utilizes augmented and virtual reality; each of the 15 rooms – which take visitors on a journey through fantasy lands, underwater worlds, and art installations – spotlights an environmental issue, including climate change, plastic pollution, overfishing, and food waste.
"Arcadia is designed to inspire us to make small lifestyle changes today to protect the future of our planet; every message has an actionable solution," Vettori told Vogue when the exhibit first opened in 2019. "And we can't sit around waiting for the scientific community to solve this—it's on us."
Every ticket sold plants a tree, and supports Oceanic Global, a nonprofit dedicated to preserving our oceans.
Linnea graduated from Skidmore College in 2019 with a Bachelor's degree in English and Environmental Studies, and now lives in Brooklyn, New York. Most recently, Linnea worked at Hunger Free America, and has interned with WHYY in Philadelphia, Saratoga Living Magazine, and the Sierra Club in Washington, DC.
Linnea enjoys hiking and spending time outdoors, reading, practicing her German, and volunteering on farms and gardens and for environmental justice efforts in her community. Along with journalism, she is also an essayist and writer of creative nonfiction.
A farm of more than 300 cows in Galicia, Spain in 2007. Xurxo Lobato / Cover / Getty Images
What Is Factory Farming?

Factory farming is a type of farming in which animals are raised and crowded together in close quarters. The animals are referred to as livestock and the farms are also called concentrated animal feeding operations (CAFOs).
Ultimately, it is a form of intensive agriculture, a type of agriculture designed to produce the highest possible yield per unit of land. Intensive agriculture stands in contrast to extensive agriculture, which is what you probably think of when you imagine a small, family farm. Extensive agriculture uses fewer inputs, such as human labor and basic machinery like tractors, and takes advantage of the soil's natural fertility. For animal raising, an example of extensive agriculture is pastoral production, in which animals are grazed outdoors for their entire lives or herded by nomadic farmers. Because it is designed to maximize productivity, intensive agriculture requires many more inputs such as fertilizers and pesticides, and often leads to the clearing of more land through deforestation. In the case of animals, this means raising more in less space.
An indoor farm for growing broiler chickens in the Ukraine. davit85 / iStock / Getty Images Plus
Intensive agriculture developed in earnest beginning in the 17th century in Britain, with developments such as more intensive crop rotation which allowed more animals to be fed and raised. Efficiency increased through the 18th and 19th centuries, which saw the rise of selective breeding in livestock for desirable traits such as longer wool in sheep. The current system of factory farming dominated U.S. agriculture by the 1980s. This process has made meat more affordable for the average American and increased efficiency. Since 1960, milk production has doubled in the U.S., meat production has tripled and egg production has quadrupled. However, the profits from agriculture have become concentrated in fewer and fewer hands. Between 1950 and 1997, the number of farms in the U.S. declined by 50 percent, while the average farm doubled in size. Today, more than 99 percent of U.S. farm animals and more than 90 percent of farm animals worldwide are raised on factory farms.
How Do Factory Farms Operate Today?
Factory farms are the primary means of raising animals like cows, pigs, chicken and fish. In addition to meat, factory farms are also used to raise animals for milk, eggs and fur. A medium-large factory farm in the U.S. usually consists of 1,000 beef cattle, 700 dairy cows, 2,500 pigs, 55,000 turkeys, 30,000 egg-laying hens, or 125,000 broiler chickens. Control of these farms are concentrated in very few hands. As of 2015, the four largest companies in each sector controlled 85 percent of U.S. beef production, 66 percent of pork production and 51 percent of broiler chicken production. However, the companies do not typically handle the farming themselves, which is considered the least-lucrative part of the production process. Instead, they contract the farming out to individuals who usually have to go into large amounts of debt to get started and can therefore get trapped in unfavorable contracts, risking bankruptcy if they quit. This method was pioneered by Tyson Foods and first came to dominate chicken production. It is now widely used in pork production as well.
What Happens on Factory Farms?
Animals on factory farms are raised to be productive as quickly as possible. They spend their entire lives crowded together indoors, and are either physically mutilated or genetically modified to better accommodate human tastes and close quarters. For example, chickens are debeaked to prevent them from pecking each other and broiler chickens are genetically modified to have larger breasts, since consumers prefer breast meat. Cows and pigs will have their tails removed, or be docked, to discourage biting and to make milking easier. Cows are grown without horns to make it easier to pack them closely together.
Why Is Factory Farming Bad?
Many consider the crowded conditions faced by animals in factory farms to be inherently inhumane. In addition, this method of farming has consequences for human health and the environment in the form of biodiversity loss, greenhouse gas emissions, pollution, working conditions and disease risk.
Animal Cruelty
Animal abuse on factory farms can be divided into two types: systemic cruelty and egregious cruelty. Systemic cruelty refers to the business-as-usual conditions within factory farms, which animal welfare advocates consider to be inherently cruel. Egregious cruelty refers to specific acts of abuse by farmworkers. While the first type of cruelty is more pervasive, only the second is often prosecuted by law. However, egregious cruelty can also be encouraged and enabled by systemic realities. Ag-gag laws, for example, penalize activists and whistleblowers for documenting incidences of animal cruelty at factory farms. Further, U.S. animal protection laws generally do not apply to either birds or fish. Systemic abuses facing factory farmed animals vary slightly depending on the animal, but all suffer from spending lives confined in close quarters.
Chickens
Nearly ten times more birds are raised and killed for food in the U.S. than any other type of animal. Chickens raised for meat are referred to as broiler chickens. They are often crowded together in groups of 20,000 or more. Poor ventilation means the birds are at risk from ammonia exposure from their own waste, which irritates their eyes, throats and skin. Egg-laying hens do not fare much better. They are kept in containers called battery cages, which have a smaller area than an eight-and-a-half-by-11 sheet of paper. This is considered so cruel that it was actually banned by the European Union in 1999.
Broiler chickens in China. chayakorn lotongkum / iStock / Getty Images Plus
Pigs
Pigs are as smart as dogs and have a natural impulse to root and socialize. However, they are often kept in indoor pens on slatted floors that do not allow these activities. The frustration leads pigs to bite each other's tails, and farmers deal with this by clipping off part of the pigs' tails or their teeth without anesthetics. Pregnant sows in particular suffer in gestation crates, which cause them to lose bone strength and muscle mass because their movement is so restricted. This makes it more likely that they will fall and injure themselves.
A large white pig in a gestation crate with her piglets in Sarthe Valley, France. Auscape / Universal Images Group via Getty Images)
Cows
Beef cattle are the one farm animal that is still largely raised outdoors. However, they spend the last few months of their lives in feedlots, crowded together but without shelter. They can suffer from heat stress, respiratory problems from dust and digestive problems from being fed corn and other foods they have not evolved to digest. Milk cows, on the other hand, are kept indoors and often tethered. They are artificially inseminated once a year to keep the milk flowing, and then forcibly separated from their calves within a day of giving birth, which can be traumatic for both mother and child. Male calves are then raised as veal, often in crates only 2.1 by 2.5 feet. However, many states are beginning to ban veal crates and the industry is following with promises to phase out their use.
Cows on a factory farm in France. Andia / Universal Images Group via Getty Images
Fish
Fish farming is one of the fastest growing forms of agriculture, and about half of the most commonly eaten fish are now raised in farms. Fish are also kept in crowded conditions that encourage stress, injury and disease. Further, fish suffer from the misconception that they do not feel pain. They are killed without being stunned first — either by force, suffocation, freezing or being allowed to bleed out.
Workers process salmons on a production line at a salmon farm on Sept. 26, 2020 in Nilka County, Xinjiang Uygur Autonomous Region of China. VCG / VCG via Getty Images
Environmental Harms
In addition to harming the farm animals themselves, factory farming also takes a toll on the planet as a whole. In fact, the practice contributes to many of our most pressing environmental crises including pollution, habitat and biodiversity loss and the climate crisis.
Pollution
The conditions animals face at factory farms extend to their surroundings. So many animals kept in close quarters generate lots of manure, and this manure is first stored in ponds and then spread on fields as fertilizer. However, environmental advocates say that these farms generate more manure than the soil can actually handle, and the rest enters waterways as runoff. This can lead to nutrient pollution, which encourages the growth of harmful algae that deprives water of oxygen, causing dead zones where no life can flourish. In fact, factory farming was blamed for the largest-ever "dead zone" in U.S. history in the Gulf of Mexico. Pollutants from animal waste such as hydrogen sulfide and ammonia can also enter the air and threaten the health and well being of farmworkers and the surrounding community.
Biodiversity Loss and Land Use
Animals raised for human consumption also need to eat. Usually, that food takes the form of either corn or soy, and growing it uses up a lot of land. In the U.S., in fact, corn and soy take up a third of the country's agricultural land, and humans only consume less than 10 percent of it. This is an issue that has major global ramifications. Without meat and dairy consumption, it would be possible to feed the world's population while reducing farmland by more than 75 percent. And the expansion of factory farming is a major cause of biodiversity loss. Clearing trees for cattle ranching is responsible for two-thirds of Amazon deforestation. The production of soy to feed livestock is also a major contributor to deforestation.
Climate Change
Emissions and land use mean that factory farming is a major contributor to the climate crisis. The livestock sector as a whole is responsible for 14.5 percent global greenhouse gas emissions. Forty-five percent of those emissions come from feed production and processing and 39 percent from the release of methane by cows and other ruminants. The world's five biggest meat and dairy companies have an equal carbon footprint to ExxonMobil, and the world's top 20 livestock companies emit more than the UK, France or Germany.
Human Health
The coronavirus pandemic has shown a spotlight on how human exploitation of the environment puts human health at risk. Factory farming is a perfect example of this as it threatens human health in many ways, from encouraging the evolution of antibiotic resistant bacteria to spreading pandemics.
Antibiotic Use
The overcrowding in factory farms has led to an overuse of antibiotics in order to prevent disease from spreading among animals. In fact, 73 percent of antibiotics worldwide are used on animals. In 2017, almost 11 million kilograms of antibiotics and 5.6 million kilograms of medically important antibiotics were sold in the U.S.exclusively for animals in factory farms. Bacteria can develop resistance to these drugs and then spread from animals to humans both through consumption and through run-off pollution from manure. Drug resistant bacteria currently kill 700,000 people a year.
Pandemics
Factory farming can encourage the spread of pandemics in two ways. First of all, the destruction of wild areas for agriculture increases the chance that humans will come into contact with new pathogens. Further, crowded conditions on farms cultivate diseases that may develop and spread. The H1N1 swine flu that killed 151,700 to 575,400 people in 2009 has been linked to a strain that emerged on U.S. pig farms in 1998.
Other Health Concerns
The conditions on factory farms can harm human health in other ways. Pathogens like E. coli can infect humans through manure pollution or food-borne illness. In fact, the grain beef cattle are fed before slaughter increases their risk of E. coli infection, while the practice of feeding dead hens to live hens encourages Salmonella. Further, there is debate over whether the use of hormones to stimulate growth and milk production in cows increases the risk of breast, prostate and colon cancer in humans.
Environmental Justice
The factory farm system doesn't just exploit animals and the planet — it also exploits the humans that work in the industry and the communities that surround it. Factory farming is often an example of environmental racism, in which low-income communities of color are targeted for exposure to unsafe conditions and pollutants.
Slaughterhouse Workers
Many slaughterhouse workers are low-income people of color who do not have many other employment options. Often they are undocumented and face deportation if they speak out about working conditions. The work can be stressful and dangerous. Workers can repeat the same motion 40,000 to 100,000 times per shift, and there are an average of two amputations per month in the industry. The vulnerability of these workers was made apparent during the coronavirus pandemic, when infections broke out at several meat packing plants in the U.S. and Canada. In July of 2020, the Centers for Disease Control and Prevention (CDC) said that 23 states reported 16,233 COVID-19 cases and 86 deaths in 239 facilities, while 87% of those infected were racial or ethnic minorities.
Rural Communities
The rise of factory farming has diminished rural communities in the U.S. Smaller family farms cannot compete with the larger operations, and mechanized agriculture means that they offer fewer jobs. Further, the smaller businesses that supported family farms, like equipment sellers or local restaurants, have also closed down. For those who remain, conditions are often unhealthy. Pollution from lagoons storing animal waste can cause health impacts like headaches, respiratory problems, skin infections, birth defects and premature death. For example, people in North Carolina who live near hog farms have higher death rates than people who live further away.
Where Is Factory Farming Most Common?
In the U.S., a few types of factory farming are concentrated in particular states and regions. Hog farming is concentrated in the U.S. South and Midwest, particularly North Carolina and Iowa. Broiler chicken farming is heavily concentrated on Maryland's Eastern Shore, while the top states for cattle feedlots are Nebraska, Texas, Kansas, Iowa and Colorado. Worldwide China is the world's leading meat producer, followed by the U.S., the EU and Brazil. China has rapidly expanded its pork production in particular, and this includes pork factory farms. In the last 30 years, the country has undergone a similar process of consolidation as the U.S did during the second half of the 21st century: Between 1991 and 2009, the total number of hog farms in China decreased by 70 percent, while the number of pigs living on those farms increased exponentially.
What Is Being Done to Help?
There is a growing movement to shift away from the factory farming model and towards more humane and sustainable forms of agriculture. In the U.S., Sen. Cory Booker has championed a Farm System Reform Act, which he most recently reintroduced in July.
This act would:
Place a moratorium on new large CAFOs and shutter the largest existing ones by 2040.
Hold corporations responsible for farm pollution.
Offer a buyout to farmers who want to leave factory farming.
Strengthen the Packers and Stockyards Act to protect contract farmers from unfair deals and farm workers from retaliation.
Restore country of origin labeling requirements to beef and pork products, expand them to dairy products, and prevent imported meat from receiving a "Product of USA" label.
Internationally, Compassion in World Farming has called for a global agreement to end industrial agriculture, similar to the Paris agreement for tackling climate change.
There are also several organizations working to protect farm animals and promote change. Mercy for Animals conducts investigations in order to expose conditions on factory farms, while Farm Sanctuary rescues animals and provides them with safe homes.
What Can You Do?
In addition to supporting organizations that fight for animal welfare and adding your voice to calls for change, there are also lifestyle changes you can make to reduce your support for factory farms. One study has found that embracing a vegan diet is the single greatest thing an individual can do to reduce their environmental footprint. However, you can still shop and eat ethically without giving up animal products. Compassion in World Farming offers a four-step guide:
Look for labels like "pasture reared" or "free range," which should indicate your meat is from an actual farm and not a factory.
Buy local — while you can't guarantee your local farm isn't a factory farm, it will probably be easier to find out.
Cut down on food waste by eating all your leftovers.
Don't over-eat meat and dairy products.
Takeaway
Transitioning away from factory farming towards a more sustainable, compassionate and healthy agricultural system is a major part of solving the health and environmental crises impacting our planet and our communities. However, meat production and consumption have been rising worldwide since the 1970s, and they are expected to continue to do so if nothing changes. The Organisation for Economic Co-operation and Development (OECD) predicts that global meat production will continue to grow, by 40 million tonnes a year by 2029. Public policies and consumer behavior can both play a role in reversing this trend and creating a kinder, healthier food system.
From Your Site Articles
Related Articles Around the Web
Smoke billows from stacks as a woman walks near a coal-fired power plant in Shanxi, China on Nov. 26, 2015. China has announced that will no longer build coal-fired power plants overseas. Kevin Frayer / Getty Images
The announcements come as leaders seek to build momentum before the UN's COP26 climate conference in November.
Xi Announces Ending of Chinese Coal Support Abroad
China will no longer build coal-fired power plants overseas, Chinese President Xi Jinping announced Tuesday in an address to the UN General Assembly. While Xi gave no timeline, the announcement is likely to mark the beginning of the end of coal plant construction in the developing world. Depending on when it is implemented, China's new policy could cut off $50 billion of foreign investment and halt the construction of up to 47 planned coal plants in 20 countries, about equal to the entire remaining German coal fleet.
"It's a big deal. China was the only significant funder of overseas coal left. This announcement essentially ends all public support for coal globally," Joanna Lewis, an expert on China, energy and climate at Georgetown University, told The AP. "This is the announcement many have been waiting for."
Asia Society Policy Institute fellow and former climate diplomat Thom Woodroofe described the announcement as a "line in the sand" and told The Guardian, "It is further evidence China knows the future is paved by renewables. The key question now is when they will draw a similar line in the sand at home."
For a deeper dive:
The Guardian
,
NPR
,
Wall Street Journal
,
Reuters
,
The New York Times
,
POLITICO
,
Axios
,
BBC
,
Reuters
,
Climate Home
,
CNET
,
FT
,
Washington Examiner
Biden Pledges to Boost Global Climate Funding
President Biden promised to redouble American financial assistance to developing nations to combat and adapt to the climate crisis in his address to the UN General Assembly, Tuesday. "In April, I announced the United States will double our public international financing to help developing nations tackle the climate crisis, and today, I'm proud to announce that we'll work with the Congress to double that number again, including for adaptation efforts," Biden said.
The persistent failure of wealthy nations to meet their own promises to help the developing world is a major obstacle to meaningful progress at the upcoming COP26 UN climate conference. Biden's pledge of $11.4 billion annually, while much more than the current $2 billion the U.S. is contributing, is still far less than the $43.4 billion the world's largest historical polluter would need to contribute to pay its "fair share," according to the independent Overseas Development Institute.
Biden also called for what he described as "relentless diplomacy" to address global crises and rejected the idea of a new Cold War with China.
President Joe Biden addresses the UN General Assembly on Sept. 21, 2021. United Nations
For a deeper dive:
Finance: Yahoo, The Washington Post, The New York Times, The Guardian, E&E News, Climate Home, Bloomberg, The Hill, HuffPost, Reuters, Axios, POLITICO; Diplomacy: NPR, AP, CBS, The Wall Street Journal, NBC, The New York Times, Reuters, The New York Times, The New York Times
Climate activists protest on the fist day of the ExxonMobil trial outside the New York State Supreme Court building on Oct. 22, 2019 in New York City. Angela Weiss / AFP / Getty Images
On the heels of congressional Democrats calling the heads of fossil fuel companies and industry lobbying groups to testify about their role in spreading climate disinformation, campaigners published a report Tuesday exposing the contributions of major advertising and public relations firms.
The aim of Clean Creatives' report, as its introduction explains, was to "document the many known relationships between PR, advertising, and other creative agencies and fossil fuel companies that are responsible for climate change, and compare holding company pledges for climate action with their work for polluting clients."

Unveiled last year by the nonprofit Fossil Free Media, the Clean Creatives campaign pressures ad and PR agencies to ditch clients fueling the climate emergency.
"Fossil fuel companies are the biggest polluters, the biggest greenwashers, and the biggest opponents of life-saving climate action. There is no room for ad and PR professionals to continue promoting companies that are doing so much damage to our future," said Clean Creatives director Duncan Meisel in a statement about the report, entitled The F-List 2021The F-List 2021.
"The most important step any agency can take to address the climate crisis is to rule out working with fossil fuel companies," Meisel added. "We need creatives and communications experts to bring their full energy towards ending this crisis, not extending it."
The report focuses on the work of 90 agencies across three different regions—Australia, Europe, and North America—and notes that "fossil fuel industry clients include the full range of corporations involved in the business of extracting, transporting, refining, and selling fossil fuels, their trade associations, and front groups representing their interests."
In the United States, the fossil fuel companies have "expanded their efforts to oppose and water down major climate legislation under the Biden administration," the report says. In Europe, they face a "stricter regulatory environment targeting their products, and a tightening space for their advertisements," but "these measures have not stopped fossil interests—both in the business of extraction, and power generation—from attacking major proposals for climate action."
In Australia, one of the world's top exporters of gas and coal, "the influence of fossil fuel companies goes all the way to the top," the report points out, "with Prime Minister Scott Morrison famously brandishing a lump of coal in parliament and holidaying in Hawaii as the country faced catastrophic bushfires."
Belinda Noble, founder of Comms Declare, which co-authored the report, explained that "Australia is unique because three prime ministers have lost their jobs for trying to limit greenhouse gases."
"With corporate giants continuing to pump tens of millions into sponsorships, PR, lobbying, and marketing every year," she added, "it's no wonder Australia has no net-zero commitment and is playing a wrecking role in international climate negotiations."
Let's start with @WPP. They just released a new sustainability plan to cut their own emissions to net zero by 203… https://t.co/atdwsCUUwU

— Clean Creatives (@Clean Creatives)1632236691.0
The concept of net-zero emissions "has rapidly proliferated through corporate communications" since the Paris agreement was signed in 2015, and "the term has taken on even greater importance" going into this year's COP 26 summit in Glasgow, Scotland, the report notes.
Defining what "net-zero" is and isn't "will need to be a central focus of advertising and PR trade associations, regulators, and internal ethics watchdogs for agencies with fossil fuel clients," the report says, warning of how it could be used for "a growing number of fossil fuel PR and ad campaigns, in a large and widespread greenwashing effort towards the end of 2021."
The report features a chart showing which firms serve which fossil fuel clients, noting when an ad or PR agency is tied to a holding company. It also highlights conflicts between the polluter clients and sustainability pledges of major holding companies—WPP, Interpublic, Dentsu, Publicis, and Omnicom.
There are also three case studies, detailing:
Edelman's work for ExxonMobil's "Exxchange" platform;
Project Cesar, "an operation created by the firm Crosby Textor to astroturf support for coal projects, and oppose measures to address climate change in Australia," revealed by The Guardian in 2019; and
the European Union's greenwash of blue hydrogen.
"Exxon has become one of the top spenders on climate issues on Facebook, frequently sharing misleading statistics about proposed climate action, and encouraging users to 'take action' to stop them on their website Exxon Exxchange," the report says, highlighting the key role of social media giants in the dissemination of climate disinformation.
ExxonMobil has faced heightened scrutiny for its efforts to influence U.S. politics in the wake of an exposé published earlier this summer. CEO Darren Woods is among those invited to appear before the U.S. House Oversight and Reform Committee next month for a hearing reminiscent of the 1990s congressional investigations into Big Tobacco.
If Woods—along with BP America CEO David Lawler, Chevron CEO Michael Wirth, Shell president Gretchen Watkins, American Petroleum Institute (API) president Mike Sommers, and U.S. Chamber of Commerce president and CEO Suzanne Clark—refuse to testify or turn over materials to the House panel, Democrats may issue subpoenas.
Reposted with permission from Common Dreams.
From Your Site Articles
Related Articles Around the Web
SeanPavonePhoto / iStock / Getty Images
When you think of states that have made a heavy investment in solar energy, Virginia may not be at the top of your list. Yet in recent years, Virginians have made a massive amount of progress; in 2019, the state was ranked No. 19 in the country for solar installation, and in 2020 it jumped to No. 4.
But what are the top cities for solar in Virginia? We've done some digging and come up with a comprehensive list.
Top 10 Cities for Solar in Virginia
When narrowing down the top cities for solar in Virginia, EcoWatch took into consideration solar power generation data from the Energy Information Institute, maps on solar irradiance and potential from the National Renewable Energy Laboratory, local government websites and Environment America's latest Shining Cities report.
Based on this information, the top cities for solar in Virginia are as follows:
Richmond
Virginia Beach
Alexandria
Norfolk
Roanoke
Fairfax
Charlottesville
Newport News
Danville
Blacksburg
EcoWatch
1. Richmond
Virginia's capital city ranks first in the state and 49th in the nation for total solar PV installations. According to the Shining Cities report, there are over 22 watts of solar installed per person in Richmond.
2. Virginia Beach
Although Virginia Beach is better-known for its large offshore wind energy farm, the popular tourist destination ranks second in Virginia and 61st in the nation for total solar PV installations. There are currently over five watts installed per person, per the Shining Cities report.
3. Alexandria
Alexandria earned a SolSmart Gold designation in July 2020, which is the highest designation given by the program. The city also boasts an impressive portfolio of new and promising renewable energy programs, solar feasibility studies and more.
4. Norfolk
NREL's Solar for All maps show that Norfolk boasts one of the highest potentials for solar energy generation and roof-mount capacity. Major corporations have already adopted solar in the area — the IKEA store in Norfolk even features a 180,000-square-foot solar array.
5. Roanoke
In 2012, Roanoke participated in the U.S. Department of Energy's Better Buildings Challenge with the goal of curbing energy use by 20% across 1 million square feet of building space by 2022. In 2018, Roanoke achieved that goal with a 23% energy reduction. The city remains committed to clean energy, as evidenced by its impressive Solarize Roanoke project.
6. Fairfax
Fairfax has also been designated a SolSmart Gold city and has its own Solarize Fairfax County initiative. This project, which gives residents access to free solar assessments, bulk-purchasing discounts, discounted solar batteries and more, has concluded for the 2021 season but may well return in 2022.
7. Charlottesville
In addition to a city-specific solar tax credit and a Solarize Charlottesville program, the city has started putting solar panels on government buildings. Among the solarized buildings are Charlottesville High School, the City Facilities Maintenance Building and the ecoREMOD Energy House.
8. Newport News
This coastal city receives a lot of sunshine… some 215 days a year, in fact. It's no surprise, then, that NREL maps show a high capacity for rooftop solar and an above-average number of buildings suitable for solar.
9. Danville
According to NREL data, Danville has a high potential for rooftop solar capacity and generation, and the city is doing its part to help residents make the switch to clean energy. It has developed its own net metering program for residential solar installations up to 10 kW, as well as invested in two solar farms that are producing about 10 MW of energy to be used by Danville Utilities customers.
10. Blacksburg
In March of 2014, Blacksburg became the first community in Virginia to launch a Solarize campaign, and NREL maps show it has a high potential for solar generation. This SolSmart Silver city offers many solar-focused resources for residents, including a solar panel installation checklist, information for those interested in solar jobs and guidance on solar access within the state.
Where Solar Panels Work Best
While there are many solar-smart cities in Virginia, some are better suited than others for PV installation. The best cities for solar include those that have:
Decent sun exposure: Cities that get consistent year-round sunlight tend to be good places to invest in solar, hence the coastal communities we've included on our list.
High local utility costs: Solar power tends to be more valuable in cities that have high electrical costs. More on that in a moment.
Local rebates and incentives: Some cities make solar investment more attractive by implementing local net metering programs, tax rebates or other financial incentives.
Average Virginia Electricity Costs
As mentioned, residents in places with higher electricity costs stand to benefit more from installing solar panels. In Virginia, the average monthly electrical consumption is 1,122 kWh, which is roughly on par with nearby states such as South Carolina and West Virginia, though a bit higher than in Maryland or Washington, D.C. The average monthly electric bill is $135.46, which is on the high side compared to most neighboring states.
Virginia Solar Tax Incentives
Homeowners in Virginia can take advantage of a few solar tax exemptions and incentives to help offset the cost of solar panels. For example, there is a property tax exemption, which means that although solar panels will increase the value of a home, they will not increase your property taxes. Virginia also has a state-wide net metering program, which means that any surplus energy generated by solar panels can be fed back into the electric grid in exchange for credits from your utility company.
Federal Solar Tax Credits
Homeowners in Virginia (and anywhere else in the country) can also claim a residential federal tax credit worth 26% of their total solar installation cost. This can offset the initial investment expenditure considerably, but keep in mind that this credit may be phased out by 2023 unless Congress acts swiftly to renew it.
Virginia Solar Regulations
There are a few laws that impact solar adoption in Virginia. Some notable examples include:
The Solar Rights law protects the rights of homeowners to install solar panels, without being obstructed by their homeowners association or other community association. HOAs do have some leeway to regulate the aesthetics of solar installations, however.
Virginia's Zero Carbon Bill will create more than 30,000 solar jobs by the year 2030.
The Virginia Clean Economy Act is set to create a number of new incentives for homeowners to go solar. It also creates robust clean energy standards for utility companies and fines providers unable to meet those standards.
Final Thoughts: Top Cities for Solar in Virginia
Solar energy presents a valuable opportunity for homeowners to lower electric bills, reduce their impact on the environment and become less dependent on traditional utilities. However, in Virginia, some cities are more solar-forward than others. If you didn't see your city on this list (and even if you did), there are plenty of ways individuals can push for more solar power in their areas. Here are some ideas to get you started:
Install solar panels on your home
Educate your neighbors about the benefits of solar energy
Reach out to your elected officials and urge them to set strict renewable energy goals
Pan-fried periodical cicadas are coated in hot sauce on June 4, 2021 in Hyattsville, Maryland. Chip Somodevilla / Getty Images
By Matan Shelomi
What is the life of a cricket worth?
Insect farming is a rapidly growing industry, with hundreds of companies worldwide rearing insects at industrial scales. The global value of insect farming is expected to surpass $1.18 billion by 2023.
Farmed insects, or "mini-livestock," refers to insects such as crickets and mealworms raised for the sole purpose of being sold as food or animal feed.
These are not the fried tarantulas on a stick hawked to tourists or scorpion lollipops sold as novelties. High-protein insect powder can be used in foods from breads to buns, pasta and protein bars. Such products are already available in countries including the U.S., Switzerland and Finland.
As an entomologist who has studied the potential and promotion of edible insects in new markets, I have seen how much progress has been made in the past decade in normalizing the idea of eating insects worldwide. Now is the time to evaluate the ethical aspects of insect farming.
Insects for Humanity
The main motivation for edible insects' rising popularity is environmental. Producing 1 kilogram (2.2 pounds) of insect protein requires about 10% of the feed, water and land used for the same amount of beef production, and releases as little as 1% of the greenhouse gases. Insects have a lower environmental impact even compared to other meat alternatives like dairy, gluten and mycoprotein.
Raising insects on waste products significantly ups these benefits. Black soldier flies can be raised on agriculture byproducts like vegetable peels or spent grains. The larvae are then used as feed for fish and poultry, recycling waste and reducing reliance on more expensive soymeal and fishmeal feeds.
Besides being big business, insect farms also provide important sources of protein and income for rural households. They can be established cheaply, with little space, and are a boon for smallholder farmers who lack the resources for livestock, all the while sustainably providing feed and fertilizer.
A good example is the "Insects for Peace" program that has helped ex-combatants in post-conflict Colombia with their reintegration. The former soldiers have found livelihood farming black soldier flies, which are used as a feed component for livestock.
Is Insect Meat Cruelty-Free?
An additional bonus is that insects do not evoke much empathy. With exceptions, even vegetarians rarely think twice about swatted mosquitoes, let alone the millions of agricultural pests killed when farming crops.
Those who do mind can rest assured that farmed insects lead net-positive lives, with no fear of predators or starvation. Insect welfare is conveniently easy: While cramped, hot, filthy settings in factory farms are cruel for vertebrates, they are ideal for insects like mealworms that thrive when crowded together. One can imagine that there are not many requirements to set up a humane cockroach farm, though one's neighbors might disapprove.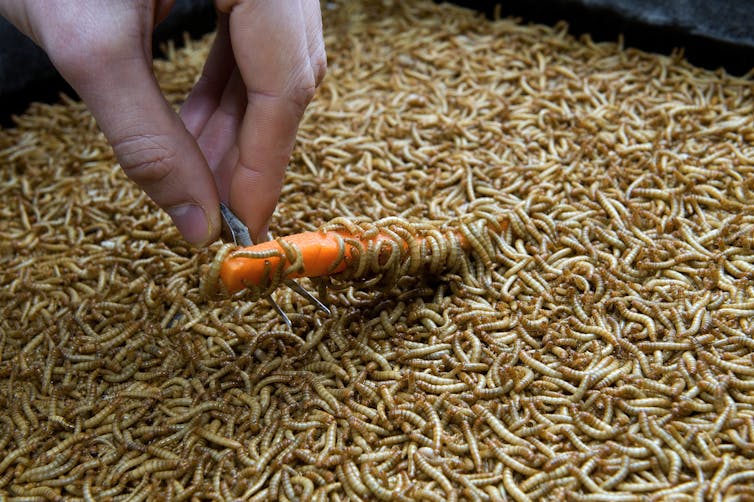 The slaughter of insects is another issue.
Recent surveys of UK insect farmers found many are concerned about insect pain perception and providing their mini-livestock a "good death." The most common slaughter methods large-scale insect farmers use are freezing or freeze-drying, with the assumption that the cold-blooded insects will humanely fall asleep and never wake up.
While insects can and do sense physical pain, they likely do not do so consciously. Invertebrate neurologist Shelley Adamo notes that many insect behaviors are "incongruent" with pain as mammals experience it, citing reports of insects walking normally on broken legs or mantids mating while their partner eats them alive. Entomologist Craig H Eisemann's influential review of the field, "Do Insects Feel Pain?," concluded that they are missing too many neurological, chemical and behavioral signs for a pain state.
Nonetheless, scholars such as Eisemann and other advocates agree that insects should be farmed and killed with the assumption that they do feel pain. That means the slaughter method should be as quick and painless as possible.
While certainly less potentially painful than boiling, as extreme heat is known to induce pain responses in insects, freezing is slow. Shredding is a popular alternative: At their small size, insects can be reduced to powder almost instantaneously, before they could sense any pain. Current surveys suggest public perception of pulverization is still negative compared with freezing, but insect farmers increasingly view it as the more humane choice.
The low probability that farmed insects suffer pain, if they can "suffer" at all, combined with the environmental and social benefits of insect farming, caused philosopher Chris Meyers to argue that eating insects is not only morally acceptable but also morally good.
This idea gave rise to the term "entovegan." Like pescatarians follow a vegetarian diet but still eat seafood, entovegans happily eat arthropods, secure in the knowledge that their diet is both sustainable and ethical.
How Much Are Insect Lives Worth?
What gives some strict vegans pause is the sheer number of insects involved.
In a 2020 preprint, animal welfare activist Abraham Rowe calculates that 1 trillion to 1.2 trillion individual insects are farmed annually for food and feed, not including harvested wild insects. On average, 79 billion to 94 billion farmed insects are alive on farms globally in any given day, compared with only about 22 billion chickens, Earth's most popular meat.
So, how valuable is an insect's life compared with a plant's or a bacterium's? Capacity for consciousness is a popular metric for determining if an organism has moral standing, even though there is no agreement on how to actually measure that.
If one assumes, hypothetically, that insects are 0.1% as sentient as cows, or that the probability that insects can suffer is 0.1%, then killing 1,000 crickets has a similar ethical footprint as killing one cow. That may seem generous, yet in his guide "How to Reply to Some Ethical Objections to Entomophagy," philosopher Bob Fisher calculates that one cow produces as much meat as 900,000 crickets.
The math changes, however, when one considers how many animals die in agricultural fields: Conservative estimates place at least 10 million invertebrates per acre of crops at risk from pesticides, as well as thousands of small, undeniably conscious vertebrates like mice and rabbits at risk from mechanical harvesters. This math adds millions of deaths not only to traditional meat production through the fields of feed, but also to almost any cultivated crops, including soy. To quote biologists Charles Nicoll and Sharon Russell, "There is no such thing as a bloodless veggieburger."
Fisher calculated that the number of insects killed to produce a plant-based diet or an insect-based diet are about the same, meaning entoveganism and veganism are in that sense equivalent. Eating insects raised on organic wastes, all but eliminating the environmental and animal death costs of plant farming, may be the best option of them all.
The rise in insect farming means questions about insect sentience and slaughter are no longer just philosophical: The well-being of trillions of creatures is at stake.

Matan Shelomi is an associate professor of entomology at National Taiwan University.
Disclosure statement: Matan Shelomi does not work for, consult, own shares in or receive funding from any company or organization that would benefit from this article, and has disclosed no relevant affiliations beyond their academic appointment.
Reposted with permission from The Conversation.
From Your Site Articles
Related Articles Around the Web
A flare stack next to pump jacks and other oil and gas infrastructure on April 24, 2020 in the Permian Basin near Odessa, Texas. PAUL RATJE / AFP via Getty Images
The move reflects pressure on European fossil fuel companies like the Netherlands-based Shell to shift towards cleaner sources of energy in response to the climate crisis, The New York Times reported. It also comes around four months after a Dutch court ordered the company to reduce its greenhouse gas emissions to 45 percent of 2019 levels by 2030.
"After reviewing multiple strategies and portfolio options for our Permian assets, this transaction with ConocoPhillips emerged as a very compelling value proposition," Shell Upstream director Wael Sawan said in an announcement. "This decision once again reflects our focus on value over volumes as well as disciplined stewardship of capital."
The Permian Basin is the largest oil field in the U.S., and the sale comes as production is recovering there following the coronavirus pandemic, The New York Times noted. It produced 4.7 million barrels a day in August, which is up almost 400,000 barrels a day from January and represents more than 40 percent of U.S. oil production. In an indication that its decision is motivated by climate concerns, Shell said in its announcement that its Upstream division was concerned with creating "a more focused, competitive and resilient portfolio that provides the energy the world needs today whilst funding shareholder distributions as well as the energy transition."
Shell on its own has committed to achieving net zero emissions by 2050 and reducing oil production by as much as two percent per year through 2030.
However, the sale to ConocoPhillips means that overall oil production in the region will likely not decrease. Instead, it reveals a split between European and U.S. fossil fuel companies, Reuters observed. While BP and Shell have pledged to move slowly away from crude production and invest in renewable energy sources like wind and solar, ExxonMobil and Chevron have remained committed to oil and gas.
However, historically, both U.S. and European fossil fuel companies continued production despite being aware of the possible consequences of the climate crisis. An internal document from Shell written in 1986 warned of consequences like flooding and forced migration, as Benjamin Franta wrote for the London School of Economics.
ConocoPhillips now emerges as one of the largest producers in the Permian Basin, Bloomberg reported. The company currently holds 750,000 net acres in the Permian, and the sale will add around 225,000 net acres and more than 600 miles of associated infrastructure to that total, according to Reuters.
"We are very excited to enhance our position in one of the best basins in the world," the company's CEO Ryan M. Lance told The New York Times.
However, ConocoPhillips has also said it will increase its emissions reduction targets, Reuters reported.
Mapping Methane in the Permian Basin youtu.be