A cyclist rides through the flooded street during heavy rain and wind as tropical storm Eta approaches the south of Florida, in Miami, Florida on November 9, 2020. CHANDAN KHANNA / AFP / Getty Images
By Julia Conley
Although more than 90% of cities around the world report facing risks of flooding, drought, extreme weather, and other hazards due to the climate crisis, nearly half of the cities in a new survey reported that they have no plans in place to adapt to the planetary emergency, with one in four citing budgetary constraints for their inability to confront the crisis.
The Carbon Disclosure Project (CDP), a global non-profit which runs the world's largest database showing disclosures from governments and companies regarding their environmental impacts, released the results of a survey of 800 cities which are home to 810 million people around the world.
The cities were found to be taking a total of 3,417 actions to cope with and mitigate the effects of the climate crisis, but chronic lack of funding from national governments has left a quarter of the cities surveyed unable to afford taking action, including planning green spaces, improving fuel economy to reduce vehicle emissions, implementing green retrofitting measures, and transitioning to renewable energy.
"Despite the progress cities have made to build resilience through risk assessments and adaptation planning, much more must be done to protect all populations from the worst impacts of climate change," the report reads. "For 74% of cities, climate change is increasing risks to already vulnerable populations ... Joining the dots between climate change and threats to water security, public health, and social equality is crucial to effectively address these issues and ensure cities remain resilient, prosperous, and healthy places for generations to come."
More than 420 cities reported that 1,142 climate projects require financing, demanding an investment of $72 billion — which, CDP said, should be included in recovery plans as the world continues to face the coronavirus pandemic.
To respond to the urgent impacts of #ClimateChange, cities need more funding. Our data shows that 1 in 4 cities f… https://t.co/9hNXh4akpJ

— CDP (@CDP) 1620841500.0
"As the world seeks to recover from Covid-19, recovery funds and stimulus packages need to focus on a green and just recovery," the report reads. "There is an opportunity here for cities to access funding and to implement climate projects focused on increasing resilience, protecting the most vulnerable and building an equitable and fair society. If Covid-19 recovery is not sustainable and equitable, we risk locking cities into infrastructure that is not aligned with the U.N. Sustainable Development Goals and a 1.5°C future."

According to The Guardian, Columbus, Ohio; Rio De Janeiro; and Southend-on-Sea, England are among the cities reporting budget constraints which have harmed their ability to prepare for the continued impacts of the climate emergency.
CDP global director Kyra Appleby noted that although 20% of cities surveyed said they face the risk of infectious diseases spreading, and linked the threat to the climate crisis — as several experts have — the need to ensure a green recovery appears to have eluded many policymakers.
"There are enormous benefits from adaptation and resilience, but they don't appear on the balance sheet," Appleby told The Guardian. "Only a fraction of recovery spending [from the coronavirus pandemic] is being put towards climate change, and even less towards adaptation."
Cities disclosing their environmental impacts and climate plans to CDP are "outperforming on urgently needed decarbonization compared to the global average," according to the organization, with 42% of their energy coming "from renewable sources compared to a 26% global average."
"To push their action further and faster," CDP said, "cities are seeking funding for projects in transport (16% of projects), renewable energy (12%), energy efficiency/retrofits (12%), water management (12%), and waste management (11%)."
According to the report, cities raised the greatest concerns about the climate emergency's effects on public health and water supply.
"Cities will require support from all levels of government, including partnerships with national governments to finance and achieve our global climate commitments," said Kelly Shultz, lead for sustainable cities at Bloomberg Philanthropies.
Reposted with permission from Common Dreams.
From Your Site Articles
Related Articles Around the Web
EcoWatch Daily Newsletter
Palm fruits stored on the road in Tomé-Açu municipality, northern Amazon's Pará state, on Nov. 12, 2019. Karla Mendes / Mongabay
During 18 months, Mongabay investigated allegations challenging the "sustainable" status of the Brazilian palm oil supply chain, revealing impacts including deforestation and water contamination, and what appears to be an industry-wide pattern of brazen disregard for Amazon conservation and for the rights of Indigenous people and traditional communities in northern Pará state.
In this behind-the-scenes video, Mongabay's contributing editor in Brazil, Karla Mendes, takes us on her reporting journey as she and the team track how the palm oil industry is changing this Amazonian landscape.
Karla herself experienced a rapid onset of coughing, shortness of breath, nausea and headaches when she inhaled fumes from these oil palm trees doused with pesticides. "I came back to the car because the smell is very strong. I started coughing, it's horrible," she says.

The Mongabay team also witnessed a wide range of wrongdoing, including the dumping of alleged palm oil residue in the Acará River and the lack of a buffer zone around Indigenous reserves, which are all surrounded by oil palm plantations.
The Mongabay investigation will be used by federal prosecutors as evidence to hold a palm oil company accountable for water contamination in the Turé-Mariquita Indigenous Reserve.
The biggest news portal in Brazil, UOL, picked up the Mongabay story, and Karla was also interviewed by the BBC about her investigation.
Read the full investigative report here:
Déjà vu as palm oil industry brings deforestation, pollution to Amazon
Related listening: hear Mongabay's reporter Karla Mendes discuss these issues along with researcher Sandra Damiani and federal prosecutor Felício Pontes Júnior on Mongabay's podcast:
Reposted with permission from Mongabay.
The contents of our mattresses are often an afterthought. That's a mistake, as research shows that the quality of your sleeping surface can significantly impact your health.
As consumers gain awareness about the health effects of sleeping on potentially toxic compounds, mattress companies are responding with new beds made from better materials. Today, you can choose from a broad range of mattresses made from all-natural components, including organic wool, cotton, and latex. Here's a summary of the best non-toxic, eco-friendly mattresses available today and how to decide between them.
Why You Should Choose an Organic Mattress
Traditionally, mattresses contain trace amounts of chemicals known as volatile organic compounds (VOCs) that act as flame retardants and coatings on plastic components. While the popular view is that these VOCs are found in too low of concentrations to be concerning, a 2019 study published in Environmental Science and Technology indicates that body heat may transform them into toxic vapors that you breathe in through the night.
That's a reason for concern, as according to the US Environmental Protection Agency, the potential health effects of VOC exposure include headaches and eye, nose, and throat irritation. In extreme cases, they may trigger cancer cell development or organ damage.
8 Top-Rated Organic and Natural Mattress Brands
Each product featured below has been selected by the writer. You can learn more about our
review methodology here
. If you make a purchase using the included links, we may earn a commission.
How We Chose These Products
When comparing the best natural mattress options, we looked at several specific factors to determine which ones stand out. Here are some of the distinguishing features.
Organic Materials
The best non-toxic mattress brands today exclusively use certified organic textiles like cotton and wool.
Certifications
Is it certified GOLS (Global Organic Latex Standard) or GOTS (Global Organic Textile Standard)? As the leading natural certifications for textiles and latex materials, GOLS and GOTS-certified products meet stringent requirements for responsible social and environmental practices.
Delivery
The best nontoxic mattresses are compressed into boxes for shipping and then expand to full size once you unpack them. Environmentally speaking, smaller packages mean less fuel wasted on transportation. Others are sent in pieces or in full form and require a delivery team for installation.
Give Back Programs
The best eco-friendly mattress brands also support nonprofit programs that benefit the environment. We like brands where a percentage of your purchase may go towards a worthwhile cause.
Manufacturing
Many of the best organic mattresses are handcrafted in the United States, which shrinks their environmental footprint by keeping production and transportation within a smaller area.
Return Policy
Standard practice in the mattress industry is to offer sleep trial testing periods. These range from three months to a year or longer.
Direct to Consumer
Direct-to-consumer mattress companies are increasing in popularity. They tend to be less wasteful than traditional retailers because the brand isn't putting resources towards maintaining showrooms.
9 Best Natural and Organic Mattresses of 2021
avocadogreenmattress.com
Materials – 100% GOTS certified cotton and wool, 100% natural latex, steel support coils
Manufacturing – Handmade in USA
Delivery – Mattress arrives compressed in a box
Certifications – GREENGUARD Gold, Rainforest Alliance, eco-INSTITUT®, and Formaldehyde-Free certified, OEKO-TEX® Standard 100 certified wool, GOTS and GOLS certified materials
Sleep Trial/Warranty – 100-night sleep trial, 25-year warranty
This mattress-in-a-box brand doesn't compromise its eco-friendly principles for low cost or convenience. The Avocado Green mattress boasts a gentle latex support system for balanced firmness that's ideal for larger people and those who sleep on their back or side.
Why buy: Avocado is a leading brand for affordable mattresses made from natural materials. The Green mattress makes this list for its affordable price point and five-zone support system with up to 1,400 pocketed steel support coils. Equally impressive, Avocado maintains control over its whole supply chain and employs strict social and environmental standards for every product.
ghostbednatural.com
Materials – Natural wool, GOLS certified Dunlop & Talalay latex, USDA organic and GOTS certified cotton
Manufacturing – Manufactured in the USA
Delivery – Mattress arrives vacuum sealed in a box
Certifications – USDA organic, Control Union certified, OEKO-TEX® certified, GOLS and GOTS certified materials
Sleep Trial/Warranty – 101 night sleep trial, 25-year warranty
The GhostBed Natural mattress offers five layers of natural comfort materials. Each mattress is made from natural wool, genuine Dunlop and Talalay latex, and organic cotton for solid support and air-flow cooling. This is an eco-friendly mattress made for comfort, cooling, and support.
Why buy: The GhostBed Natural mattress is a great option if you tend to get hot when you sleep, as it includes both a naturally cooling latex core and cooling airflow coil technology to help you sleep better. We also love that it is made in the United States with organic and natural materials like sustainably-sourced latex and USDA organic cotton.
plushbeds.com
Materials – GOLS certified latex, GOTS certified cotton and wool
Manufacturing – Handcrafted in California
Delivery – Delivered in two boxes, the customer must assemble
Certifications – GOLS certified latex, GOTS certified cotton and wool, GreenGuard Gold Certified, OEKO-TEX® Standard 100 Certified, eco-INSTITUT® certified, Control Union Certified, Forest Stewardship Council Certified
Sleep Trial/Warranty – 100-night sleep trial, 25-year warranty
Plushbeds mattresses are handcrafted in the US from certified organic materials. Orthopedic specialists recommend them for their buoyant support and pressure point relief, along with an organic latex core you can customize.
Why buy: With Plushbeds' Botanical Bliss mattress, you get a non-toxic, hypoallergenic sleeping surface that keeps you cool through the night. This bed is dust mite resistant to eliminate most home's primary allergy problems and includes an organic cotton cover for comfort.
saatva.com
Materials – Certified organic cotton, all-natural Talalay latex, 100% organic New Zealand wool
Manufacturing – Made in USA within 19 independent factories
Delivery – Purchase comes with free white glove delivery and setup, including old mattress removal
Certifications – OEKO-TEX® Standard 100, eco-INSTITUT®, Rainforest Alliance, and Cradle to Cradle certified
Sleep Trial/ Warranty – 180-day sleep trial, 20-year warranty
The Saatva Zenhaven mattress is naturally hypoallergenic and made using environmentally responsible practices. The manufacturing process is entirely water-based and produces minimal byproducts. Even the certified organic cotton cover is protected by a proprietary nontoxic botanical antimicrobial treatment. Rather than using traditional flame retardants, the mattress contains a protective layer of organic New Zealand wool.
Why buy: As Saatva's premium mattress, the Zenhaven is made for low back support and a cooling, comfortable night's sleep. This 100% Talalay latex mattress contains durable materials for supported rest and boasts a flippable design for two firmness levels. This is the best option for a luxurious yet eco-friendly mattress.
mygreenmattress.com
Materials – GOTS certified cotton, GOLS certified Dunlop latex
Manufacturing – Handcrafted in a certified organic factory in Illinois
Delivery – White glove delivery service available for $199 for setup and old mattress removal.
Certifications – GreenGuard Gold Certified, GOTS Certified cotton, GOLS certified Dunlop latex
Sleep Trial/Warranty – 120-night sleep trial, 20-year warranty
The Natural Escape mattress boasts a responsive zoned pocketed coil spring system covered with GOLS certified Dunlop latex for breathability. With an adaptive support system that conforms to the contours of your spine, the company recommends it for couples with opposite body types or who prefer different sleeping positions from each other. The mattress itself is button tufted to pull the layers together without the use of any potentially toxic adhesives or VOCs.
Why buy: The Natural Escape mattress from My Green Mattress delivers stellar lumbar support and proper spinal alignment—all underneath a comfortable organic cotton cover. It also provides limited motion transfer thanks to an upgraded innerspring system, making it a great option for couples as you won't disturb your partner when you move.
happsy.com
Materials – Organic cotton filling, organic wool, certified latex
Manufacturing – Handmade in USA
Delivery – Ships compressed in a single box
Certifications – GOTS-certified cotton, Certified Made Safe, GOLS-certified latex, Forest Stewardship Council Certified, Rainforest Alliance Certified, GreenGuard Gold Certified, Underwriters Laboratories verified formaldehyde-free, Green America Certified Business
Sleep Trial/Warranty – 120-night sleep trial, 20-year warranty
Happsy's mattresses combine comfort, the latest technology in certified organic mattress design, and premium earth-friendly materials for a bed you can feel good about from every angle. In fact, the included zipper lets you peek inside to see what you're really sleeping on. The mattress utilizes a breathable coil system designed to wick moisture away to keep you cooler at night than sleeping on heat-trapping synthetic foams.
Why buy: Happsy is a small mattress brand focused on making mattresses with a conscience — meaning that all materials are chosen for being easy on the environment. The company forgoes all glues and adhesives in favor of its own pocketed spring design that keeps the mattress supportive, but never "bouncy."
birchliving.com
Materials – Organic cotton, wool, birch wool, natural latex, steel coils
Manufacturing – Handmade in USA
Delivery – Ships compressed in a box
Certifications – GreenGuard Gold Certified, GOTS Certified, OEKO-TEX®Standard 100, Eco INSTITUT® Tested Product, Wool Integrity NZ, Fair Trade Certified Factory
Sleep Trial/Warranty – 100-night sleep trial, 25-year warranty
Birch by Helix makes a range of natural bedding options constructed in ways that support the environment. Each mattress is made from premium materials that together work to relieve your body's pressure points, no matter how you prefer to sleep. The company claims this premium product has natural flexibility that allows it to retain its shape to provide enough softness for coziness while still offering full-body support.
Why buy: We love that all Birch mattress wool comes from New Zealand sheep farms that meet Wool Integrity NZ standards, which ensures the animals are treated ethically at every stage of production. Plus, the cotton within each mattress is Fair Trade certified, making this a responsible sleep option.
ecoterrabeds.com
Materials – 100% natural latex foam rubber, organic wool, organic cotton
Manufacturing – Designed and handcrafted in Los Angeles, CA
Delivery – Free standard delivery across the US, White Glove delivery available for an extra cost
Certifications – OEKO-TEX® Standard 100 certified, GOTS Organic wool, GOTS organic certified cotton
Sleep Trial/Warranty – 90-day sleep trial, 15-year warranty
Eco Terra offers a budget-friendly latex hybrid mattress that includes natural materials, unobtrusive pocket support coils, and a 90-day sleep trial. Eco Terra's latex mattress is available in both a medium and medium-firm firmness level to support a wide range of sleepers. The bed is free of synthetic foams and VOCs, favoring a three-inch-thick layer of Talalay latex instead.
Why buy: Eco Terra offers a more budget-friendly option than other latex hybrid brands, making this mattress an excellent choice for comfortable sleep without compromising on natural materials. One thing to note is that this latex isn't GOLS-certified, though the other materials are GOTS certified.
awarasleep.com
Materials – Dunlap latex, organic New Zealand wool, organic cotton, steel coils
Manufacturing – Made in China
Delivery – Arrives compressed in a box
Certifications – Rainforest Alliance certified latex, certified organic wool, certified organic cotton
Sleep Trial/Warranty – 365-night sleep trial, Forever Warranty (lifetime guarantee against sagging and manufacturing defects)
Awara features premium Sri Lanka latex and wrapped coil springs to provide contour and a touch of bounce for supportive sleep throughout the night. At the core of this mattress are nine-inch pocketed coils that are thicker than standard. This gives the bed a firmer, more responsive feel that minimizes the sense of sinking when you reach the outer edge, so it's suitable for back, side, and stomach sleepers alike.
Why buy: Awara's natural latex mattress stands out for being slightly firmer than some other options. The mattress itself is made from quality materials with GOLS, GOTS, and Rainforest Alliance certification. Awara also partners with Trees for the Future to support forest systems throughout Africa. Every purchase funds the planting of ten trees throughout Kenya, Senegal, Uganda, or Tanzania.
Takeaway

The best night's sleep takes place on a mattress that won't make you or the environment sick. Today, there are more options than ever for finding the best organic and nontoxic mattress for your family. Seek out brands that use certified organic materials and that guarantee each bed is free from VOCs to rest easy every night.
Lydia Noyes is a freelance writer specializing in health and wellness, food and farming, and environmental topics. When not working against a writing deadline, you can find Lydia outdoors where she attempts to bring order to her 33-acre hobby farm filled with fruit trees, heritage breed pigs, too many chickens to count, and an organic garden that somehow gets bigger every year.
An intact female Pacific Footballfish washed up on the shores of Laguna Beach. Ben Estes and Crystal Cove State Park
Last week, an amazing and unusual fish washed up on the beach in Southern California.
Black, 18-inches long and football-shaped, it sported a long stalk coming out of its head with bioluminescent tips. This is used to lure prey towards its large mouth with transparent teeth "like pointed shards of glass," a Facebook post by Crystal Cove State Park described. Its large mouth can then suck up and swallow prey the size of its own body, the park noted.
The fish was found by beach visitor Ben Estes in a Marine Protected Area at the popular park and is a species of deep-sea anglerfish. There are more than 200 species of anglerfish worldwide, the post shared, and experts believed this to be a very well-preserved, intact Pacific Footballfish (Himantolophus sagamius).
"To see an actual angler fish intact is very rare and it is unknown how or why the fish ended up on the shore," Crystal Cove posted.

Though not rare in the deep sea, where they usually live 2,000-3,300 feet below the surface in complete darkness, anglerfish do not usually wash up on the shore. According to the California Academy of Sciences, the only other specimen of the Pacific Footballfish from California that scientists have was caught in 1985 by fishermen in Monterey Bay, who hauled it up in their nets. It now is housed at the San Francisco museum.
The museum describes the environment that the Pacific Footballfish lives in as so dark that "sunlight doesn't penetrate." Food is scarce, so the footballfish has evolved to feed on "whatever fits in its mouth — including other fish, squid, and crustaceans," Cal Academy noted. The lure dangles in front of its mouth until the prey comes within striking distance. By then, it's too late for the food: it gets sucked into the footballfish's large mouth, and its sharp teeth, which are pointed inward, "ensure that what goes in doesn't come out," the museum said.
Both the 1985 specimen and the most recent find from Laguna Beach were female footballfish, experts noted, because only females have the long stalk coming out of their heads. Bioluminescent bacteria flow into this appendage through small pores and live within the lure, multiplying due to the protection and nutrition that a host footballfish provides, Cal Academy explained. These bacteria are what actually emit the concentrated light from within the anglerfish lures.
Aside from lacking the bright lure, male footballfish are also much smaller than females. While the latter can reach lengths of 24 inches, males only grow to be about an inch long. Their sole purpose is to find a female and help her reproduce, Crystal Cove noted.
"Males latch onto the female with their teeth and become 'sexual parasites,' eventually coalescing with the female until nothing is left of their form but their testes for reproduction. Wild!" the state park posted.
"Using well-developed olfactory organs, they find and fuse themselves to females, eventually losing their eyes, internal organs, and everything else but the testes. The male becomes a permanent appendage that draws nutrition from its female host and serves as an easily accessible source of sperm," Cal Academy explained further.
Of the most recent find, Crystal Cove concluded, "Seeing this strange and fascinating fish is a testament to the diversity of marine life lurking below the water's surface in California's MPAs and as scientists continue to learn more about these deep-sea creatures it's important to reflect on how much is still to be learned from our wonderful ocean."
From Your Site Articles
Related Articles Around the Web
View of the Lusk fracking facility in Scenery Hill, Pennsylvania, on October 22, 2020. NICHOLAS KAMM / AFP via Getty Images
By Kristina Marusic
Living among fracking wells is linked to higher rates of hospitalizations and deaths due to heart attacks, according to a new study.
The study, published in the Journal of Environmental Research, compared heart attack rates in Pennsylvania counties with fracking to demographically similar counties in New York where fracking is banned.
"There's a large body of literature linking air pollution with poor cardiovascular health and heart attacks, but this is really the first study to look at this from a population level related to fracking," Elaine Hill, a researcher at the University of Rochester Medical Center and one of the study's co-authors, told EHN.
Hill and her colleagues looked at hospitalization and mortality records in 47 counties in New York and Pennsylvania from 2005-2014 (the most recent data available at the time the study was initiated) and found that heart attack hospitalization rates were higher on the Pennsylvania side of the border by 1.4–2.8 percent, depending on the average age and density of fracking wells in a given county. Living near a higher density of wells translated to a greater risk of heart attacks.
They also found that middle-aged men living on the Pennsylvania side of the border were 5.4 percent more likely to die of a heart attack than their counterparts in New York. The authors speculate that this link may be stronger in middle-aged men because they're more likely to work in the industry and have higher levels of exposure as a result.
The researchers were not able to control for lifestyle factors like smoking and drinking due to a lack of data, but they did assess demographics at the county-level to ensure they were looking at communities with similar economic and racial makeups on both sides of the border. They analyzed different age groups separately across the counties, and also adjusted for coal production in each county (another factor that can increase heart attack risk) and for rates of access to health insurance, which may influence whether people go to the hospital when having a heart attack.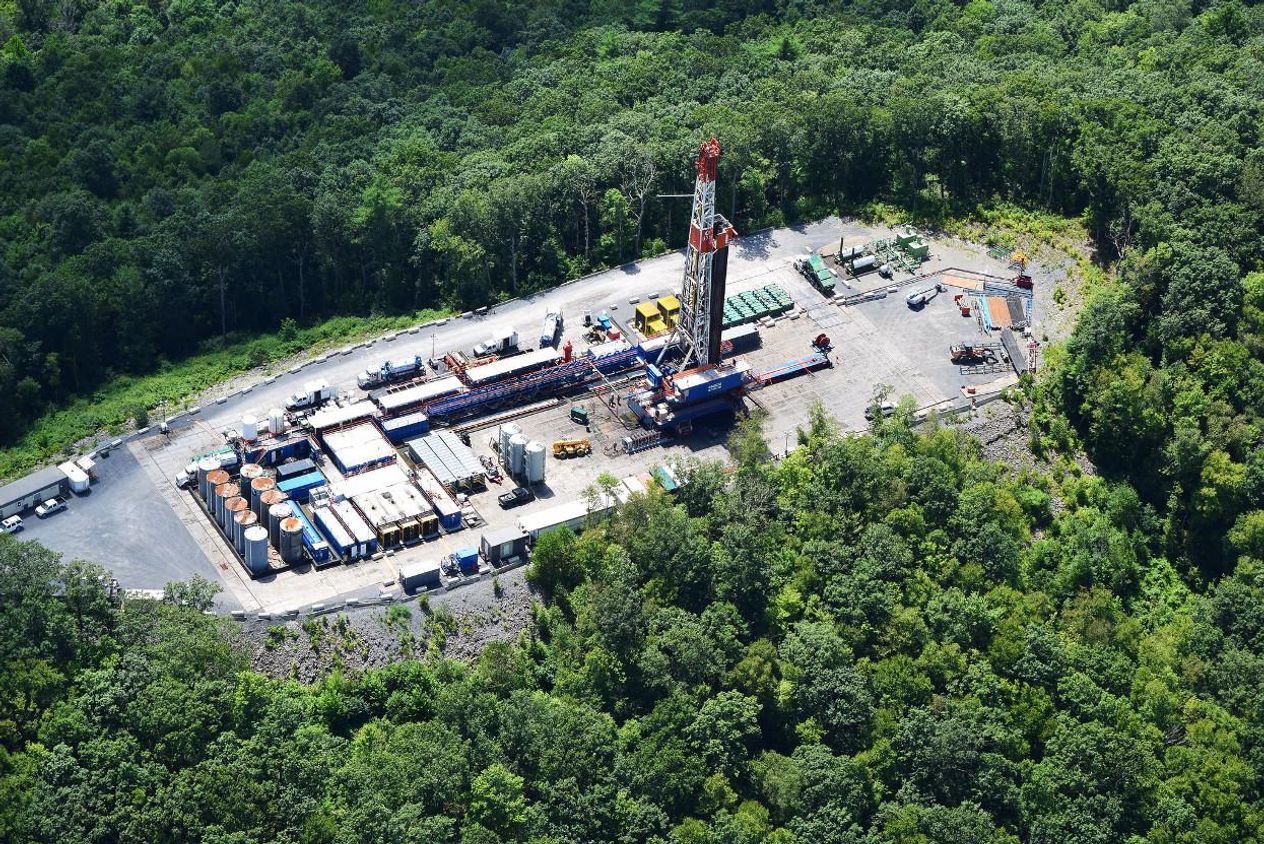 Drilling rig in PotterCounty, PA. Ted Auch / FracTracker Alliance, 2019
While numerous studies have compared economic differences between the two states, this is the first to use this "natural experiment" to compare human health outcomes on both sides of the border. A 2020 study conducted by veterinarians similarly found that horses raised near fracking wells on the Pennsylvania side of the border had higher rates of a rare birth defect than horses raised by the same farmer on the New York side.
Fracking and the increased truck traffic created by the industry raise levels of air pollution significantly, and exposure to air pollution raises heart attack risk. Living near fracking wells is also linked to heightened stress levels, which is another contributor to cardiovascular disease.
Alina Denham, the study's lead author, said their findings are in line with previous research. She pointed to a 2019 paper that found higher levels of physical markers associated with heart attack risk in people who live near fracking. Still she said, "Additional research is needed to figure out exactly how exposure to fracking wells leads to increased heart attack risk."
Fracking is more concentrated in rural communities, many of which lack health care access. The study's authors speculated that this could also contribute to worse cardiovascular health outcomes. Hill said she hopes policymakers will use their findings to create oil and gas policies that protect public health.
"I'm aware that my previous work influenced the ban in New York," Hill said. "I think there are also other policy decisions that can let the industry continue to thrive and let people continue to have these jobs while also ensuring that everybody is more protected. Things like mitigating emissions, recycling waste water—even using electric vehicles instead of diesel to transport materials. There's much room for improvement."
Reposted with permission from the Environmental Health Network.
From Your Site Articles
Related Articles Around the Web
In the national park of Axios Delta near Thessaloniki city in Greece, there are 295 species of birds, 350 species of plants, 40 species of mammals, 18 species of reptiles, 9 species of amphibians and 7 species of invertebrates. Nicolas Economou / NurPhoto via Getty Images
The problem of biodiversity loss is not simply a matter of funding, a new report examining the failures of the UN Convention on Biological Diversity (CBD) has warned.
Instead, policy makers need to consider the structural causes that promote habitat and species loss, especially in poorer countries.

"Our research shows that not only are more financial resources necessary to stem the biodiversity crisis, but we need a broader rethink about how the rules of the economy are driving the sixth extinction," the report's co-lead researcher, Dr. Jessica Dempsey from the University of British Columbia's Department of Geography, said in a University of Lancaster press release.
The report, titled Beyond the Gap: Placing Biodiversity Finance in the Global Economy, was published this month by the University of British Columbia and charity the Third World Network, with help from Lancaster and Duke University researchers. The report looks at why world leaders failed to meet the biodiversity targets set in Aichi, Japan 10 years ago, and comes ahead of the next major meeting of the CBD in Kunming, China.
Past analyses have focused on a funding gap between what is needed to protect biodiversity and what is actually being done. But the report authors argue that this framework is insufficient.
"What we call 'gap mentality' suggests that we can solve biodiversity loss by throwing money into a pit until it is full, creating a bridge to the desired outcomes," the report authors wrote. "While more resources are undoubtedly required to realise CBD objectives, reducing the scale and scope of the problem to one of funding will, at best, tinker at the edges of the crisis."
Instead, policy must focus on the structural inequalities driving biodiversity loss, the press release explained. These include trade and investment rules that support biodiversity-harming projects, private and public funding for extractive industries, austerity policies that are imposed on poorer nations in exchange for economic support, debt burdens on poorer nations that make it harder for them to fund conservation, proposing development as the solution to inequality, the fact that subsidies for extractive industries outstrip conservation funds and tax evasion that robs the public of more potential money for natural preservation.
In this context, some current biodiversity spending can either be ineffective or do more harm than good. For example, one study found that a tree-planting program in Costa Rica actually ended up funding commercial forestry, which increased tree plantations of a single species rather than rich ecosystems, BBC News reported.
Instead of simply funding conservation projects, wealthier countries can work to change the rules that underwrite the global economy and incentivize ecosystem harm in the first place. This could include forgiving the debt of less developed nations or simply giving them money to make up the gap between the developed and underdeveloped world.
"There need to be no strings attached payments to those countries," lead author Dr. Patrick Bigger of Lancaster University told BBC News. "Otherwise we just continue to dig this hole and try to fill the hole with money."
Other potential solutions include regulating extractive industries; taking more care to ensure that the biodiversity projects that are funded actually help; and addressing racial, gendered, class and caste hierarchies that can also drive biodiversity loss, the press release explained.
The authors argued that now, as the world is emerging from the coronavirus pandemic and gets to choose how it recovers, is the time to make these changes.
"To draw an analogy with the current pandemic, the IMF has recently proposed solidarity payments to the Global South," Lim Li Ching from Third World Network said in the press release. "This would be a good step for biodiversity as well, but it needs to be accompanied by deep structural changes, starting with the IMF stopping mandating austerity in those same countries."
From Your Site Articles
Related Articles Around the Web
An aerial view of a fire burning next to the Transpantaneira, a road that crosses the Pantanal on Sept. 25, 2020 in Pocone, Brazil. The main cause of induced fires in the region is livestock activity to transform the region into pastures. Photo by Buda Mendes / Getty Images
By Giuliana Viglione
Current estimates of land-use change may be capturing only one-quarter of its true extent across the world, new research shows.
The paper, published in Nature Communications, revises previous estimates of how much humans change Earth's land surface – such as via the destruction of tropical rainforests. It finds that, when accounting for multiple instances of change in the same place, 720,000 square kilometers (approximately 278,000 square miles) of land surface has changed annually since 1960 – an area, the authors note, "about twice the size of Germany."
These new estimates are a synthesis of high-resolution satellite imagery and long-term inventories of land use. Combining these two types of data sources, the authors write, allows them to examine land-use change in "unprecedented" detail.
Despite steadily increasing rates of land-use change over the latter half of the 20th century, the global rate has been decelerating since 2005. The authors attribute this slowdown to the 2007-08 financial crisis, which they hypothesize caused economic shifts in the global north that reverberated around the world.
A 'Careful Reconstruction'
"Land-use change" is any way in which humans modify the natural landscape. Some of these changes are permanent destruction, such as urban expansion. Other changes, such as cropland abandonment and forest restoration, may attempt to repair previous damage. It is a widespread phenomenon – humans have altered "about three-quarters of the Earth's land surface" in the past millennium, the authors write.
Land use is typically measured in one of two ways: by high-resolution satellite imagery, or by large-scale statistical surveys. But each of these methods has its drawbacks when assessing land-use change, the study says. Satellites can capture land use in high detail, but their records only extend back a few decades. Estimates based on satellite images also tend to miss some nuances of land use – such as the distinction between unmanaged grasslands and those used for grazing.
Statistical methods and surveys, such as those that the UN Food and Agriculture Organization (FAO) has been carrying out since 1961, extend further back in time than the satellite record, but at a much more coarse resolution. And little work has been done to combine these two approaches.
"The information on land and land-use change is very fragmented," Karina Winkler, the lead author of the study and a Ph.D. candidate in land-system dynamics at the Karlsruhe Institute of Technology and Wageningen University, tells Carbon Brief:
"The idea was to collect as many data [sources] as possible and bring them together."

Combining all of these disparate data sources, the authors write, also has the advantage of reducing the inconsistencies or limitations of any single dataset.
Winkler and her colleagues brought together more than 20 satellite land-use products and long-term surveys. The resulting dataset, which they termed the "Historic Land Dynamics Assessment plus" (HILDA+, for short), captures annual changes in land use across the globe with a resolution of 1km.
But not all land-use change is permanent. So rather than looking at "net" changes that only capture the overall transformation of an area, HILDA+ captures places where land use has changed multiple times – such as rotation between cropland and pasture. When these "gross" changes are summed up, the total extent of land-use change between 1960 and 2019 is 43m km2 – just under one-third of the total land surface of Earth.
The map below shows where both single-change (yellow shading) and multiple-change (red) events are occurring around the world. Instances of multiple-change events are dominant across Europe, India and the U.S., while single change events are widespread across South America, China and Southeast Asia.
Global instances of single (yellow) and multiple (red) land-use-change events. The pie charts show the total extent of change as a percentage of global land cover. Winkler et al. (2021)
Global land-use change nearly doubles when considering gross change, from 17% to 32% of Earth's land surface. And nearly two-thirds of this gross change is due to multiple-change events. Studying land-use change in this way – as an accumulation of all the changes occurring over time, rather than as net change – can help better account for the greenhouse gas emissions associated with land use, Winkler says.

A Source and a Sink
According to the Intergovernmental Panel on Climate Change's 2019 special report on climate change and land, nearly one-quarter of total human-caused greenhouse gas emissions between 2007 and 2016 were due to agriculture, forestry and other land use. In total, land use falls just behind electricity and heat production as the world's second-largest contributor to greenhouse gas emissions.
But land is also a major "sink" of greenhouse gases – for example, through the carbon taken up by forests. This balance of sources and sinks through land-use change, the IPCC report says, is a "key source of uncertainty" in considering the future of the land carbon cycle. Knowing the dynamics of past land-use change in finer detail can help inform the way climate modelers represent these changes, Winkler says.
"Land-cover change is really, really dynamic," professor Navin Ramankutty, a land-systems scientist at the University of British Columbia, tells Carbon Brief. Ramankutty, who was not involved in the study, adds:
"If you're just using net land-use changes over time, you might not actually capture the dynamic of carbon being taken back up by the land."

The new work on its own cannot provide much insight into how these gross land-use changes might affect the picture of climate change, Ramankutty says. "The devil is in the details," he explains:
"It's hard to say what the implications are [for climate change] without actually running [the new estimates] through a carbon-cycle model."

However, he adds, the updated estimates are "a much more careful reconstruction of how land has changed". He notes that it "seems more sophisticated than previous work" and that he would recommend using the new dataset.
Patterns of Change
Following the definitions used in the FAO's annual surveys, the researchers separate out six categories of land use: urban areas, cropland, pasture, unmanaged grassland, forest and sparsely vegetated land. Several notable patterns jump out when looking at what types of change are occurring where, the authors say.
For example, about half of the single-change events – or nearly 20% of the total changes – occur due to agricultural expansion, such as deforestation. And 86% of the multiple-change events are agriculture-related, predominantly occurring in the global north and select rapidly growing economies.
Averaged globally, land-use change steadily increased for nearly half a century since the FAO surveys began. But, in 2005, there was a "rather abrupt change" in this trend and land-use change began decelerating worldwide, the authors write.
The charts below depict the differences in land-use change rates between six geographical regions, as well as the worldwide average. The global rates of change can be defined by an acceleration period from 1960 to the early 2000s, followed by deceleration since about 2005.
Rates of change of land use in (clockwise from top left): North and Central America, Europe, central and eastern Asia, south-east Asia and Australia, Africa, South America, and globally.
Examining these changes in the context of global political and economic events, the researchers hypothesize that the "rate and extent of global land-use change is responsive to socio-economic developments and disruptions."

Although it is hard to prove such causation with certainty, they write that "the transition from accelerating to decelerating land-use change is related to market developments in the context of the global economic and food crisis" that occurred in the late 2000s. Increasing globalization and a fast-growing population drove expanding land use in the 1990s and early 2000s. As oil prices rose rapidly, peaking in 2008, demand for biofuels from the global north – but grown in the global south – rose, too.
However, in the aftermath of the 2007-08 global financial crisis, imports declined and agricultural expansion in the global south slowed as demand for commodity crops dropped off. Since then, reduced foreign investment and land acquisitions have meant the deceleration of land-use change has continued.
This phase shift from accelerating to decelerating land-use change is just one example of a larger pattern of "teleconnections," whereby economic changes in one region of the world can have far-flung effects on land-use elsewhere, Winkler says:
"Political changes in the global north are driving some land-intensive changes in the global south and these effects have increased since the 2000s or late '90s."

Changes in agricultural land use are more variable than changes in forest cover, the authors note, because agriculture is more responsive to external factors such as geopolitical shifts, extreme weather and global supply-chain disruptions.
In the future, Winkler plans to continue trying to tease out the impacts of socio-economic events on land-use change around the world, but she hopes that many others will take advantage of the new data for their own work. She tells Carbon Brief that the new dataset is "for many different interest groups to use. It's kind of a playground and a starting point for a new perspective on land-use change." She adds:
"The most important message is that when we look at the topic of land-use change with a finer lens or more detail…with this harmonising approach, we can track the speed of land-use change in a better way and we can also explore the background of why land-use change happens."

Reposted with permission from Carbon Brief.

Michigan Gov. Gretchen Whitmer speaks at a rally on Oct. 31, 2020 in Detroit. Drew Angerer / Getty Images
By Julia Conley
Indigenous rights and climate action groups are set to hold an "Evict Enbridge" celebration on Wednesday and Thursday to mark Michigan Gov. Gretchen Whitmer's deadline for Canadian oil and gas company Enbridge to shut down its Line 5 pipeline.
Ahead of Wednesday's deadline, which Whitmer set last November, the Democratic governor called Enbridge's continued use of the Straits of Mackinac — under which Line 5 has carried more than half of Ontario's oil supply since 1953 — a "ticking time bomb."
"Their continued presence violates the public trust and poses a grave threat to Michigan's environment and economy," Whitmer said in a statement this week.
Whitmer, who campaigned on shutting down Line 5, announced last November that she was revoking an easement granted by the state of Michigan nearly 70 years ago, saying Enbridge has violated safety requirements.
Although no oil or gas leaks from Line 5 — which carries 540,000 barrels of oil per day — have been reported, the pipeline has been struck by boat anchors and other equipment in recent years. Last year, the line was shut down temporarily after an anchor support sustained damage.
Whitmer said last year that Enbridge violated a rule prohibiting unsupported gaps beneath the pipeline, and another pipeline run by the company spilled more than 845,000 gallons of oil in 2010, affecting the Kalamazoo River.
According to a 2017 National Wildlife Federation report, more than two dozen spills from other sections of Enbridge's pipelines exceeded one million gallons.
A 2018 poll of Michigan residents found that 54% of the state wants Line 5 shut down and 87% are concerned about the pipeline spilling into the Straits of Mackinac.
At the Evict Enbridge event in Mackinaw City this week, environmental justice advocate Winona LaDuke will be among the speakers.
"Will Enbridge shut [Line 5] down or will the public do it for them?" said Honor the Earth, LaDuke's organization, on social media Monday.
Line 5 D-Day: May 12—Will Enbridge shut it down or will the public do it for them? https://t.co/EsixXoORbp via @WCMCooperative

— Honor the Earth (@Honor the Earth) 1620668351.0
Enbridge has "imposed on the people of Michigan an unacceptable risk of a catastrophic oil spill in the Great Lakes that could devastate our economy and way of life," Whitmer said when announcing the easement, which was granted despite the fact that the federal government generally regulates oil pipelines.

In February, a federal court ordered state officials and Enbridge to enter mediation, and the company has vowed to continue running Line 5 while the dispute is resolved. Canadian Resources Minister Seamus O'Regan said last month that the continued operation of the pipeline is "non-negotiable."
Michigan Attorney General Dana Nessel denounced the company and the Canadian government for putting the state "in a position where Canada stands to gain nearly all the benefit and the state of Michigan bears all the risks."
We shouldn't be in a position where Canada stands to gain nearly all the benefit and the state of Michigan bears all the risks.

— Dana Nessel (@Dana Nessel) 1620743076.0
According to the Michigan Advance, state officials will need a court order to shut down the pipeline on Wednesday, as Enbridge says it will not comply with Whitmer and Canadian officials have lined up behind the company.

"Our Great Lakes are more important than Canadian fossil fuel profit using the Straits of Mackinac as a shortcut," said Michigan group Clean Water Action. "Enbridge had a 50 year easement — it's been nearly 68 years now. Michigan has given them more than enough time."
Reposted with permission from Common Dreams.
From Your Site Articles
Related Articles Around the Web
Customers wait in line to fill their vehicles with gas at a Costco gas station on May 12, 2021 in Nashville, Tennessee. Brett Carlsen / Getty Images
Long lines of drivers waited at gas stations across the South yesterday — except for the stations that had already run out of gas — as the shutdown of the Colonial Pipeline caused panic buying and chaos.
Energy Secretary Jennifer Granholm said the "crunch" in the Southeast will take several days to alleviate and that Pipeline Officials told her they could make a decision on a "full restart" as soon as Wednesday evening.
The pipeline will be "substantially" back online by the weekend, Granholm said.
The administration has issued dozens of waivers of environmental and labor regulations, including rules requiring cleaner gasoline to be sold in urban areas.
The vulnerability of pipelines to cyberattack is not new nor unexpected — FERC commissioners wrote an op-ed in 2018 about essentially this very scenario.
Though this gasoline pipeline disruption has not led to the deadly outcomes of the natural gas system failures that plunged much of Texas into darkness and caused disruption across the Great Plains in February, the current crisis illustrates the chaos that can be caused by failures of fossil fuel infrastructure.
Yet, even in the midst of a crisis, Colonial Pipeline didn't even notify the Department of Homeland Security's cybersecurity division after the attack and still had not shared important technical information with the agency as of Tuesday, Politico Pro reported.
Despite the disruption and panic, the American Petroleum Institute told reporters Tuesday new cybersecurity mandates suggested by Republican lawmakers and federal energy regulators were premature.
For a deeper dive:

Fuel shortages: Washington Post, Bloomberg, E&E, AP, New York Times, The Hill, Washington Examiner, The Hill; Security: Earther, The Hill, Grist, Politico Pro, Utility Dive, Axios, Washington Post, The Hill; Administration response: Politico, The Hill, Politico, The Hill, Politico Pro, Politico Pro; API response: Washington Examiner

For more climate change and clean energy news, you can follow Climate Nexus on Twitter and Facebook, sign up for daily Hot News, and visit their news site, Nexus Media News.
From Your Site Articles
Related Articles Around the Web
An offshore wind farm at Block Island, Rhode Island on Aug. 14, 2016. Mark Harrington / Newsday RM via Getty Images
By Erin Baker and Matthew Lackner
The United States' offshore wind industry is tiny, with just seven wind turbines operating off Rhode Island and Virginia. The few attempts to build large-scale wind farms like Europe's have run into long delays, but that may be about to change.
On May 11, 2021, the U.S. government issued the final federal approval for the Vineyard Wind project, a utility-scale wind farm that has been over a decade in the planning. The wind farm's developers plan to install 62 giant turbines in the Atlantic Ocean about 15 miles off Martha's Vineyard, Massachusetts, with enough capacity to power 400,000 homes with clean energy.
The project is the first approved since the Biden administration announced a goal in March to develop 30,000 megawatts of offshore wind capacity this decade and promised to accelerate the federal review process. To put that goal in perspective, the U.S. has just 42 megawatts today. Vineyard Wind expects to add 800 megawatts in 2023.
So, are we finally seeing the launch of a thriving offshore wind industry in North America?
The Conversation /CC-BY-ND. Global Wind Energy Council
Several wind farm developers already hold leases in prime locations off the Eastern Seaboard, suggesting plenty of interest.

As engineering professors leading the Energy Transition Initiative and Wind Energy Center at the University of Massachusetts Amherst, we have been closely watching the industry's challenges and progress. The process could move quickly once permitting and approvals are on track, but there are still obstacles.
Why Offshore Wind Plans Stalled Under Trump
Vineyard Wind had planned to begin construction in 2019, but a ruling by the federal Bureau of Ocean Energy Management under the Trump administration stalled it. The ruling cast a shadow over other wind farm plans and hopes for an U.S. offshore wind industry.
The agency ruled that the developers needed to address what is called "cumulative impacts" – what the East Coast will look like when there are not one or two, but 20 or 40 large-scale wind farms. That part of the U.S. coast is ideal for wind power because of its wide, shallow shelf and proximity to cities that are looking for renewable electricity to reduce their climate impact.
Developers already hold wind energy leases for several areas off the East Coast. BOEM
Many researchers studying offshore wind, including some of our colleagues, urge planners to take this perspective.

But thinking carefully about a far future with several wind farms does not justify blocking the first utility-scale wind farm now. That first large wind farm will be an opportunity to learn, including about how wind turbines will interact with marine ecosystems. Right now there is almost no data on the impacts of offshore wind on the region's marine wildlife. The knowledge gained will be invaluable in moving forward responsibly.
Is Fast-Tracking Federal Approvals Enough?
Speeding up federal approvals for offshore wind farms is an important first step, but those aren't the only hurdles for offshore wind farm developers.
A large number of state environmental and coastal agencies also must approve offshore wind farm plans, and the communities where cables come ashore have a say.
Many of the Northeastern states, including Massachusetts, have their own offshore wind energy goals, so they're likely to support wind farms. But some wealthy communities and the fishing industry have pushed back on wind power in the past. Vineyard Wind's developers worked with community groups and fishermen from the region and agreed to compensate them for potential revenue losses.
Vineyard Wind's location and cable plan. Vineyard Wind
The federal approval process, even fast-tracked, is also time-consuming. The government conducts reviews and requires site assessment plans, including geological, environmental and hazard surveys. From planning to construction, the entire process can take five to six years or more.

Is the U.S. Ready to Build Offshore Turbines?
Some other big questions revolve around construction.
Under a 1920 law known as the Jones Act, only U.S.-registered vessels operated by U.S. citizens or permanent residents can move cargo between U.S. ports. In December 2020, Congress made clear that this law applies to wind turbine construction, too.
When companies build offshore wind turbines today, they use special vessels for the installation of the most common offshore turbine designs. The U.S. doesn't have any of these vessels yet, and the Jones Act makes it difficult to rely on vessels from Europe to do the job. There is promise, though: The first U.S.-made version of this vessel is being built in Texas right now. That's one – the country will need several to meet the new goal.
Vineyard Wind's plan uses one of the world's largest turbines, GE's Haliade-X, to reduce the number of turbines needed. Each has a capacity of 13 megawatts and blades the length of a football field.
A thriving wind power industry will also need ports for storing and deploying the long turbine blades, plus a trained workforce for construction and turbine maintenance.

A few coastal states have a head start on this. Massachusetts started laying the groundwork early and already has a port terminal in New Bedford to support the construction and deployment of future offshore wind projects. New Jersey recently announced a plan for a new offshore wind port that will start construction in 2022, and Delaware has been considering one.
States are also investing in training. New York state announced a $20 million offshore wind training institute in January 2021 with the goal of training 2,500 workers. The Biden administration envisions 44,000 people employed in offshore wind by 2030, and many more in communities connected to offshore wind power activity.
Costs and Benefits of Offshore Wind
In Europe, where many governments have reduced regulatory risks to the industry, the cost of offshore wind energy has come down much faster than experts expected, to around $50 per megawatt-hour. If the Biden administration's new approach allows U.S. wind farms to achieve costs like this, then offshore wind, with its proximity to large urban centers on the East Coast, will be competitive.
It's also important to recognize other benefits. Every year of delay for a large-scale wind farm costs the U.S. hundreds of millions of dollars in climate benefits. The Biden administration calculates that its new wind power goal would avoid 78 million metric tons of carbon dioxide, roughly equivalent to taking 17 million cars off the road for a year.
Erin Baker is a professor of industrial engineering applied to energy policy at the University of Massachusetts Amherst.

Matthew Lackner is a professor of mechanical engineering at the University of Massachusetts Amherst.
Disclosure statement: Erin Baker receives funding from the National Science Foundation and Sloan Foundation. Matthew Lackner receives funding from the U.S. Department of Energy.
Reposted with permission from The Conversation.
From Your Site Articles
Related Articles Around the Web
American chestnut hybrid bur. Photolangelle.org
By Anne Petermann
On August 18, 2020, the U.S. Department of Agriculture (USDA) published a petition by researchers at the State University of New York College of Environmental Science and Forestry (ESF) seeking federal approval to release their genetically engineered (GE) Darling 58 (D58) American chestnut tree into U.S. forests. Researchers claim the transgenic D58 tree will resist the fungal blight that, coupled with rampant overlogging, decimated the American chestnut population in the early 20th century. In fact, the GE American chestnut is a Trojan horse meant to open the doors to commercial GE trees designed for industrial plantations.
The D58 would be the first GE forest tree approved in the U.S. and the first GMO intended to spread in the wild. (GE canola plants were discovered in the wild in 2010 but that was unplanned.) "This is a project to rapidly domesticate a wild species through genetic engineering and accelerated breeding, and then to put it back into ecosystems to form self-perpetuating populations—an intentional evolutionary intervention that has never been attempted before with any species," explain scientists at the Center for Food Safety (CFS) and International Center for Technology Assessment (ICTA), which are nonprofits based in Washington, D.C.
"The Southern U.S. is global ground zero for the forest products industry and we see genetically engineered chestnut trees as this industry's sneaky way of opening the floodgates for 'frankentrees' that will harm forests, biodiversity and local communities across the region," explains Scot Quaranda of Dogwood Alliance, a nonprofit based in North Carolina that works to protect Southern U.S. forests. "Our natural forests that support wildlife and the economic sovereignty of rural communities will rapidly be replaced with tree plantations for wood pellets, paper and more, leaving environmental and climate injustice in their wake."
The GE American chestnut faces an uphill battle due to decades of opposition to GE trees by Indigenous peoples, scientists, students, activists, foresters and others, including a GE tree ban by the Forest Stewardship Council and a United Nations decision that warns countries of the dangers of GE trees and urges use of the precautionary principle while addressing the issue.
By October 19, 2020, the close of the public comment period on the petition, 109 organizations, representing millions of members, plus an additional 123,426 individuals had registered their opposition to the D58. The next step is the creation of a draft Environmental Impact Statement (EIS) by the USDA recommending action on the petition. The American Chestnut Foundation (TACF) estimates this could take up to a year to complete. Following this, another public comment period will be undertaken to review the draft EIS, after which the agency will develop a final EIS with a decision on the petition.
D58 Safety Studies 'Invalid,' Warn Scientists
While American chestnut trees are known to live hundreds of years, D58 trees have only been growing since 2017, calling into question the ESF petition assertion that "Darling 58 has been studied in detail and no plant pest or environmental risks have been observed."
In a report on the GE American chestnut she co-wrote, Dr. Rachel Smolker from Biofuelwatch explains, "Given the long lifespan of trees and varying environmental conditions they face, we cannot extrapolate from tests done on very young trees under controlled lab and field conditions. How GE trees might behave in the diverse and changing context of natural forests over long periods of time is unknown and likely to remain unknown even after they are released."
Scientists at CFS and ICTA warn of problems with the D58 safety studies, writing, "Given the young age of Darling 58 trees and corresponding dearth of tissue samples, conclusions from most of the animal experiments described in the Petition are too preliminary to depend upon."
In studying ESF's assessment of the impacts of inserting the blight-resistant oxalate oxidase (OxO) transgene into the chestnut genome, both CFS and ICTA further point out that some D58 studies did not, in fact, use material from transgenic D58 trees, rendering them invalid. "Petitioners did experiments to study how bumblebees might be affected by Darling 58, but did not have enough Darling 58 pollen for the experiments so used non-transgenic pollen instead, to which they added purified OxO from barley seeds. … Other important initial studies on animals reported in the Petition are of limited use because they involved feeding leaves from the Darling 4 instead of Darling 58… even though Darling 4 has much lower levels of OxO in leaves… again invalidating the conclusions for risk assessments." The Darling 4 was an earlier version of the American chestnut genetically engineered with the OxO transgene.
While researchers have argued that a strict regulatory process will ensure the safety of the D58 GE tree, a 2019 report by the National Academies of Sciences, Engineering, and Medicine titled, "Forest Health and Biotechnology: Possibilities and Considerations," raises flags: "Forest health is not accounted for in the regulations for the use of biotechnology or for other approaches to mitigating forest tree insect pests or pathogens. … There are no specific regulations or policies that those agencies apply to biotech trees."
Profit Motive Trumping Morality?
Proponents argue that there can be no downside to releasing a tree engineered to resist an introduced blight. But like fire suppression, which has led to devastating wildfires due to an unnatural buildup of flammable materials in the forest, the future impacts of even a well-meaning action can become catastrophic, especially in combination with the unpredictable effects of climate change and extreme weather. Yet, researchers are engineering trees with the conviction that because they can, they should.
In her book Can Science Make Sense of Life?, Dr. Sheila Jasanoff, Pforzheimer Professor of Science and Technology Studies at the Harvard Kennedy School, explains the implications of this arrogance. "For life scientists and their enthusiastic promoters, the arc of the technologically possible, often coincident with the promise of financial gain, increasingly… defines the boundaries of the morally permissible."
Researcher William Powell, whose GE American chestnut research has received both financial and technical support from companies with a vested interest in the approval of the GE American chestnut—including Monsanto, ArborGen and Duke Energy—defends his approach. In an article in the Conversation, Powell says, "One of the key advantages of genetic engineering is that it's far less disruptive to the original chestnut genome—and thus to its ecologically important characteristics. The trees remain more true to form with less chance of unforeseen and unwanted side effects. Once these genes are inserted, they become a normal part of the tree's genome and are inherited just like any other gene."
However, in a briefing paper published by the Federation of German Scientists, Dr. Ricarda Steinbrecher, a molecular geneticist, and Antje Lorch, a biologist, counter that the genetic engineering process is inherently risky. The paper states, "It is well documented that the processes of plant transformation give rise to many mutations throughout the plant genome as well as at the insertion site of the transgene. … Any robust risk assessment study needs to take several generations into account, for example to assess the stability and heritability of the transgene, unintended side effects and changes due to transformation impact."
Why the American Chestnut?
The D58 American chestnut is the culmination of decades of effort to open the doors to GE trees in the U.S. by biotechnology and timber companies. In 1999, Monsanto joined with timber companies from the U.S. and New Zealand to form a "forestry biotechnology joint venture," which later became ArborGen, one of the world's leaders in GE tree research and development. GE tree research was originally focused on trees and traits valued by the forest products industry; trees like poplar, pine and eucalyptus, and traits like insect resistance, herbicide tolerance, faster growth or altered wood composition.
American chestnut seedling. Anne Petermann
Other early associations—including the Tree Genetic Engineering Research Cooperative at Oregon State University, launched in 1994—brought together university researchers with timber and biotechnology giants as well as the U.S. Forest Service to develop genetically engineered trees for industrial timber plantations.

These efforts were met with widespread opposition and sabotage, leading the industry to conclude that they needed a charismatic "test tree" to try to win over the public opinion relating to GE trees.
A 2007 published paper explains, "There is opposition to commercial application of trees, engineered specifically for fast growth and increased yields, by those whose stance is that the value accrues only to 'big companies.' It will remain for traits that have broad societal benefits, such as conservation… for acceptance to be gained."
The D58 is seen as a positive example for the beleaguered biotechnology industry of the benefits of 'biotechnology for conservation.' Duke Energy also sees the American chestnut for its value as a greenwashing tool. Duke Energy invested millions into the GE American chestnut through the Forest Health Initiative. Its hope was to use the American chestnut to help "green" its devastated mountaintop removal mining lands.
Naturalist and author Bernd Heinrich has one such grove growing on his land in Maine. In a New York Times op-ed in 2013, he wrote, "I have been enjoying American chestnuts for several years now, harvested from some trees that are now part of my forest of 600 acres in western Maine. I planted four seedlings in the spring of 1982. Beyond all my expectations, the trees thrived, and some are now 35 feet tall. … In my small corner of western Maine, the American chestnut is now promising to again become a significant component of the ecosystem."
Once dominant in Eastern U.S. forests, the American chestnut was highly valued for its beautiful and rot-resistant wood, and abundant nuts. While few actually remember the tree, which largely disappeared from the landscape by the 1920s, a public relations effort was launched in the early 2010s with articles appearing in numerous major publications heralding the return of this "mighty giant" through the wonders of genetic engineering. Millions of American chestnut stumps, meanwhile, continue to send up shoots that occasionally grow into trees large enough to produce nuts, and in some locations, wild American chestnuts are spreading on their own, showing at least some evolving blight tolerance.
Another decades-long program by the American Chestnut Cooperators' Foundation is successfully breeding pure wild American chestnuts that are naturally blight-resistant.
In spite of examples like this, GE chestnut proponents have declared the American chestnut functionally extinct, and insist that its survival hinges on the release of unproven and risky genetic engineered American chestnut trees into forests. But Lois Breault-Melican, a former board member of the American Chestnut Foundation who publicly resigned from the TACF over the organization's support for the GE American chestnut, points out that this argument ignores the risks posed to organic and other chestnut growers: "These growers are concerned about the potential GMO contamination of their orchards caused by the unregulated and unmonitored planting of genetically engineered American chestnut trees. If the USDA approves these GE American chestnuts, the integrity of chestnut orchards would be forever compromised."
Indigenous Sovereignty Concerns
Indigenous peoples in the regions of proposed D58 releases have expressed concern that unregulated distribution of a GE tree would violate their sovereign right to keep their territories free from GMOs. They insist that Indigenous peoples be consulted in the process of reviewing the D58 American chestnut.
"Today, there remain large areas of traditional and treaty lands on which much is forested and managed as sovereign territory of many different Native American Peoples," explains BJ McManama of the Indigenous Environmental Network. "These forests are not only a source of economic self-determination but hold great cultural significance to include sacred sites where trees are an element of sustenance, knowledge and familial identity. Every living being within the forests [is] related in some form and nothing within these lands lives in isolation; therefore, changing or altering the original instructions of any one or any part of these elements threatens the natural order established over millennia."
The Eastern Band of Cherokee, members of the Lumbee Tribe of central North Carolina and Seminole Peoples from unceded Florida territory joined the Campaign to STOP GE Trees for an October 2014 gathering in the mountains of North Carolina to protest GE trees as a form of colonization. Their concerns were focused on the GE American chestnut trees.
Lisa Montelongo, a member of the Eastern Band of the Cherokee, explained, "I'm very concerned that GE trees would impact our future generations and their traditional uses of trees. Our basket makers, people that use wood for the natural colors of our clay work—there would be no natural life, no cycle of life in GE tree plantations."
Following the camp, the Band's Tribal Council passed a unanimous resolution prohibiting GE trees from their lands: Eastern Band of the Cherokee Indians (EBCI) Tribal Council Resolution No. 31 (2015): "We commit to rejecting biomass, genetically engineering the natural world, carbon trading, carbon offsets and carbon sequestration schemes as they are false solutions to the climate change." Concerns were focused on the inability of the tribe to keep the GE American chestnut tree off of their lands if it were released into surrounding forests, which they describe as a violation of the Free, Prior and Informed Consent mandate under the UN's Declaration on the Rights of Indigenous Peoples.
Global Impact of the Genetically Engineered D58 American Chestnut Tree
In the end, the potential deregulation of the D58 is not about restoring a "mighty giant" to Eastern U.S. forests. Its approval is about paving the way for the deregulation of all GE trees, toward the creation of an oxymoronic future "bioeconomy" where biodiverse forests are replaced with specially engineered trees for the manufacture of fuels, chemicals, textiles, plastics and other goods in a "green" version of "business as usual." Implicit in this scheme is a massive increase in the consumption of wood. This in turn will drive accelerated conversion of carbon-rich native forests, critical for climate regulation, and other ecosystems for conversion to fast-growing plantations that include GE trees with traits to expedite their use as feedstocks. Existing non-native plantations of eucalyptus, the most common plantation tree, are already notorious for their devastating social, ecological and climate change impacts. But new research out of Oregon State University is attempting to "green" these plantations with claims that eucalyptus trees can be genetically engineered to be infertile, through a process to "knock out LEAFY," the gene believed to control flower formation. The research claims this would prevent eucalyptus trees from invading native ecosystems, though it does nothing to address the ability of eucalyptus to spread asexually through vegetative propagation.
American chestnut tree, Halifax, Nova Scotia, Canada. Canadian Biotechnology Action Network
This new technology also does nothing to address the serious problems caused by industrial plantations of eucalyptus. These impacts, outlined in detail by the World Rainforest Movement, include depletion of fresh water; forced displacement of Indigenous groups, rural communities and subsistence farmers; and catastrophic wildfires. In fact, the addition of GE trees to these plantations could exacerbate known impacts and/or lead to new, unknown and potentially irreversible problems.

Another attempt to "green" GE trees for the bioeconomy involves the development of trees specially engineered to store extra carbon as a supposed climate change mitigation tool. But a new article in Yale Environment 360 challenges schemes like this that focus on tree planting for climate mitigation. Echoing the findings of the World Rainforest Movement and others, the article reports "a growing number of scientists and environmentalists are challenging this narrative on tree-planting. They say that planting programs, especially those based on large numerical targets, can wreck natural ecosystems, dry up water supplies, damage agriculture, push people off their land—and even make global warming worse." In addition, they say, "Tree planting can distract from the greater priorities of protecting existing forests and reducing fossil fuel use."
The attempts to greenwash genetically engineered trees with their unpredictable and irreversible impacts are being opposed globally by a broad coalition of scientists, Indigenous peoples, agronomists, peasant farmers, foresters, teachers and others, as well as organizations focused on protecting forests, human rights and climate justice. GE trees have no place in an ecologically and socially just future.
Author's note: Following the initial publication of this article, Reuters reported that a Memorandum of Understanding (MOU) was signed on April 21 between the Eastern Band of the Cherokee Indians (EBCI) and the American Chestnut Foundation. The MOU, described by EBCI members as highly controversial, would allow the planting of GE American chestnuts on Cherokee land.
Anne Petermann is the executive director of Global Justice Ecology Project. She has been working on issues related to protecting forests and defending the rights of Indigenous peoples since 1990 and co-founded the first global campaign against genetically engineered trees in 2000. In the years since, she has presented the social and ecological dangers of genetically engineered trees at conferences, with community groups, and at the United Nations and other international fora on five continents. She currently coordinates the Campaign to STOP GE Trees, which she co-founded in 2014. Follow her on Twitter: @AnneGJEP.
This article first appeared on Truthout and was produced in partnership with Earth | Food | Life, a project of the Independent Media Institute.
Related Articles Around the Web
Electric car registrations were up 41% in 2020. Reza Estakhrian / Getty Images
By Walé Azeez
While global car sales took a pandemic-related hit last year, electric vehicles (EVs) bucked the trend.
The number of EVs registered across the globe expanded massively in 2020, according to the International Energy Agency (IEA) – and this is set to continue over the next decade.
Here are five facts about the market from the agency's first Global Electric Vehicle Outlook report.
1. There Were 11 Million Registered Electric Vehicles on the Road at the End of Last Year
10 million of these were cars. The total number of electric cars, buses, vans and trucks is projected to rise to 145 million, or 7% of road transportation, by the end of the decade under governments' existing energy and climate policies.
With even bolder climate programs and emission reduction targets, there could be up to 230 million electric vehicles on our streets – 12% of all road transport – by 2030. Motorcycles and mopeds were not included in the figures.
2. Electric Car Buying Remained High in the Face of the Pandemic
Electric car registrations were up 41% in 2020, despite a 16% drop in overall car sales across the world.
Last year was indeed a ground-breaking one for the sector, as Europe overtook China as the centre of the global electric car market for the first time. From global electric car sales of 3 million, registrations in Europe more than doubled to 1.4 million, while in China they increased to 1.2 million.
Global electric car registrations and market share 2015-2020: Europe surpassed China for the first time in 2020. IEA
3. Consumer and Government Spending on Electric Cars Rose in 2020
A rise in the number of different EV car models available in the market to 370 and the falling cost of batteries saw consumers spend 50% more on electric cars in 2020, to the tune of $120 billion.
Governments also continued to encourage the move to EVs, spending $14 billion on direct purchase incentives and tax deductions – a 25% rise year-on-year. Before the pandemic, many countries strengthened key policies such as CO2 emission standards and zero-emission vehicle (ZEV) directives. By the end of 2020, more than 20 countries had either announced bans on sales of internal combustion engine cars or decreed that all new sales be zero-emission.
Some European countries increased buying incentives and incorporated the promotion of EVs into their post-pandemic economic recovery plans. China postponed the end of its New Energy Vehicle (NEV) subsidy scheme to 2022, to safeguard EV sales from the economic downturn.
Consumer and government spending on electric cars rose in 2020. IEA
4. Electric Bus and Truck Registrations Also Increased Within the World's Largest Markets
Across China, Europe and North America these rises were mainly due to municipal governments imposing greater emission reductions on commercial vehicles operating within their towns and cities. China, for example, commands a 27% share of all electric bus sales, where new registrations were up 9% in 2020.
Electric heavy-duty trucks, while more established in China, have only recently begun to come on stream further afield, currently consisting of around 1% of all truck sales in both Europe and the US.
5. Widespread EV Adoption Could Significantly Reduce Greenhouse Gas Emissions
The IEA says mass adoption has the potential to cut emissions by more than one-third by 2030 under the existing 'stated' green policies
Up to two-thirds of emissions could be slashed in that time if countries endorse more ambitious 'sustainable development' targets.
Long Road to Sustainability
While progress is being made, electric cars currently make up 1% of the global fleet. And significant barriers to the wholesale adoption of EVs remain, the report says.
Insufficient charging infrastructure continues to prevent wider use, as does the low supply of appropriate electric vehicles in many sectors, such as heavy industry. Despite falling battery costs, rising vehicle production to meet demand, and the promise of savings over the lifetime of an EV from lower fuel and maintenance costs, upfront prices remain prohibitive for some.
On the supply side, there are also challenges related to the poor sustainability levels associated with EV batteries: the sourcing of raw materials is frequently concentrated in a few developing countries that are often politically volatile and economically fragile.
A related concern is around recyclability. EV batteries consist of multiple Lithium-ion cells that are largely difficult to dismantle and which contain hazardous materials.
But there are some recent examples of the industry responding to this challenge.
Nissan is now reusing batteries from its Leaf cars to power automated guided vehicles used around assembly plants. And while Volkswagen has also redeployed old batteries, it has also opened a recycling plant in Salzgitter, Germany.
Global Battery Alliance
But until recycling moves from the fringe to the mainstream of EV battery production, demand for critical raw materials will only grow.
The Global Battery Alliance (GBA), initiated with support of the World Economic Forum, is a public-private collaboration between 70 organizations across manufacturing, public service and civil society that was established to address this issue by working to bring sustainability to the battery value chain.
The GBA advocates for the production of EV batteries and their by-products to be integrated into the circular economy and promoting transparency and reduction of greenhouse emissions from battery manufacturing.
Last year, the alliance outlined 10 guiding principles for a sustainable battery value chain, to significantly reduce the 40% of all annual global carbon emissions that the transport and power industry is currently responsible for.
It is also committed to policies in which EV battery production takes into account local economies, their environments and human rights, especially in relation to child labor exploitation.
Reposted with permission from World Economic Forum.
Coral reefs in the Atlantic Ocean are the most threatened by the climate crisis, according to a new study. Wild Horizons / Universal Images Group via Getty Images

That's the warning from a new study published in the Proceedings of the National Academy of Sciences Monday, which analyzed how the world's reefs would fare under a low, medium and high emissions scenario.
"Our work highlights a grim picture for the future of coral reefs," study lead author and Te Herenga Waka—Victoria University of Wellington marine biologist Christopher Cornwall told ABC News.
Scientists have long known that the climate crisis threatens coral reefs in two major ways. First, the increase of carbon dioxide in the ocean leads to a process called ocean acidification, which makes it harder for corals to form calcium carbonate skeletons, a process known as calcification. Secondly, warming ocean temperatures increase the risk of coral bleaching, when corals expel the algae that give them food and color. The warming can also interfere with the calcification process.
But there's more. A certain type of algae known as calcifying red algae, or coralline algae, acts as adhesive binding reefs together and can even form its own reefs, Cornwall explained in a Victoria University of Wellington press release.
"While corals are highly susceptible to ocean warming, coralline algae are more vulnerable to ocean acidification. Coral reef growth is also dictated by the removal of this calcium carbonate through either bioerosion — living organisms eating the reef — or the dissolution of sediments that help fill in the cracks between larger pieces of calcium carbonate," Cornwall explained. "Both processes are likely to accelerate under ocean acidification and warming. However, no one study had put these processes together quantitatively previously."
Monday's study sought to fill in this research gap by looking at calcification, bioerosion and sediment erosion rates for 233 areas on 183 reefs worldwide. Forty-nine percent of the reefs studied were in the Atlantic Ocean, 39 percent in the Indian Ocean and 11 percent in the Pacific Ocean. The researchers then used models to determine what would happen to the reefs in 2050 and 2100 based on low, medium or worst-case emissions scenarios.
The news is grim. By 2100, the rate of carbonate production on the reefs will decline by 76 percent under a low emissions scenario, 149 percent under a medium emissions scenario and 156 percent under a high emissions scenario, the study found.
While 63 percent of reefs would continue to grow under a low-emissions scenario by 2100, 94 percent of them would begin to decline as soon as 2050 in the worst-case scenario. Under both the medium and high emissions scenario, reef growth would not be able to keep pace with sea level rise by the end of the century.
This would be a devastating blow for the marine biodiversity and human livelihoods that reefs support, ABC News pointed out. Furthermore, the decline of reefs would deprive coastal areas from an important protection against rising sea levels and surges from more extreme storms.
"The only hope for coral reef ecosystems to remain as close as possible to what they are now is to quickly and drastically reduce our CO2 emissions," Cornwall told ABC News. "If not, they will be dramatically altered and cease their ecological benefits as hotspots of biodiversity, sources of food and tourism, and their provision of shoreline protection."
The research also looked at which reefs would be most vulnerable, and found that Atlantic Ocean reefs, which are already more damaged, would be worse off compared to Pacific Ocean reefs. The researchers also predicted that coral bleaching would be the lead cause of these declines.
"We are already observing global shifts in coral assemblages and severely reduced coral cover due to mass bleaching events. It is very unlikely corals will suddenly gain the heat tolerance required to resist these events as they become more frequent and intense," Cornwall said in the press release.
From Your Site Articles
Related Articles Around the Web