Marathon Petroleum Corporation's Los Angeles Refinery in Carson, California, on April 25, 2020. ROBYN BECK / AFP via Getty Images
Fossil fuel companies got billions in tax breaks and laid off more than 58,000 workers last year, a report from BailoutWatch found.
Provisions in the CARES Act passed last March, gave 77 fossil fuel companies $8.2 billion in tax breaks, and their laid off workers a $1,200 stimulus check. Using SEC data, the report shows Marathon Petroleum, the biggest single beneficiary, got more than $2 billion before laying off almost 2,000 workers — about 9% of its workforce at a rate of around $1 million per laid off worker.
Five companies went bankrupt after receiving $308.7 million in tax bailouts and laid off a total of 5,683 workers. "I'm not surprised that these companies took advantage of these tax benefits, but I'm horrified by the layoffs after they got this money," said Chris Kuveke, a researcher at BailoutWatch, told The Guardian. "Last year's stimulus was about keeping the economy going, but these companies didn't use these resources to retain their workers. These are companies that are polluting the environment, increasing the deadliness of the pandemic and letting go of their workers."
As reported by BailoutWatch:
As Washington debates ending tax subsidies for fossil fuels, part of President Joe Biden's $2 trillion infrastructure proposal, fossil fuel companies are quietly reporting their employee headcounts and final tax bills for 2020. The data underscore the hypocrisy of claims that fossil fuels are a necessary engine of employment and succeed on an equal playing field in the free market.
---
The bailouts are the tip of a much bigger iceberg: Fossil fuels have long benefited from a trove of tax-code provisions. In the century since they emerged, the coal, oil, and gas industries' strength has reflected not market efficiencies, as defenders claim, but government largesse that far exceeds what has so far been extended to the clean energy sector.

For a deeper dive:

The Guardian, InsideClimate News
For more climate change and clean energy news, you can follow Climate Nexus on Twitter and Facebook, sign up for daily Hot News, and visit their news site, Nexus Media News.
EcoWatch Daily Newsletter
Activists participate in a rally along President Joe Biden's route to deliver a speech on March 31, 2021 in Pittsburgh, Pennsylvania. Jeff Swensen / Getty Images for Green New Deal Network
By Jake Johnson
Members of the Congressional Progressive Caucus made clear Wednesday that while President Joe Biden's roughly $2.3 trillion infrastructure proposal is a welcome start, they believe the final package must be far more ambitious if it is to truly transform America's fossil fuel-dominated energy system and bring the country into line with crucial climate targets.
waterlust.com / @tulasendlesssummer_sierra .
Each product featured here has been independently selected by the writer. If you make a purchase using the links included, we may earn commission.
The bright patterns and recognizable designs of Waterlust's activewear aren't just for show. In fact, they're meant to promote the conversation around sustainability and give back to the ocean science and conservation community.
Each design is paired with a research lab, nonprofit, or education organization that has high intellectual merit and the potential to move the needle in its respective field. For each product sold, Waterlust donates 10% of profits to these conservation partners.
Eye-Catching Designs Made from Recycled Plastic Bottles
waterlust.com / @abamabam
The company sells a range of eco-friendly items like leggings, rash guards, and board shorts that are made using recycled post-consumer plastic bottles. There are currently 16 causes represented by distinct marine-life patterns, from whale shark research and invasive lionfish removal to sockeye salmon monitoring and abalone restoration.

One such organization is Get Inspired, a nonprofit that specializes in ocean restoration and environmental education. Get Inspired founder, marine biologist Nancy Caruso, says supporting on-the-ground efforts is one thing that sets Waterlust apart, like their apparel line that supports Get Inspired abalone restoration programs.
"All of us [conservation partners] are doing something," Caruso said. "We're not putting up exhibits and talking about it — although that is important — we're in the field."
Waterlust not only helps its conservation partners financially so they can continue their important work. It also helps them get the word out about what they're doing, whether that's through social media spotlights, photo and video projects, or the informative note card that comes with each piece of apparel.
"They're doing their part for sure, pushing the information out across all of their channels, and I think that's what makes them so interesting," Caruso said.
And then there are the clothes, which speak for themselves.
Advocate Apparel to Start Conversations About Conservation
waterlust.com / @oceanraysphotography
Waterlust's concept of "advocate apparel" encourages people to see getting dressed every day as an opportunity to not only express their individuality and style, but also to advance the conversation around marine science. By infusing science into clothing, people can visually represent species and ecosystems in need of advocacy — something that, more often than not, leads to a teaching moment.

"When people wear Waterlust gear, it's just a matter of time before somebody asks them about the bright, funky designs," said Waterlust's CEO, Patrick Rynne. "That moment is incredibly special, because it creates an intimate opportunity for the wearer to share what they've learned with another."
The idea for the company came to Rynne when he was a Ph.D. student in marine science.
"I was surrounded by incredible people that were discovering fascinating things but noticed that often their work wasn't reaching the general public in creative and engaging ways," he said. "That seemed like a missed opportunity with big implications."
Waterlust initially focused on conventional media, like film and photography, to promote ocean science, but the team quickly realized engagement on social media didn't translate to action or even knowledge sharing offscreen.
Rynne also saw the "in one ear, out the other" issue in the classroom — if students didn't repeatedly engage with the topics they learned, they'd quickly forget them.
"We decided that if we truly wanted to achieve our goal of bringing science into people's lives and have it stick, it would need to be through a process that is frequently repeated, fun, and functional," Rynne said. "That's when we thought about clothing."
Support Marine Research and Sustainability in Style
To date, Waterlust has sold tens of thousands of pieces of apparel in over 100 countries, and the interactions its products have sparked have had clear implications for furthering science communication.
For Caruso alone, it's led to opportunities to share her abalone restoration methods with communities far and wide.
"It moves my small little world of what I'm doing here in Orange County, California, across the entire globe," she said. "That's one of the beautiful things about our partnership."
Check out all of the different eco-conscious apparel options available from Waterlust to help promote ocean conservation.
Melissa Smith is an avid writer, scuba diver, backpacker, and all-around outdoor enthusiast. She graduated from the University of Florida with degrees in journalism and sustainable studies. Before joining EcoWatch, Melissa worked as the managing editor of Scuba Diving magazine and the communications manager of The Ocean Agency, a non-profit that's featured in the Emmy award-winning documentary Chasing Coral.
President Joe Biden and Vice President Kamala Harris during remarks on COVID-19 response and vaccinations at South Court Auditorium in the Eisenhower Executive Office Building on March 29, 2021. Demetrius Freeman / The Washington Post via Getty Images
Today in Pittsburgh, President Biden will outline his American Jobs Plan, proposals for major infrastructure investments in clean energy, water system updates, and other economy-growing initiatives designed to create millions of jobs, address aging infrastructure and lessen racial and other inequities throughout the economy.
Biden's $2 trillion plan to fight climate change and revitalize the American economy includes calls for Congressional funding to the tune of: $16 billion to employ union oil and gas workers to cap orphaned oil and gas wells and clean up mines, $35 billion in clean tech R&D to address the climate crisis, $85 billion to modernize public transit systems, $174 billion to promote electric vehicles through consumer incentives, supply chain support, charging network build outs, school bus electrification, and electrifying the federal fleet, $100 billion for power grid modernization and resilience, and $213 billion to build, modernize, and weatherize affordable housing.
Biden's plan also calls for investing $111 billion to improve the country's drinking water systems, including eliminating all lead water pipes and service lines in the country. Labor and environmental groups called for even greater ambition and spending to "build a more just, equitable, clean and more prosperous American economy" in a letter to Biden and Democratic Congressional leaders. Funding will pay for itself over 15 years, the administration says, by a combination of eliminating fossil fuel subsidies, raising corporate taxes, ending offshore-tax havens and strengthening corporate tax enforcement.
The plan also calls for passage of a bill aimed at significantly strengthening workers' rights to organize. The $2 trillion plan push is just the first of the administration's massive two-part infrastructure investment agenda as Biden is expected to release part two, the "American Families Plan" in two weeks.
For a deeper dive:

The Washington Post, POLITICO Pro, The New York Times, POLITICO, Pittsburgh Post-Gazette, Vox; Labor and green groups: Bloomberg; Pay-fors and taxes: The Washington Post, POLITICO, The New York Times
For more climate change and clean energy news, you can follow Climate Nexus on Twitter and Facebook, sign up for daily Hot News, and visit their news site, Nexus Media News.
A wind turbine in Bayonne, New Jersey on Feb. 1, 2018. Environmentalists are urging Congress to include climate action, such as renewable energy funding, in a new infrastructure bill. Kena Betancur / VIEWpress / Corbis via Getty Images
Environmental groups are launching a $10 million push for Congress to make climate change central to infrastructure legislation.
"The Great American Build" campaign, a joint effort of Climate Power, the League of Conservation Voters and Potential Energy Coalition, will pressure lawmakers to include funding for climate action as part of the emerging infrastructure package.
"Americans elected pro-climate majorities in Congress, and they expect big things on the issues that drove them to the polls — including clean energy and climate change," Lori Lodes, executive director of Climate Power, told NBC.
As reported by The Hill:
Democrats in Congress began openly discussing an infrastructure package last week, just days after the president's $1.9 trillion COVID-19 stimulus package became his first legislative victory in Congress and he signed the bill into law.
Some lawmakers have hinted that any successful infrastructure push would likely require Democrats to use the budget reconciliation process, as they did with the stimulus package, to avoid defeat at the hands of Republicans. Under the parliamentary process, bills can pass with a simple majority in the evenly split Senate, where Vice President Harris serves as a tie-breaker.
"Ultimately, it's going to be put together similar to how the American Rescue Plan was put together," Sen. Ben Cardin (D-Md.) was heard telling Transportation Secretary Pete Buttigieg. "Most likely, we're going to have to use reconciliation."
For a deeper dive:

For more climate change and clean energy news, you can follow Climate Nexus on Twitter and Facebook, sign up for daily Hot News, and visit their news site, Nexus Media News.
Rep. Deb Haaland (D-N.M.) speaks at a press conference at the Longworth Office Building on Sept. 10, 2020 in Washington, DC. Jemal Countess / Getty Images for Green New Deal Network
By Jessica Corbett
A diverse coalition of progressive and Indigenous figures and organizations on Monday celebrated the Senate's confirmation of Deb Haaland to head the Department of the Interior — making the New Mexico Democrat and Green New Deal supporter the first Native American Cabinet secretary in U.S. history.
She was confirmed by a 51-40 vote in which only a handful of Republicans joined with all members of the Democratic caucus who were present; nine lawmakers, including three Democrats, did not vote. "I look forward to collaborating with all of you," Haaland said in a tweet directed at senators. "I am ready to serve."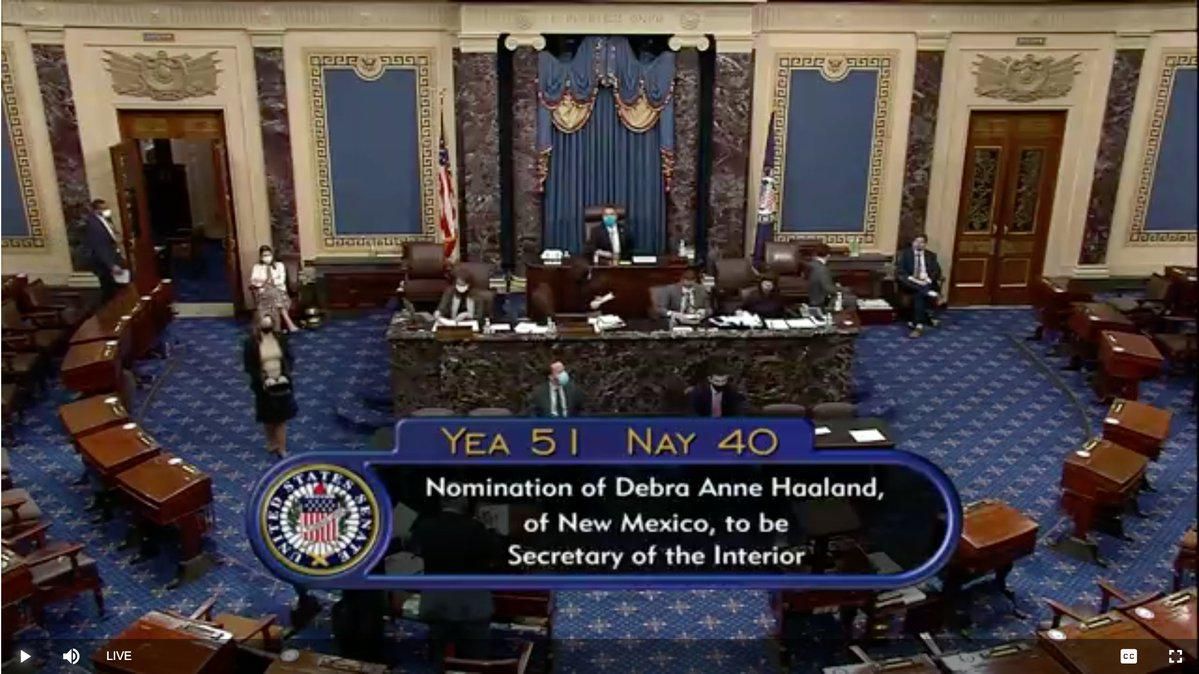 #DebForInterior on Twitter
While climate justice and Indigenous rights advocates have praised President Joe Biden's selection of the congresswoman to lead a department that oversees hundreds of million of as "a perfect choice," both conservative Democrats and Republicans have raised concerns about her positions on fossil fuels.
"It's clear that Big Oil was afraid of her confirmation — and for good reason," said David Turnbull, strategic communications director at Oil Change International. "The nine senators that voted against her confirmation on the Energy and Natural Resources Committee have on average accepted nearly $900,000 from Big Oil, Coal, and Gas over the course of their careers."
"The confirmation of Deb Haaland as secretary of the interior is a tremendous win for Indigenous communities, the waters, parks, and lands across our country, and the climate," he added. "Haaland is a proven climate champion, and will usher in a new era of climate leadership in the Department of the Interior, reversing the tide of the last four years of dirty energy policies enacted by the Trump administration."
Food & Water Watch executive director Wenonah Hauter similarly welcomed Haaland's appointment as an opportunity to depart from the planet-wrecking agenda of former President Donald Trump — whose attacks on climate and environmental policies led some campaigners and experts to back Biden's presidential bid.
"Deb Haaland's historic, pathbreaking confirmation is a victory for Indigenous communities, for the climate movement, and for everyone who wants to undo the Trump-era assault on our air and water," said Hauter. "The massive outpouring of public support for Haaland is a testament to her uncompromising record and her clear commitment to ending the exploitation of public lands by fossil fuel corporations."
"Biden's unambiguous call to end fracking on public lands must now become a priority for the White House," she said. "There is no one better to lead on this issue than Deb Haaland, who understands that our transition away from fossil fuels is an environmental justice priority and a climate necessity."
Deb Haaland is now the first Indigenous person to lead the Department of the Interior- ushering in a new era of Ind… https://t.co/8SxYI6TG97

— Sunrise Movement 🌅 (@Sunrise Movement 🌅)1615848036.0
"In Congress, Rep. Haaland has demonstrated a deep concern for environmental justice, conservation, and climate change," said Kathleen Rest, executive director of the Union of Concerned Scientists. "We look forward to working with the new secretary of the interior to protect our nation's ecosystems, cultural heritage, and the climate — for the benefit of communities across the country, including tribes."
Varshini Prakash, executive director of the youth-led Sunrise Movement, lauded Biden for listening to "the Indigenous movement groups and allies that pushed for her confirmation, despite the Senate Republicans' unfair, aggressive campaign against her."
"Haaland is not only one of the first co-sponsors of the Green New Deal," Prakash pointed out, "but she believes that achieving Indigenous sovereignty over stolen land is instrumental to transforming our economy and stopping the climate crisis."
"Now, she must wield her power to crack down on fossil fuel corporations and evict companies that drill for oil on public lands and in public waters," the activist added. "We are excited to see the progress she makes and will be standing with her as she pushes us closer to the vision of a Green New Deal."
Sarah McMillan, WildEarth Guardians' conservation director, and Adam Kolton, executive director of Alaska Wilderness League, highlighted the significance of not only Haaland's well established positions on dirty energy and land management, but also the perspective she brings as an enrolled member of the Laguna Pueblo.
"We congratulate Secretary Deb Haaland and celebrate this historic and momentous day when the Department of Interior, which manages more than 450 million acres and houses the Bureau of Indian Affairs, finally has an Indigenous woman to lead the way," said McMillan. "As our country is finally awakening to the injustices that Indigenous people have endured, and in the throes of a climate and nature crisis, we must chart a new path after four years of out-of-control exploitation and devastation."
Deb Haaland defended Native Americans and her views on renewable energy during her Cabinet confirmation hearing. S… https://t.co/Upt1tIVmGg

— AJ+ (@AJ+)1615848576.0
As Kolton put it: "We cannot right the wrongs of colonization or undo the history of violence toward and the displacement of Indigenous peoples in our country. But the confirmation of the first Native American to lead any U.S. Cabinet agency, particularly one that is responsible for the stewardship of millions of acres of once stolen and now public land, is a historic and hopeful moment."
"Haaland brings to the job an understanding of the Native American experience and a deep personal connection and commitment to preserving the lands and waters that sustain people and communities across the country," he added. "She was the first U.S. representative to champion the need to pursue an ambitious national goal of conserving 30% of U.S. lands and waters by 2030, and as interior secretary she will play a critical role in implementing President Biden's ambitious conservation agenda, confronting the climate crisis, and advancing the cause of environmental justice."
A host of conservation groups in the state she represented in Congress — including New Mexico Wildlife Federation, New Mexico Wild, and Conservation Voters New Mexico — also applauded Haaland's confirmation.
"The global climate crisis is attributed to settler colonialism and the exploitation of natural resources cultivated from stolen Indigenous landscapes and the mismanagement of those resources," said Pueblo Action Alliance director Julia Bernal. "There needs to be a paradigm shift and having a Pueblo Indigenous feminist perspective in this Cabinet position could instill a lot of hope for meaningful tribal consultation and more importantly tribal consent."
Bernal explained that "Haaland will bring that worldview into land and water management practices that will work towards a just transition to a cleaner energy economy and more equitable approaches to better frontline and Indigenous communities who have suffered from the presence of the oil and gas industry."
Noting the department's widely criticized history on interacting with tribes, she added that "places like Chaco Canyon and Bears Ears and the waterways that supply Indigenous people in the Southwest could have longer standing chances if they are managed through a Pueblo Indigenous feminist perspective that implement[s] core values like respect and reciprocity and give[s] personhood to our waterways."
Reposted with permission from Common Dreams.
Tesla batteries installed by United Power at their battery station near Longmont, Colorado on Oct. 17, 2018. AAron Ontiveroz / The Denver Post via Getty Images
Almost a decade after moving into the electric vehicle industry, Elon Musk's Tesla is supersizing its plans to bring its battery technology into the power storage game.
Visitors look at a Volkswagen ID.4 electric car at the Autostadt promotional facility next to the Volkswagen factory on Oct. 26, 2020 in Wolfsburg, Germany. Sean Gallup / Getty Images
Some of the opposition will come from auto companies that want to delay the transition to electric vehicles, but others will be from fossil fuel interests or climate deniers. But it really doesn't matter why they're trying to mislead the public about electric vehicles.The important thing is that you know that this is familiar and worn-out disinformation, designed to sow doubt and confusion. Here are some of the truths about EVs, so that you can spot misleading attacks.
1. EVs aren't the perfect solution for the future of transportation – they're just much, much better than gasoline vehicles.
EVs offer us a way to have personal mobility with much fewer global warming emissions than gasoline vehicles. It's clear that the emissions from driving on electricity are lower than those from using a gasoline vehicle, even when accounting for electricity generation. Our most recent analysis shows that, across the country, driving electric is cleaner than even the most efficient gasoline car. As our electric grid continues to get cleaner (with lower coal use and more renewable energy sources), the climate benefit from electric vehicles is increasing. And, of course, because they avoid burning gasoline, electric vehicles can reduce tailpipe emissions that lead to harmful air pollution across the country and put us on the path to reducing the pollution and environmental degradation that is associated with extracting and refining petroleum.
Of course, there are emissions from building every vehicle. Because of battery manufacturing, climate emissions from building electric vehicles are slightly higher those from manufacturing a gasoline vehicle. However, those increased emissions are quickly (within 6 to 16 months depending on location) made up from the savings from using electricity in place of gasoline. As we increase the production of EVs, it will be important to work to minimize manufacturing emissions by reducing energy use in the extraction and preparation of battery materials and by the recycling and reuse of used batteries.
It will also be important to hold all companies to environmental and human rights standards for their manufacturing and supply chains. Auto companies and battery suppliers need to source products and raw materials in a sustainable and ethical way. Greater transparency from manufacturers would be helpful in this area. Some have started to disclose details on their supply chain and make commitments to improve their practices. We also need to remember this goes beyond electric cars; we should be asking the same sorts of questions about our consumer-electronics companies and yes even the companies that produce and extract petroleum products and other fossil fuels.
2. EV sales are a small fraction of U.S. autos now, but that's going to change.
A common line used to argue against EVs is that they have historically made up a small fraction of the sales in the U.S. and therefore they can't possibly make a difference in our emissions. Others try to use the fact that fewer EVs were sold than gasoline cars to mean that EV's just aren't very popular.
These backwards-looking approaches could be used to dismiss any new technology, not just EVs. For example, in 2000 only 2.5% of households had broadband internet access. Of course that didn't mean that home internet wasn't going to be a transformative technology. We can't look in the rear view mirror to see the road ahead for EVs.
It's obvious if we look back 10 years ago that the number and the capability of EVs was not at the level needed to replace gasoline vehicles. The good news is that in 2021, the EV landscape is vastly changed from even 5 years ago. New car buyers now have multiple options for long range EVs and can choose compelling options from more automakers than ever before. Currently, plug in cars make up about 2 percent of all sales in the U.S., but the number is higher in areas that have sought to accelerate the market via regulation and incentives. For example, in California, EV sales were over 8% of all new car sales in the state, showing the potential for higher sales elsewhere in the country with the use regulations, incentives, and customer awareness efforts.
3. EVs are much more than the Tesla Model S.
Tesla gets the lion's share of attention in the EV market, and for good reason. Tesla has led in plug-in car sales and the introduction of the Tesla Model S in 2012 changed many people's impression of what an electric car is. While some may have thought EVs were "golf carts", unstylish, or boring before, it would be hard to apply those labels to Tesla's Model S. However, Tesla's success (and press coverage) has now meant that the Tesla brand or the Model S is used synonymously with "EV."
Tesla has been a game changer in the EV market, but there are many more plug-in options now than the Tesla Model S. We're seeing many more affordable EVs on the market, though they often get much less press coverage. As more automakers introduce EV models and production volumes of plug-in vehicles increase, we are seeing even long-range battery electric cars being offered for lower than the MSRP (Manufacturer's Suggested Retail Price) of the average new car in the U.S. (estimated to be over $40,000 in 2019). The majority of EVs sold in 2020 were models with a base model MSRP under $40,000 and only a fifth of models had a starting price over $60,000. Those who are critical of EVs would like to portray all plug-ins as high-priced luxury vehicles, but that simply isn't the case in 2021. Both here and abroad, automakers are increasing electric vehicle production, pushing down prices and making more options available to buyers.
Despite the proliferation of anti-EV arguments in the press, these arguments are old and long-debunked — dubious even when they were introduced, but downright silly after a decade of advancement in the EV market.
The majority of EVs sold in 2020 were models with a starting price (Manufacturers Suggested Retail Price) under $40,000 and only a fifth of models had a starting price over $60,000.
Now is the time to accelerate the switch to EVs.
With the impacts of climate change becoming more evident every year and the clear science on the health harms of air pollution, it's imperative that we switch from gasoline to electric vehicles as soon as possible. To make this happen, we need to use all of the policy tools available.
Federal and state incentives are vital in the short term to make buying EVs easier for more people. Battery prices (and therefore EV prices) are dropping as the scale of production ramps up, but incentives are vital now to offset the extra initial cost of EVs.
We also need to use existing greenhouse gas emissions and air quality regulations to make sure the aspirations of automakers to go electric become reality. This means setting both strong federal standards for emissions and using California's authority under the Clean Air Act to require zero emission vehicles. Because the Clean Air Act also allows other states to adopt the California standards, there are now 11 states representing 30% of the U.S. population now moving forward with zero emission clean car standards to reduce their residents' exposure to tailpipe pollution and put their states on a path to lower carbon emissions and more states are poised to enact these standards.
Some have argued that we shouldn't rush this transition or wait until electricity and EVs are perfectly clean to start rolling out electric vehicles. There might be value in those propositions if there was not such urgency in the need to reduce emissions and clear costs for delay. Every gasoline vehicle we put on the road today means 10 to 20 years of pollution over its lifetime, and the climate-warming tailpipe pollutants accumulate in the atmosphere accumulate over time. If we want to avoid the worst impacts of climate change, we can't afford to keep putting tailpipes on the road.
David Reichmuth is a senior engineer in the Clean Transportation Program with the Union of Concerned Scientists, focusing on oil savings and vehicle electrification.

Reposted with permission from the Union of Concerned Scientists.
China's new five-year plan could allow further expansion of its coal industry. chuyu / iStock / Getty Images Plus
On Friday, China set out an economic blueprint for the next five years, which was expected to substantiate the goal set out last fall by President Xi Jinping for the country to reach net-zero emissions before 2060 and hit peak emissions by 2030.
While the plan calls for a "major push" on clean energy development, a few aspects have left climate experts with questions about how exactly the world's largest emitter will hit its stated climate goals. For example, the plan did not include a ban on new coal projects, nor did it set a "carbon cap" to define what peak emissions will be, instead setting a carbon intensity target that is the same as in the previous five-ear plan.
However, some are hopeful that the government will announce more detailed regulations on carbon-intensive construction and manufacturing industries later this year, and that more details will be laid out in an upcoming separate five-year plan for the energy sector. Fan Dai, director of the California-China Climate Institute at the University of California, Berkeley, told Quartz that the plan is "simply aggregating existing targets from last year."
Dai added that "[t]here's a lot of room for further development and ambition, especially around those targets that were missing that we hoped would be included."
As reported by The Guardian:
China will reduce its "emissions intensity" – the amount of CO2 produced per unit of GDP – by 18% over the period 2021 to 2025, but this target is in line with previous trends, and could lead to emissions continuing to increase by 1% a year or more. Non-fossil fuel energy is targeted to make up 20% of China's energy mix, leaving plenty of room for further expansion of the country's coal industry.
Swithin Lui, of the Climate Action Tracker and NewClimate Institute, said: "[This is] underwhelming and shows little sign of a concerted switch away from a future coal lock-in. There is little sign of the change needed [to meet net zero]."

Zhang Shuwei, chief economist at Draworld Environment Research Centre, said: "As the first five-year plan after China committed to reach carbon neutrality by 2060, the 14th five-year plan was expected to demonstrate strong climate ambition. However, the draft plan presented does not seem to meet the expectations. The international community expected China's climate policy to 'jump,' but in reality it is still crawling."
For a deeper dive:
Vox, Quartz, The Guardian, ABC, Climate Home, Bloomberg, Bloomberg, Science Magazine

For more climate change and clean energy news, you can follow Climate Nexus on Twitter and Facebook, sign up for daily Hot News, and visit their news site, Nexus Media News.
Wind turbines in Norway.
piola66 / E+ / Getty Images
By Hui Hu
Winter is supposed to be the best season for wind power – the winds are stronger, and since air density increases as the temperature drops, more force is pushing on the blades. But winter also comes with a problem: freezing weather.
Hui Hu is a professor of aerospace engineering at Iowa State University.

Disclosure statement: Hui Hu receives funding from National Science Foundation (NSF) and Iowa Energy Center (IEC) to study wind turbine icing physics and anti-/de-icing.
Reposted with permission from The Conversation.
Homes and roads in Dallas, Texas covered in snow. The 2021 winter storm dropped temperatures as low as zero degrees. Isaac Murray / Moment / Getty Images
An independent market monitor says ERCOT, the Texas grid operator, left wholesale electricity prices at the legal maximum for two days longer than necessary, and overcharged power companies $16 billion in the process during the winter storm that caused massive grid and gas system failures and left more than 4 million Texans without electricity.
A FedEx truck travels along Interstate 10 by the San Gorgonio Pass Wind Farm near Palm Springs, California on Feb. 27, 2019. Robert Alexander / Getty Images
An electric vehicle is plugged in to an EV charging station at a Walmart parking lot in Duarte, California on Sept. 14, 2018. FREDERIC J. BROWN / AFP via Getty Images
Six major U.S. electricity utilities will collaborate to build a massive EV charging network across 16 states, they announced Tuesday.