Signs for the upcoming IMF / World Bank Annual Meetings hang outside International Monetary Fund Headquarters in DC on Oct. 7. SAUL LOEB / AFP / Getty Images
The International Monetary Fund (IMF) released a report that says action is needed urgently to tackle the climate crisis. It said that countries around the world need to drastically reduce their carbon emissions immediately and the most effective way is through a carbon tax and with global cooperation, as Reuters reported.
The report did not mince words when it came to the threat the climate crisis poses. "Global warming causes major damage to the global economy and the natural world and engenders risks of catastrophic and irreversible outcomes," the IMF said in its semi-annual fiscal monitor report released ahead of next week's IMF and World Bank fall meetings of finance leaders and policymakers, according to Reuters.
The IMF's report said a meaningful carbon tax is the "single most powerful way" to hand the climate crisis, since it allow businesses and households to find the lowest-cost ways of reducing energy use and transitioning towards cleaner alternatives.
"We view fiscal policy as a crucial way of combating climate change," said Paolo Mauro, deputy director of Fiscal Affairs Department at the IMF, as CNBC reported. "You can reshape the tax system and you can reshape fiscal policy more generally in order to discourage carbon emissions."
However, there is sure to be backlash to the IMF's proposal since it calls for a drastic rise in energy bills.
"To limit global warming to 2C or less – the level deemed safe by science – large emitting countries need to take ambitious action," IMF economists said, as The Guardian reported. "For example, they should introduce a carbon tax set to rise quickly to $75 a ton in 2030. This would mean household electric bills would go up by 43 percent cumulatively over the next decade on average – more in countries that still rely heavily on coal in electricity generation, less elsewhere. Gasoline would cost 14 percent more on average."
While more than 40 governments around the world have implemented some form of carbon pricing, the global average carbon price is $2 a ton — a small fraction of the $75 a ton price in 2030 that the IMF insists is necessary to keep a 2 degrees Celsius warming target, according to the report.
The idea is that a sharp spike in prices will force businesses and consumers to seek more affordable options provided by cleaner, renewable energy.
The report noted that while the 2015 Paris climate agreement set a target of keeping warming at just 2 degrees Celsius above pre-industrial times, the current global commitments ignore that target and are consistent with 3 degrees Celsius warming.
The report also noted that many of the world's wealthiest and most industrialized nations will miss their own targets.
"Implementation of existing commitments is therefore a first-step priority, but mechanisms to boost action at a global level are urgently needed," the report said, as Reuters reported.
A hefty carbon tax is already in place in some countries. Great Britain has seen coal use plummet after a 2013 carbon tax. Canada has a carbon tax that will hit $38 per ton of carbon in 2022. Even China will start a cap-and-trade program next year, as CNBC reported.
"The cost of achieving emissions reductions through these approaches would be lower than the costs to people and the planet from climate change," the report said.
"Finance ministers in all countries are central to designing and implementing policies to meet emissions reductions in the most efficient, equitable, and socially and politically acceptable way."
The IMF pointed to Sweden as an example of a country that has smoothly implemented a steep carbon tax. Sweden introduced a carbon tax of $28 per ton in 1991 that has since risen to $127 a ton. It made sure to protect its citizens by coupling the carbon tax with an income tax cut for low and middle-income households.
That stands in stark contrast to the lessons from France where President Macron's clumsy effort to usher in a $50 per ton of carbon tax led to the Yellow Vest riots. The IMF report noted "the perceived unfairness of the tax, which was introduced at the same time as broader tax reductions seen as benefiting the wealthy," according to Reuters.
From Your Site Articles
Related Articles Around the Web
EcoWatch Daily Newsletter
U.S. Sen. Kirsten Gillibrand speaking with attendees at the 2019 California Democratic Party State Convention at the George R. Moscone Convention Center in San Francisco. Gage Skidmore / Flickr / CC BY-SA 2.0
Sen. Kirsten Gillibrand (D-N.Y.) is the latest 2020 Democratic primary contender to announce an ambitious plan to tackle the climate crisis.
waterlust.com / @tulasendlesssummer_sierra .
Each product featured here has been independently selected by the writer. If you make a purchase using the links included, we may earn commission.
The bright patterns and recognizable designs of Waterlust's activewear aren't just for show. In fact, they're meant to promote the conversation around sustainability and give back to the ocean science and conservation community.
Each design is paired with a research lab, nonprofit, or education organization that has high intellectual merit and the potential to move the needle in its respective field. For each product sold, Waterlust donates 10% of profits to these conservation partners.
Eye-Catching Designs Made from Recycled Plastic Bottles
waterlust.com / @abamabam
The company sells a range of eco-friendly items like leggings, rash guards, and board shorts that are made using recycled post-consumer plastic bottles. There are currently 16 causes represented by distinct marine-life patterns, from whale shark research and invasive lionfish removal to sockeye salmon monitoring and abalone restoration.

One such organization is Get Inspired, a nonprofit that specializes in ocean restoration and environmental education. Get Inspired founder, marine biologist Nancy Caruso, says supporting on-the-ground efforts is one thing that sets Waterlust apart, like their apparel line that supports Get Inspired abalone restoration programs.
"All of us [conservation partners] are doing something," Caruso said. "We're not putting up exhibits and talking about it — although that is important — we're in the field."
Waterlust not only helps its conservation partners financially so they can continue their important work. It also helps them get the word out about what they're doing, whether that's through social media spotlights, photo and video projects, or the informative note card that comes with each piece of apparel.
"They're doing their part for sure, pushing the information out across all of their channels, and I think that's what makes them so interesting," Caruso said.
And then there are the clothes, which speak for themselves.
Advocate Apparel to Start Conversations About Conservation
waterlust.com / @oceanraysphotography
Waterlust's concept of "advocate apparel" encourages people to see getting dressed every day as an opportunity to not only express their individuality and style, but also to advance the conversation around marine science. By infusing science into clothing, people can visually represent species and ecosystems in need of advocacy — something that, more often than not, leads to a teaching moment.

"When people wear Waterlust gear, it's just a matter of time before somebody asks them about the bright, funky designs," said Waterlust's CEO, Patrick Rynne. "That moment is incredibly special, because it creates an intimate opportunity for the wearer to share what they've learned with another."
The idea for the company came to Rynne when he was a Ph.D. student in marine science.
"I was surrounded by incredible people that were discovering fascinating things but noticed that often their work wasn't reaching the general public in creative and engaging ways," he said. "That seemed like a missed opportunity with big implications."
Waterlust initially focused on conventional media, like film and photography, to promote ocean science, but the team quickly realized engagement on social media didn't translate to action or even knowledge sharing offscreen.
Rynne also saw the "in one ear, out the other" issue in the classroom — if students didn't repeatedly engage with the topics they learned, they'd quickly forget them.
"We decided that if we truly wanted to achieve our goal of bringing science into people's lives and have it stick, it would need to be through a process that is frequently repeated, fun, and functional," Rynne said. "That's when we thought about clothing."
Support Marine Research and Sustainability in Style
To date, Waterlust has sold tens of thousands of pieces of apparel in over 100 countries, and the interactions its products have sparked have had clear implications for furthering science communication.
For Caruso alone, it's led to opportunities to share her abalone restoration methods with communities far and wide.
"It moves my small little world of what I'm doing here in Orange County, California, across the entire globe," she said. "That's one of the beautiful things about our partnership."
Check out all of the different eco-conscious apparel options available from Waterlust to help promote ocean conservation.
Melissa Smith is an avid writer, scuba diver, backpacker, and all-around outdoor enthusiast. She graduated from the University of Florida with degrees in journalism and sustainable studies. Before joining EcoWatch, Melissa worked as the managing editor of Scuba Diving magazine and the communications manager of The Ocean Agency, a non-profit that's featured in the Emmy award-winning documentary Chasing Coral.
Oregon state capitol. Tashka / iStock / Getty Images
Oregon republicans fled their state rather than do anything to stop the climate crisis. The state republicans abrogated their duties as elected officials and ran away since they don't have the votes to stop a landmark bill that would make Oregon the second state to adopt a cap-and-trade program to curb greenhouse gas emissions, as Vice News reported.
Oregon Gov. Kate Brown, a democrat, who will sign the bill into law once it is passed, ordered the state police to apprehend the Republican lawmakers who fled the Capitol. Although Oregon State Police can force any senators they find into a patrol car and bring them back to the Capitol, the police intend to use polite communication and patience rather than force, the agency said in a statement, according the AP.
In addition to the threat of police action, the senate Republicans will start facing a $500 fine for everyday they refuse to attend to state business starting Friday.
"The Senate Republicans have decided to abandon their duty to serve their constituents and walk out," Gov. Brown said in a statement on Thursday, as The Hill reported. "The Senate Democrats have requested the assistance of the Oregon State Police to bring back their colleagues to finish the work they committed to push forward for Oregonians." She added that it "is absolutely unacceptable that the Senate Republicans would turn their back on their constituents who they are honor-bound to represent here in this building."
The rhetoric around the walk out has heated up as a Republican state senator made an ominously threatening statement to police.
"Send bachelors and come heavily armed," said Republican state senator, Brian Boquist, to the superintendent of the Oregon State Police, as the New York Times reported. "I'm not going to be a political prisoner in the state of Oregon. It's just that simple."
Under the proposed measure, Oregon would cap greenhouse gas emissions and auction off pollution allowances for every ton of carbon industries plan to emit. The limit will then lower gradually to wean businesses off of fossil fuels: Under the legislation, the state would reduce emissions to 45 percent below 1990 levels by 2035, and 80 percent below 1990 levels by 2050, according to the AP.
Democrats claim the law will both lower emissions and drive investment toward low-income and rural communities that need to adapt to the climate crisis. The measure has the support of environmental groups, farmworkers and some trade unions, according to the AP.
The Republicans are demanding a state referendum for the voters to decide, while Democrats want to take action. When the negotiations fell to pieces, the Republicans walked out so the legislature does not have enough lawmakers present to call a vote, according to Vice News.
This is the second time in six weeks that Oregon Republicans have stopped Senate business with a walkout. Last month, Republicans walked out to block a school funding tax package. That standoff lasted four days, until the governor granted concessions by agreeing to table legislation on gun control and vaccine requirements, as the AP reported.
Thousands of Albertans have evacuated their homes due to out-of-control wildfires.
CBC News / YouTube screenshot
In an ironic turn, the fires prompted Alberta Premier Jason Kenney to cancel a celebration of the repeal of the province's carbon tax, Canada's National Observer reported.
*This event has been cancelled so the premier can receive an internal, real-time briefing on the status of Alberta's wildfires," the government said in a statement reported by Canada's National Observer.
Kenney had promised to repeal the carbon tax and roll back other climate change policies in the April 16 general election. A bill to repeal the tax was the first his government introduced after gaining power. While the bill has not yet passed, fuel sellers were expected to stop collecting the tax at 12:01 a.m. Thursday, the Edmonton Journal reported.
"Just hours later, the skies of Edmonton darkened with smoke from wildfires in the north of the province," the paper wrote.
Canada's Environment Minister Catherine McKenna criticized the repeal and said she was working on a national tax.
"We know we're feeling the impacts of climate change. In Alberta, you have forest fires this year that have started earlier than before, major concerns about the impacts of these fires this year," McKenna said, as the Edmonton Journal reported. "We're going to work as quickly as possible to make sure it's no longer free to pollute."
The tax had charged Albertans an additional 6.73 cents per liter for gasoline and $1.51 per gigajoule of natural gas.
The current fires had forced around 5,000 to evacuate more than a week ago, according to Canada's National Observer. They continued to spread this week, as smoke forced even more people to flee their homes Thursday.
"We began the day yesterday with approximately 5,500 evacuees and we currently have over 10,000," Agriculture and Forestry Minister Devin Dreeshen said, as CBC News reported Thursday.
Officials said the Chuckegg Creek fire was spreading especially quickly.
"It traveled about 30 kilometers (approximately 18.6 miles) south yesterday between noon and four o'clock this morning, which means it was traveling at a rate of about 23 meters (approximately 25 yards) a minute," Christie Tucker from Alberta Wildfire said.
The Chuckegg Creek wildfire in the High Level Forest Area experienced extreme fire behaviour yesterday with significant growth to the south towards Paddle Prairie, across Highway 35 by Highway 697 and spotted across the Peace River.

Latest information at: https://t.co/Su9d1ehf9a pic.twitter.com/zsH9mXG8JP

— Alberta Wildfire (@AlbertaWildfire) May 30, 2019
The Maria Lake and MacMillan Complex fires were also spreading and growing closer together. Dry, windy conditions made firefighting more difficult.
Fires destroyed 11 homes in the Paddle Prairie Métis Settlement, the Edmonton Journal reported further.
"The roads are melted," Blake Desjarlais, director of public and national affairs for the Métis Settlements General Council, told the Edmonton Journal.
Desjarlais was frustrated by the lack of support his community was receiving from the Alberta government, Global News reported. He said they were not fighting the fire on the western side, which would most protect the evacuated community, and also that they were not doing enough to help evacuees.
Desjarlais also said the fire could have a long-term economic impact on the community.
"We've lost trap lines, they're a strong economic driver for us," he said, as Global News reported. "Most of the regional farmers have had to cut animals loose."
The impact of the fires hasn't been limited to Alberta. Smoke from the fires has contributed to cloudy skies in western Ontario, southwestern B.C. and the U.S. Midwest, Global News reported Thursday.
If you notice the sky looks hazy today, here's your reason why: smoke from wildfires across northern Canada has once again been transported down into the upper Midwest. Should make for a nice sunrise/sunset!#mnwx #wiwx pic.twitter.com/Gcb22P3rYF

— NWS Twin Cities (@NWSTwinCities) May 30, 2019
On Thursday, smoke covered Minneapolis, Milwaukee, Chicago, Detroit and Kansas City and reached as far south as Denver, Global News reported.
From Your Site Articles
Related Articles Around the Web
Mark Wallheiser / Getty Images
The climate crisis is a major concern for American voters with nearly 40 percent reporting the issue will help determine how they cast their ballots in the upcoming 2020 presidential election, according to a report compiled by the Yale Program on Climate Change Communication.
Of more than 1,000 registered voters surveyed on global warming, climate and energy policies, as well as personal and collective action, 38 percent said that a candidate's position on climate change is "very important" when it comes to determining who will win their vote. Overall, democratic candidates are under more pressure to provide green solutions as part of their campaign promises with 64 percent of Democrat voters saying they prioritize the issue compared with just 34 percent of Independents and 12 percent of Republicans.
Vancouver, British Columbia skyline with the North Shore Mountains. RonTech2000 / iStock / Getty Images Plus
Global warming isn't a partisan issue—or it shouldn't be. The many experts issuing dire warnings about the implications of climate disruption work under political systems ranging from liberal democracies to autocratic dictatorships, for institutions including the U.S. Department of Defense, World Bank, International Monetary Fund, and numerous business organizations and universities.
In 1988, when NASA scientist James Hansen reported to Congress that evidence for human-caused global warming was near undeniable, conservative politicians including the UK's Margaret Thatcher, U.S. President George H.W. Bush and Canada's Brian Mulroney agreed that action was needed. In my home province of British Columbia, a right-leaning government, the British Columbia Liberal Party, introduced a carbon tax in 2008.
Now, as the evidence compels us to increasingly urgent action—the latest IPCC report says we have about 12 years to get emissions under control or face catastrophe—politicians from parties that once cared about the future are lining up to downplay or deny human-caused climate disruption and are hindering plans to address it.
The U.S. offers a sad example. When confronted with a detailed report compiled by more than 300 scientists and endorsed by a dozen different agencies, including NASA, NOAA and the defense department, that warned climate change threatens the American economy, way of life and human health, the president responded, "I don't believe it."
Here in Canada, politicians claim to take climate change seriously but reject plans to mitigate it without offering better alternatives. Some provincial and federal leaders are governing or building campaigns around rejection of carbon pricing, a proven tool for reducing greenhouse gas emissions. It's interesting, because carbon pricing is a market-based strategy, whereas the kind of government regulation that would be required in its absence is something conservative thinkers usually reject.
To be fair, few politicians are emerging as climate heroes, regardless of where they sit on the political spectrum. Our federal government has some good climate policies, including carbon pricing, but is still pushing for pipelines and oil sands expansion. It's even watered down carbon-pricing plans to appease industry.
Alberta's NDP government has likewise implemented some good policies and encouraged clean energy development, but by promoting pipelines and the fossil fuel industry to appease a bitumen-beholden voting base that likely won't support it anyway, the party is alienating young people and others who care about climate and the future.
It bewilders me that so many people are opposed to environmental protection, to ensuring Earth remains habitable for humans and other life. It doesn't take much to see that we've screwed up in many ways. Climate disruption, species extinction, plastic pollution and contaminated water and air are all symptoms of our wasteful, consumer-driven lives, in which profit is elevated above all else. Prioritizing a relatively recent economic system designed when conditions were much different over the very things that keep us healthy and alive is suicidal.
We can't stop using fossil fuels or shut down the oil sands overnight. But if we don't start somewhere, we'll get nowhere. I and others have been writing and talking about global warming for decades, while emissions continued to rise, oil and gas development expanded and global temperatures kept climbing. There's little evidence that governments are treating the climate emergency as seriously as is warranted, preferring to focus on short-term economic gains and election cycles instead.
As we head into an election year in Canada, we must ensure that climate and the environment are priorities for all parties. This costly crisis will bring devastation to economies, food production, human health and much more if we fail to put everything we can into resolving it.
We've seen major national and international efforts to confront serious threats before, regardless of the money and resources needed to do so—from defeating the Nazis in the Second World War to investing in science during the space race. These paid off in many ways, accomplishing their stated purposes and spurring numerous beneficial inventions and technologies.
Now, as humanity faces an existential crisis, we must do everything we can to push those who would represent us to truly act in our interests rather than kowtowing to a dying industry. Climate change should be the top issue in this year's federal election and all others.
We Can't Hide From Global Warming's Consequences https://t.co/zY2UGaJ4in

— Robert D. Bullard (@Robert D. Bullard)1532017814.0
David Suzuki is a scientist, broadcaster, author and co-founder of the David Suzuki Foundation. Written with contributions from David Suzuki Foundation senior editor Ian Hanington.

Protesters clash with riot police on Foch avenue next to the Place de l'Etoile, setting cars ablaze during a Yellow Vest protest on Dec. 1 in Paris. Etienne De Malglaive / Getty Images
By Wenonah Hauter
The images from the streets of Paris over the past weeks are stark and poignant: thousands of angry protesters, largely representing the struggling French working class, resorting to mass civil unrest to express fear and frustration over a proposed new gas tax. For the moment, the protests have been successful. French President Emmanuel Macron backed off the new tax proposal, at least for six months. The popular uprising won, seemingly at the expense of the global fight against climate change and the future wellbeing of our planet.
Yet this simple analysis is grossly incomplete and fatally flawed. A more thorough and accurate analysis of the latest failure to implement a new carbon emissions tax would be this: Real solutions to our dire climate crisis can't come in the form of regressive taxes that pit working families against the cause of climate stability. We won't avoid deepening climate chaos by pursuing strategies that unduly target the working class.
From here in the States to Europe and elsewhere, various carbon tax plans have been proposed or enacted in recent years as a "viable" solution to climate change. Economists of many stripes are quick to assert that putting a price on carbon emissions—as opposed to regulating them out of existence, for example—is the key to reducing fossil fuel pollution.
Yet little evidence exists of the virtues of taxing carbon from a climate standpoint. Many carbon tax advocates point to a recent plan enacted by British Columbia as evidence of the approach's worth. Yet an analysis of the plan conducted by Food & Water Watch found that greenhouse gas emissions from taxed sources actually increased by more than 4 percent, while non-taxed emissions fell during the same period.
Meanwhile, the inherently regressive nature of consumer-based carbon tax schemes places an undue financial burden on those working families least able to afford it. "Progressive" carbon pricing advocates often point to fine-print details in some models that would apparently mitigate the burden on lower- and working class families by returning revenues to consumers in rebate structures meant to favor those in lower income brackets. Additionally, so-called "revenue neutral" plans claim to put no new financial burden anywhere in the economy—which would call into question what their point is in the first place.
Details aside, three key facts on carbon pricing are unavoidable: First, there is little evidence to indicate that existing plans have resulted in any significant cut in carbon emissions, anywhere. Second, in order to generate significant emissions cuts, the price-per-ton on carbon would need to be so high as to truly dismantle life for great swaths of society, not just the working class. You think the protests in Paris this week were bad? The small costs associated with the new French gas tax wouldn't have made dent in emissions. Imagine if the tax was so immensely large as to actually reduce emissions. Talk about a protest!
And third, ExxonMobil and many of its fellow global fossil fuel pushers support carbon taxes. Why? Because they know that attaching a new public revenue stream on fossil fuels will only serve to condone and entrench the continued existence and expansion of the industry. To Exxon, a carbon tax means polluting, poisoning business-as-usual.
The real path to justly and aggressively moving off fossil fuels is simple: We must move off fossil fuels—justly and aggressively. This means new investment in the ever-expanding realm of clean energy production and transmission, which will create countless well-paying jobs. This means new investment in energy efficiency across all segments of society, which again will create many jobs. And this also means enacting a moratorium on new fossil fuel extraction and infrastructure. So long as we are continuing to drill and frack new wells, and build new interstate pipelines to carry new fossil fuel supplies to overseas markets, we will never truly begin the transition to a clean energy future our planet so desperately requires.
Call this a Green New Deal if you like, but be advised: Any Green New Deal that includes carbon pricing isn't green, isn't new and isn't much of a deal.
Wenonah Hauter is the executive director Food & Water Watch, a national advocacy organization.
A burnt-out car on avenue de la Grande Armée after protests against higher diesel taxes on Dec. 2 in Paris, France. Etienne De Malglaive / Getty Images
French President Emmanuel Macron announced plans Tuesday to suspend an increase in fuel tax in response to growing pressure from protestors. Over the weekend, Macron canceled plans to attend COP24 amidst increasing tension in France.
President Donald Trump on Twitter Tuesday evening conflated Macron's decision with a rejection of the Paris agreement, calling the accord "fatally flawed" while also retweeting a demonstrably false tweet from a right-wing pundit claiming that "radical leftist fuel taxes" are prompting the French to chant "'we want Trump'... through the streets of Paris."
"There's no viable solution to reducing emissions on the scale needed in France without a price on carbon pollution as well as complementary policies, but a process that is not developed in an inclusive manner is destined to fail," said Pierre Cannet, head of climate and energy at WWF-France. "[The] announcement that the French government is freezing carbon tax shows that they put the cart before the horse by not addressing the social measures necessary for a just transition."
As reported by Vox:
While the protests may have started over the fuel tax, they have since morphed into a broader indictment of Macron's handling of the French economy and his perceived elitist disregard for the effects his policies are having on France's working class.
...
Trump's disregard for the truth and active attempts to create his own reality—and to convince his supporters of that imagined reality—are nothing new.
But the fact that the sitting president of the United States either does not understand or is deliberately misrepresenting the basic dynamics of a massive political crisis roiling one of America's closest allies is deeply disturbing.
My second @EcoWatch piece today looks at the #GiletsJaunes protests in France and why it is important to factor inc… https://t.co/SkZyZOdNig

— Olivia Rosane (@Olivia Rosane)1543847780.0
For a deeper dive:

Fuel tax: Bloomberg, BBC, Wall Street Journal, LA Times, New York Times, Washington Post, NPR. Trump: Vox, Reuters, Washington Examiner, Al Jazeera
For more climate change and clean energy news, you can follow Climate Nexus on Twitter and Facebook, and sign up for daily Hot News.
From Your Site Articles
Related Articles Around the Web
A "yellow vest" or "gillets jaunes" protester during the most violent riot in Paris in a decade Saturday over a new gas tax. ALAIN JOCARD / AFP / Getty Images
More than 100 people were injured and 378 arrested in Paris Saturday as the third week of protests over a new fuel tax caused the worst violence in the French capital in a decade, The Guardian reported.
Around 8,000 protesters and 5,000 police clashed as police used tear gas, stun guns and water cannons and demonstrators burned cars and looted stores, according to Australia's ABC News. Demonstrators also expressed their rage with slogans graffitied onto the Arc de Triomphe reading "Topple the bourgeoisie" and "We've chopped off heads for less than this," The Guardian reported.
BREAKING NEWS: Paris on fire: Once again Macron tax protests/'yellow vest' protests break out in the capital of Fra… https://t.co/xzxvBfHmMw

— BNL NEWS (@BNL NEWS)1543677586.0
The protests were sparked by President Emmanuel Macron's attempt to fight climate change by instituting a tax on gas and diesel in order to encourage motorists to purchase more environmentally friendly vehicles. The protesters, who call themselves the "gilets jaunes" or "yellow vests" for the reflective yellow vests all French drivers must keep in their cars since 2008, say the taxes unfairly target working people in the country's rural and suburban areas who have to drive to get around, ABC News reported.
Scenes from the #GiletsJaunes #YellowJackets insurgency in France /1 https://t.co/Iav8bt2uRQ

— B r e a k a w a y (@B r e a k a w a y)1543805944.0
However, the fuel tax has also been a spark igniting pre-existing concerns about the rising cost of living and growing inequality.

"We are here to protest against the government because of the rise in taxes [in general], not just petrol taxes, which is the straw that broke the camel's back. We've had enough. We have low salaries and pay too much tax and the combination is creating more and more poverty," demonstrator Florence, 55, who works for a freight company outside Paris, told The Guardian.
SciencesPo university environmental geopolitics specialist Francois Gemenne told Reuters that a climate of inequality makes carbon taxes like Macron's more politically difficult.
"Clearly, countries where inequalities are the highest are the ones where these kinds of push-backs are mostly likely," Gemenne said, citing the U.S., the UK and Italy as other countries were a similar backlash could be possible. "I guess it's one of the reasons why populist leaders tend to be very skeptical about climate change and environmental measures," he told Reuters.
Macron raised fuel prices by 7.6 cents per liter for diesel and 3.9 cents per liter for gas in 2017. A further increase of 6.5 cents per liter for diesel and 2.9 cents per liter for gas is planned for January 2019. An online petition calling for repeal of the taxes that was launched in May gathered 300,000 signatures by October, ABC News reported.
The first physical protests were organized by truckers on Facebook and called on participants around the country to block roads on Nov. 17. Around 300,000 people answered the call. To date, three people have died in traffic accidents related to road blocks.
People block Caen's circular road on November 17, 2018 in Caen, Normandy, during a nationwide popular initiated day… https://t.co/EGOHch2aYQ

— Charly Triballeau (@Charly Triballeau)1542481369.0
Following Saturday's protests, Macron ordered his prime minister Édouard Philippe to talk with the leaders of the "yellow vest" movement, The Guardian reported.

Eurasia Group analyst Charles Lichfield told CNBC before Saturday's protests that it was unlikely Macron's government would budge on the tax itself.
"Following the resignation of Environment Minister Nicolas Hulot, it cannot afford to lose the support of green-minded voters ahead of the EU Parliament elections in May. It could show more flexibility on how it allocates the revenue from the tax by increasing its proposed subsidy to low-income motorists or directing more funds to transport in rural areas," he said.
Currently, most of the revenue for the tax has been earmarked for reducing the national deficit, which has added to popular anger, Reuters reported. Political economy of climate change specialist at Wilfrid Laurier University in Canada Simon Dalby told Reuters that carbon taxes work best when they are part of a broader project to transition towards cleaner transit and housing options.
"It is all about policies for transition to a post-
fossil-fuel
world, something that needs to be done quickly if the worst of the predicted climate disruptions are to be avoided in the coming decades," he said.
With her win, Alexandria Ocasio-Cortez became one of four Democrats heading to Congress to push for a Green New Deal. Rick Loomis / Getty Images
Results from the U.S. midterm election are mostly in, and, when it comes to what they mean for the environment, they're a real mixed bag.
On the plus side, the Democrats took the House of Representatives, which, as BBC News pointed out, means that President Donald Trump can't pass any more major legislation without their approval. Since big legislative pushes in the Republican controlled House over the past two years included an attack on the Endangered Species Act and a Farm Bill that would have limited controls on toxic pesticides and water pollution, this can only be an improvement.
The latest US election results: Democrats have won their 218th House seat, securing their majority and setting up a… https://t.co/xEe718OY0x

— Financial Times (@Financial Times)1541580125.0
On the minus side, the Republicans increased their majority in the Senate. Since the Senate is the body that confirms all of the president's judicial and political appointments, there will still be nothing blocking Trump from appointing more judges like Brett Kavanaugh with a dubious environmental record. They will also be able to sign off on whoever Trump finally chooses as Scott Pruitt's permanent replacement at the U.S. Environmental Protection Agency (EPA). The House is more likely now to investigate corruption-prone, industry-friendly Interior Secretary Ryan Zinke, but the Senate could go right ahead and confirm a replacement equally likely to sell out public lands to fossil fuel interests.

When it comes to the environmental implications of individual races and ballot measures, the night was about equally full of gains and losses. But it's important to remember that no matter who wins, popular movements can always make a difference. So whether your favorite candidate won or lost last night, you can and should continue fighting to halt climate change and ensure a healthy, thriving environment for all life on earth.
That said, here are a few of the key takeaways from last night.
1. Big Oil's Big Spending Paid Off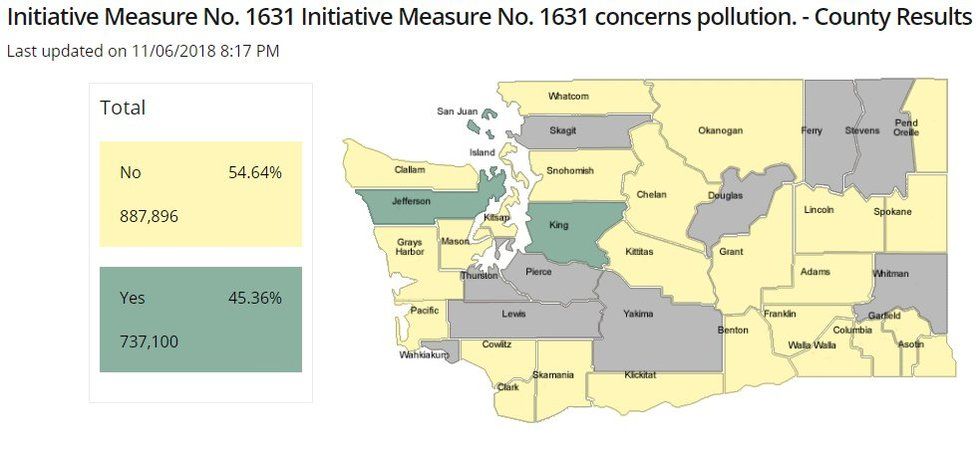 A graphic showing the results of Washington state's voting on I-1631 pbs.twimg.com
Probably the most disappointing result from a climate change perspective is the fact that Washington's Initiative 1631, which would have created the nation's first fee on carbon emissions, was defeated in the polls. Colorado's Proposition 112, which would have banned oil and gas drilling on 85 percent of the state's land, also failed. The fossil fuel industry put more than $73 million into defeating the two initiatives, the Huffington Post reported, so in this case money power was sadly stronger than people power.

In terms of the other ballot measures EcoWatch was tracking, Arizona's Proposition 127, which would have upped the state's renewable energy target to 50 percent by 2030, was also defeated, as was Alaska's Ballot Measure 1, which would have imposed new restrictions on projects that threaten salmon habitat. Florida's unusual Amendment 9, banning both offshore oil drilling and indoor vaping, was the only one to succeed.
2. Climate Change Tipping Point
Carlos Curbelo didn't lose, @DebbieforFL won. This race was fought on climate change and won on climate change. T… https://t.co/hc6DMi0XSc

— Eric Holthaus (@Eric Holthaus)1541559846.0
Climate change was also a campaign issue in several key races, and, while it's hard to pinpoint what issue tipped a candidate over the edge to victory, there were some wins where it might have made a difference.

Before the election, Grist assembled an analysis of five hotly contested races in districts where more than two-thirds of residents were worried about climate change. Turns out, all of the Democrats in those races won or are currently leading in the polls, according to The New York Times.
Anti-pipeline and offshore drilling Democrat Tom Malinowski beat Republican incumbent Leonard Lance in New Jersey's seventh district.
Democrat Colin Allred, who wants to rejoin the Paris agreement, defeated incumbent Republican Pete Sessions, who wants to scale back the EPA. This is in Texas' 32nd district, which saw unusually deadly storms and flooding this fall.
Also in Texas, Republican incumbent John Culberson lost to Democrat Lizzie Pannill Fletcher in the seventh district that includes parts of Houston deeply impacted by Hurricane Harvey last year.
Florida's 26th district is its southernmost point, already grappling with tidal flooding due to sea level rise. Republican incumbent Carlos Curbelo was not a climate denier, and in fact founded the bipartisan Climate Solutions Caucus. But Democrat Debbie Mucarsel-Powell promised more environmental action and won.
The race between Republican incumbent Dana Rohrabacher and Democratic challenger Harley Rouda for California's 48th district, which includes parts of coastal Orange County at risk from sea level rise, is still too close to call. But Rouda, who opposed offshore oil drilling and promised clean energy, is leading.
3. Rise of the Green New Deal:
The Green New Deal: fixing climate and the economy? www.youtube.com
The brightest glimmer of hope to come out of the midterms is the fact that there are now four Democrats in the House who are calling for a Green New Deal, a massive government push to turn away from fossil fuels and build renewable energy infrastructure, The Huffington Post reported.

Alexandria Ocasio-Cortez confirmed her win after her surprise primary victory in New York's 14th district this summer, and she is joined in championing the issue by the first two Muslim women in Congress: Ilhan Omar in Minnesota's 5th District and Rashida Tlaib in Michigan's 13th. Antonio Delgado beat Republican John Faso in New York's 19th district to round out the group.
While some influential champions of the idea, like Florida Democratic gubernatorial candidate Andrew Gillum, lost their races, Penn State University climate scientist Michael Mann said it was important that the idea was gaining ground given the dire warnings of the most recent Intergovernmental Panel on Climate Change report on limiting global warming to 1.5 degrees Celsius above pre-industrial levels.
"This is the sort of bold and audacious thinking that we need when it comes to confronting the ever-pressing challenge of averting catastrophic climate change," Mann told the Huffington Post.
New Green Strategy: Change the Electorate, Not the Election #ClimateVoter #VoteOnClimate #IVoted https://t.co/JGhLvyxC3Z

— EcoWatch (@EcoWatch)1540467013.0
From Your Site Articles
Related Articles Around the Web
Erik (HASH) Hersman / Flickr / CC BY 2.0
Today is election day in the U.S., which means that if you are a U.S. voter whose state doesn't have early voting, today is the day to head to the polls and make your voice heard.
A lot of the races in this year's midterm election have big consequences for the environment. The Sierra Club has even assembled a list of 10 "Fossil Fools" to boot from office because they consistently prioritize fossil fuel interests over the environment and public health.
But environmental voting isn't just about picking certain candidates over others. A number of states are also considering important ballot measures that give voters a direct say on environmental issues, from protecting endangered species to promoting renewable energy. Here are five to keep track of as you watch the results come in tonight.
1. Initiative 1631, Washington State
If Washington voters approve I-1631 today, they would make their state the first in the nation to impose a fee on carbon emissions, as EcoWatch has pointed out previously. The initiative would charge $15 per metric ton of carbon emissions beginning in 2020 and raise the fee by $2 every year until the state meets its 2035 emissions goals. The funds would be directed towards clean energy and transit, and cleaning up polluted communities.
The fossil fuel industry has outspent the "Yes" campaign two-to-one, but initiative has some very prominent supporters.
Climate change may be the toughest problem humanity has ever faced — but it's solvable. Washington has a unique opp… https://t.co/20OkwrU9dL

— Bill Gates (@Bill Gates)1541255580.0
2. Proposition 112, Colorado

In an attempt to limit risks from fracking, Proposition 112 would ban oil and gas development within 2,500 feet of homes, buildings, water sources or other sensitive areas. If it succeeds, it could actually be a major blow to Colorado's growing shale industry, as CNN explained:
If approved, the ballot question would eliminate future drilling locations in a chunk of the surging Denver-Julesburg, or DJ, basin in Colorado, one of the nation's largest oil-producing states. Much of the Colorado land held by oil companies like Anadarko Petroleum (APC) and Noble Energy (NBL) would suddenly be off limits to new drilling.
Not surprisingly, the oil and gas industry is also spending hard to stop this measure, to the tune of more than $30 million. But supporters remain defiant.
If Prop. 112 passes in #Colorado, it will show that PEOPLE CAN stand up to #oilandgas companies and win. That sta… https://t.co/8mQdz1RZ3u

— WildEarth Guardians' Climate and Energy Program (@WildEarth Guardians' Climate and Energy Program)1541457270.0
3. Proposition 127, Arizona

Proposition 127 would require Arizona utilities to get 50 percent of their energy from renewable sources by 2030. Currently, as Ars Technica pointed out, the state plans to get 15 percent of its energy from renewable sources by 2025, so the proposition would majorly scale up the state's renewable energy commitment.
Both opponents and supporters of the measure have spent a lot to win the day, making it the most expensive ballot measure in Arizona history.
The Union of Concerned Scientists came out strongly in support of the measure, arguing that it would save utility customers money, improve public health by reducing air pollution, create jobs and reduce greenhouse gas emissions, among other benefits.
The Good Place's Ted Danson also lent his support.
[email protected]

knows it's forking important to vote #YESon127 to clean up our energy and our politics! https://t.co/fWaKHqDE3M

— Clean Energy for a Healthy Arizona (@Clean Energy for a Healthy Arizona)1541293384.0
4. Amendment 9, Florida

Florida's Amendment 9 tries to kill two birds with one stone. It would both ban offshore oil drilling on land beneath state waters and ban vaping in indoor spaces.
This odd combination occurred because Florida's Constitution Revision Commission, which meets every 20 years to suggest amendments to the state's constitution, has the right to bundle changes on the ballot. They argued that combining the two made sense because they were both environmental issues and because it would save space on the ballot, Vox explained.
But it might backfire. Several local newspapers expressed concerns about forcing voters to say yes or no to two different things at once in their endorsements. Others see it as a win-win.
"The issues together send a message of clean air, clean water," Constitution Revision Commission member Lisa Carlton, who wrote the pre-bundled vaping measure, told Grist. "I cannot think of anything more important than protecting our near shores in Florida."
5. Ballot Measure 1, Alaska

Ballot Measure 1 would impose new requirements and a new permitting process for any developments that would impact bodies of water that salmon and other fish call home. It's a response to the controversial Pebble Gold Mine, a project that was so threatening to the local watershed that even Trump's Environmental Protection Agency (EPA) put its efforts to approve it on hold.
Oil and gas interests, as well as 12 of Alaska's Native Regional Corporations, say that existing protections for salmon are sufficient and the measure would hurt the economy, Ars Technica reported. Wildlife groups like the Alaska Conservation Foundation are supporting it.
We are voting Yes on 1 because we can't bear to think about an Alaska without wild salmon! Get the Facts on Ballot… https://t.co/206ezzlNLl

— Alaska Conservation Foundation (@Alaska Conservation Foundation)1541464980.0
The fossil-fuel-funded campaign to defeat the carbon tax ballot measure in Washington State is attracting enormous sums of money as well as charges of dubious outreach efforts towards minority communities.
A review of state data by Reuters shows that the oil industry has spent more than $30 billion dollars to fight the measure—double the amount of money spent by pro-initiative groups, and the most money ever spent to defeat a ballot measure in Washington.
And as The Stranger reports, some of that staggering sum is going towards misleading campaigns directed at Spanish-speaking voters: several Latino business owners say that a mailer sent by the opposition campaign listing their businesses as opposed to the ballot measure is misleading and that they did not agree to appear on the mailer.
"Most campaigns don't even bother reaching out to Latino voters," Peter Bloch Garcia of the Latino Community Fund told The Stranger. "But because we've been organizing for years, front and center, and taking a strong position in support of 1631 they are explicitly targeting us. I have never in my life in Washington seen a targeted mailer like this that has exploited our community."
The Environment Is on the November Ballot — Here's Where and What's at Stake https://t.co/49jGH3GHfZ

— EcoWatch (@EcoWatch)1539464773.0
For a deeper dive:

For more climate change and clean energy news, you can follow Climate Nexus on Twitter and Facebook, and sign up for daily Hot News.

From Your Site Articles
Related Articles Around the Web