This website uses cookies to ensure you get the best experience while browsing it. By clicking 'Got It' you're accepting these terms.
People in New York City participated in a protest with climate activist group Extinction Rebellion on April 17. Stephanie Keith / Getty Images
EcoWatch Daily Newsletter
Democratic Colorado Governor-elect Jared Polis arrives onstage with running mate Dianne Primavera on Nov. 6 in Denver. Rick T. Wilking / Getty Images
Jared Polis, who won Colorado's gubernatorial race to become the nation's first openly gay governor-elect, is charting the state's bold path towards clean energy.
The Democrat, who has served in the House of Representatives since 2009, ran on a platform of transitioning Colorado to 100 percent renewable energy by 2040—the most ambitious renewable goal in the entire country, Climate Home News reported. That's even faster than California and Hawaii, which both aim to phase out of fossil fuel generation by 2045.
With her win, Alexandria Ocasio-Cortez became one of four Democrats heading to Congress to push for a Green New Deal. Rick Loomis / Getty Images
Results from the U.S. midterm election are mostly in, and, when it comes to what they mean for the environment, they're a real mixed bag.
Erik (HASH) Hersman / Flickr / CC BY 2.0
Today is election day in the U.S., which means that if you are a U.S. voter whose state doesn't have early voting, today is the day to head to the polls and make your voice heard.
Juj Winn / Getty Images
Tomorrow, America heads to the polls for the midterm elections, and, as EcoWatch has pointed out, these are very important elections for the environment, giving voters a chance to fight back against the Trump administration's agenda of ignoring climate change and opening public lands to drilling and mining.
Drought damage on the Fresno Harlen Ranch in Fresno, CA in 2014. USDA photo by Cynthia Mendoza
By John Russell
Sometimes climate change can feel like someone else's problem—we read about stronger hurricanes hitting our coasts or wildfires raging across California and think 'well, it's a good thing that I live here and not there.' The truth is, climate change is everyone's problem, and it's already impacting Ohio. But we have a way to fight it.
OSCE Parliamentary Assembly / CC BY-SA 2.0
By Tara Lohan
How little do elected officials care about climate change? Look no further than a recent U.S. Senate hearing about the biggest threats facing the country, where lawmakers asked a single question about global warming during the entire three-hour event.
The upper house of the New South Wales state parliament in Australia is condemning Donald Trump's run for president of the United States calling him a "revolting slug" unfit for public office.
On Thursday, Greens MP Jeremy Buckingham introduced a motion slamming Trump's hateful comments about women and minorities, including the remarks revealed last weekend that clearly describe sexual assault.
Watch Buckingham's motion here:
The motion also addressed that the house "reflects on the divisive, destructive impact of hate speech from political candidate and members of elected office has on our community."
"[This house] agrees with those who have described Mr. Trump as 'a revolting slug' unfit for public office," the motion concluded.

While Trump has previously been described as an "orange slug," by former talk show host and comedian Rosie O'Donnell, this may be the first time he has been described in such a way on record.

Buckingham's motion was passed unanimously without objection or a formal vote.
"It's a great that all sides of Australian politics, from conservatives to liberals to greens, agree that Donald Trump is a 'revolting slug' and completely unfit for public office," Buckingham said. "It's clear that all reasonable and decent people find Donald Trump's behavior obnoxious and that the world is hoping American voters reject his politics of hate."
Buckingham became well known to EcoWatch readers after his video went viral showing gas exploding on an Australian river near a fracking site.
Standing on the sidelines during an election is never an option. That's why superstar musicians rarely hesitate when asked to step up to the mic to use their outsized influence to encourage all of us to speak out for the future that we want for our families, our communities and ourselves.
And who better to get us excited about voting?
After all, we tend to form strange, special relationships with our favorite performers. We invite them into our lives and ask them to provide the soundtrack. (Or is it the other way around?) Over the course of a few albums, something strikingly personal develops—through confessional, relatable lyrics you discover a kindred spirit or maybe a new best friend who understands the cathartic necessity of losing yourself and your worries to the pulse of the dance floor.
A very real connection is born, one that runs far deeper than with any other sort of celebrity. So it's no wonder we trust them when they offer up a very simple message: Your vote is your voice.
Since 1990, Rock the Vote has been working hard to draw attention to elections and turn out millions of voters. The campaign has always made great use of celebrity supporters—and pop stars in particular. When a cultural icon starts talking about the importance of voting, their millions of fans tend to pay attention.
From touring to ads and more, superstar singers have always played a pivotal role in the Rock the Vote campaign. Here are five of our favorites who have both lent their famous faces to the cause of inspiring millions to take action by voting and supported the green movement for a more sustainable future for all of us.
1. Madonna

Rock the Vote launched itself into the public consciousness in a very big way in 1990 with a controversial PSA featuring the Queen of Pop at the peak of her powers. Draped in an American flag, clad in lingerie and mouthing off in typical fashion, the pop star did what she does best: got plenty of attention.
In the years since, she's used her fame to bring awareness to a variety of causes, from world hunger at Live 8 to environmental awareness as the headliner at Live Earth, the global concert event held in 2007 and founded in partnership with The Climate Reality Project Founder and Chairman Al Gore. Her Madgesty has even appeared on the cover of Vanity Fair's annual Green Issue.
2. Pharrell Williams
Pharrell has a long history of asking his fans to Rock the Vote, going so far as to call voting "the only way to change things." He is also no stranger to green initiatives and even partnered with Climate Reality for 24 Hours of Reality and Live Earth: The World Is Watching to spread the word about climate solutions ahead of the historic UN climate negotiations in Paris.
"I'm hopeful for our future and proud of our world leaders for taking first steps toward working together for a healthier, happier planet," he said on Facebook of the Paris agreement.
3. Katy Perry
Perry's interest in the well-being of our planet stems from her role as a UNICEF goodwill ambassador. The chart-topping pop princess has traveled the globe to speak with children and promote public health services in the developing world. This naturally extends to issues like drought, flooding, global temperature rise and the related spread of vector-borne diseases, which inspired Perry to star in a characteristically tongue-in-cheek clip, produced by UNICEF and styled as a local news-like weather report, about the dangers of extreme weather for the world's children.
Perry recently shot a Rock the Vote campaign commercial, telling The Los Angeles Times, "Younger people sometimes don't feel like their vote matters. They think it's all rigged, but it's not true—you have to physically go out and vote."

4. John Legend

Legend has been extremely vocal on Twitter with his feelings about environmental issues. And like Pharrell, Legend's commitment to the cause also is far from new—he performed during The Climate Rally on the National Mall in Washington, DC all the way back in April 2010 in honor of the 40th anniversary of Earth Day.
The "All of Me" singer and 10-time Grammy winner has been involved with Rock the Vote for years, as well and was the face of the organization's Democracy Day initiative to educate young people about the 26th Amendment, which lowered the voting age in the U.S. from 21 to 18 in 1971.
5. Jason Mraz
Mraz went on tour with Rock the Vote in 2013 to get thousands of people registered ahead of the 2014 mid-term elections.
"Now that I have an opportunity to work with Rock the Vote, it's just a must," he said. "A lot of people don't know that they have to register; they think 'I'm always registered.' … Every single vote counts."
The "I Won't Give Up" crooner also is a well-known environmentalist. Part of the vision of his Jason Mraz Foundation is to "achieve a society … where the environment is preserved for generations to come." (Sounds familiar to us!) He's also been very active in Climate Reality's annual 24 Hours of Reality live global event over the years, discussing topics from what he is doing to be a better activist to why he is optimistic about the future of our planet.

Are our celebrity friends correct that voting is key to doing your part to assure a sustainable future? One thing is certain: expanding clean energy and creating more green jobs are goals Americans agree on—and we need our leaders to support.
Every U.S. election is important, but this year we have the power to shape not only the future of America, but the future of our entire planet and its citizens. In fewer than five minutes, you can register or pledge to #RockTheVote and proudly raise your voice on Election Day.
In what turned out to be a bad midterm election for the environment, climate deniers won a slew of races across the country, fueled by big spending from fossil fuel interests such as the Koch brothers. Their money overruled increasing public support for reigning in carbon-spewing industries to address climate change.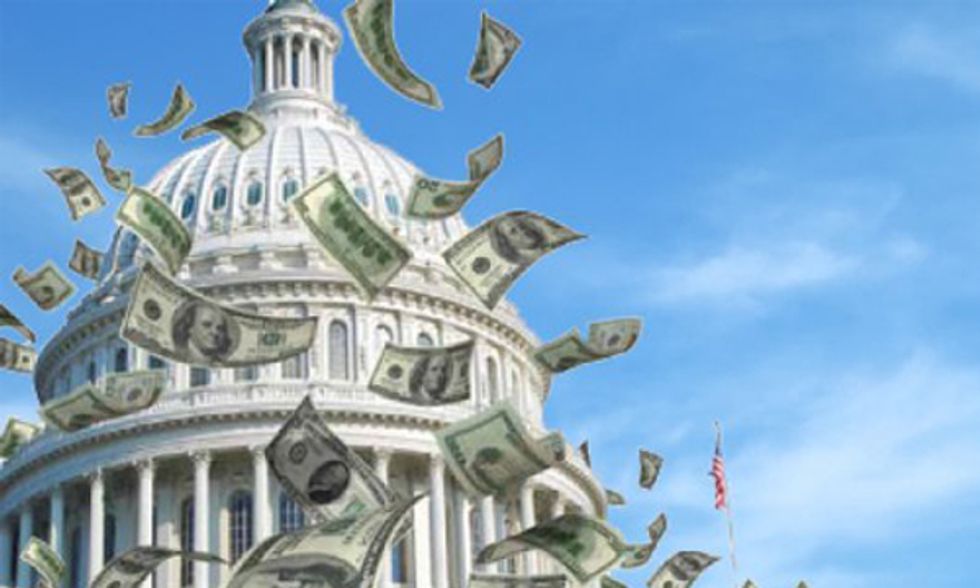 Dirty energy money also overshadowed the heaviest pro-environmental spending yet from climate-friendly billionaire Tom Steyer and his organization NextGen Climate. Some of the media are spinning this as a big defeat for Steyer and environmentalists. But it was more a matter of more money drowning them out—and how much more is unknown. While Steyer has been open about his spending through NextGen Climate, estimated at more than $50 million, the Koch brothers conceal much of their money in so-called 501 (c) 4 organizations, a form of nonprofit that can spend unlimited amounts of "dark money" without revealing its funders.
In fact, three of the seven candidates that NextGen Climate made top priorities prevailed: Senator Jeanne Shaheen in New Hampshire, Senator-elect Gary Peters in Michigan and governor-elect Tom Wolf. Shaheen beat Scott Brown, who has changed positions on climate more often than he's changed the state he's run in. Peters squelched Terri Lynn Land who has said there should be a "debate" on the extent of human involvement in climate change and called Peters and Steyer "radical liberals." Wolf beat sitting Governor Tom Corbett who also has said climate change is a "subject of debate" and ordered references to it that he thought took a position on it deleted from a state website. Corbett is also head cheerleader for Pennsylvania's booming fracking sector.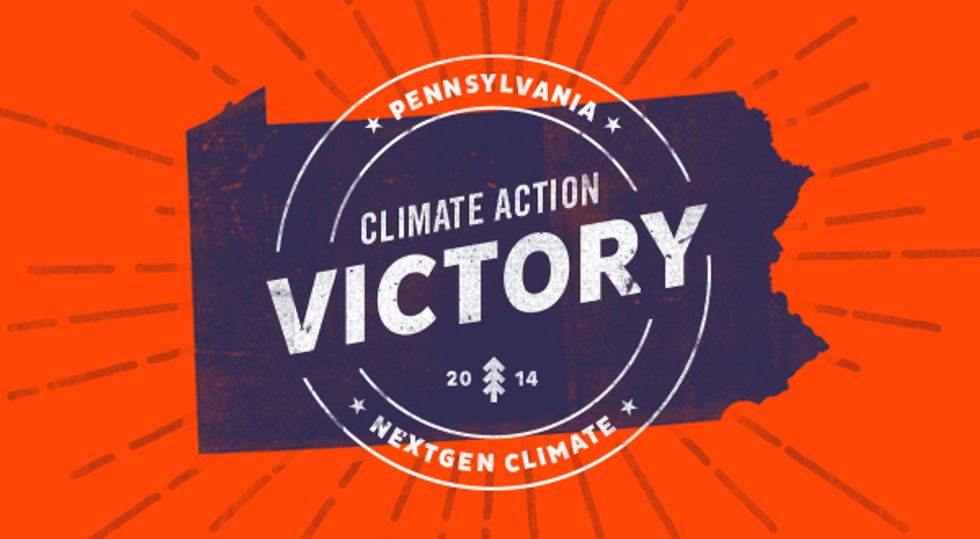 "Whatever may have driven individual races, the American people want action on climate change," said Frances Beinecke of the Natural Resources Defense Council. "They didn't vote to roll back foundational environmental safeguards for the sake of polluter profits. We will empower the voice of the people. We will defend clean air, safe water, healthy wildlife and fertile lands. And we'll press for real action to protect future generations from the dangers of climate change."
Unfortunately, numerous climate-denying or climate-unfriendly governors with different goals retained their jobs, including Rick Scott in Florida, John Kasich in Ohio, Butch Otter in Idaho, Sam Brownback in Kansas and Paul LePage in Maine.
Scott edged out Democrat Charlie Crist, who committed to addressing the severe impacts climate change is having on a state exposed to rising sea levels and intense hurricanes. Scott, with the Koch-backed Americans for Prosperity investing heavily in his ground campaign, has refused to meet with scientists and even Christian evangelicals concerned about the climate.
In Maine, LePage vetoed a study on preparing the state's communities and businesses for the impacts of climate change, saying both that it's not happening and that it's actually good for Maine.
Kasich, elected in a landslide victory in Ohio, presided over the freeze on Ohio's renewable energy standards, which were passed with almost unanimous bipartisan support in 2008. It was the first rollback of clean energy standards in the country, and a bill is currently in the Ohio legislature to repeal them permanently. Kasich, with his massive support from fossil fuel interests, is almost certainly involved in the effort and will sign it, although he prefers to let the legislature take the fall, refusing public comment.
Climate denier senators-elect Cory Gardner in Colorado, Joni Ernst in Iowa, Thom Tillis in North Carolina and Shelly Moore Capito in West Virginia, as well as the reelections of fossil fuel-funded senators like Kentucky's Mitch McConnell, gave Republicans a Senate majority. That will make breaking through the gridlock to get any action on climate change infinitely tougher, with McConnell now Senate Majority Leader (assuming he's not deposed by someone more extreme, like Texas Senator Ted Cruz). With a 7 percent score from the League of Conservation Voters (LCV), $3.6 million in contributions from the fossil fuel industry and a crusade against the U.S. Environmental Protection Agency (EPA), he's a dedicated foe of the environment.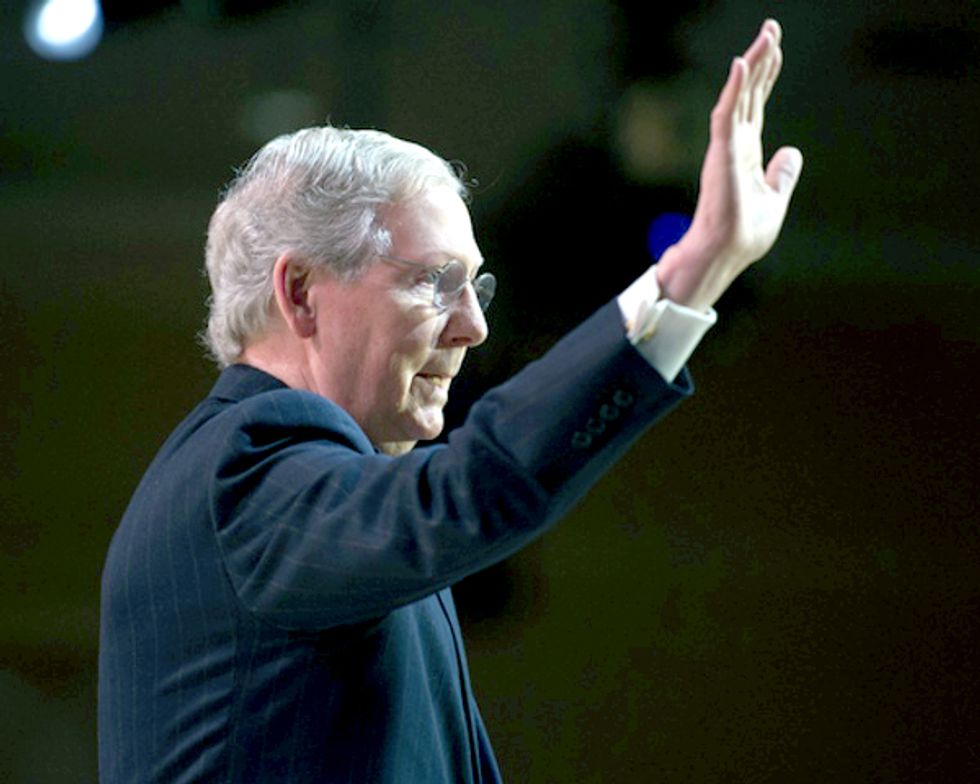 Photo credit: Shutterstock
New head of the Senate Environment and Public Works Committee? Oklahoma's James Inhofe, author of The Greatest Hoax: How The Global Warming Conspiracy Threatens Your Future.
Gardner defeated staunch environmental ally Mark Udall in a campaign that included millions from Koch Industries and other fossil fuel interests.
"Everything in Colorado has shifted farther to the right toward the oil and gas industry and the climate-change denial funded by millions of dollars from the Koch Brothers," said Colorado environmental activist Gary Wockner. "Most notably, Democratic U.S. Senator Mark Udall was swept out of office by Tea Partier Cory Gardner who is a 100 percent voting member of the most anti-environmental U.S. House of Representatives in history and declined to answer climate change questions during the race."
Iowa's Joni Ernst, probably the most conservative candidate elected last night, has punted on whether she believes climate change is manmade and boasts of driving an electric car. But she has vowed to work to abolish the EPA and repeal the Clean Water Act saying it was one of the most damaging laws for business. That's another measure that once had overwhelming bipartisan support and has been a huge success in cleaning up America's waterways. She replaced the retiring Tom Harkin, a strong pro-environmental vote.
But Beinecke pointed out, "Several senators won by running clean—including Jeanne Shaheen in New Hampshire, Susan Collins in Maine and Senator-elect Gary Peters in Michigan. All are climate champions. Peters took on the Koch brothers and promised Michigan voters he would fight in Congress to protect the Great Lakes from climate change."
"The election may have changed the political dynamics in Washington, but it doesn't change the science," said Mindy Lubber, president of sustainable business group Ceres. "The reality of global warming and the need for urgent action remain an imperative. Business leaders understand this truth. Smart companies are making wise choices about their energy purchases and future operational planning in a carbon-constrained world."
Another voice for business was Rhone Resch, president and CEO of the Solar Energy Industries Association (SEIA), who urged political leaders not to leave solar behind. "It's critically important for our leaders in Washington, as well as our state capitals, to put aside their differences and work together to find real solutions that will grow our economy and put more people to work," he said.
"As one of the fastest-growing industries in America, solar is a shining example of how stable, consistent and reliable public policies are paying huge dividends for our economy and environment. As pundits analyze the results of Tuesday's elections, here is one important mandate to remember: Polls consistently show that 9 out of 10 Americans want to see an expanded use of solar energy nationwide."
Michael Brune, executive director of the Sierra Club, was also undeterred. "Despite the climate movement's significant investments and an unprecedented get out the vote program, strong voices for climate action were defeated and candidates paid for by corporate interests and bolstered by sinister voter suppression tactics won the day," he said.
"But don't be fooled. This election marked a pivotal change in how candidates confront the climate crisis. Even the most anti-environmental candidates were compelled to greenwash their voting records and change their tune on climate denial. The climate on climate is changing. A Congress elected by corporate polluters may think it can force a polluter agenda on this country. But public support is solidly behind action to tackle the climate crisis. There is a growing movement of climate and clean energy voters that will be standing up to polluters and their political allies every step of the way."
YOU MIGHT ALSO LIKE
Top 20 'Dirty Denier$' Who Accept Big Bucks from Big Polluters
Climate Denial Machine Fueled By Big Oil and Koch Brothers Impacts Congressional Races