This website uses cookies to ensure you get the best experience while browsing it. By clicking 'Got It' you're accepting these terms.


The best of EcoWatch, right in your inbox. Sign up for our email newsletter!
Governor Tim Walz holds up the signed oath on his Jan. 8 inauguration day at the Fitzgerald Theater in St. Paul, Minnesota.
Lorie Shaull /
CC BY-SA 2.0
By Rachel Rye Butler
We've only got 10 years to work on the climate. But, thankfully the Green New Deal is pushing and shoving its way through Congress — putting elected leaders and presidential candidates to the test to show us whether they're actually serious about climate action.
And while climate champions like Rep. Alexandria Ocasio-Cortez are advocating for widespread and far-reaching federal climate policy, we need to do everything in our power (which is pretty mighty) to make sure state officials like Minnesota Governor Tim Walz and Lt. Governor Peggy Flanagan keep fossil fuels in the ground right now by stopping projects like Enbridge's dangerous Line 3 tar sands pipeline.
With her win, Alexandria Ocasio-Cortez became one of four Democrats heading to Congress to push for a Green New Deal. Rick Loomis / Getty Images
Results from the U.S. midterm election are mostly in, and, when it comes to what they mean for the environment, they're a real mixed bag.
EcoWatch Daily Newsletter
Alberta Premier Rachel Notley announced construction of Enbridge's Line 3 pipeline replacement project in Hardisty, Alberta, Canada, Aug. 10, 2016.
Marc Chalifoux / Epic Photography for the Government of Alberta, CC BY-ND 2.0
By Logan Carroll
The Minnesota section of Enbridge's Line 3 pipeline accounts for nearly 300 miles of the longest crude oil transport system in the world, and it is failing. The multi-billion-dollar transnational corporation has applied for a permit to replace it. Opposition from tribes in the region and environmental groups is slowing the project, but the process at times appears so tilted in Enbridge's favor that, watching the court battles and utility commission meetings, it almost feels like Enbridge wrote the rules.
On Tuesday, a trial over Minnesota's $5 billion lawsuit against manufacturer 3M Company—the biggest environmental lawsuit in state history—was set to begin with jury selection.
But on that very same day, the Maplewood-based manufacturer agreed to an $850 million settlement, finally putting an end to eight years of litigation over the water pollution case.
Three Midwestern states are closing out the year with big clean energy changes on the horizon.
Both Illinois and Michigan passed major clean energy bills in the last hours of their lame duck sessions, encouraged by the state's Republican governors.
And while Ohio's legislature extended a freeze on the state's renewables standards, earlier comments from Gov. Kasich indicate he may veto the bill.
"Ohio lawmakers decided to significantly stall the state's clean energy efforts, putting politics over economic growth," Dick Munson, Midwest clean energy director for Environmental Defense Fund, said. "The governor should continue the leadership he has demonstrated and reject this harmful legislation, so Ohio can get back to work building its clean energy economy, opening the door to well-paying jobs and millions in investment."
Dave Anderson, policy and communications manager for the Energy and Policy Institute, agrees. "Governor Kasich has an opportunity to show that Ohio's energy policy is not for sale to utility lobbyists by vetoing HB 554 and unfreezing clean energy in the Buckeye State," he said.
In Minnesota, while a Republican legislature could curtail progress on the state's emissions reductions plans, some policymakers have hinted that clean energy policies could be ground for bipartisan compromise.

Michigan, Ohio, Illinois: Midwest Energy News
Minnesota: Midwest Energy News, MPR News
Commentary: Crain's Chicago Business, Will Kenworthy op-ed
For more climate change and clean energy news, you can follow Climate Nexus on Twitter and Facebook, and sign up for daily Hot News.
Winona LaDuke, executive director of Native environmental group Honor the Earth, launched the "Love Water Not Oil" horse ride this week to draw attention to the group's continued opposition to the Enbridge Sandpiper pipeline. It would carry fracked oil from North Dakota's Bakken shale oil fields through the Sandy Lake and Rice Lake watersheds in northern Minnesota. The area is not only rich in recreational fishing facilities but it is also home to vast fields of wild rice or manoomim, a Native American staple.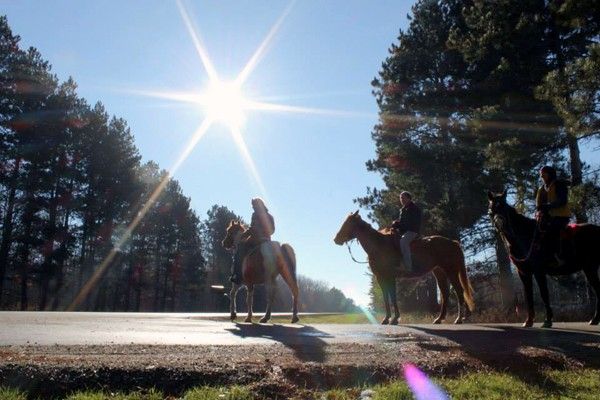 The ride began at Rice Lake on Aug. 18 and concludes at Big Bear Landing on the White Lake Reservation on Rice Lake on Aug. 27, where there will be a powwow and gathering. During the ride, which anyone is free to join, the group plans to raise awareness of the pipeline and its impact on both surrounding Native communities and local landowners.
The group says:
This is the only land that the Anishinaabe know, and we know that this land is good land, and this water is our lifeblood. One-fifth of the world's fresh surface water supply lies here, and it is worth protecting. Our wild rice beds, lakes and rivers are precious—and our regional fisheries generate $7.2 billion annually and support 49,000 jobs. The tourism economy of northern Minnesota represents $11.9 billion in gross sales (or 240,000 jobs).
Honor the Earth asserts that a single leak could spew up to 20,000 gallons of fracked oil per minute.
"This would cause irreparable damage to an extremely biodiverse and intact ecosystem," said LaDuke. "Enbridge chose a bad path. The people of Minnesota love their water more than oil and they are standing up against the pipeline."
The group points to another spill caused by the Enbridge Corporation, the same company proposing the Sandpiper project. In July 2010, a pipeline break dumped 1.5 million gallons of tar sands crude oil into the Kalamazoo River system in Michigan, causing the largest inland oil spill in U.S. history and one of the costliest. That spill still has not been completely cleaned up.
"For us on the White Earth reservation in northwestern Minnesota, it is the Sandpiper which threatens our community and our way of life," said Honor the Earth. "The Sandpiper line of fracked oil will cross pristine ecosystems and facilitate the creation of a national sacrifice area in western North Dakota. This land and this water are precious, and they are endangered."
Partnering for the "Love Water Not Oil" tour is  oil and gas analyst Shane Davis of Colorado's Fractivist.org, who has been documenting the fracking industry there.
"Fracked oil is a last-ditch effort and poses a significant radioactive threat to the environment and human health," he said.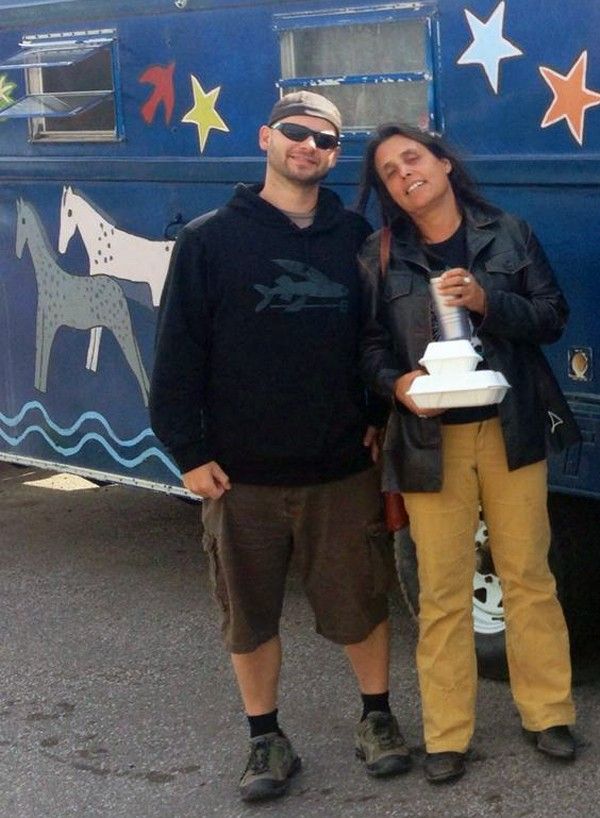 YOU ALSO MIGHT LIKE
Kalamazoo Tar Sands Oil Spill Anniversary Sparks Actions Nationwide
North Dakota Fails to Disclose Hundreds of Oil Spills to the Public
Pipeline Spews 20,600 Barrels of Fracked Oil Amidst Government Shutdown
McDonald's french fries are suspected of killing farm animals and poisoning wildlife and Minnesotans, including students and farmers.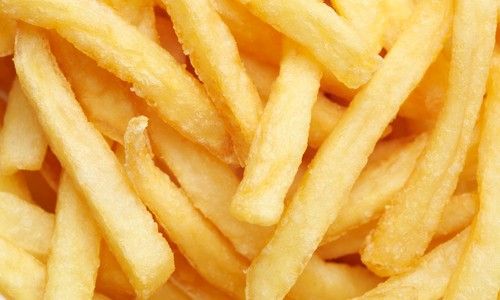 Photo courtesy of Shutterstock
No, it's not the high cholesterol or deep frying that's in question—or the crappy ingredients (i.e., genetically modified oils, sugar and anti-foaming agents). It's the pesticide drift that's applied every five to seven days on commercial potato fields that's plaguing the state. The result: "Toxic taters."
McDonald's buys more than 3.4 billion pounds of U.S.-grown potatoes every year. They're the single largest consumer of potatoes in central Minnesota and the northwestern region. Potato fields cover the landscape, stretching for 45,000 acres in every direction. Thanks to pesticide drift, residents living near potato fields have developed serious chronic health problems, and some small farms have lost livestock.
Research published in the journal Environmental Health Perspectives reports that skin, lung and intestinal irritations are linked to some incidences of pesticide drift, with the most acute reactions among children.
Using "drift catchers," a group of concerned citizens formed the Toxic Taters Coalition and discovered that chemicals, such as chlorothalonil (classified by the U.S. Environmental Protection Agency as "highly toxic" and a "probable" carcinogen),  chlorpyrifos, pendimethalin, PCNB and 2,4-D were present in 66 percent of the air samples they tested throughout central Minnesota. That's why conventionally (aka chemically) grown potatoes make the top 10 fruits and vegetables to avoid for pesticide residue.
In 2006 the coalition, along with Pesticide Action Network, initially tried working with state agencies and the region's largest potato producer, R.D. Offutt Company, to document the pesticide problem in the potato-producing regions of Minnesota. Under pressure from shareholders, McDonald's laid out a plan in 2009 for reduced pesticide use.
According to Pesticide Action Network, "McDonald's made a big public show of their commitment to reduce pesticides, winning them quite a bit of positive attention. The company had their producers take a survey about sustainable practices, but instead of publicizing actual reductions in pesticide use, they simply launched an ad campaign praising their potato producers."
Overall, the coalition's concerns went largely unaddressed.
"Now we are turning to consumers and the public to help us demand change," says White Earth Indian Reservation resident Robert Shimek, a founding member of Toxic Taters Coalition. They want McDonald's to get its largest potato supplier, R.D. Offutt Company, to cut back on hazardous pesticides.
Shimek believes McDonald's will hear the people out, just like they did on the issue of Styrofoam cups back in 2013. But let's also remember that it took McDonald's 20 years to phase out polystyrene-based, clamshell food containers, despite knowing their negative environmental impact.
It's up to us to make some noise.
Are we going to poison birds, bees, beings, frogs and animals in the name of substandard, fattening fries?
As the largest buyer of potatoes in the world, McDonald's, a $7 billion fast-food chain, has the power to create change in potato-producing regions way beyond Minnesota. All it has to do is require its potato suppliers implement strategies to reduce the use of pesticides.
The Organic Consumers Association, along with the Toxic Tater Coalition, is urging folks to create a buzz. They want McDonald's to require RDO, and other companies that supply its potatoes, "to follow the lead of Idaho potato growers who have successfully used integrated pest management [IPM] strategies to reduce pesticide use. Interestingly, by implementing IPM techniques, Idaho potato growers have also increased their profits."
Tell McDonald's to do the right thing and transition to truly sustainable potato production.
Originally published at HoneyColony.com.
——–
YOU MIGHT ALSO LIKE
Monsanto Supersizes Farmers' Weed Problem, But Science Can Help
Pesticides in Produce: Which Fruits and Veggies Are in The 'Dirty Dozen' and 'Clean 15'
5 Dangerous Substances Big Ag Pumps Into Your Meat
——–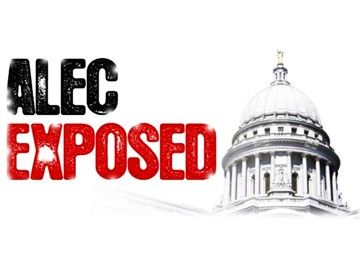 The same law that contributed to George Zimmerman walking free out of a Florida courtroom last weekend after taking the life of 17-year-old Trayvon Martin was primarily written by the same super lobbying group behind legislation protecting natural gas companies from disclosing chemicals used in fracking.
The American Legislative Exchange Council, or ALEC, is a unique kind of lobbying front group responsible for pushing legislation designed to enhance the bottom line of their corporate funders. Corporations like Koch Industries, ExxonMobil and Duke Energy, along with industry trade associations and large corporate foundations provide more than 98 percent of ALEC's funding, whose members, which includes elected officials and corporations, write and pass laws that will benefit those corporations.
Via the laws ALEC pushes through state legislatures, the lobbying group impacts Americans nationwide from voting right laws to environmental regulations (or lack thereof) to guns like Stand Your Ground. We've collected the most significant ALEC laws that could be coming to a state legislature near you, if they aren't there already.
This act prevents states from requiring their energy companies to increase electricity production from renewable energy sources, killing a key government incentives for clean energy projects. ALEC falsely claims that any renewable energy mandate sacrifices economic growth and American competitiveness, a dead horse they have continued to beat for decades.
Because of the economic benefits of renewable energy standards in states like North Carolina and Kansas and in spite of support from ALEC's other Koch-funded friends in the State Policy Network, ALEC's most heated attacks on Renewable Portfolio Standards (RPS) were shot down by Democrats and Republicans alike. Quieter ALEC-supported attempts to repeal or weaken RPS laws also failed in Ohio, Minnesota, West Virginia, Wisconsin, Missouri, Pennsylvania, Connecticut, Maine and Oregon—not a good start for ALEC's top energy-related priority this year.
Greenpeace has initiated an action to demand that the nation's largest utility company, Duke Energy, cut ties between ALEC, a relationship that is polluting Americans and democracy.
6. Resolution in Support of the Keystone XL Pipeline
ALEC is trying to use state resolutions to add pressure to the federal government to approve TransCanada's Keystone XL tar sands pipeline. In fact, ALEC took its member legislators on a Big Oil-funded trip to Alberta, Canada, to promote tar sands, courtesy of lobbyists from TransCanada, Shell, Devon Energy and other oil and gas interests. ALEC's conferences have featured seminars on the controversial pipeline, featuring speakers from oil companies and the Canadian government alike. The Center for Media and Democracy, which runs ALECexposed.org, has filed an ethics complaint in Nebraska for a legislator's failure to disclose the trip and its sponsors. Keep in mind that ALEC is a tax-exempt organization, and their lobbying doesn't count as lobbying to the IRS.
While ALEC has its own model resolution, its state legislator members introduced resolutions straight out of a TransCanada press release, coordinating across state borders to get an apparent jump in support for Keystone XL in Missouri, Michigan, Minnesota and Mississippi all at once.
5. Voter ID Act
These laws prohibit about 11 percent of citizens from voting by requiring a government-issued ID to vote at the polls.
This 11 percent overwhelmingly consists of elderly people, low-income and minority voters and students. Thirty-three states now have voter id laws and four states now have strict photo id requirements in effect. With the Supreme Court's recent gutting of the Voting Rights Act, we can expect this number to increase with ALEC's full support.
4. Arizona's SB 1070 Immigration Law: "No Sanctuary for Illegal Immigrants Act" 
In short, this bill was ALEC's way of making private prison companies rich by rounding up brown people without documentation and tossing them in jail. Although most of this law was struck down in Arizona, the "papers please" provision survives requiring law enforcement to check a person's status if they are stopped, detained or arrested. State legislators and prison and bail industry lobbyists met at an ALEC meeting to write the law which originally stated that law enforcement had to check a person's status only after "contact." The Arizona legislature changed narrowed the law to the current language.
3. Disclosure of Hydraulic Fracturing Fluid Composition Act
The title of this bill is a lie–ALEC's flagship fracking bill prevents oil and gas companies from having to disclose the chemicals in frack fluids that qualify as "trade secrets." Who took the idea to ALEC? ExxonMobil. Bloomberg reports that the ALEC bill has been introduced in at least eight states, although there appear to be more. Exxon's bill became Ohio law with ALEC's help, and a particularly controversial fracking law sponsorship by ALEC legislators passed in North Carolina last year without anyone reporting ALEC's fingerprints. DeSmogBlog has documented attempts in Florida, Illinois and several other states.
ALEC previously drafted a state resolution that puts the regulating authority into the hands of state agencies, which are woefully understaffed, underfunded and ineffective at regulating the powerful gas and oil industry, creating a one-two punch that leaves fracked communities in the dark on chemical disclosure and at the mercy of insufficient and often captured regulatory agencies for protection from fracking pollution.
2. Intrastate Coal and Use Act
This act serves to prevent the U.S. Environmental Protection Agency (EPA) from regulating the coal industry. Specifically, the act prevents the EPA from overruling state permits for coal mining and producing dirty coal products (like liquid coal for fuel) if all the coal operations are conducted within the borders of a single state. This act relies on the "Commerce Clause" claiming that the federal government can only regulate commerce that goes beyond state lines, flying in the face of settled Supreme Court interpretation of the "dormant" Commerce Clause. The first version of this bill was passed in West Virginia in 2011, a state with 273 operating coal mines as of 2011.
Considering the recent national tragedy of the Trayvon Martin ruling and the violence "Stand Your Ground" releases, this law should be repealed immediately in the states it's active. In strong conjunction with the National Rifle Association (NRA), ALEC has managed to push versions of this law in over two dozen states. It allows any killer to claim immunity if they felt a reasonable fear of bodily harm. The Florida version of this law passed in 2005 and was written by a NRA lobbyist.
ALEC is behind loads of more dangerous laws or proposed resolutions that must be exposed, blocked or repealed if active. Please let us know other significant ones we missed in the comments below. 
Visit EcoWatch's ENERGY page for more related news on this topic.
——–

Last month, I visited Wisconsin's booming silica sand mining region and saw sandstone bluffs strip-mined for sturdy quartz sand that's essential for the horizontal hydraulic fracturing process used to extract oil and gas from underground shale formations. I saw how residents there had little protection against silica dust exposure since Wisconsin has no regulatory standards for this relatively new mining industry.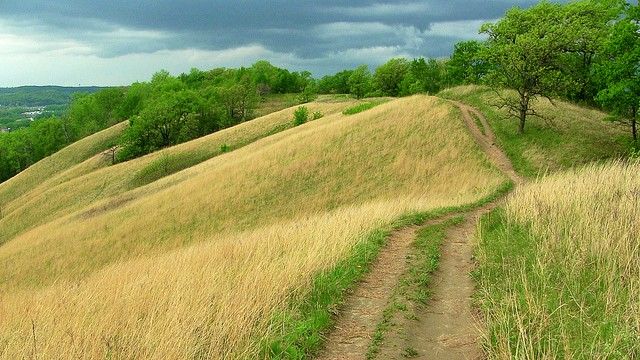 thepriceofsand.com
After Wisconsin, I headed across the Mississippi River to the southeastern corner of Minnesota. The industry is pretty active here too, with several existing mines and loading facilities and many more proposed, but so is the citizenry, which has been pushing the state to regulate frac-sand mines and processing facilities.
While I was there, I met with the Land Stewardship Project's (LSP) staff and members from four counties across Minnesota's Driftless Area. LSP has been fighting for sustainable agriculture and communities in Minnesota for over 30 years, and has been warily watching the boom in frac-sand mining across the river in Wisconsin. After traveling through the same counties I visited last month, lifelong resident of Winona County, Minnesota and LSP organizer Johanna Rupprecht said, "What I saw in Wisconsin made me even more certain that this industry is absolutely wrong for our rural communities."
Johanna was not alone. Everywhere we went, Minnesotans were determined to protect their communities' health and environment from frac-sand mining.
In Wabasha, MN, city council member Lynn Schoen described the city's efforts to prevent a new frac-sand transportation loading facility that aims to take advantage of the town's location by the rail line adjacent to the Mississippi River, which would carry frac-sand north and west to the booming Bakken Shale in North Dakota and into Canada. Last week, the small town was sued by a trucking company that wants to haul sand to the loading facility. The facility developer, Superior Sand Systems of Canada, is also threatening to sue. Both companies claim that the proposal to ship frac sand should be exempt from environmental review because railroads are regulated federally. The town of Wabasha maintains that it has the right to require a permit for the influx of as many as 600 daily truck trips through town.
Wabasha is home to lovely bluffs terracing down to a bend in the river that attracts bald eagles, golden eagles, and a hundred thousand tourists annually to the National Eagle Center to see rescued bald eagles up close and to watch wild eagles hunting fish in the wide river. Schoen is very concerned about the impacts of the frac-sand facility, with hundreds of daily truck trips, noise from trucks and trains and the ubiquitous silica dust blowing, on the town's existing tourist economy.
A similar frac-sand facility lies 30 miles south in the town of Winona, MN, which is now home to a new landmark known as "Mt. Frac." The Winona facility includes both rail loading as well as barges on the river which carry frac-sand south to the Barnett and Eagle Ford Shales in Texas. Dozens of protestors have been arrested at Mt. Frac in several actions since early 2012. The state does not have a health impact study for silica in the air from such a sand loading operation for either humans or eagles.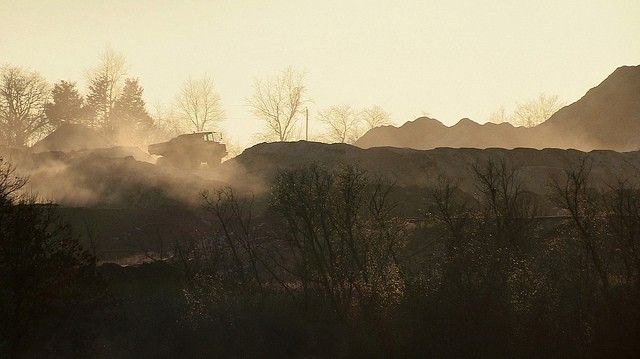 From Wabasha, we traveled to Winona, Houston and Fillmore counties, meeting with residents campaigning to slow or stop the demand for silica sand from destroying the region's picturesque sandstone bluffs.
In Winona County's Saratoga Township seven separate silica sand mines are proposed, with five of them grouped on County Road 6. The concentration of mining in one area limits impacts in the rest of the township. But for neighbors along County Road 6, including nearby Amish farmers, the mines would mean rapid industrialization, increased truck traffic and the health impacts of quartz silica sand blowing through the neighborhood.
Many Minnesota residents who have visited frac-sand mines in Wisconsin or have heard about the negative impacts are concerned that that local government zoning ordinances aren't strong enough to keep up with the pace and scale of the frac-sand mining boom. So they've been pressuring the state government to take action.
During the last legislative session, a diverse collection of local government officials called on Gov. Mark Dayton to implement a moratorium in Minnesota on new industrial silica sand mining and processing facilities until an in-depth study was done on the cumulative impacts of the industry. They asked for regulations that would ensure that trout streams, wildlife and communities were protected from impacts.
Minnesota didn't pass a moratorium, but in May the state legislature passed a law with strong rules that advanced the interests of Minnesotans over the frac-sand mining industry.
Minnesota now prohibits frac-sand mines within a mile of a trout stream unless granted a permit by the state Department of Natural Resources. The state will soon be setting overall environmental quality rules for the frac-sand industry, including rules for silica dust management and an ambient air quality standard. frac-sand mines will also be required to post a reclamation bond and will have to follow a statewide reclamation standard.
Most importantly, under the new rules, local governments can enact moratoria on frac-sand mining and facilities until 2015. In Minnesota, local governments are arguing strenuously to maintain local control over large-scale silica mining for fracking within their communities. Since the state confers power to counties, townships and cities to pass zoning ordinances that are in the best interests of each community, many communities already had moratoria on frac-sand mining in place. This new law will help build momentum in counties that want to ban frac-sand mining altogether.
Although the state didn't put a moratorium on frac-sand mining, it did empower local governments to slow or stop the impacts of this harmful industry. And that, in itself, is heartening.
Superior Sand Systems has not yet sued the town of Wabasha, though it has threatened to do so. However, a local trucking company has sued the town. This article has been corrected to reflect this information.
Visit EcoWatch's FRACKING page for more related news on this topic.
——–
SHARE YOUR THOUGHTS BELOW: Does the destruction of U.S. freshwater and environmental resources justify unconventional natural gas extraction?
——–

By Steve Horn and Trisha Marczak

Within immediate vicinity of a central battleground of the Black Hawk War of 1832, land rife with a resource necessary for hydraulic fracturing is in the crosshairs of an industry prepared to turn the area into a battle zone once again.
The resource? Frac-sand—officially known by the industry as fine-grained silica sand—used as a proppant when blasted thousands of feet down the well during the ecologically volatile fracking process as part of the chemical cocktail that serves as the subject of Josh Fox's new documentary film, Gasland II.
The rolling hills of northeastern Iowa's Allamakee County defy the state's stereotypical flat-land geography, and local residents boast of the serene beauty and rich geological history. Yet those same bluffs also play host to robust reservoirs of frac-sand.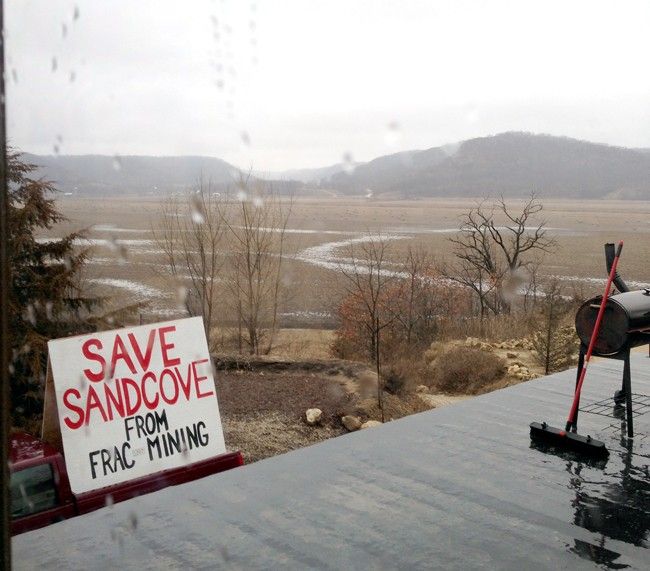 In order to extract the frac-sand, mining corporations have adopted a method of newfangled mountaintop removal of sorts, blasting away entire hills laced with this frac-sand to access this new "prize." While devastating the landscape, it's justified by Big Oil as necessary because the Midwest's unparalleled geological characteristics have transformed it into a "New Saudi Arabia for frac-sand."
The Ominous Situation in Allamakee
Frac-sand extraction is temporarily on hiatus in Allamakee, where the County Board issued an 18-month moratorium in February 2013. Despite this legislative move, concerned residents living in the county see the writing on the wall. That's because permits are already being issued for frac-sand-centric rail construction loading zones. Citizens see it as a question not of "if" but of "when."
Allamakee County residents don't have to look far to see evidence the industry is creeping in.
Less than 30 miles away, one of Pattison Sand Company's mines located south of McGregor, Iowa, is already churning out frac-sand, blasting away whole sections of ancient bluffs to obtain it. A quaint 150-foot bluff that stood near the mine just two years ago has now been replaced by barren land.
"This is why we're fighting this," Allamakee County resident Jeff Abbas told us while standing near Pattison's mine, located feet away from what used to be the enormous bluff. "It took hundreds of thousands of years to build this landscape the way it is."
Like his neighbors, Abbas's motive for opposing frac-sand mining in his County has numerous rationales, yet at the core is his appreciation for the land's historical significance and beauty. "It's incredibly fragile, it's incredibly rare ... and now, it's incredibly gone," he said. "It will never be replaced in our lifetime … in anybody's lifetime."
The landscape is an issue that tugs on the heartstrings of locals, yet it's just one concern on a long list of objections.
The silica-rich land of Allamakee County sits atop the Jordan Aquifer, a source of water for 300,000 Iowans not expected to last much longer with current usage rates. Areas of the aquifer are already expected to reach depletion in the next 50 years, according to an Iowa Geological and Water Survey.
The health impacts of frac-sand exposure are also alarming for residents and workers, as recently documented in a June 2012 Occupational Safety and Health Administration bulletin, which highlighted that fine-grained silica exposure causes silicosis which can lead to lung cancer. This sordid scientific reality is also acknowledged in Pattison Sand Company's own literature.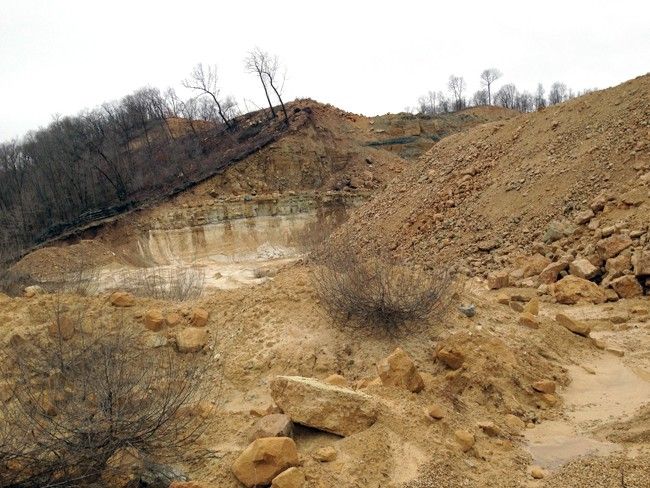 Pattison's Political Connections to the Powerful
Pattison Sand is a Clayton, Iowa-based multi-tentacled corporation incorporated in 2005 and is co-owned by the "Pattison Brothers:" Jeff and Bernard. It has financial ties to the highest levels of Iowa's state- and federal-level government.
The brothers also own Pattison Brothers Mississippi River Terminal, Inc., incorporated in 1970. This tentacle predominantly barges fertilizers, grains and other commodities to market along the Mississippi River on behalf of Iowa's multinational agribusiness corporations. Soon, this wing of the corporation could also barge frac-sand to key markets throughout the U.S. along the Mississippi, as well.
Bernard has donated a generous $35,375 toward Iowa Republican Gov. Terry Branstad's campaign dating back to before he won his November 2010 electoral race, according to the state's campaign finance database.
Branstad is one of the founding members of the American Legislative Exchange Council (ALEC) and winner of its "Pioneer Award" in 1996. ALEC is a corporate-funded "bill mill" and "dating service" that brings together corporate lobbyists and legislators to vote on "model bills" that end up disseminated in statehouses nationwide.
Bernard gave another $5,000 toward Wisconsin Republican Gov. Scott Walker's recall election effort, another state run by governor with deep ALEC ties and one where Pattison Sand has a frac-sand mine proposal set to sit in Bridgeport, Wis. His brother Kyle gave Walker an additional $1,100 toward his recall campaign effort.
The lobbyist and registered agent for Pattison Sand and Pattison Brothers Mississippi River Terminal is Steven Schoenbaum, who is also registered to lobby on behalf of agribusiness behemoths Dow AgroSciences and Syngenta.
Accidental Activists
Robert Nehman heard a knock at his door on Oct. 1, 2012.
On the other side of that door stood a neighbor delivering disturbing news: Minnesota Sands had applied for a permit to mine for frac-sand on a bluff site less than a mile down his quaint gravel road. Nehman immediately launched into action, first through research, and then through grassroots efforts with fellow community members.
Not familiar with frac-sand mining, he was astonished by his findings. The industry brought heavy truck traffic to the area, with estimates of more than 200 semi-trucks a day on his road that now sees—at most—a dozen vehicles daily.
Heavy traffic is only the tip of the iceberg of his long list of qualms, which include the threat of blasting away bluff tops and the health impacts of silica dust debris. The icing on the cake is the role it plays in permitting the ecologically hazardous fracking process to take place itself.
Nehman's role as a leading state activist wasn't a chosen path.
"I don't even look at myself as a protester or activist. I'm a concerned citizen who has a stake in this," Nehman said in an interview.
Nehman is a founding member of Allamakee County Protectors, a network of residents successful in lobbying for a temporary county-wide frac-sand mining reprieve. The Allamakee County Protectors journey began the day Nehman heard the knock on his door and went into full swing Oct. 14, 2012, when they were joined by 200 fellow county residents and sympathizers at a town hall meeting.
Two days after the meeting, residents once again showed up at a gathering hosted by Minnesota Sands. Days after the industry's meeting, Minnesota Sands pulled its permit application for mining in Allamakee County. It was a small victory, but far from the end of the uphill battle for Allamakee County Protectors.
In February 2012, the group had successfully lobbied the County Board to issue a moratorium on the frac-sand mining effective through June 4, 2014. The moratorium gives the Allamakee County Protectors time to research and write ordinances that would sufficiently protect their interests if the moratorium goes unextended.
As of April 2013, the Allamakee County Protectors had constructed 63 different ordinances pertaining to frac-sand mining, including provisions mandating that mining corporations restore land to its original state—essentially an impossible task.
For ordinance enactment, they must be approved by the county board, comprised of three Republican supervisors: Larry Schellhammer, Dennis Koenig and Sherry Strub. While the supervisors approved the temporary moratorium, they didn't give the protectors the totality of the initially requested two-year moratorium.
Koenig said in an interview that he'll take the next 18 months to assess the lack of laws and regulations for the industry before making any further decisions regarding regulations or moratorium extensions.
"I'm concerned about the folks in Allamakee County, if there'd be a burden to bare—with road repair, when you change the scenery ... all of these things need to be addressed," Koenig said. "I don't want to see our taxpayers have to pay for these things."
Wisconsin has served as a crucible for what residents in Iowa don't want to happen to their communities.
In a documentary produced by Nehman, Frac-sand Land: The Incredible Story of the Vanishing Hills, he interviews Wisconsin residents who have seen their communities turned upside-down by the industry, changing from peaceful farming communities to heavy-traffic industrial mining zones.
Koenig said he plans to visit the mines and mining communities to learn firsthand how the industry could impact Allamakee County.
"All I hear are horror stories," Koenig said. "I want to know for myself."
The Writing's in the Rail
While a moratorium exists and permits for frac-sand mining have been temporarily pulled, there's another issue at hand: frac-sand transportation, a boom industry of its own.
Reilly Construction is in the process of creating a rail loading station just 1.5 miles from the once-proposed mine site, less than a mile from Nehman's home and from the local school his young daughter attends.
In November 2010, Reilly Construction appeared before the county planning and zoning commission requesting the area be rezoned for industrial use. Reilly proposed adding 8,000 feet of rail to create a loading zone capable of accommodating 100 train cars at any given time.
At the time of the initial proposal, Reilly Construction made no mention of frac-sand loading. The company has since acknowledged, though, that the loading zone would be used to transport frac-sand.
Yaggy Colby, a Reilly Construction consultant, testified to the Allamakee County Board in 2010 that a Flood Plain Development Permit from the Department of Natural Resources (DNR) was not necessary, as it was not a designated flood zone. However, Federal Emergency Management Agency maps indicate the area just outside of New Albin is in fact a flood zone and one that was devastated by major floods in 1993 and 2011.
An Environmental Assessment Worksheet for proposed expansion of Minnesota's Quarry frac-sand mining operations indicates transportation will be provided by Reilly Construction from Minnesota's Fillmore County to Allamakee County's New Albin siding site, with an estimated 240 truck trips per day. This would lead to heavy traffic and potential health impacts from sand loading, a major issue for area residents.
This has county residents on alert, as the moratorium on frac-sand mining was issued based on the understanding that, among other concerns, the health-related impacts of transporting frac-sand have not been explored. With more than 100 uncovered train cars expected to be loaded with frac-sand on a daily basis, residents question whether the current moratorium should prevent the project from moving forward.
Preparing to Protect the Land
The deck is stacked high against citizens concerned about industrial frac-sand mining in the Hawkeye State, a place where Republican presidential candidate Rick Perry came in 2011 for a campaign pitstop, stating Iowa should begin fracking underneath its Forest River Basin.
Far from a mere local issue, the Obama administration's U.S. Department of Agriculture (USDA)—as a case in point—gave $22 million in stimulus money to industry giant, Preferred Sands, in May 2010.
"USDA Rural Development's Business and Industry Guaranteed Loan provided American Recovery and Reinvestment Act support that will help the company preserve 50 jobs at Preferred Sands," the USDA website explains.
In a complex arrangement of money maneuvering, the $22 million was first handed to Preferred Sands by Siemens, backed by the USDA loan guarantee. Siemens, as covered on DeSmogBlog in November 2012, is one of the world's largest private water corporations. It stands to gain as water becomes an increasingly scarce commodity, as could be the case with the Jordan Aquifer.
Further, several frac-sand mining corporations are publicly-traded on Wall Street, including EOG Resources (Enron Oil and Gas), which is involved of all aspects of the fracking process from cradle to grave. U.S. Silica Sand also became publicly-traded in February 2012, becoming the first frac-sand mining-centric corporation to go public.
Fending the industry off via Iowa's Home Rule charter will also be an uphill battle. ALEC has a model bill that essentially guts Home Rule authority and was already utilized in Pennsylvania in 2012. That model bill is part of the broad-sweeping PA Act 13, currently the subject of a state-level Supreme Court case to be decided later this year.
In the sphere of agribusiness, Iowa Governor and ALEC founding member Terry Branstad has shown he is willing to carry the water of the "bill mill," helping ram through its infamous "ag-gag" legislation that criminalizes filming of corporate factory farms.
Given the tough state of play, Iowa activists we spoke to stated that civil disobedience—though a last straw—is a real possibility.
Visit EcoWatch's FRACKING page for more related news on this topic.
This is a collaborative report by DeSmogBlog's Steve Horn and Mint Press News staff writer Trisha Marczak.
——–
Sign the petition today, telling President Obama to enact an immediate fracking moratorium: