This website uses cookies to ensure you get the best experience while browsing it. By clicking 'Got It' you're accepting these terms.


The best of EcoWatch, right in your inbox. Sign up for our email newsletter!
Pacific Bluefin Tuna Population at Brink of Collapse
Jul. 11, 2014 02:22PM EST
The mighty Pacific bluefin tuna is in a world of trouble, caught up in a trans-Pacific political battle over who's to blame for driving the population to the brink of collapse and who's responsible for bringing it back. The fish, loved by the Japanese for its deep red fatty meat and sought after by sport fishers from Baja California to New Zealand, has been decimated by decades of overfishing and an absence of responsible management. Today, the Pacific bluefin population had dropped to just four percent of its unfished size, with a steady decline over the last 15 years. And the most recent assessment shows even deeper signs of trouble.
Data collected by scientists with the International Scientific Committee for Tuna and Tuna-like Species in the North Pacific Ocean (ISC) show that more than 90 percent of a fisherman's bluefin tuna catch today is made up of the smallest fish: juveniles that haven't had a chance to reproduce. And that's not the worst of it. A recent scientific analysis found that the few adult bluefin remaining in the ocean are nearing the end of their lives, meaning they won't be reproducing much longer. With few new fish entering the population, and fishermen catching those juveniles almost exclusively, this species is at a tipping point.
Pacific bluefin is fished predominantly by Japan in the west and Mexico in the east. South Korea and Taiwan also fish for bluefin, with U.S. commercial and recreational fishers catching a small amount as well. Commercially caught bluefin regularly sell for tens of thousands of dollars each, sometimes much more. 
Members should set a minimum size limit for all bluefin caught. Photo credit: Richard Herrmann
Not only do these Pacific players have an economic interest in a fully recovered population, but they also have an obligation to make it happen. Each is a member of the two regional fishery management bodies responsible for Pacific bluefin tuna—one in the east and one in the west—and this month the Inter-American Tropical Tuna Commission meets to decide on management measures in the east. Here's how members can engineer Pacific bluefin's comeback.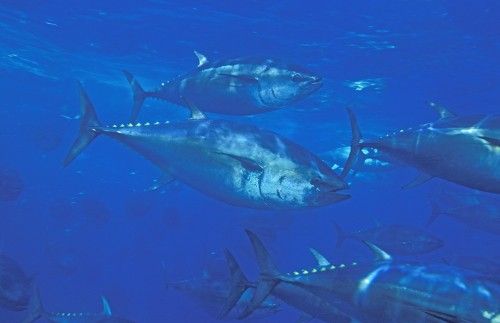 First, institute a catch limit. The ISC advice calls for the Commission to establish an annual quota of 2,750 metric tons, which includes all forms of catch from commercial to recreational to discards. Next, members should set a minimum size limit for all bluefin caught—important because another recent study shows that if a 20-kilogram size limit were in place, the population would see significant improvement in as little as three years.
Of course, adopting management measures will require monitoring and enforcement, including a catch documentation system, full observer coverage of bluefin transferred to off-shore fish farming ranches and later harvested, and authorized vessel lists.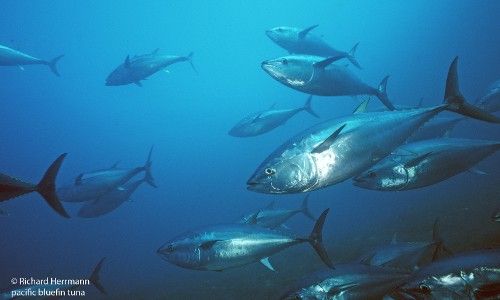 The fishery commission in the east must also work with its counterpart in the west. Photo credit: Richard Herrmann
Because there is only one population of Pacific bluefin tuna, and it migrates thousands of miles across the ocean, the fishery commission in the east must also work with its counterpart in the west to develop and implement a comprehensive, basin-wide rebuilding plan to prevent a total collapse of the fishery.
The world has witnessed fish stocks crash before. But what makes this story different than the dramatic decline of Atlantic cod or even Atlantic bluefin tuna is the ability to change the trajectory of the Pacific bluefin population in a short period of time. In just a few years this recovery process could be a case study in how political leadership and commitment from industry can transform even the most depleted fishery. It's time for Japan, Mexico and the U.S. to step up.
Amanda Nickson directs global tuna conservation for The Pew Charitable Trusts.
EcoWatch Daily Newsletter
Sesame, three months old, at Seal Rescue Irleand.
Screenshot / Seal Rescue Ireland Instagram
On Friday, Seal Rescue Ireland released Sesame the seal into the ocean after five months of rehabilitation at the Seal Rescue Ireland facility. Watch the release on EcoWatch's Facebook.

Beer packs of Guinness will now come in a cardboard box. Diageo

By Jordan Davidson
Guinness is joining the fight against single use plastic. The brewer has seen enough hapless turtles and marine life suffering from the scourge of plastic.
fstop123 / iStock / Getty Images Plus
At EcoWatch, our team knows that changing personal habits and taking actions that contribute to a better planet is an ongoing journey. Earth Day, happening on April 22, is a great reminder for all of us to learn more about the environmental costs of our behaviors like food waste or fast fashion.
To offer readers some inspiration this Earth Day, our team rounded up their top picks for films to watch. So, sit back and take in one of these documentary films this Earth Day. Maybe it will spark a small change you can make in your own life.
Maskot / Getty Images
People of all ages are spending more of their day looking at their phones, computers and television screens, but parents now have another reason for limiting how much screen time their children get — it could lead to behavioral problems.
Rapper and comedian Lil Dicky released a 7-minute climate change awareness song and video today, ahead of Earth Day on Monday, with proceeds going to the Leonardo DiCaprio Foundation.
Pexels
By Eoin Higgins
The New York City Council passed the world's "largest single carbon reduction effort that any city, anywhere, has ever put forward" on Thursday afternoon, marking a major milestone in the fight against the climate crisis.
Jason Momoa speaking at the 2018 San Diego Comic Con International, for "Aquaman" on July 21, 2018.
Gage Skidmore / Flickr
From Khal Drogo in Game of Thrones to Aquaman, some of actor Jason Momoa's most iconic roles have been linked to the beard he has worn since 2012.
But on Wednesday he decided it was "time to make a change," for himself and for the planet. A video posted on Instagram showed him beginning to shave his beard in a bid to raise awareness about plastic pollution, the Huffington Post reported.
IMF Managing Director Christine Lagarde (L) and broadcaster and natural historian David Attenborough take part in a discussion on nature and the economy in Washington, DC, April 11. MANDEL NGAN / AFP / Getty Images