This website uses cookies to ensure you get the best experience while browsing it. By clicking 'Got It' you're accepting these terms.
Pacific Bluefin Tuna Population at Brink of Collapse
Jul. 11, 2014 02:22PM EST
The mighty Pacific bluefin tuna is in a world of trouble, caught up in a trans-Pacific political battle over who's to blame for driving the population to the brink of collapse and who's responsible for bringing it back. The fish, loved by the Japanese for its deep red fatty meat and sought after by sport fishers from Baja California to New Zealand, has been decimated by decades of overfishing and an absence of responsible management. Today, the Pacific bluefin population had dropped to just four percent of its unfished size, with a steady decline over the last 15 years. And the most recent assessment shows even deeper signs of trouble.
Data collected by scientists with the International Scientific Committee for Tuna and Tuna-like Species in the North Pacific Ocean (ISC) show that more than 90 percent of a fisherman's bluefin tuna catch today is made up of the smallest fish: juveniles that haven't had a chance to reproduce. And that's not the worst of it. A recent scientific analysis found that the few adult bluefin remaining in the ocean are nearing the end of their lives, meaning they won't be reproducing much longer. With few new fish entering the population, and fishermen catching those juveniles almost exclusively, this species is at a tipping point.
Pacific bluefin is fished predominantly by Japan in the west and Mexico in the east. South Korea and Taiwan also fish for bluefin, with U.S. commercial and recreational fishers catching a small amount as well. Commercially caught bluefin regularly sell for tens of thousands of dollars each, sometimes much more.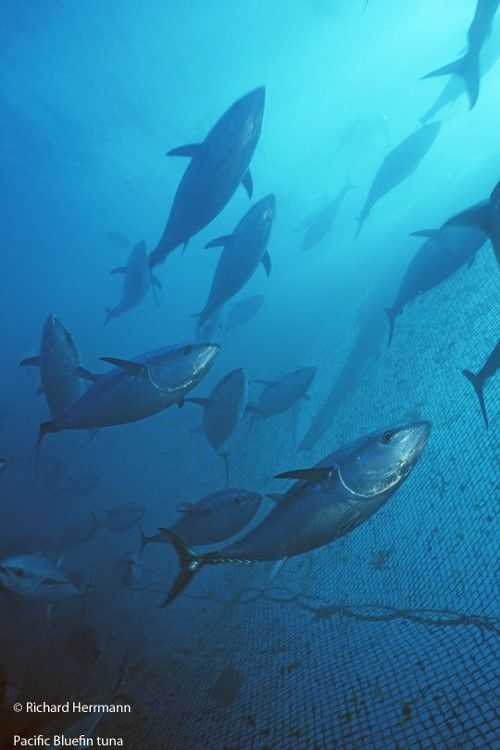 Members should set a minimum size limit for all bluefin caught. Photo credit: Richard Herrmann
Not only do these Pacific players have an economic interest in a fully recovered population, but they also have an obligation to make it happen. Each is a member of the two regional fishery management bodies responsible for Pacific bluefin tuna—one in the east and one in the west—and this month the Inter-American Tropical Tuna Commission meets to decide on management measures in the east. Here's how members can engineer Pacific bluefin's comeback.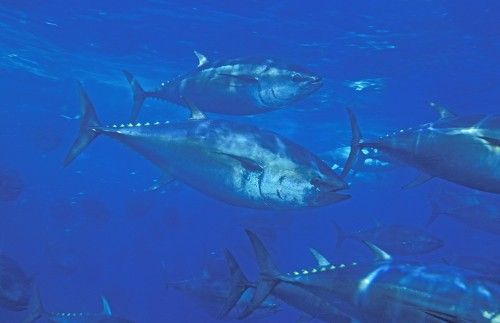 First, institute a catch limit. The ISC advice calls for the Commission to establish an annual quota of 2,750 metric tons, which includes all forms of catch from commercial to recreational to discards. Next, members should set a minimum size limit for all bluefin caught—important because another recent study shows that if a 20-kilogram size limit were in place, the population would see significant improvement in as little as three years.
Of course, adopting management measures will require monitoring and enforcement, including a catch documentation system, full observer coverage of bluefin transferred to off-shore fish farming ranches and later harvested, and authorized vessel lists.
The fishery commission in the east must also work with its counterpart in the west. Photo credit: Richard Herrmann
Because there is only one population of Pacific bluefin tuna, and it migrates thousands of miles across the ocean, the fishery commission in the east must also work with its counterpart in the west to develop and implement a comprehensive, basin-wide rebuilding plan to prevent a total collapse of the fishery.
The world has witnessed fish stocks crash before. But what makes this story different than the dramatic decline of Atlantic cod or even Atlantic bluefin tuna is the ability to change the trajectory of the Pacific bluefin population in a short period of time. In just a few years this recovery process could be a case study in how political leadership and commitment from industry can transform even the most depleted fishery. It's time for Japan, Mexico and the U.S. to step up.
Amanda Nickson directs global tuna conservation for The Pew Charitable Trusts.
EcoWatch Daily Newsletter
Trump speaks to contractors at the Shell Chemicals Petrochemical Complex on Aug. 13 in Monaca, Pennsylvania. Jeff Swensen / Getty Images
Thousands of union members at a multibillion dollar petrochemical plant outside of Pittsburgh were given a choice last week: Stand and wait for a speech by Donald Trump or take the day off without pay.
By Simon Mui
States across the country are stepping up to make clean cars cheaper and easier to find. Colorado's Air Quality Control Commission (AQCC) voted Friday to adopt a Zero Emission Vehicle (ZEV) program that will increase the availability of electric vehicles in the state, improve air quality and increase transportation affordability.
Aerial view of lava flows from the eruption of volcano Kilauea on Hawaii, May 2018. Frizi / iStock / Getty Images
Hawaii's Kilauea volcano could be gearing up for an eruption after a pond of water was discovered inside its summit crater for the first time in recorded history, according to the AP.
An internally displaced woman flees from drought in Dollow, Somalia. Zohra Bensemra / Reuters
By Annemieke Tsike-Sossah
World Humanitarian Day offers an opportunity to take stock of where the world stands on addressing humanitarian issues and highlight lessons for how to improve in the future. Here are five ways we all can commit to driving positive change for the world.
A view from the top of Ok volcano in Iceland, where the Okjokull glacier used to be located. Drepicter / Getty Images Plus
Officials, activists and scientists gathered in Iceland Sunday for the funeral of the nation's first glacier to fall victim to the climate crisis.
picture-alliance / Xinhua / Then Chih Wey
Some 183 nations are set to discuss possibly loosening elephant and ivory exports at the World Wildlife Conference on trade in endangered species, known as CITES, which is meeting in Geneva, Switzerland.
This picture taken on May 23 shows Marium swimming in the waters in southern Thailand. SIRACHAI ARUNRUGSTICHAI / AFP / Getty Images
Marium, an 8-month-old dugong who became an internet sensation in Thailand this spring, died after ingesting plastic, officials announced Saturday.