This website uses cookies to ensure you get the best experience while browsing it. By clicking 'Got It' you're accepting these terms.


The best of EcoWatch, right in your inbox. Sign up for our email newsletter!
It started with a call from actress and animal rights activist Natalie Portman to author Jonathan Safran Foer. The latter had recently taken a break from novel-writing to publish 2009's New York Times best-selling treatise Eating Animals—an in-depth discussion of what it means to eat animals in an industrialized world, with all attendant environmental and ethical concerns. The two planned a meeting in Foer's Brooklyn backyard, and also invited documentary director Christopher Dillon Quinn (God Grew Tired of Us) over. The idea was to figure out how to turn Foer's sprawling, memoiristic book into a documentary that would ignite mainstream conversations around our food systems.
Pexels
Truly great films about the climate crisis are tough to come by. Allusions to environmental destruction are very familiar in the futuristic dystopias Hollywood churns out like clockwork, but they rarely get the science right—or they abandon it entirely in favor of skipping straight to some post-apocalyptic CGI extravaganza.
EcoWatch Daily Newsletter
Nicky Milne / Thomson Reuters Foundation
By Lucy Guanuna
The devastating storms of Hurricane Katrina in 2005 submerged more than 80 percent of New Orleans and left more than 1,800 fatalities in its wake. Meanwhile, rapidly melting glaciers and ice sheets have caused sea levels to rise by 3.2 millimeters a year since 1995, which some predict could leave New Orleans submerged by the end of the century. In both scenarios—the levee failures in the Lower 9th Ward and the flooding caused by sea level rise—the low-income communities of color along the water's edge are the first to go.
Wendell Berry writes at his 40-paned window in the 1970s. James Baker Hall
By Katie O'Reilly
Wendell Berry hates screens. The 83-year-old novelist, poet, environmental activist, cultural critic and Kentucky-based farmer is of the mind that TV and technological devices serve to degrade the imagination and threaten literature. His distaste for idolatry is part of why he's turned down several requests to be featured in documentary projects. On April 23, however, a cinematic portrait of America's foremost "prophet of rural America" hits the PBS airwaves. Look & See: Wendell Berry's Kentucky portrays the changing landscapes and shifting values of rural America in an era dominated by industrial agriculture, through the eyes of Wendell Berry.
Anote's Ark
To some, climate change might feel like a distant problem that does not affect our everyday lives. Some even treat the global phenomenon with downright indifference or label it a "hoax."
Of course, climate change is not a faraway threat. The destructive effects of a warming world are very real and are felt today, especially in the low-lying Pacific island nation of Kiribati.
It's that time, again!
EcoWatch is proud to be a media partner of the Cleveland International Film Festival (CIFF), now celebrating its 42nd year. This year, EcoWatch is honored to be sponsoring Anote's Ark. This documentary spotlights Kiribati, a small remote island facing devastating effects due to climate change.
RiverBlue
Americans do love their denim, so much so that the average consumer buys four pairs of jeans a year. In China's Xintang province, a hub for denim, 300 million pairs are made annually. Just as staggering is the brew of toxic chemicals and hundreds of gallons of water it takes to dye and finish one pair of jeans. The resulting environmental damage to rivers, ecosystems and communities in China, Bangladesh and India is the subject of a new documentary called The RiverBlue: Can Fashion Save the Planet?.
By Eva Perroni
Film is an incredible tool for effecting change in the food system with its unique ability to educate, inspire and grow the movement for sustainable food and farming. Film can transport viewers to unseen territories, from Colombian coffee-growing regions to the bottom of the ocean, and unveil the stories, struggles and triumphs of those working in the hidden fabric of the food system.

Mountainfilm in Telluride, one of America's longest-running film festivals, begins today and features a fantastic lineup of environmental films. EcoWatch has been featuring festival films all week, including Mission Blue, Sylvia Earle's plan to save the ocean; the world premier of Dear Governor Hickenlooper, a collection of documentary films providing a new perspective on fracking and clean energy; and Wrenched, a film that "captures the passing of the monkey wrench from the pioneers of eco-activism to the new generation which will carry Edward Abbey's legacy into the 21st century."
These three films only scratch the surface of the eco-documentaries screening at this year's Mountainfilm, which is why I feel compelled to provide EcoWatch readers a look at other noteworthy films that will be shown this Memorial Day weekend in one of the most beautiful places on Earth: Telluride, CO.
http://vimeo.com/ondemand/damnation/89928979
[blackoutgallery id="325537"]
Film synopsis: This powerful film odyssey across America explores the sea change in our national attitude from pride in big dams as engineering wonders to the growing awareness that our own future is bound to the life and health of our rivers. Dam removal has moved beyond the fictional Monkey Wrench Gang to go mainstream. Where obsolete dams come down, rivers bound back to life, giving salmon and other wild fish the right of return to primeval spawning grounds, after decades without access. DamNation's majestic cinematography and unexpected discoveries move through rivers and landscapes altered by dams, but also through a metamorphosis in values, from conquest of the natural world to knowing ourselves as part of nature.
Film synopsis: If Colombia is the focal point of the new global gold rush then Marmato, a mining town with more than 500 years of history, is the new frontier. In its mountain there are more than $20 billion dollars in gold, but its 8,000 inhabitants are at risk of being displaced by an open-pit mining project planned by a Canadian mining company. This mountain of gold has always been both a blessing and a curse for the people of Marmato. The film intimately follows how the townspeople cope with a disturbing prophesy of change and takeover delivered by the mining company's prospector: "You can believe in God all you want, but I don't think he's got too much to say about this mountain getting leveled." Filmed over the course of five and a half years, Marmato is a canvas of magic realism and the confrontation with globalized mining.
Film synopsis: Based on Jonathan Franzen's New Yorker essay, the powerful new documentary about the secret struggle to save the songbirds.
Film synopsis: A perfect storm is brewing as agriculture pioneer Cary Fowler races against time to protect the future of our food. Gene banks of the world are crumbling, crop failures are producing starvation inspired rioting, and the accelerating effects of climate change are already affecting farmers globally. But Fowler's journey, and our own, is just beginning: From Rome to Russia and, finally, a remote island under the Arctic Circle, Fowler's passionate and personal journey may hold the key to saving the one resource we cannot live without: our seeds.
Film synopsis: Every September, more than 200 seasonal workers, most of them Cambodian, Lao, Hmong, Mien and Thai, descend upon the tiny town of Chemult, Oregon, to search the woods for the rare Matsutake, a fungus highly prized in Japan. This documentary examines the bond between two of these hunters, an elderly Vietnam vet and a survivor of the Khmer Rouge, during one unusually hard season.
——–
YOU MIGHT ALSO LIKE
Mountainfilm in Telluride Inspires Conversation and Action on Issues That Matter
5 Must-See Documentaries From the 2014 Environmental Film Festival
——–

After watching the trailer of the Edward Abbey-inspired film Wrenched, I was filled with memories of my days in the Pacific Northwest protecting old growth forests.
Anyone attending Mountainfilm in Telluride this weekend is sure in for a treat as they will get to watch this influential film that "captures the passing of the monkey wrench from the pioneers of eco-activism to the new generation which will carry Edward Abbey's legacy into the 21st century."
With an incredible cast of characters—Dave Foreman, Paul Watson, Robert Redford, Peg Millet, Terry Tempest Williams, Doug Peacock, Tim DeChristopher, Kieran Suckling and more—this film "reveals how Edward Abbey's anarchistic spirit and riotous novels influenced and helped guide the nascent environmental movement of the 1970s and '80s."
Filmmaker ML Lincoln captures the outrage of Abbey's friends, the original eco-warriors, through interviews, archival footage and re-enactments. These early activists pioneered monkeywrenching as a way to defend all things wild. The movement was exemplified by EarthFirst! in the early '80s when direct action and civil disobedience grew in popularity.
"I started the film seven years ago," said Lincoln. "The first interview was with Ken Sleight, Seldom Seen Smith in The Monkey Wrench Gang, and then it snowballed from there."
When asking Lincoln why she decided to make this film, she said, "We are at a breaking point here and we don't have time to mess around. I'm hoping this film inspires people to take up the monkey wrench in whatever fashion they can. The commitment can be nonviolent civil disobedience or as Terry Tempest Williams said, her weapon is her pen."
Fortunately, Abbey's message has lived on. There are young activists carrying the torch who are inspired after reading The Monkey Wrench Gang. Tim DeChristopher, who single-handedly stopped the sale of 100,000+ acres of public trust lands in southeastern Utah and was then sentenced to federal prison for his actions, is among a new generation putting their bodies on the line in defense of Mother Earth while fighting for a living future.
"I still remember Abbey's phrase, that sentiment without action is the ruin of the soul. And I always knew that that was true," said DeChristopher.
Wrenched, following in Abbey's footsteps, asks the question: "How far are we willing go in defense of wilderness?"
——–
YOU MIGHT ALSO LIKE
Mountainfilm in Telluride Inspires Conversation and Action on Issues That Matter
Mission Blue: Sylvia Earle's Plan to Save the Ocean
——–

Even though I won't be attending this year's Mountainfilm in Telluride, CO, May 23 – 25, I'm still excited about the lineup of environmental films. All week, EcoWatch will highlight the eco-documentaries featured at Mountainfilm that will educate, inspire and motivate people about the issues that matter, including Mission Blue, Sylvia Earle's plan to save the ocean; the world premier of Dear Governor Hickenlooper, a collection of documentary films providing a new perspective on fracking and clean energy; and Wrenched, a film that "captures the passing of the monkey wrench from the pioneers of eco-activism to the new generation which will carry Edward Abbey's legacy into the 21st century."
Mountainfilm was started in 1979 and is one of America's longest-running film festivals. I've been told the best way to sum-up the festival in one word is: inspiring.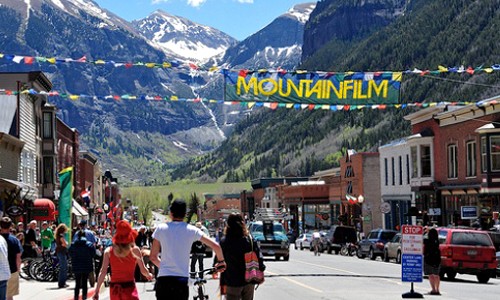 "We're not your average film festival," said Festival Director David Holbrooke. "We've evolved to include many surprise approaches and platforms. After 35 years, we want to keep it interesting for everyone." 
In addition to screening some 90 leading independent documentary films from around the world, the festival features a full-day symposium on a critical contemporary issue, art and photography exhibits, early morning coffee talks, book signing party, ice cream social, student programs and closing picnic/awards ceremony.
This year's Moving Mountains Symposium is in honor of the 50th anniversary of the Wilderness Act, which was signed into law by President Lyndon B. Johnson in 1964. This groundbreaking legislation established American wilderness as "an area where the Earth and its community of life are untrammeled by man, where man himself is a visitor who does not remain."
"It's an exciting topic that we've been considering for years," said Mountainfilm Program Director Emily Long.
"The 50th anniversary of the Wilderness Act is a perfect springboard to discuss wilderness, which has been threaded into the DNA of our festival since its inception. As John Muir eloquently expressed: 'Thousands of tired, nerve-shaken, over-civilized people are beginning to find out that going to the mountains is going home; that wildness is a necessity; and that mountain parks and reservations are useful not only as fountains of timber and irrigating rivers, but as fountains of life.'"
Presentations and panels are scheduled throughout Memorial Day weekend. Featured speakers include: oceanographer, author and lecturer Sylvia Earle; climate activist and co-founder of Peaceful Uprising, Tim DeChristopher, who spent two years in federal prison after saving thousands of acres of federal land threatened by oil and gas extraction; leading environmentalist and activist who founded the group Earth First! and the Rewilding Institute, Dave Foreman; wildlife biologist and vice president for research, conservation and exploration at the National Geographic Society, John Francis; founder of the Living Wild School, Lynx Vilden; National Geographic Emerging Explorer and environmentalist, Juan Martinez; President of The Wilderness Society, Jamie Williams; Executive Vice President and senior scientist at Conservation International, M Sanjayan; and more.
While nothing can replace experiencing the festival in person, this short video captures the essence of this world-renowned gathering:
——–
YOU MIGHT ALSO LIKE
DamNation Explores History of Dams and Brilliance of Rivers Reborn, Premieres at SXSW
5 Must-See Documentaries From the 2014 Environmental Film Festival
——–