This website uses cookies to ensure you get the best experience while browsing it. By clicking 'Got It' you're accepting these terms.
Bottlenose Dolphins Endure Brutal Capture and Slaughter in Taiji's Infamous Cove
Dec. 22, 2015 07:55PM EST
A large pod of approximately 85-90 bottlenose dolphins driven into Taiji, Japan's infamous cove on Dec. 20 (Japan time) was held for two nights by the dolphin hunters, without food or shelter, and forced to endure brutal captive selection and slaughter that claimed the freedom of 30 dolphins and the lives of 28-30 others.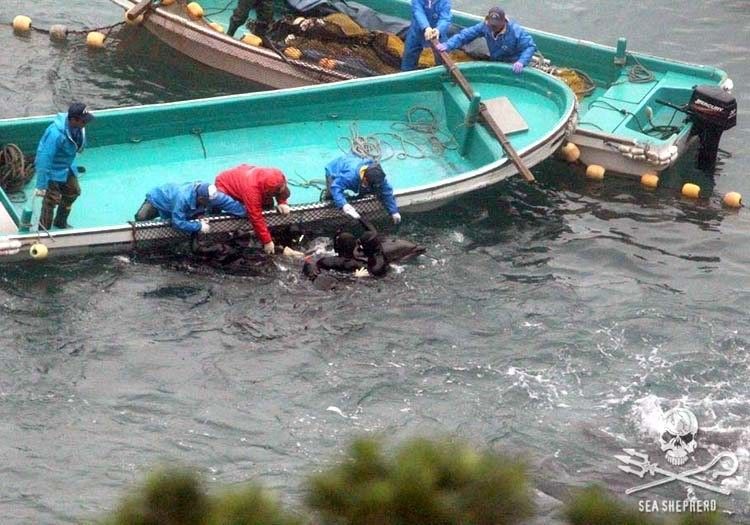 The pod was located by the hunters of the Taiji Fisherman's Union and as the dolphins fought to escape the hunting boats, they were pushed toward shallow waters in three separate drives, until the entire pod was netted within the cove. The frightened bottlenose—including babies and juveniles, clinging to their mothers' sides—were left in the cove overnight without food or shelter, to face continued horrors the following morning.
On Dec. 21 (Japan time), the hunters and trainers returned to the cove and began a violent captive selection process that saw a staggering 25 dolphins taken for captivity. Some did not survive the horrific ordeal and drowned in the cove. The newly captive dolphins will soon face a lifetime of imprisonment in captivity in facilities in Japan or overseas. Those remaining in the cove were left exhausted and searching for their missing family members throughout the night.
Captive selection resumed today, Dec. 22 and five additional dolphins were taken for captivity as others were slaughtered under the tarps or died during the captive selection. In total, 28-30 dolphins were killed over the two days, between the slaughter and those who succumbed during the violent captures. Sea Shepherd Conservation Society's Cove Guardians witnessed hunters heartlessly consuming fresh dolphin meat outside the Taiji butcher house following these atrocities.
The remaining 25-30 dolphins were driven back out to sea, swimming quickly for open waters far from the deadly cove. Some were juvenile dolphins who had a hard time keeping up with the frantic pod in the chaotic drive. The Taiji hunters often dump or drive back out to sea juvenile and infant dolphins following the slaughter of their pods because these small dolphins will not produce much meat. Though they are left with little chance of survival on their own, the hunters do not count them in the season's self-allocated kill quota.
Despite what Taiji's fishermen contend about the separation of the captive selection and slaughter process, Sea Shepherd's Cove Guardians have documented time and time again that the hunters and trainers work side-by-side to select the "prettiest" dolphins (those without visible scars) for captivity, while simultaneously slaughtering their fellow pod members. Dolphins enduring captive selection are forced to swim in the blood of their families. It is the profitable captive trade that allows the drive hunt to continue, and thus, raising awareness of the inextricable link between captivity and the slaughter has been a large focus of Sea Shepherd's 2015-2016 Taiji Dolphin Defense Campaign, Operation Henkaku.

"Bottlenose dolphins are always a lucrative find for the hunters and trainers of Taiji because they are in high demand by marine parks around the world. These dolphins who swam free just days ago have been torn apart for nothing but greed and profit," David Hance, Sea Shepherd Campaign coordinator, said.
"Sea Shepherd believes that the drive hunt could not be sustained solely by the sale of dolphin meat for human consumption; demand for this meat is at an all-time low. The global demand for captive cetaceans is the true economic fuel that drives the hunting boats."
YOU MIGHT ALSO LIKE
Europe's Dirty Little Secret: Moroccan Slaves and a 'Sea of Plastic'
Exclusive Interview: Researchers Remove Plastic Fork Lodged in Sea Turtle's Nose
First-Ever National Wild Bee Map Shows Major Decline in Crucial Agricultural Regions
Starbucks, Wake Up and Smell the Coffee: Palm Oil Is Destroying Our Planet
EcoWatch Daily Newsletter
Tuna auctions are a tourist spectacle in Tokyo. Outside the city's most famous fish market, long queues of visitors hoping for a glimpse of the action begin to form at 5 a.m. The attraction is so popular that last October the Tsukiji fish market, in operation since 1935, moved out from the city center to the district of Toyosu to cope with the crowds.

gmnicholas / E+ / Getty Images
Kristan Porter grew up in a fishing family in the fishing community of Cutler, Maine, where he says all roads lead to one career path: fishing. (Porter's father was the family's lone exception. He suffered from terrible seasickness, and so became a carpenter.) The 49-year-old, who has been working on boats since he was a kid and fishing on his own since 1991, says that the recent warming of Maine's cool coastal waters has yielded unprecedented lobster landings.
Nicole Greenfield is a writer at NRDC whose articles on religion, the environment, popular culture and social justice have appeared in many publications.
Aerial view of lava flows from the eruption of volcano Kilauea on Hawaii, May 2018. Frizi / iStock / Getty Images
Hawaii's Kilauea volcano could be gearing up for an eruption after a pond of water was discovered inside its summit crater for the first time in recorded history, according to the AP.
The Eqip Sermia Glacier is seen behind a moraine left exposed by the glacier's retreat during unseasonably warm weather on Aug. 1 at Eqip Sermia, Greenland. Sean Gallup / Getty Images
hadynyah / E+ / Getty Images
By Johnny Wood
The Ganges is a lifeline for the people of India, spiritually and economically. On its journey from the Himalayas to the Bay of Bengal, it supports fishermen, farmers and an abundance of wildlife.
The river and its tributaries touch the lives of roughly 500 million people. But having flowed for millennia, today it is reaching its capacity for human and industrial waste, while simultaneously being drained for agriculture and municipal use.
Here are some of the challenges the river faces.
Protesters gathered outside US Bank and Wells Fargo locations around the U.S. to protest investment in the Dakota Access Pipeline on Dec. 1, 2016. This photo is from a protest outside US Bank in south Minneapolis, Minnesota.
Fibonacci Blue / CC BY 2.0
By Jake Johnson
As a growing number of states move to pass laws that would criminalize pipeline protests and hit demonstrators with years in prison, an audio recording obtained by The Intercept showed a representative of a powerful oil and gas lobbying group bragging about the industry's success in crafting anti-protest legislation behind closed doors.
Reposted with permission from our media associate Common Dreams.

DESIREE MARTIN / AFP / Getty Images
Wildfires raging on Gran Canaria, the second most populous of Spain's Canary Islands, have forced around 9,000 people to evacuate.