This website uses cookies to ensure you get the best experience while browsing it. By clicking 'Got It' you're accepting these terms.
Bottlenose Dolphins Endure Brutal Capture and Slaughter in Taiji's Infamous Cove
Dec. 22, 2015 07:55PM EST
A large pod of approximately 85-90 bottlenose dolphins driven into Taiji, Japan's infamous cove on Dec. 20 (Japan time) was held for two nights by the dolphin hunters, without food or shelter, and forced to endure brutal captive selection and slaughter that claimed the freedom of 30 dolphins and the lives of 28-30 others.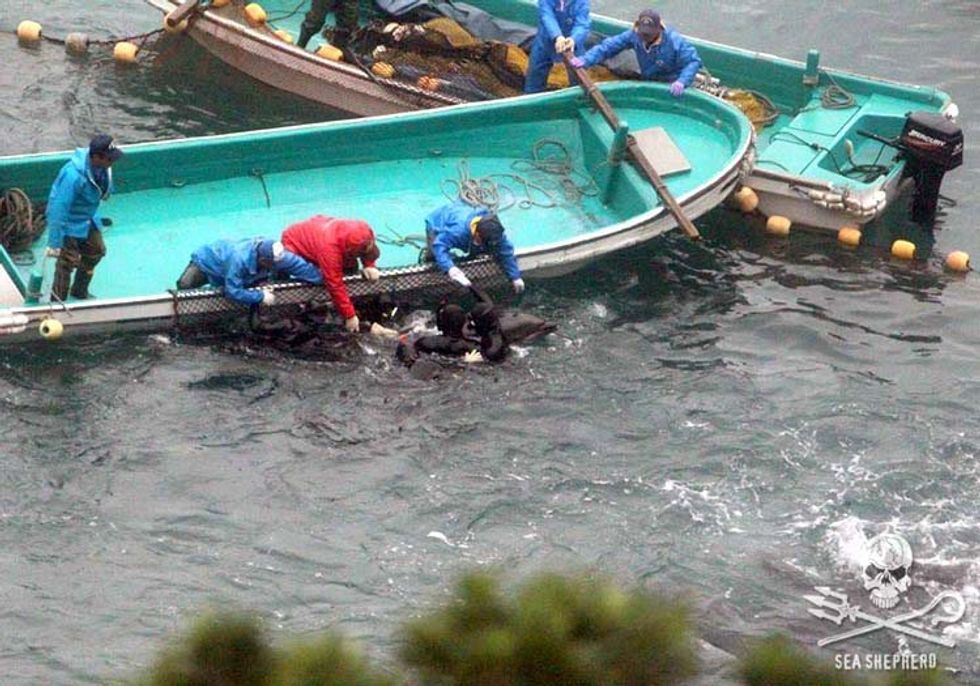 The pod was located by the hunters of the Taiji Fisherman's Union and as the dolphins fought to escape the hunting boats, they were pushed toward shallow waters in three separate drives, until the entire pod was netted within the cove. The frightened bottlenose—including babies and juveniles, clinging to their mothers' sides—were left in the cove overnight without food or shelter, to face continued horrors the following morning.
On Dec. 21 (Japan time), the hunters and trainers returned to the cove and began a violent captive selection process that saw a staggering 25 dolphins taken for captivity. Some did not survive the horrific ordeal and drowned in the cove. The newly captive dolphins will soon face a lifetime of imprisonment in captivity in facilities in Japan or overseas. Those remaining in the cove were left exhausted and searching for their missing family members throughout the night.
Captive selection resumed today, Dec. 22 and five additional dolphins were taken for captivity as others were slaughtered under the tarps or died during the captive selection. In total, 28-30 dolphins were killed over the two days, between the slaughter and those who succumbed during the violent captures. Sea Shepherd Conservation Society's Cove Guardians witnessed hunters heartlessly consuming fresh dolphin meat outside the Taiji butcher house following these atrocities.
The remaining 25-30 dolphins were driven back out to sea, swimming quickly for open waters far from the deadly cove. Some were juvenile dolphins who had a hard time keeping up with the frantic pod in the chaotic drive. The Taiji hunters often dump or drive back out to sea juvenile and infant dolphins following the slaughter of their pods because these small dolphins will not produce much meat. Though they are left with little chance of survival on their own, the hunters do not count them in the season's self-allocated kill quota.
Despite what Taiji's fishermen contend about the separation of the captive selection and slaughter process, Sea Shepherd's Cove Guardians have documented time and time again that the hunters and trainers work side-by-side to select the "prettiest" dolphins (those without visible scars) for captivity, while simultaneously slaughtering their fellow pod members. Dolphins enduring captive selection are forced to swim in the blood of their families. It is the profitable captive trade that allows the drive hunt to continue, and thus, raising awareness of the inextricable link between captivity and the slaughter has been a large focus of Sea Shepherd's 2015-2016 Taiji Dolphin Defense Campaign, Operation Henkaku.

"Bottlenose dolphins are always a lucrative find for the hunters and trainers of Taiji because they are in high demand by marine parks around the world. These dolphins who swam free just days ago have been torn apart for nothing but greed and profit," David Hance, Sea Shepherd Campaign coordinator, said.
"Sea Shepherd believes that the drive hunt could not be sustained solely by the sale of dolphin meat for human consumption; demand for this meat is at an all-time low. The global demand for captive cetaceans is the true economic fuel that drives the hunting boats."
YOU MIGHT ALSO LIKE
Europe's Dirty Little Secret: Moroccan Slaves and a 'Sea of Plastic'
Exclusive Interview: Researchers Remove Plastic Fork Lodged in Sea Turtle's Nose
First-Ever National Wild Bee Map Shows Major Decline in Crucial Agricultural Regions
Starbucks, Wake Up and Smell the Coffee: Palm Oil Is Destroying Our Planet
EcoWatch Daily Newsletter
picture alliance / dpa / F. Rumpenhorst
By Arthur Sullivan
When was the last time you traveled by plane? Various researchers say as little as between 5 and 10 percent of the global population fly in a given year.
A Starbucks barista prepares a drink at a Starbucks Coffee Shop location in New York. Ramin Talaie / Corbis via Getty Images
By Cathy Cassata
Are you getting your fill of Starbucks' new Almondmilk Honey Flat White, Oatmilk Honey Latte, and Coconutmilk Latte, but wondering just how healthy they are?
By Sharon Kelly
Back in April last year, the Trump administration's Environmental Protection Agency decided it was "not necessary" to update the rules for toxic waste from oil and gas wells. Torrents of wastewater flow daily from the nation's 1.5 million active oil and gas wells and the agency's own research has warned it may pose risks to the country's drinking water supplies.
Swedish climate activist Greta Thunberg takes part in a "Friday for Future" youth demonstration in a street of Davos on Jan. 24, 2020 on the sideline of the World Economic Forum annual meeting. FABRICE COFFRINI / AFP via Getty Images
Treasury Secretary Steven Mnuchin pretended not to know who Greta Thunberg is, and then he told her to get a degree in economics before giving world leaders advice, as The Guardian reported.
The Visible Infrared Imaging Radiometer Suite on the Suomi NPP satellite acquired this image of forest fire smoke hovering over North America on Aug. 15, 2018. NASA Earth Observatory
New York City isn't known for having the cleanest air, but researchers traced recent air pollution spikes there to two surprising sources — fires hundreds of miles away in Canada and the southeastern U.S.