This website uses cookies to ensure you get the best experience while browsing it. By clicking 'Got It' you're accepting these terms.
Scientists are bringing life on Mars closer and closer to reality by growing edible plants in soil similar to that of the red planet.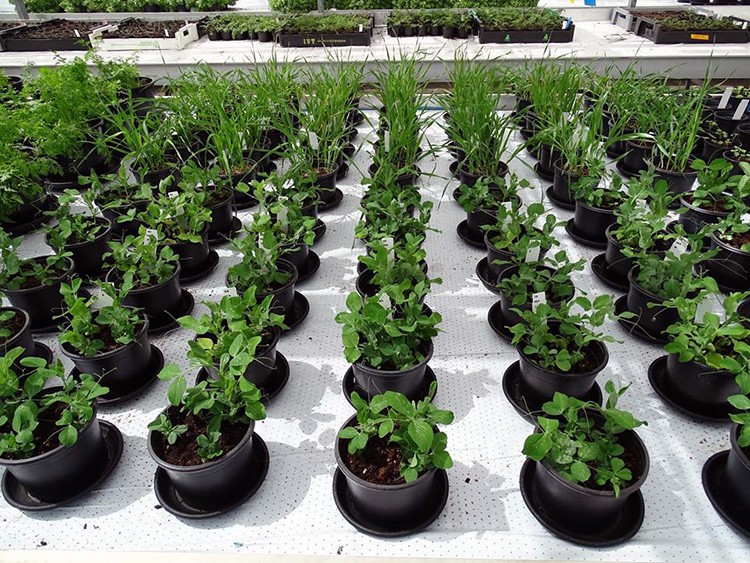 Researchers at Wageningen University in the Netherlands successfully grew 10 crops of which four so far have been tested and claimed edible, according to a Mars One statement. Radishes, peas, rye and tomatoes grown in Mars-like soil were deemed safe for human consumption.
"These remarkable results are very promising," senior ecologist Wieger Wamelink said. "We can actually eat the radishes, peas, rye, and tomatoes and I am very curious what they will taste like."
Scientists at Wageningen University have experimented with growing crops on Mars- and Moon-like soil simulants, developed by the National Aeronautics and Space Administration, since 2013.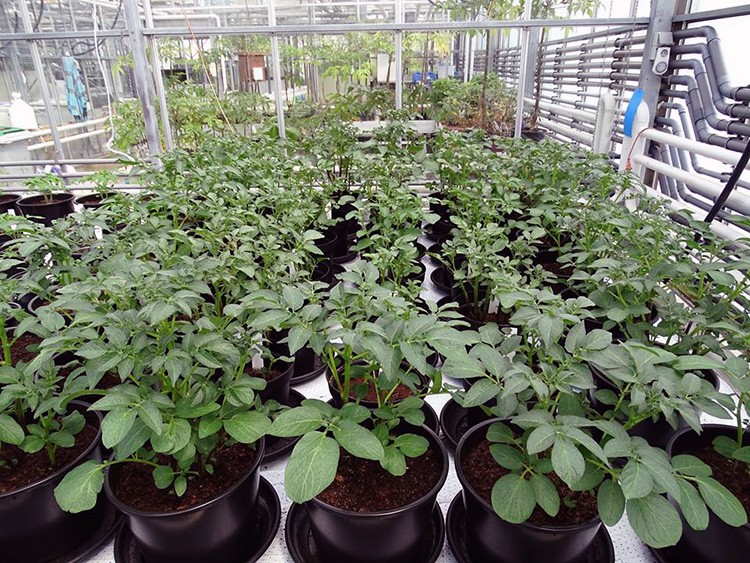 The first round of experiments proved that plants could in fact be grown in the soil. Scientists then needed to test if the plants produced in the soil simulants would be edible.
Mars' soil contains heavy metals—aluminum, copper, iron, manganese, zinc, arsenic, cadmium, chrome, nickel and lead—that could be poisonous if consumed at certain levels.
"Mars One is very proud to support this important research," Bas Lansdorp, CEO and co-founder of Mars One, said. "Growing food locally is especially important to our mission of permanent settlement, as we have to ensure sustainable food production on Mars."
Wamelink and team's research is being funded by a crowdfunding campaign, which run until the end of August. So far, the project has raised 12,745 euros out of a goal of 25,000. The remaining money will fund the testing of the other six crops, including potatoes.
"It's important to test as many crops as possible, to make sure that settlers on Mars have access to a broad variety of different food sources," Wamelink said.
Watch Wamelink talk about the experiments in more depth in this video:
YOU MIGHT ALSO LIKE:
Whistling Sound Coming From Caribbean Sea Can Be Heard From Space
NASA Astronaut Snaps Best Picture of Strawberry Moon
NASA: Porter Ranch Gas Leak Was So Big It Could Be Seen From Space
Buenos Aires is shutting down its zoo to give the animals a better life.
Horacio Rodríguez Larreta, mayor of Argentina's capital city, said keeping wild animals in captivity and on display is degrading, The Guardian reported. The zoo's 2,500 animals—89 species of mammals, 49 species of reptiles and 175 species of birds—will be moved to nature reserves throughout the country, where they will live in more suitable environments. Older animals and those too sick to be moved will remain on site but not on display.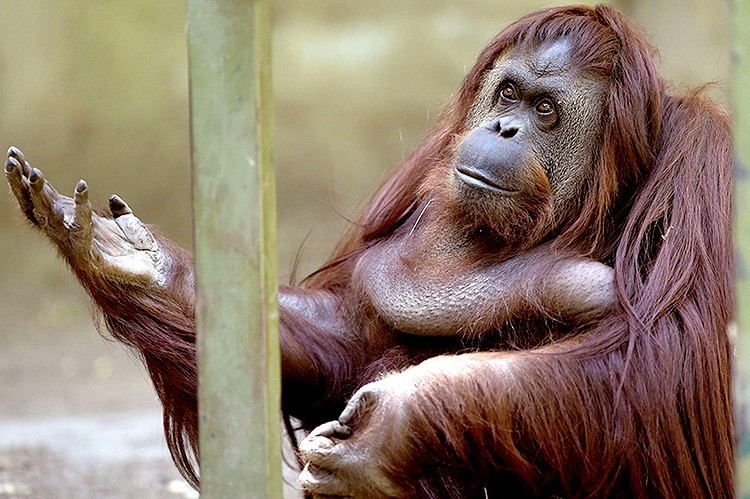 Sandra the orangutan who made international news about two years ago when an Argentinian court ruled she was "a non-human person" with rights to freedom.
"This situation of captivity is degrading for the animals, it's not the way to take care of them," Rodríguez said.
The 45-acre zoo will be transformed into an ecopark and reopened later this year. Rodríguez said the ecopark will provide children a place to learn "how to take care of and relate with the different species."
"What we have to value is the animals," he added. "The way they live [at the zoo] is definitely not the way to do that."
The ecopark will also provide refuge and rehabilitation for animals rescued from illegal trafficking, city officials said.
Buenos Aires Zoo was originally part of the Parque Tres de Febrero, an urban park with a small section dedicated to animals that opened in 1875 in Buenos Aires. The animal section was transferred to the City of Buenos Aires in 1888, separated from the rest of the park and officially named the zoo.
It was one of the city's main tourist attractions, despite the bad publicity it has receive over the past couple years.
Two major stories were the zoo's keeping of polar bears in a city known for hot summers and a court declaring one of the zoo's orangutans as a "non-human person" deserving rights to freedom, Reuters reported. Sandra, the famous orangutan, will be one of the animals remaining in the area to be cared for.
"The most important thing is breaking with the model of captivity and exhibition," Gerardo Biglia, animal rights lawyer and long-time campaigner for the closure of this city's zoo, said. "I think there is a change coming for which we are already prepared because kids nowadays consider it obvious that it's wrong for animals to be caged."
YOU MIGHT ALSO LIKE:
10 Super Cool Facts About Butterflies
Climate Change Puts Squeeze on Cuddly Koalas
2.6 Million Dead Bees Delivered to EPA Headquarters
Jaguar Shot Dead After Olympic Torch Passing Ceremony in Brazil
While it might look pretty, red snow is a cause for concern, scientists say.
The phenomenon, sometimes called watermelon snow or blood snow, is actually an algae bloom, The Washington Post reported. Algae known as chlamydomonas nivalis are causing the hue through chemical reactions. The algae are normally green, but when they soak up ultraviolet rays, they turn red.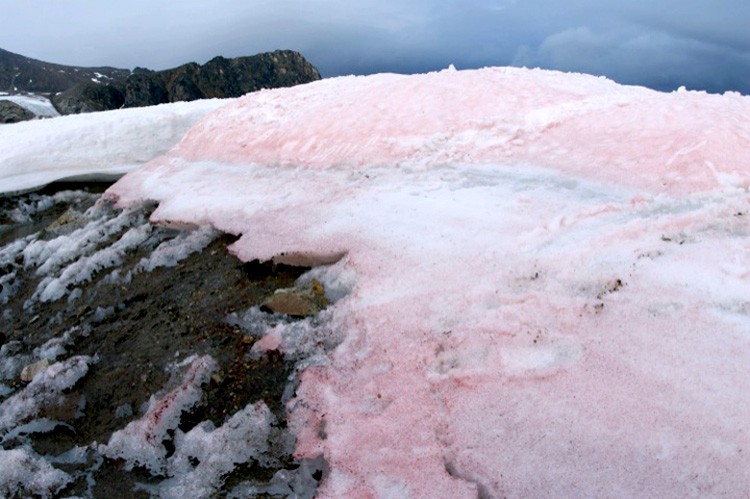 Snow algae bloom in red on ice and snow and thereby darken the surface. This accelerates the thawing of ice. Photo credit: Liane G. Benning, GFZ
A study published last week in Nature Communications stated that not only does the algae change the color of snow, it also changes the albedo.
A team of German and British scientists lead by Stefanie Lutz, postdoc at the German Research Centre for Geosciences GFZ and at the University of Leeds, studied 40 samples of watermelon snow across four Arctic locations: Norwegian archipelago Svalbard, Sweden, Greenland and Iceland. Thirty-six of the samples were taken from Svalbard and Sweden alone, providing 12 and 24, respectively.
The scientists estimated that the decrease in snow albedo in areas with algae over the course of one melt season was about 13 percent. The algal blooms darkened the color of the snow, therefore lowering the albedo. Items with lower albedos reflect less light. The light they don't reflect is then absorbed, making the surface hotter and the ice to melt faster.
"Our results point out that the 'bio-albedo' effect is important and has to be considered in future climate models," Lutz, the paper's lead author, said.
Lutz and team measured a similar decrease in albedo in the algae-filled snow across all sites.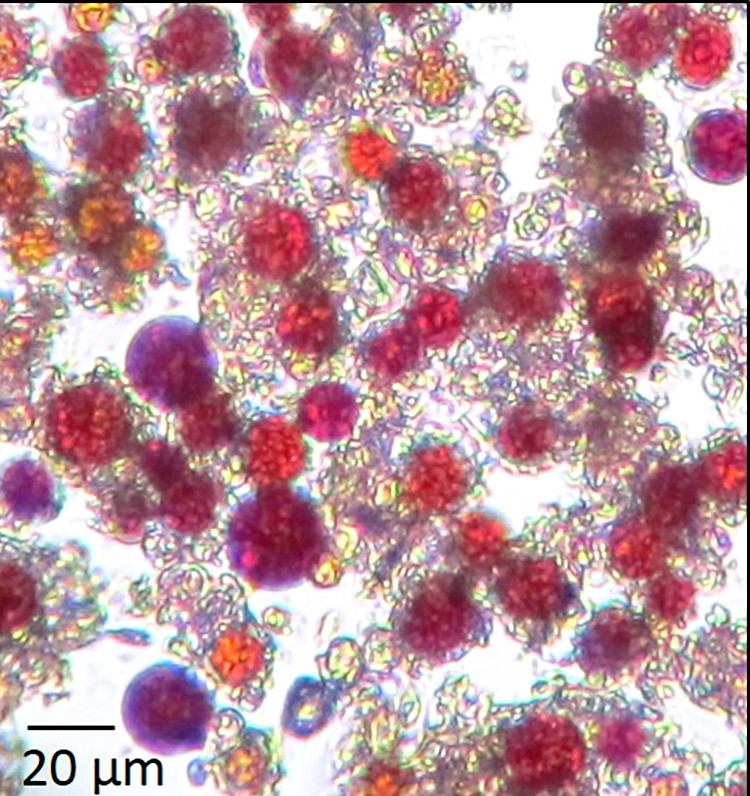 The snow algae under a microscope. Photo credit: Stefanie Lutz, GFZ
Red snow usually appears during late spring and summer months, according to a statement by the GFZ. Thin layers of liquid water form on ice and snow in the Arctic, providing the right conditions for the growth of the algae. Over the winter season, the algae fall dormant.
Algal blooms create a snowball effect. The more glaciers and snow fields that thaw, the more algal blooms will occur, darkening the surface of remaining snow and accelerating melting, the German Research Centre for Geosciences explained.
"The algae need liquid water in order to bloom," Lutz told Gizmodo. "Therefore the melting of snow and ice surfaces controls the abundance of the algae. The more melting, the more algae. With temperatures rising globally, the snow algae phenomenon will likely also increase leading to an even higher bio-albedo effect."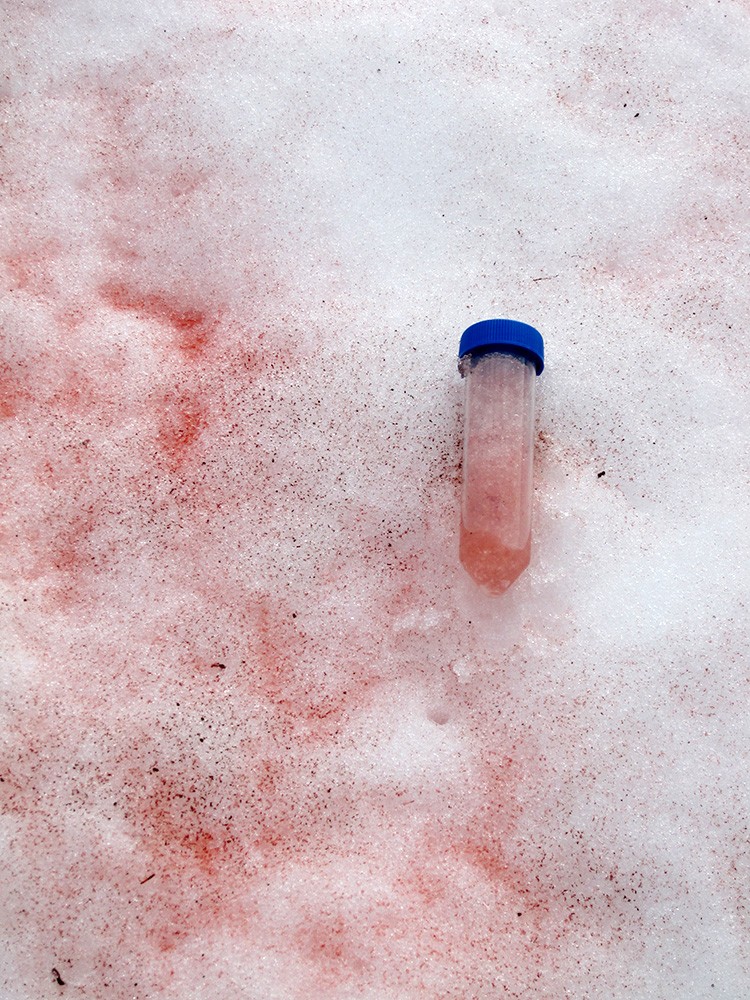 An example of a snow sample researchers took in their 40 arctic sites. Photo credit: Liane G. Benning, GFZ
It is still unclear how large these red algal blooms can get, but Lutz estimates they will be widespread.
"Based on personal observations, a conservative estimate would be 50 percent of the snow surface on a glacier [will be covered by the algae] at the end of a melt season," she said. "But this can potentially be even higher."
Lutz and a UK-led team of researchers will work on the Greenland Ice Sheet this summer to continue studies of the algae. The ice sheet is currently experiencing record-breaking ice melt, which started two months early this year, EcoWatch reported. About 12 percent of Greenland's ice sheet was melting as of April 11.
The team will investigate whether the algae is contributing to the record melting and to what extent.
YOU MIGHT ALSO LIKE:
Greenland's Ice Melt Breaks Record, Starting Nearly Two Months Early
The Link Between Climate Change and Drought
NOAA: World's Worst Coral Bleaching Event to Continue 'With No Signs of Stopping'
Methane Emissions From Onshore Oil and Gas Equivalent to 14 Coal Plants Powered for One Year
Tonight my new film How to Let Go of the World and Love All the Things Climate Can't Change debuts on HBO at 9 p.m. ET/PT.
How to Let Go of the World is unlike any other documentary you've ever seen on climate change. Traveling to 12 countries on six continents, the film acknowledges that it may be too late to stop some of the worst consequences and asks, what is it that climate change can't destroy? What is so deep within us that no calamity can take it away?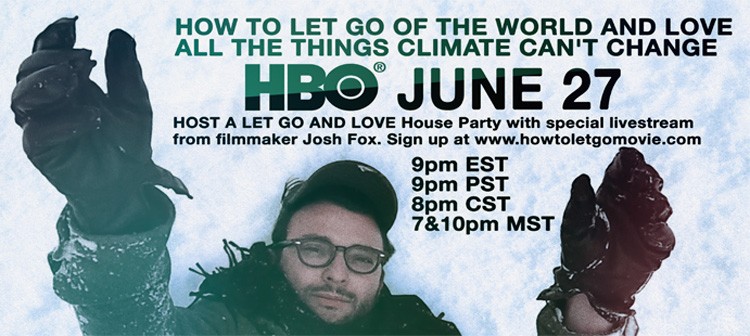 So what should you do? Watch the film tonight with your friends. If you're like me and don't have a TV, you can get a free trial of HBO NOW and stream the film online. I'll be hosting a live video chat after the film to talk about what we need to do next but here's a few idea to get you started.
1. Leave your house. You know you're on the right track when you've left your house. Climate change is too far along for you to simply click on anything or sign a petition. I need you to go out and find your local climate action group, join it and get involved. Join a protest, join a sit in, take action, plan a march, work to develop renewable energy in your community but above all leave your house. Turn off the computer right now and match outside. What I mean is join the movement.
July 24 get out of your house and join the March For a Clean Energy Revolution in Philadelphia outside of the DNC.
2. Work with other people. Climate action is a team sport. Take the focus off of yourself and on to your community. Don't try to save the world alone. You will make the best friends you have ever had while doing this work, this is the time to meet the people you will fight along side of for the rest of your life.
Host a Let Go and Love watch party. The film is available all summer on HBO NOW.
3. See the intersectionality and fight for justice. Our whole system needs to change, our values need to change. Climate change is not just about climate change. Climate change is a result of inequality, it is a result of economic injustice, it is a result of energy and factory farming and institutionalized racism. So see that all of these fights are bound up in the fight against climate change. And start showing up for those movements too. Our current system is based on greed, competition, violence, institutionalized racism, materialism and fossil fuels. Those are probably our worst human qualities. Time to start to focus on a different set of values, courage, creativity, resilience, civil disobedience, revolution, human rights, democracy, community and love. We can only build a better more sustainable world when we see the connections between things.
4. Do what you love. I'm not an organizer. I am a filmmaker. I can't organize a sock drawer. If I went into this as an organizer because I felt I had to, I would have quit in three weeks. As a filmmaker however, I am still here eight years later, three films and countless short films later and I am doing what I love. The movement needs you to do what you love and it needs you. You may find also, that you fall in love with it. We have to love what we do, we have to love the Earth. When we love something we must protect it. The more you exercise love, the more loving you will be and the more you will love your life, the life we are trying to make better.
5. Surrender. Realize that we don't save the world, we only save today. So don't shame yourself. We're all in the same boat, we say "I don't know how to save the world, yet I must save the world. I don't know how to save myself, yet I must save myself. I don't know where my soul resides, yet I must discover my soul because I live within it." The world is saved and lost every day, not all at once.
6. Support renewable energy through political action and group action as well as individual action. We need an overhaul in our whole system, we need massive political change if we are going to overhaul our entire energy system. So don't just buy an electric car and get solar panels and change your light bulbs, go vegetarian and pat yourself on the back and call it good. Yes that is good, but it won't get us anywhere if we focus on the individual.
So yes, fix the power in your own home, change your diet and change your lightbulb, but do it in a way that creates a community, not just the self-satisfaction part of this all. The aim is to transform society and that means working with everyone, changing laws and changing systems.
7. Put your whole body into it. Dance. March. Sing. Run. Get inspired, inspire your friends. Dance break: share this video and watch my new film.
YOU MIGHT ALSO LIKE
This City Is Home to 820 Urban Farms and Quickly Becoming America's Urban Ag Capital
Appeals Court Urged to Strike Down Idaho's Ag-Gag Law
DNC Platform Calls for Fossil Fuel Investigations, 100% Renewable Energy
March for a Clean Energy Revolution at the DNC With Breast Cancer Action
The European Commission failed for a third time last week to secure the support of a majority of EU governments for an extension of glyphosate, the main ingredient in Monsanto's Roundup and other herbicides.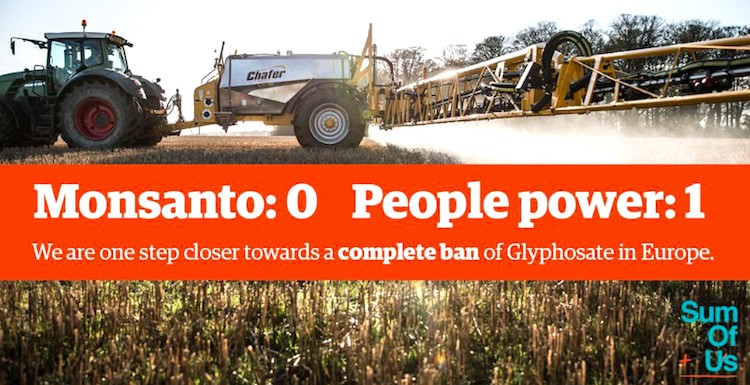 Global watchdog group Sum Of Us has collected hundreds of thousands of signatures from concerned citizens seeking a ban on glyphosate in Europe.
EU sources told Reuters that France and Malta voted against the re-approval and seven countries, including Germany, Italy and Austria, abstained.
Objection to the widely used pesticide is based on the World Health Organization's International Agency for Research on Cancer's (IARC) March 2015 assessment that "probably" causes cancer in humans.
Due to the impasse, the European Commission will now have the final say on whether or not the controversial weedkiller remains on Europe's shelves. Commissioners are meeting in Brussels today to discuss glyphosate's fate in Europe.
The clock is ticking as the EU's current approval of glyphosate is set to expire in three days. If the executives do not extend the license by June 30, manufacturers have six months to phase out glyphosate products.
Media reports indicate that the European Commission will likely settle on a "technical extension" of glyphosate for 12-18 months, an "11th hour" compromise that the commission had already proposed in early June to buy time for yet another study assessing whether or not glyphosate causes cancer.
European opinion is sharply divided on whether or not glyphosate causes cancer or if it's an environmental risk. Monsanto has consistently maintained the safety of its blockbuster product. Reuters reported that the agritech giant has not ruled out legal appeal if the license is not extended. Jonas Oxgaard, senior analyst at investment bank Bernstein, told the publication that Monsanto could lose earnings of up to $100 million if the EU were to halt glyphosate sales.
But the fact that the commission originally proposed to extend glyphosate for another 15 years but has now whittled it down to a temporary approval highlights the chemical's uncertain fate on the continent.
SumOfUs, a global consumer watchdog, is celebrating the latest failed vote. "We're one step away from a glyphosate-free EU," the group writes in an online petition urging member states to "deal the final blow and reject any extension of the glyphosate license."
Greenpeace has also called on the European Commission to prepare a glyphosate exit plan.
"The Commission is about to give glyphosate an unreasonable grace period, which will continue to leave people and nature exposed to the controversial weedkiller," Greenpeace EU food policy director Franziska Achterberg said. "It should use this time to draw up a glyphosate exit plan. Glyphosate is the most widely used herbicide in Europe and has been linked to serious health concerns and loss of wildlife. It's time for Europe to plan for a glyphosate-free future."
Commenting on the continued deadlock over glyphosate in Brussels, Green Party MEP Bart Staes said, "If the UK referendum has made one thing clear, it is that the EU needs to finally start listening to its citizens again."
"The Commission must now back down and revoke the approval for glyphosate. Forcing through the authorization would raise major democratic concerns about the EU's decision-making process. The process of phasing out glyphosate and other toxic herbicides and pesticides from agriculture must begin now, and this means reorienting the EU's Common Agricultural Policy towards a more sustainable agricultural model and a Common Food Policy."
YOU MIGHT ALSO LIKE
DARK Act Compromise Could Preempt Vermont's GMO Label Law
Monsanto Issued Two GMO Permits Despite Objection From 5 Million Nigerians
Vermont's Historic GMO Labeling Law Goes Into Effect July 1: Is Big Food Ready?
Brazil Won't Buy U.S. GMO Corn, Highlights Worldwide Divide Over GMOs
Food & Water Watch and the Center for Biological Diversity urged the 9th Circuit Court of Appeals Monday to affirm a lower court's ruling striking down an Idaho law that stifles the public's access to information about industrial animal agriculture operations, citing food safety and public health concerns.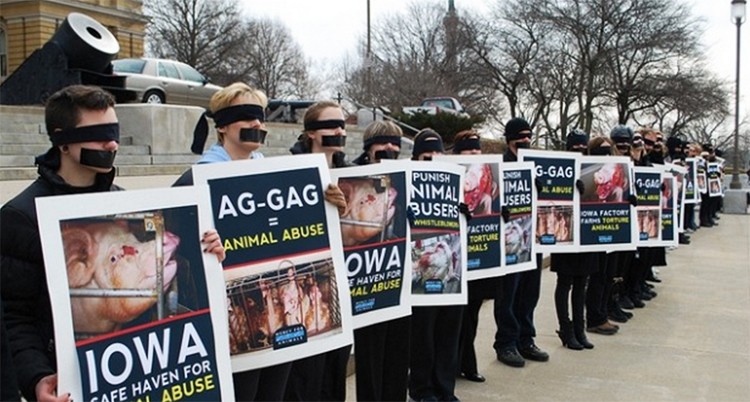 The groups filed a "friend of the court" brief as part of a constitutional challenge to Idaho's "ag-gag" law that criminalizes undercover documentation of food safety, worker safety and animal welfare violations inside industrial animal agricultural facilities and has a chilling effect on public speech about the conditions in these facilities. Idaho's law is one of the broadest of its kind and was passed in the wake of numerous undercover investigations that revealed violations of animal welfare laws and conditions highly conducive to the spread of disease-causing pathogens. Such investigations have resulted in the closure of factory farms and slaughterhouses, civil and criminal prosecutions and massive meat recalls.
"Our highly consolidated industrial meat production system relies on profit-maximizing methods that have direct public health impacts," Wenonah Hauter, executive director of Food & Water Watch, said. "The industry wants to hide the shocking and dirty practices that can result in foodborne illnesses that lead to hospitalizations—even deaths. Animal welfare is just the tip of the iceberg when it comes to the reasons we need transparency in factory farm and slaughter operations."
Last year the Idaho district court struck down the law as unconstitutional because it violates citizens' free speech and equal protection rights. Idaho appealed the ruling. Today's brief asked the court to consider the impacts reinstating the law would have on public health and animal welfare by effectively preventing the public from seeing and understanding activities inside factory farms and slaughter facilities. The meat, dairy products and eggs that come from these operations are among the leading causes of foodborne illnesses in the U.S.
"The public has a right to know what happens inside facilities where our food is produced, whether it's in Idaho, Iowa or anywhere else in the country," Hannah Connor, an attorney with the Center for Biological Diversity, said. "It's disturbing to see Idaho clamping down on the public's right to know, including going so far as to make criminals out of those who are simply recording what happens inside these facilities. Health, safety and animal welfare issues are critical in understanding how our food is made—but that discussion can't happen if the public is kept in the dark."
There are well-established links between inhumane practices at factory farms and slaughterhouses and increased risk of foodborne illness. Factory farm conditions are typically crowded and stressful and animal welfare abuses that injure or weaken animals make them even more susceptible to illness. Sick, stressed or injured animals are more likely to come into contact with, harbor and spread pathogens such as E. coli, Salmonella and Campylobacter. These disease-causing organisms can spread at slaughterhouses if sick animals are not properly withheld from the food supply.
YOU MIGHT ALSO LIKE
Lawsuit Filed Against 3M for Dumping Toxic Chemicals Into the Tennessee River
Pennsylvania Declares Victory on Oil and Gas Regs While Failing to Protect Residents Health
Interactive Map Shows How 6,500 Factory Farms Put North Carolinians at Risk
Passage of the Chemical Safety Bill Is a Murky Milestone for Children's Health