Scientists are bringing life on Mars closer and closer to reality by growing edible plants in soil similar to that of the red planet.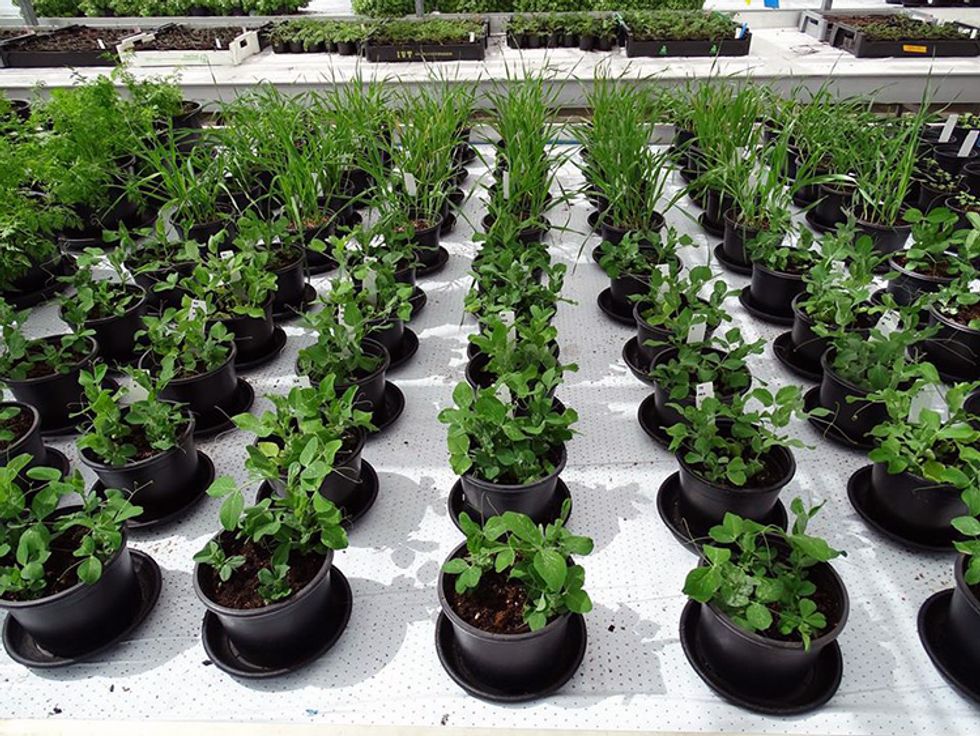 Researchers at Wageningen University in the Netherlands successfully grew 10 crops of which four so far have been tested and claimed edible, according to a Mars One statement. Radishes, peas, rye and tomatoes grown in Mars-like soil were deemed safe for human consumption.
"These remarkable results are very promising," senior ecologist Wieger Wamelink said. "We can actually eat the radishes, peas, rye, and tomatoes and I am very curious what they will taste like."
Scientists at Wageningen University have experimented with growing crops on Mars- and Moon-like soil simulants, developed by the National Aeronautics and Space Administration, since 2013.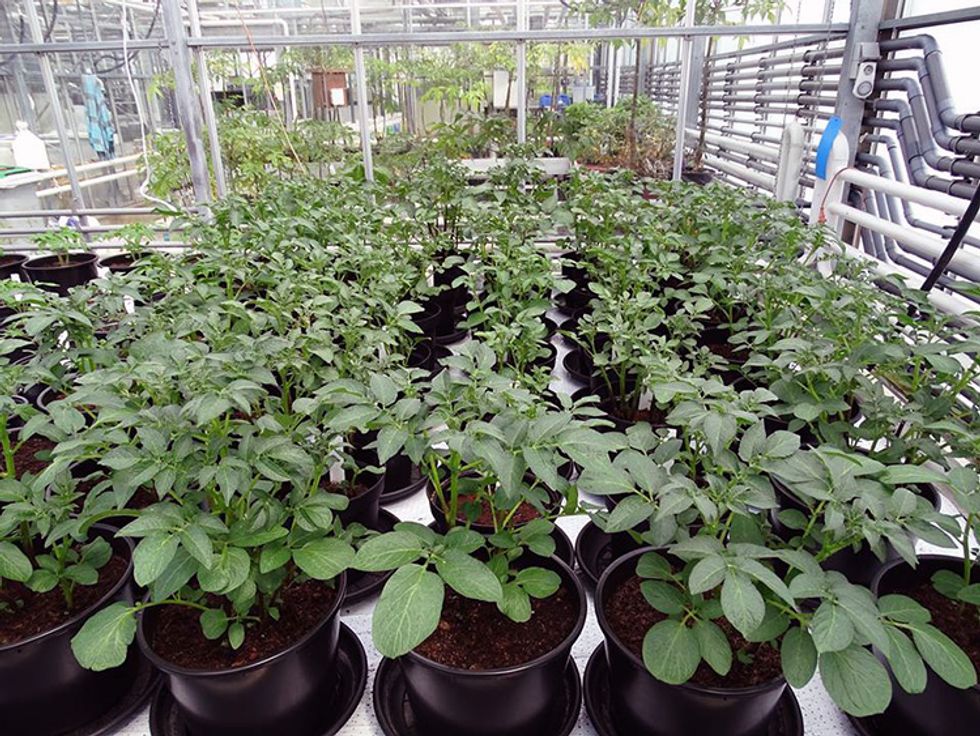 The first round of experiments proved that plants could in fact be grown in the soil. Scientists then needed to test if the plants produced in the soil simulants would be edible.
Mars' soil contains heavy metals—aluminum, copper, iron, manganese, zinc, arsenic, cadmium, chrome, nickel and lead—that could be poisonous if consumed at certain levels.
"Mars One is very proud to support this important research," Bas Lansdorp, CEO and co-founder of Mars One, said. "Growing food locally is especially important to our mission of permanent settlement, as we have to ensure sustainable food production on Mars."
Wamelink and team's research is being funded by a crowdfunding campaign, which run until the end of August. So far, the project has raised 12,745 euros out of a goal of 25,000. The remaining money will fund the testing of the other six crops, including potatoes.
"It's important to test as many crops as possible, to make sure that settlers on Mars have access to a broad variety of different food sources," Wamelink said.
Watch Wamelink talk about the experiments in more depth in this video:
YOU MIGHT ALSO LIKE:
Whistling Sound Coming From Caribbean Sea Can Be Heard From Space
NASA Astronaut Snaps Best Picture of Strawberry Moon
NASA: Porter Ranch Gas Leak Was So Big It Could Be Seen From Space
EcoWatch Daily Newsletter
Buenos Aires is shutting down its zoo to give the animals a better life.
Horacio Rodríguez Larreta, mayor of Argentina's capital city, said keeping wild animals in captivity and on display is degrading, The Guardian reported. The zoo's 2,500 animals—89 species of mammals, 49 species of reptiles and 175 species of birds—will be moved to nature reserves throughout the country, where they will live in more suitable environments. Older animals and those too sick to be moved will remain on site but not on display.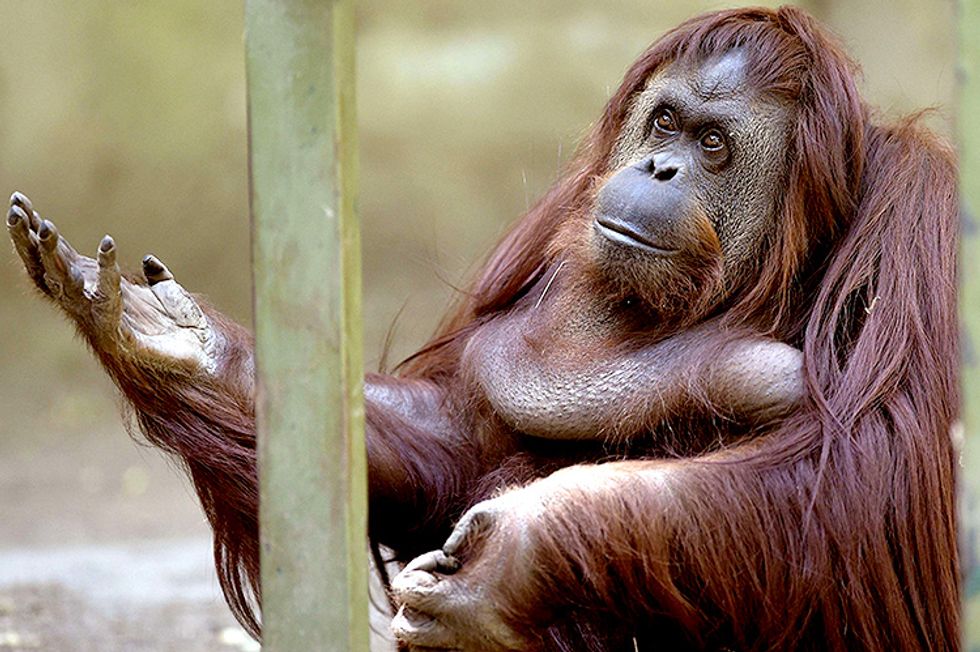 Sandra the orangutan who made international news about two years ago when an Argentinian court ruled she was "a non-human person" with rights to freedom.
"This situation of captivity is degrading for the animals, it's not the way to take care of them," Rodríguez said.
The 45-acre zoo will be transformed into an ecopark and reopened later this year. Rodríguez said the ecopark will provide children a place to learn "how to take care of and relate with the different species."
"What we have to value is the animals," he added. "The way they live [at the zoo] is definitely not the way to do that."
The ecopark will also provide refuge and rehabilitation for animals rescued from illegal trafficking, city officials said.
Times are changing! #BuenosAires is closing its zoo after 140 years. #EmptyTheCages https://t.co/GLdzyDABxi

— PETA (@PETA)1466893801.0
Buenos Aires Zoo was originally part of the Parque Tres de Febrero, an urban park with a small section dedicated to animals that opened in 1875 in Buenos Aires. The animal section was transferred to the City of Buenos Aires in 1888, separated from the rest of the park and officially named the zoo.
It was one of the city's main tourist attractions, despite the bad publicity it has receive over the past couple years.
Buenos Aires to shut scandal-prone zoo https://t.co/BwYavnHlfb @BBCNews https://t.co/bilcQv0WG1

— Animal_Watch (@Animal_Watch)1466744084.0
Two major stories were the zoo's keeping of polar bears in a city known for hot summers and a court declaring one of the zoo's orangutans as a "non-human person" deserving rights to freedom, Reuters reported. Sandra, the famous orangutan, will be one of the animals remaining in the area to be cared for.
"The most important thing is breaking with the model of captivity and exhibition," Gerardo Biglia, animal rights lawyer and long-time campaigner for the closure of this city's zoo, said. "I think there is a change coming for which we are already prepared because kids nowadays consider it obvious that it's wrong for animals to be caged."
YOU MIGHT ALSO LIKE:
10 Super Cool Facts About Butterflies
Climate Change Puts Squeeze on Cuddly Koalas
2.6 Million Dead Bees Delivered to EPA Headquarters
Jaguar Shot Dead After Olympic Torch Passing Ceremony in Brazil
While it might look pretty, red snow is a cause for concern, scientists say.
The phenomenon, sometimes called watermelon snow or blood snow, is actually an algae bloom, The Washington Post reported. Algae known as chlamydomonas nivalis are causing the hue through chemical reactions. The algae are normally green, but when they soak up ultraviolet rays, they turn red.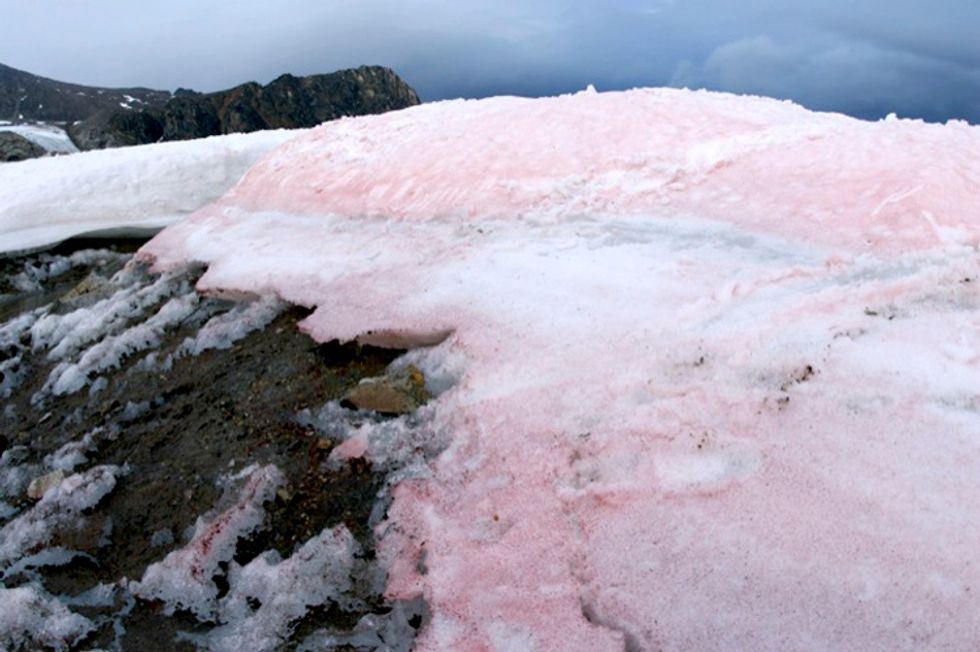 Snow algae bloom in red on ice and snow and thereby darken the surface. This accelerates the thawing of ice. Photo credit: Liane G. Benning, GFZ
A study published last week in Nature Communications stated that not only does the algae change the color of snow, it also changes the albedo.
A team of German and British scientists lead by Stefanie Lutz, postdoc at the German Research Centre for Geosciences GFZ and at the University of Leeds, studied 40 samples of watermelon snow across four Arctic locations: Norwegian archipelago Svalbard, Sweden, Greenland and Iceland. Thirty-six of the samples were taken from Svalbard and Sweden alone, providing 12 and 24, respectively.
The scientists estimated that the decrease in snow albedo in areas with algae over the course of one melt season was about 13 percent. The algal blooms darkened the color of the snow, therefore lowering the albedo. Items with lower albedos reflect less light. The light they don't reflect is then absorbed, making the surface hotter and the ice to melt faster.
"Our results point out that the 'bio-albedo' effect is important and has to be considered in future climate models," Lutz, the paper's lead author, said.
Lutz and team measured a similar decrease in albedo in the algae-filled snow across all sites.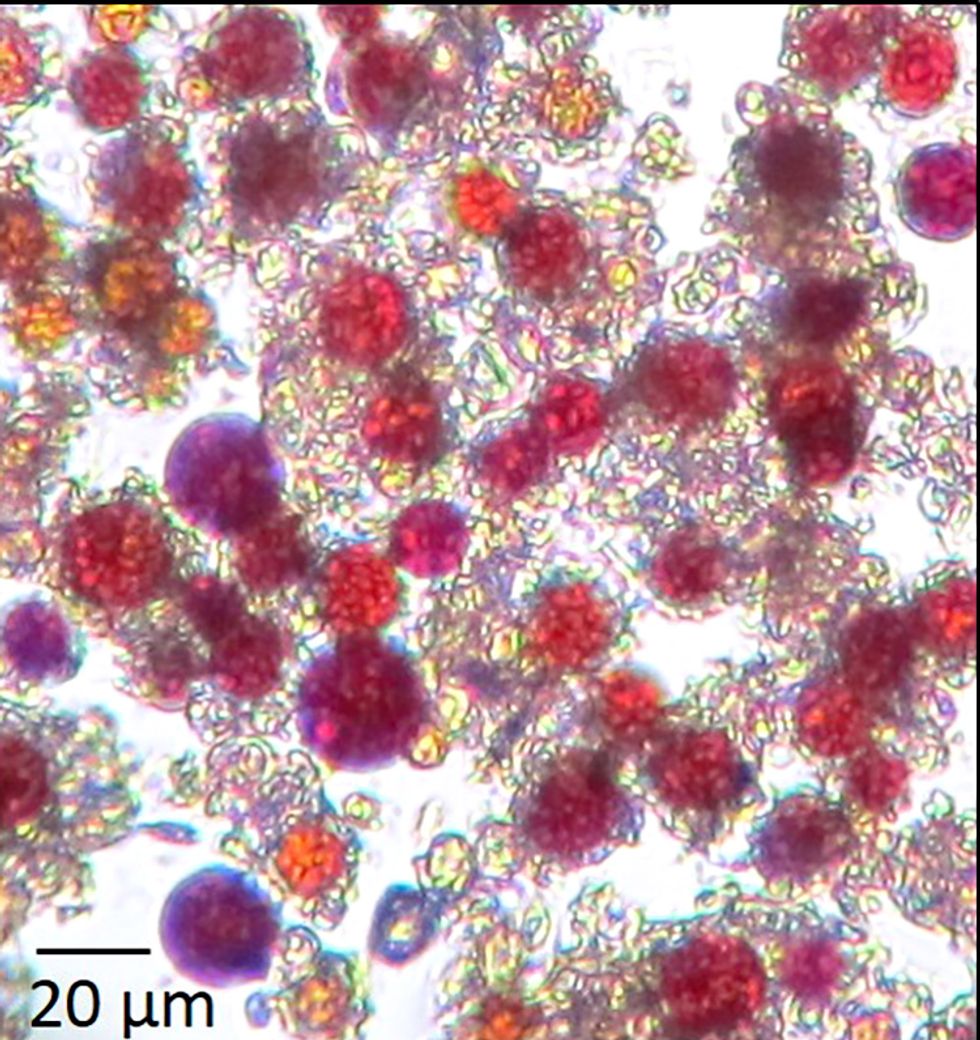 The snow algae under a microscope. Photo credit: Stefanie Lutz, GFZ
Red snow usually appears during late spring and summer months, according to a statement by the GFZ. Thin layers of liquid water form on ice and snow in the Arctic, providing the right conditions for the growth of the algae. Over the winter season, the algae fall dormant.
Algal blooms create a snowball effect. The more glaciers and snow fields that thaw, the more algal blooms will occur, darkening the surface of remaining snow and accelerating melting, the German Research Centre for Geosciences explained.
"The algae need liquid water in order to bloom," Lutz told Gizmodo. "Therefore the melting of snow and ice surfaces controls the abundance of the algae. The more melting, the more algae. With temperatures rising globally, the snow algae phenomenon will likely also increase leading to an even higher bio-albedo effect."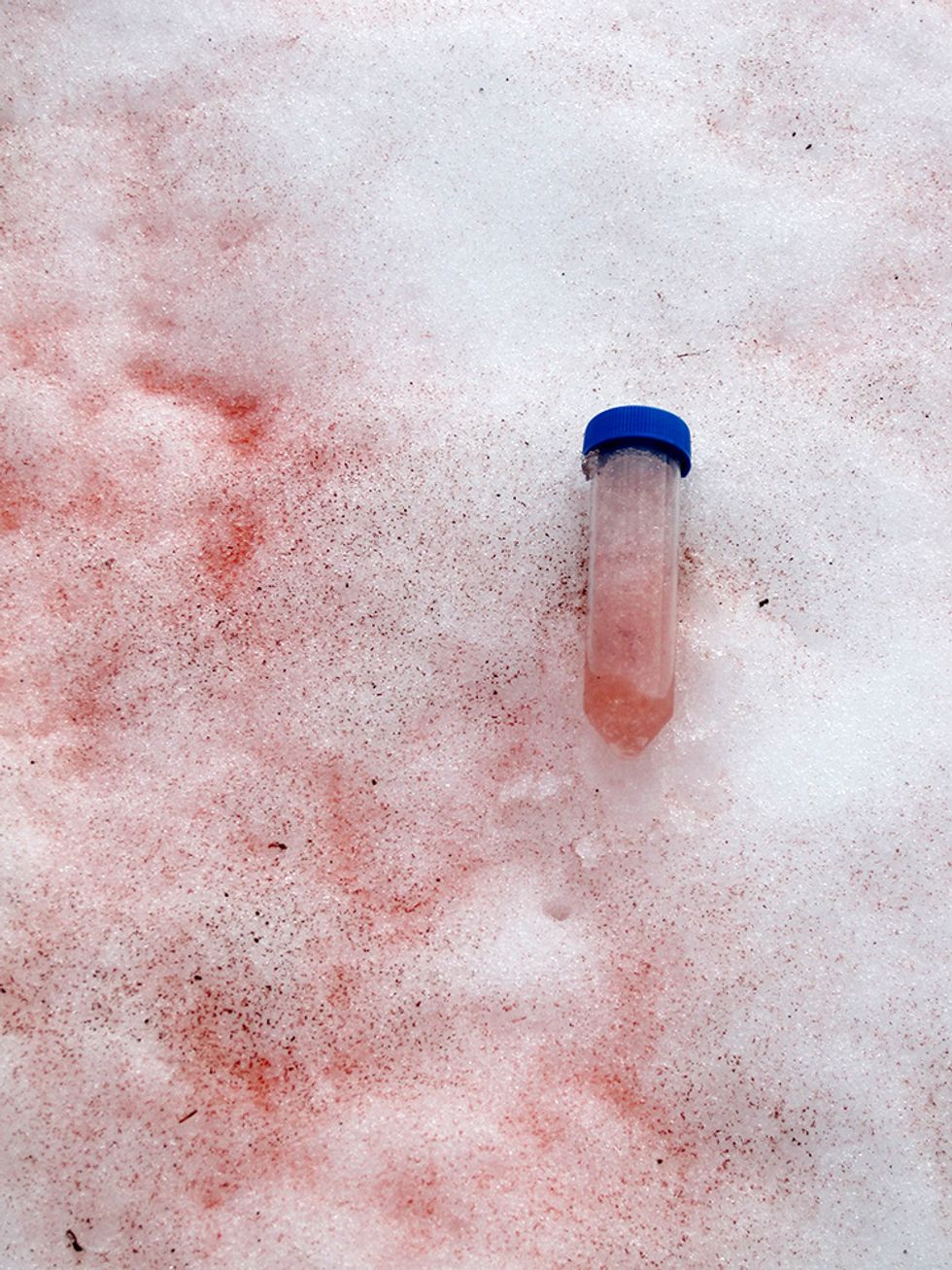 An example of a snow sample researchers took in their 40 arctic sites. Photo credit: Liane G. Benning, GFZ
It is still unclear how large these red algal blooms can get, but Lutz estimates they will be widespread.
"Based on personal observations, a conservative estimate would be 50 percent of the snow surface on a glacier [will be covered by the algae] at the end of a melt season," she said. "But this can potentially be even higher."
Lutz and a UK-led team of researchers will work on the Greenland Ice Sheet this summer to continue studies of the algae. The ice sheet is currently experiencing record-breaking ice melt, which started two months early this year, EcoWatch reported. About 12 percent of Greenland's ice sheet was melting as of April 11.
The team will investigate whether the algae is contributing to the record melting and to what extent.
YOU MIGHT ALSO LIKE:
Greenland's Ice Melt Breaks Record, Starting Nearly Two Months Early
The Link Between Climate Change and Drought
NOAA: World's Worst Coral Bleaching Event to Continue 'With No Signs of Stopping'
Methane Emissions From Onshore Oil and Gas Equivalent to 14 Coal Plants Powered for One Year
Tonight my new film How to Let Go of the World and Love All the Things Climate Can't Change debuts on HBO at 9 p.m. ET/PT.
How to Let Go of the World is unlike any other documentary you've ever seen on climate change. Traveling to 12 countries on six continents, the film acknowledges that it may be too late to stop some of the worst consequences and asks, what is it that climate change can't destroy? What is so deep within us that no calamity can take it away?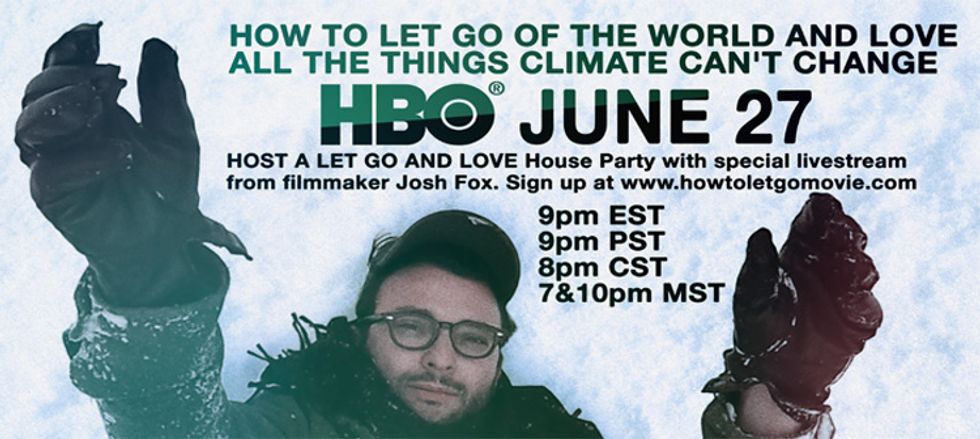 So what should you do? Watch the film tonight with your friends. If you're like me and don't have a TV, you can get a free trial of HBO NOW and stream the film online. I'll be hosting a live video chat after the film to talk about what we need to do next but here's a few idea to get you started.
1. Leave your house. You know you're on the right track when you've left your house. Climate change is too far along for you to simply click on anything or sign a petition. I need you to go out and find your local climate action group, join it and get involved. Join a protest, join a sit in, take action, plan a march, work to develop renewable energy in your community but above all leave your house. Turn off the computer right now and match outside. What I mean is join the movement.
July 24 get out of your house and join the March For a Clean Energy Revolution in Philadelphia outside of the DNC.
2. Work with other people. Climate action is a team sport. Take the focus off of yourself and on to your community. Don't try to save the world alone. You will make the best friends you have ever had while doing this work, this is the time to meet the people you will fight along side of for the rest of your life.
Host a Let Go and Love watch party. The film is available all summer on HBO NOW.
3. See the intersectionality and fight for justice. Our whole system needs to change, our values need to change. Climate change is not just about climate change. Climate change is a result of inequality, it is a result of economic injustice, it is a result of energy and factory farming and institutionalized racism. So see that all of these fights are bound up in the fight against climate change. And start showing up for those movements too. Our current system is based on greed, competition, violence, institutionalized racism, materialism and fossil fuels. Those are probably our worst human qualities. Time to start to focus on a different set of values, courage, creativity, resilience, civil disobedience, revolution, human rights, democracy, community and love. We can only build a better more sustainable world when we see the connections between things.
4. Do what you love. I'm not an organizer. I am a filmmaker. I can't organize a sock drawer. If I went into this as an organizer because I felt I had to, I would have quit in three weeks. As a filmmaker however, I am still here eight years later, three films and countless short films later and I am doing what I love. The movement needs you to do what you love and it needs you. You may find also, that you fall in love with it. We have to love what we do, we have to love the Earth. When we love something we must protect it. The more you exercise love, the more loving you will be and the more you will love your life, the life we are trying to make better.
5. Surrender. Realize that we don't save the world, we only save today. So don't shame yourself. We're all in the same boat, we say "I don't know how to save the world, yet I must save the world. I don't know how to save myself, yet I must save myself. I don't know where my soul resides, yet I must discover my soul because I live within it." The world is saved and lost every day, not all at once.
6. Support renewable energy through political action and group action as well as individual action. We need an overhaul in our whole system, we need massive political change if we are going to overhaul our entire energy system. So don't just buy an electric car and get solar panels and change your light bulbs, go vegetarian and pat yourself on the back and call it good. Yes that is good, but it won't get us anywhere if we focus on the individual.
So yes, fix the power in your own home, change your diet and change your lightbulb, but do it in a way that creates a community, not just the self-satisfaction part of this all. The aim is to transform society and that means working with everyone, changing laws and changing systems.
7. Put your whole body into it. Dance. March. Sing. Run. Get inspired, inspire your friends. Dance break: share this video and watch my new film.
YOU MIGHT ALSO LIKE
This City Is Home to 820 Urban Farms and Quickly Becoming America's Urban Ag Capital
Appeals Court Urged to Strike Down Idaho's Ag-Gag Law
DNC Platform Calls for Fossil Fuel Investigations, 100% Renewable Energy
March for a Clean Energy Revolution at the DNC With Breast Cancer Action
The European Commission failed for a third time last week to secure the support of a majority of EU governments for an extension of glyphosate, the main ingredient in Monsanto's Roundup and other herbicides.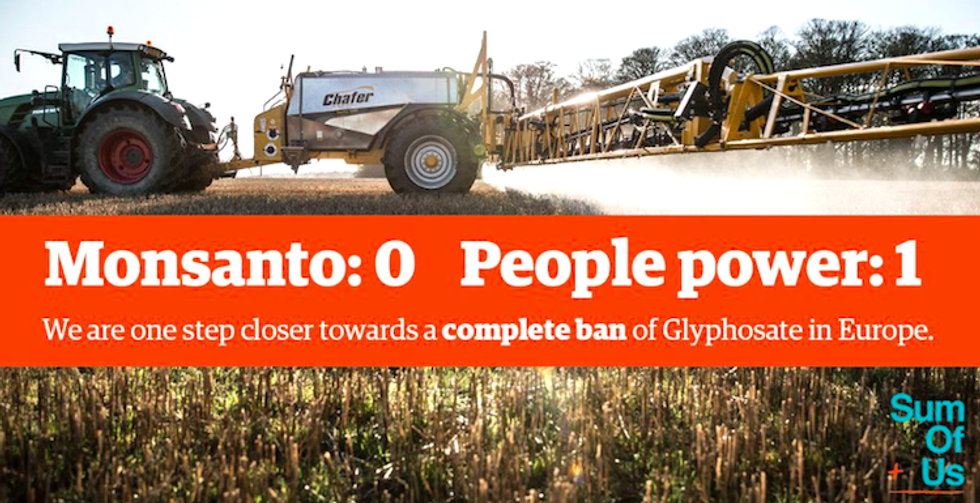 Global watchdog group Sum Of Us has collected hundreds of thousands of signatures from concerned citizens seeking a ban on glyphosate in Europe.
EU sources told Reuters that France and Malta voted against the re-approval and seven countries, including Germany, Italy and Austria, abstained.
Objection to the widely used pesticide is based on the World Health Organization's International Agency for Research on Cancer's (IARC) March 2015 assessment that "probably" causes cancer in humans.
Due to the impasse, the European Commission will now have the final say on whether or not the controversial weedkiller remains on Europe's shelves. Commissioners are meeting in Brussels today to discuss glyphosate's fate in Europe.
The clock is ticking as the EU's current approval of glyphosate is set to expire in three days. If the executives do not extend the license by June 30, manufacturers have six months to phase out glyphosate products.
Media reports indicate that the European Commission will likely settle on a "technical extension" of glyphosate for 12-18 months, an "11th hour" compromise that the commission had already proposed in early June to buy time for yet another study assessing whether or not glyphosate causes cancer.
EU Fails to Approve 'Technical Extension' for Weed-Killer #Glyphosate https://t.co/OUeT28HiBJ @nongmoreport @GreensEP @foodandwater @nutiva

— EcoWatch (@EcoWatch)1465222742.0
European opinion is sharply divided on whether or not glyphosate causes cancer or if it's an environmental risk. Monsanto has consistently maintained the safety of its blockbuster product. Reuters reported that the agritech giant has not ruled out legal appeal if the license is not extended. Jonas Oxgaard, senior analyst at investment bank Bernstein, told the publication that Monsanto could lose earnings of up to $100 million if the EU were to halt glyphosate sales.
But the fact that the commission originally proposed to extend glyphosate for another 15 years but has now whittled it down to a temporary approval highlights the chemical's uncertain fate on the continent.
SumOfUs, a global consumer watchdog, is celebrating the latest failed vote. "We're one step away from a glyphosate-free EU," the group writes in an online petition urging member states to "deal the final blow and reject any extension of the glyphosate license."
Greenpeace has also called on the European Commission to prepare a glyphosate exit plan.
"The Commission is about to give glyphosate an unreasonable grace period, which will continue to leave people and nature exposed to the controversial weedkiller," Greenpeace EU food policy director Franziska Achterberg said. "It should use this time to draw up a glyphosate exit plan. Glyphosate is the most widely used herbicide in Europe and has been linked to serious health concerns and loss of wildlife. It's time for Europe to plan for a glyphosate-free future."
Commenting on the continued deadlock over glyphosate in Brussels, Green Party MEP Bart Staes said, "If the UK referendum has made one thing clear, it is that the EU needs to finally start listening to its citizens again."
"The Commission must now back down and revoke the approval for glyphosate. Forcing through the authorization would raise major democratic concerns about the EU's decision-making process. The process of phasing out glyphosate and other toxic herbicides and pesticides from agriculture must begin now, and this means reorienting the EU's Common Agricultural Policy towards a more sustainable agricultural model and a Common Food Policy."
YOU MIGHT ALSO LIKE
DARK Act Compromise Could Preempt Vermont's GMO Label Law
Monsanto Issued Two GMO Permits Despite Objection From 5 Million Nigerians
Vermont's Historic GMO Labeling Law Goes Into Effect July 1: Is Big Food Ready?
Brazil Won't Buy U.S. GMO Corn, Highlights Worldwide Divide Over GMOs
Food & Water Watch and the Center for Biological Diversity urged the 9th Circuit Court of Appeals Monday to affirm a lower court's ruling striking down an Idaho law that stifles the public's access to information about industrial animal agriculture operations, citing food safety and public health concerns.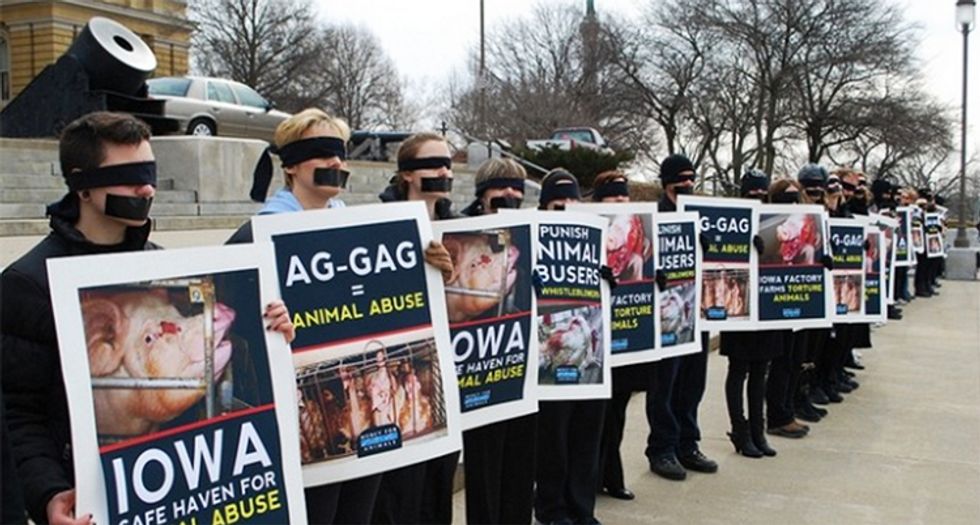 The groups filed a "friend of the court" brief as part of a constitutional challenge to Idaho's "ag-gag" law that criminalizes undercover documentation of food safety, worker safety and animal welfare violations inside industrial animal agricultural facilities and has a chilling effect on public speech about the conditions in these facilities. Idaho's law is one of the broadest of its kind and was passed in the wake of numerous undercover investigations that revealed violations of animal welfare laws and conditions highly conducive to the spread of disease-causing pathogens. Such investigations have resulted in the closure of factory farms and slaughterhouses, civil and criminal prosecutions and massive meat recalls.
"Our highly consolidated industrial meat production system relies on profit-maximizing methods that have direct public health impacts," Wenonah Hauter, executive director of Food & Water Watch, said. "The industry wants to hide the shocking and dirty practices that can result in foodborne illnesses that lead to hospitalizations—even deaths. Animal welfare is just the tip of the iceberg when it comes to the reasons we need transparency in factory farm and slaughter operations."
Last year the Idaho district court struck down the law as unconstitutional because it violates citizens' free speech and equal protection rights. Idaho appealed the ruling. Today's brief asked the court to consider the impacts reinstating the law would have on public health and animal welfare by effectively preventing the public from seeing and understanding activities inside factory farms and slaughter facilities. The meat, dairy products and eggs that come from these operations are among the leading causes of foodborne illnesses in the U.S.
"The public has a right to know what happens inside facilities where our food is produced, whether it's in Idaho, Iowa or anywhere else in the country," Hannah Connor, an attorney with the Center for Biological Diversity, said. "It's disturbing to see Idaho clamping down on the public's right to know, including going so far as to make criminals out of those who are simply recording what happens inside these facilities. Health, safety and animal welfare issues are critical in understanding how our food is made—but that discussion can't happen if the public is kept in the dark."
There are well-established links between inhumane practices at factory farms and slaughterhouses and increased risk of foodborne illness. Factory farm conditions are typically crowded and stressful and animal welfare abuses that injure or weaken animals make them even more susceptible to illness. Sick, stressed or injured animals are more likely to come into contact with, harbor and spread pathogens such as E. coli, Salmonella and Campylobacter. These disease-causing organisms can spread at slaughterhouses if sick animals are not properly withheld from the food supply.
YOU MIGHT ALSO LIKE
Lawsuit Filed Against 3M for Dumping Toxic Chemicals Into the Tennessee River
Pennsylvania Declares Victory on Oil and Gas Regs While Failing to Protect Residents Health
Interactive Map Shows How 6,500 Factory Farms Put North Carolinians at Risk
Passage of the Chemical Safety Bill Is a Murky Milestone for Children's Health
"Dr. Hyman, I've been suffering from seasonal allergies for years," writes this week's house call. "Is there anything that I can do to make these go away or am I doomed forever?"
You are definitely not doomed; however, I do know how miserable seasonal allergies can be, especially in the spring and summer.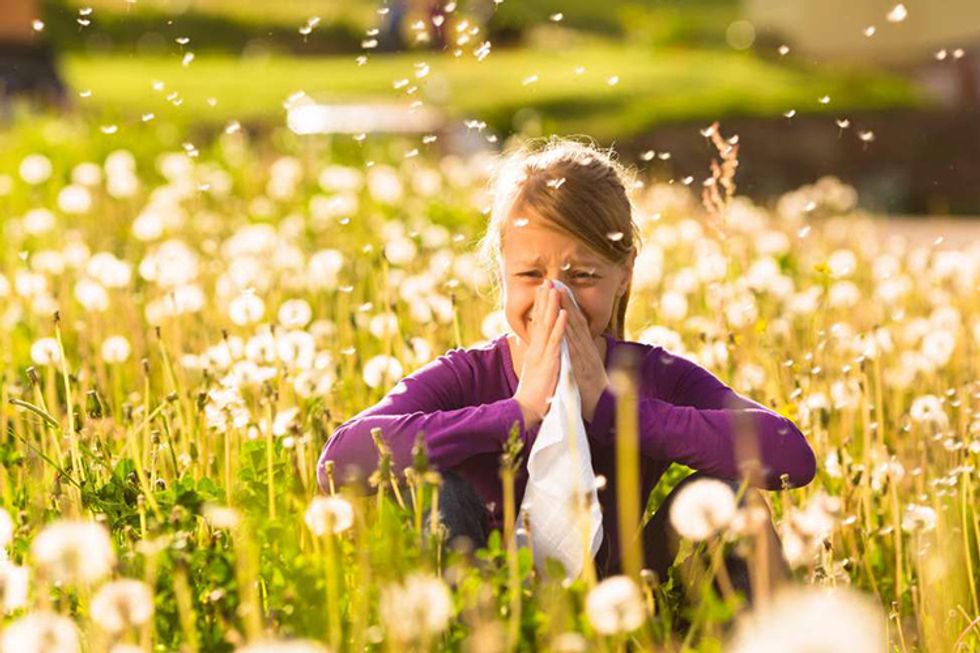 Conventional medicine treats seasonal allergies with injections and pills, which unfortunately creates side effects and fails to address the root problem. If you don't address the root cause, then the allergies will never go away.
I've seen countless patients arrive complaining about gut issues. Once we fixed their diets and healed their guts, their seasonal allergies also disappeared. When the immune system (60 percent of which is in the gut) is irritated, it reacts to everything—kind of like when you don't get enough sleep everything makes you more irritable.
One patient struggled with allergies, asthma and hives. She almost nearly died twice from anaphylaxis. She arrived in my office on 42 different pills, sprays and inhalers; yet, she still felt awful. These drugs were suppressing and inhibiting her immune function, causing her body to attack everything. None of her doctors had questioned why her immune system was so compromised in the first place. But due to my Functional Medicine approach, that's the first question I asked.
Turned out, she had leaky gut that was triggered by celiac disease, a gluten-related autoimmune disease. Until that point, nobody had actually tested her for this condition. When we eliminated gluten and other dietary allergens, we healed her leaky gut and calmed down her allergies. Thankfully, after six weeks she was able to stop the 42 medications she used daily.
For her and countless other patients, a key strategy involves getting your gut healthy. After all, an unhealthy, inflamed gut can't fight off potential allergens. To do that and eliminate seasonal allergies, I've found these four strategies incredibly helpful:
1. Replace bad with good. An elimination diet becomes the first step for a healthy gut. The simple foundation of Functional Medicine is taking out the bad and putting in the good. Eliminate common toxic triggers like wheat, corn, dairy, soy and alcohol. Eat a whole foods, high-fiber diet that is rich in anti-inflammatory plant chemicals called phytonutrients. Avoid anything that contains sugar or trans fats. Focus on eating healthy fats from extra virgin olive oil, nuts, avocados and omega-3 fats like those found in small fish (sardines, herring, sable, wild-caught salmon). I provide an easy-to-implement plan in my book Eat Fat, Get Thin.
2. Use powerful gut-healing nutrients—including probiotics, which provide good bacteria to improve digestion and reduce inflammation. Other gut-healing nutrients include glutamine, zinc, curcumin and fish oil. I always recommend a high-quality multivitamin. Quercetin (which has anti-inflammatory and anti-histamine properties) and nettles can also relieve symptoms from allergies. You can find these and other allergy-relieving supplements in my store.
3. Manage stress. A mind-body disconnect can mean being stressed out, wired and tired and can really damage your gut and worsen seasonal allergies. Practice relaxation techniques like yoga or meditation every day.
4. Get adequate sleep. Optimal sleep is crucial for gut health and overall health. Research shows inadequate sleep shortens your lifespan and increases inflammation, which can lead to chronic disease. Insufficient sleep can also increase your risk for diabetes through insulin resistance, paving the way for diabesity. Aim for at least eight hours of uninterrupted, deep sleep every night. To help meet that quota, check out my eight simple hacks for a better night's sleep.
Occasionally, I'll have a patient who has tried all these things and still suffers. In those cases, we need to dig a little deeper for other causes such as food additives, pesticides, chemicals and pollution in their environment. You should also check for mold in your home or work—check out this site to learn more.
Also, consider a very important blood test called C-reactive protein, which measures the degree of hidden inflammation in your body. Almost every modern disease is caused by or affected by hidden inflammation, including heart disease, cancer, obesity, dementia, arthritis, autoimmune disease, allergies and digestive disorders.
Chronic inflammation that contributes to seasonal allergies and much more can come from many sources, including:
Inflammatory fats like omega 6 fats found in processed vegetable oils and trans fat
Hidden or chronic infections, such as viruses, bacteria, yeasts or parasites, mold and other environmental allergens
Toxicity from an overload of environmental toxins
Ultimately, lifestyle choices and how we care for our bodies and souls is not part of our education, values or even our daily planning; yet, these basic skills form the root cause of our happiness and health.
While these principles are disarmingly simple, even the best and brightest people fail to make the connection between how we treat our bodies and how we feel. Most of us never learned how to care for and feed our bodies and souls. A few simple acts implemented into your daily life could change everything, including seasonal allergies.
YOU MIGHT ALSO LIKE
10 Ways to Stop Eating Late at Night
11 Foods That Would Disappear Without Pollinators
Sea Salt vs. Table Salt: Which Is Healthier?
The committee drafting the Democratic Party platform unanimously voted to include a call for the Justice Department to investigate fossil fuel companies for misleading the public on climate change.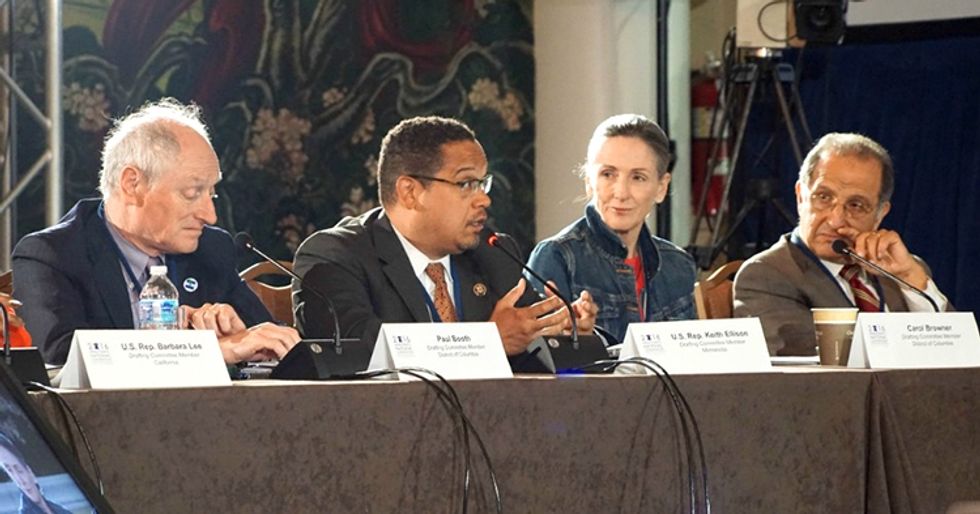 Members of the Democratic party Platform Committee, including (from left to right) American Federation of State, County, and Muncipal Employees executive assistant to the president, Paul Booth, U.S. Rep. Keith Ellison (D-Minn.), former White House Energy and Climate Change Policy director Carol Browner, and Palestinian rights academic James Zogby. Photo credit: DNCC
"All corporations owe it to their shareholders to fully analyze and disclose risks they face including climate risks. Those who fail to do so should be held accountable," the committee declared.
The committee also included the goal of producing 100 percent of electricity from renewable sources by 2050, though they declined to support policies such as a ban on fracking and a carbon tax.
Watch the platform's authors discuss the motion to investigate fossil fuel companies:
For a deeper dive: InsideClimate News, Washington Post
For more climate change and clean energy news, you can follow Climate Nexus on Twitter and Facebook, and sign up for daily Hot News.
YOU MIGHT ALSO LIKE
March for a Clean Energy Revolution at the DNC With Breast Cancer Action
4 States Struggling to Manage Radioactive Fracking Waste
TransCanada Files NAFTA Suit Demanding More Than $15 Billion for Keystone XL Rejection
Pennsylvania Declares Victory on Oil and Gas Regs While Failing to Protect Residents Health
There will soon be an app that allows users to buy surplus food that would otherwise become food waste for a discounted price from restaurants and grocery stores.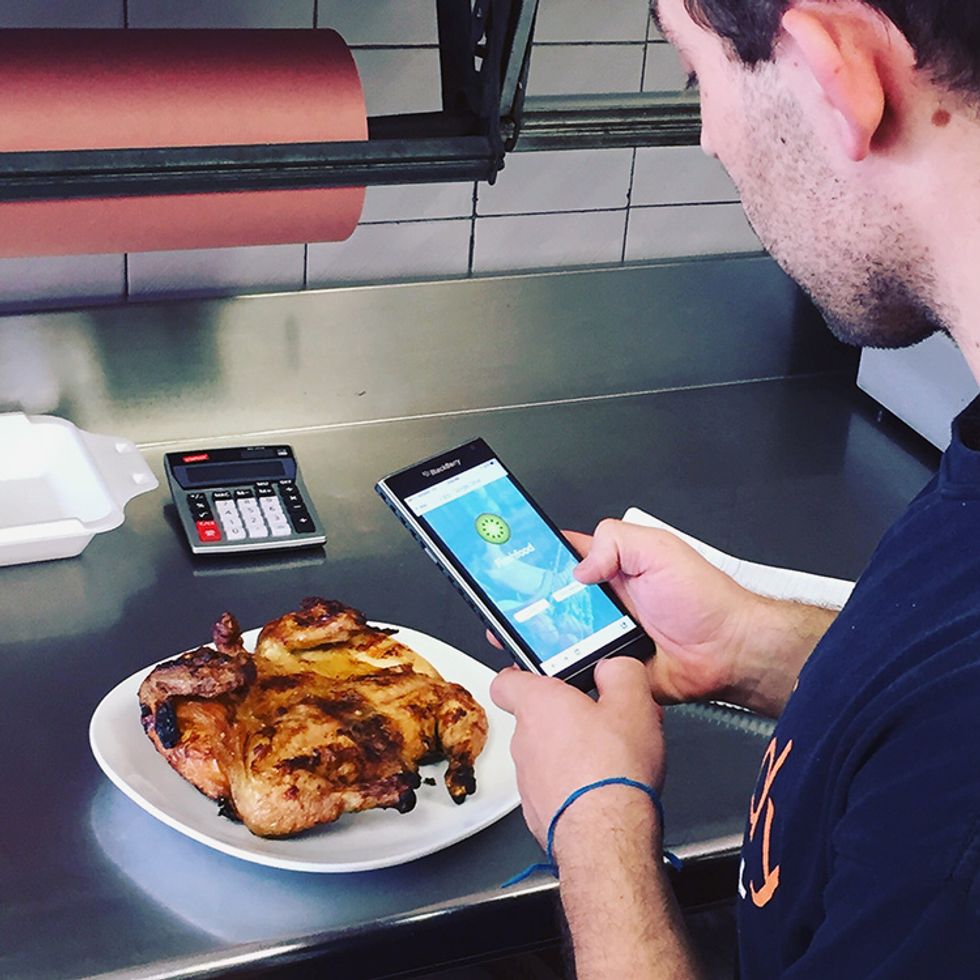 Photo credit: Flashfood via Facebook
Every year in Canada, roughly $31 billion worth of food is wasted. Flashfood, a Toronto-based app start-up founded by Josh Domingues, hopes to lower that number. App users will be able to purchase high-quality food at severely discounted prices.
"Our goal is to end hunger," Domingues told Motherboard blog. "I know it sounds crazy, but by utilizing the sharing economy and creating a sustainable company, I believe we can expand our service to the point where we can help those less fortunate."
Restaurants and grocery stores will post a photo of food that is close to its best-before date with a description and a discounted price of at least 60 percent off. That percent is required by the app, TreeHugger reported, but Domingues' target discount is 75 percent.
Flashfood users will be able to select specific stores or types of food and will receive notifications whenever a new offer is posted, Motherboard said. Customers will pay by credit card via the app and be given a confirmation code to show the retailer.
"If food waste were a country, it would be the third-largest producer of greenhouse gas, behind China and the States," Domingues told Toronto Now. "It's upsetting. It's heartbreaking."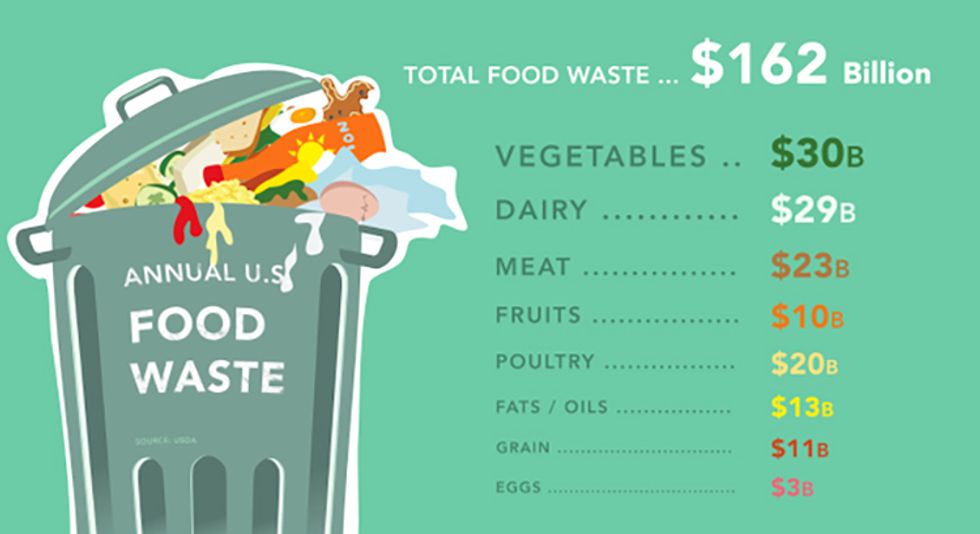 Roughly one third of food produced globally for human consumption is lost or wasted, according to the UN Food and Agriculture Organization. An amount equivalent to approximately 1.3 billion tonnes. Lost and wasted food amounts to roughly $680 billion and $310 billion in industrialized and developing countries, respectively.
Reducing the amount of food wasted could save nearly $130 billion a year and reduce the stress placed on the planet from food production.
"The difficulty is often in knowing where to start and how to make the biggest economic and environmental savings," Dr. Richard Swannell, director of sustainable food systems at Waste & Resources Action Programme, said.
The program's 2015 study, Strategies to Achieve Economic and Environmental Gains by Reducing Food Waste, "produced international guidance on how to achieve that through implementing effective food waste prevention strategies that can be used across the world," Swannell added.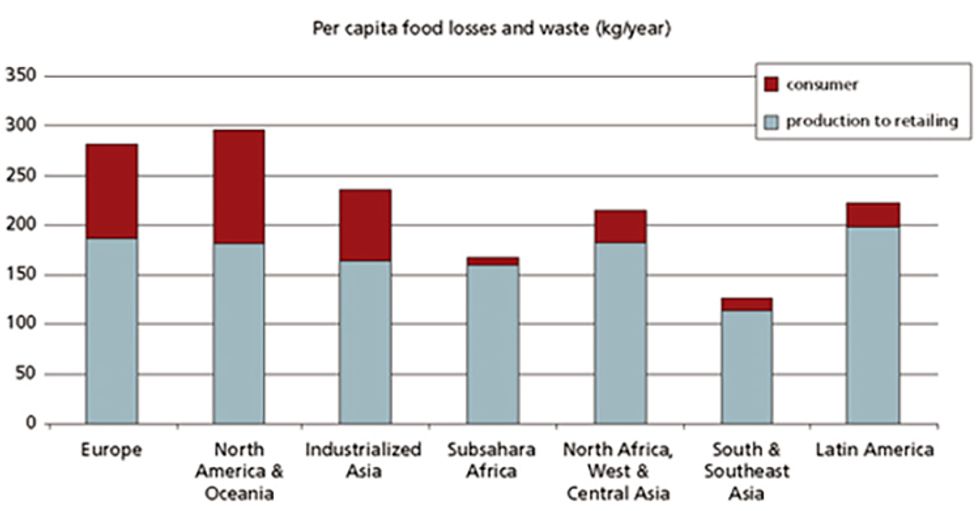 Photo credit: UN Food and Agriculture Organization
Domingues agreed.
"The biggest issue with food waste is logistics," he said. "If a food company wants to donate its food, there are costs of transportation and preservation issues."
Flashfood will alleviate that with 75 percent of the consumer's payment going to the retailer and 25 percent to Flashfood. There are no sign up costs for the retailer and Flashfood will even provide stores with iPads to take pictures of the food available for sale, Motherboard reported.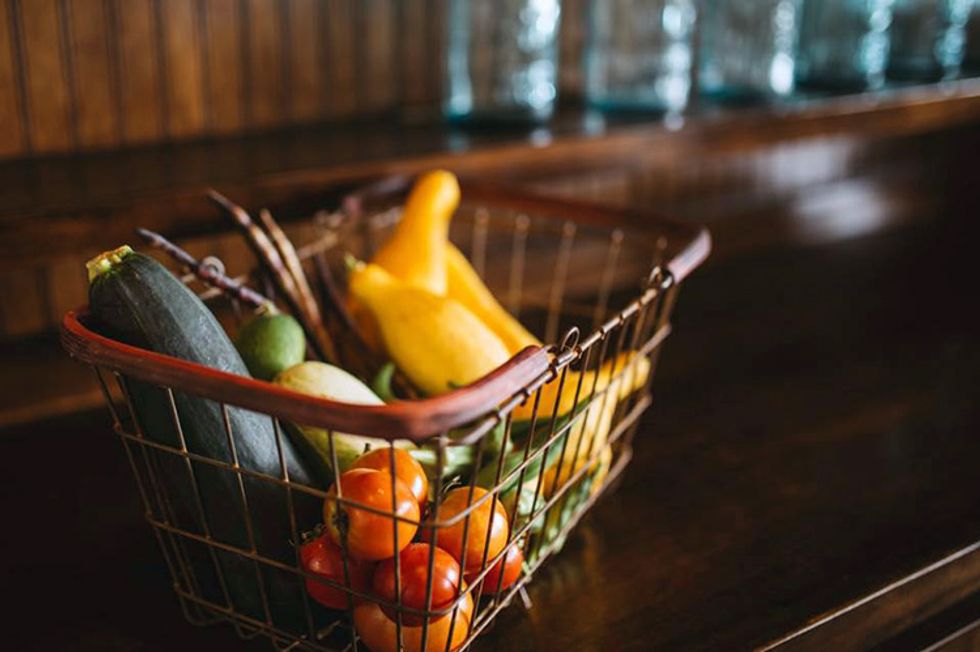 Photo credit: Flashfood via Facebook
Fifteen Canadian restaurants have already signed up for Flashfood. Domingues also worked out a deal with a major grocery chain, according to TreeHugger.
Flashfood is set to launch Aug. 1 in Toronto, hopefully spreading the service to the rest of Canada by 2017.
YOU MIGHT ALSO LIKE:
DARK Act Compromise Could Preempt Vermont's GMO Label Law
2.6 Million Dead Bees Delivered to EPA Headquarters
Interactive Map Shows How 6,500 Factory Farms Put North Carolinians at Risk
China's Plan to Cut Meat Consumption by 50% Cheered by Arnold Schwarzenegger, James Cameron
By Alyssa Figueroa, Breast Cancer Action
With all eyes on the presidential candidates during election season, the inaction of thousands of elected officials across the country on crucial issues like protecting public health can easily get lost amidst the spotlight. That's why the organization I work for, Breast Cancer Action, will soon join thousands of others in the streets before the Democratic National Convention to grab some of that light and shine it on one of the most critical issues of our time: the harmful health impacts from fracking and other forms of dangerous drilling.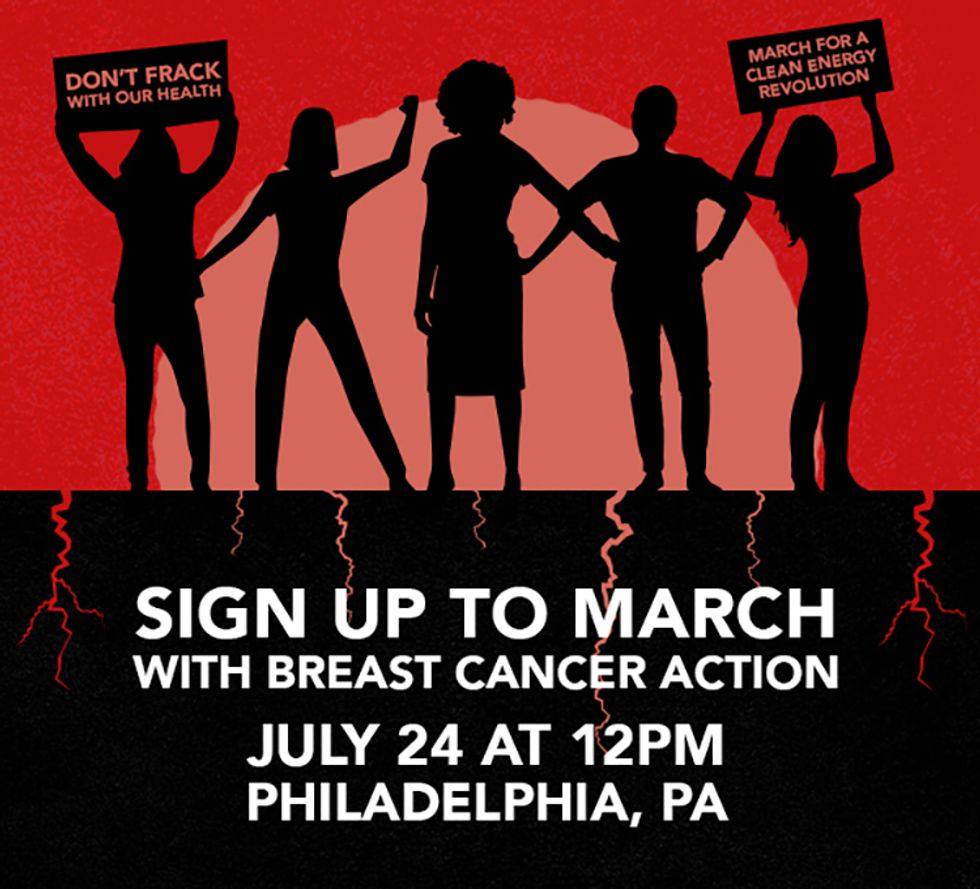 From coast to coast, too many of our elected officials are failing to protect people from these toxic processes. Take Pennsylvania Gov. Tom Wolf for example. Despite hundreds of confirmed cases of water contamination from fracking and studies finding residents who live near fracking wells have higher rates of health problems and hospitalizations, Wolf hasn't taken any meaningful steps to protect people's health.
Across the country in California, so-called climate leader Gov. Jerry Brown is no better. Even after the recent gas leak in Porter Ranch, California— the largest in U.S. history—left hundreds sick, Brown failed to call for an end to fracking and dangerous drilling in the state, let alone the shutdown of the storage facility in the city that was responsible for leaking the fracked gas.
This is despite the fact that fracking and other forms of extreme extraction use hundreds of chemicals that are linked to a host of severe health problems. Twenty-five percent of fracking chemicals cause cancer (including breast cancer), more than 30 percent affect the endocrine system, 40-50 percent cause nervous, immune and cardiovascular problems and more than 75 percent affect the skin, eyes and other sensory organs and the respiratory and gastrointestinal systems. And that's just an assessment of the chemicals we know of. Because of industry loopholes throughout the country, the oil and gas industry is not required to list all the chemicals and mixtures they use.
Yet, the oil and gas industry and the elected officials in their pockets, still claim that there's not enough scientific evidence that shows that these chemicals used in their processes actually end up endangering people's health. But the truth is that the science is very much in: these toxic chemicals leach into our drinking water, poison our air and ultimately harm our health.
A recent 2016 peer-reviewed scientific paper on more than 650 peer-reviewed studies on drilling and fracking from 2009-2015 illustrates the scale of the risk. Its analysis showed that 64 percent of all the studies found potential and actual cases of water contamination, while 87 percent found elevated air pollutant emissions. The paper also analyzed the studies that specifically researched health impacts and found that 84 percent contained "findings that indicate public health hazards, elevated risks or adverse health outcomes."
Sadly, it is not just the science that's illustrating the health risks—people are experiencing health harms from these toxic processes every day. Low income-communities and communities of color often bear a disproportionate burden of these health harms. In fact, fracking executives were recently caught saying that they targeted low-income communities because they didn't have the money to fight back. Nausea, nosebleeds, migraines, rashes, hair loss and respiratory problems are just some of the short-term illnesses and effects these communities have to deal with daily. For example, Kern County, California, is a predominantly low-income, Latino county where about 95 percent of the state's fracking takes place. 22 percent of the children who live there have asthma, which is more than three times the national average.
These short-term health problems can be early signs of long-term illnesses, like breast cancer, to come. In fact, a new report on air pollution from the oil and gas industry found that 238 counties in 21 states face a cancer risk that exceeds the Environmental Protection Agency's threshold level of concern. The report states that these counties "are generally located in states with the greatest amount of oil and gas infrastructure."
This growing scientific evidence of harm is what led New York State to ban fracking. Now, the rest of the nation needs to not only follow suit by banning fracking, but also by banning other related extraction techniques that harm health.
The time for our elected officials to put public health before oil and gas industry profit is now. But they clearly won't do that on their own. We have to demand it. That's why we will be marching this July 24 in Philadelphia, where the Democratic National Convention is set to take place the next day, to tell all of our leaders to enact a nationwide ban on fracking and dangerous drilling.
U know u want to march w/ me & @karunajaggar in Philly this July women's health! Here's how: https://t.co/PhFAAubMBG https://t.co/knKqmotgHb

— Breast Cancer Action (@Breast Cancer Action)1465833940.0
We'll be joined by health professionals and other health organizations in this March for a Clean Energy Revolution calling for an end to these dirty energy sources that harm our health. Join us at the march and stand together with Breast Cancer Action in demanding a healthier, less toxic future—where no one has to worry that the water they drink and air they breathe will make them sick.
YOU MIGHT ALSO LIKE
Pennsylvania Declares Victory on Oil and Gas Regs While Failing to Protect Residents Health
Will This Grandmother Go to Prison for Peaceful Resistance Against Fracking?
Passage of the Chemical Safety Bill Is a Murky Milestone for Children's Health
Pipeline Ruptures Spilling 29,000 Gallons of Oil, Just Hours After Obama Signs PIPES Act
Summer has officially begun and the best way to celebrate the nice weather is by exploring the outdoors.
There are 59 national parks in the U.S. that provide excellent exploring during this season. But if you don't have time to visit all the parks for the National Park Service's centennial, don't worry. Here's a quick guide to enjoying one day in 12 different parks:

Expedia
By David Manthos, SkyTruth
On Nov. 5, 2015, a mine-waste dam collapsed at an enormous iron mine in southeastern Brazil. The wave of toxic waste was at least twice the volume of the Johnstown Flood and wiped out buildings and bridges more than 40 miles downstream. Using post-spill satellite imagery and Google Earth, we have produced a bird's-eye view of the devastation wrought by the deluge of arsenic-laced sludge.
During the spill, we reported extensively on the immediate aftermath visible on satellite imagery, the remaining threat of a possible second dam failure (which thankfully did not materialize) and by looking back in time with historical satellite imagery, documented the increase of waste in the impoundment behind the failed Fundão Dam. We also wrote about how frequently these kinds of disasters occur around the world.
The video above was created using Google Earth, comparing pre-spill imagery with images collected on Nov. 9 and Nov. 11. Our analyst Christian delineated the extent of the mine waste from a lake 70 miles downstream of the mine, all the way up to the town of Bento Rodrigues, the damaged Santarem Dam and the failed Fundão impoundment (skipping a section of the river with cloudy imagery). Even further downstream, more than 400 miles away, the Rio Doce ran orange for months afterwards.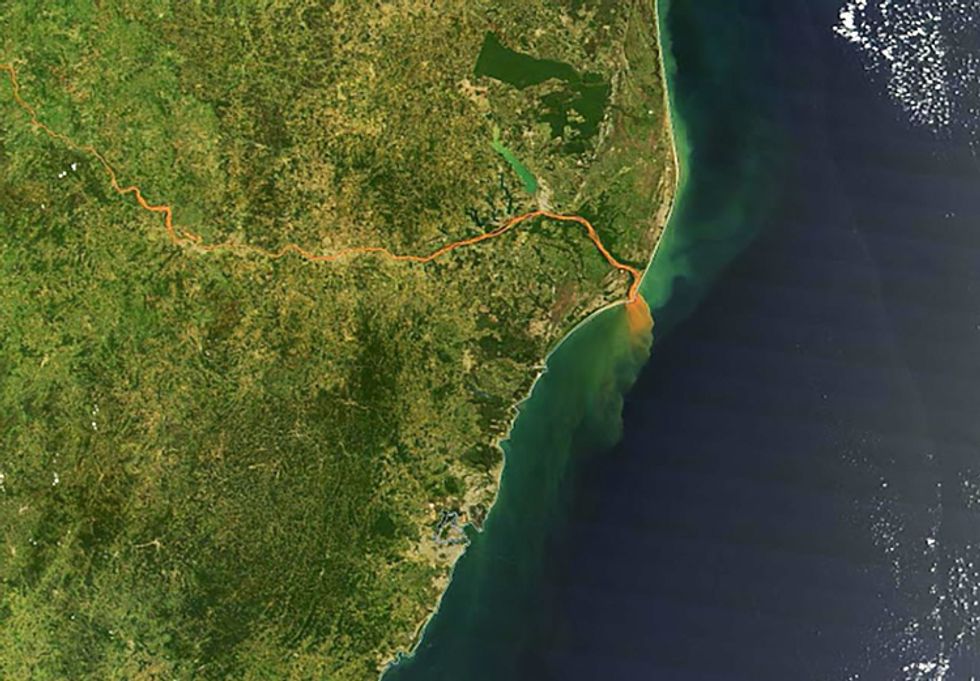 Now the Brazilian government is seeking $44 billion in damages, likening the disaster to the ecological devastation of the oil spilled in the 2010 BP/Deepwater Horizon disaster. A police investigation recently concluded that Samarco Mineração, a joint venture of Vale SA and BHP Billiton, was "more than negligent" in overlooking structural failings and continuing to push for more production.
What is even more alarming is that studies have shown a correlation between the frequency of tailings dam incidents and downturns in commodity prices decrease and the height of dams is soaring around the world as mines produce more and more waste.
YOU MIGHT ALSO LIKE
Breaking: Diablo Canyon Nuclear Reactors to Be Replaced With 100% Renewable Energy
How Radioactive Fracking Waste Wound Up Near Homes and Schools
Methane Emissions From Onshore Oil and Gas Equivalent to 14 Coal Plants Powered for One Year
Filipino Artists Used Pigments From Contaminated Rivers to Highlight Pollution
By Judy Molland
From those small cabbage whites to the largest swallowtails, there are thousands of unique and beloved butterfly species on the planet. Many of us see them outside every day in the spring and summer, but how much do you know about these colorful insects?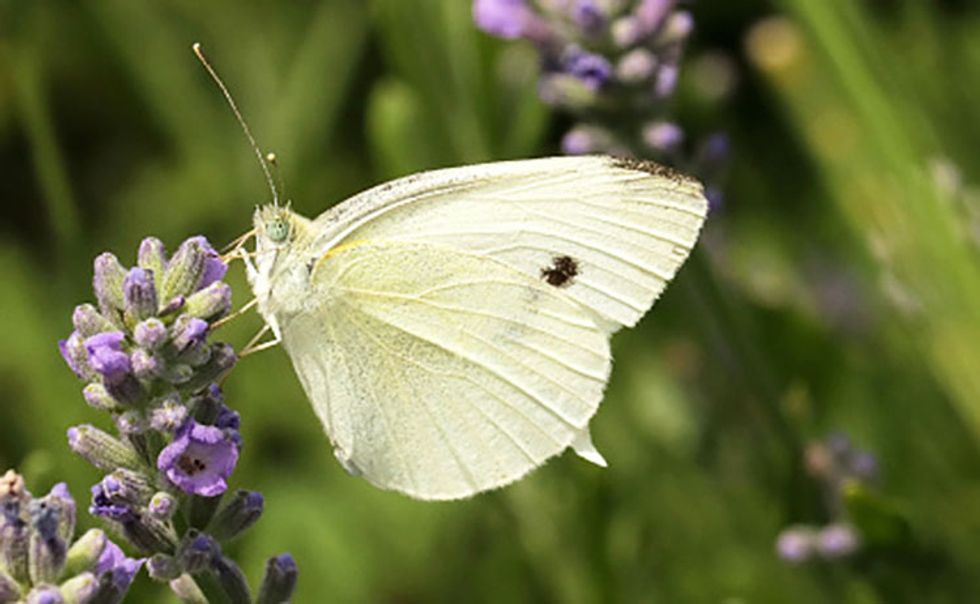 Here are 10 fascinating facts to consider next time you cross a butterfly's path:
1. There are more than 17,500 recorded butterfly species around the world, 750 of which can be found in the U.S.
2. Butterflies and moths are part of the class of insects in the order Lepidoptera. Butterflies are flying insects with large scaly wings. Like all insects, they have six jointed legs and three body parts: the head, the thorax and the abdomen. The wings are attached to the thorax and they also have a pair of antennae, compound eyes and an exoskeleton.
3. The Cabbage White, seen above, is the most common butterfly in the U.S. Although it appears mostly white with black markings on the top of its wings, underneath those wings are yellowish-green. These butterflies have a wing spread of just about two inches. Males have only one spot on each wing, while females have two. As you probably know, you can find Cabbage Whites in most open spaces, including gardens, roadsides, parks and cities.
4. Monarch butterflies migrate to get away from the cold. However, they are the only insect that migrates an average of 2,500 miles to find a warmer climate. The iconic North American Monarch has been greatly affected by extreme weather events, going through drastic dips and spikes in numbers over the past several decades. The overall pattern continues to point downward, with a 95 percent population decline over the last 20 years, but conservation efforts are helping: There were more monarch butterflies migrating in 2015 than there were in 2014.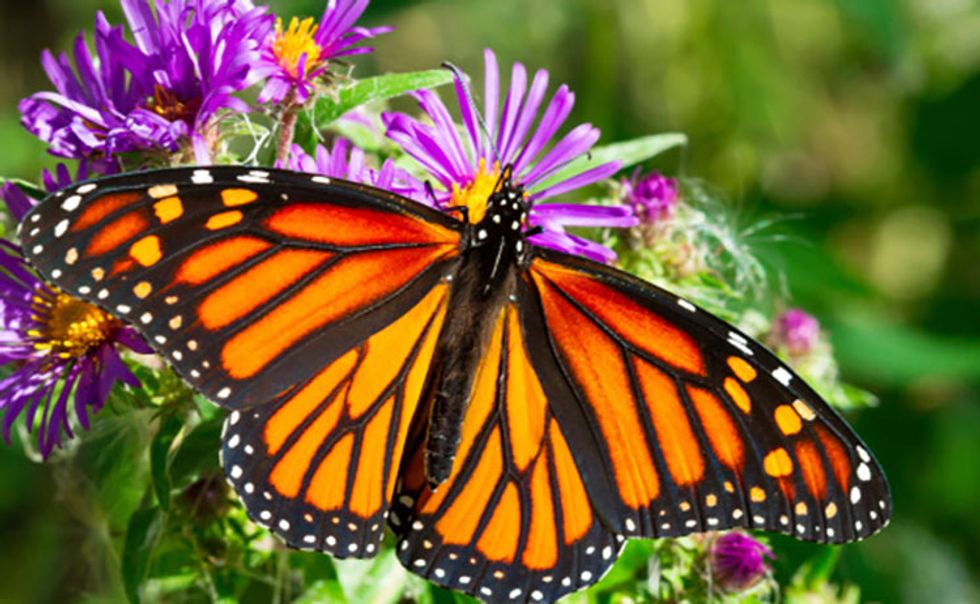 5. Monarchs are not the only butterfly that migrate. The Painted Lady, American Lady, Red Admiral, Cloudless Sulphur, Skipper, Sachem, Question Mark, Clouded Skipper, Fiery Skipper and Mourning Cloak are among the other butterflies that also migrate, but not as far as the Monarchs.
6. The Common Buckeye Butterfly is one of the most striking butterflies, with its bold multicolored eyespots and thick upper-wing bars, all designed to frighten away any birds that might be tempted to chomp on them. If you look under its wings, you'll find a more abstract profusion of brown, orange and beige. These insects are pretty common all over North and Central America, although you won't find them in the Pacific Northwest or in the far north of Canada.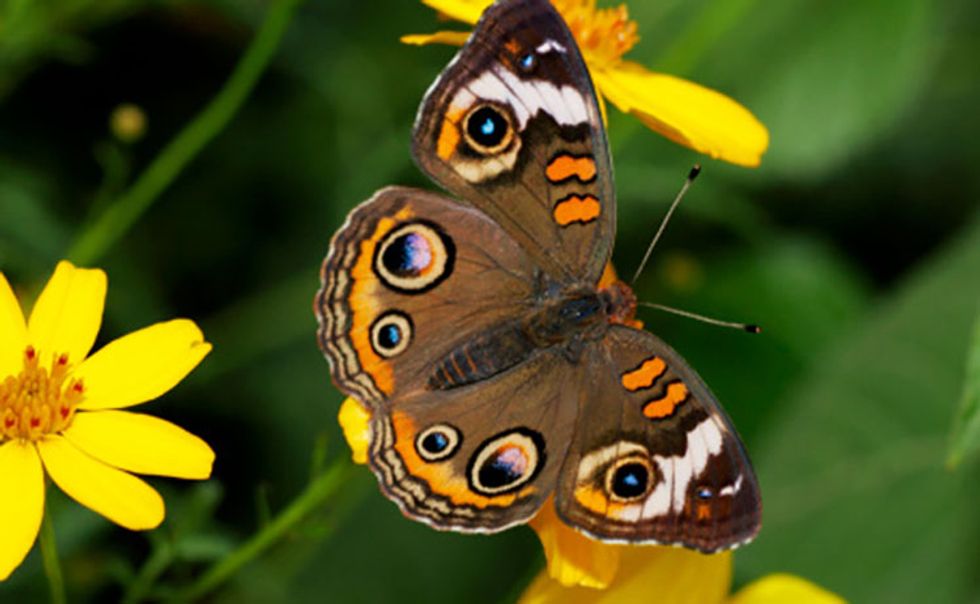 7. The Orange Barred Sulphur Butterfly is one that you can find all over the Americas and the Caribbean. It's very distinctive, being bright yellow with patches of orange marking both forewings and hindwings. Females tend to be bigger and darker than their male counterparts and unusually, just like the adult butterflies, the caterpillars also have bright yellow bodies segmented by dark stripes.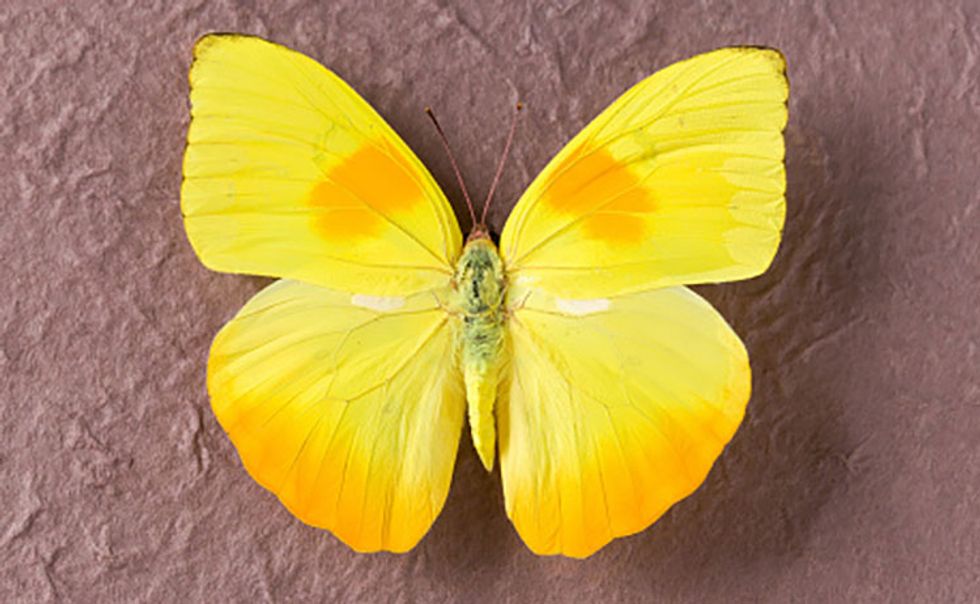 8. Speaking of caterpillars, how much do you know about the life cycle of a butterfly? The butterfly starts its life as an egg, laid on a leaf. The caterpillar (larva) hatches from the egg and eats leaves or flowers. It loses its skin many times as it grows, increasing greatly in size. Eventually it turns into a pupa, or chrysalis and finally a beautiful adult butterfly emerges and the cycle continues.
9. An adult butterfly has a very short life: just three to four weeks. However, the entire life cycle of a butterfly can range between 2 and 8 months, depending on the species. Some migratory butterflies, such as the North American Monarch, can live as long as 7 to 8 months in one generation.
10. The Giant Swallowtail Butterfly, as its name implies, is one of the biggest butterflies, with a wing spread of four to seven inches. The female is once again bigger than the male. It too is found throughout North America and sometimes as far south as South America. These butterflies are called "swallow" because they have long tails on their hind wings that resemble the long, pointed tails of the birds known as swallows.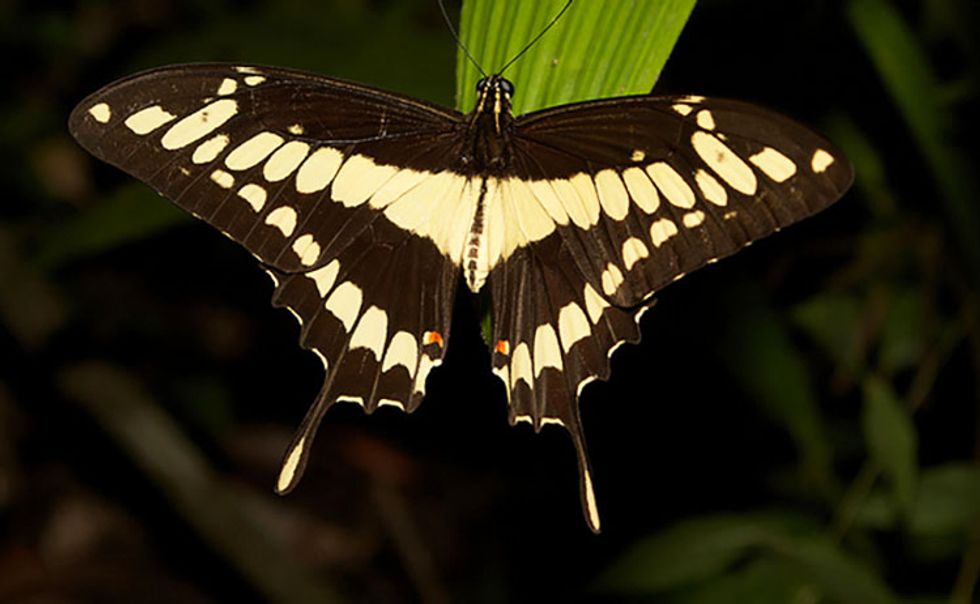 Be sure to get outside this summer and look around for butterflies and other wildlife in your backyard. If you see a butterfly but aren't sure about the species, you can consult this handy identification guide.
YOU MIGHT ALSO LIKE
Esther the Wonder Pig: Changing the World One Heart at a Time
See the World From a Polar Bear's Point Of View
9 Super Cool Facts About Sea Turtles