This website uses cookies to ensure you get the best experience while browsing it. By clicking 'Got It' you're accepting these terms.
Lawsuit Filed Against 3M for Dumping Toxic Chemicals Into the Tennessee River
Jun. 26, 2016 10:38AM EST
Health + Wellness
By Tennessee Riverkeeper
With a major American river poisoned by toxic chemicals dumped into it by one of the nation's largest corporations, Tennessee Riverkeeper has filed a federal lawsuit against 3M Company and other defendants under the U.S. Resource Conservation and Recovery Act (RCRA).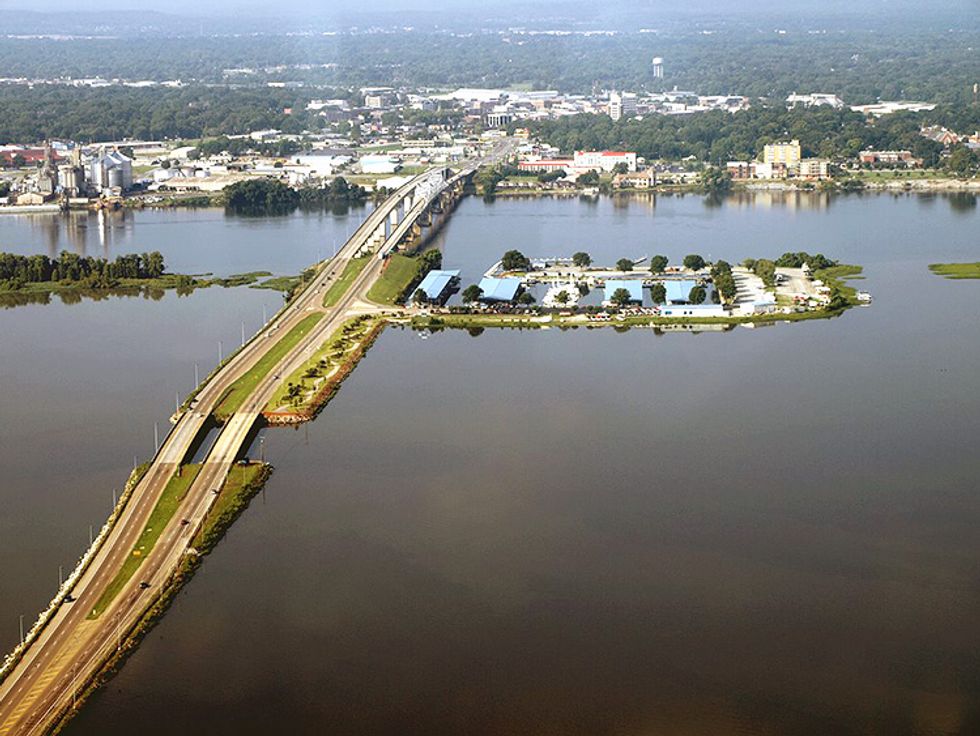 The suit alleges the defendants' contamination of the Tennessee River in and near Decatur, Alabama with perfluorooctanoic acid (PFOA), perfluorooctane sulfonate (PFOS) and related chemicals has created an "imminent and substantial endangerment to health and the environment."
The toxins—components or byproducts of 3M's manufacture of its profitable lines of "non-stick" products like Scotchgard and Stainmaster—have polluted the Tennessee River's Wheeler Reservoir, a popular recreation destination and home to various important wildlife species and ecosystems. The Tennessee Riverkeeper's RCRA suit seeks to compel the immediate and thorough clean-up of the contaminants.
As even minimal exposure to PFOS and PFOA is linked to a variety of lethal health hazards, there exist virtually no safe levels of the chemicals in the environment. Research strongly indicates PFOA and PFOS are potent carcinogens and they have also been tied to birth defects and adverse effects on childhood development, significantly decreased immune system function, liver tissue damage and a host of other serious health problems. Consequently, in a May 2016, the U.S. Environmental Protection Agency (EPA) announced Drinking Water Health Advisories for PFOA and PFOS of only 0.07 parts per billion.
However, PFOA and PFOS levels in the Tennessee River near the 3M site are, respectively, more than 70,000 and 50,000 times higher than the EPA's safety advisory.
"We don't mind 3M making profitable products—but, we cannot tolerate the defendants putting profit ahead of the health of people, the environment and the river," David Whiteside, Tennessee Riverkeeper's founder and executive director, said.
"Tennessee Riverkeeper members are both this river's users and guardians. After nearly five decades of 3M's pollution of the Tennessee River, where no one has held the defendants accountable, we felt we needed to act to protect this precious resource and all the wildlife and restore justice to the hundreds of thousands of people who rely upon her waters everyday."
Notably, the Tennessee Riverkeeper's lawsuit is wholly separate from a suit recently filed by local residents. Last fall, residents and a local water authority initiated a class action lawsuit against 3M and its subsidiaries, claiming the residents have ingested dangerous levels of PFOA and PFOS and seeking monetary damages as a result.
Tennessee Riverkeeper's RCRA suit does not seek money, but instead demands the broadbased clean-up of the aforesaid contaminants.
"The rights to clean air and water and to a safe secure environment are fundamental civil rights and as with all pollution, the injuries from 3M's pollution land hardest on the backs of Alabama's poor and minority communities," Robert F. Kennedy, Jr., president of Waterkeeper Alliance, said.
3M has produced PFOS at its Decatur plant since the early 1960s and PFOA at the site since 1999. On-site disposal practices have resulted in groundwater contamination and the contamination of the Wheeler Reservoir of the Tennessee River. 3M has also transported waste off-site to nearby landfills. The largest volume has been delivered to the City of Decatur-Morgan County Sanitary Landfill, owned by co-defendant City of Decatur.
Waste was also transported to landfills owned and/or operated by other defendants, like the A.J. Morris Landfill (Morris Farms Landfill), in Hillsboro, Alabama, owned by BFI Waste Systems of Alabama, LLC. Finally, waste was also received by the now closed Bert Jeffries Landfill (also called the Browns Ferry Road Site), which is now owned by 3M.
These landfills all have high levels of groundwater contamination from PFOA, PFOS and related chemicals. The chemicals are also found at high levels in the liquid waste, called leachate, collected from Morris Farms and the Decatur-Morgan County landfills. The collected leachate from both landfills is sent to the Dry Creek Waste Water Treatment Plant (WWTP), owned by Decatur Utilities. The plant has inadequate treatment capabilities for these chemicals and, therefore, discharges harmful amounts into the Tennessee River.
Tennessee Riverkeeper's RCRA lawsuit seeks to compel the immediate, thorough and verifiable clean-up of all of these areas. Riverkeeper demands that 3M dramatically increase its efforts to remediate up its on-site groundwater contamination, that groundwater at the landfill sites be mitigated, that leachate from the two landfills that collect leachate be treated before discharge to the Dry Creek WWTP and that the WWTP treat its discharge to remove these chemicals before discharge to the Tennessee River. Riverkeeper further asks that 3M be held responsible for the required remediation at the off-site facilities.
"3M profited for decades off of the products it produced that polluted the Tennessee River and now it needs to live up to its moral responsibility—and its legal obligation—to do and spend what it is necessary to expeditiously eliminate the threats to human health and the environment that these contaminants cause," Matsikoudis & Fanciullo, a New Jersey law firm that is representing the Tennessee Riverkeeper, said. Mark Martin, Tennessee Riverkeeper's chief prosecuting attorney, also represents the nonprofit.
YOU MIGHT ALSO LIKE
Passage of the Chemical Safety Bill Is a Murky Milestone for Children's Health
Pipeline Ruptures Spilling 29,000 Gallons of Oil, Just Hours After Obama Signs PIPES Act
Interactive Map Shows How 6,500 Factory Farms Put North Carolinians at Risk
How Radioactive Fracking Waste Wound Up Near Homes and Schools
EcoWatch Daily Newsletter
A new report spotlights a U.N. estimate that at least 275 million people rely on healthy coral reefs. A sea turtle near the Heron Island in the Great Barrier Reef is seen above. THE OCEAN AGENCY / XL CATLIN SEAVIEW SURVEY
In a new report about how the world's coral reefs face "the combined threats of climate change, pollution, and overfishing" — endangering the future of marine biodiversity — a London-based nonprofit calls for greater global efforts to end the climate crisis and ensure the survival of these vital underwater ecosystems.
Half of the extracted resources used were sand, clay, gravel and cement, seen above, for building, along with the other minerals that produce fertilizer. Cavan Images / Cavan / Getty Images
The world is using up more and more resources and global recycling is falling. That's the grim takeaway from a new report by the Circle Economy think tank, which found that the world used up more than 110 billion tons, or 100.6 billion metric tons, of natural resources, as Agence France-Presse (AFP) reported.
By Gero Rueter
Heating with coal, oil and natural gas accounts for around a quarter of global greenhouse gas emissions. But that's something we can change, says Wolfgang Feist, founder of the Passive House Institute in the western German city of Darmstadt.

By George Citroner
Recent research finds that official government figures may be underestimating drug deaths by half.
Researchers estimate that 142,000 people died due to drug use in 2016.
Drug use decreases life expectancy after age 15 by 1.4 years for men and by just under 1 year for women, on average.
Government records may be severely underreporting how many Americans die from drug use, according to a new study by researchers from the University of Pennsylvania and Georgetown University.
Water coolers in front of shut-off water fountains at Center School in Stow, MA on Sept. 4, 2019 after elevated levels of PFAS were found in the water. David L. Ryan / The Boston Globe via Getty Images
In a new nationwide assessment of drinking water systems, the Environmental Working Group found that toxic fluorinated chemicals known as PFAS are far more prevalent than previously thought.