This website uses cookies to ensure you get the best experience while browsing it. By clicking 'Got It' you're accepting these terms.
Pink Snow a Bad Sign for the Future, Scientists Say
Jun. 27, 2016 01:34PM EST
Climate
While it might look pretty, red snow is a cause for concern, scientists say.
The phenomenon, sometimes called watermelon snow or blood snow, is actually an algae bloom, The Washington Post reported. Algae known as chlamydomonas nivalis are causing the hue through chemical reactions. The algae are normally green, but when they soak up ultraviolet rays, they turn red.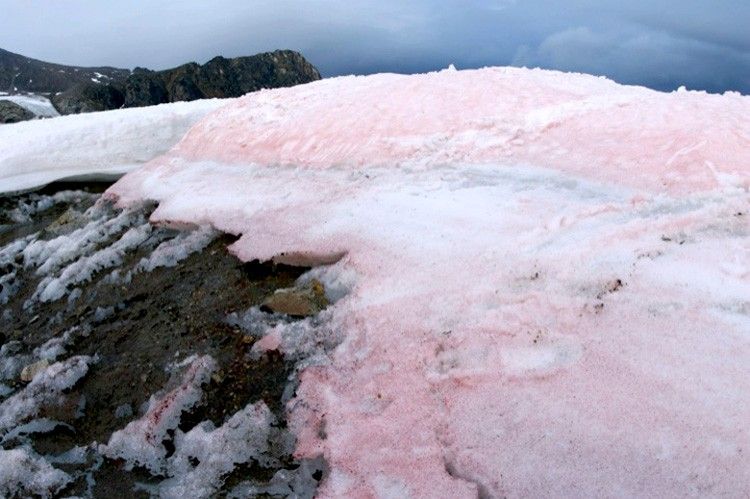 Snow algae bloom in red on ice and snow and thereby darken the surface. This accelerates the thawing of ice. Photo credit: Liane G. Benning, GFZ
A study published last week in Nature Communications stated that not only does the algae change the color of snow, it also changes the albedo.
A team of German and British scientists lead by Stefanie Lutz, postdoc at the German Research Centre for Geosciences GFZ and at the University of Leeds, studied 40 samples of watermelon snow across four Arctic locations: Norwegian archipelago Svalbard, Sweden, Greenland and Iceland. Thirty-six of the samples were taken from Svalbard and Sweden alone, providing 12 and 24, respectively.
The scientists estimated that the decrease in snow albedo in areas with algae over the course of one melt season was about 13 percent. The algal blooms darkened the color of the snow, therefore lowering the albedo. Items with lower albedos reflect less light. The light they don't reflect is then absorbed, making the surface hotter and the ice to melt faster.
"Our results point out that the 'bio-albedo' effect is important and has to be considered in future climate models," Lutz, the paper's lead author, said.
Lutz and team measured a similar decrease in albedo in the algae-filled snow across all sites.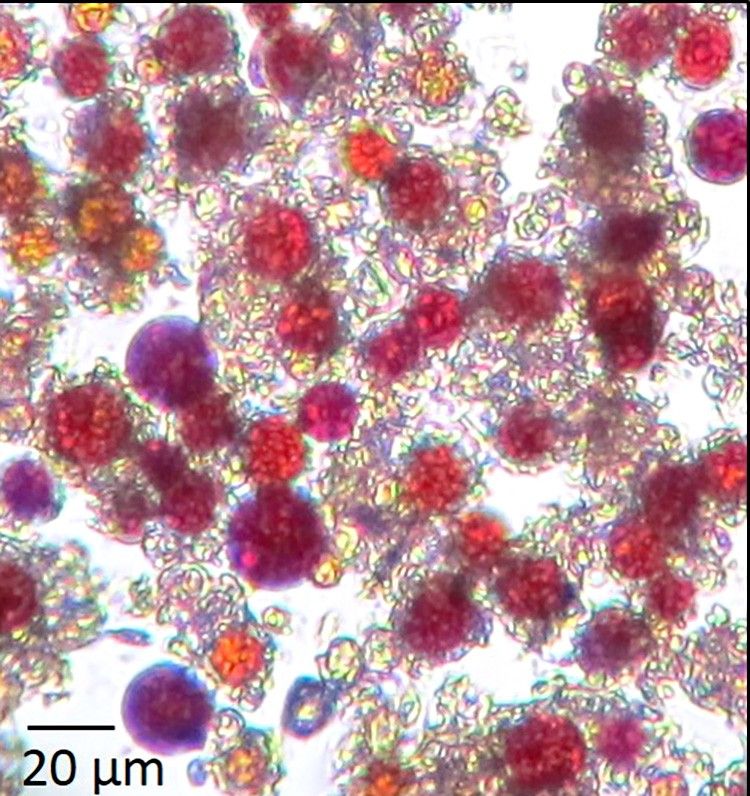 The snow algae under a microscope. Photo credit: Stefanie Lutz, GFZ
Red snow usually appears during late spring and summer months, according to a statement by the GFZ. Thin layers of liquid water form on ice and snow in the Arctic, providing the right conditions for the growth of the algae. Over the winter season, the algae fall dormant.
Algal blooms create a snowball effect. The more glaciers and snow fields that thaw, the more algal blooms will occur, darkening the surface of remaining snow and accelerating melting, the German Research Centre for Geosciences explained.
"The algae need liquid water in order to bloom," Lutz told Gizmodo. "Therefore the melting of snow and ice surfaces controls the abundance of the algae. The more melting, the more algae. With temperatures rising globally, the snow algae phenomenon will likely also increase leading to an even higher bio-albedo effect."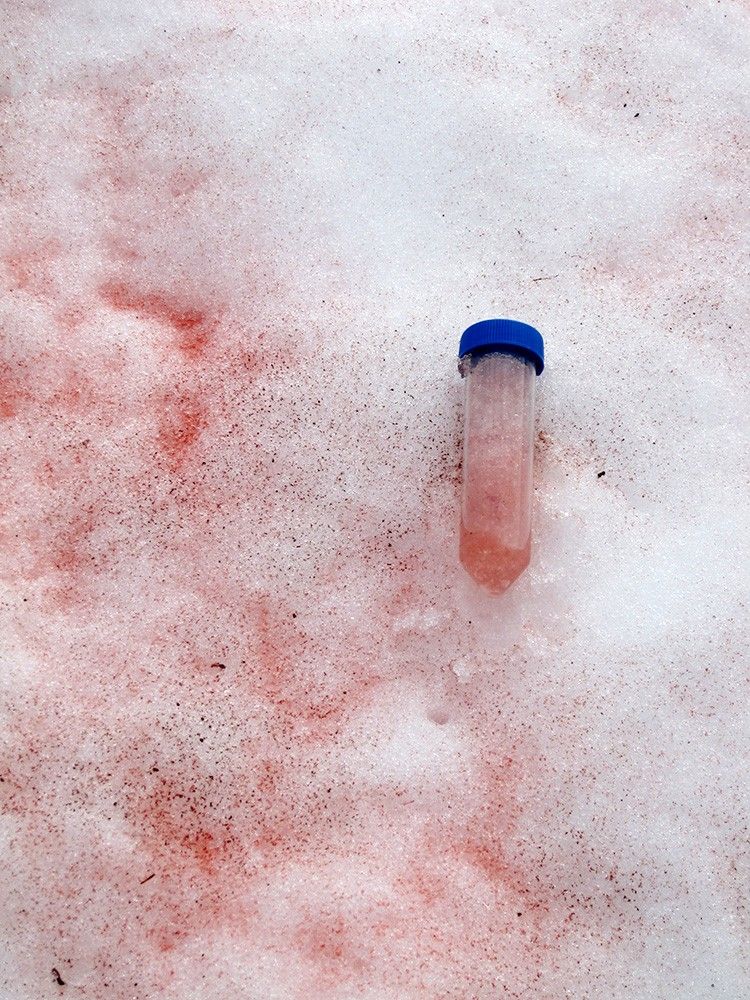 An example of a snow sample researchers took in their 40 arctic sites. Photo credit: Liane G. Benning, GFZ
It is still unclear how large these red algal blooms can get, but Lutz estimates they will be widespread.
"Based on personal observations, a conservative estimate would be 50 percent of the snow surface on a glacier [will be covered by the algae] at the end of a melt season," she said. "But this can potentially be even higher."
Lutz and a UK-led team of researchers will work on the Greenland Ice Sheet this summer to continue studies of the algae. The ice sheet is currently experiencing record-breaking ice melt, which started two months early this year, EcoWatch reported. About 12 percent of Greenland's ice sheet was melting as of April 11.
The team will investigate whether the algae is contributing to the record melting and to what extent.
YOU MIGHT ALSO LIKE:
Greenland's Ice Melt Breaks Record, Starting Nearly Two Months Early
The Link Between Climate Change and Drought
NOAA: World's Worst Coral Bleaching Event to Continue 'With No Signs of Stopping'
Methane Emissions From Onshore Oil and Gas Equivalent to 14 Coal Plants Powered for One Year
EcoWatch Daily Newsletter
By Simon Evans
During the three months of July, August and September, renewables generated an estimated total of 29.5 terawatt hours (TWh), compared with just 29.1TWh from fossil fuels, the analysis shows.
A demonstrator waves an Ecuadorian flag during protests against the end of subsidies to gasoline and diesel on Oct. 9 in Quito, Ecuador. Jorge Ivan Castaneira Jaramillo / Getty Images
Protesters block the road outside Mansion House in London during an XR climate change protest. Gareth Fuller / PA Images via Getty Images
Protestors marched outside the Prudential Center in Newark, New Jersey on Monday, August 26, during the MTV Video and Music Awards to bring attention to the water crisis currently gripping the city. Karla Ann Cote / NurPhoto / Getty Images
By Will Sarni
It is far too easy to view scarcity and poor quality of water as issues solely affecting emerging economies. While the images of women and children fetching water in Africa and a lack of access to water in India are deeply disturbing, this is not the complete picture.
Pexels
Mice exposed to nicotine-containing e-cigarette vapor developed lung cancer within a year.
More research is needed to know what this means for people who vape.
Other research has shown that vaping can cause damage to lung tissue.
A new study found that long-term exposure to nicotine-containing e-cigarette vapor increases the risk of cancer in mice.
Demonstrators with The Animal Welfare Institute hold a rally to save the vaquita, the world's smallest and most endangered porpoise, outside the Mexican Embassy in DC on July 5, 2018. SAUL LOEB / AFP / Getty Images
Six months: That's how much time Mexico now has to report on its progress to save the critically endangered vaquita porpoise (Phocoena sinus) from extinction.
Pexels
It may seem innocuous to flush a Q-tip down the toilet, but those bits of plastic have been washing up on beaches and pose a threat to the birds, turtles and marine life that call those beaches home. The scourge of plastic "nurdles," as they are called, has pushed Scotland to implement a complete ban on the sale and manufacture of plastic-stemmed cotton swabs, as the BBC reported.
Air conditioners, like these in a residential and restaurant area of Singapore city, could put a massive strain on electricity grids during more intense heatwaves. Taro Hama @ e-kamakura / Moment / Getty Images
By Tim Radford
Scientists in the U.S. have added a new dimension to the growing hazard of extreme heat. As global average temperatures rise, so do the frequency, duration and intensity of heatwaves.