This website uses cookies to ensure you get the best experience while browsing it. By clicking 'Got It' you're accepting these terms.


The best of EcoWatch, right in your inbox. Sign up for our email newsletter!
Pink Snow a Bad Sign for the Future, Scientists Say
Jun. 27, 2016 01:34PM EST
Climate
While it might look pretty, red snow is a cause for concern, scientists say.
The phenomenon, sometimes called watermelon snow or blood snow, is actually an algae bloom, The Washington Post reported. Algae known as chlamydomonas nivalis are causing the hue through chemical reactions. The algae are normally green, but when they soak up ultraviolet rays, they turn red.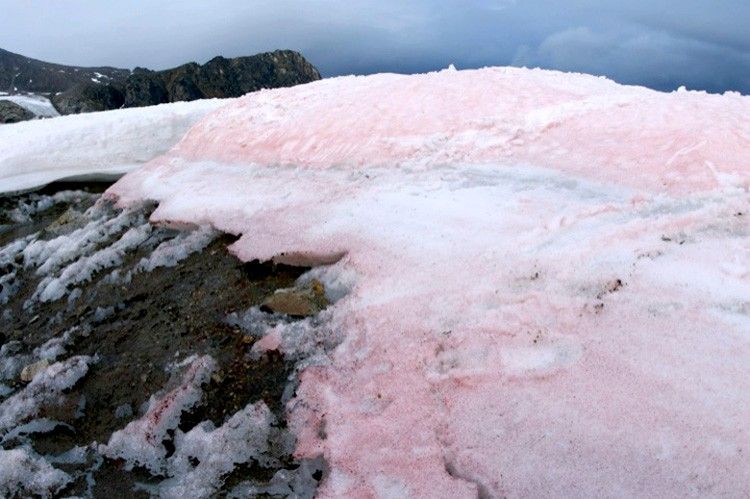 Snow algae bloom in red on ice and snow and thereby darken the surface. This accelerates the thawing of ice. Photo credit: Liane G. Benning, GFZ
A study published last week in Nature Communications stated that not only does the algae change the color of snow, it also changes the albedo.
A team of German and British scientists lead by Stefanie Lutz, postdoc at the German Research Centre for Geosciences GFZ and at the University of Leeds, studied 40 samples of watermelon snow across four Arctic locations: Norwegian archipelago Svalbard, Sweden, Greenland and Iceland. Thirty-six of the samples were taken from Svalbard and Sweden alone, providing 12 and 24, respectively.
The scientists estimated that the decrease in snow albedo in areas with algae over the course of one melt season was about 13 percent. The algal blooms darkened the color of the snow, therefore lowering the albedo. Items with lower albedos reflect less light. The light they don't reflect is then absorbed, making the surface hotter and the ice to melt faster.
"Our results point out that the 'bio-albedo' effect is important and has to be considered in future climate models," Lutz, the paper's lead author, said.
Lutz and team measured a similar decrease in albedo in the algae-filled snow across all sites.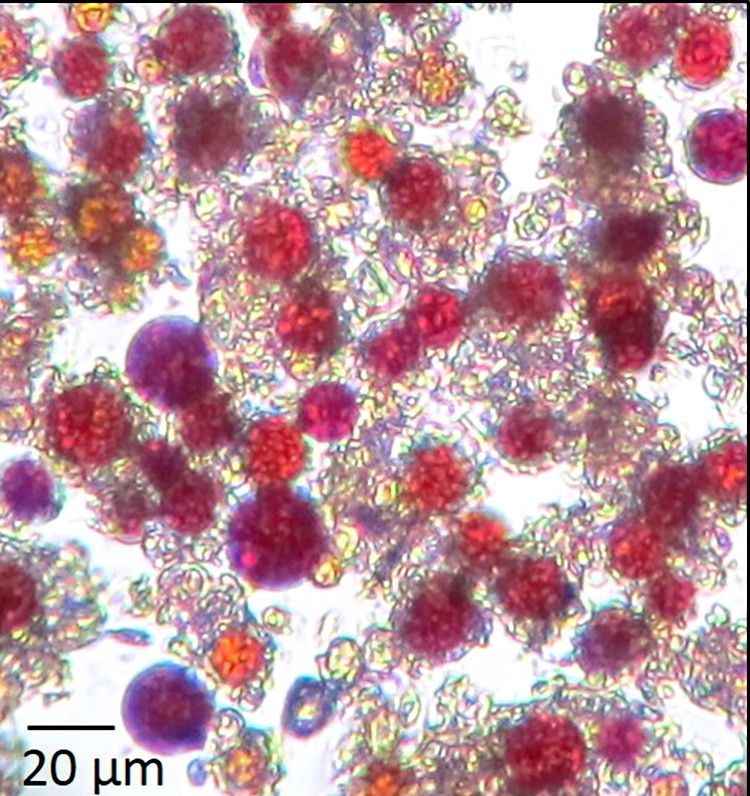 The snow algae under a microscope. Photo credit: Stefanie Lutz, GFZ
Red snow usually appears during late spring and summer months, according to a statement by the GFZ. Thin layers of liquid water form on ice and snow in the Arctic, providing the right conditions for the growth of the algae. Over the winter season, the algae fall dormant.
Algal blooms create a snowball effect. The more glaciers and snow fields that thaw, the more algal blooms will occur, darkening the surface of remaining snow and accelerating melting, the German Research Centre for Geosciences explained.
"The algae need liquid water in order to bloom," Lutz told Gizmodo. "Therefore the melting of snow and ice surfaces controls the abundance of the algae. The more melting, the more algae. With temperatures rising globally, the snow algae phenomenon will likely also increase leading to an even higher bio-albedo effect."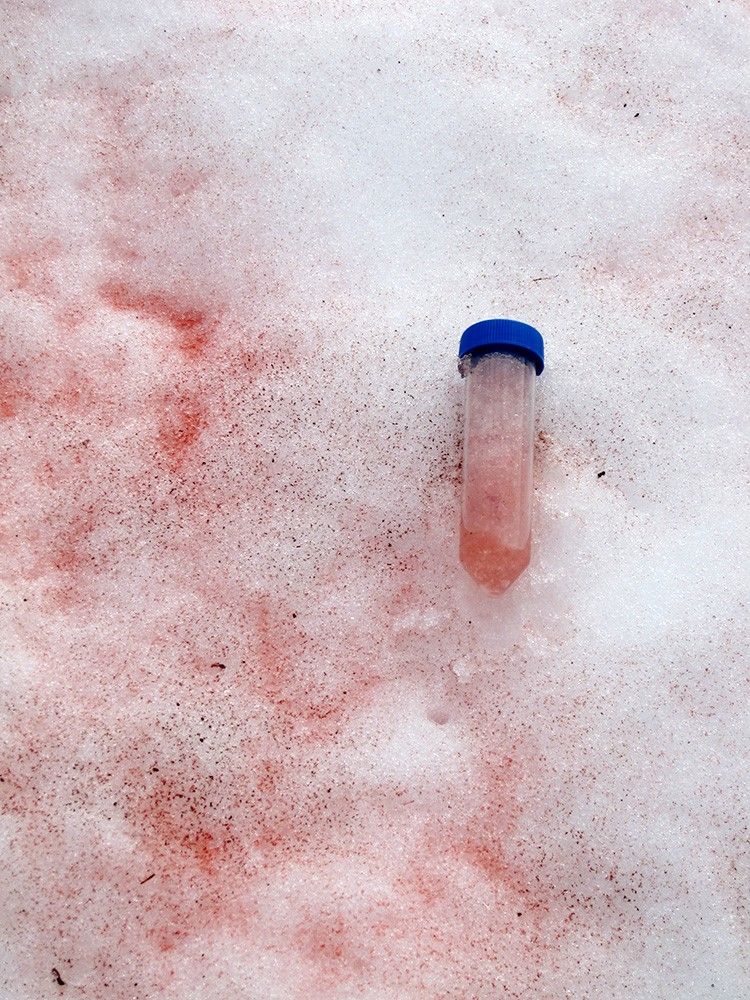 An example of a snow sample researchers took in their 40 arctic sites. Photo credit: Liane G. Benning, GFZ
It is still unclear how large these red algal blooms can get, but Lutz estimates they will be widespread.
"Based on personal observations, a conservative estimate would be 50 percent of the snow surface on a glacier [will be covered by the algae] at the end of a melt season," she said. "But this can potentially be even higher."
Lutz and a UK-led team of researchers will work on the Greenland Ice Sheet this summer to continue studies of the algae. The ice sheet is currently experiencing record-breaking ice melt, which started two months early this year, EcoWatch reported. About 12 percent of Greenland's ice sheet was melting as of April 11.
The team will investigate whether the algae is contributing to the record melting and to what extent.
YOU MIGHT ALSO LIKE:
Greenland's Ice Melt Breaks Record, Starting Nearly Two Months Early
The Link Between Climate Change and Drought
NOAA: World's Worst Coral Bleaching Event to Continue 'With No Signs of Stopping'
Methane Emissions From Onshore Oil and Gas Equivalent to 14 Coal Plants Powered for One Year
EcoWatch Daily Newsletter
Pxhere
By Richard Denison
Readers of this blog know how concerned EDF is over the Trump EPA's approval of many dozens of new chemicals based on its mere "expectation" that workers across supply chains will always employ personal protective equipment (PPE) just because it is recommended in the manufacturer's non-binding safety data sheet (SDS).
By Grant Smith
From 2009 to 2012, Gregory Jaczko was chairman of the Nuclear Regulatory Commission, which approves nuclear power plant designs and sets safety standards for plants. But he now says that nuclear power is too dangerous and expensive — and not part of the answer to the climate crisis.
A lake in Rocky Mountain National Park. Brett Walton / Circle of Blue
By Brett Walton
When Greg Wetherbee sat in front of the microscope recently, he was looking for fragments of metals or coal, particles that might indicate the source of airborne nitrogen pollution in Rocky Mountain National Park. What caught his eye, though, were the plastics.
Gabriele Holtermann Gorden / Pacific Press / LightRocket / Getty Images
In a big victory for animals, Prada has announced that it's ending its use of fur! It joins Coach, Jean Paul Gaultier, Giorgio Armani, Versace, Ralph Lauren, Vivienne Westwood, Michael Kors, Donna Karan and many others PETA has pushed toward a ban.
This is a victory more than a decade in the making. PETA and our international affiliates have crashed Prada's catwalks with anti-fur signs, held eye-catching demonstrations all around the world, and sent the company loads of information about the fur industry. In 2018, actor and animal rights advocate Pamela Anderson sent a letter on PETA's behalf urging Miuccia Prada to commit to leaving fur out of all future collections, and the iconic designer has finally listened.
Amer Ghazzal / Barcroft Media / Getty Images
If people in three European countries want to fight the climate crisis, they need to chill out more.
That's the conclusion of a new study from think tank Autonomy, which found that Germany, the UK and Sweden all needed to drastically reduce their workweeks to fight climate change.
Amazon Employees for Climate Justice held a press conference after the annual shareholder meeting on May 22. Amazon Employees for Climate Justice
An artist's rendering of the recomposition facility. MOLT Studios
Washington became the first U.S. state to legalize human composting Tuesday, offering residents a more environmentally friendly way to dispose of their remains, AFP reported.
Mr.TinDC / Flickr / CC BY-ND 2.0
Many nutrients are essential for good health.