This website uses cookies to ensure you get the best experience while browsing it. By clicking 'Got It' you're accepting these terms.
Monsanto vs. People Power: EU Glyphosate License Set to Expire June 30
Jun. 27, 2016 11:05AM EST
Food
The European Commission failed for a third time last week to secure the support of a majority of EU governments for an extension of glyphosate, the main ingredient in Monsanto's Roundup and other herbicides.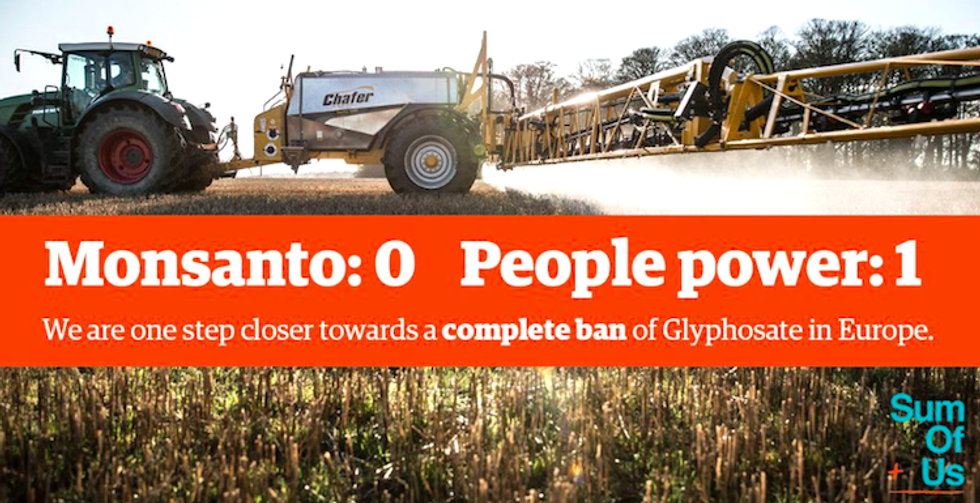 Global watchdog group Sum Of Us has collected hundreds of thousands of signatures from concerned citizens seeking a ban on glyphosate in Europe.
EU sources told Reuters that France and Malta voted against the re-approval and seven countries, including Germany, Italy and Austria, abstained.
Objection to the widely used pesticide is based on the World Health Organization's International Agency for Research on Cancer's (IARC) March 2015 assessment that "probably" causes cancer in humans.
Due to the impasse, the European Commission will now have the final say on whether or not the controversial weedkiller remains on Europe's shelves. Commissioners are meeting in Brussels today to discuss glyphosate's fate in Europe.
The clock is ticking as the EU's current approval of glyphosate is set to expire in three days. If the executives do not extend the license by June 30, manufacturers have six months to phase out glyphosate products.
Media reports indicate that the European Commission will likely settle on a "technical extension" of glyphosate for 12-18 months, an "11th hour" compromise that the commission had already proposed in early June to buy time for yet another study assessing whether or not glyphosate causes cancer.
European opinion is sharply divided on whether or not glyphosate causes cancer or if it's an environmental risk. Monsanto has consistently maintained the safety of its blockbuster product. Reuters reported that the agritech giant has not ruled out legal appeal if the license is not extended. Jonas Oxgaard, senior analyst at investment bank Bernstein, told the publication that Monsanto could lose earnings of up to $100 million if the EU were to halt glyphosate sales.
But the fact that the commission originally proposed to extend glyphosate for another 15 years but has now whittled it down to a temporary approval highlights the chemical's uncertain fate on the continent.
SumOfUs, a global consumer watchdog, is celebrating the latest failed vote. "We're one step away from a glyphosate-free EU," the group writes in an online petition urging member states to "deal the final blow and reject any extension of the glyphosate license."
Greenpeace has also called on the European Commission to prepare a glyphosate exit plan.
"The Commission is about to give glyphosate an unreasonable grace period, which will continue to leave people and nature exposed to the controversial weedkiller," Greenpeace EU food policy director Franziska Achterberg said. "It should use this time to draw up a glyphosate exit plan. Glyphosate is the most widely used herbicide in Europe and has been linked to serious health concerns and loss of wildlife. It's time for Europe to plan for a glyphosate-free future."
Commenting on the continued deadlock over glyphosate in Brussels, Green Party MEP Bart Staes said, "If the UK referendum has made one thing clear, it is that the EU needs to finally start listening to its citizens again."
"The Commission must now back down and revoke the approval for glyphosate. Forcing through the authorization would raise major democratic concerns about the EU's decision-making process. The process of phasing out glyphosate and other toxic herbicides and pesticides from agriculture must begin now, and this means reorienting the EU's Common Agricultural Policy towards a more sustainable agricultural model and a Common Food Policy."
YOU MIGHT ALSO LIKE
DARK Act Compromise Could Preempt Vermont's GMO Label Law
Monsanto Issued Two GMO Permits Despite Objection From 5 Million Nigerians
Vermont's Historic GMO Labeling Law Goes Into Effect July 1: Is Big Food Ready?
Brazil Won't Buy U.S. GMO Corn, Highlights Worldwide Divide Over GMOs
EcoWatch Daily Newsletter
Pro-environment demonstrators on the streets of Washington, DC during the Jan. 20, 2017 Trump inauguration.
Mobilus In Mobili
/ Flickr /
CC BY-SA 2.0
By Dr. Brian R. Shmaefsky
One year after the Flint Water Crisis I was invited to participate in a water rights session at a conference hosted by the US Human Rights Network in Austin, Texas in 2015. The reason I was at the conference was to promote efforts by the American Association for the Advancement of Science (AAAS) to encourage scientists to shine a light on how science intersects with human rights, in the U.S. as well as in the context of international development. My plan was to sit at an information booth and share my stories about water quality projects I spearheaded in communities in Bangladesh, Colombia, and the Philippines. I did not expect to be thrown into conversations that made me reexamine how scientists use their knowledge as a public good.
Mt. Rainier and Reflection Lake on Sept. 10, 2015. Crystal Geyser planned to open a bottling plant near Mt. Rainier, emails show.
louelke - on and off / Flickr
Bottled water manufacturers looking to capture cool, mountain water from Washington's Cascade Mountains may have to look elsewhere after the state senate passed a bill banning new water permits, as The Guardian reported.
Large storage tank of Ammonia at a fertilizer plant in Cubatão, Sao Paulo State, Brazil. Luis Veiga / The Image Bank / Getty Images
The shipping industry is coming to grips with its egregious carbon footprint, as it has an outsized contribution to greenhouse gas emissions and to the dumping of chemicals into open seas. Already, the global shipping industry contributes about 2 percent of global carbon emissions, about the same as Germany, as the BBC reported.
At high tide, people are forced off parts of the pathway surrounding DC's Tidal Basin. Andrew Bossi /
Wikimedia
The Jefferson Memorial in Washington, DC overlooks the Tidal Basin, a man-made body of water surrounded by cherry trees. Visitors can stroll along the water's edge, gazing up at the stately monument.
But at high tide, people are forced off parts of the path. Twice a day, the Tidal Basin floods and water spills onto the walkway.
Lioness displays teeth during light rainstorm in Kruger National Park, South Africa. johan63 / iStock / Getty Images
Ahead of government negotiations scheduled for next week on a global plan to address the biodiversity crisis, 23 former foreign ministers from various countries released a statement on Tuesday urging world leaders to act "boldly" to protect nature.