This website uses cookies to ensure you get the best experience while browsing it. By clicking 'Got It' you're accepting these terms.
March for a Clean Energy Revolution at the DNC With Breast Cancer Action
Jun. 26, 2016 12:41PM EST
Energy
By Alyssa Figueroa, Breast Cancer Action
With all eyes on the presidential candidates during election season, the inaction of thousands of elected officials across the country on crucial issues like protecting public health can easily get lost amidst the spotlight. That's why the organization I work for, Breast Cancer Action, will soon join thousands of others in the streets before the Democratic National Convention to grab some of that light and shine it on one of the most critical issues of our time: the harmful health impacts from fracking and other forms of dangerous drilling.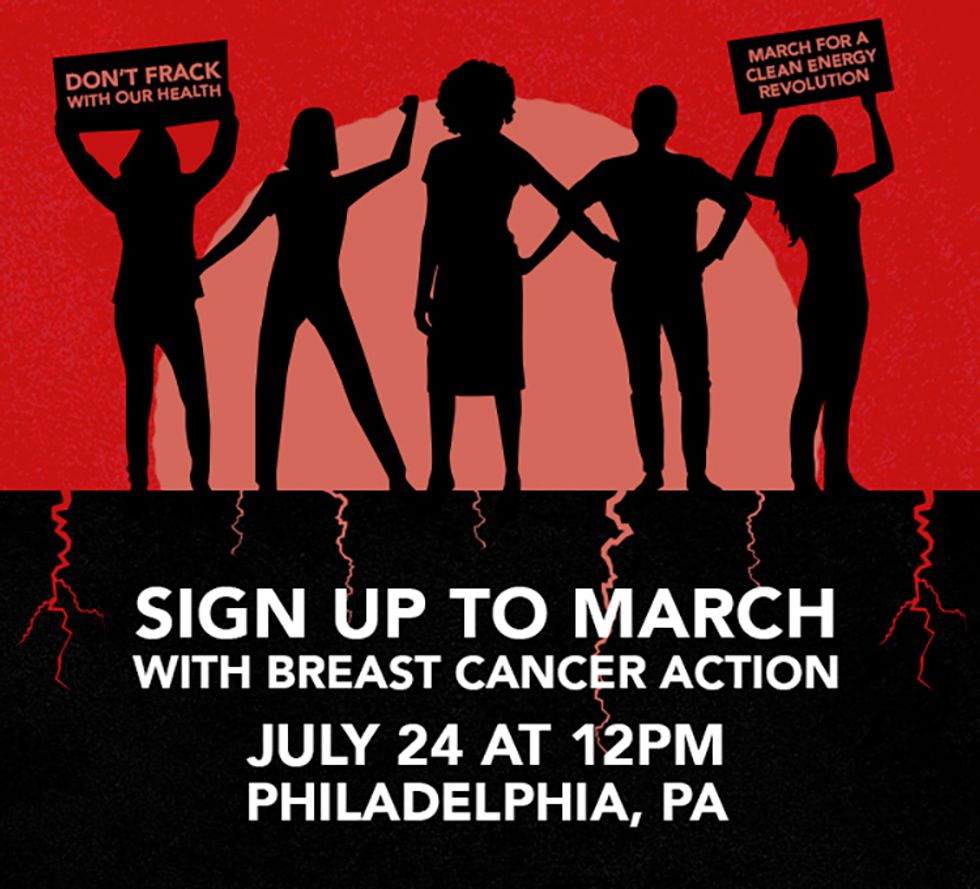 From coast to coast, too many of our elected officials are failing to protect people from these toxic processes. Take Pennsylvania Gov. Tom Wolf for example. Despite hundreds of confirmed cases of water contamination from fracking and studies finding residents who live near fracking wells have higher rates of health problems and hospitalizations, Wolf hasn't taken any meaningful steps to protect people's health.
Across the country in California, so-called climate leader Gov. Jerry Brown is no better. Even after the recent gas leak in Porter Ranch, California— the largest in U.S. history—left hundreds sick, Brown failed to call for an end to fracking and dangerous drilling in the state, let alone the shutdown of the storage facility in the city that was responsible for leaking the fracked gas.
This is despite the fact that fracking and other forms of extreme extraction use hundreds of chemicals that are linked to a host of severe health problems. Twenty-five percent of fracking chemicals cause cancer (including breast cancer), more than 30 percent affect the endocrine system, 40-50 percent cause nervous, immune and cardiovascular problems and more than 75 percent affect the skin, eyes and other sensory organs and the respiratory and gastrointestinal systems. And that's just an assessment of the chemicals we know of. Because of industry loopholes throughout the country, the oil and gas industry is not required to list all the chemicals and mixtures they use.
Yet, the oil and gas industry and the elected officials in their pockets, still claim that there's not enough scientific evidence that shows that these chemicals used in their processes actually end up endangering people's health. But the truth is that the science is very much in: these toxic chemicals leach into our drinking water, poison our air and ultimately harm our health.
A recent 2016 peer-reviewed scientific paper on more than 650 peer-reviewed studies on drilling and fracking from 2009-2015 illustrates the scale of the risk. Its analysis showed that 64 percent of all the studies found potential and actual cases of water contamination, while 87 percent found elevated air pollutant emissions. The paper also analyzed the studies that specifically researched health impacts and found that 84 percent contained "findings that indicate public health hazards, elevated risks or adverse health outcomes."
Sadly, it is not just the science that's illustrating the health risks—people are experiencing health harms from these toxic processes every day. Low income-communities and communities of color often bear a disproportionate burden of these health harms. In fact, fracking executives were recently caught saying that they targeted low-income communities because they didn't have the money to fight back. Nausea, nosebleeds, migraines, rashes, hair loss and respiratory problems are just some of the short-term illnesses and effects these communities have to deal with daily. For example, Kern County, California, is a predominantly low-income, Latino county where about 95 percent of the state's fracking takes place. 22 percent of the children who live there have asthma, which is more than three times the national average.
These short-term health problems can be early signs of long-term illnesses, like breast cancer, to come. In fact, a new report on air pollution from the oil and gas industry found that 238 counties in 21 states face a cancer risk that exceeds the Environmental Protection Agency's threshold level of concern. The report states that these counties "are generally located in states with the greatest amount of oil and gas infrastructure."
This growing scientific evidence of harm is what led New York State to ban fracking. Now, the rest of the nation needs to not only follow suit by banning fracking, but also by banning other related extraction techniques that harm health.
The time for our elected officials to put public health before oil and gas industry profit is now. But they clearly won't do that on their own. We have to demand it. That's why we will be marching this July 24 in Philadelphia, where the Democratic National Convention is set to take place the next day, to tell all of our leaders to enact a nationwide ban on fracking and dangerous drilling.
We'll be joined by health professionals and other health organizations in this March for a Clean Energy Revolution calling for an end to these dirty energy sources that harm our health. Join us at the march and stand together with Breast Cancer Action in demanding a healthier, less toxic future—where no one has to worry that the water they drink and air they breathe will make them sick.
YOU MIGHT ALSO LIKE
Pennsylvania Declares Victory on Oil and Gas Regs While Failing to Protect Residents Health
Will This Grandmother Go to Prison for Peaceful Resistance Against Fracking?
Passage of the Chemical Safety Bill Is a Murky Milestone for Children's Health
Pipeline Ruptures Spilling 29,000 Gallons of Oil, Just Hours After Obama Signs PIPES Act
EcoWatch Daily Newsletter
The Opera House is seen with smoke haze which enveloped Sydney Harbor on Dec. 10 in Sydney, Australia. Smoke haze hangs over the city as the New South Wales fire danger risk is raised from 'very high' to 'severe'. James D. Morgan / Getty Images
The brushfires raging through New South Wales have shrouded Australia's largest city in a blanket of smoke that pushed the air quality index 12 times worse than the hazardous threshold, according to the Australia Broadcast Corporation (ABC).
People walk across the bridge near Little Raven Court in downtown Denver. Younger Americans increasingly prefer to live in walkable neighborhoods. Helen H. Richardson / The Denver Post via Getty Images
By David B. Goldstein
Energy efficiency is the cornerstone of any country's plan to fight the climate crisis. It is the cheapest option available, and one that as often as not comes along with other benefits, such as job creation, comfort and compatibility with other key solutions such as renewable energy. This has been recognized by the International Energy Agency (IEA) for at least a decade.
Activists from Extinction Rebellion New York City engaged in nonviolent direct action to confront climate change outside City Hall on April 17, 2019. Erik McGregor / Pacific Press / LightRocket via Getty Images
By Andrea Germanos

Over 500 groups on Monday rolled out an an action plan for the next president's first days of office to address the climate emergency and set the nation on a transformative path towards zero emissions and a just transition in their first days in office.

The Ladakh region of India, pictured above, is a part of the Himalayan mountain region of the upper Indus Valley which is the most vulnerable water tower, according to researchers. Suttipong Sutiratanachai / Moment / Getty Images
Jet stream triggered heat waves could threaten food production in several important breadbaskets, including central North America.
Carl Wycoff /
CC BY 2.0
Researchers have pinpointed a previously underexamined threat to global food production, and they warn it will only get worse as the climate crisis intensifies.