March for a Clean Energy Revolution at the DNC With Breast Cancer Action
By Alyssa Figueroa, Breast Cancer Action
With all eyes on the presidential candidates during election season, the inaction of thousands of elected officials across the country on crucial issues like protecting public health can easily get lost amidst the spotlight. That's why the organization I work for, Breast Cancer Action, will soon join thousands of others in the streets before the Democratic National Convention to grab some of that light and shine it on one of the most critical issues of our time: the harmful health impacts from fracking and other forms of dangerous drilling.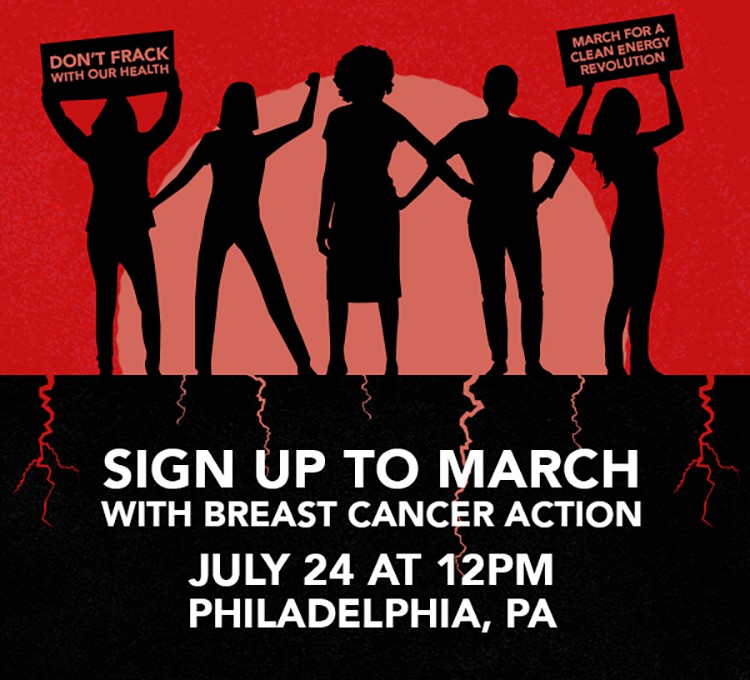 From coast to coast, too many of our elected officials are failing to protect people from these toxic processes. Take Pennsylvania Gov. Tom Wolf for example. Despite hundreds of confirmed cases of water contamination from fracking and studies finding residents who live near fracking wells have higher rates of health problems and hospitalizations, Wolf hasn't taken any meaningful steps to protect people's health.
Across the country in California, so-called climate leader Gov. Jerry Brown is no better. Even after the recent gas leak in Porter Ranch, California— the largest in U.S. history—left hundreds sick, Brown failed to call for an end to fracking and dangerous drilling in the state, let alone the shutdown of the storage facility in the city that was responsible for leaking the fracked gas.
This is despite the fact that fracking and other forms of extreme extraction use hundreds of chemicals that are linked to a host of severe health problems. Twenty-five percent of fracking chemicals cause cancer (including breast cancer), more than 30 percent affect the endocrine system, 40-50 percent cause nervous, immune and cardiovascular problems and more than 75 percent affect the skin, eyes and other sensory organs and the respiratory and gastrointestinal systems. And that's just an assessment of the chemicals we know of. Because of industry loopholes throughout the country, the oil and gas industry is not required to list all the chemicals and mixtures they use.
Yet, the oil and gas industry and the elected officials in their pockets, still claim that there's not enough scientific evidence that shows that these chemicals used in their processes actually end up endangering people's health. But the truth is that the science is very much in: these toxic chemicals leach into our drinking water, poison our air and ultimately harm our health.
A recent 2016 peer-reviewed scientific paper on more than 650 peer-reviewed studies on drilling and fracking from 2009-2015 illustrates the scale of the risk. Its analysis showed that 64 percent of all the studies found potential and actual cases of water contamination, while 87 percent found elevated air pollutant emissions. The paper also analyzed the studies that specifically researched health impacts and found that 84 percent contained "findings that indicate public health hazards, elevated risks or adverse health outcomes."
Sadly, it is not just the science that's illustrating the health risks—people are experiencing health harms from these toxic processes every day. Low income-communities and communities of color often bear a disproportionate burden of these health harms. In fact, fracking executives were recently caught saying that they targeted low-income communities because they didn't have the money to fight back. Nausea, nosebleeds, migraines, rashes, hair loss and respiratory problems are just some of the short-term illnesses and effects these communities have to deal with daily. For example, Kern County, California, is a predominantly low-income, Latino county where about 95 percent of the state's fracking takes place. 22 percent of the children who live there have asthma, which is more than three times the national average.
These short-term health problems can be early signs of long-term illnesses, like breast cancer, to come. In fact, a new report on air pollution from the oil and gas industry found that 238 counties in 21 states face a cancer risk that exceeds the Environmental Protection Agency's threshold level of concern. The report states that these counties "are generally located in states with the greatest amount of oil and gas infrastructure."
This growing scientific evidence of harm is what led New York State to ban fracking. Now, the rest of the nation needs to not only follow suit by banning fracking, but also by banning other related extraction techniques that harm health.
The time for our elected officials to put public health before oil and gas industry profit is now. But they clearly won't do that on their own. We have to demand it. That's why we will be marching this July 24 in Philadelphia, where the Democratic National Convention is set to take place the next day, to tell all of our leaders to enact a nationwide ban on fracking and dangerous drilling.
We'll be joined by health professionals and other health organizations in this March for a Clean Energy Revolution calling for an end to these dirty energy sources that harm our health. Join us at the march and stand together with Breast Cancer Action in demanding a healthier, less toxic future—where no one has to worry that the water they drink and air they breathe will make them sick.
YOU MIGHT ALSO LIKE
Pennsylvania Declares Victory on Oil and Gas Regs While Failing to Protect Residents Health
Will This Grandmother Go to Prison for Peaceful Resistance Against Fracking?
Passage of the Chemical Safety Bill Is a Murky Milestone for Children's Health
Pipeline Ruptures Spilling 29,000 Gallons of Oil, Just Hours After Obama Signs PIPES Act
By Itai Vardi
A recent intensification in protests against Williams Partners' planned Atlantic Sunrise pipeline in Pennsylvania prompted a state senator to propose legislation aimed at limiting demonstrations.
Last month, Pennsylvania Sen. Scott Martin (R-Norman) announced his intention to introduce legislation that would pass the costs of law enforcement responding to protests onto the demonstrators. Martin also helped introduce a different bill that would criminalize protests at natural gas facilities.
Keep reading...
Show less
Black Shogun / iStock
The Federal Energy Regulatory Commission (FERC) released its Final Environmental Impact Statement Friday for the Mountain Valley Pipeline, a controversial 303-mile pipeline that would carry two billion cubic feet of fracked gas per day from West Virginia through Virginia.
Keep reading...
Show less
Falcon PEV
The so-called "first and last mile" problem is one of the biggest hurdles with public transportation. How do you encourage more people to take Earth-friendlier commutes when their homes are miles away from the train or bus station?
One solution, as this Estonian electric scooter company proposes, is to simply take your commute with you—literally. Tallinn-based Stigo has developed a compact e-scooter that folds to the size of a rolling suitcase in about two seconds.
Keep reading...
Show less
Connect4Climate
[Editor's note: I'm still in shock after hearing the news that Lucia Grenna passed away in her sleep last week. When we first met in April of 2014 at a Copenhagen hotel, I was immediately taken by here powerful presence. We spent the next couple days participating in a Sustainia climate change event where Lucia presented her audacious plans to connect people to the climate issue. I had the chance to partner with Lucia on several other projects throughout the years and work with her incredible Connect4Climate team. I was always in awe of her ability to "make the impossible possible." Her spirit will live on forever. — Stefanie Spear]
It is with a heavy heart that Connect4Climate announces the passing of its founder and leading light, Lucia Grenna. Lucia passed peacefully in her sleep on June 15, well before her time. We remember her for her leadership and extraordinary ability to motivate people to take on some of the greatest challenges of our time, not least climate change.
Keep reading...
Show less
Jun. 23, 2017 07:29PM EST
Wikimedia Commons
By Stacy Malkan
Neil deGrasse Tyson has inspired millions of people to care about science and imagine themselves as participants in the scientific process. What a hopeful sign it is to see young girls wearing t-shirts emblazoned with the words, "Forget princess, I want to be an astrophysicist."
Keep reading...
Show less
Jun. 23, 2017 01:57PM EST
www.youtube.com
By Andy Rowell
Any day now we will truly witness climate change in action. Within days at worst, maybe weeks at best, scientists predict that a huge section of the Larsen C ice shelf in Antarctica will break off into the ocean, in what is called a major "carving" event.
Keep reading...
Show less
Jun. 23, 2017 02:27PM EST
www.youtube.com
President Trump visited Cedar Rapids, Iowa on June 21 to speak to a large crowd in the U.S. Cellular Center at a political rally organized by his campaign.
As Trevor Noah noted during The Daily Show episode last night (starts at 2:25), the real reason Trump has these rallies is to "get back in front of his loyal crowds and feed of their energy." Noah believes that "Trump supporters are so on board with their dude he can say anything and they'll come along for the ride."
Keep reading...
Show less
Jun. 23, 2017 07:50PM EST
The Kamuthi solar plant in the southern Indian state of Tamil Nadu.
The rapid growth in renewable energy continues to put a dent in the demand for coal.
Coal India, the world's biggest coal mining company and producer of 82 percent of the country's coal, announced the closure of 37 mines that are financially "unviable."
Keep reading...
Show less
Jun. 23, 2017 06:42PM EST
www.youtube.com
By Katie O'Reilly
Two years ago—long before coal became one of the most dominant and controversial symbols of the 2016 presidential election—Bloomberg Philanthropies approached production company RadicalMedia with the idea of creating a documentary exploring the U.S. coal mining industry. Last spring, they brought on Emmy-nominated director Michael Bonfiglio, tasked with forging a compelling story out of the multitudes of facts, statistics and narratives underlying the declining industry.
Keep reading...
Show less


Get EcoWatch in your inbox