Bird's Eye View of Catastrophic Toxic Mine-Waste Spill in Brazil
By David Manthos, SkyTruth
On Nov. 5, 2015, a mine-waste dam collapsed at an enormous iron mine in southeastern Brazil. The wave of toxic waste was at least twice the volume of the Johnstown Flood and wiped out buildings and bridges more than 40 miles downstream. Using post-spill satellite imagery and Google Earth, we have produced a bird's-eye view of the devastation wrought by the deluge of arsenic-laced sludge.
During the spill, we reported extensively on the immediate aftermath visible on satellite imagery, the remaining threat of a possible second dam failure (which thankfully did not materialize) and by looking back in time with historical satellite imagery, documented the increase of waste in the impoundment behind the failed Fundão Dam. We also wrote about how frequently these kinds of disasters occur around the world.
The video above was created using Google Earth, comparing pre-spill imagery with images collected on Nov. 9 and Nov. 11. Our analyst Christian delineated the extent of the mine waste from a lake 70 miles downstream of the mine, all the way up to the town of Bento Rodrigues, the damaged Santarem Dam and the failed Fundão impoundment (skipping a section of the river with cloudy imagery). Even further downstream, more than 400 miles away, the Rio Doce ran orange for months afterwards.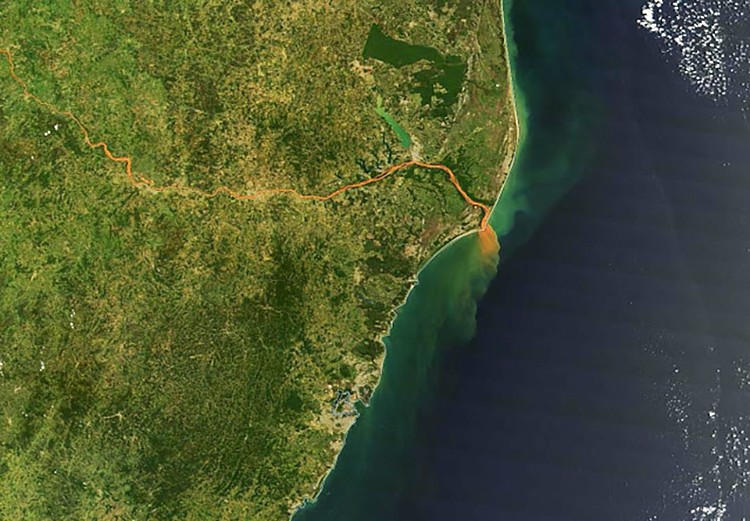 Now the Brazilian government is seeking $44 billion in damages, likening the disaster to the ecological devastation of the oil spilled in the 2010 BP/Deepwater Horizon disaster. A police investigation recently concluded that Samarco Mineração, a joint venture of Vale SA and BHP Billiton, was "more than negligent" in overlooking structural failings and continuing to push for more production.
What is even more alarming is that studies have shown a correlation between the frequency of tailings dam incidents and downturns in commodity prices decrease and the height of dams is soaring around the world as mines produce more and more waste.
YOU MIGHT ALSO LIKE
Breaking: Diablo Canyon Nuclear Reactors to Be Replaced With 100% Renewable Energy
How Radioactive Fracking Waste Wound Up Near Homes and Schools
Methane Emissions From Onshore Oil and Gas Equivalent to 14 Coal Plants Powered for One Year
Filipino Artists Used Pigments From Contaminated Rivers to Highlight Pollution
By Itai Vardi
A recent intensification in protests against Williams Partners' planned Atlantic Sunrise pipeline in Pennsylvania prompted a state senator to propose legislation aimed at limiting demonstrations.
Last month, Pennsylvania Sen. Scott Martin (R-Norman) announced his intention to introduce legislation that would pass the costs of law enforcement responding to protests onto the demonstrators. Martin also helped introduce a different bill that would criminalize protests at natural gas facilities.
Keep reading...
Show less
Black Shogun / iStock
The Federal Energy Regulatory Commission (FERC) released its Final Environmental Impact Statement Friday for the Mountain Valley Pipeline, a controversial 303-mile pipeline that would carry two billion cubic feet of fracked gas per day from West Virginia through Virginia.
Keep reading...
Show less
Falcon PEV
The so-called "first and last mile" problem is one of the biggest hurdles with public transportation. How do you encourage more people to take Earth-friendlier commutes when their homes are miles away from the train or bus station?
One solution, as this Estonian electric scooter company proposes, is to simply take your commute with you—literally. Tallinn-based Stigo has developed a compact e-scooter that folds to the size of a rolling suitcase in about two seconds.
Keep reading...
Show less
Connect4Climate
[Editor's note: I'm still in shock after hearing the news that Lucia Grenna passed away in her sleep last week. When we first met in April of 2014 at a Copenhagen hotel, I was immediately taken by here powerful presence. We spent the next couple days participating in a Sustainia climate change event where Lucia presented her audacious plans to connect people to the climate issue. I had the chance to partner with Lucia on several other projects throughout the years and work with her incredible Connect4Climate team. I was always in awe of her ability to "make the impossible possible." Her spirit will live on forever. — Stefanie Spear]
It is with a heavy heart that Connect4Climate announces the passing of its founder and leading light, Lucia Grenna. Lucia passed peacefully in her sleep on June 15, well before her time. We remember her for her leadership and extraordinary ability to motivate people to take on some of the greatest challenges of our time, not least climate change.
Keep reading...
Show less
Jun. 23, 2017 07:29PM EST
Wikimedia Commons
By Stacy Malkan
Neil deGrasse Tyson has inspired millions of people to care about science and imagine themselves as participants in the scientific process. What a hopeful sign it is to see young girls wearing t-shirts emblazoned with the words, "Forget princess, I want to be an astrophysicist."
Keep reading...
Show less
Jun. 23, 2017 01:57PM EST
www.youtube.com
By Andy Rowell
Any day now we will truly witness climate change in action. Within days at worst, maybe weeks at best, scientists predict that a huge section of the Larsen C ice shelf in Antarctica will break off into the ocean, in what is called a major "carving" event.
Keep reading...
Show less
Jun. 23, 2017 02:27PM EST
www.youtube.com
President Trump visited Cedar Rapids, Iowa on June 21 to speak to a large crowd in the U.S. Cellular Center at a political rally organized by his campaign.
As Trevor Noah noted during The Daily Show episode last night (starts at 2:25), the real reason Trump has these rallies is to "get back in front of his loyal crowds and feed of their energy." Noah believes that "Trump supporters are so on board with their dude he can say anything and they'll come along for the ride."
Keep reading...
Show less
Jun. 23, 2017 07:50PM EST
The Kamuthi solar plant in the southern Indian state of Tamil Nadu.
The rapid growth in renewable energy continues to put a dent in the demand for coal.
Coal India, the world's biggest coal mining company and producer of 82 percent of the country's coal, announced the closure of 37 mines that are financially "unviable."
Keep reading...
Show less
Jun. 23, 2017 06:42PM EST
www.youtube.com
By Katie O'Reilly
Two years ago—long before coal became one of the most dominant and controversial symbols of the 2016 presidential election—Bloomberg Philanthropies approached production company RadicalMedia with the idea of creating a documentary exploring the U.S. coal mining industry. Last spring, they brought on Emmy-nominated director Michael Bonfiglio, tasked with forging a compelling story out of the multitudes of facts, statistics and narratives underlying the declining industry.
Keep reading...
Show less


Get EcoWatch in your inbox