4 States Struggling to Manage Radioactive Fracking Waste
By Jie Jenny Zou, Ohio Valley ReSource
The Marcellus Shale has transformed the Appalachian Basin into an energy juggernaut. Even amid a recent drilling slowdown, regional daily production averages enough natural gas to power more than 200,000 U.S. homes for a year.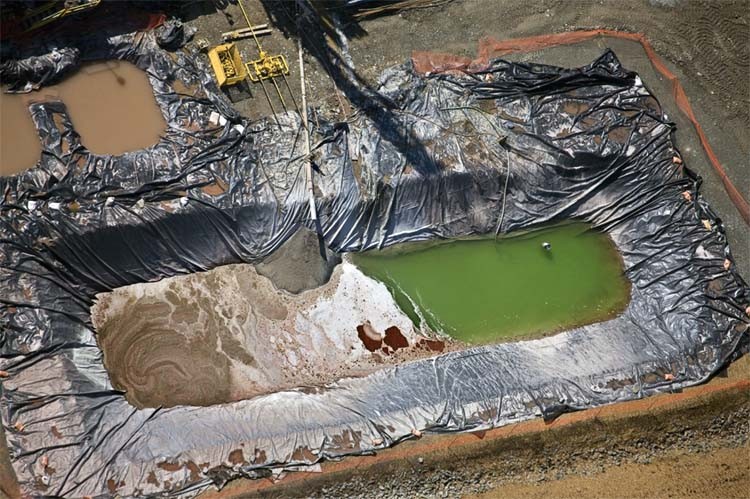 But the rise of hydraulic fracturing over the past decade has created another boom: tons of radioactive materials experts call an "orphan" waste stream. No federal agency fully regulates oil and gas drilling byproducts—which include brine, sludge, rock and soiled equipment—leaving tracking and handling to states that may be reluctant to alienate energy interests.
"Nobody can say how much of any type of waste is being produced, what it is and where it's ending up," said Nadia Steinzor of the environmental group Earthworks, who co-wrote a report on shale waste. [Earthworks has received funding from The Heinz Endowments, as has the Center for Public Integrity.]
The group is among several suing the U.S. Environmental Protection Agency to regulate drilling waste under a federal system that tracks hazardous materials from creation to final disposal or "cradle to grave." The EPA declined to comment on the lawsuit but is scheduled to file a response in court by early July.
Geologists have long known soil and rock contain naturally occurring radioactive materials that can become concentrated through activities like fracking, in which sand and chemicals are pumped thousands of feet underground to release oil and gas from tight rock. But concerns about fracking largely have focused on injection wells and seismic activity, with less attention paid to "hot" waste that arrives at landfills and sets off radiation alarms.
An analysis by the Center for Public Integrity shows that states are struggling to keep pace with this waste stream, relying largely on industry to self-report and self-regulate. States have also been slow to assess and curb risks from exposure to the waste, which can remain radioactive for millennia. Excessive radiation exposure can increase cancer risks; radon gas, for example, has been tied to lung cancer.
The four states in the Marcellus are taking different approaches to the problem; none has it under control. Pennsylvania has increasingly restricted disposal of drilling waste, while West Virginia allows some landfills to take unlimited amounts. Ohio has yet to formalize waste rules, despite starting the process in 2013. New York, which banned fracking, accepts drilling waste with little oversight.
Inconsistencies have raised concerns among regulators and activists that waste is being "shopped around" by companies seeking the path of least resistance or unsafely reused. In March, Kentucky's attorney general opened an investigation into two landfills he alleged illegally accepted radioactive drilling waste from West Virginia. A separate investigation is ongoing at the Kentucky Cabinet for Health and Family Services, where officials exchanged emails about whether landfill workers and schoolchildren might have been exposed to dangerous levels of radiation.
Bill Kennedy, a radiation expert at the consulting firm Dade Moeller, called radioactive drilling waste "virtually unregulated" and said consistent standards are needed to "protect workers, protect the general public, protect the environment."
Kennedy co-chairs a committee working with regulators and industry to develop guidelines and recommendations for states. "You can't rely on industry to go it alone and self-regulate," he said.
While radiation emitted from fracking waste may pale in comparison to that from nuclear power plant waste, Steinzor said regulators don't know the cumulative impacts of landfilling the loads over time. "There's been such a push to expand the industry and to drill as much as possible," she said. "No one has had the desire or political will to slow the industry down long enough to figure out what the risks truly are."
This piece was produced in partnership with the Center for Public Integrity, a nonpartisan, nonprofit investigative news organization.
YOU MIGHT ALSO LIKE
How Radioactive Fracking Waste Wound Up Near Homes and Schools
Methane Emissions From Onshore Oil and Gas Equivalent to 14 Coal Plants Powered for One Year
Help Put an End to Coal Mining on Public Lands
www.elysee.fr
By Andy Rowell
There is a growing feeling within European capitals that a quiet, but deeply positive, revolution is happening under Emmanuel Macron in France.
Macron's opinion poll rating is high, especially boosted in how the young French president has reacted to Donald Trump on the international stage.
Keep reading...
Show less
www.facebook.com
Keep reading...
Show less
Keep reading...
Show less
www.youtube.com
According to Bloomberg, "SeaWorld Entertainment Inc. received a subpoena earlier this month from regulators investigating disclosures and public statements by executives, including comments about the Blackfish documentary that caused a public backlash against the confinement of orcas.
Keep reading...
Show less
By Mary Mazzoni
In 2013, shoppers were reacquainted with the tragic story of their clothing when a massive factory collapse claimed the lives of more than 1,100 Bangladeshi garment workers.
The nonprofit Fashion Revolution, formed in response to that disaster, continues to track the apparel industry's progress on environmental stewardship and human rights. But four years later, big brands are still not doing enough to disclose their efforts to customers, the organization concluded in a recent report.
Keep reading...
Show less
Hawaii Renewable Energy Alliance
The latest issue of the U.S. Energy Information's "Electric Power Monthly" (with data through April 30) reveals that—for the first time since the beginning of the nuclear era—renewable energy sources (i.e., biomass, geothermal, hydropower, solar—inc. small-scale PV, wind) are now providing a greater share of the nation's electrical generation than nuclear power.
Keep reading...
Show less
www.youtube.com
Check out this great 360° virtual reality video by NowThis on the world's largest indoor vertical farm, AeroFarms. Located in Newark, New Jersey, AeroFarms grows more than 2 million pounds of greens a year without sunlight, soil or pesticides.
As reported by EcoWatch in July 2105, the $30 million, 70,000-square-foot AeroFarms headquarters dwarfs Japan's (already impressive) 25,000-square-foot vertical indoor farm, which had been the world's largest until now.
www.facebook.com
"There's no such thing as clean coal," according to this ATTN: video.
Watch above as ATTN: explains the many hazards of coal beyond carbon emissions, that no matter what there's no reviving the coal industry and how investment in renewable energy is the best way forward.
Share this video if you think America needs real energy solutions.
Wikipedia
By Franziska Spritzler, RD, CDE
Boosting your metabolic rate can help you lose body fat. However, most "fat-burning" supplements on the market are either unsafe, ineffective or both.
Fortunately, several natural foods and beverages have been shown to increase your metabolism and promote fat loss.
Keep reading...
Show less


Get EcoWatch in your inbox