This website uses cookies to ensure you get the best experience while browsing it. By clicking 'Got It' you're accepting these terms.
7 Things You Should Do After Watching 'How to Let Go of the World'
Jun. 27, 2016 11:56AM EST
Climate
Tonight my new film How to Let Go of the World and Love All the Things Climate Can't Change debuts on HBO at 9 p.m. ET/PT.
How to Let Go of the World is unlike any other documentary you've ever seen on climate change. Traveling to 12 countries on six continents, the film acknowledges that it may be too late to stop some of the worst consequences and asks, what is it that climate change can't destroy? What is so deep within us that no calamity can take it away?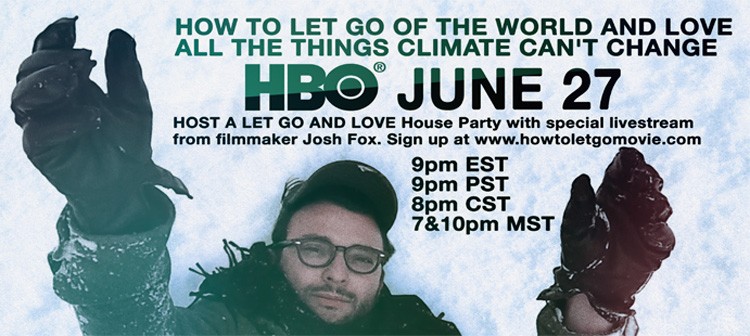 So what should you do? Watch the film tonight with your friends. If you're like me and don't have a TV, you can get a free trial of HBO NOW and stream the film online. I'll be hosting a live video chat after the film to talk about what we need to do next but here's a few idea to get you started.
1. Leave your house. You know you're on the right track when you've left your house. Climate change is too far along for you to simply click on anything or sign a petition. I need you to go out and find your local climate action group, join it and get involved. Join a protest, join a sit in, take action, plan a march, work to develop renewable energy in your community but above all leave your house. Turn off the computer right now and match outside. What I mean is join the movement.
July 24 get out of your house and join the March For a Clean Energy Revolution in Philadelphia outside of the DNC.
2. Work with other people. Climate action is a team sport. Take the focus off of yourself and on to your community. Don't try to save the world alone. You will make the best friends you have ever had while doing this work, this is the time to meet the people you will fight along side of for the rest of your life.
Host a Let Go and Love watch party. The film is available all summer on HBO NOW.
3. See the intersectionality and fight for justice. Our whole system needs to change, our values need to change. Climate change is not just about climate change. Climate change is a result of inequality, it is a result of economic injustice, it is a result of energy and factory farming and institutionalized racism. So see that all of these fights are bound up in the fight against climate change. And start showing up for those movements too. Our current system is based on greed, competition, violence, institutionalized racism, materialism and fossil fuels. Those are probably our worst human qualities. Time to start to focus on a different set of values, courage, creativity, resilience, civil disobedience, revolution, human rights, democracy, community and love. We can only build a better more sustainable world when we see the connections between things.
4. Do what you love. I'm not an organizer. I am a filmmaker. I can't organize a sock drawer. If I went into this as an organizer because I felt I had to, I would have quit in three weeks. As a filmmaker however, I am still here eight years later, three films and countless short films later and I am doing what I love. The movement needs you to do what you love and it needs you. You may find also, that you fall in love with it. We have to love what we do, we have to love the Earth. When we love something we must protect it. The more you exercise love, the more loving you will be and the more you will love your life, the life we are trying to make better.
5. Surrender. Realize that we don't save the world, we only save today. So don't shame yourself. We're all in the same boat, we say "I don't know how to save the world, yet I must save the world. I don't know how to save myself, yet I must save myself. I don't know where my soul resides, yet I must discover my soul because I live within it." The world is saved and lost every day, not all at once.
6. Support renewable energy through political action and group action as well as individual action. We need an overhaul in our whole system, we need massive political change if we are going to overhaul our entire energy system. So don't just buy an electric car and get solar panels and change your light bulbs, go vegetarian and pat yourself on the back and call it good. Yes that is good, but it won't get us anywhere if we focus on the individual.
So yes, fix the power in your own home, change your diet and change your lightbulb, but do it in a way that creates a community, not just the self-satisfaction part of this all. The aim is to transform society and that means working with everyone, changing laws and changing systems.
7. Put your whole body into it. Dance. March. Sing. Run. Get inspired, inspire your friends. Dance break: share this video and watch my new film.
YOU MIGHT ALSO LIKE
This City Is Home to 820 Urban Farms and Quickly Becoming America's Urban Ag Capital
Appeals Court Urged to Strike Down Idaho's Ag-Gag Law
DNC Platform Calls for Fossil Fuel Investigations, 100% Renewable Energy
March for a Clean Energy Revolution at the DNC With Breast Cancer Action
EcoWatch Daily Newsletter
Two Sherpa descending from Everest Base Camp, Himalayas, Khumbu, Nepal. Joel Addams / Aurora Photos / Getty Images
Climate change is having a grizzly effect on Mount Everest as melting snow and glaciers reveal some of the bodies of climbers who died trying to scale the world's highest peak.
Navajo Generating Station, Arizona. Wolfgang Moroder / Wikimedia / CC BY-SA 3.0
The Navajo Nation have decided to stop pursuing the acquisition of a beleaguered coal-fired power plant in Arizona, locking in the plant to be taken offline and its associated coal mine to close later this year.
A Navajo Nation Council committee voted 11-9 last week to stop pursuing the purchase of the 2,250-megawatt Navajo Generating Station, which with the Kayenta coal mine provides more than 800 jobs to primarily Navajo and Hopi workers as well as tribal royalties.
A coalition of utilities that own the plant said in 2017 it would cease operations due to increased economic pressure, and the plant's future has proved a flash point for national and regional energy policy and raised larger questions on how Native communities will handle ties to fossil fuel industries as the economy changes.
For a deeper dive:
Arizona Republic, Indian Country Today, AP, WOKV, Farmington Daily Times
For more climate change and clean energy news, you can follow Climate Nexus on Twitter and Facebook, and sign up for daily Hot News.
Related Articles Around the Web
Sir David Attenborough opens Woodberry Wetlands on April 30, 2016 in London, United Kingdom. Danny Martindale / WireImage
An extended version of the Fuxing bullet train at the China National Railway Test Center on Oct. 15, 2018 in Beijing, China. VCG / VCG via Getty Images
By Jeff Turrentine
Is it just us?
Other countries don't seem to have a problem getting their high-speed rail systems on track. This superfast, fuel-efficient form of mass transit is wildly popular throughout Asia and the European Union. Japan's sleek Shinkansen line, the busiest high-speed rail system in the world, carries an estimated 420,000 riders every weekday. In China, the new Fuxing Hao bullet train now hurries more than 100 million passengers a year between Beijing and Shanghai at a top speed of 218 miles an hour, allowing its riders to make the trip of 775 miles — roughly the distance from New York City to Chicago — in about four and a half hours. Spain, Germany and France together have more than 4,500 miles of track dedicated to high-speed rail, over which more than 150 million passengers travel annually.
Ocean Heroes Bootcamp
By Coda Christopherson (11) and Lea Eiders (15)
Growing up in a plastic-free home, I was sheltered from the plastic waste crisis. I (Coda) went to a very progressive school that had vegan lunch items, farm animals and ran on solar power. My mom produces zero-waste events and my dad is a sailor, so we're very passionate about the ocean. When I was nine years old, we moved back to Manhattan Beach, California and I started 3rd grade in a public school. This was the first time I really understood that plastic-free living is not the norm; single-use plastics were everywhere, especially in the cafeteria. Once I recognized this problem, I knew I had to make a difference.
A major California avocado producer issued a voluntary recall of the popular fruit over concerns they could be contaminated with Listeria monocytogenes, USA Today reported.
Henry Avocado issued the recall Saturday after a routine government inspection at its California packing facility turned up positive test results for the bacteria on "environmental samples," the company said in a statement. No illnesses have been reported.
Acting Secretary David Bernhardt visited Watson Hopper Inc., a manufacturer of rigs and oil drilling equipment in Hobbs, New Mexico on Feb. 6, 2019.
Tami A. Heilemann / DOI
Oil executives gathered for a conference laughed about their "unprecedented" access to Trump administration officials, according to a recording obtained by Reveal from the Center for Investigative Reporting.
In the recording, taken at a June 2017 meeting of the Independent Petroleum Association of America (IPAA) at a Ritz-Carlton in Southern California, members expressed excitement about one official in particular: David Bernhardt, who had been nominated that April to be deputy secretary at the Department of Interior (DOI). Bernhardt would be confirmed the following month.
"We know him very well, and we have direct access to him, have conversations with him about issues ranging from federal land access to endangered species, to a lot of issues," IPAA political director Dan Naatz said in the recording.