This website uses cookies to ensure you get the best experience while browsing it. By clicking 'Got It' you're accepting these terms.
7 Things You Should Do After Watching 'How to Let Go of the World'
Jun. 27, 2016 11:56AM EST
Climate
Tonight my new film How to Let Go of the World and Love All the Things Climate Can't Change debuts on HBO at 9 p.m. ET/PT.
How to Let Go of the World is unlike any other documentary you've ever seen on climate change. Traveling to 12 countries on six continents, the film acknowledges that it may be too late to stop some of the worst consequences and asks, what is it that climate change can't destroy? What is so deep within us that no calamity can take it away?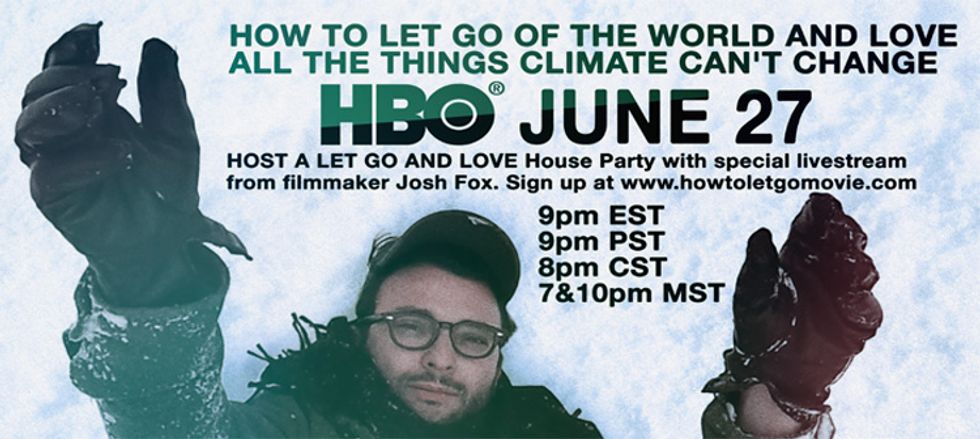 So what should you do? Watch the film tonight with your friends. If you're like me and don't have a TV, you can get a free trial of HBO NOW and stream the film online. I'll be hosting a live video chat after the film to talk about what we need to do next but here's a few idea to get you started.
1. Leave your house. You know you're on the right track when you've left your house. Climate change is too far along for you to simply click on anything or sign a petition. I need you to go out and find your local climate action group, join it and get involved. Join a protest, join a sit in, take action, plan a march, work to develop renewable energy in your community but above all leave your house. Turn off the computer right now and match outside. What I mean is join the movement.
July 24 get out of your house and join the March For a Clean Energy Revolution in Philadelphia outside of the DNC.
2. Work with other people. Climate action is a team sport. Take the focus off of yourself and on to your community. Don't try to save the world alone. You will make the best friends you have ever had while doing this work, this is the time to meet the people you will fight along side of for the rest of your life.
Host a Let Go and Love watch party. The film is available all summer on HBO NOW.
3. See the intersectionality and fight for justice. Our whole system needs to change, our values need to change. Climate change is not just about climate change. Climate change is a result of inequality, it is a result of economic injustice, it is a result of energy and factory farming and institutionalized racism. So see that all of these fights are bound up in the fight against climate change. And start showing up for those movements too. Our current system is based on greed, competition, violence, institutionalized racism, materialism and fossil fuels. Those are probably our worst human qualities. Time to start to focus on a different set of values, courage, creativity, resilience, civil disobedience, revolution, human rights, democracy, community and love. We can only build a better more sustainable world when we see the connections between things.
4. Do what you love. I'm not an organizer. I am a filmmaker. I can't organize a sock drawer. If I went into this as an organizer because I felt I had to, I would have quit in three weeks. As a filmmaker however, I am still here eight years later, three films and countless short films later and I am doing what I love. The movement needs you to do what you love and it needs you. You may find also, that you fall in love with it. We have to love what we do, we have to love the Earth. When we love something we must protect it. The more you exercise love, the more loving you will be and the more you will love your life, the life we are trying to make better.
5. Surrender. Realize that we don't save the world, we only save today. So don't shame yourself. We're all in the same boat, we say "I don't know how to save the world, yet I must save the world. I don't know how to save myself, yet I must save myself. I don't know where my soul resides, yet I must discover my soul because I live within it." The world is saved and lost every day, not all at once.
6. Support renewable energy through political action and group action as well as individual action. We need an overhaul in our whole system, we need massive political change if we are going to overhaul our entire energy system. So don't just buy an electric car and get solar panels and change your light bulbs, go vegetarian and pat yourself on the back and call it good. Yes that is good, but it won't get us anywhere if we focus on the individual.
So yes, fix the power in your own home, change your diet and change your lightbulb, but do it in a way that creates a community, not just the self-satisfaction part of this all. The aim is to transform society and that means working with everyone, changing laws and changing systems.
7. Put your whole body into it. Dance. March. Sing. Run. Get inspired, inspire your friends. Dance break: share this video and watch my new film.
YOU MIGHT ALSO LIKE
This City Is Home to 820 Urban Farms and Quickly Becoming America's Urban Ag Capital
Appeals Court Urged to Strike Down Idaho's Ag-Gag Law
DNC Platform Calls for Fossil Fuel Investigations, 100% Renewable Energy
March for a Clean Energy Revolution at the DNC With Breast Cancer Action
EcoWatch Daily Newsletter
One of the 25 new Long Beach Transit hybrid gasoline-electric buses on April 23, 2009. Jeff Gritchen / Digital First Media / Orange County Register / Getty Images
In Long Beach, California, some electric buses can charge along their route without cords or wires.
When a bus reaches the Pine Avenue station, it parks over a special charging pad. While passengers get on and off, the charger transfers energy to a receiver on the bottom of the bus.
Semi trucks travel along I94 on June 21 near Lake forest, Illinois. Scott Olson / Getty Images
The Trump administration pushed through an exemption to clean air rules, effectively freeing heavy polluting, super-cargo trucks from following clean air rules. It rushed the rule without conducting a federally mandated study on how it would impact public health, especially children, said the Environmental Protection Agency (EPA) Inspector General Charles J. Sheehan in a report released yesterday, as the AP reported.

A time-restricted eating plan provides a new way to fight obesity and metabolic diseases that affect millions of people worldwide. RossHelen / iStock / Getty Images Plus
By Satchin Panda and Pam Taub
People with obesity, high blood sugar, high blood pressure or high cholesterol are often advised to eat less and move more, but our new research suggests there is now another simple tool to fight off these diseases: restricting your eating time to a daily 10-hour window.
Kunhui Chih / iStock / Getty Images Plus
A man and his dog walk past an H&M store in Stockholm, Sweden on March 11, 2014. Melanie Stetson Freeman / The Christian Science Monitor via Getty Images
By Ashutosh Pandey
H&M's flagship store at the Sergels Torg square in Stockholm is back in business after a months-long refurbishment. But it's not exactly business as usual here.