This website uses cookies to ensure you get the best experience while browsing it. By clicking 'Got It' you're accepting these terms.
Appeals Court Urged to Strike Down Idaho's Ag-Gag Law
Jun. 27, 2016 09:58AM EST
Food
Food & Water Watch and the Center for Biological Diversity urged the 9th Circuit Court of Appeals Monday to affirm a lower court's ruling striking down an Idaho law that stifles the public's access to information about industrial animal agriculture operations, citing food safety and public health concerns.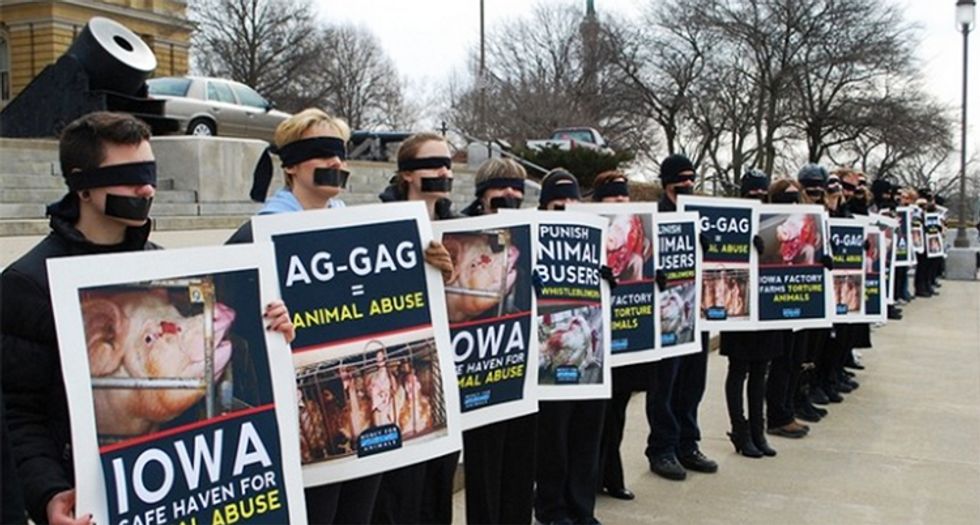 The groups filed a "friend of the court" brief as part of a constitutional challenge to Idaho's "ag-gag" law that criminalizes undercover documentation of food safety, worker safety and animal welfare violations inside industrial animal agricultural facilities and has a chilling effect on public speech about the conditions in these facilities. Idaho's law is one of the broadest of its kind and was passed in the wake of numerous undercover investigations that revealed violations of animal welfare laws and conditions highly conducive to the spread of disease-causing pathogens. Such investigations have resulted in the closure of factory farms and slaughterhouses, civil and criminal prosecutions and massive meat recalls.
"Our highly consolidated industrial meat production system relies on profit-maximizing methods that have direct public health impacts," Wenonah Hauter, executive director of Food & Water Watch, said. "The industry wants to hide the shocking and dirty practices that can result in foodborne illnesses that lead to hospitalizations—even deaths. Animal welfare is just the tip of the iceberg when it comes to the reasons we need transparency in factory farm and slaughter operations."
Last year the Idaho district court struck down the law as unconstitutional because it violates citizens' free speech and equal protection rights. Idaho appealed the ruling. Today's brief asked the court to consider the impacts reinstating the law would have on public health and animal welfare by effectively preventing the public from seeing and understanding activities inside factory farms and slaughter facilities. The meat, dairy products and eggs that come from these operations are among the leading causes of foodborne illnesses in the U.S.
"The public has a right to know what happens inside facilities where our food is produced, whether it's in Idaho, Iowa or anywhere else in the country," Hannah Connor, an attorney with the Center for Biological Diversity, said. "It's disturbing to see Idaho clamping down on the public's right to know, including going so far as to make criminals out of those who are simply recording what happens inside these facilities. Health, safety and animal welfare issues are critical in understanding how our food is made—but that discussion can't happen if the public is kept in the dark."
There are well-established links between inhumane practices at factory farms and slaughterhouses and increased risk of foodborne illness. Factory farm conditions are typically crowded and stressful and animal welfare abuses that injure or weaken animals make them even more susceptible to illness. Sick, stressed or injured animals are more likely to come into contact with, harbor and spread pathogens such as E. coli, Salmonella and Campylobacter. These disease-causing organisms can spread at slaughterhouses if sick animals are not properly withheld from the food supply.
YOU MIGHT ALSO LIKE
Lawsuit Filed Against 3M for Dumping Toxic Chemicals Into the Tennessee River
Pennsylvania Declares Victory on Oil and Gas Regs While Failing to Protect Residents Health
Interactive Map Shows How 6,500 Factory Farms Put North Carolinians at Risk
Passage of the Chemical Safety Bill Is a Murky Milestone for Children's Health
EcoWatch Daily Newsletter
One of the 25 new Long Beach Transit hybrid gasoline-electric buses on April 23, 2009. Jeff Gritchen / Digital First Media / Orange County Register / Getty Images
In Long Beach, California, some electric buses can charge along their route without cords or wires.
When a bus reaches the Pine Avenue station, it parks over a special charging pad. While passengers get on and off, the charger transfers energy to a receiver on the bottom of the bus.
Semi trucks travel along I94 on June 21 near Lake forest, Illinois. Scott Olson / Getty Images
The Trump administration pushed through an exemption to clean air rules, effectively freeing heavy polluting, super-cargo trucks from following clean air rules. It rushed the rule without conducting a federally mandated study on how it would impact public health, especially children, said the Environmental Protection Agency (EPA) Inspector General Charles J. Sheehan in a report released yesterday, as the AP reported.

A time-restricted eating plan provides a new way to fight obesity and metabolic diseases that affect millions of people worldwide. RossHelen / iStock / Getty Images Plus
By Satchin Panda and Pam Taub
People with obesity, high blood sugar, high blood pressure or high cholesterol are often advised to eat less and move more, but our new research suggests there is now another simple tool to fight off these diseases: restricting your eating time to a daily 10-hour window.
Kunhui Chih / iStock / Getty Images Plus
A man and his dog walk past an H&M store in Stockholm, Sweden on March 11, 2014. Melanie Stetson Freeman / The Christian Science Monitor via Getty Images
By Ashutosh Pandey
H&M's flagship store at the Sergels Torg square in Stockholm is back in business after a months-long refurbishment. But it's not exactly business as usual here.