This website uses cookies to ensure you get the best experience while browsing it. By clicking 'Got It' you're accepting these terms.
By Judy Molland
From those small cabbage whites to the largest swallowtails, there are thousands of unique and beloved butterfly species on the planet. Many of us see them outside every day in the spring and summer, but how much do you know about these colorful insects?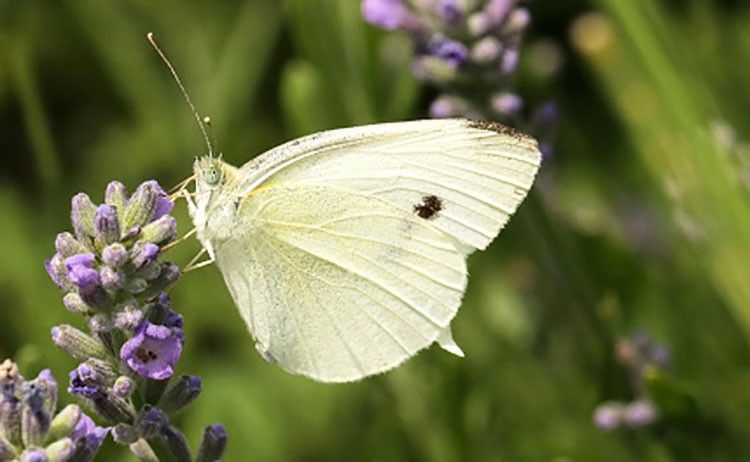 Here are 10 fascinating facts to consider next time you cross a butterfly's path:
1. There are more than 17,500 recorded butterfly species around the world, 750 of which can be found in the U.S.
2. Butterflies and moths are part of the class of insects in the order Lepidoptera. Butterflies are flying insects with large scaly wings. Like all insects, they have six jointed legs and three body parts: the head, the thorax and the abdomen. The wings are attached to the thorax and they also have a pair of antennae, compound eyes and an exoskeleton.
3. The Cabbage White, seen above, is the most common butterfly in the U.S. Although it appears mostly white with black markings on the top of its wings, underneath those wings are yellowish-green. These butterflies have a wing spread of just about two inches. Males have only one spot on each wing, while females have two. As you probably know, you can find Cabbage Whites in most open spaces, including gardens, roadsides, parks and cities.
4. Monarch butterflies migrate to get away from the cold. However, they are the only insect that migrates an average of 2,500 miles to find a warmer climate. The iconic North American Monarch has been greatly affected by extreme weather events, going through drastic dips and spikes in numbers over the past several decades. The overall pattern continues to point downward, with a 95 percent population decline over the last 20 years, but conservation efforts are helping: There were more monarch butterflies migrating in 2015 than there were in 2014.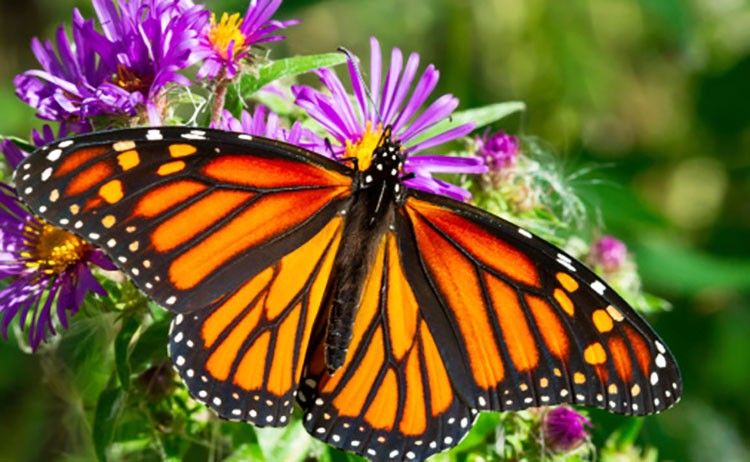 5. Monarchs are not the only butterfly that migrate. The Painted Lady, American Lady, Red Admiral, Cloudless Sulphur, Skipper, Sachem, Question Mark, Clouded Skipper, Fiery Skipper and Mourning Cloak are among the other butterflies that also migrate, but not as far as the Monarchs.
6. The Common Buckeye Butterfly is one of the most striking butterflies, with its bold multicolored eyespots and thick upper-wing bars, all designed to frighten away any birds that might be tempted to chomp on them. If you look under its wings, you'll find a more abstract profusion of brown, orange and beige. These insects are pretty common all over North and Central America, although you won't find them in the Pacific Northwest or in the far north of Canada.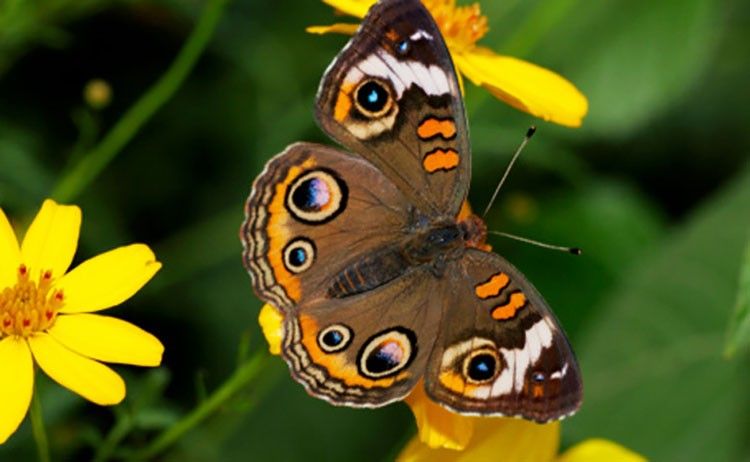 7. The Orange Barred Sulphur Butterfly is one that you can find all over the Americas and the Caribbean. It's very distinctive, being bright yellow with patches of orange marking both forewings and hindwings. Females tend to be bigger and darker than their male counterparts and unusually, just like the adult butterflies, the caterpillars also have bright yellow bodies segmented by dark stripes.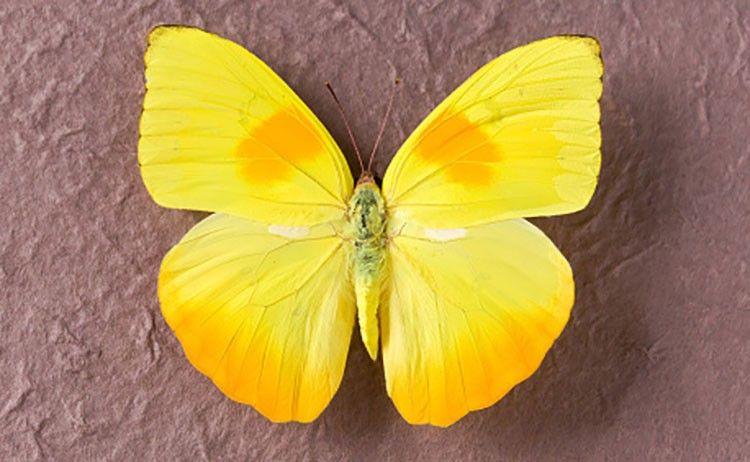 8. Speaking of caterpillars, how much do you know about the life cycle of a butterfly? The butterfly starts its life as an egg, laid on a leaf. The caterpillar (larva) hatches from the egg and eats leaves or flowers. It loses its skin many times as it grows, increasing greatly in size. Eventually it turns into a pupa, or chrysalis and finally a beautiful adult butterfly emerges and the cycle continues.
9. An adult butterfly has a very short life: just three to four weeks. However, the entire life cycle of a butterfly can range between 2 and 8 months, depending on the species. Some migratory butterflies, such as the North American Monarch, can live as long as 7 to 8 months in one generation.
10. The Giant Swallowtail Butterfly, as its name implies, is one of the biggest butterflies, with a wing spread of four to seven inches. The female is once again bigger than the male. It too is found throughout North America and sometimes as far south as South America. These butterflies are called "swallow" because they have long tails on their hind wings that resemble the long, pointed tails of the birds known as swallows.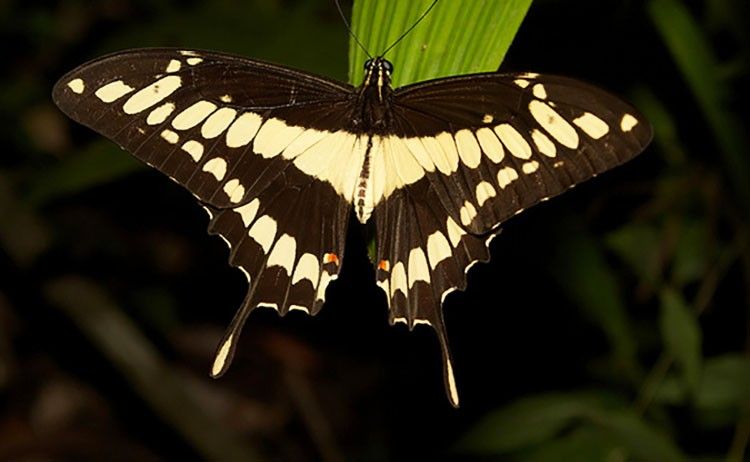 Be sure to get outside this summer and look around for butterflies and other wildlife in your backyard. If you see a butterfly but aren't sure about the species, you can consult this handy identification guide.
YOU MIGHT ALSO LIKE
Esther the Wonder Pig: Changing the World One Heart at a Time
See the World From a Polar Bear's Point Of View
9 Super Cool Facts About Sea Turtles
EcoWatch Daily Newsletter
Sam Cooper
By Sam Cooper
Thomas Edison once said, "I'd put my money on the sun and solar energy. What a source of power!"
A NOAA research vessel at a Taylor Energy production site in the Gulf of Mexico in September 2018. NOAA
The federal government is looking into the details from the longest running oil spill in U.S. history, and it's looking far worse than the oil rig owner let on, as The New York Times reported.
Simple swaps that cut down on kitchen trash.
Sponsored
By Kayla Robbins
Along with the bathroom, the kitchen is one of the most daunting areas to try and make zero waste.
Golde Wallingford submitted this photo of "Pure Joy" to EcoWatch's first photo contest. Golde Wallingford
EcoWatch is pleased to announce our third photo contest!

Damage at the Malheur National Wildlife Refuge from the 2016 occupation. USFWS
By Tara Lohan
When armed militants with a grudge against the federal government seized the Malheur National Wildlife Refuge in rural Oregon back in the winter of 2016, I remember avoiding the news coverage. Part of me wanted to know what was happening, but each report I read — as the occupation stretched from days to weeks and the destruction grew — made me so angry it was hard to keep reading.
Computer model projection of temperature anomalies across Europe on June 27. Temperature scale in °C. Tropicaltidbits.com
A searing heat wave has begun to spread across Europe, with Germany, France and Belgium experiencing extreme temperatures that are set to continue in the coming days.
Skull morphology of hybrid "narluga" whale. Nature / Mikkel Høegh Post
In the 1980s, a Greenlandic subsistence hunter shot and killed a whale with bizarre features unlike any he had ever seen before. He knew something was unique about it, so he left its abnormally large skull on top of his toolshed where it rested until a visiting professor happened upon it a few years later.
A house under construction with plastic bottles filled with sand to build shelters that better withstand the climate of the country where temperatures reach up to 50° C Awserd in the Saharawi refugee camp Dakhla on Dec. 31, 2018 in Tindouf, Algeria. Stefano Montesi / Corbis / Getty Images
A UN expert painted a bleak picture Tuesday of how the climate crisis could impact global inequality and human rights, leading to a "climate apartheid" in which the rich pay to flee the consequences while the rest are left behind.