This website uses cookies to ensure you get the best experience while browsing it. By clicking 'Got It' you're accepting these terms.
By Judy Molland
From those small cabbage whites to the largest swallowtails, there are thousands of unique and beloved butterfly species on the planet. Many of us see them outside every day in the spring and summer, but how much do you know about these colorful insects?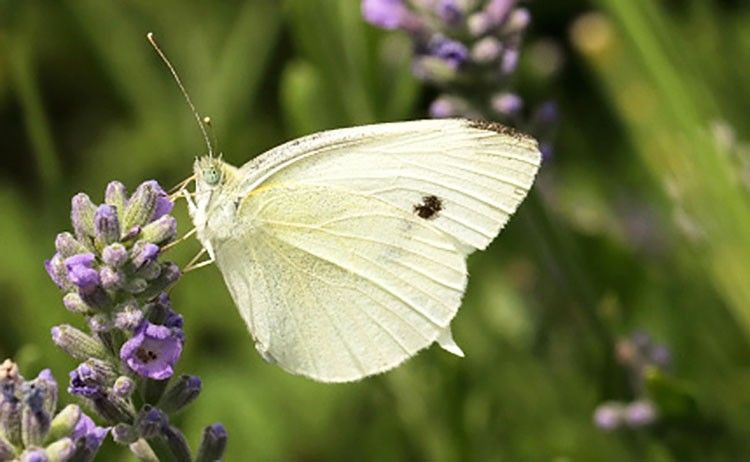 Here are 10 fascinating facts to consider next time you cross a butterfly's path:
1. There are more than 17,500 recorded butterfly species around the world, 750 of which can be found in the U.S.
2. Butterflies and moths are part of the class of insects in the order Lepidoptera. Butterflies are flying insects with large scaly wings. Like all insects, they have six jointed legs and three body parts: the head, the thorax and the abdomen. The wings are attached to the thorax and they also have a pair of antennae, compound eyes and an exoskeleton.
3. The Cabbage White, seen above, is the most common butterfly in the U.S. Although it appears mostly white with black markings on the top of its wings, underneath those wings are yellowish-green. These butterflies have a wing spread of just about two inches. Males have only one spot on each wing, while females have two. As you probably know, you can find Cabbage Whites in most open spaces, including gardens, roadsides, parks and cities.
4. Monarch butterflies migrate to get away from the cold. However, they are the only insect that migrates an average of 2,500 miles to find a warmer climate. The iconic North American Monarch has been greatly affected by extreme weather events, going through drastic dips and spikes in numbers over the past several decades. The overall pattern continues to point downward, with a 95 percent population decline over the last 20 years, but conservation efforts are helping: There were more monarch butterflies migrating in 2015 than there were in 2014.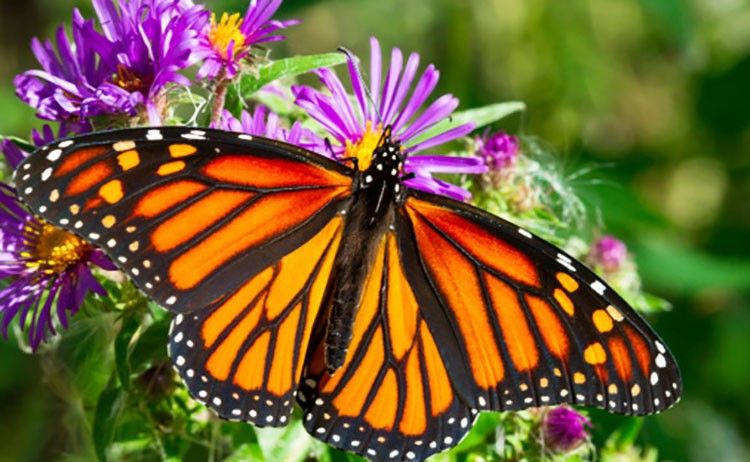 5. Monarchs are not the only butterfly that migrate. The Painted Lady, American Lady, Red Admiral, Cloudless Sulphur, Skipper, Sachem, Question Mark, Clouded Skipper, Fiery Skipper and Mourning Cloak are among the other butterflies that also migrate, but not as far as the Monarchs.
6. The Common Buckeye Butterfly is one of the most striking butterflies, with its bold multicolored eyespots and thick upper-wing bars, all designed to frighten away any birds that might be tempted to chomp on them. If you look under its wings, you'll find a more abstract profusion of brown, orange and beige. These insects are pretty common all over North and Central America, although you won't find them in the Pacific Northwest or in the far north of Canada.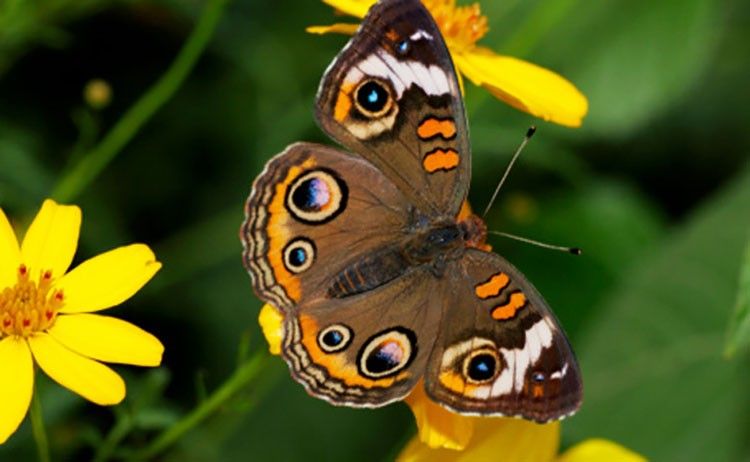 7. The Orange Barred Sulphur Butterfly is one that you can find all over the Americas and the Caribbean. It's very distinctive, being bright yellow with patches of orange marking both forewings and hindwings. Females tend to be bigger and darker than their male counterparts and unusually, just like the adult butterflies, the caterpillars also have bright yellow bodies segmented by dark stripes.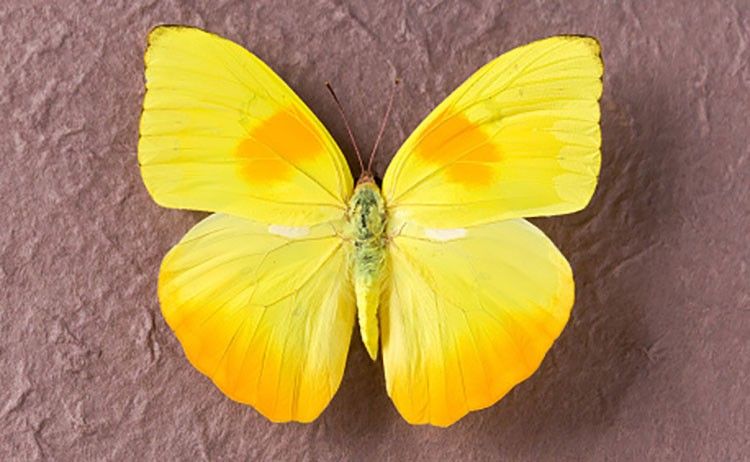 8. Speaking of caterpillars, how much do you know about the life cycle of a butterfly? The butterfly starts its life as an egg, laid on a leaf. The caterpillar (larva) hatches from the egg and eats leaves or flowers. It loses its skin many times as it grows, increasing greatly in size. Eventually it turns into a pupa, or chrysalis and finally a beautiful adult butterfly emerges and the cycle continues.
9. An adult butterfly has a very short life: just three to four weeks. However, the entire life cycle of a butterfly can range between 2 and 8 months, depending on the species. Some migratory butterflies, such as the North American Monarch, can live as long as 7 to 8 months in one generation.
10. The Giant Swallowtail Butterfly, as its name implies, is one of the biggest butterflies, with a wing spread of four to seven inches. The female is once again bigger than the male. It too is found throughout North America and sometimes as far south as South America. These butterflies are called "swallow" because they have long tails on their hind wings that resemble the long, pointed tails of the birds known as swallows.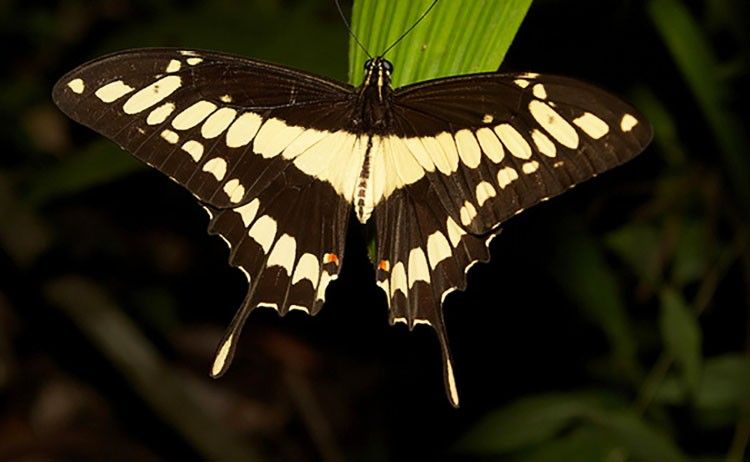 Be sure to get outside this summer and look around for butterflies and other wildlife in your backyard. If you see a butterfly but aren't sure about the species, you can consult this handy identification guide.
YOU MIGHT ALSO LIKE
Esther the Wonder Pig: Changing the World One Heart at a Time
See the World From a Polar Bear's Point Of View
9 Super Cool Facts About Sea Turtles
EcoWatch Daily Newsletter
A typical adult takes around 20,000 breaths per day. If you live in a megacity like Beijing, with many of those lungfuls you're likely to inhale a noxious mixture of chemicals and pollutants.
Fred Stone holds his brown swiss cow Lida Rose at his Arundel dairy farm on March 18 after a press conference where he spoke about PFAS chemical contamination in his fields. Gregory Rec / Portland Portland Press Herald via Getty Images
By Susan Cosier
First there was Fred Stone, the third-generation dairy farmer in Maine who discovered that the milk from his cows contained harmful chemicals. Then came Art Schaap, a second-generation dairy farmer in New Mexico, who had to dump 15,000 gallons of contaminated milk a day.
Protesters attend the 32nd Annual Fur-Free Friday demonstration on Nov. 23, 2018 in Beverly Hills, California. Ella DeGea / Getty Images
California Governor Gavin Newsom signed into law a bill that that bans the sale and manufacture of fur products in the state. The fur ban, which he signed into law on Saturday, prohibits Californians from selling or making clothing, shoes or handbags with fur starting in 2023, according to the AP.
By Simon Evans
During the three months of July, August and September, renewables generated an estimated total of 29.5 terawatt hours (TWh), compared with just 29.1TWh from fossil fuels, the analysis shows.
A demonstrator waves an Ecuadorian flag during protests against the end of subsidies to gasoline and diesel on Oct. 9 in Quito, Ecuador. Jorge Ivan Castaneira Jaramillo / Getty Images
Protesters block the road outside Mansion House in London during an XR climate change protest. Gareth Fuller / PA Images via Getty Images
Protestors marched outside the Prudential Center in Newark, New Jersey on Monday, August 26, during the MTV Video and Music Awards to bring attention to the water crisis currently gripping the city. Karla Ann Cote / NurPhoto / Getty Images
By Will Sarni
It is far too easy to view scarcity and poor quality of water as issues solely affecting emerging economies. While the images of women and children fetching water in Africa and a lack of access to water in India are deeply disturbing, this is not the complete picture.
Pexels
Mice exposed to nicotine-containing e-cigarette vapor developed lung cancer within a year.
More research is needed to know what this means for people who vape.
Other research has shown that vaping can cause damage to lung tissue.
A new study found that long-term exposure to nicotine-containing e-cigarette vapor increases the risk of cancer in mice.