This website uses cookies to ensure you get the best experience while browsing it. By clicking 'Got It' you're accepting these terms.
By Judy Molland
From those small cabbage whites to the largest swallowtails, there are thousands of unique and beloved butterfly species on the planet. Many of us see them outside every day in the spring and summer, but how much do you know about these colorful insects?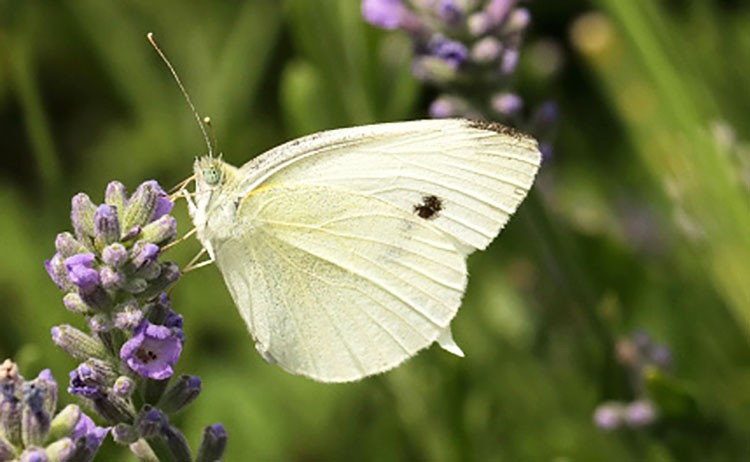 Here are 10 fascinating facts to consider next time you cross a butterfly's path:
1. There are more than 17,500 recorded butterfly species around the world, 750 of which can be found in the U.S.
2. Butterflies and moths are part of the class of insects in the order Lepidoptera. Butterflies are flying insects with large scaly wings. Like all insects, they have six jointed legs and three body parts: the head, the thorax and the abdomen. The wings are attached to the thorax and they also have a pair of antennae, compound eyes and an exoskeleton.
3. The Cabbage White, seen above, is the most common butterfly in the U.S. Although it appears mostly white with black markings on the top of its wings, underneath those wings are yellowish-green. These butterflies have a wing spread of just about two inches. Males have only one spot on each wing, while females have two. As you probably know, you can find Cabbage Whites in most open spaces, including gardens, roadsides, parks and cities.
4. Monarch butterflies migrate to get away from the cold. However, they are the only insect that migrates an average of 2,500 miles to find a warmer climate. The iconic North American Monarch has been greatly affected by extreme weather events, going through drastic dips and spikes in numbers over the past several decades. The overall pattern continues to point downward, with a 95 percent population decline over the last 20 years, but conservation efforts are helping: There were more monarch butterflies migrating in 2015 than there were in 2014.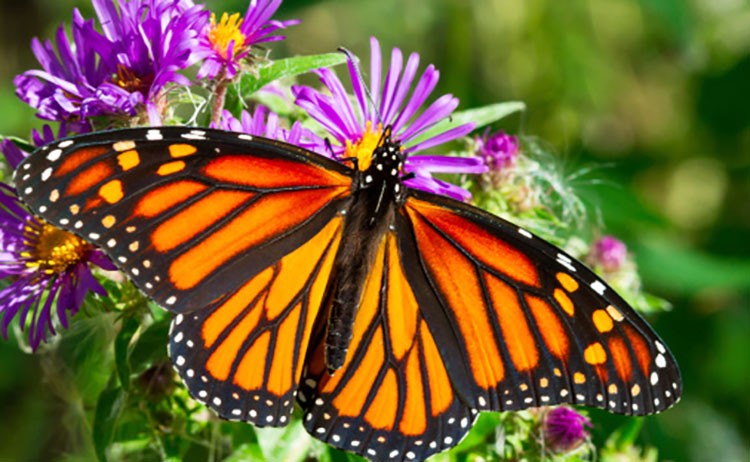 5. Monarchs are not the only butterfly that migrate. The Painted Lady, American Lady, Red Admiral, Cloudless Sulphur, Skipper, Sachem, Question Mark, Clouded Skipper, Fiery Skipper and Mourning Cloak are among the other butterflies that also migrate, but not as far as the Monarchs.
6. The Common Buckeye Butterfly is one of the most striking butterflies, with its bold multicolored eyespots and thick upper-wing bars, all designed to frighten away any birds that might be tempted to chomp on them. If you look under its wings, you'll find a more abstract profusion of brown, orange and beige. These insects are pretty common all over North and Central America, although you won't find them in the Pacific Northwest or in the far north of Canada.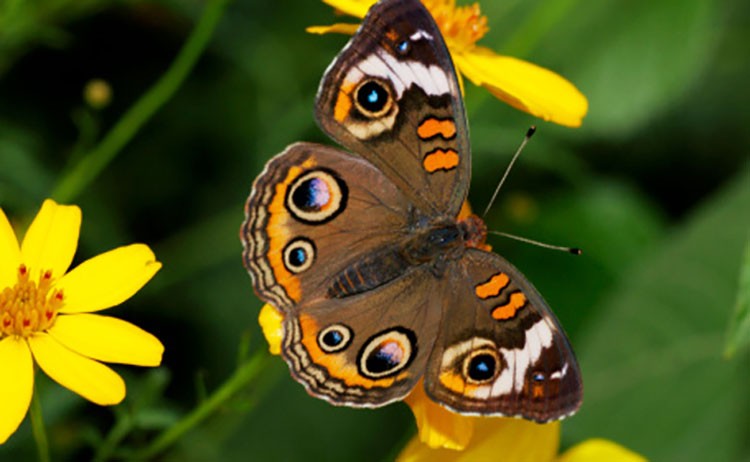 7. The Orange Barred Sulphur Butterfly is one that you can find all over the Americas and the Caribbean. It's very distinctive, being bright yellow with patches of orange marking both forewings and hindwings. Females tend to be bigger and darker than their male counterparts and unusually, just like the adult butterflies, the caterpillars also have bright yellow bodies segmented by dark stripes.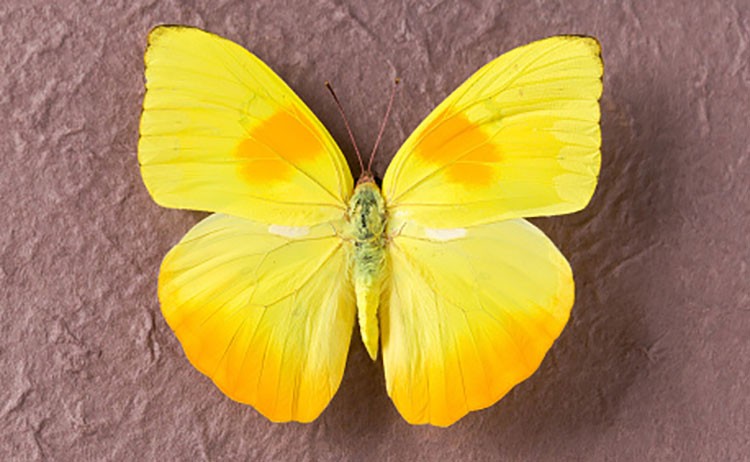 8. Speaking of caterpillars, how much do you know about the life cycle of a butterfly? The butterfly starts its life as an egg, laid on a leaf. The caterpillar (larva) hatches from the egg and eats leaves or flowers. It loses its skin many times as it grows, increasing greatly in size. Eventually it turns into a pupa, or chrysalis and finally a beautiful adult butterfly emerges and the cycle continues.
9. An adult butterfly has a very short life: just three to four weeks. However, the entire life cycle of a butterfly can range between 2 and 8 months, depending on the species. Some migratory butterflies, such as the North American Monarch, can live as long as 7 to 8 months in one generation.
10. The Giant Swallowtail Butterfly, as its name implies, is one of the biggest butterflies, with a wing spread of four to seven inches. The female is once again bigger than the male. It too is found throughout North America and sometimes as far south as South America. These butterflies are called "swallow" because they have long tails on their hind wings that resemble the long, pointed tails of the birds known as swallows.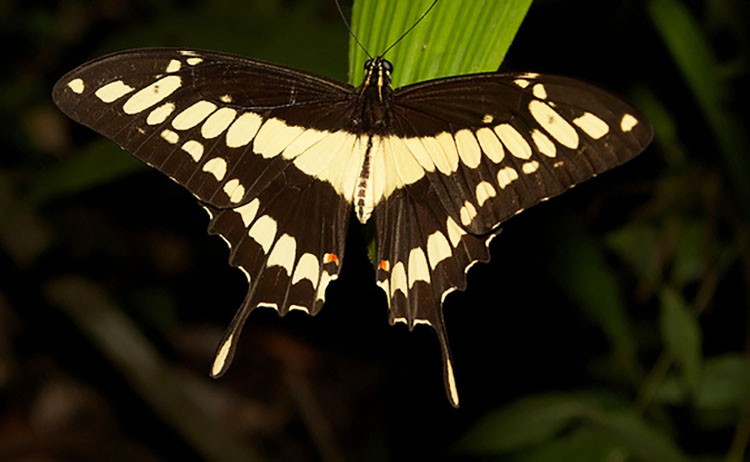 Be sure to get outside this summer and look around for butterflies and other wildlife in your backyard. If you see a butterfly but aren't sure about the species, you can consult this handy identification guide.
YOU MIGHT ALSO LIKE
Esther the Wonder Pig: Changing the World One Heart at a Time
See the World From a Polar Bear's Point Of View
9 Super Cool Facts About Sea Turtles
EcoWatch Daily Newsletter
Two Sherpa descending from Everest Base Camp, Himalayas, Khumbu, Nepal. Joel Addams / Aurora Photos / Getty Images
Climate change is having a grizzly effect on Mount Everest as melting snow and glaciers reveal some of the bodies of climbers who died trying to scale the world's highest peak.
Navajo Generating Station, Arizona. Wolfgang Moroder / Wikimedia / CC BY-SA 3.0
The Navajo Nation have decided to stop pursuing the acquisition of a beleaguered coal-fired power plant in Arizona, locking in the plant to be taken offline and its associated coal mine to close later this year.
A Navajo Nation Council committee voted 11-9 last week to stop pursuing the purchase of the 2,250-megawatt Navajo Generating Station, which with the Kayenta coal mine provides more than 800 jobs to primarily Navajo and Hopi workers as well as tribal royalties.
A coalition of utilities that own the plant said in 2017 it would cease operations due to increased economic pressure, and the plant's future has proved a flash point for national and regional energy policy and raised larger questions on how Native communities will handle ties to fossil fuel industries as the economy changes.
For a deeper dive:
Arizona Republic, Indian Country Today, AP, WOKV, Farmington Daily Times
For more climate change and clean energy news, you can follow Climate Nexus on Twitter and Facebook, and sign up for daily Hot News.
Related Articles Around the Web
Sir David Attenborough opens Woodberry Wetlands on April 30, 2016 in London, United Kingdom. Danny Martindale / WireImage
An extended version of the Fuxing bullet train at the China National Railway Test Center on Oct. 15, 2018 in Beijing, China. VCG / VCG via Getty Images
By Jeff Turrentine
Is it just us?
Other countries don't seem to have a problem getting their high-speed rail systems on track. This superfast, fuel-efficient form of mass transit is wildly popular throughout Asia and the European Union. Japan's sleek Shinkansen line, the busiest high-speed rail system in the world, carries an estimated 420,000 riders every weekday. In China, the new Fuxing Hao bullet train now hurries more than 100 million passengers a year between Beijing and Shanghai at a top speed of 218 miles an hour, allowing its riders to make the trip of 775 miles — roughly the distance from New York City to Chicago — in about four and a half hours. Spain, Germany and France together have more than 4,500 miles of track dedicated to high-speed rail, over which more than 150 million passengers travel annually.
Ocean Heroes Bootcamp
By Coda Christopherson (11) and Lea Eiders (15)
Growing up in a plastic-free home, I was sheltered from the plastic waste crisis. I (Coda) went to a very progressive school that had vegan lunch items, farm animals and ran on solar power. My mom produces zero-waste events and my dad is a sailor, so we're very passionate about the ocean. When I was nine years old, we moved back to Manhattan Beach, California and I started 3rd grade in a public school. This was the first time I really understood that plastic-free living is not the norm; single-use plastics were everywhere, especially in the cafeteria. Once I recognized this problem, I knew I had to make a difference.
A major California avocado producer issued a voluntary recall of the popular fruit over concerns they could be contaminated with Listeria monocytogenes, USA Today reported.
Henry Avocado issued the recall Saturday after a routine government inspection at its California packing facility turned up positive test results for the bacteria on "environmental samples," the company said in a statement. No illnesses have been reported.
Acting Secretary David Bernhardt visited Watson Hopper Inc., a manufacturer of rigs and oil drilling equipment in Hobbs, New Mexico on Feb. 6, 2019.
Tami A. Heilemann / DOI
Oil executives gathered for a conference laughed about their "unprecedented" access to Trump administration officials, according to a recording obtained by Reveal from the Center for Investigative Reporting.
In the recording, taken at a June 2017 meeting of the Independent Petroleum Association of America (IPAA) at a Ritz-Carlton in Southern California, members expressed excitement about one official in particular: David Bernhardt, who had been nominated that April to be deputy secretary at the Department of Interior (DOI). Bernhardt would be confirmed the following month.
"We know him very well, and we have direct access to him, have conversations with him about issues ranging from federal land access to endangered species, to a lot of issues," IPAA political director Dan Naatz said in the recording.