This website uses cookies to ensure you get the best experience while browsing it. By clicking 'Got It' you're accepting these terms.
'Tuna the Wonderfish' Not So Wonderful after All
Apr. 16, 2012 07:55PM EST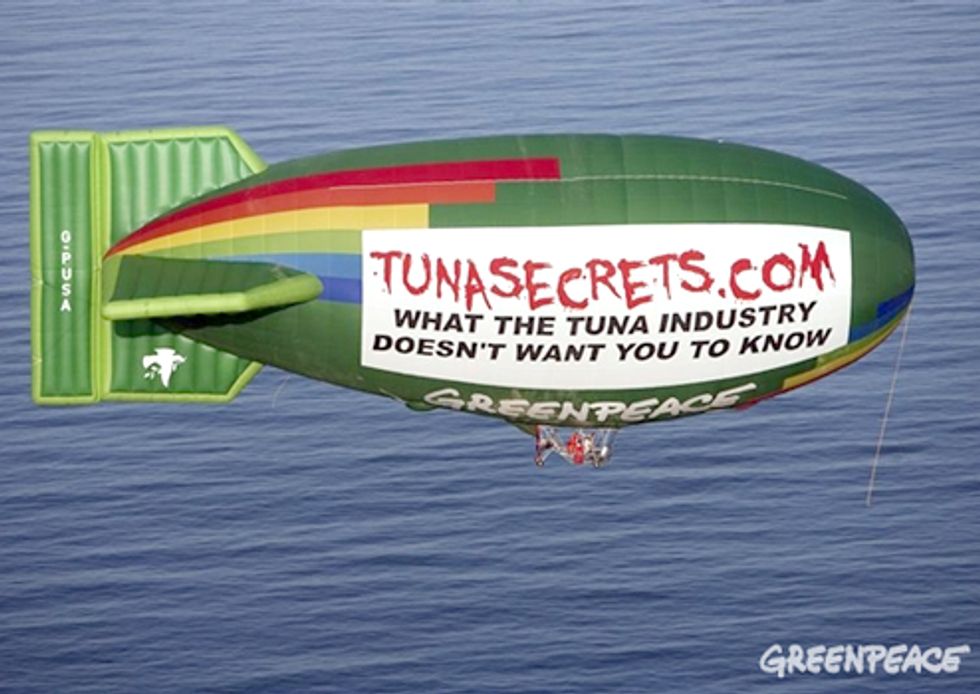 By Oliver Knowles
In March, just a year after the launch of a planned three-year, multi-million dollar advertising push to try and increase sales of unsustainable canned tuna in the U.S., the "Tuna the Wonderfish" advertising campaign—funded by U.S. tuna companies and executed by the U.S. industry lobby group National Fisheries Institute (NFI)—has collapsed, having already spent a staggering $20 million dollars (15 million euros) of a planned $60 million budget.
Industry sources are reported to have radically scaled back the planned work as it has failed to increase sales as expected. The $20 million dollars has already been spent on expensive television, newspaper and magazine advertisements.
The advertising campaign exposes the huge contradiction at the heart of some of the tuna industry's biggest players, who like to talk about sustainability but instead of delivering change spend huge amounts of money advertising products that are caught using destructive and wasteful fishing methods.
Greenpeace is running an international campaign to encourage major tuna brands and retailers to sell sustainable tuna and to phase out the use of highly destructive Fish Aggregating Devices (FADs) used in purse seine fisheries. In the U.S., Greenpeace is working to change leading brand Chicken of the Sea because they continue to sell tuna caught in purse seine FAD fisheries and poorly regulated longline fisheries, both of which waste an array of marine life other than tuna including endangered sharks and turtles. Chicken of the Sea is one of the main sponsors of the failed advertising campaign.
Scrap the ads, invest in sustainability
Why doesn't the U.S. tuna industry instead spend money improving its fishing operations and supporting responsible fisheries? Putting proper sustainability measures in place makes good business sense for the long term because it means safeguarding future supplies, in contrast to the NFI's bad advice of spending money to drive up short-term profits.
$20 million dollars has already been wasted, but $40 million dollars of the originally earmarked budget remains. If the industry is serious about its environmental credentials, it should put its money where its mouth is and spend the money to change its fishing practices to make them less harmful to our oceans. In March, Italian tuna brand Mareblu became the latest tuna company to change its ways by committing to phase out destructive FADs. Momentum is growing to transform the tuna industry. Who will be next? The world needs tuna for tomorrow, not slick ads from companies that are lagging behind visionary competitors.
Changing Industry
Earlier this year, leading U.S. retailer Safeway announced that its own-brand skipjack tuna will be 100 percent FAD-free by the end of 2012. The company joins leading brands Mareblu, Princes and John West and all of the major UK retailers who have also signed up to selling only pole and line or FAD-free purse seine caught tuna.
Change is possible, even for the big players. If the tuna industry continues to fish itself out of existence, there will be nothing left to advertise. These companies would be wise to invest their money in creating a sustainable industry.
For more information, click here.
EcoWatch Daily Newsletter
No longer will the options when we die be a choice between just burial or cremation. Soon it will be possible to compost your remains and leave your loved ones with rich soil, thanks to a new funeral service opening in Seattle in 2021 that will convert humans into soil in just 30 days, as The Independent reported.
You can reduce the footprint of a medium-sized live tree by donating it to elephants at a local zoo, like this African elephant pictured above. eans / iStock / Getty Images
The holiday season is supposed to be about giving and sharing, but often it is actually about throwing away. The U.S. generates 25 percent more garbage between Thanksgiving and New Year's than it does during the rest of the year. That's around one million extra tons per week, according to National Environmental Education Foundation (NEEF) figures reported by The Associated Press.
The Opera House is seen with smoke haze which enveloped Sydney Harbor on Dec. 10 in Sydney, Australia. Smoke haze hangs over the city as the New South Wales fire danger risk is raised from 'very high' to 'severe'. James D. Morgan / Getty Images
The brushfires raging through New South Wales have shrouded Australia's largest city in a blanket of smoke that pushed the air quality index 12 times worse than the hazardous threshold, according to the Australia Broadcast Corporation (ABC).
People walk across the bridge near Little Raven Court in downtown Denver. Younger Americans increasingly prefer to live in walkable neighborhoods. Helen H. Richardson / The Denver Post via Getty Images
By David B. Goldstein
Energy efficiency is the cornerstone of any country's plan to fight the climate crisis. It is the cheapest option available, and one that as often as not comes along with other benefits, such as job creation, comfort and compatibility with other key solutions such as renewable energy. This has been recognized by the International Energy Agency (IEA) for at least a decade.
Activists from Extinction Rebellion New York City engaged in nonviolent direct action to confront climate change outside City Hall on April 17, 2019. Erik McGregor / Pacific Press / LightRocket via Getty Images
By Andrea Germanos

Over 500 groups on Monday rolled out an an action plan for the next president's first days of office to address the climate emergency and set the nation on a transformative path towards zero emissions and a just transition in their first days in office.