Worldwide Honey Bee Collapse: A Lesson in Ecology
By Rex Weyler
We know what is killing the bees. Worldwide Bee Colony Collapse is not as big a mystery as the chemical companies claim. The systemic nature of the problem makes it complex, but not impenetrable. Scientists know that bees are dying from a variety of factors—pesticides, drought, habitat destruction, nutrition deficit, air pollution, global warming and so forth. The causes of collapse merge and synergize, but we know that humanity is the perpetrator, and that the two most prominent causes appear to be pesticides and habitat loss.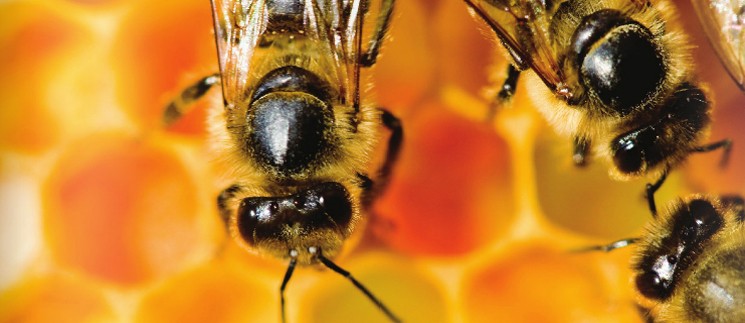 Biologists have found over 150 different chemical residues in bee pollen, a deadly "pesticide cocktail" according to University of California apiculturist Eric Mussen. The chemical companies Bayer, Syngenta, BASF, Dow, DuPont and Monsanto shrug their shoulders at the systemic complexity, as if the mystery were too complicated. They advocate no change in pesticide policy. After all, selling poisons to the world's farmers is profitable.
Furthermore, wild bee habitat shrinks every year as industrial agribusiness converts grasslands and forest into monoculture farms, which are then contaminated with pesticides. To reverse the world bees decline, we need to fix our dysfunctional and destructive agricultural system.
Bee Collapse
Apis mellifera—the honey bee, native to Europe, Africa and Western Asia—is disappearing around the world. Signs of decline also appear now in the eastern honey bee, Apis cerana.
This is no marginal species loss. Honey bees—wild and domestic—perform about 80 percent of all pollination worldwide. A single bee colony can pollinate 300 million flowers each day. Grains are primarily pollinated by the wind, but the best and healthiest food—fruits, nuts and vegetables—are pollinated by bees. Seventy out of the top 100 human food crops, which supply about 90 percent of the world's nutrition, are pollinated by bees.
Tonio Borg, European Commissioner for Health and Consumer Policy, calculates that bees "contribute more than €22 billion ($30 billion U.S. dollars) annually to European agriculture." Worldwide, bees pollinate human food valued at more than €265 billion ($350 billion). The bee collapse is a challenge to human enterprise on the scale of global warming, ocean acidification and nuclear war. Humans could not likely survive a total bee collapse.
Worker bees (females) live several months. Colonies produce new worker bees continuously during the spring and summer, and then reproduction slows during the winter. Typically, a bee hive or colony will decline by five to 10 percent over the winter and replace those lost bees in the spring. In a bad year, a bee colony might lose 15-20 percent of its bees.
In the U.S., where bee collapse first appeared, winter losses commonly reached 30-50 percent and in some cases more. In 2006, David Hackenberg, a bee keeper for 42 years, reported a 90 percent die-off among his 3,000 hives. U.S. National Agriculture Statistics show a honey bee decline from about 6 million hives in 1947 to 2.4 million hives in 2008, a 60 percent reduction.
The number of working bee colonies per hectare provides a critical metric of crop health. In the U.S., among crops that require bee pollination, the number of bee colonies per hectare has declined by 90 percent since 1962. The bees cannot keep pace with the winter die-off rates and habitat loss.
Europe Responds, U.S. Dithers
In Europe, Asia and South America, the annual die-off lags behind the U.S. decline, but the trend is clear, and the response is more appropriate. In Europe, Rabobank reported that the annual European die-offs have reached 30-35 percent and that the colonies-per-hectare count is down 25 percent. In the 1980s, in Sichuan, China, pear orchard pesticides obliterated local bees, and farmers must now pollinate crops by hand with feather dusters.
A European Food Safety Authority scientific report determined that three widely used pesticides—nicotine-based clothianidin, imidacloprid and thiametoxam—pose "high acute risks" for bees. These neonicotinoid pesticides—used in soils, on foliage and embedded in seeds—persist at the core of the toxic pesticide cocktail found in bee hives.
A Greenpeace scientific report identifies seven priority bee-killer pesticides—including the three nicotine culprits—plus clorpyriphos, cypermethrin, deltamethrin and fipronil. The three neonicotinoids act on insect nervous systems. They accumulate in individual bees and within entire colonies, including the honey that bees feed to infant larvae. Bees that do not die outright, experience sub-lethal systemic effects, development defects, weakness and loss of orientation. The die-off leaves fewer bees and weaker bees, who must work harder to produce honey in depleted wild habitats. These conditions create the nightmare formula for bee colony collapse.
Bayer makes and markets imidacloprid and clothianidin; Syngenta produces thiamethoxam. In 2009, the world market for these three toxins reached over $2 billion. Syngenta, Bayer, Dow, Monsanto and DuPont control nearly 100 percent of the world market for genetically engineered (GE) pesticides, plants and seeds.
In 2012, a German court criminally charged Syngenta with perjury for concealing its own report showing that its genetically modified corn had killed livestock. In the U.S., the company paid out $105 million to settle a class-action lawsuit for contaminating the drinking water for more than 50 million citizens with its "gender-bending" herbicide Atrazine. Now, these corporate polluters are waging multi-million-euro campaigns to deny responsibility for bee colony collapse.
In May, the European Commission responded, adopting a two-year ban on the three neonicotinoid pesticides. Scientists will use the two years to assess the recovery rate of the bees and a longer-term ban on these and other pesticides.
Meanwhile, the U.S. dithers and supports the corporations that produce and market the deadly pesticides. In May, as European nations took action, the U.S. Environmental Protection Agency (EPA) approved the neonicotinoid pesticides, in spite of a U.S. Department of Agriculture report warning about the dangers of the bee colony collapse.
Also in May, President Obama, signed the now infamous "Monsanto Protection Act"—written by Monsanto lobbyists—that gives biotech companies immunity in federal U.S. courts from damages to people and the environment caused by their commercial compounds.
Solutions Exist
Common sense actions could restore and protect the world's bees. Experienced bee keepers, apiculturists, farmers, the European Commission and the Greenpeace report, Bees in Decline have outlined these solutions:
Ban the seven most dangerous pesticides
Protect pollinator health by preserving wild habitat
Restore ecological agriculture
Ecological farming is the over-arching new policy trend that will stabilize human food production, preserve wild habitats and protect the bees. The nation of Bhutan has led the world in adopting a 100 percent organic farming policy. Mexico has banned GE corn to protect its native corn varieties. In January, eight European countries banned GE crops, and Hungary has burned over a 1,000 acres of corn contaminated with GE varieties. In India, scientist Vandana Shiva and a network of small farmers have built an organic farming resistance to industrial agriculture over two decades.
Ecological or organic farming, of course, is nothing new. It is the way most farming has been done throughout human history. Ecological farming resists insect damage by avoiding large monocultures and preserving ecosystem diversity. Ecological farming restores soil nutrients with natural composting systems, avoids soil loss from wind and water erosion, and avoids pesticides and chemical fertilizers.
By restoring bee populations and healthier bees, ecological agriculture improves pollination, which in turn improves crop yields. Ecological farming takes advantage of the natural ecosystem services, water filtration, pollination, oxygen production and disease and pest control.
Organic farmers have advocated better research and funding by industry, government, farmers and the public to develop organic farming techniques, improve food production and maintain ecological health. The revolution in farming would promote equitable diets around the world and support crops primarily for human consumption, avoiding crops for animal food and biofuels.
Ecosystems
The plight of the bees serves as a warning that we still may not quite understand ecology. Ecological farming is part of a larger paradigm shift in human awareness. The corporate denialists appear just like the Pope's shrouded inquisitors in 1615, who refused to look through Galileo's telescope to see the moons of Jupiter. Today's denialists refuse to recognize that Earth's systems operate within real limits. However, the state religion in this case is money, and the state religion won't allow it. The denialists cling to the presumed right to consume, hoard, and obliterate Earth's great bounty for private profits. But hoards of money won't reverse extinction, restore lost soils or heal the world's bee colonies.
A great reckoning awaits humanity if we fail to awaken from our delusions. Earth's delicately balanced systems can reach tipping points and collapse. Bees, for example, work within a limited range of marginal returns on the energy they exert to collect nutrition for their colonies. When winter bee deaths grow from 10 percent to 50 percent, the remaining bees are weakened by toxins, and the wild habitats shrink that thin, ecological margin of energy return can be squeezed to zero. Surviving bees expend more energy than they return in honey. More bees die, fewer reach maturity and entire colonies collapse. This crisis is a lesson in fundamental ecology.
Rachel Carson warned of these systemic constraints 50 years ago. Ecologists and environmentalists have warned of limits ever since. Bee colony collapse now joins global warming, forest destruction and species extinctions among our most urgent ecological emergencies. Saving the world's bees appears as one more necessary link in restoring Earth to ecological balance.
Visit EcoWatch's BIODIVERSITY page for more related news on this topic.

U.S. Sen. Jon Tester introduced legislation on Tuesday to protect more than 30,000 acres of public land bordering Yellowstone National Park. These public lands in Montana's Park County are the targets of two industrial scale gold mine proposals, which would threaten the national park, the clean water of the Yellowstone River, wildlife and the local economy. The legislation does not affect any recreational use of the land, including hunting or fishing.
Sen. Tester's legislation followed actions made in the fall of 2016, when U.S. Departments of Interior and Agriculture began a two-year time-out on gold exploration and mining, on the public land near Yellowstone National Park.
"The people in Park County are standing together and saying industrial gold mining doesn't make sense on the doorsteps of Yellowstone. Our river, our wild lands and our wildlife are too valuable to gamble," said Michelle Uberuaga, executive director of the Park County Environmental Council.
"Our local elected officials and the county commission are standing with us and we're grateful to have Sen. Tester's leadership in Washington, DC. Now we need to see this to the finish line," she added.
More than 300 local businesses of the bipartisan Yellowstone Gateway Business Coalition asked for the action, citing risks to their livelihoods and to the strong regional economy. The local calls for action were echoed on a national level, for the potential impacts to the world's first national park and surrounding wildlife habitat, as well the Yellowstone River and its world-famous fishery.
"National Parks Conservation Association applauds Sen. Tester for taking the next step in opposing industrial gold mines next to Yellowstone," commented Stephanie Adams, Yellowstone program manager for the National Parks Conservation Association.
"Concerns over the threats to Yellowstone and its nearby communities and waterways have been echoed by Interior Sec. Ryan Zinke, Montana Gov. Steve Bullock and Sen. Steve Daines. It is time for our elected officials at all levels to stand together in forever protecting these priceless lands."
Sen. Tester's legislation protects private property rights while enacting a permanent withdrawal on the public lands.

"Legislation is needed to permanently prevent private corporations from industrializing public lands in the heart of the Yellowstone ecosystem," said Jenny Harbine, attorney for Earthjustice.
"The introduction of legislation is a crucial first step and now we must all fight for Congressional approval of this critical protection for some of our nation's most-prized wild lands."
Ahead of the U.S. Conference of Mayors annual meeting in Miami Beach in June, the launch of Mayors for 100% Clean Energy aims to demonstrate bold local leadership and showcase the depth and breadth of support from city leaders for a transition to 100 percent renewable energy.
The new initiative is co-chaired by Mayor Philip Levine of Miami Beach, Mayor Jackie Biskupski of Salt Lake City, Mayor Kevin Faulconer of San Diego and Mayor Stephen K. Benjamin of Columbia, South Carolina. Benjamin is also a vice president of the U.S. Conference of Mayors.
"We have already taken steps to expand renewable energy and we will continue to improve our infrastructure and innovate clean energy solutions for a stronger Miami Beach," said Mayor Levine. "Climate change may be the challenge of our generation, but it is also the opportunity of a lifetime. The transition to clean and renewable energy will both help Miami Beach confront climate change and strengthen our local economy."
Mayor Biskupski noted that cities contribute about 75 percent of human greenhouse gas emissions, and said Salt Lake City is warming at a rate twice as fast as the global average.
"We can't ignore climate change because climate change is not ignoring us," she said. "Among many other risks, we face water shortages, decreased snowpack and threats to our $1 billion ski industry. Cities must adapt to cope with these threats, and that's also why we must take action to mitigate them."
Noting that San Diego has become a leading city for solar energy capacity, Mayor Faulconer said that business and environmental groups are cooperating to achieve a mutually beneficial goal of 100 percent renewable energy.
"Clean energy isn't just the right thing to do, it's the smart thing to do," he emphasized. "We're going green not only because it supports clean air and water, but because it supports our 21st century economy."

Mayoral leadership has been a powerful driver of city-wide action on climate change and clean energy in municipalities across the country. The Mayors National Climate Action Agenda (Climate Mayors) founded by Los Angeles Mayor Eric Garcetti, former Houston Mayor Annise Parker and former Philadelphia Mayor Michael Nutter, recently released an electric vehicle request for information to demonstrate demand to automakers for nearly 115,00 vehicles that could be electrified in 30 cities.
Now the co-chairs of Mayors for 100% Clean Energy, a number of whom are Climate Mayors, are further demonstrating their commitment to lead nationally on the shared challenge of reducing climate pollution and contributing to Climate Mayors' framework of local leadership and action.
"Mayors can lead our nation toward a healthier, stronger and more prosperous country by championing a vision of 100 percent clean, renewable energy in their communities," said Sierra Club Executive Director Michael Brune. "Cities don't need to wait for Washington, DC to act in order to move the ball forward on clean energy."
Twenty-six cities across the U.S. have now committed to transition to 100 percent clean and renewable energy. This growing list of cities most recently includes South Lake Tahoe, California, which last week unanimously voted to transition entirely to renewable energy by 2032. Other big cities including Los Angeles and Denver are studying pathways to 100 percent clean energy. Earlier this month, Chicago Mayor Rahm Emanuel announced a commitment to transition Chicago municipal buildings and operations to 100 percent clean and renewable energy by 2025.
It now appears that Koch Industries—the oil and gas conglomerate owned by billionaire brothers Charles and David Koch—directly lobbied Congress to confirm Pruitt and spent millions to influence anti-environmental initiatives, a disclosure report shows.
As The Intercept reported:
"The firm's latest disclosure form reports that its in-house corporate lobbying team spent $3.1 million to influence lawmakers over the first three months of the year on a variety of issues affecting its bottom line, including the EPA's Clean Power Rule on carbon emissions, carbon pricing, the Clean Air Act and 'nominations for various positions at the Department of Energy.'"
"This is exactly what we mean when we talk about oligarchy. Multi-billionaires and corporations should not have the power to pick and choose who is in charge of our federal agencies," Vermont Sen. Bernie Sanders said in response to The Intercept's report. "But that is exactly what happened—Koch Industries spent millions on lobbying Congress to confirm Scott Pruitt, our head of the Environmental Protection Agency who doesn't believe in environmental protection."
Koch Industries has contributed $38.5 million to federal candidates over the last 25 years and spent another $117 million since 1998 on lobbying. DeSmog reported in February that the company's deep pockets are contributing campaign funds to four GOP representatives who have introduced legislation to completely abolish the EPA.
Sanders, who grilled Pruitt during the confirmation hearings, has been outspoken in his criticism of Pruitt as well as the Trump administration's generally dismissive attitude towards climate change.
"It's clear that Trump doesn't represent working families. His agenda benefits the Koch brothers and their billionaire [friends]. Our job is to stand together to defeat the drift toward oligarchy and create a vibrant democracy—not one controlled by corporate interests," Sanders said.
Pruitt has reported ties to the fossil fuel industry and he repeatedly sued the EPA when he was Oklahoma Attorney General. In 2014, he was caught sending letters on state government letterheads to President Obama and federal agency heads asserting that the EPA was overestimating the air pollution from drilling for natural gas in Oklahoma. As it turns out, the letter was written by lawyers for one of the state's largest oil and gas companies, Devon Energy.
Following Trump's executive order, Pruitt plans to kill the Clean Power Plan, an Obama-era regulation designed to reduce carbon pollution from power plants. Pruitt also challenged the plan when he was Oklahoma AG.

Pruitt said in March that he does not believe carbon dioxide is a primary contributor to climate change.
The Intercept also detailed how Pruitt's nomination as EPA head was strongly backed by industry groups:

"The American Energy Alliance, an advocacy group founded by former Koch Industries lobbyist Tom Pyle, issued a letter in support of Pruitt along with other Koch-backed conservative nonprofits. America Rising Squared, a political research outfit that has harassed environmental activists, formed a special website—now deleted—to respond to criticism of Pruitt's record."
Enbridge Energy Partners' aging Line 5 pipeline, which runs through the heart of the Great Lakes, has spilled more than 1 million gallons of oil and natural gas liquids in at least 29 incidents since 1968, according to data from the federal Pipeline Hazardous Materials Safety Administration obtained by the National Wildlife Federation.
Built in 1953, the 645-mile, 30-inch-diameter pipeline carries petroleum to eastern Canada via the Great Lakes states. As it travels under the Straits of Mackinac, a narrow waterway that connects Lake Michigan and Lake Huron, Line 5 splits into twin 20-inch-diameter, parallel pipelines.
Line 5 opponents fear that a spill in the Great Lakes, which contains 21 percent of the world's surface fresh water, would be an ecological disaster. Notably, the straits' strong currents reverse direction every few days and a spill would quickly contaminate shoreline communities miles away.
Enbridge is behind a number of major spills, most notoriously in 2010 when an Enbridge line spilled more than 800,000 gallons into the Kalamazoo River in Michigan—creating the biggest inland oil spill in U.S. history.
"We have a pipeline system with a history of problems running through our country's largest source of surface freshwater, and it happens to be operated by the company responsible for one of the largest inland oil spills in North America," said Mike Shriberg, executive director for the National Wildlife Federation's Great Lakes Regional Center.
"This pipeline system places the Great Lakes and many local communities at an unacceptable risk. The state of Michigan needs to find an alternative to this risky pipeline to protect our drinking water, health, jobs and way of life."
The National Wildlife Federation has released a new interactive map showing what has spilled from Enbridge's pipeline system, the repair methods that have been used, and how leaks and defects are being discovered.
The conservation organization noticed from the records that only one of the 29 recorded incidents was detected by a remote pipeline detection system. By contrast, 15 releases were detected by local personnel or the public.
"This new information causes us grave concern about the integrity of the inland pipe system, inconsistencies with spill reporting, and the effectiveness of leak detection systems, repair methods, and long-term planning for the integrity of the decades-old pipeline system," said Beth Wallace, the National Wildlife Federation pipeline safety specialist who discovered the newly released data.
Wallace added, "a significant number of these releases note manufacturing and construction defects, as well as weld failure, which calls into question the overall integrity of the Line 5 system."

Last September, Enbridge filed a work plan with the U.S. Environmental Protection Agency identifying 18 "holidays" on Line 5—an oil and gas industry term that refers to areas on a pipeline where anti-corrosive coating is missing. However, Enbridge's director of integrity programs Kurt Baraniecki said at a Pipeline Safety Advisory Board meeting last month that the report used imprecise language.
Enbridge has dismissed the National Wildlife Federation's findings.
"This is not new information and we have addressed this issue many times in the past," company spokesperson Ryan Duffy said via email to MLive. "Over the past fifteen years, there have been three incidents on Line 5 that have resulted in a total of approximately 21 barrels of product being released off the mainline. All of the product released during these three incidents was recovered. There has never been an incident on Line 5 at the Straits."
Still, as InsideClimate News reported, Line 5 is facing mounting political pressure. In January, the Bad River Band of the Lake Superior Tribe of Chippewa Indians in northern Wisconsin voted not to renew easements that allowed the pipeline to pass through tribal lands. Also in January, U.S. Reps. Dave Trott (R-Mich) and Debbie Dingell (D-Mich) introduced legislation calling for a shutdown of the pipeline if a federal study determines it poses significant threat to the Great Lakes.
Enbridge is not the only pipeline company facing opposition over fears of contamination. On Tuesday, a coalition of more than two dozen organizations launched a new campaign to challenge Energy Transfer Partners' (ETP) operations.
Dallas-based Energy Transfer Partners is the company behind the controversial Dakota Access Pipeline, the proposed Bayou Bridge Pipeline and the under-construction Rover Pipeline, which just spilled 2 million of gallons of drilling fluids into two of Ohio's wetlands on April 22.
The coalition has fired off an open letter to the company outlining their grievances and demands. The group has also launched the website StopETP.org as an online hub for the campaign.
ETP is expected to vote to merge with Sunoco Logistics on Wednesday.
"Energy Transfer Partners and Sunoco Logistics have a damning history of pipeline fires, leaks, and spills, causing millions of dollars in property damage and leaving thousands of gallons of hazardous products in the environment," said Marc Yaggi, executive director of Waterkeeper Alliance, one of the participating organizations. "These incidents demonstrate a blatant disregard for the communities and waterways impacted by these pipelines."

Lena Moffitt, director of Sierra Club's Beyond Dirty Fuels campaign, said momentum has been building across the nation.
"From Standing Rock, to Texas, to Ohio, to towns across the country, people are mobilizing against Energy Transfer Partners and its reckless agenda that has threatened our communities, our clean air and water, and our climate," Moffitt said. "We the people are organized, we are determined, and together, we will stop Energy Transfer Partners' dirty and dangerous plans."

Cedar Mesa Valley of the Gods in the Bears Ears National Monument in southeastern Utah. Bob Wick, BLM

The review enables the Department of Interior to examine whether any of the monument designations have led to a "loss of jobs, reduced wages and reduced public access."
"The Antiquities Act does not give the federal government unlimited power to lock up millions of acres of land and water," President Donald Trump said during a brief ceremony today flanked by Vice President Mike Pence and Sec. of the Interior Ryan Zinke. He added that it was "time to end this abusive practice."
The 1.35-million acre Bears Ears National Monument in Utah is one of the first targets for review. The monument was created by President Obama last year and has sparked major controversy between Republican lawmakers and conservationists. Utah Gov. Gary Herbert and Utah's congressional delegation led by Congressmen Rob Bishop and Jason Chaffetz and Senators Orrin Hatch and Mike Lee have launched a campaign to abolish national monument. More than 270 million acres of American land and waters are potentially at risk—an area two and a half times the size of California.
GOP lawmakers have accused President Obama, who designated more monuments than any other president, of abusing the Antiquities Act to protect land from fossil fuel development.
"By potentially rolling back safeguards for lands and waters that are currently protected from destructive development for generations to come, Trump is carving up this beautiful country into as many corporate giveaways for the oil and gas industry as possible," said Diana Best of Greenpeace USA. "People in this country who cannot afford the membership fee at Mar-a-Lago want safe water they can drink and public lands for their communities to enjoy."
National monument designations have protected some of the most iconic places in the country. Dozens of the nation's most treasured national parks were first protected as monuments, including Grand Teton, Grand Canyon, Bryce, Zion, Acadia and Olympic national parks, explained the Center for Biological Diversity.
Rhea Suh, president of the Natural Resources Defense Council, emphasized that the NRDC will fight the review, and said the president is not authorized to reverse monument designations.
"These public lands belong to all of us," she said. "The U.S. holds them in trust for the benefit of this and future generations. These monuments have been deemed worthy of permanent conservation because of their unique resources and wildlife, ecological importance, and vulnerability to encroachment and destruction. President Trump and Secretary Zinke should not strip away their protection and subject them to industrial exploitation by polluters or other corporate interests."
The Center for Biological Diversity noted that more than 50 national monuments are at risk, including vast marine areas in the Pacific and Caribbean. Congress gave the president the authority to designate national monuments on federally owned land under the Antiquities Act of 1906, which was signed into law by President Teddy Roosevelt, for the express purpose of protecting important objects of historic and scientific importance.
"This is a frightening step toward dismantling the protection of some of America's most important and iconic places: our national parks and monuments," said Kierán Suckling, executive director of the Center for Biological Diversity. "Trump's tapping into the right-wing, anti-public-lands zealotry that will take us down a very dangerous path—a place where Americans no longer have control over public lands and corporations are left to mine, frack, clear-cut and bulldoze them into oblivion. It starts with Bears Ears and Grand Staircase and only gets worse from there."
National monuments are cherished by Americans for their natural beauty and cultural significance.
"There is no need for a review to demonstrate what families across the country already know first-hand—national monuments provide tangible health, natural, and economic benefits," said Michael Brune, Sierra Club executive director. "Protected outdoor spaces drive the outdoor recreation economy which supports 7.6 million jobs and generates $887 billion in consumer spending each year. National monuments and public lands are vital both for the history they preserve and the future they offer.
"Contrary to the Trump administration's thinly veiled hopes," he added, "this review will reveal what studies, surveys and polls have consistently found across the country—a deep, widespread appreciation for our parks, monuments and other public lands, and a popular belief that they should continue to exist."
As thousands of people across the country and in Washington, DC are expected to join the People's Climate March on Saturday, indigenous leaders and climate activists will, as 350.org Executive Director May Boeve points out, "now have to defend our parks and monuments from Big Oil as well."
Tom Goldtooth, executive director of the Indigenous Environmental Network, put it this way. "This is another Trump action that is another act of aggression against the inherent sovereign rights of our Native Nations to protect the traditional cultural areas and sacred places of American Indian and Alaska Native people," he said.
"There are many areas in this country, outside of our reserved lands that are of vital importance to our Indigenous peoples' identity and rich cultural and spiritual history. The 1906 Antiquities Act cannot be stripped on its important historical mandates to designate national monuments to protect areas that have cultural, historical and environmental significance. The act is paramount to all the tribes in this country; for our cultural preservation now and into the future. The frontline Indigenous communities in our network see Trump's actions as a way to open up fossil fuel and extractive mineral development within these national monuments designated under the 1906 Antiquities Act. Trump's action must be stopped."
Companies are also outraged at Trump's latest executive order. "Less than 24 hours after joining with our industry to celebrate the economic power of outdoor recreation, in a hypocritical move, the Trump administration took unprecedented steps that could result in the removal of protections for treasured public lands," Patagonia CEO Rose Marcario said.
"We take this as a sign that Trump and his team prefer to cater to fossil fuel interests and state land grabs for unsustainable development, rather than preserve a vital part of our nation's heritage for future generations by protecting federal lands owned by every citizen."
FracTracker Alliance
A study released Wednesday found that, if built, the controversial PennEast Pipeline for fracked gas could contribute as much greenhouse gas pollution as 14 coal-fired power plants or 10 million passenger vehicles—some 49 million metric tons per year.

The analysis, conducted by Oil Change International, showed that federal regulators are poised to rubber-stamp the PennEast Pipeline based on a woefully inadequate climate review that ignores the significant impact of methane leaks and wrongly assumes that gas supplied by the project will replace coal.
The Federal Energy Regulatory Commission (FERC) is facing a growing backlash across the country over its routine approval of gas pipeline projects that endanger communities and the climate. Today's study comes on the heels of a federal court hearing in which a judge slammed FERC's shallow and dismissive review of the climate impact of the Sabal Trail gas pipeline in the Southeast.
The new analysis counters FERC's final environmental impact statement for the PennEast project released in early April. It applies a methodology recently developed by Oil Change International to calculate the climate impact of gas pipelines from the Appalachian Basin. In contrast to FERC, the Oil Change methodology reflects the evolving analysis of methane leakage and the full lifecycle of pollution that pipelines cause from fracking well to smokestack.
"Our analysis shows that the PennEast Pipeline would cause a massive increase in climate pollution," said Lorne Stockman, lead author of the study and Oil Change International senior research analyst. "The only way FERC can conclude otherwise is by ignoring both science and economics. The PennEast pipeline is not needed, communities don't want it and it will deepen reliance on fossil fuels that we can't afford to burn."
The PennEast Pipeline, backed by a consortium of gas companies, would run roughly 120 miles from northeastern Pennsylvania to Mercer County, New Jersey, carrying up to 1.1 billion cubic feet of gas per day. The New Jersey Rate Counsel has concluded that New Jersey consumers do not need the gas. The project is facing stiff opposition from landowners and community and environmental groups along its route.
The Oil Change analysis found that the pipeline would be responsible for over 49 million metric tons of greenhouse gas emissions by adding up the pollution from gas extraction and processing, pipeline operation, gas combustion at power plants and methane leaked across the gas supply chain.
The study found three major faults in FERC's review:
• FERC fails to acknowledge that methane leakage makes gas as dirty or dirtier than coal, wiping out any potential benefits of switching from coal to gas;
• FERC ignores the market reality that new gas production is likely to compete directly with clean energy and energy efficiency, especially in New Jersey, which has already phased out coal-fired generation;
• FERC fails to count upstream emissions from fracking operations.
Advocates from the region reacted to the study with concern and reiterated their commitment to stopping the pipeline, which has yet to receive key permits from the New Jersey Department of Environmental Protection and the Delaware River Basin Commission:
"It is unseemly that the public and nonprofit organizations are having to invest time and money in doing the work FERC should be undertaking," said Maya van Rossum, the Delaware Riverkeeper. "This report demonstrates, yet again, that the PennEast pipeline will help push our nation and world over the climate change cliff. FERC is not only legally required to do the kind of analysis included in this report, but is morally responsible."
Tom Gilbert, campaign director for Rethink Energy NJ and NJ Conservation Foundation, agreed. "It cannot be ignored that New Jersey's greenhouse gas emissions are going up, not down, driven by increased emissions from gas-fired electric plants," he said.
"This report shows that the PennEast pipeline would only further move the state in the wrong direction by increasing carbon emissions and methane leaks, putting public health and safety at risk."
By Graham Readfearn
The New York Times has been defending the paper's hiring of a climate science denier, fighting off its critics with what it claims is a standard fashioned from hardened "intellectual honesty."
The controversial hire in question is that of Bret Stephens, formerly of the Wall Street Journal, who has joined the New York Times as a columnist and deputy editorial page editor.
While at the Wall Street Journal, Stephens consistently undermined and disparaged climate change, one time describing it as an "imaginary enemy" and another comparing it to religion with a "doomsaying prophecy and faith in things unseen."
Stephens' new boss, editorial page editor James Bennett, told the paper's public editor Liz Spayd: "The crux of the question is whether his work belongs inside our boundaries for intelligent debate and I have no doubt that it does. I have no doubt he crosses our bar for intellectual honesty and fairness."
Suffice to say, there are plenty who disagree. One climate scientist has already canceled his subscription in protest, with others watching closely.
No doubt that Stephens can write—he won a Pulitzer in 2012 for lots of opinions on stuff other than climate.
But like other conservative columnists admired for their poetic prose and strident opinions while attacking climate change, the methods used by Stephens might be compared to those of a fake chef producing a lumpy and unsatisfying word soup.
Crap Soup
There's no real care with the preparation and no quality control over the freshness or blending of the ingredients, but these indiscretions are suitably masked with enough flavor-enhancers to give some short-term satisfaction to unsuspecting diners/readers.
But the New York Times should probably be serving up something far more substantial than crap soup and three-day-old bread to its massive audience.
Let's take, for example, a November 2015 column which Stephens wrote in the build up to the United Nations climate negotiations in Paris.
Stephens wrote that a trend in rising global temperatures was "imperceptible" and that the "hysteria" around climate change ignored how this trend could be "a product of natural variation."
There is a mountain of evidence that global warming is not caused by "natural fluctuations" and this evidence has been in existence for decades. To suggest that it isn't, would be to fall below any bar of intellectual honesty erected in the newsroom of the New York Times or in any science academy around the globe.
In the same column, Stephens chose to highlight "the hyping of flimsy studies—melting Himalayan glaciers; vanishing polar ice" that he said were being used to push a political viewpoint.
Stephens was referring to an error on Himalayan glaciers buried away in a UN report, while choosing to ignore the decades-long trend of melting that has been recorded at glaciers all over the planet.
Climate Agnostic?
Stephens himself has told Huffington Post that he's an "agnostic" on climate change and said while it "seems" the weight of scientific evidence points to human causes for global warming, that evidence might be wrong because "the history of science is replete with consensus positions that have evolved."
Now, the New York Times' own defense of its hiring of Stephens is almost as redundant as the arguments that Stephens borrows from climate science deniers.
In an interview with the Huffington Post, the New York Time's Bennett said there was "more than one kind of denial."
"And to pretend like the views of a thinker like Bret and the millions of people who agree with him on a range of issues, should simply be ignored, that they're outside the bounds of reasonable debate, is a really dangerous form of delusion," he said.
Let's think about what the New York Times opinion page might look like if we based it on the beliefs of millions of Americans.
According to Gallup polling data, some 20 percent of Americans believe in witches, which is roughly half the number of people who think extrasensory perception is actually a thing.
A poll conducted by Harris in 2016 found that two out of five Americans think ghosts are real. Belief in evolution? That's at 49 percent. Creationism? Some 37 percent are down with that.
Lizard people controlling societies? One in 25 Americans fear their presence, but where's their representation in the New York Times editorials?
Arguing that someone should be hired to the editorial desk of one of the world's most influential newspapers because "millions of people" hold a particular belief is a clear path to supporting the sort of delusional thinking that has more Americans believing in the paranormal than accepting that climate change is mostly human-caused.
That 1970s Cooling Myth
Opinions are worth printing when they're based on the preponderance of credible evidence, not the self-interests of fossil fuel–funded "fellows" at so-called think tanks or the whimsy of attention-seeking contrarians.
In an August 2011 interview on Fox News Business, Stephens told viewers "in the 1970s we were supposed to believe in global cooling."
Were we? Well, if you want to base your intellectually robust opinion on a moldy-old myth based on a couple of 1970s news items, then fine.
Alternatively, read a 2008 review of science papers published between 1965 and 1979 finding that only seven papers were predicting cooling against 44 saying temperatures would rise.
Also in that interview, Stephens lauded an essay by the late author Michael Crichton that attacked the consensus on global warming.

In that essay, based on a lecture, Crichton said: "Whenever you hear the consensus of scientists agrees on something or other, reach for your wallet, because you're being had."
So let's just stop a second and think about what Crichton was advocating here.
The consensus of medical science says smoking will massively increase your risk of getting cancer and heart disease, even if you can't say exactly which cigarette killed your wheezy relative. You're being had, folks.
Crichton was putting up a straw man argument—that science is done by consensus—in order to then attack it.
Climate Consensus
When people talk about a consensus on the causes of climate change, they're describing the collective findings of thousands of peer-reviewed articles published in leading scientific journals over decades using multiple methods from a diverse set of observations.
The consensus that climate change is caused by humans comes from the long-studied physical properties of greenhouse gases to the measurements of warming oceans, the atmosphere and the places on the planet where there is or was, ice.
Don't get me wrong here, folks. You're free to choose a glib sound bite from a science fiction writer based on a misrepresentation of the concept of scientific consensus.
But take care not to be had by charlatans promising to chat to your very dead Aunty Betty or save your soul from the claws of the lizard people.
I think it might be time someone broke into the editorial office of the New York Times and raised that bar of intellectual honesty.
Reposted with permission from our media associate DeSmogBlog.