This website uses cookies to ensure you get the best experience while browsing it. By clicking 'Got It' you're accepting these terms.
Closed coal mine in Boone County, West Virginia.
WVPB/ Janet Kunicki
It was supposed to be all about jobs. When the president announced his intent to abandon the Clean Power Plan this spring and then withdraw from the Paris agreement this summer, one of the biggest reasons cited was to protect the coal jobs sustaining communities in places like Appalachia.
There's just one problem. Whatever the White House says, coal jobs are in a terminal decline and whatever cynics claim, it's not some cabal of heartless environmentalists to blame. It's the power industry itself, driven by advances in technology and simple market forces.
Do you have an affinity for vintage travel posters, the bold, graphic kind with silhouetted palm trees and snow capped mountains? Do you enjoy national parks and monuments? I know I do. So it's a pleasant surprise to discover the Creative Action Network's (CAN) See America crowdsourced art campaign.

Original See America posters from the New Deal arts project of the 1930's. Montage credit: The Creative Action Network
The New Deal's Works Progress Administration (WPA) of the 1930s, formed under President Franklin D. Roosevelt, was created to lift America out of the Great Depression and get people working. "FDR also strove to raise the nation's battered pride and spirit. One way to do that was to celebrate the country's stunning natural wonders—and encourage Americans to visit them," said Director of the FDR Presidential Library Lynn Bassanese. WPA artists were employed in this campaign, creating stunning posters that promoted America's natural beauty, including monuments and national parks.
Now, more than 75 years later, and on the verge of the 2016 centennial anniversary of the National Park Service, CAN has partnered with the National Parks Conservation Association to launch a new version of See America to create a second stunning set of posters for a new generation.
To date 180+ artists from all 50 states have submitted 600+ designs. The posters showcase historic, natural and cultural sites across the U.S., which encourage Americans to reconnect with these places and to explore our shared history. Check out the current top 10 selling prints:
[slideshow_deploy id='346887']
"With today's digital tools, individual artists have the power to create and share their work like never before," said Max Slavkin, cofounder and CEO of CAN. "That's why now is the time to pick up where the New Deal left off, and harness America's creative energy in celebrating the beauty and importance of our natural and cultural landmarks."
One example of a group of artists approaching this challenge is Daniel Gross's package design class at the Art Institute of California, Orange County. Gross had each student pick a national park they related to, either through a previous visit or a desire to visit in the future, then research and showcase the park's uniqueness and history. As Gross puts it: "One visit to a national park can make anyone a believer in designing and living in a more sustainable way." Check out the class's submissions:
[slideshow_deploy id='346888']
You can contribute your own artwork of your favorite park or natural landmark. See America is not a contest. It is a campaign to showcase America's beautiful, precious sites. Submissions that meet all guidelines will be displayed and made available for purchase as prints, mugs, greeting cards and tote bags.
Looking for a little inspiration for your See America artwork? Consider these words of President Roosevelt:
There is nothing so American as our national parks. The scenery and wild life are native. The fundamental idea behind the parks is native. It is, in brief, that the country belongs to the people ...The parks stand as the outward symbol of this great human principle.
This new rendition of See America will be on display through this month at the Franklin D. Roosevelt Presidential Library and Museum in Hyde Park, NY, with additional exhibitions anticipated across the country.
——–
YOU MIGHT ALSO LIKE
The #1 Way to Improve Your Life? Nature
Doctors Prescribe Spending Time In Parks
Death by a Thousand Cuts: Report Shows Consequences of Defunding National Parks
——–
[Editor's note: Dr. Sandra Steingraber presented a keynote speech for the New Environmentalism Summit of the European Commission in Brussels, Belgium, on June 3. The text follows.]

I would like to begin by quoting from comments made yesterday by Angela Knight, a former Conservative MP in Britain.
As a reaction to the recent elections here in Brussels, Ms. Knight said, "We have an opportunity in the energy industry to get fact based, logic based, properly costed and sensible EU policy-making and to encourage a move away from an emotion driven and expensive agenda."
That statement appears in yesterday's The Guardian, and I couldn't have said it better myself.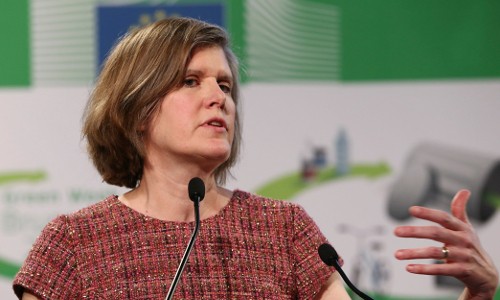 Dr. Sandra Steingraber speaking at the New Environmentalism Summit in Brussels, Belgium. Photo credit: HEAL on flickr.
Indeed, that's exactly what I have come to European Commission to ask for: for the European Union—and for my own union, the United States—a fully cost-accounted energy policy based on facts, logic and science rather than emotion.
But here's the notable difference:  Angela Knight and I are arguing for opposite courses of action.
Ms. Knight is a lobbyist for Energy UK. Her group seeks to mute the EU's commitments to green energy, stall ongoing efforts to counter climate change and maintain dependency on fossil fuels.
I am a biologist, a science advisor for Americans Against Fracking, and a co-founder of both Concerned Health Professionals of New York and New Yorkers Against Fracking. The groups of which I am part seek an acceleration of the transition to energy policies based on wind, water and solar power and believe that further investments in fossil fuels in general—and shale gas in specific—are irrational, ruinously expensive, unsustainable and immoral.
These two worldviews are fundamentally incompatible. They cannot be reconciled or bridged. They require a bold leadership choice that rejects one and embraces the other.
In New Yorkers Against Fracking, we speak of standing at an energy crossroads. One signpost points to a future powered by digging fossils from the ground and lighting them on fire. The other points to renewable energy. You cannot go in both directions at once. Subsidizing the infrastructure for one creates disincentives for the other.  
This is no more true than with fracking, the process by which fresh water is mixed with sand and a cocktail of chemicals and then used as a poisonous club to shatter layers of shale bedrock inside of which are trapped tiny bubbles of natural gas—scattered like a fizz of champagne inside of a chalk board that is buried a mile below the earth's surface.
In the United States, fracking has created such a temporary abundance of cheap natural gas that it has stunted research and development into renewable energy sources and has further delayed action toward a goal that science tells us that we must urgently meet: namely, to leave 80 percent of the remaining carbon in the ground and to redesign our economy to run almost entirely on renewables by mid-century in order to avoid catastrophic climate tipping points.
We are also running out of places to store all this excess shale gas.
One proposed solution, which is being developed with the encouragement of the European Commission, is to liquefy the excess and give it a passport to Europe. Doing so would require the construction of multi-billion dollar export terminals along our coastlines together with fossil fuel-fired power plants that are needed to run the cryogenic refrigerators that turn natural gas into LNG by super-chilling it to minus 260 degrees F.
You cannot advocate for the construction of multibillion-dollar LNG infrastructure projects that presume a 40-year return on investment and also claim in the same breath that you are building a bridge to renewable energy future. Those two ideas cannot be brought into alignment.
Another proposed solution to excess American shale gas is to bury it in abandoned salt mines.
I have personal experience with this idea because I live near a lake under which lies a gallery of old salt caverns left over from 19th century mining. These caves are now being repurposed for the storage of compressed methane gas along with other liquefied gases that are the byproducts of fracking, namely, propane and butane.
I refer here to Seneca Lake, the largest and deepest lake within New York State. Seneca Lake holds so much water that it creates its own microclimate that is uniquely favorable to growing of grapes. The shores of this lake thus form the heart of New York's wine region. Indeed, the vineyards that lie over the hillsides where I live are the goose that lays our golden egg: Grapes and wine contribute $4.8 billion to our state's economy. In particular, the Seneca Lake region is famous for world-class Rieslings.
This is also an intensely lovely place, named by Yahoo Travel as one of the top 10 lake-side destinations in the world, with beauty to rival Italy's Lake Como and England's own Lake District.
And now Seneca Lake is slated for mass industrialization, as plans are laid for compressor stations, flare stacks, pipeline, brine pits and other infrastructure required to transform the loveliest lakeside vacation spot in America into a regional hub for the storage and transport of fracked gas.
Absent our intervention, this is the fate of New York's wine region. Earlier this month, permission was granted by the U.S. federal government to move forward with the first part of this massive industrial project. 
But we are intervening. And those of us who do so see ourselves as part of a human rights struggle. Seneca Lake not only allows wine grapes to flourish in this otherwise cold, northern zone, it is also the source of drinking water for 100,000 people. Those who oppose turning the lakeshore into a storage depot for fracking are not just defending grapevines. We are defending water, which is life itself.
I've now talked myself into my assigned task: to explore the most critical issues currently facing the planet and help generate ideas that lead to breakthrough solutions.
In fact, there are two critical issues: climate change, which is killing our life-support system, and chemical pollution, which is killing us.
Like a tree with two trunks, these twinned problems have a single root cause: fossil fuels. Whether we shovel them into ovens and light them on fire or turn them into toxic petrochemicals, fossil fuels are the problem.
The ideas that would lead to breakthrough solutions are already here. Their names are green energy and green chemistry, but they are being held hostage by the oil and gas industry.
Their rescue depends on a vigorous new environmentalism that closes the door on fracking.
Fracking is the imposter in the room. 
Fracking is the problem that masquerades as a solution. 
Fracking is the deadly enabler that keeps the whole fossil fuel party going far past the time of its curfew.
Methane—also known as natural gas—is carbon dioxide's partner in crime. Indeed, as a greenhouse gas, it is far more powerful. According to the latest estimates by the Intergovernmental Panel on Climate Change, methane is, over a 100-year period, 34 times more powerful at trapping heat than carbon dioxide.
Over a shorter period, methane is even more potent. The best science tell us that methane is, over 20 years, nearly 100 times more potent at trapping heat than carbon dioxide.
How much methane is actually released between drilling for it and burning it?  We don't exactly know. Those studies are ongoing.
We do know that fugitive methane wafts from every stage of the gas extraction, processing and distribution process—and from all of the ancillary infrastructure along the way, including well casings, condenser valves and pipelines.
The emerging science shows us three things about fracking and climate change:
First, that we have grossly underestimated the amount of methane that leaks from drilling and fracking operations. Second, that we have grossly overestimated the ability of regulations to control those emissions. And third, that the ability of methane to trap heat is far more powerful than we realized in the only remaining time frame available to us to avert catastrophic climate change.
In short, fracking is the ultimate bridge to nowhere. You cannot blast natural gas out of the bedrock and send it into kitchen stoves and basements furnaces across the land without venting massive amounts of climate-killing methane into the atmosphere.
Let's now look at the chemical pollution of caused by drilling and fracking operations and their attendant infrastructure. This is a problem that has created a public health crisis in the United States where fracking was born and where it has spread relentlessly from sparcely populated western states to the densely populated Northeast.
The evidence for human harm caused by fracking is contained within the medical literature itself. The totality of the science now encompasses hundreds of peer-reviewed studies. All together, these data reveal multiple health problems associated with drilling and fracking operations and expose intractable, irreversible engineering problems.
They also make clear that the relevant risks for harm have neither been fully identified nor adequately assessed and, thus, that no regulatory framework in any U.S. state can be said to adequately protect public health. 
Last week, alarmed by growing evidence for harm across the United States in areas where fracking is practiced, more than 250 health organizations and individual physicians, nurses, midwives, scientists and other health professionals sent a letter to Governor Andrew Cuomo that calls for a formal three-to-five moratorium on fracking in New York State. Among the signatories were many researchers who are generating the actual data.
I'll describe for you now some of the trends that are so concerning to those of us in the scientific and medical community. [All studies referenced below are cited in the May 29 letter to Gov. Cuomo from Concerned Health Professionals of New York and other signatories.]
First, despite ongoing industry denial, evidence linking water contamination to fracking–related activities is indisputable.
Investigations have confirmed water contamination in four states: Pennsylvania, Ohio, West Virginia and Texas. These contaminants include methane, radioactive radium, the carcinogen arsenic and multiple hormone-disrupting substances—so called endocrine disruptors. This last discovery is especially worrisome because endocrine disruptors can exert powerful effects on human development at vanishingly low concentrations. There is no safe level of exposure.
To sum up the evidence for the threat to drinking water, I'll quote from a new review by the Council of Canadian Academies:
A common claim . . . is that hydraulic fracturing has shown no verified impacts on groundwater. Recent peer-reviewed literature refutes this claim and also indicates that the main concerns are for longer term cumulative impacts that would generally not yet be evident and are difficult to predict reliably. . . . The most important questions concerning groundwater contamination from shale gas development are not whether groundwater impacts have or will occur, but where and when they will occur. . .
Why is drinking water contamination inevitable with fracking?
The science shows that there are at least two reasons. The first is based in engineering: cement is not immortal. It can fail. And when it does, the structural integrity of gas wells can fail. These failures are common, unavoidable, and increase over time as wells age and cement and casings deteriorate.
According to the data available to us in the United States, five to seven percent of gas wells leak immediately, and more than half leak after 30 years.
Drilling and fracking itself appear to contribute to loss of well integrity. Drilling creates fractures in the surrounding rock that cement cannot completely fill and so opens pathways for the upward migration of liquids and gases. Also, as cement ages, it shrinks and pulls away from the surrounding rock, reduce the tightness of the seal, thus opening potential portals for contamination. No regulations, no best practices can prevent this problem.
Drinking water can also be contaminated by the disposal of liquid fracking waste. This is the fluid that flows back out of the hole when the high pressure is released after the bedrock is fractured. Fracking waste is contaminated not only with the toxic chemicals that are purposefully added to water to create fracking fluid but also with brine, heavy metals and radioactive substances that it absorbs on it journey down to the center of the earth and back again.
These cannot be filtered out by any known technology. Hauling fracking wastewater to treatment plants has resulted in contamination of U.S. rivers and streams with bromine and radioactive radium. We have good data on this.
Fracking destroys water. With no method to turn poisonous frack waste back into drinkable water, gas companies have resorted to pumping the waste back into the ground via deep-well injection. But this solution—which considered a "best practice"—has triggered earthquakes by stressing geological faults and making them vulnerable to slippage
In the United Kingdom, Canada, Mexico and Ohio, geologists have also linked fracking itself to earthquakes. Members of the Seismological Society of America warn that geologists do not yet know how to predict the timing or location of such earthquakes, but they do know that they can occur tens of miles away from the wells themselves.
In New York State, both the certainties and the uncertainties about the risk of earthquakes from fracking operations raise serious, unique concerns about the possible consequences to New York City's drinking water infrastructure from fracking-related activities. No other major U.S. city provides drinking water through aging, 100-mile-long aqueducts that lie directly atop the shale bedrock. Seismic damage to these aqueducts that results in a disruption of supply of potable water to the New York City area would create a catastrophic public health crisis.
Now let's look at fracking-related air pollution.
Air pollution arises from the gas extraction process itself, as well as the intensive transportation demands of extraction, processing and delivery. And yet, monitoring technologies currently in use underestimate the ongoing risk to exposed people.
Fracking-related air pollutants include carcinogenic silica dust, carcinogenic benzene and volatile organic compounds (VOCs) that create ozone. Exposure to ozone—smog—contributes to costly, disabling health problems, including premature death, asthma, stroke, heart attack and low birth weight.
Unplanned toxic air releases from fracking sites in Texas increased by 100 percent since 2009, according to an extensive investigation.
Rural areas with formerly pristine air now top the list of the nation's 25 most ozone-polluted counties. In these areas, questions about possibly elevated rates of stillbirth and infant deaths in the area have prompted an ongoing investigation.
Finally, community and social impacts of fracking can be widespread, expensive and deadly.
Community and social impacts of drilling and fracking include spikes in crime, sexually transmitted diseases, vehicle accidents and worker deaths and injuries. We know that traffic fatalities more than quadrupled in intensely drilled areas even as they fell throughout the rest of the nation.
Even as evidence of harm continues to emerge across the United States, reviews of the science to date note that investigations necessary to understand long-term public health impacts do not exist.
To explain why science is missing in action, we emphasize in our letter to the governor of New York the obstacles faced by researchers seeking to carry out the needed research. These include industry secrecy on the part of the gas industry which routinely limits the disclosure of information about its operations to researchers and routinely uses non-disclosure agreements as a strategy to keep data from health researchers.
Thus has the anti-fracking movement in the United States sprung up as a human rights movement to reclaim our right to live in a safe environment with clean air and clean water and not be enrolled as unconsenting test subjects in a vast experiment whose risks remain unassessed and unquantified.
In spite of remaining uncertainties, important studies continue to fill research gaps and build a clearer picture of the longer-term and cumulative impacts of fracking. Many such studies currently underway will be published in the upcoming three–to–five year horizon. These include further investigations of hormone-disrupting chemicals in fracking fluid; further studies of birth outcomes among pregnant women living near drilling and fracking operations; further studies of air quality impacts; and further studies of drinking water contamination.
Angela Knight of Energy UK asks for an energy policy that is "properly costed." 
So do I. 
And a properly costed energy program must take into account the economic consequence of the resulting health impacts. In the densely populated Northeastern region of the United States where fracking has now penetrated, the medical costs for treating those affected by the resulting water contamination and air pollution have never been tallied.
Doing so would require conducting a comprehensive Health Impact Assessment with an economic analysis that monetizes the costs. These costs could be considerable. In the densely populated continent of Europe, the health costs of energy security based on fracking could also be considerable.
Angela Knight of Energy UK asks for an energy policy not based on emotions.
So do I.
And I submit that an energy policy based on gold fever that has oversold the benefits, underpriced the costs and overlooked long-term risks is not emotionless. As described by Bloomberg in a story headlined, "Shale Drillers Feast on Junk Debt to Stay in the Treadmill":
People lose their discipline. They stop doing the math. They stop doing the accounting. They're just dreaming the dream, and that's what's happening with the shale boom.
Sounds like a highly emotive state to me.
We Americans and Europeans share a common destiny. We each live above bedrocks that are ancient sea floors suffused with bubbles of methane. These bubbles represent the vaporized corpses of sea lilies and squid that lived 400 million years ago. Biologically speaking, our bedrocks are a cemetery of vaporized corpses. 
The U.S. plan is to frack them out of the ground, liquefy them and send them over here—all in the name of freeing you from Russian gas. And to encourage you to frack your own bedrock.
If that's the future you choose, it is not possible to also create a circular economy and attain zero waste, which is the stated goal of the EU Commission's Green Week, because in this shale are many other hydrocarbon vapors that are liberated along with the methane during fracking. Ethane is one.
In the United States, we have so much excess ethane—a waste product of fracking—that we are planning to build a massive ethane cracker in Allegheny County, Pennsylvania that will turn this waste product into ethylene.
Allegheny County, Pennsylvania is the birthplace of Rachel Carson. It is a county that already suffers from high levels of air pollution and excess rates of cancer. Ethane crackers are notorious air polluters.
By turning ethane into ethylene, this facility will solve a waste problem for the gas industry and create the feedstock for the manufacture of disposable plastic. Ultimately, this plastic will end up in our oceans as nanobits of non-biodegradable petrochemical.
If this is not what you had in mind, if a new, vigorous environmentalism is what you want, I ask to you stand with us in calling for a moratorium on fracking in the EU, just as we have called for a moratorium on fracking in the U.S.  
Our future is unfractured.
Thank you. 
——–
YOU ALSO MIGHT LIKE
Anti-Fracking Activist Sandra Steingraber's Pursuit of a Healthy Environment
Regulators Ignore Fracking Earthquakes, Protect Big Oil Profits Over People
Interview with Ecologist and Anti-Fracking Activist Sandra Steingraber
——–
Early last week, it was reported that the U.S. Navy was sending military-trained dolphins to the Black Sea as an additional layer of defense against the Russian Navy, which had reportedly recently taken control of Ukraine's military-trained marine life, including dolphins.
The U.S. Navy has used sea lions, dolphins and other marine mammals since the 1960s to search for underwater mines, rescue U.S. soldiers, attack enemy soldiers and plant explosives on enemy targets, among other missions. The Navy also studies these animals, hoping to learn how to design better torpedoes, ship hulls, missiles and sonar systems, but the U.S. military's arguably violent use of the stereotypically friendly animals came as a shock to many.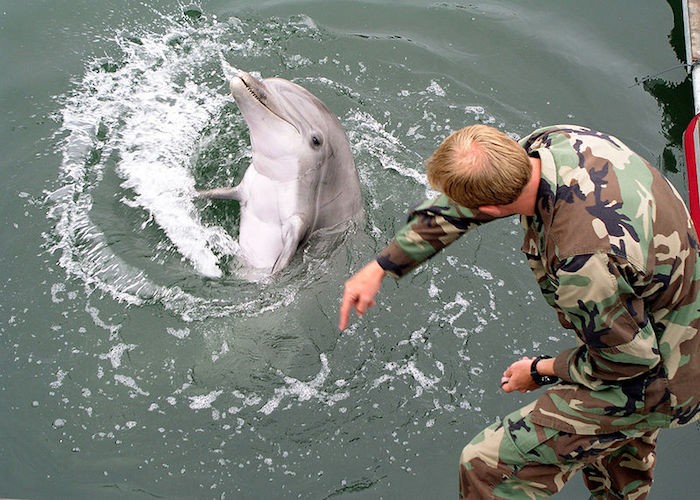 The U.S. military doesn't largely promote the program, possibly because animal rights activists have long objected to the use of animals for military purposes. Whether it's this resistance or other factors, there are reportedly only a handful of places in the world where marine life is taught man's dirty war tactics—one of which is in San Diego, CA.
Though the Navy initially denied that it was sending its trained dolphins and sea lions to the Black Sea, Tom Lapuzza, spokesperson for the U.S. Navy's San Diego-based marine mammals program, told the International Business Times (IBT) that 20 dolphins and 10 sea lions would be sent to the Black Sea this summer to take part in a NATO drill testing a new anti-radar system.
According to the IBT report, the new system disorients enemy sonars "while sea lions and dolphins are looking for mines and military divers." Recently developed armor for the dolphins will also be tested during the trial this summer, which is expected to last from one to two weeks.
Kathy Guillermo, senior vice president of People for the Ethical Treatment of Animals, an animal rights advocacy group, told MintPress News that she was surprised to hear the Navy was going back to using dolphins after announcing it was cutting back on the marine mammal program in the 1990s, citing a lack of uses for the dolphins due to new technology.
"Why in 2014 are we relying on dolphins for anything in the military, when we have come to an understanding that marine mammals are sophisticated and intelligent?" Guillermo asked. "They don't belong to us. They are not our weapons, not our toys."
Guillermo added that since dolphins don't make war, they shouldn't have to fight human wars, either.
Even some former naval staff and dolphin trainers agree the program is not in the best interests of the animals. As Navy Lt. Commander Douglas Burnett put it, there could be situations in which no one can tell whether an animal is a potential enemy, which could lead to a mass slaughter of marine life.
But according to James Fallin, a spokesman for Space and Warfare Systems Command Pacific, which oversees the Navy's marine mammal program, there are some things sea lions and dolphins do better than any technology any human has created.
"Because of the unique capabilities of the marine mammals in the shallow water environment, there are several critical misions (sic) that they perform that cannot be matched by technology or hardware in the near-term," Fallin said. "While the Navy is working on developing replacement technologies, there is no definitive pathway charged for a full replacement of the operational use of marine marine (sic) mammals."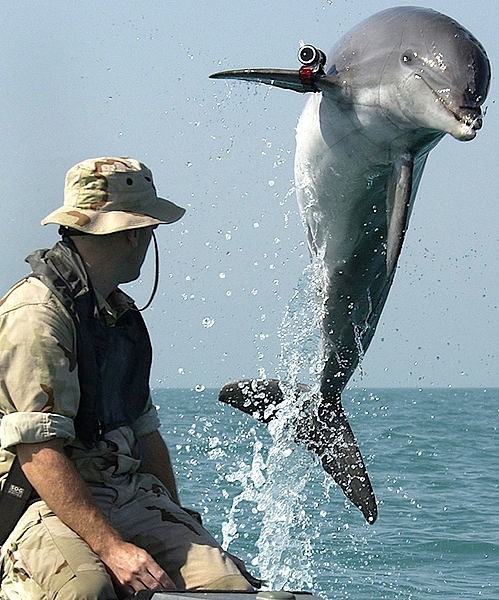 While it's astonishing to learn just how much humans can and have learned from animals, many animal rights activists have expressed concern over use of the animals. They argue that the animals are violently captured in the wild, kept in cramped living quarters and negatively impacted by the tasks they're asked to perform.
According to a letter to the U.S. military from the Biodiversity Legal Foundation, sonar technology negatively affects the animals.
"Sound penetrates an animal's body when immersed in water. Essentially all of acoustic energy goes into a body immersed in water. This effect, which can cause tissue rupture and hemorrhage, has not been adequately addressed in the Navy's [environmental impact statement]," the group wrote.
In other words, working with the Navy often causes marine life tissue to rupture and hemorrhage, and microscopic bubbles in their blood, bladders and lungs impede the animals' ability to breathe and swim.
Due to the private nature of the U.S. military, Guillermo says it can't be entirely known how dolphins are affected by their military duties, but she says scientists are aware that dolphins are incredibly intelligent and sensitive animals who depend upon connections for their both psychological and physical well-being. When they are separated from their friends and family—which often happens when they are captured—they become depressed, and are then forced to live in unnatural habitats.
When asked whether the military had opted to expand the marine mammal program after decreasing it in the 1990s, or if the military just said it had limited its use of marine life to appease the public, Guillermo said she didn't know. She also said the military is highly sensitive to public opinion.
"They don't want to say more than they really have to say," Guillermo said, while talking about PETA's efforts to expose the military's use of goats and pigs in medical training exercises. "My guess is whatever they are actually doing, they will minimize it and sugar coat it and make it sound benign, while keeping the dolphins prisoners and then put them in harms way, while depriving them of everything that makes their life worth living."
--------
YOU MIGHT ALSO LIKE
Sea Shepherd Supporters Rally Worldwide Calling for End to Brutal Taiji Dolphin Hunts
Dolphins Suffering From Lung Disease Due to BP Gulf Oil Spill
Court Rules Feds Failed to Protect Thousands of Whales and Dolphins From Navy Sonar
--------
Two bedrock principles have guided the work and advocacy of American sportsmen for more than a century. First, under the North American Model of Wildlife Conservation, wildlife in the U.S. is considered a public good to be conserved for everyone and accessible to everyone, not a commodity that can be bought and owned by the highest bidder. Second, since President Theodore Roosevelt's creation of the first wildlife refuges and national forests, sportsmen have fought to protect wildlife habitat from development and fragmentation to ensure healthy game supplies.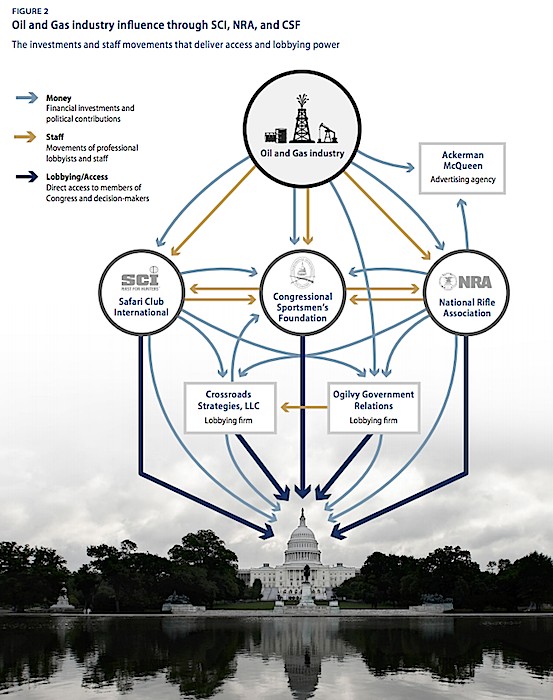 These two principles, however, are coming under growing fire from an aggressive and coordinated campaign funded by the oil and gas industry.
As part of a major effort since 2008 to bolster its lobbying and political power, the oil and gas industry has steadily expanded its contributions and influence over several major conservative sportsmen's organizations, including Safari Club International (SCI) the National Rifle Association (NRA) and the Congressional Sportsmen's Foundation (CSF). The first two organizations have assumed an increasingly active and vocal role in advancing energy industry priorities, even when those positions are in apparent conflict with the interests of hunters and anglers who are their rank-and-file members. The third group, the Congressional Sportsmen's Foundation, is also heavily funded by oil and gas interests and plays a key role in providing energy companies, SCI, the NRA, gun manufacturers and other corporate sponsors with direct access to members of Congress.
The growing influence of the oil and gas industry on these powerful groups is reshaping the politics, policies and priorities of American land and wildlife conservation.
In a new report, Center for American Progress identifies three high-profile debates in which the growing influence of the oil and gas industry in SCI, CSF, the NRA and other conservative sportsmen groups could play a decisive role in achieving outcomes that are beneficial to energy companies at the expense of habitat protection, science-based management, and hunter and angler access to wildlife and public lands.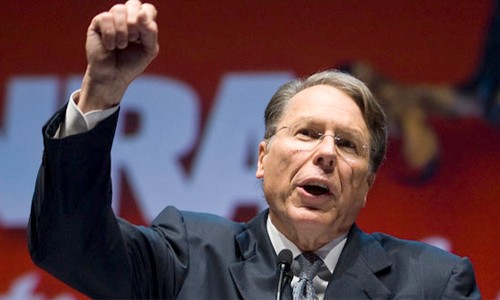 These areas to watch are:
Endangered and threatened wildlife in oil- and gas-producing regions: The case of the greater sage grouse and the lesser prairie chicken
The backcountry: How the oil and gas industry and its allies are working to undo protections of roadless areas and wilderness study areas
Public access and ownership: The movement to privatize public lands and wildlife
The oil and gas industry's growing investment in conservative sportsmen groups is already yielding ever-greater influence over legislation and policy decisions that benefit the industry's financial interests at the expense of hunters and anglers. Understanding and tracking this powerful lobbying alliance is of increasing importance to those who believe that American sportsmen can and should continue to be the standard-bearers for our nation's conservation tradition defend the principles that have guided North American land and wildlife stewardship for more than a century.
--------
YOU MIGHT ALSO LIKE
Idaho Residents Protest Auction of Public Lands for Oil and Gas Drilling
Victory: Judge Rejects Livestock for Wild Bison in Montana
Mining and Fracking Public Lands Creates 4.5 Times More Carbon Than They Can Absorb
--------