This website uses cookies to ensure you get the best experience while browsing it. By clicking 'Got It' you're accepting these terms.


The best of EcoWatch, right in your inbox. Sign up for our email newsletter!
By Gary Wockner and Lydia Bleifuss

Hydropower, falsely sold to the public as a source of "green" or "clean" energy, is expanding at an alarming rate in many of South America's beautiful and ecologically pristine rivers.
By Rex Weyler
We know what is killing the bees. Worldwide Bee Colony Collapse is not as big a mystery as the chemical companies claim. The systemic nature of the problem makes it complex, but not impenetrable. Scientists know that bees are dying from a variety of factors—pesticides, drought, habitat destruction, nutrition deficit, air pollution, global warming and so forth. The causes of collapse merge and synergize, but we know that humanity is the perpetrator, and that the two most prominent causes appear to be pesticides and habitat loss.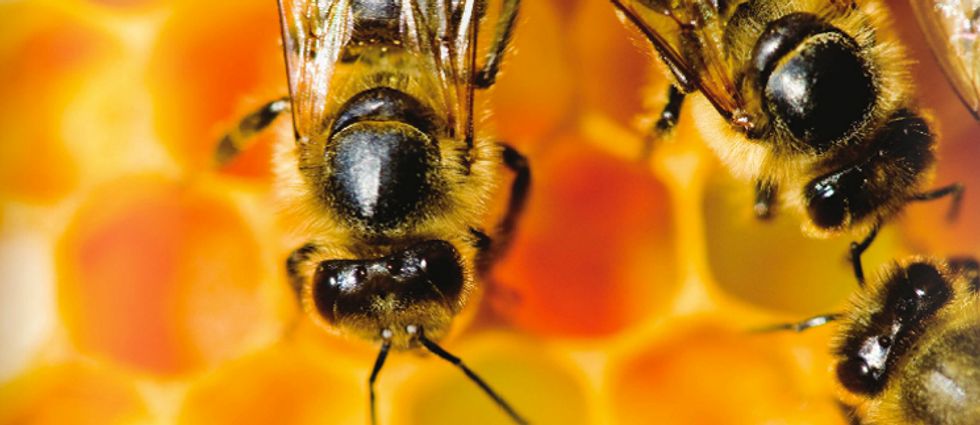 Biologists have found over 150 different chemical residues in bee pollen, a deadly "pesticide cocktail" according to University of California apiculturist Eric Mussen. The chemical companies Bayer, Syngenta, BASF, Dow, DuPont and Monsanto shrug their shoulders at the systemic complexity, as if the mystery were too complicated. They advocate no change in pesticide policy. After all, selling poisons to the world's farmers is profitable.
Furthermore, wild bee habitat shrinks every year as industrial agribusiness converts grasslands and forest into monoculture farms, which are then contaminated with pesticides. To reverse the world bees decline, we need to fix our dysfunctional and destructive agricultural system.
Bee Collapse
Apis mellifera—the honey bee, native to Europe, Africa and Western Asia—is disappearing around the world. Signs of decline also appear now in the eastern honey bee, Apis cerana.
This is no marginal species loss. Honey bees—wild and domestic—perform about 80 percent of all pollination worldwide. A single bee colony can pollinate 300 million flowers each day. Grains are primarily pollinated by the wind, but the best and healthiest food—fruits, nuts and vegetables—are pollinated by bees. Seventy out of the top 100 human food crops, which supply about 90 percent of the world's nutrition, are pollinated by bees.
Tonio Borg, European Commissioner for Health and Consumer Policy, calculates that bees "contribute more than €22 billion ($30 billion U.S. dollars) annually to European agriculture." Worldwide, bees pollinate human food valued at more than €265 billion ($350 billion). The bee collapse is a challenge to human enterprise on the scale of global warming, ocean acidification and nuclear war. Humans could not likely survive a total bee collapse.
Worker bees (females) live several months. Colonies produce new worker bees continuously during the spring and summer, and then reproduction slows during the winter. Typically, a bee hive or colony will decline by five to 10 percent over the winter and replace those lost bees in the spring. In a bad year, a bee colony might lose 15-20 percent of its bees.
In the U.S., where bee collapse first appeared, winter losses commonly reached 30-50 percent and in some cases more. In 2006, David Hackenberg, a bee keeper for 42 years, reported a 90 percent die-off among his 3,000 hives. U.S. National Agriculture Statistics show a honey bee decline from about 6 million hives in 1947 to 2.4 million hives in 2008, a 60 percent reduction.
The number of working bee colonies per hectare provides a critical metric of crop health. In the U.S., among crops that require bee pollination, the number of bee colonies per hectare has declined by 90 percent since 1962. The bees cannot keep pace with the winter die-off rates and habitat loss.
Europe Responds, U.S. Dithers
In Europe, Asia and South America, the annual die-off lags behind the U.S. decline, but the trend is clear, and the response is more appropriate. In Europe, Rabobank reported that the annual European die-offs have reached 30-35 percent and that the colonies-per-hectare count is down 25 percent. In the 1980s, in Sichuan, China, pear orchard pesticides obliterated local bees, and farmers must now pollinate crops by hand with feather dusters.
A European Food Safety Authority scientific report determined that three widely used pesticides—nicotine-based clothianidin, imidacloprid and thiametoxam—pose "high acute risks" for bees. These neonicotinoid pesticides—used in soils, on foliage and embedded in seeds—persist at the core of the toxic pesticide cocktail found in bee hives.
A Greenpeace scientific report identifies seven priority bee-killer pesticides—including the three nicotine culprits—plus clorpyriphos, cypermethrin, deltamethrin and fipronil. The three neonicotinoids act on insect nervous systems. They accumulate in individual bees and within entire colonies, including the honey that bees feed to infant larvae. Bees that do not die outright, experience sub-lethal systemic effects, development defects, weakness and loss of orientation. The die-off leaves fewer bees and weaker bees, who must work harder to produce honey in depleted wild habitats. These conditions create the nightmare formula for bee colony collapse.
Bayer makes and markets imidacloprid and clothianidin; Syngenta produces thiamethoxam. In 2009, the world market for these three toxins reached over $2 billion. Syngenta, Bayer, Dow, Monsanto and DuPont control nearly 100 percent of the world market for genetically engineered (GE) pesticides, plants and seeds.
In 2012, a German court criminally charged Syngenta with perjury for concealing its own report showing that its genetically modified corn had killed livestock. In the U.S., the company paid out $105 million to settle a class-action lawsuit for contaminating the drinking water for more than 50 million citizens with its "gender-bending" herbicide Atrazine. Now, these corporate polluters are waging multi-million-euro campaigns to deny responsibility for bee colony collapse.
In May, the European Commission responded, adopting a two-year ban on the three neonicotinoid pesticides. Scientists will use the two years to assess the recovery rate of the bees and a longer-term ban on these and other pesticides.
Meanwhile, the U.S. dithers and supports the corporations that produce and market the deadly pesticides. In May, as European nations took action, the U.S. Environmental Protection Agency (EPA) approved the neonicotinoid pesticides, in spite of a U.S. Department of Agriculture report warning about the dangers of the bee colony collapse.
Also in May, President Obama, signed the now infamous "Monsanto Protection Act"—written by Monsanto lobbyists—that gives biotech companies immunity in federal U.S. courts from damages to people and the environment caused by their commercial compounds.
Solutions Exist
Common sense actions could restore and protect the world's bees. Experienced bee keepers, apiculturists, farmers, the European Commission and the Greenpeace report, Bees in Decline have outlined these solutions:
Ban the seven most dangerous pesticides
Protect pollinator health by preserving wild habitat
Restore ecological agriculture
Ecological farming is the over-arching new policy trend that will stabilize human food production, preserve wild habitats and protect the bees. The nation of Bhutan has led the world in adopting a 100 percent organic farming policy. Mexico has banned GE corn to protect its native corn varieties. In January, eight European countries banned GE crops, and Hungary has burned over a 1,000 acres of corn contaminated with GE varieties. In India, scientist Vandana Shiva and a network of small farmers have built an organic farming resistance to industrial agriculture over two decades.
Ecological or organic farming, of course, is nothing new. It is the way most farming has been done throughout human history. Ecological farming resists insect damage by avoiding large monocultures and preserving ecosystem diversity. Ecological farming restores soil nutrients with natural composting systems, avoids soil loss from wind and water erosion, and avoids pesticides and chemical fertilizers.
By restoring bee populations and healthier bees, ecological agriculture improves pollination, which in turn improves crop yields. Ecological farming takes advantage of the natural ecosystem services, water filtration, pollination, oxygen production and disease and pest control.
Organic farmers have advocated better research and funding by industry, government, farmers and the public to develop organic farming techniques, improve food production and maintain ecological health. The revolution in farming would promote equitable diets around the world and support crops primarily for human consumption, avoiding crops for animal food and biofuels.
Ecosystems
The plight of the bees serves as a warning that we still may not quite understand ecology. Ecological farming is part of a larger paradigm shift in human awareness. The corporate denialists appear just like the Pope's shrouded inquisitors in 1615, who refused to look through Galileo's telescope to see the moons of Jupiter. Today's denialists refuse to recognize that Earth's systems operate within real limits. However, the state religion in this case is money, and the state religion won't allow it. The denialists cling to the presumed right to consume, hoard, and obliterate Earth's great bounty for private profits. But hoards of money won't reverse extinction, restore lost soils or heal the world's bee colonies.
A great reckoning awaits humanity if we fail to awaken from our delusions. Earth's delicately balanced systems can reach tipping points and collapse. Bees, for example, work within a limited range of marginal returns on the energy they exert to collect nutrition for their colonies. When winter bee deaths grow from 10 percent to 50 percent, the remaining bees are weakened by toxins, and the wild habitats shrink that thin, ecological margin of energy return can be squeezed to zero. Surviving bees expend more energy than they return in honey. More bees die, fewer reach maturity and entire colonies collapse. This crisis is a lesson in fundamental ecology.
Rachel Carson warned of these systemic constraints 50 years ago. Ecologists and environmentalists have warned of limits ever since. Bee colony collapse now joins global warming, forest destruction and species extinctions among our most urgent ecological emergencies. Saving the world's bees appears as one more necessary link in restoring Earth to ecological balance.
Visit EcoWatch's BIODIVERSITY page for more related news on this topic.

EcoWatch Daily Newsletter
Marine biologists' worst fears seem to be confirmed: coral colonies take a long time to recover from catastrophic climate events.
British and Brazilian biologists report in the Public Library of Science One (PLoS One) that the richest habitats of the sea could also be among the most vulnerable to climate change.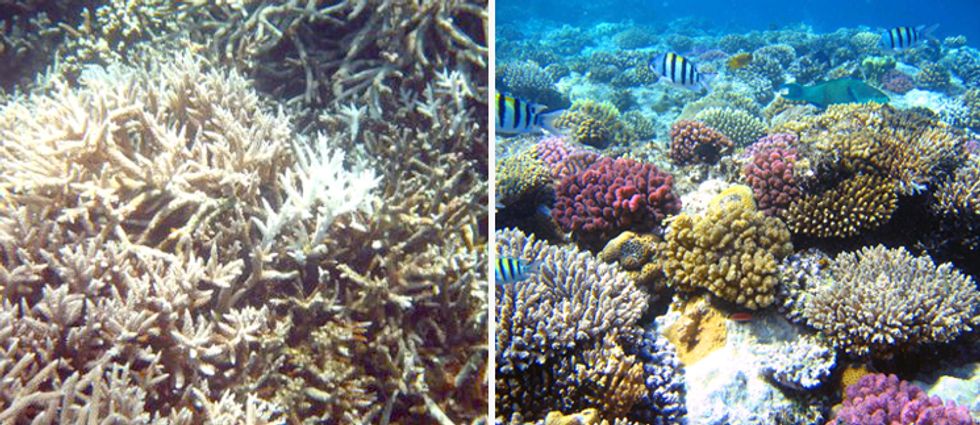 For more than 17 years, conservationists from Plymouth University in the UK worked with researchers from the Federal University of Bahia in Brazil to analyze the diversity and density of coral reefs and colonies off the coast of South America. Quite early in that 17 year span, there was an El Niño event.
El Niño is a periodic eruption of unprecedented ocean temperatures: it is a natural phenomenon and seems to have happened periodically through recorded human history, distinguished by droughts and wildfires in those places that normally expect high rainfall and floods on otherwise normally arid coasts.
Rising Temperatures
The 1997-98 event lasted for 18 months and was considered one of the most devastating of all, with sea temperatures reaching a global record. Tropical coral reefs were affected almost everywhere; there were also devastating storms and floods in California and forest fires in Borneo.
Corals are peculiarly sensitive to sea temperatures—they tend to bleach if seas get hotter—and many corals live and flourish near the limits of their tolerance. Coral reefs are also home to an estimated 25 percent of all marine species, so the loss of a reef has a serious effect on marine biodiversity, as well as on the incomes of local fishermen—and local tourist operators.
The British and Brazilian scientists monitored eight species of Scleractinian, or stony corals, and worked with the Brazilian Meteorological Office to build up a complete picture of the environmental conditions and the way in which they affected species behavior.
Slow Recovery
During 1998, all the monitored corals showed increased mortality and one species disappeared completely from the reefs for at least seven years. Then, as temperatures dropped, the corals started to grow again.
Recent measurements show that the coral colonies have fully recovered, and are now back to the levels recorded before 1998. That's the good news. The bad news is that recovery took so long.
"El Niño events give us an indication of how changing climate affects ecosystems as major changes within the Pacific impact the whole world," said one of the authors, Martin Attrill of Plymouth's Marine Institute.
"If the reefs can recover quickly, it is probable they can adapt and survive the likely changes in water temperatures ahead of us. However, we found it took 13 years for the coral reef system of Brazil to recover, suggesting they may be very vulnerable to climate-related impacts," concluded Attrill.
Visit EcoWatch's WATER and BIODIVERSITY pages for more related news on this topic.
By Noam Chomsky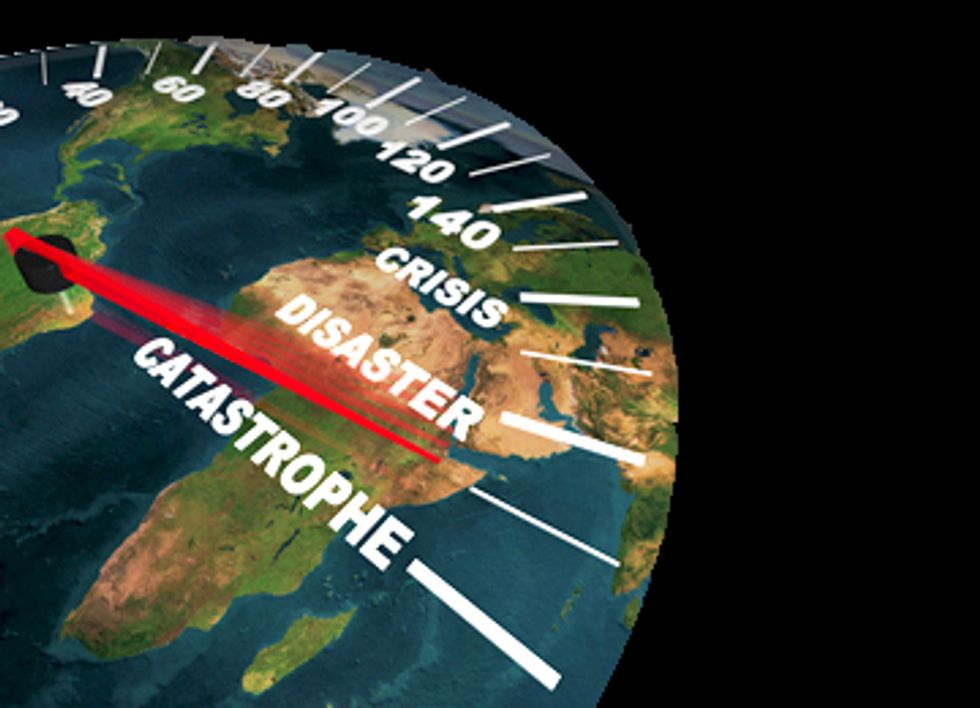 What is the future likely to bring? A reasonable stance might be to try to look at the human species from the outside. So, imagine that you're an extraterrestrial observer who is trying to figure out what's happening here or, for that matter, imagine you're an historian 100 years from now—assuming there are any historians 100 years from now, which is not obvious—and you're looking back at what's happening today. You'd see something quite remarkable.
For the first time in the history of the human species, we have clearly developed the capacity to destroy ourselves. That's been true since 1945. It's now being finally recognized that there are more long-term processes like environmental destruction leading in the same direction, maybe not to total destruction, but at least to the destruction of the capacity for a decent existence.
And there are other dangers like pandemics, which have to do with globalization and interaction. So there are processes underway and institutions right in place, like nuclear weapons systems, which could lead to a serious blow to, or maybe the termination of, an organized existence.
How to Destroy a Planet Without Really Trying
The question is: What are people doing about it? None of this is a secret. It's all perfectly open. In fact, you have to make an effort not to see it.
There have been a range of reactions. There are those who are trying hard to do something about these threats, and others who are acting to escalate them. If you look at who they are, this future historian or extraterrestrial observer would see something strange indeed. Trying to mitigate or overcome these threats are the least developed societies, the indigenous populations, or the remnants of them, tribal societies and first nations in Canada. They're not talking about nuclear war but environmental disaster, and they're really trying to do something about it.
In fact, all over the world—Australia, India, South America—there are battles going on, sometimes wars. In India, it's a major war over direct environmental destruction, with tribal societies trying to resist resource extraction operations that are extremely harmful locally, but also in their general consequences. In societies where indigenous populations have an influence, many are taking a strong stand. The strongest of any country with regard to global warming is in Bolivia, which has an indigenous majority and constitutional requirements that protect the "rights of nature." 
Ecuador, which also has a large indigenous population, is the only oil exporter I know of where the government is seeking aid to help keep that oil in the ground, instead of producing and exporting it—and the ground is where it ought to be.
Venezuelan President Hugo Chavez, who died recently and was the object of mockery, insult and hatred throughout the Western world, attended a session of the United Nations General Assembly a few years ago where he elicited all sorts of ridicule for calling President George W. Bush a devil. He also gave a speech there that was quite interesting. Of course, Venezuela is a major oil producer. Oil is practically their whole gross domestic product. In that speech, he warned of the dangers of the overuse of fossil fuels and urged producer and consumer countries to get together and try to work out ways to reduce fossil fuel use. That was pretty amazing on the part of an oil producer. You know, he was part Indian, of indigenous background. Unlike the funny things he did, this aspect of his actions at the UN was never even reported.
So, at one extreme you have indigenous, tribal societies trying to stem the race to disaster. At the other extreme, the richest, most powerful societies in world history, like the U.S. and Canada, are racing full-speed ahead to destroy the environment as quickly as possible. Unlike Ecuador, and indigenous societies throughout the world, they want to extract every drop of hydrocarbons from the ground with all possible speed. 
Both political parties, President Obama, the media and the international press seem to be looking forward with great enthusiasm to what they call "a century of energy independence" for the U.S. Energy independence is an almost meaningless concept, but put that aside. What they mean is: We'll have a century in which to maximize the use of fossil fuels and contribute to destroying the world.
And that's pretty much the case everywhere. Admittedly, when it comes to alternative energy development, Europe is doing something. Meanwhile, the U.S., the richest and most powerful country in world history, is the only nation among perhaps 100 relevant ones that doesn't have a national policy for restricting the use of fossil fuels, that doesn't even have renewable energy targets. It's not because the population doesn't want it. Americans are pretty close to the international norm in their concern about global warming. It's institutional structures that block change. Business interests don't want it and they're overwhelmingly powerful in determining policy, so you get a big gap between opinion and policy on lots of issues, including this one.
So that's what the future historian—if there is one—would see. He might also read today's scientific journals. Just about every one you open has a more dire prediction than the last.
"The Most Dangerous Moment in History"
The other issue is nuclear war. It's been known for a long time that if there were to be a first strike by a major power, even with no retaliation, it would probably destroy civilization just because of the nuclear-winter consequences that would follow. You can read about it in the Bulletin of Atomic Scientists. It's well understood. So the danger has always been a lot worse than we thought it was.
We've just passed the 50 year anniversary of the Cuban Missile Crisis, which was called "the most dangerous moment in history" by historian Arthur Schlesinger, President John F. Kennedy's advisor. Which it was. It was a very close call, and not the only time either. In some ways, however, the worst aspect of these grim events is that the lessons haven't been learned.
What happened in the missile crisis in October 1962 has been prettified to make it look as if acts of courage and thoughtfulness abounded. The truth is that the whole episode was almost insane. There was a point, as the missile crisis was reaching its peak, when Soviet Premier Nikita Khrushchev wrote to Kennedy offering to settle it by a public announcement of a withdrawal of Russian missiles from Cuba and U.S. missiles from Turkey. Actually, Kennedy hadn't even known that the U.S. had missiles in Turkey at the time. They were being withdrawn anyway, because they were being replaced by more lethal Polaris nuclear submarines, which were invulnerable.
So that was the offer. Kennedy and his advisors considered it—and rejected it. At the time, Kennedy himself was estimating the likelihood of nuclear war at a third to a half. So Kennedy was willing to accept a very high risk of massive destruction in order to establish the principle that we—and only we—have the right to offensive missiles beyond our borders, in fact anywhere we like, no matter what the risk to others—and to ourselves, if matters fall out of control. We have that right, but no one else does.
Kennedy did, however, accept a secret agreement to withdraw the missiles the U.S. was already withdrawing, as long as it was never made public. Khrushchev, in other words, had to openly withdraw the Russian missiles while the U.S. secretly withdrew its obsolete ones; that is, Khrushchev had to be humiliated and Kennedy had to maintain his macho image. He's greatly praised for this: Courage and coolness under threat, and so on. The horror of his decisions is not even mentioned—try to find it on the record.
And to add a little more, a couple of months before the crisis blew up, the U.S. had sent missiles with nuclear warheads to Okinawa, Japan. These were aimed at China during a period of great regional tension.
Well, who cares? We have the right to do anything we want anywhere in the world. That was one grim lesson from that era, but there were others to come.
Ten years after that, in 1973, Secretary of State Henry Kissinger called a high-level nuclear alert. It was his way of warning the Russians not to interfere in the ongoing Israel-Arab war and, in particular, not to interfere after he had informed the Israelis that they could violate a ceasefire the U.S. and Russia had just agreed upon. Fortunately, nothing happened.
Ten years later, President Ronald Reagan was in office. Soon after he entered the White House, he and his advisors had the Air Force start penetrating Russian air space to try to elicit information about Russian warning systems, Operation Able Archer. Essentially, these were mock attacks. The Russians were uncertain, some high-level officials fearing that this was a step towards a real first strike. Fortunately, they didn't react, though it was a close call. And it goes on like that.
What to Make of the Iranian and North Korean Nuclear Crises
At the moment, the nuclear issue is regularly on front pages in the cases of North Korea and Iran. There are ways to deal with these ongoing crises. Maybe they wouldn't work, but at least you could try. They are, however, not even being considered, not even reported.
Take the case of Iran, which is considered in the West—not in the Arab world, not in Asia—the gravest threat to world peace. It's a Western obsession, and it's interesting to look into the reasons for it, but I'll put that aside here. Is there a way to deal with the supposed gravest threat to world peace? Actually, there are quite a few. One way, a pretty sensible one, was proposed a couple of months ago at a meeting of the non-aligned countries in Tehran. In fact, they were just reiterating a proposal that's been around for decades, pressed particularly by Egypt, and has been approved by the UN General Assembly.
The proposal is to move toward establishing a nuclear-weapons-free zone in the region. That wouldn't be the answer to everything, but it would be a pretty significant step forward. And there were ways to proceed. Under UN auspices, there was to be an international conference in Finland last December to try to implement plans to move toward this. What happened? 
You won't read about it in the newspapers because it wasn't reported—only in specialist journals. In early November, Iran agreed to attend the meeting. A couple of days later President Obama cancelled the meeting, saying the time wasn't right. The European Parliament issued a statement calling for it to continue, as did the Arab states. Nothing resulted. So we'll move toward ever-harsher sanctions against the Iranian population—it doesn't hurt the regime—and maybe war. Who knows what will happen?
In Northeast Asia, it's the same sort of thing. North Korea may be the craziest country in the world. It's certainly a good competitor for that title. But it does make sense to try to figure out what's in the minds of people when they're acting in crazy ways. Why would they behave the way they do? Just imagine ourselves in their situation. Imagine what it meant in the Korean War years of the early 1950s for your country to be totally leveled, everything destroyed by a huge superpower, which furthermore was gloating about what it was doing. Imagine the imprint that would leave behind.
Bear in mind that the North Korean leadership is likely to have read the public military journals of this superpower at that time explaining that, since everything else in North Korea had been destroyed, the Air Force was sent to destroy North Korea's dams, huge dams that controlled the water supply—a war crime, by the way, for which people were hanged in Nuremberg. And these official journals were talking excitedly about how wonderful it was to see the water pouring down, digging out the valleys, and the Asians scurrying around trying to survive. The journals were exulting in what this meant to those "Asians," horrors beyond our imagination. It meant the destruction of their rice crop, which in turn meant starvation and death. How magnificent! It's not in our memory, but it's in their memory.
Let's turn to the present. There's an interesting recent history. In 1993, Israel and North Korea were moving towards an agreement in which North Korea would stop sending any missiles or military technology to the Middle East and Israel would recognize that country. President Clinton intervened and blocked it. Shortly after that, in retaliation, North Korea carried out a minor missile test. The U.S. and North Korea did then reach a framework agreement in 1994 that halted its nuclear work and was more or less honored by both sides. When George W. Bush came into office, North Korea had maybe one nuclear weapon and verifiably wasn't producing any more. 
Bush immediately launched his aggressive militarism, threatening North Korea—"axis of evil" and all that—so North Korea got back to work on its nuclear program. By the time Bush left office, they had eight to 10 nuclear weapons and a missile system, another great neocon achievement. In between, other things happened. In 2005, the U.S. and North Korea actually reached an agreement in which North Korea was to end all nuclear weapons and missile development. In return, the West, but mainly the U.S., was to provide a light-water reactor for its medical needs and end aggressive statements. They would then form a nonaggression pact and move toward accommodation.
It was pretty promising, but almost immediately Bush undermined it. He withdrew the offer of the light-water reactor and initiated programs to compel banks to stop handling any North Korean transactions, even perfectly legal ones. The North Koreans reacted by reviving their nuclear weapons program. And that's the way it's been going.
It's well known. You can read it in straight, mainstream American scholarship. What they say is: It's a pretty crazy regime, but it's also following a kind of tit-for-tat policy. You make a hostile gesture and we'll respond with some crazy gesture of our own. You make an accommodating gesture and we'll reciprocate in some way.
Lately, for instance, there have been South Korean-U.S. military exercises on the Korean peninsula which, from the North's point of view, have got to look threatening. We'd think they were threatening if they were going on in Canada and aimed at us. In the course of these, the most advanced bombers in history, Stealth B-2s and B-52s, are carrying out simulated nuclear bombing attacks right on North Korea's borders. 
This surely sets off alarm bells from the past. They remember that past, so they're reacting in a very aggressive, extreme way. Well, what comes to the West from all this is how crazy and how awful the North Korean leaders are. Yes, they are. But that's hardly the whole story, and this is the way the world is going.
It's not that there are no alternatives. The alternatives just aren't being taken. That's dangerous. So if you ask what the world is going to look like, it's not a pretty picture. Unless people do something about it. We always can.
Visit EcoWatch's ENERGY page for more related news on this topic.
——–
Click here to tell Congress to Expedite Renewable Energy.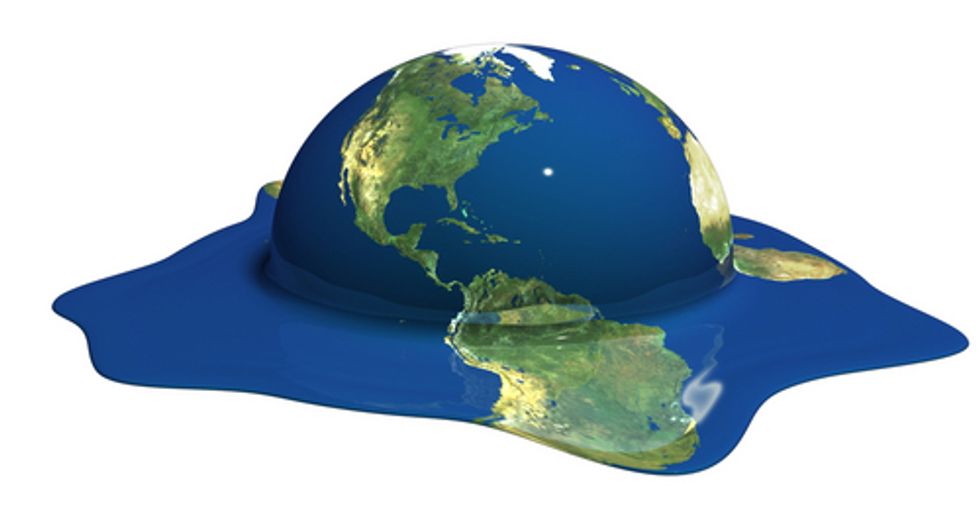 Photo courtesy of Shutterstock
Brace yourself. You may not be able to tell yet, but according to global experts and the U.S. intelligence community, the Earth is already shifting under you. Whether you know it or not, you're on a new planet, a resource-shock world of a sort humanity has never before experienced.
Two nightmare scenarios—a global scarcity of vital resources and the onset of extreme climate change—are already beginning to converge and in the coming decades are likely to produce a tidal wave of unrest, rebellion, competition and conflict. Just what this tsunami of disaster will look like may, as yet, be hard to discern, but experts warn of "water wars" over contested river systems, global food riots sparked by soaring prices for life's basics, mass migrations of climate refugees (with resulting anti-migrant violence), and the breakdown of social order or the collapse of states. At first, such mayhem is likely to arise largely in Africa, Central Asia and other areas of the underdeveloped South, but in time all regions of the planet will be affected.
To appreciate the power of this encroaching catastrophe, it's necessary to examine each of the forces that are combining to produce this future cataclysm.
Resource Shortages and Resource Wars
Start with one simple given: the prospect of future scarcities of vital natural resources, including energy, water, land, food and critical minerals. This in itself would guarantee social unrest, geopolitical friction and war.
It is important to note that absolute scarcity doesn't have to be on the horizon in any given resource category for this scenario to kick in. A lack of adequate supplies to meet the needs of a growing, ever more urbanized and industrialized global population is enough. Given the wave of extinctions that scientists are recording, some resources—particular species of fish, animals and trees, for example—will become less abundant in the decades to come, and may even disappear altogether. But key materials for modern civilization like oil, uranium and copper will simply prove harder and more costly to acquire, leading to supply bottlenecks and periodic shortages.
Oil—the single most important commodity in the international economy—provides an apt example. Although global oil supplies may actually grow in the coming decades, many experts doubt that they can be expanded sufficiently to meet the needs of a rising global middle class that is, for instance, expected to buy millions of new cars in the near future. In its 2011 World Energy Outlook, the International Energy Agency claimed that an anticipated global oil demand of 104 million barrels per day in 2035 will be satisfied. This, the report suggested, would be thanks in large part to additional supplies of "unconventional oil" (Canadian tar sands, shale oil and so on), as well as 55 million barrels of new oil from fields "yet to be found" and "yet to be developed."
However, many analysts scoff at this optimistic assessment, arguing that rising production costs (for energy that will be ever more difficult and costly to extract), environmental opposition, warfare, corruption and other impediments will make it extremely difficult to achieve increases of this magnitude. In other words, even if production manages for a time to top the 2010 level of 87 million barrels per day, the goal of 104 million barrels will never be reached and the world's major consumers will face virtual, if not absolute, scarcity.
Water provides another potent example. On an annual basis, the supply of drinking water provided by natural precipitation remains more or less constant: about 40,000 cubic kilometers. But much of this precipitation lands on Greenland, Antarctica, Siberia and inner Amazonia where there are very few people, so the supply available to major concentrations of humanity is often surprisingly limited. In many regions with high population levels, water supplies are already relatively sparse. This is especially true of North Africa, Central Asia and the Middle East, where the demand for water continues to grow as a result of rising populations, urbanization and the emergence of new water-intensive industries. The result, even when the supply remains constant, is an environment of increasing scarcity.
Wherever you look, the picture is roughly the same: supplies of critical resources may be rising or falling, but rarely do they appear to be outpacing demand, producing a sense of widespread and systemic scarcity. However generated, a perception of scarcity—or imminent scarcity—regularly leads to anxiety, resentment, hostility and contentiousness. This pattern is very well understood, and has been evident throughout human history.
In his book Constant Battles, for example, Steven LeBlanc, director of collections for Harvard's Peabody Museum of Archaeology and Ethnology, notes that many ancient civilizations experienced higher levels of warfare when faced with resource shortages brought about by population growth, crop failures or persistent drought. Jared Diamond, author of the bestseller Collapse, has detected a similar pattern in Mayan civilization and the Anasazi culture of New Mexico's Chaco Canyon. More recently, concern over adequate food for the home population was a significant factor in Japan's invasion of Manchuria in 1931 and Germany's invasions of Poland in 1939 and the Soviet Union in 1941, according to Lizzie Collingham, author of The Taste of War.
Although the global supply of most basic commodities has grown enormously since the end of World War II, analysts see the persistence of resource-related conflict in areas where materials remain scarce or there is anxiety about the future reliability of supplies. Many experts believe, for example, that the fighting in Darfur and other war-ravaged areas of North Africa has been driven, at least in part, by competition among desert tribes for access to scarce water supplies, exacerbated in some cases by rising population levels.
"In Darfur," says a 2009 report from the U.N. Environment Programme on the role of natural resources in the conflict, "recurrent drought, increasing demographic pressures, and political marginalization are among the forces that have pushed the region into a spiral of lawlessness and violence that has led to 300,000 deaths and the displacement of more than two million people since 2003."
Anxiety over future supplies is often also a factor in conflicts that break out over access to oil or control of contested undersea reserves of oil and natural gas. In 1979, for instance, when the Islamic revolution in Iran overthrew the Shah and the Soviets invaded Afghanistan, Washington began to fear that someday it might be denied access to Persian Gulf oil. At that point, President Jimmy Carter promptly announced what came to be called the Carter Doctrine. In his 1980 State of the Union Address, Carter affirmed that any move to impede the flow of oil from the Gulf would be viewed as a threat to America's "vital interests" and would be repelled by "any means necessary, including military force."
In 1990, this principle was invoked by President George H.W. Bush to justify intervention in the first Persian Gulf War, just as his son would use it, in part, to justify the 2003 invasion of Iraq. Today, it remains the basis for U.S. plans to employ force to stop the Iranians from closing the Strait of Hormuz, the strategic waterway connecting the Persian Gulf to the Indian Ocean through which about 35 percent of the world's seaborne oil commerce  passes.
Recently, a set of resource conflicts have been rising toward the boiling point between China and its neighbors in Southeast Asia when it comes to control of offshore oil and gas reserves in the South China Sea. Although the resulting naval clashes have yet to result in a loss of life, a strong possibility of military escalation exists. A similar situation has also arisen in the East China Sea, where China and Japan are jousting for control over similarly valuable undersea reserves. Meanwhile, in the South Atlantic Ocean, Argentina and Britain are once again squabbling over the Falkland Islands (called Las Malvinas by the Argentinians) because oil has been discovered in surrounding waters.
By all accounts, resource-driven potential conflicts like these will only multiply in the years ahead as demand rises, supplies dwindle, and more of what remains will be found in disputed areas. In a 2012 study titled Resources Futures, the respected British think-tank Chatham House expressed particular concern about possible resource wars over water, especially in areas like the Nile and Jordan River basins where several groups or countries must share the same river for the majority of their water supplies and few possess the wherewithal to develop alternatives. "Against this backdrop of tight supplies and competition, issues related to water rights, prices, and pollution are becoming contentious," the report noted. "In areas with limited capacity to govern shared resources, balance competing demands, and mobilize new investments, tensions over water may erupt into more open confrontations."
Heading for a Resource-Shock World
Tensions like these would be destined to grow by themselves because in so many areas supplies of key resources will not be able to keep up with demand. As it happens, though, they are not "by themselves." On this planet, a second major force has entered the equation in a significant way. With the growing reality of climate change, everything becomes a lot more terrifying.
Normally, when we consider the impact of climate change, we think primarily about the environment—the melting Arctic ice cap or Greenland ice shield, rising global sea levels, intensifying storms, expanding deserts and endangered or disappearing species like the polar bear. But a growing number of experts are coming to realize that the most potent effects of climate change will be experienced by humans directly through the impairment or wholesale destruction of habitats upon which we rely for food production, industrial activities or simply to live. Essentially, climate change will wreak its havoc on us by constraining our access to the basics of life: vital resources that include food, water, land and energy. This will be devastating to human life, even as it significantly increases the danger of resource conflicts of all sorts erupting.
We already know enough about the future effects of climate change to predict the following with reasonable confidence:
Rising sea levels will in the next half-century erase many coastal areas, destroying large cities, critical infrastructure (including roads, railroads, ports, airports, pipelines, refineries and power plants) and prime agricultural land.
Diminished rainfall and prolonged droughts will turn once-verdant croplands into dust bowls, reducing food output and turning millions into "climate refugees."
More severe storms and intense heat waves will kill crops, trigger forest fires, cause floods and destroy critical infrastructure.
No one can predict how much food, land, water, and energy will be lost as a result of this onslaught (and other climate-change effects that are harder to predict or even possibly imagine), but the cumulative effect will undoubtedly be staggering. In Resources Futures, Chatham House offers a particularly dire warning when it comes to the threat of diminished precipitation to rain-fed agriculture. "By 2020," the report says, "yields from rain-fed agriculture could be reduced by up to 50 percent" in some areas. The highest rates of loss are expected to be in Africa, where reliance on rain-fed farming is greatest, but agriculture in China, India, Pakistan and Central Asia is also likely to be severely affected.
Heat waves, droughts, and other effects of climate change will also reduce the flow of many vital rivers, diminishing water supplies for irrigation, hydro-electricity power facilities and nuclear reactors (which need massive amounts of water for cooling purposes). The melting of glaciers, especially in the Andes in Latin America and the Himalayas in South Asia, will also rob communities and cities of crucial water supplies. An expected increase in the frequency of hurricanes and typhoons will pose a growing threat to offshore oil rigs, coastal refineries, transmission lines and other components of the global energy system.
The melting of the Arctic ice cap will open that region to oil and gas exploration, but an increase in iceberg activity will make all efforts to exploit that region's energy supplies perilous and exceedingly costly. Longer growing seasons in the north, especially Siberia and Canada's northern provinces, might compensate to some degree for the desiccation of croplands in more southerly latitudes. However, moving the global agricultural system (and the world's farmers) northward from abandoned farmlands in the United States, Mexico, Brazil, India, China, Argentina and Australia would be a daunting prospect.
It is safe to assume that climate change, especially when combined with growing supply shortages, will result in a significant reduction in the planet's vital resources, augmenting the kinds of pressures that have historically led to conflict, even under better circumstances. In this way, according to the Chatham House report, climate change is best understood as a "threat multiplier ... a key factor exacerbating existing resource vulnerability" in states already prone to such disorders.
Like other experts on the subject, Chatham House's analysts claim, for example, that climate change will reduce crop output in many areas, sending global food prices soaring and triggering unrest among those already pushed to the limit under existing conditions. "Increased frequency and severity of extreme weather events, such as droughts, heat waves and floods, will also result in much larger and frequent local harvest shocks around the world … These shocks will affect global food prices whenever key centers of agricultural production area are hit—further amplifying global food price volatility." This, in turn, will increase the likelihood of civil unrest.
When, for instance, a brutal heat wave decimated Russia's wheat crop during the summer of 2010, the global price of wheat (and so of that staple of life, bread) began an inexorable upward climb, reaching particularly high levels in North Africa and the Middle East. With local governments unwilling or unable to help desperate populations, anger over impossible-to-afford food merged with resentment toward autocratic regimes to trigger the massive popular outburst we know as the Arab Spring.
Many such explosions are likely in the future, Chatham House suggests, if current trends continue as climate change and resource scarcity meld into a single reality in our world. A single provocative question from that group should haunt us all: "Are we on the cusp of a new world order dominated by struggles over access to affordable resources?"
For the U.S. intelligence community, which appears to have been influenced by the report, the response was blunt. In March, for the first time, Director of National Intelligence James R. Clapper listed "competition and scarcity involving natural resources" as a national security threat on a par with global terrorism, cyberwar and nuclear proliferation.
"Many countries important to the United States are vulnerable to natural resource shocks that degrade economic development, frustrate attempts to democratize, raise the risk of regime-threatening instability and aggravate regional tensions," he wrote in his prepared statement for the Senate Select Committee on Intelligence. "Extreme weather events (floods, droughts, heat waves) will increasingly disrupt food and energy markets, exacerbating state weakness, forcing human migrations and triggering riots, civil disobedience, and vandalism."
There was a new phrase embedded in his comments: "resource shocks." It catches something of the world we're barreling toward, and the language is striking for an intelligence community that, like the government it serves, has largely played down or ignored the dangers of climate change. For the first time, senior government analysts may be coming to appreciate what energy experts, resource analysts and scientists have long been warning about: the unbridled consumption of the world's natural resources, combined with the advent of extreme climate change, could produce a global explosion of human chaos and conflict. We are now heading directly into a resource-shock world.
Visit EcoWatch's CLIMATE CHANGE page for more related news on this topic.
--------
Michael Klare is a professor of peace and world security studies at Hampshire College, a TomDispatch regular and the author, most recently, of The Race for What's Left, just published in paperback by Picador.  A documentary movie based on his book Blood and Oil can be previewed and ordered at www.bloodandoilmovie.com. You can follow Klare on Facebook by clicking here.
Follow TomDispatch on Twitter and join us on Facebook or Tumblr. Check out the newest Dispatch book, Nick Turse's The Changing Face of Empire: Special Ops, Drones, Proxy Fighters, Secret Bases, and Cyberwarfare.
--------
Click here to tell Congress to Expedite Renewable Energy.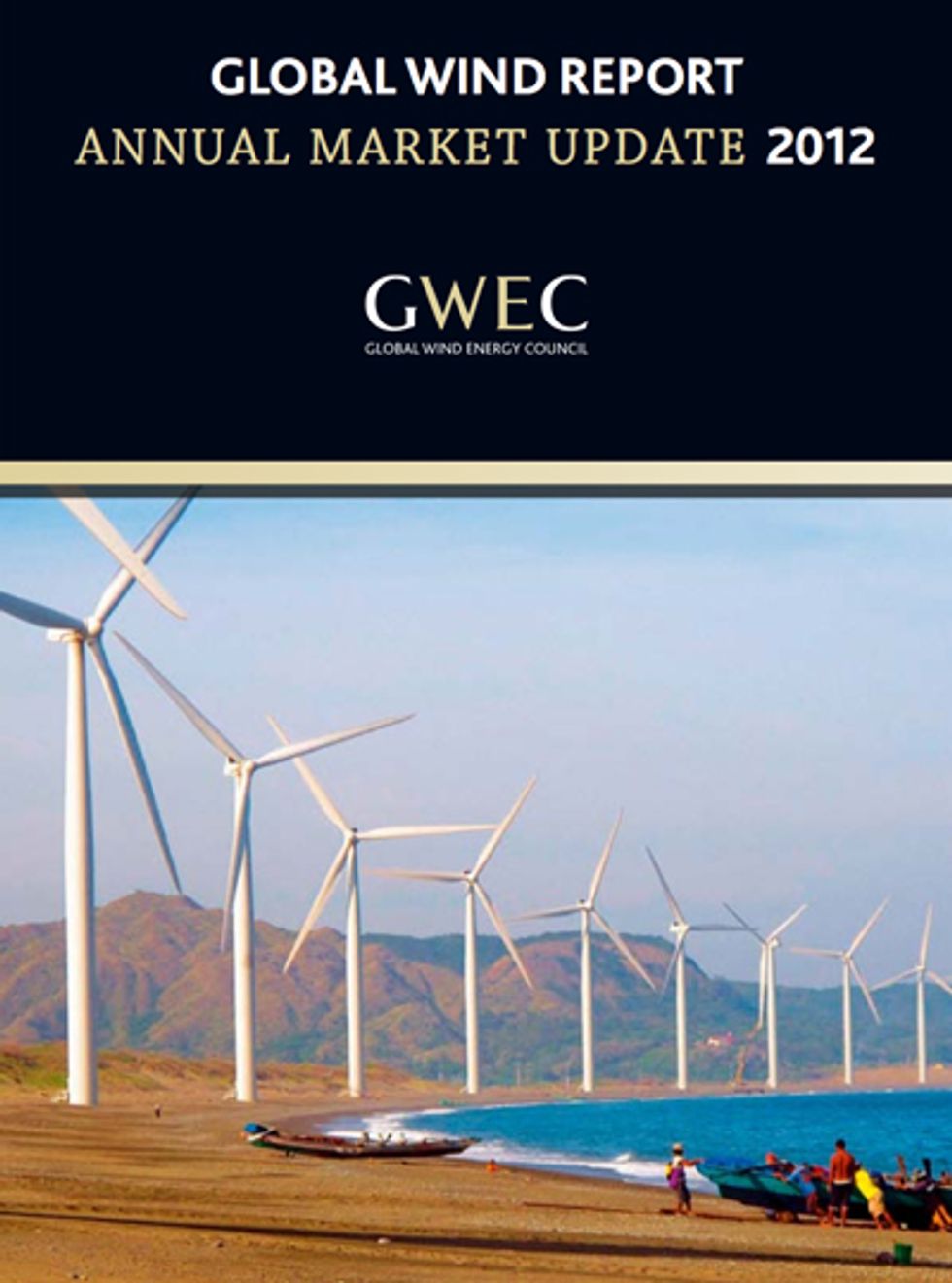 The Global Wind Energy Council (GWEC) released its Annual Market Update this week, with a comprehensive snapshot of the global wind industry at the end of 2012, along with a five year forecast out to 2017. Although policy uncertainty in the main Organisation for Economic Co-operation and Development (OECD) markets is a cause for concern, strong markets in China, India and Brazil, as well as in new markets in Latin America, Africa and the rest of Asia will drive global growth during the period.
"Wind power may be variable, but the greatest threat to the continued stable growth of the industry is the variability and unpredictability of the politicians who set the frameworks for the energy sector," said Steve Sawyer, GWEC secretary general. "However, all of the fundamentals which have driven wind power to date are still in place: energy security, price stability, local economic development, climate change mitigation and local air and water pollution issues; and wind is now competitive in an increasing number of markets, despite fossil fuel subsidies which last year amounted to an incentive to emit CO2 of about $110/tonne."
Record installations in the U.S. and Europe led global installations of 44.8 gigawatts (GW) of new wind power globally in 2012, 10 percent more than was installed in 2011. Global installed capacity has now reached 282.5 GW, a cumulative increase of almost 19 percent. The forecast is for a modest downturn in 2013, however, followed by a recovery in 2014 and beyond; with global capacity growing at an average rate of 13.7 percent out to 2017, and global capacity nearly doubling to 536 GW.
The U.S. regained the number one spot for global markets in 2012 for the first time since 2009, eking out China by 164 megawatts (MW). However, the late extension of the U.S. Production Tax Credit on January 1 means that the U.S. market will drop precipitously in 2013, although with substantial recovery expected in 2014. Europe's record installations in 2012 are unlikely to be repeated in 2014, as a result of policy uncertainty and backtracking.
"European governments are driving up the cost of meeting their 2020 renewable energy targets by making policy changes that undermine investor confidence," said Thomas Becker, CEO of the European Wind Energy Association. "An ambitious and binding 2030 renewable energy target would hugely reduce uncertainty. It would create jobs and exports and boost Europe's world-leading wind industry."

After a year of market consolidation in China, the world's largest market with over 75 GW of installed capacity, Chinese authorities are calling for 18 GW of installations in 2013; and after a year-long policy hiatus in India, the market is expected to recover and return to growth in 2014. Brazil continues to lead the Latin American market, and may surpass 2 GW of annual installations in 2013; and both Mexico and Canada are expected to grow substantially over the period.
There are also hundreds of MW under construction in South Africa, with another 500 MW expected to come to financial close this year, leading a surge in installations in sub-Saharan Africa which began in Ethiopia in 2012. In Asia, Pakistan, Mongolia, the Philippines and Thailand are all expected to see significant installations in 2013 and beyond.
Visit EcoWatch's RENEWABLES and ENERGY pages for more related news on this topic.
——–
Click here to tell Congress to Expedite Renewable Energy.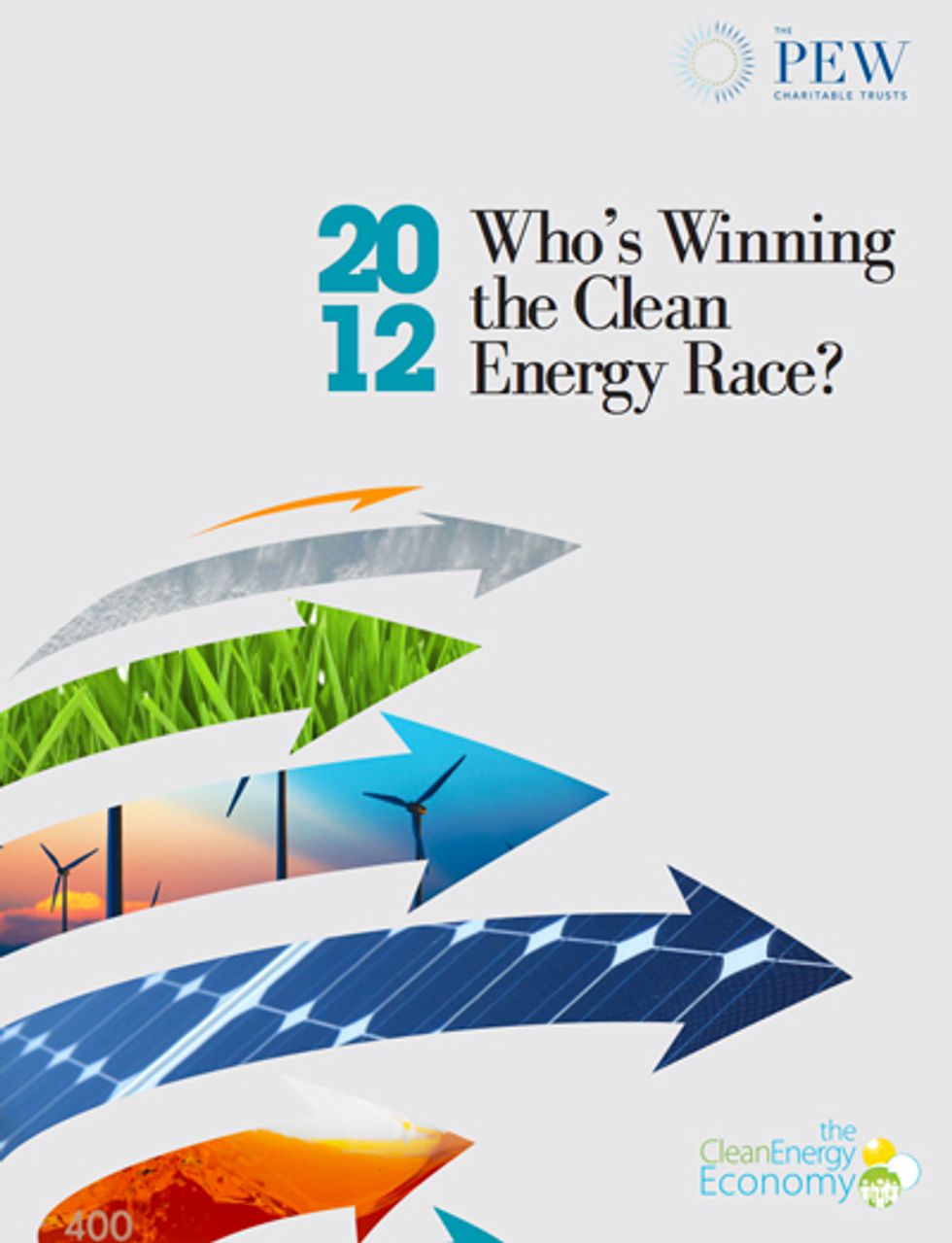 The global clean energy sector is undergoing geographic and technological shifts as new markets emerge and renewable capacity grows, according to research released by The Pew Charitable Trusts. The sector demonstrated resilience in 2012, registering a record 88 gigawatts (GW), of additional generating capacity, even though investment levels declined 11 percent, to $269 billion, from 2011. Among the Group of 20 nations, China reclaimed the top spot from the U.S., attracting $65.1 billion, a 20 percent increase over 2011 and 30 percent of the total for the G-20.
The 11 percent decline in clean energy investments compared to 2011 levels was due in part to curtailed incentive programs in a number of countries, among them Spain, Italy and Germany. Elsewhere, continuing support for clean energy led to record levels of investment in a number of nations, including China and South Africa. Renewable energy installations grew by more than 11 percent to 88 GW, which reflected price reductions in wind, solar and other technologies.
"Clean energy trends demonstrate the ongoing resilience of this emerging sector in the global economy," says Phyllis Cuttino, director of Pew's clean energy program. "For the third straight year, investment reached more than $200 billion, and 2012 ended with five times that of 2004. Every year, new markets open up and more renewable power is deployed around the world. Even though government policies have been uneven and unpredictable in certain markets, the economic, environmental, and security benefits of clean technologies are driving the sector forward. Countries that prioritize policy are positioning themselves for increased private investment, as well as manufacturing and job-creation opportunities."
Shifting markets and technologies
Reflecting the trend toward emerging markets, clean energy investment is shifting from the West to the East. The Asia and Oceania region has grown nine straight years and in 2012 became the leading regional destination for clean energy investment, growing 16 percent to $101 billion and accounting for 42 percent of the global total. In contrast, policy uncertainty in Europe and the U.S. resulted in investment declines of 22 percent in the Europe, Middle East and Africa region, and 31 percent in the Americas.
Clean energy investment is also shifting across technologies. For the second year in a row, solar technologies attracted more financing than any other technology by a wide margin: $126 billion was invested in the subsector in 2012, or 58 percent of the G-20 total. China, Europe and the U.S. were top markets for solar investment.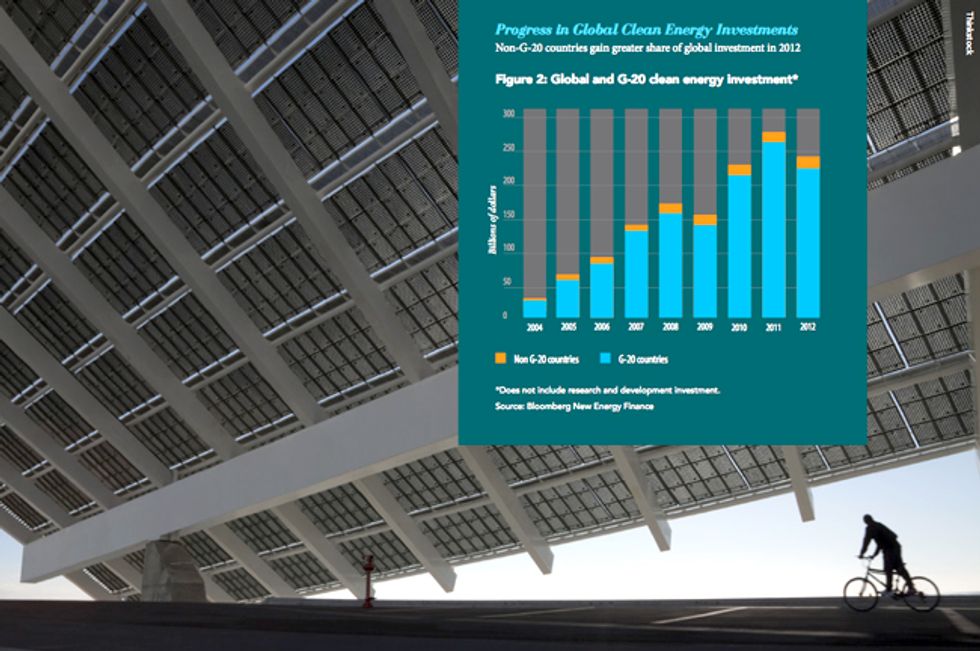 Wind energy, which has garnered the majority of clean energy investment for most of the last decade, saw 14 percent less investment across the G-20, but it still attracted $72.7 billion. Among G-20 countries, wind energy investment was down 14 percent, with declines in historically large markets such as China, Germany, India and Brazil. But the United Kingdom and U.S. saw gains in wind energy investment, with a substantial increase in the U.S. to a record 13.6 GW of wind power generating capacity, spurred by uncertainty about the potential expiration of the production tax credit. At year-end, Congress renewed this important tax incentive for the U.S. wind industry through 2013.
Continued reductions in the price of wind and solar helped boost worldwide installed clean energy capacity to 648 GW. A record 48.6 GW of wind and 31 GW of solar generating capacity were deployed in 2012. Installed solar capacity of 104 GW is four times the level in place in 2009. In the U.S., renewable energy sources accounted for 49 percent of new generating capacity in 2012, while in Europe more than 70 percent of new capacity was renewable.
The clean energy race
In the global clean energy race, China established itself as the leader in attracting investment in wind, solar and other renewables. China added 23 GW of clean energy generating capacity, bringing its total to 152 GW, the most of any nation.
The U.S. fell to No. 2 as investment in the sector declined 37 percent, to $35.6 billion. In third place, Germany curtailed incentives and saw investment decline 27 percent, to $22.8 billion. Still, 7.5 GW of solar generating capacity were added in Germany—the most of any G-20 country.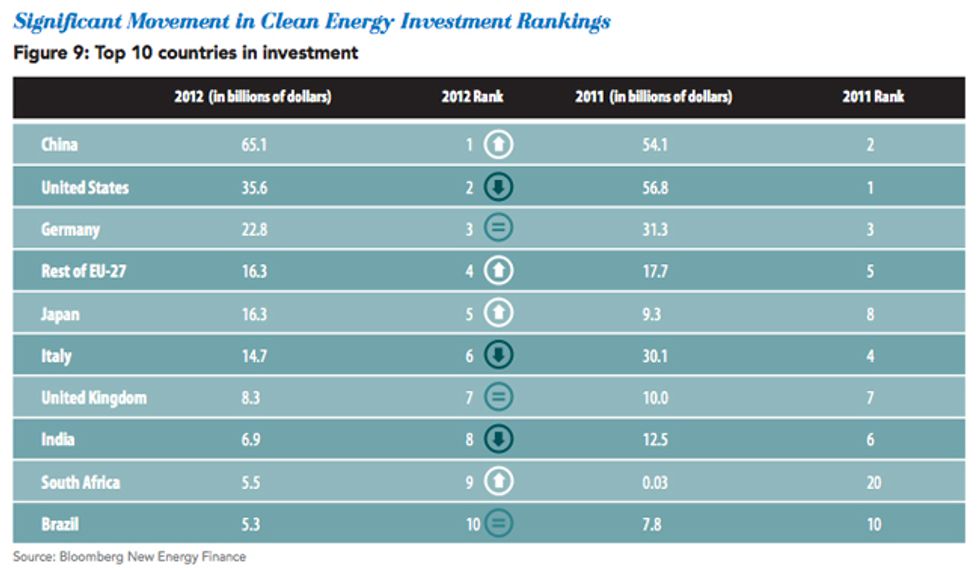 Japan reemerged as a top destination for clean energy investment as national efforts to develop alternatives to nuclear energy gained momentum after the Fukushima Dai-ichi nuclear disaster in 2011. Clean energy investment in the nation increased 75 percent, to $16.3 billion, almost all in the solar sector, which added more than 2 GW of generating capacity. These projects propelled Japan into the No. 5 spot in investment in 2012, with the 27 countries of the European Union that are not separate members of the G-20 at No. 4.
South Africa was the fastest-growing market in the G-20, with investment growing from less than $30 million in 2011 to $5.5 billion in 2012. The South African solar sector attracted $4.3 billion in 2012, or 80 percent of the total. Another $1.1 billion went to the nation's wind sector. Rapid investment growth positioned South Africa as the ninth-leading destination for clean energy investment, behind Italy, the United Kingdom and India.
Visit EcoWatch's RENEWABLES page for more related news on this topic.
——–
Click here to tell Congress to Expedite Renewable Energy.

True or false? Wine grapes may soon be growing around Yellowstone National Park in Wyoming. Wines from New Jersey are statistically indistinguishable from French wines. A little over a century ago, Algeria was the world's largest wine exporter. China is the world's fastest growing wine-producing country.
As it turns out, all of these statements are true—and each has an important lesson for conservation.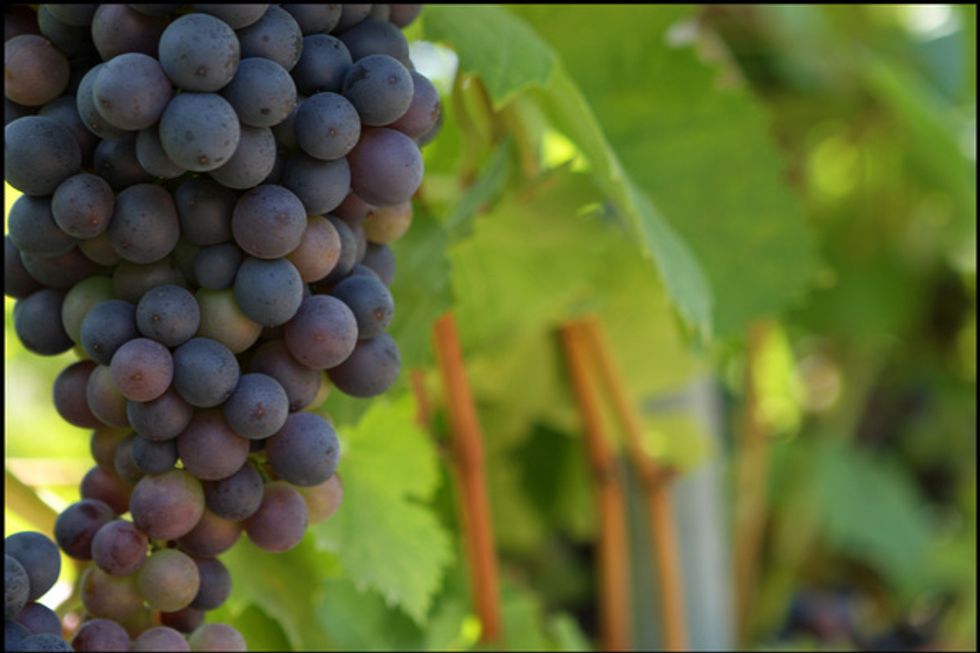 I recently led a research team of scientists from six universities and conservation groups in a study looking at the impacts of climate change on wine and what they might mean for conservation. Our paper, Climate Change, Wine and Conservation, was just published in the latest issue of the journal Proceedings of the National Academy of Sciences. The results surprised even us, as did a number of things we found out along the way.
Our study produced the first global map of future suitability for wine production. Here are four factors that might change where the world's wine is grown:
1. Rising temperatures
The area north of Yellowstone will be one of the areas with the greatest increase in suitability for growing wine grapes in the next 50 years. The reason is climate change. Temperatures are warming, and suitable lands for wine grape growing are moving north.
This shift may have a big conservation impact on the Yellowstone to Yukon Conservation Initiative (Y2Y), an innovative attempt to connect wildlife habitats between Yellowstone and Canada's Yukon Territory. Vineyards would be a major impediment to this connectivity. They provide poor habitat for wildlife, and would probably have to be fenced to avoid bears snacking on the grapes.
These changes in North America are symbolic of changes happening across the globe. Wine suitability is moving toward the poles. In South Africa, Chile and Australia, there is little land left in the direction of the South Pole, and suitable area for vineyards is declining. In the north, there is a lot of high-latitude land, and area suitable for vineyards is expanding. This will result in a global redistribution of wine-producing regions, with some serious consequences for ecosystems and wildlife habitat.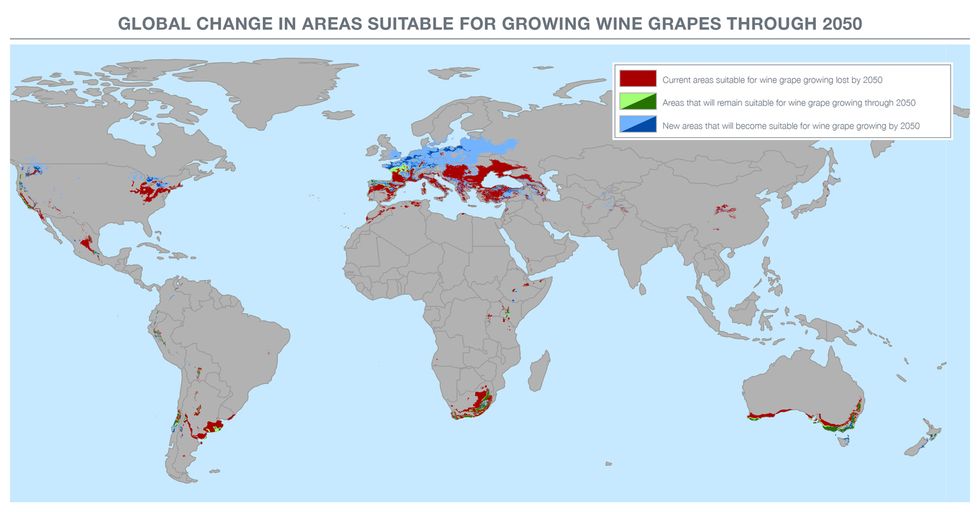 2. Public perception of wine-growing regions
Wine from Montana doesn't sound so wild when you consider the results of a blind wine tasting organized by the Journal of Wine Economics. The test pitted New Jersey wines (yes, these exist!) against French wines. Judged by French wine experts, the scores for the New Jersey wines were statistically indistinguishable from the French wines; the French judges couldn't tell them apart.
If experts can't reliably tell them apart, most consumers won't be able to either, and wine from anywhere—even Montana—could become competitive in the global market. This result swings the doors wide open to wines from everywhere—and our study shows that lots of new places, some in very good wildlife habitat, will become suitable for wine.
3. Shifting market forces
But people have their preferences, and won't switch easily—or will they? In your great-grandfather's time (or great-great-grandfather, depending on your age), the world's largest exporter of wines was actually Algeria, a country that today produces almost no wine. What changed? The swing came because of market forces; French production recovered from a fungal blight, and Algeria's markets dried up.
Are the forces that drove that dramatic shift so different from climate change? What happens when wine-growing regions in the Southern Hemisphere lose suitability and large areas of suitability open close to major markets in North America and Europe? In North America, that change may come on lands that are currently important habitat for grizzly bears, mountain lions, pronghorn, elk and many other species that need large natural landscapes to survive.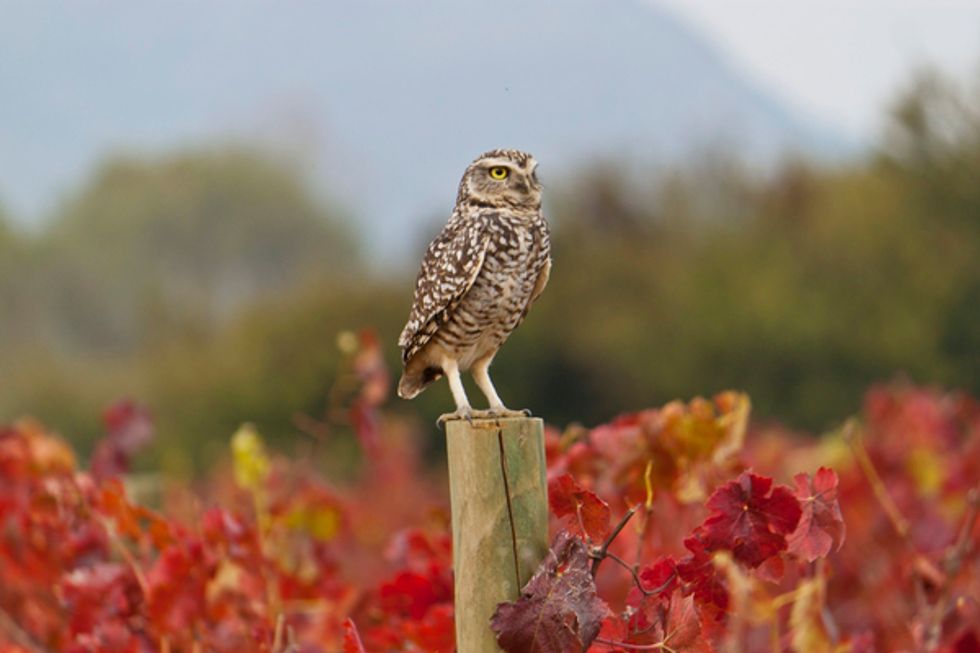 4. China's growing love of wine
Believe it or not, China is the fastest growing wine-producing region in the world. By aggressively buying both wine and vineyards, the country's upper classes are driving up the price of both. As this upper-class fervor for wine reaches the middle class in China, demand will explode.
Much of that demand will be met by imports, but China has suitable areas for growing wine grapes, and production will start there as well. Those areas happen to be in the same mountains that are habitat for giant pandas, so wine expansion in China may have repercussions for what is arguably the world's most iconic animal.
Lions and pandas and bears, oh my—are they really wrapped up in the future of wine? Do we have to choose between a nice red and nice wildlife habitat? Not necessarily.
Consumer awareness and sustainable industry practices are already a potent combination in wine marketing. However, wine industry eco-initiatives currently focus largely on land management and pesticides and little on where the vineyard is located or the impact on wildlife. But this can change, particularly if vineyards and conservationists work together—and if consumers make it known that wildlife-friendly wine production is important to them.
What we've learned about wine has important implications for agriculture, climate change and conservation in general. Just as it's moving wine-producing regions, climate change will be moving other agricultural areas, which may displace wildlife habitat. An important lesson for the future of conservation is that we need to consider not just direct climate change impacts on species (like polar bears) but also the indirect impacts: moving agriculture into areas that are currently providing important services for people and wildlife alike.
Lee Hannah is senior scientist for climate change biology in CI's Moore Center for Science. 
This post was originally published on Conservation International's blog, Human Nature.
Visit EcoWatch's CLIMATE CHANGE and BIODIVERSITY pages for more related news on this topic.
——–
Click here to tell Congress to Expedite Renewable Energy.

By Justin Guay

A war is shaping up that pits an entrenched, aging and uncompetitive fossil fuel industry against a young, innovative and increasingly competitive set of renewable energy technologies. The former relies on their entrenched status chock full of obscenely high subsidies to fight of a set of disruptive innovations that could send them the way of whale oil.
While renewables are doing an impressive job they continue to play on the home team's turf. It just so happens that a new front—a guerilla insurgency—has opened where their opponents are weak that could help tip the balances—off-grid energy markets that serve the world's poor.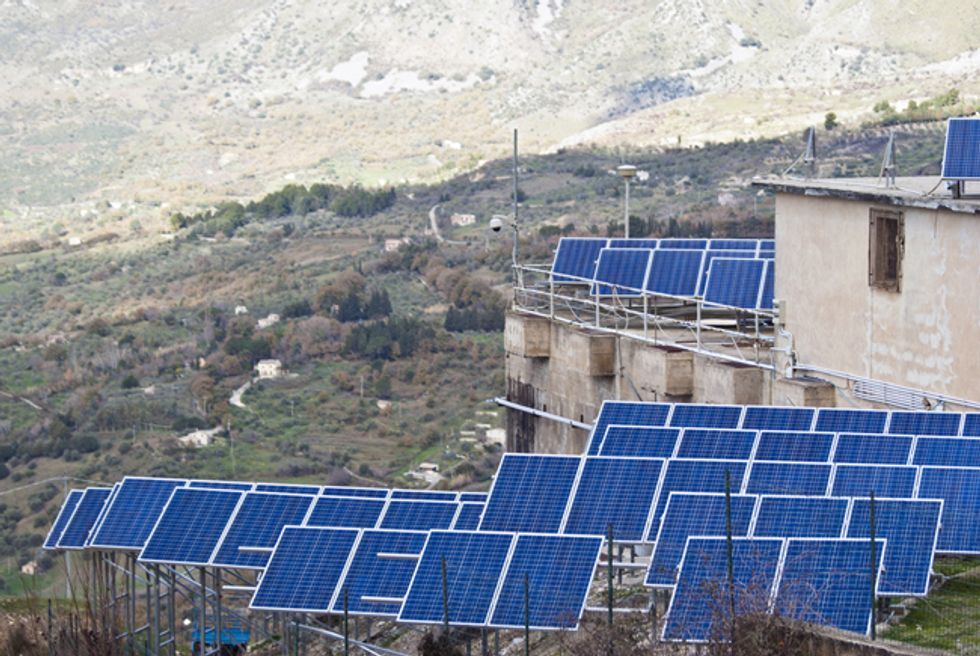 Photo courtesy of Shutterstock
This front is critical to the broader war because technological disruption, and more importantly economic activity, doesn't happen in a vacuum. It occurs in a world of imperfect information that is exacerbated by power politics—politics shaped by political maneuvering that would make Sun Tzu blush. That is why a value-destroying and increasingly expensive industry, like coal, is able to maintain itself in spite of the clear advantages of its competitors.  
For disruptive innovations to succeed in this environment they must be fueled by reaching customers the incumbents aren't. In other words, attacking them where they are weak. For coal that is off-grid markets where 1.3 billion customers are waiting to upend the dominant narrative of coal's ability to cost effectively feed the world's ever expanding appetite for energy.
This Achilles heel was confirmed by the International Energy Agency (IEA) in a series of reports that conclusively show that in order to deliver universal energy access over half of all energy services flowing to the un-electrified must be provided by off-grid decentralized clean energy. The reports also show that an over reliance on the opposite (large-scale centralized power—often dirty coal plants) will still leave one billion of the world's poor without energy access by 2030. That means regardless of climate concerns, the right tool for the energy access job is decentralized off-grid clean energy.
It just so happens that a vast amount of entrepreneurial energy is laying the foundation for decentralized clean energy to succeed by piggy-backing on the most successful leapfrog technology to date—mobile phones. Currently 411 million people have access to a mobile phone network but lack access to energy. That's because over the past decade there has been a rapid increase in mobile phone users in rural parts of the developing world. India for instance is home to almost 300 million people without electricity access, but has nearly universal mobile phone coverage.
This leapfrog technology has induced demand for power from rural users who want to keep their cell phones charged—and from mobile phone providers who want those cell phones charged to increase revenues. This has touched off a race amongst mobile phone companies climbing all over one another to provide off-grid customers with cheap small-scale distributed clean energy. In 2010 the GSMA, an association of mobile operators worldwide, estimated providing clean energy to this market was worth nearly $3.3 billion in increased revenues for mobile phone companies.
On top of this scramble the mobile phone companies must now construct 639,000 off-grid "base stations"—radio towers that convert electricity into radio waves. In India alone there are an estimated 240,000 towers projected to grow to more than 350,000 by 2012. Currently these towers are powered by costly and insecure diesel supplies whose economics simply don't work in a world of ever increasing oil prices. In fact some countries like India have mandated that diesel be replaced with cheaper and cleaner decentralized clean energy—solar, biomass and wind. Current estimates peg the Indian cell phone tower conversion market alone (diesel to solar) at 2 GW.
But that's just the tip of the iceberg. Building excess capacity into these systems builds the bridge into the real market—the 1.3 billion people currently lacking access to electricity. This excess capacity can be sold to local communities via mini-grids, transportable batteries or by directly charging applications on site expanding this market opportunity through distributed community power. The cell phone operators provide anchor demand and a stable revenue stream, third-party entrepreneurs (the Husk Power), Frontier Markets, Simpa Systems, SELCO-India, GreenLightPlanet, and OMCs of the world own/operate these renewable energy plants, and local communities receive electricity and provide revenue for the entrepreneur.
But the opportunity doesn't end there. These social entrepreneurs are also busily pioneering 'pay as you go' solar systems that leverage mobile money and M2M technology to create flexible payment systems for the world's poor. This can break down traditional barriers of cost and cash flow that have halted efforts to shift away from dirty energy to the world's most sophisticated technologies. In essence innovations like these open the financial door to the 1.3 billion person strong market ready to fund our insurgency.
There is no reason to believe the scale and speed of this transition will be anything less than revolutionary. Remember in the U.S. the shift to cars from horses or from steam to diesel electric locomotives took less than 12 years. Or more recently the shift from landlines to mobile phones has largely happened in just 10 years. Already off-grid solar has grown leaps and bounds with countries like Bangladesh installing 30,000 to 40,000 solar home systems every month with a total of one million systems installed to date.
As the shift from centralized and dirty to distributed and clean speeds up it will remove the rhetorical justification fossil fuels rely on. But more importantly it will dry up the cash reserves that would have helped maintain political influence. That means that how we power the world's poor is just as important, and perhaps even more, than how we power the rest.
Visit EcoWatch's RENEWABLES page for more related news on this topic.
——–
Click here to tell Congress to Expedite Renewable Energy.

By J. Matthew Roney
Even amid policy uncertainty in major wind power markets, wind developers still managed to set a new record for installations in 2012, with 44,000 megawatts of new wind capacity worldwide. With total capacity exceeding 280,000 megawatts, wind farms generate carbon-free electricity in more than 80 countries, 24 of which have at least 1,000 megawatts. At the European level of consumption, the world's operating wind turbines could satisfy the residential electricity needs of 450 million people.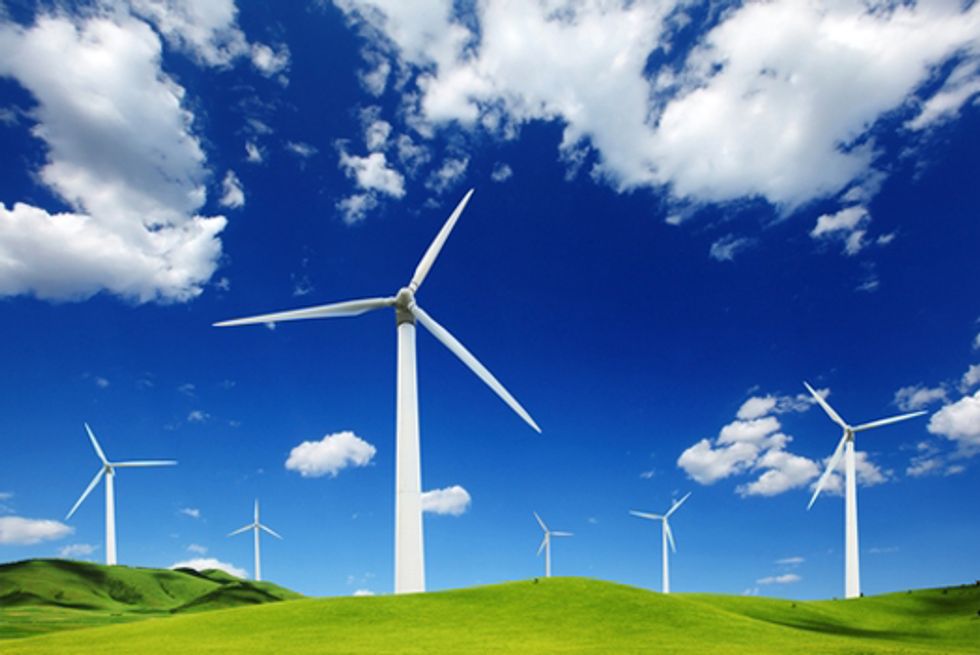 Photo courtesy of Shutterstock
China installed some 13,000 megawatts of wind in 2012, according to the Global Wind Energy Council (GWEC). This was a marked slowdown from the previous two years, when new installations averaged 18,000 megawatts annually. Reasons for the drop-off include concerns about project quality and inadequate electricity transmission and grid infrastructure, which prompted the government to approve fewer projects and to restrict lending. Still, all told, China leads the world with 75,000 megawatts of wind capacity: more than a quarter of the world total.
In a country more readily associated with coal-fired electricity and nuclear power ambitions, wind reached some impressive milestones in China's energy mix in 2012. Wind-generated electricity increased more than coal-fired electricity did for the first time. Even more remarkable, the electricity produced by wind farms over the course of the year exceeded that produced by nuclear power plants. And this is just the beginning: with massive wind projects under development across its northern and eastern provinces, and 19 ultra-high-voltage transmission projects connecting windy rural areas to population centers (all to be completed by 2014), more milestones lie ahead in China. Consulting firms GTM Research and Azure International project that China will reach 140,000 megawatts of wind by 2015 and nearly 250,000 megawatts by 2020.
The U.S. wind industry made headlines too. More new wind electricity generating capacity was added in 2012 than any other generation technology, including natural gas—a record 13,100 megawatts. An incredible 5,200 megawatts, spread among 59 wind farms, came online in December alone as developers raced to qualify for the federal production tax credit before it was set to expire at the end of the year. The U.S. remains second only to China, with 60,000 total megawatts of wind capacity—enough to power more than 14 million U.S. homes.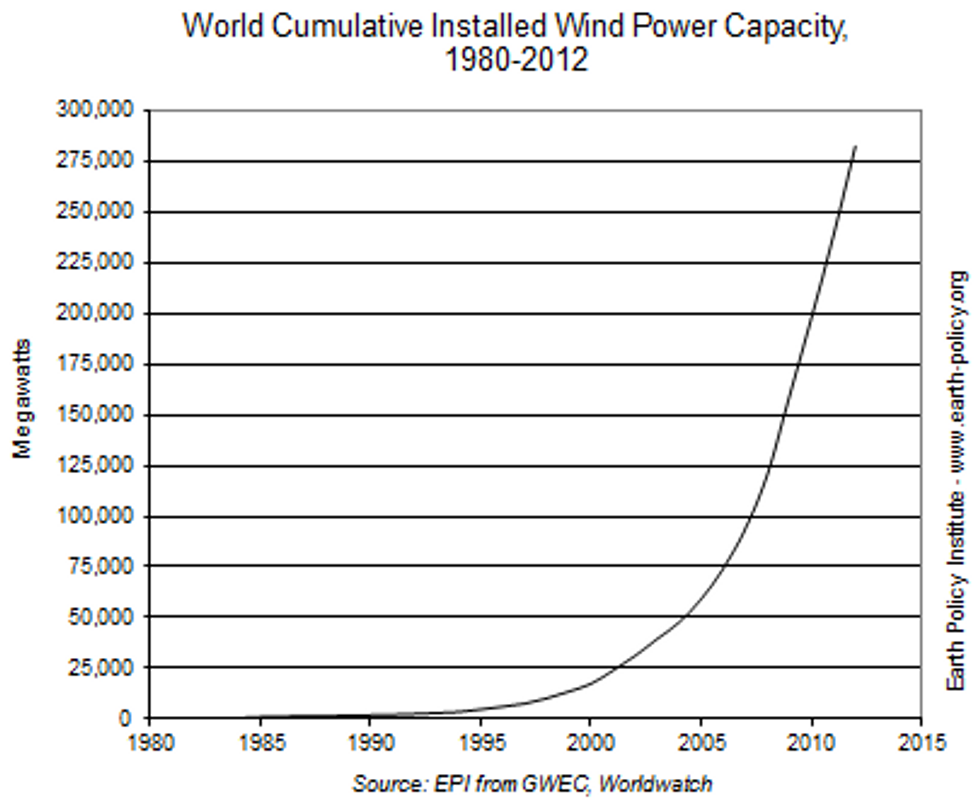 Several U.S. states have more installed wind capacity than most countries do. The 12,200 megawatts in Texas and the 5,500 megawatts in California, for example, would rank them sixth and eleventh, respectively, on the world wind power list. In Texas, a further 21,000 megawatts of wind projects are under consideration, much of which could be accommodated by the "Competitive Renewable Energy Zones" high-voltage transmission projects scheduled for completion by the end of 2013. These new lines will connect wind-rich West Texas and the panhandle with high-demand markets to the east. (See data).
Wind farms generated at least 10 percent of the electricity produced in nine states in 2012, up from five states the year before. Iowa and South Dakota got nearly a quarter of their electricity from wind. Oregon's 845-megawatt Shepherd's Flat wind farm, commissioned in 2012, is North America's largest. But in Carbon County, Wyoming, a project of up to 3,000 megawatts is under development.
To the north, Canada's 6,500 megawatts of wind power are sufficient to meet the electricity needs of nearly 2 million households. As Ontario, the country's most populous province, works to phase out coal-fired power by 2014, its wind generation is growing—in fact, Ontario's wires carried more electricity from wind than from coal for the first time in 2012.
The European Union (EU) added more megawatts of wind in 2012 than it did natural gas, coal, or nuclear, even as fiscal austerity measures cut renewable energy incentives. Several EU member states lead the world in the share of electricity they get from wind farms. Spain and Portugal typically have a 16 percent wind share. In Germany, whose 30,000 megawatts of wind capacity are the third highest in the world, the national wind share is 11 percent. Four of Germany's northern states now get roughly half of their electricity from wind.
But it is Denmark that sets the bar for wind's role in electricity production. The Danish Wind Industry Association reports that wind farms generated 30 percent of Denmark's electricity in 2012, up from 28 percent in 2011. The government pledged in late 2011 to boost this share to 50 percent by 2020.
Looking eastward, Romania and Poland each added roughly 900 megawatts of wind in 2012, reaching 2,500 and 1,900 megawatts, respectively. Turkey's goal is to reach 20,000 megawatts of wind in the next 10 years, nearly 10 times its current capacity.
Aside from China, India is the other big Asian wind market. With more than 18,000 megawatts installed, India ranks fifth worldwide in wind capacity. The government plans to spend roughly $8 billion on grid and transmission upgrades by 2017 through its "green energy corridors" plan. This is sorely needed in a country where nearly 300 million people do not have access to electricity.
Latin America, Africa, the Middle East and Oceania have enormous wind potential but little actual development thus far. Activity in each of these regions, however, indicates seriousness about harnessing the wind. In Latin America, Mexico more than doubled its wind capacity to almost 1,400 megawatts in 2012. Brazil, where wind installations grew 75 percent in 2012, could add another 1,500 megawatts in 2013 to reach 4,000 megawatts total.
Just 100 megawatts of wind were installed in all of Africa in 2012, split between Ethiopia and Tunisia. Kenya's long-awaited 310-megawatt Lake Turkana wind farm, which could generate more than 10 percent of national electricity, has suffered multiple setbacks but may begin construction in 2013. No new wind projects came online in the Middle East. Jordan is looking to grow its currently negligible wind power to 1,200 megawatts by 2020, however, and plans are also under way in Israel and Saudi Arabia.
In Australia, the goal is to get 20 percent of electricity from renewable sources by 2020. Half of the country's current 2,600 megawatts of wind is in the state of South Australia, where wind farms generated 24 percent of all electricity in 2012. The January 2013 commissioning of the 420-megawatt Macarthur wind farm in the state of Victoria gets the country halfway to its expected 30 percent wind growth for the year.
Most of the world's installed wind capacity is land-based; just 2 percent—roughly 5,400 megawatts—has been built offshore. Recently, however, offshore development has accelerated, more than tripling over the last five years. Ten of the 12 countries with offshore wind farms are European. The United Kingdom hosts more than half of the world's offshore capacity and aims for 18,000 megawatts of offshore wind by 2020; its offshore wind resources are actually estimated to be 16 times larger than its electricity consumption. In Denmark, some 15 percent of electricity is expected to come from offshore wind farms by 2014.
China and Japan are the only offshore wind producers outside of Europe, hosting 390 megawatts and 25 megawatts, respectively. With 130 megawatts installed in 2012 alone, China has quickly amassed the world's third largest offshore capacity figure; the country's near-term offshore targets are 5,000 megawatts by 2015 and 30,000 by 2020. In the wake of the 2011 disaster at the Fukushima nuclear power plant, Japan is looking to harness more of its offshore wind, a resource plentiful enough to meet national electricity needs nearly three times over. And in South Korea, numerous offshore projects are under way, as the country's wind industry aims to reach 23,000 megawatts of wind power by 2030.
According to Navigant Research, new wind installations worldwide will fall to some 40,000 megawatts in 2013. This would be the first instance in at least 17 years when annual additions did not increase year-to-year. Much of this deceleration will likely be the result of a slowdown in U.S. development. Still, the annual market is expected to rebound in 2014 as costs continue to fall, as major players recover, and as newcomers in Africa, the Middle East and the Baltic region begin to realize their wind ambitions. GWEC and Greenpeace International project at least 425,000 megawatts of wind capacity worldwide by 2015—enough to generate electricity for all of Central and South America. The world is starting to realize that wind's potential is almost without limit.
Visit EcoWatch's RENEWABLES page for more related news on this topic.
——–
Click here to tell Congress to Expedite Renewable Energy.

The continued maintenance of fossil fuel subsidies is a global scandal and governments should work to transform these subsidies into financing for energy efficiency and renewable energy, says World Wildlife Fund (WWF), responding to a report released yesterday by the International Monetary Fund (IMF).
The IMF report, Energy Subsidy Reform: Lessons and Implications, shines a much needed light on the dark side of fossil fuel subsidies.
The IMF assessment shows that global fossil fuel subsidies—including carbon pollution impacts from fossil fuels—account for almost nine percent of all annual country budgets, amounting to a staggering US$1.9 trillion, much higher than previously estimated. And importantly, says WWF Global Climate & Energy Initiative leader Samantha Smith, the report confirms that the poorest 20 percent of developing countries only marginally benefit from energy subsidies.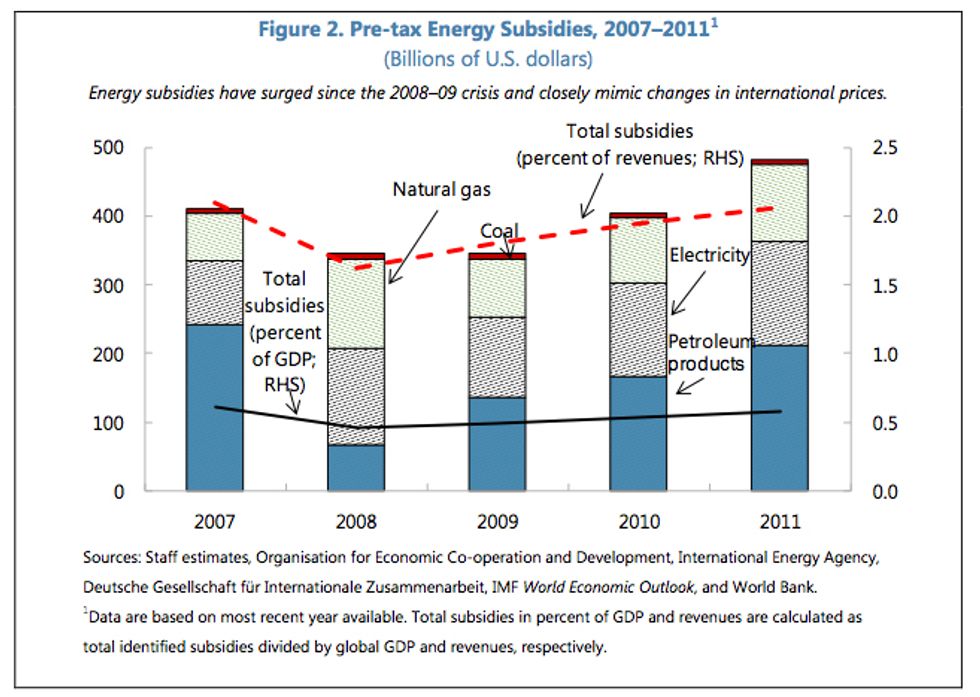 "Removing these subsidies would reduce carbon pollution by 13 percent. This would be a major step toward reducing the world's carbon footprint. Maintenance of these subsidies is a global scandal, a crime against the environment and an active instrument against clean energy and technological innovation," said Smith. "We strongly support transforming fossil fuel subsidies into an effective scheme for financing energy efficiency and renewables and making sure that the poor in developing countries benefit appropriately and receive clean, affordable and reliable energy."
The IMF findings show that almost half of fossil fuel subsidies occur in OECD (Organisation for Economic Co-operation and Development) nations. The U.S., with about US$500 billion annually, accounts for more than one quarter of all global fossil fuel subsidies, followed by China with almost US$300 billion and Russia (US$115 billion).
WWF Global Energy Policy Director Stephan Singer says industrialized countries are responsible for the lion's share of fossil fuel subsidies and should act now to stop them.
"If they were to abolish those subsidies and reform towards renewables and energy efficiency investments, it would more than triple present global investment into renewables," said Singer. "And that is what is needed for a world powered by 100 percent sustainable renewables."
Visit EcoWatch's CLIMATE CHANGE and RENEWABLES pages for more related news on this topic.
——–
Click here to tell Congress to Expedite Renewable Energy.