Bees are dying in unsustainable numbers, and this latest study is further evidence that an extremely common pesticide might be behind it. / Flickr
Neonicotinoids, a common and highly controversial class of insecticides linked to catastrophic bee deaths, could be significantly lowering the sperm count of male drone honey bees and cutting their life span by a third, Swiss researchers found.
Researchers from the Institute of Bee Health at the University of Bern, Switzerland discovered that male drone honeybees that ate pollen treated with two popular "neonics"—thiamethoxam and clothianidin—produced nearly 40 percent less sperm than those that did not.
When sperm from both sets of drones were put under the microscope, the ones treated with neonics produced 1.2 million living sperm on average while the control group produced 1.98 million. The authors said that the insecticides "can serve as inadvertent insect contraceptives." A drone's main role is to mate with the queen bee.
"While no significant effects were observed for male teneral (newly emerged adult) body mass and sperm quantity, the data clearly showed reduced drone lifespan, as well as reduced sperm viability (percentage living versus dead) and living sperm quantity by 39 percent," the report states.
The results showed, for the first time, that neonicotinoids can negatively affect male insect reproductive capacity. The authors said their study might explain the declining population of wild insect pollinators as well as queen bee failure in managed fields.
"Because queen survival and productivity are intimately connected to successful mating, any influence on sperm quality may have profound consequences for the fitness of the queen, as well as the entire colony," the report said.

Geoffrey Williams, the study's co-author and University of Bernsenior bee researcher, told the Associated Press he does not know how exactly the insecticides might be damaging the sperm, but it seems to be happening after they are produced.

In another alarming discovery, the researchers found that 32 percent of the neonic-exposed drones died before reaching sexual maturity, compared to 17 percent of the unexposed controls. The average lifespan of insecticide drones was around 15 days, significantly lower than controls's lifespan of 22 days.
"This could have severe consequences for colony fitness, as well as reduce overall genetic variation within honeybee populations," the authors said.
The study was published today in the British journal Proceedings of the Royal Society B.

As the Associated Press pointed out, the worrisome population decline of pollinators can come down to a combination of many culprits, such as mites, parasites, disease, pesticides and poor nutrition. However, U.S. Department of Agriculture bee scientist Jeff Pettis, who was not part of the neonicotinoid study, suggested that poor sperm health may account for about a third of the growing crisis.

Neonicotinoid-maker Bayer Crop Science spokesman Jeffrey Donald told the AP that the company will review the study, but in general "artificial exposure to pesticides under lab conditions is not reflective of real-world experience."
Peter Campbell from Syngenta, the maker of thiamethoxam, told the Guardian that the study was interesting but added, "given the multiple mating of honeybee queens it is unclear what the consequences of a reduction in sperm quality would actually have on queen fecundity."
This latest study adds to the mounting scientific evidence that neonicotinoids—which are used on many crops in the U.S.—are harmful to pollinators. As Friends of the Earth wrote, bees are crucial to food production but are dying at unsustainable rates, with an unprecedented average of 30 to 40 percent loss of all honeybee colonies each year.
An investigation by the environmental group, Buzz Kill: How the Pesticide Industry is Clipping the Wings of Bee Protection Efforts Across the U.S., has found that the pesticide industry is stifling urgently needed reforms that would help these essential pollinators survive and rebuild their numbers.
If #pollinators disappear, so will 11 of your favourite foods: https://t.co/aVT65ycUHY via @EcoWatch https://t.co/r3zPoGyOF2

— Rainforest Alliance (@Rainforest Alliance)1467036064.0
EcoWatch Daily Newsletter
By Maureen Wise
You've probably heard that bees—their honey, their awesome pollinating powers and their stingers—are on the decline. It's a global problem that affects more than just the little yellow and black buzzers; it can and will interrupt the way we produce food if it continues. Bees pollinate most of the crops farmers grow worldwide, so without them, we don't have food. Most scientists agree that pesticides, drought, habitat loss, pollution and other major environmental concerns are all contributing to colony collapse disorder. It's a big deal and there are a lot of people working to keep bees buzzing.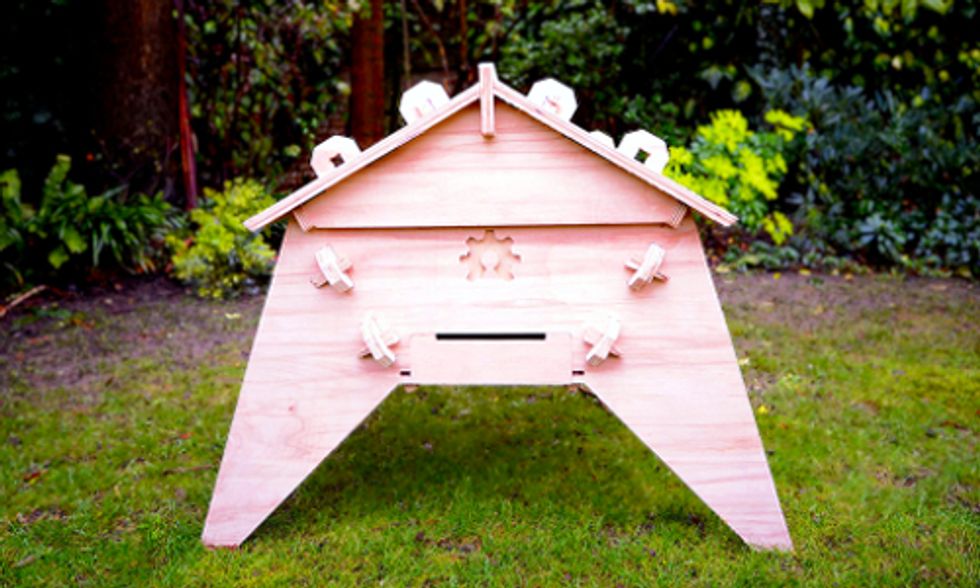 Colorado Top Bar hive
A new project has set out to help understand the issue in individual colonies and bring the problem to the people called Open Source Beehives. This multi-continent partnership between Open Tech Collaborative and Fab Lab Barcelona proposes public participation through easily made backyard hives in conjunction with software that will track hive health.
Individuals can be part of the solution—and the fun—by keeping bees themselves. To construct the hives, keepers don't need glue or screws, only a 4 foot by 8 foot piece of plywood and a CNC router. Those who aren't quite as tech savvy with computer controlled saws can buy a prefabricated kit. There are two models: the smaller Colorado Top Bar (pictured) and the multi-tiered Barcelona Warre. They are easily shipped due to their flat design and packaging.
These "smart hives" will be connected to Smart Citizen through a piece of hardware installed within the hives. Users can view data online as well as through a mobile app. Information such as CO levels, humidity, bee count, noise intensity and more will be sent via Wi-Fi. An upcoming feature will notify beekeepers when there is something amiss within their hive.
The partnership is an open source project, meant to be shared and improved upon through community. Web programmers can find the code for the monitoring software on GibHub, the world's largest code sharing site. Those with other talents and knowledge are also encouraged to help with the project. To contribute, visit Open Source Beehives' collaboration page.
The partnership is finding that many citizens want to participate. Tristan Copley Smith, co-founder and communications director of Open Source Beehives, said, "What we find very interesting is the difference between the public and the political appetite for action on the bee issue—and other ecological issues. Citizens understand the urgency, and are supporting our project, building hives, and helping us improve. Political actors on the other hand have yet to take any meaningful steps on the issue. Citizen science projects in general are giving the public avenues to participate in solving issues themselves, rather than sitting around waiting for solutions from the dysfunctional and corrupt bureaucracies that are failing to protect our planet." You can help by reminding your local government officials how important the issue of colony collapse disorder is and urging them to get involved.
Learn more about Open Source Beehives:
The project has already hosted a successful IndeGoGo campaign to fund the creation of their open source sensor pack and intends to also conduct a Kickstarter campaign in the future.
Correction: The previous byline listed was inaccurate. The byline has been updated.
waterlust.com / @tulasendlesssummer_sierra .
Each product featured here has been independently selected by the writer. If you make a purchase using the links included, we may earn commission.
The bright patterns and recognizable designs of Waterlust's activewear aren't just for show. In fact, they're meant to promote the conversation around sustainability and give back to the ocean science and conservation community.
Each design is paired with a research lab, nonprofit, or education organization that has high intellectual merit and the potential to move the needle in its respective field. For each product sold, Waterlust donates 10% of profits to these conservation partners.
Eye-Catching Designs Made from Recycled Plastic Bottles
waterlust.com / @abamabam
The company sells a range of eco-friendly items like leggings, rash guards, and board shorts that are made using recycled post-consumer plastic bottles. There are currently 16 causes represented by distinct marine-life patterns, from whale shark research and invasive lionfish removal to sockeye salmon monitoring and abalone restoration.

One such organization is Get Inspired, a nonprofit that specializes in ocean restoration and environmental education. Get Inspired founder, marine biologist Nancy Caruso, says supporting on-the-ground efforts is one thing that sets Waterlust apart, like their apparel line that supports Get Inspired abalone restoration programs.
"All of us [conservation partners] are doing something," Caruso said. "We're not putting up exhibits and talking about it — although that is important — we're in the field."
Waterlust not only helps its conservation partners financially so they can continue their important work. It also helps them get the word out about what they're doing, whether that's through social media spotlights, photo and video projects, or the informative note card that comes with each piece of apparel.
"They're doing their part for sure, pushing the information out across all of their channels, and I think that's what makes them so interesting," Caruso said.
And then there are the clothes, which speak for themselves.
Advocate Apparel to Start Conversations About Conservation
waterlust.com / @oceanraysphotography
Waterlust's concept of "advocate apparel" encourages people to see getting dressed every day as an opportunity to not only express their individuality and style, but also to advance the conversation around marine science. By infusing science into clothing, people can visually represent species and ecosystems in need of advocacy — something that, more often than not, leads to a teaching moment.

"When people wear Waterlust gear, it's just a matter of time before somebody asks them about the bright, funky designs," said Waterlust's CEO, Patrick Rynne. "That moment is incredibly special, because it creates an intimate opportunity for the wearer to share what they've learned with another."
The idea for the company came to Rynne when he was a Ph.D. student in marine science.
"I was surrounded by incredible people that were discovering fascinating things but noticed that often their work wasn't reaching the general public in creative and engaging ways," he said. "That seemed like a missed opportunity with big implications."
Waterlust initially focused on conventional media, like film and photography, to promote ocean science, but the team quickly realized engagement on social media didn't translate to action or even knowledge sharing offscreen.
Rynne also saw the "in one ear, out the other" issue in the classroom — if students didn't repeatedly engage with the topics they learned, they'd quickly forget them.
"We decided that if we truly wanted to achieve our goal of bringing science into people's lives and have it stick, it would need to be through a process that is frequently repeated, fun, and functional," Rynne said. "That's when we thought about clothing."
Support Marine Research and Sustainability in Style
To date, Waterlust has sold tens of thousands of pieces of apparel in over 100 countries, and the interactions its products have sparked have had clear implications for furthering science communication.
For Caruso alone, it's led to opportunities to share her abalone restoration methods with communities far and wide.
"It moves my small little world of what I'm doing here in Orange County, California, across the entire globe," she said. "That's one of the beautiful things about our partnership."
Check out all of the different eco-conscious apparel options available from Waterlust to help promote ocean conservation.
Melissa Smith is an avid writer, scuba diver, backpacker, and all-around outdoor enthusiast. She graduated from the University of Florida with degrees in journalism and sustainable studies. Before joining EcoWatch, Melissa worked as the managing editor of Scuba Diving magazine and the communications manager of The Ocean Agency, a non-profit that's featured in the Emmy award-winning documentary Chasing Coral.
Today, on the heels of last week's celebration of National Pollinator Week and the Presidential Memorandum that followed, the first wide-scale analysis of harmful pesticides known to contribute to declining bee populations has been released.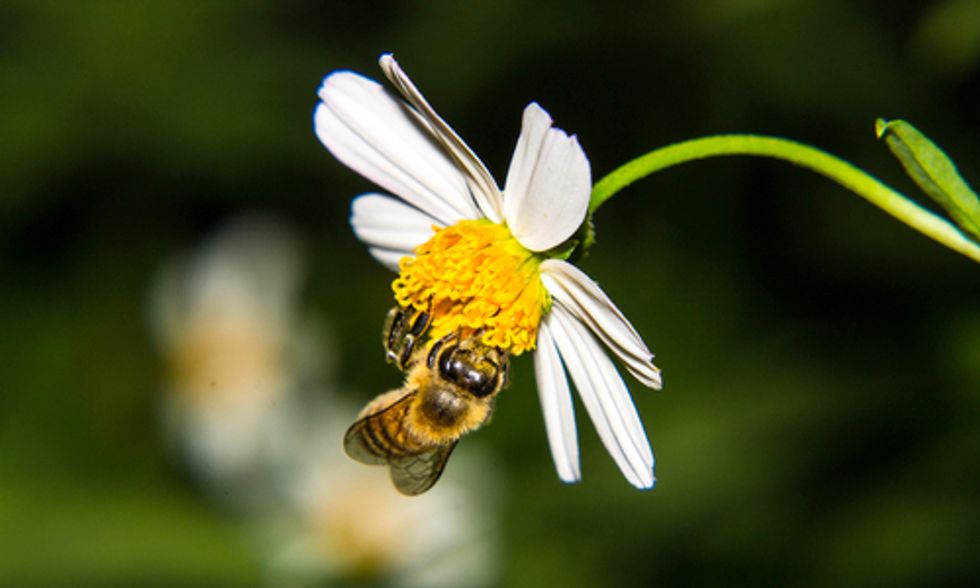 Photo courtesy of Shutterstock
The Worldwide Integrated Assessment (WIA), issued by the Task Force on Systemic Pesticides, documents significant damage to bees and the environment stemming from the wide-spread use of neonicotinoid pesticides (neonics). The report stresses that even at very low levels, neonics and the products resulting from their breakdown in the environment are persistent and harmful, and suggests that the current regulatory system has failed to grasp the full range of impacts from these pesticides. The authors analyzed more than 800 peer-reviewed publications before coming to their consensus. 
The report will appear in a forthcoming issue of the journal Environmental Science and Pollution Research and will be released at events in Brussels, Manila, Montreal and Tokyo over the next two days. 
"This report should be a final wake up call for American regulators who have been slow to respond to the science," said Emily Marquez, PhD, staff scientist at Pesticide Action Network North America. "The weight of the evidence showing harm to bees and other pollinators should move EPA [U.S. Environmental Protection Agency] to restrict neonicotinoids sooner than later. And the same regulatory loopholes that allowed these pesticides to be brought to the market in the first place—and remain on the shelf—need to be closed."
"The science clearly shows that, not only are these systemic pesticides lethal to pollinators, but even low doses can disrupt critical brain functions and reduce their immunity to common pathogens," said Nichelle Harriott, staff scientist at Beyond Pesticides.
Neonics, as described by the Center for Food Safety, are a newer class of systemic insecticides that are absorbed by plants and transported throughout the plant's vascular tissue, making the plant potentially toxic to insects. Imidacloprid (Bayer)—followed by clothianidin (Bayer), thiamethoxam (Syngenta) and dinotefuran—first came into heavy use in the mid-2000s. At about the same time, beekeepers started observing widespread cases of population losses—episodes that lead to the coining of the term "colony collapse disorder."
Over the past few years numerous studies and reports, as well as advocacy groups and beekeepers, have called on the EPA to suspend the use of neonicotinoids, even filing lawsuits and circulating legal petitions against the agency. The EPA has continually stalled and indicated that a review of the pesticides will not be completed until 2018. Meanwhile, the European Commission instituted a continent-wide, two-year ban on neonicotinoids that began Dec. 1, 2013.
"To save our invaluable pollinators, EPA, USDA [U.S. Department of Agriculture] and all Federal agencies must read this report and immediately implement regulatory remedies against the ongoing neonicotinoid disaster," said Doug Gurian-Sherman, PhD, senior scientist for Center for Food Safety. "We know from recent studies that neonicotinoid seed treatments are generally not improving yields or even keeping common pests at bay. They aren't serving farmers and they certainly aren't serving pollinators. It is time to address this common route of exposure."
The report looks beyond the harmful affects on bees, noting the far-reaching impacts of neonics on entire ecosystems, including contamination of soil and water, as well similar effects being displayed in butterflies and other pollinators. 
Since 2006, beekeepers in the U.S. have been losing, on average, more than 30 percent of their bees each year, with commercial productions losing upwards of 50 percent. Last month, the USDA reported that honeybees in the U.S. are dying at a rate too high to ensure their long-term survival. 
"The report lends credence to what beekeepers have been saying for several years," said Jeff Anderson, beekeeper and owner of California-Minnesota Honey Farms. "Our country depends on bees for crop pollination and honey production. It's high time regulators realize that applying toxins to plants makes them toxic to bees."
Yesterday, more than 500,000 signatures were delivered to U.S. Environmental Protection Agency (EPA) Administrator Gina McCarthy, urging the nation's top-ranking environmental leader to protect bees and other pollinators.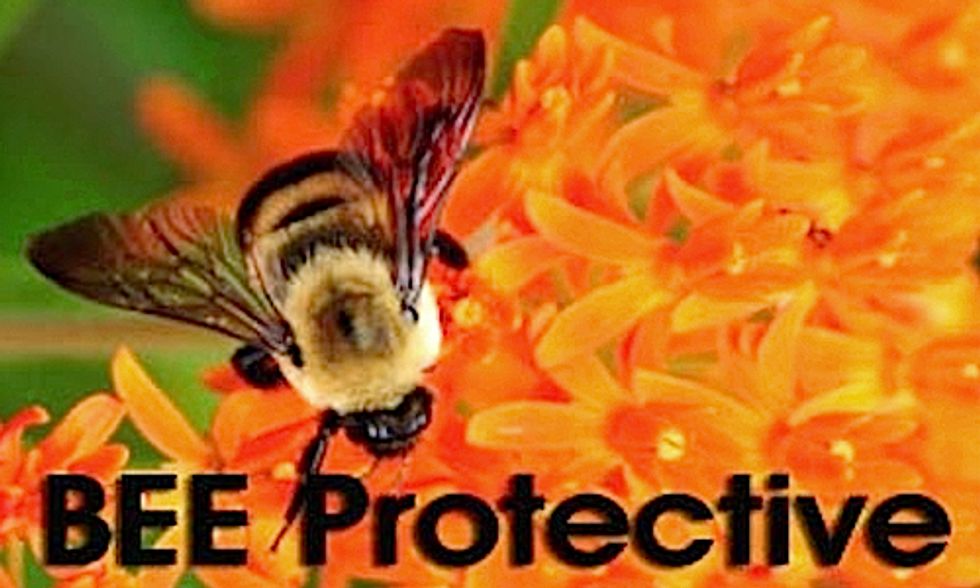 The date marks the one-year anniversary of the lawsuit filed against EPA by beekeepers, food, and environmental groups, including Beyond Pesticides, over the continued allowance of two bee-toxic pesticides: clothianidin and thiamethoxam. It also marks the two-year anniversary of the emergency legal petition filed against the agency on this same issue. The EPA has yet to take serious action to address dramatic bee declines.
The pesticides in question are a class of systemic insecticides known as neonicotinoids. Despite numerous studies linking neonicotinoids with bee kills, colony collapse and weakened immune systems, the EPA continues to operate under an alarmingly slow registration review process for these insecticides, one that extends to 2018. Honey bees are responsible for producing one in every three bites of food we eat, but research increasingly shows they are being harmed by the indiscriminate use of neonicotinoids, both alone and in combination with other pesticides. It is the job of the EPA to review such pesticides for safety and to take action if they are found to be harmful.
"We call on EPA Administrator McCarthy to lead the agency in a new direction by immediately suspending all outdoor uses of neonicotinoid pesticides. Bees can't wait four more years for EPA to make a decision. If the agency acts now, we can save these vital pollinators before it's too late," said the groups in a joint statement.
"Beekeepers are losing colonies at an unprecedented rate—the losses are too extreme to keep up with, and our entire industry is at risk of collapse unless federal action is taken," said New York beekeeper Jim Doan, a plaintiff in the lawsuit who will be discussing bee declines on Capitol Hill next week. "Convening conferences and changing pesticide labels is lip service and window dressing to the issue, but has no substance." 
In the absence of federal action, several states have taken action independently to introduce legislation that would suspend uses of neonicotinoids. California, Minnesota and New York are among the states considering action in their state legislatures. And this month, Eugene, OR, became the first city in the country to ban the use of neonicotinoids on city property. Congress is also pushing to curb the use of neonicotinoids through the Saving America's Pollinators Act, introduced by Rep. Conyers (D-MI) and Rep. Blumenauer (D-OR).
In Dec. 2013, Europe implemented a two-year moratorium on the most problematic neonicotinoids in order to protect bee health. This move came after several European countries had already implemented bans, with no economic costs to farmers or consumers.
"We are asking EPA to follow the EU's lead and recognize that the risks are unacceptably high. Pollination services provided by honey bees and other, even less studied, wild bees are far too important for agriculture and ecosystems to treat them in a non-precautionary manner. Many thousands of beekeeper livelihoods, the future viability of commercial beekeeping and the crops relying on these pollination services, estimated at $20-30 billion annually, are potentially in jeopardy," the groups said.
Visit EcoWatch's BIODIVERSITY page for more related news on this topic. 

By Laura Beans
Last week, the beekeeping industry filed legal action against the U.S. Environmental Protection Agency (EPA) for approving a new bee-harming pesticide.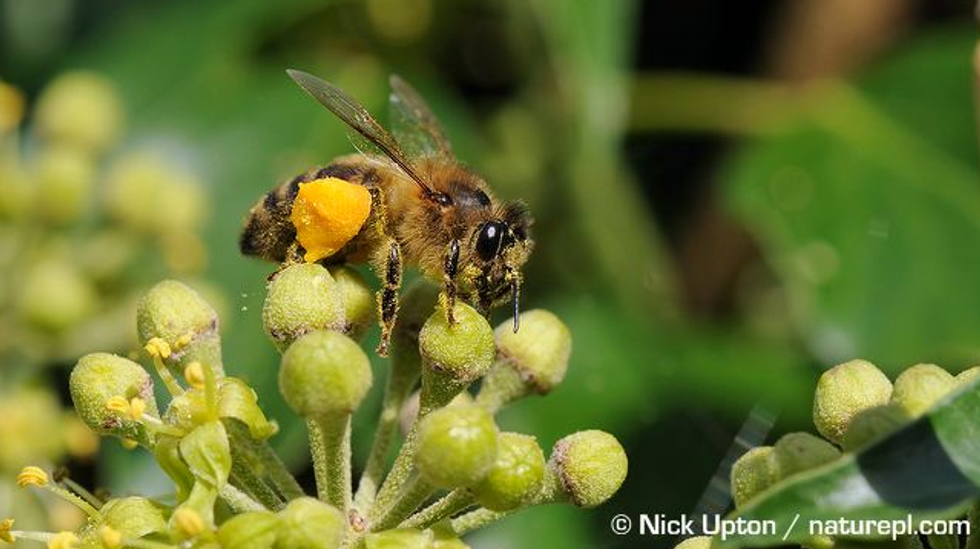 According to Beyond Pesticides, the petitioners—including the National Pollinator Defense Fund, American Honey Producers Association, National Honey Bee Advisory Board, the American Beekeeping Federation, and beekeepers Bret Adee, Jeff Anderson and Thomas R. Smith—filed the suit in the U.S. Ninth Circuit Court of Appeals.
Despite evidence about the harms of the new pesticide, and research questions left unanswered, in May, the EPA approved the full registration of sulfoxaflor. The active ingredient is similar to that of neonicotinoid; it acts on the nicotinic acetylcholine receptor in insects and causes similarly harmful impacts on bees' brains.
Comments were submitted to the EPA by concerned beekeepers and environmental advocacy groups, stating that approval of a pesticide highly toxic to bees would only exacerbate the problems faced by the honey bee industry and further decimate bee populations, which has already reported unparallelled lows across the globe.
However, according to Pesticide Action Network, the EPA dismissed these concerns outrightly and instead pointed to a need for sulfoxaflor by industry and agriculture groups to control insects resistant to pesticide technologies. The EPA is unable (or unwilling) to act decisively to protect bees, and has instead fast-tracked the new pesticide to market.
"The EPA is charged with preventing unreasonable risk to our livestock, our livelihoods and most importantly, the nation's food supply," said Bret Adee, a beekeeper at Adee Honey Farms with operations in South Dakota and California—and a petitioner on the case. "This situation requires an immediate correction from the EPA to ensure the survival of commercial pollinators, native pollinators and the plentiful supply of seed, fruits, vegetables and nuts that pollinators make possible."
The suit is filed on the heels of several recently publicized mass bee die-offs. Last month in Oregon, 50,000 bumblebees were found dead after a cosmetic application of dinotefuran—a neonicotinoid pesticide—was applied to ornamental trees while they were in flower. In Canada last week, 37 million bees were found dead in Elmwood, Ontario. Current estimates of the number of surviving hives in the U.S. show that these colonies may not be able to meet the pollination demands of agricultural crops. 
With reports to the contrary, the EPA says that none of the objections to sulfoxaflor point to any data "to support the opinion that registration of sulfoxaflor will pose a grave risks to bees," even though the agency itself acknowledges that sulfoxaflor is highly toxic to bees. The EPA downplayed the effects of sulfoxaflor—which include behavioral and navigational abnormalities in honey bees—as "short-lived."
The groups are being represented by the public interest law organization Earthjustice. The appeal process through the courts is the only mechanism open to challenge EPA's decision.
Visit EcoWatch's BIODIVERSITY page for more related news on this topic.
———

After the mass poisoning of more than 50,000 bumblebees last week in Wilsonville, OR, and other incidents now being reported in neighboring Washington County, scientists are calling on local officials to ban the cosmetic use of insecticides on city- and county-owned lands. The mass poisoning is the largest event of its kind ever documented, with an estimated impact on more than 300 wild bumblebee colonies.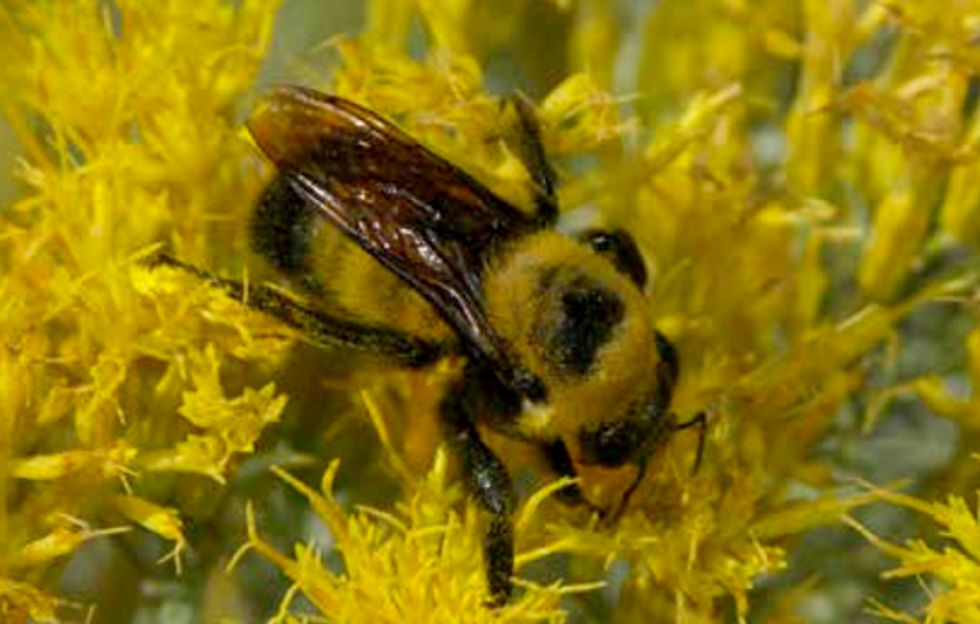 According to Oregon Department of Agriculture, the poisoning occurred after an insecticide was sprayed on linden trees to control aphids, which secrete a sticky residue while feeding, making them a nuisance to parked cars. The pesticide, dinotefuran (also known as Safari), belongs to a relatively new and controversial group of chemicals called neonicotinoids. Because neonicotinoids are long-lasting in plant tissues and can be found in flower nectar and pollen, and because they have been implicated in the global decline of honey bees, there have been growing concerns about their safety for pollinators.
"The cost of losing pollinators far outweighs any value of controlling aphids on ornamental plants," said Mace Vaughan, pollinator conservation director at the Xerces Society. "After the events of last week, and based on the overwhelming science demonstrating the harm that these products can cause, we are calling on city and county governments to immediately stop the damage."
The University of Minnesota's Dr. Marla Spivak, a leading global authority on bee health, echoed Vaughan's sentiment. "The Oregon bee poisoning is a clear warning. We have to stop pesticide use in cases where human health or food security is not at risk."
Spivak points out that neonicotinoids are now the most widely used insecticides in urban and agricultural areas. "They are long-lasting in soil and they readily move into water. If the Oregon event is an indication of what is happening more widely, we will begin to see catastrophic threats to food security and the pollination of wild plants."
In response to these concerns, several local governments are taking action to prevent further bee deaths. One of the most startling of these efforts was the City of Wilsonville's leadership in wrapping the insecticide-laden trees with netting last week to keep any more bees from dying. The City of Eugene had previously publicly stated that they are no longer using neonicotinoids on city properties. In May, Commissioners from Thurston County, Washington unsuccessfully petitioned their state department of agriculture (WDA) to restrict some uses of these chemicals in their county. It is unclear whether WDA is now reconsidering their earlier rejection of the Thurston County petition, which was initiated out of concerns for pollinators such as honey bees and bumble bees.
The Xerces Society applauds the actions on the part of Wilsonville and Eugene to protect bees, but says more needs to be done.
"It is time to take a stronger stance on pollinator protection. The European Union has put restrictions in place on several neonicotinoids, and Ontario, Canada has gone further and banned all pesticides for cosmetic use," said Scott Hoffman Black, executive director of the Xerces Society. "We need a similar response here."
Neonicotinoid insecticides, with active ingredients like imidacloprid, dinotefuran, thiamethoxam and clothianidin, can be purchased in most hardware stores and nurseries under various trade names. As scientists like Vaughan and Spivak point out, most have no warning labels to alert consumers about the potential hazard to bees, butterflies and other beneficial insects.
To help prevent future bee poisonings, the Xerces Society is calling for changes to both regulations and consumer behavior.
"In terms of what we would like to see, legislators, regulators and municipal leaders across the country should ban the use of neonicotinoids and other insecticides for cosmetic purposes," said Black. "At a broader level, it is time for the Environmental Protection Agency to re-assess the ecological safety of neonicotinoids and immediately suspend any product registrations that were made with incomplete data."
Jennifer Hopwood, the lead author of the Xerces Society's report on the risks of neonicotinoids to bees says that there are also steps that individuals can take to avoid harming pollinators, like checking to see if they have neonicotinoid products in their garage or garden shed.
"Consumers should know that they can return pesticides to the store where they purchased them for safe disposal. Beyond that, when buying garden plants, people should ask the store if insecticides have been used on them," she says. "If staff can't tell you, I would shop somewhere else."
The Xerces Society will be following up with mayors, city councils and county commissions across the U.S. with formal letters asking them to take action.
The Xerces Society recommendations include:
For Municipalities
Municipalities should stop using all neonicotinoid insecticides on city- and county-owned property, including schools, parks and gardens.
City and county governments should require that warnings be posted alongside displays of these chemicals at hardware stores and nurseries.
Legislators, regulators and municipal leaders across the country should ban the use of neonicotinoids and other insecticides for cosmetic purposes on ornamental and landscape plants, like the ban now in force in Ontario, Canada.
For Homeowners
Do not buy products that contain neonicotinoids.
Check to see if you have these products in your garage or garden shed. If so, do not use them. Make sure you dispose of them properly or take them back to the store where you bought them.
When buying plants for your yard, ask if neonicotinoids have been used on them. If staff cannot tell you, shop somewhere else.
For Nursery and Hardware Stores
Stores should proactively take action by pulling these toxic and poorly labeled products from their shelves.
At a minimum, display materials should be placed at point of sale so that consumers know that these products kill bees and other beneficial insects, and that they can cause plants to produce toxic nectar and pollen months after treatment.
Nurseries should list plants that have been treated with these chemicals.
For the Federal Government
The U.S. Environmental Protection Agency should work with pesticide companies to add clear warnings to homeowners that ornamental neonicotinoid insecticides are toxic to bees and other pollinators.
For Insecticide Companies
Companies that make homeowner pesticide products that contain neonicotinoids should add clear language to product labels highlighting that these products are highly toxic to bees and other pollinators, and that treatment to plants may result in nectar and pollen that are contaminated with the insecticide and may kill bees and other pollinators.
Visit EcoWatch's BIODIVERSITY page for more related news on this topic.

Just as Pollinator Week began last week, an estimated 50,000 bumblebees, likely representing more than 300 colonies, were found dead or dying in a shopping mall parking lot in Wilsonville, OR. Authorities confirmed Friday that the massive bee die-off was caused by the use of a neonicotinoid pesticide, dinotefuran, on nearby trees. Then on Saturday, it was reported by The Oregonian that what could be hundreds of bees were found dead after a similar pesticide use in the neighboring town of Hillsboro.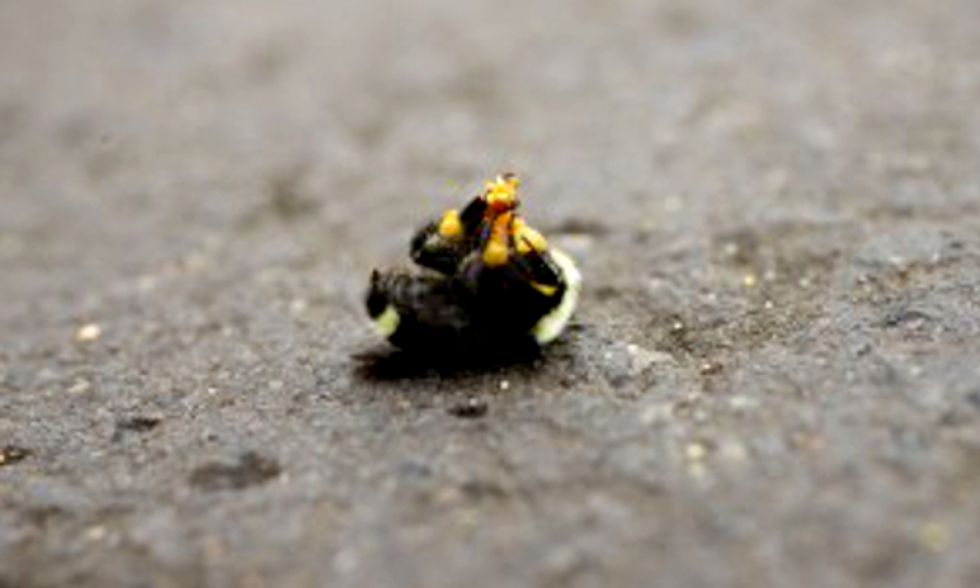 According to the Xerces Society, this is the largest known incident of bumblebee deaths ever recorded in the country. Bumblebees, which are crucial to the pollination of multiple berry and seed crops grown in the Willamette valley—as well as many other food crops across the country—have recently experienced dramatic population declines, a fate similar to other pollinators.
Dan Hilburn, director of plant programs at the Oregon Department of Agriculture (ODA), told Oregon Live that he's "never encountered anything quite like it in 30 years in the business." The incident highlights the difficulty of permitting in commerce such a highly toxic material that indiscriminately kills beneficial insects.
A recent study—an overview of the environmental risks posed by neonicotinoid insecticides—published in the Journal of Applied Ecology, documents that neonicotinoid persistence in soil and water can cause broad, far-reaching impacts on ecosystem health, much of which has undergone little scientific scrutiny. The author asserts that world leaders have failed to meet their commitment made at the 2002 Convention on Biological Diversity—to achieve a significant reduction in the rate of biodiversity loss. David Goulson, Ph.D, of the University of Sussex, author of the study, points to neonicotinoids as a potential cause of this failure, due to their long-term persistence in soil and water. He specifically points to soil dwelling insects, benthic aquatic insects, grain-eating vertebrates and pollinators as being in particular danger from the use of these chemicals.
The ODA and Xerces Society had been working together to investigate the pesticide poisoning. After interviewing the landscaping company that maintains dozens of ornamental trees around the parking lot, the ODA investigators learned that Safari, a pesticide product with the active ingredient dinotefuran, had recently been applied on June 15 to control aphids. Dinotefuran is a neonicotinoid pesticide that is highly toxic to bees; the product's label strictly forbids its use if bees are in the area.
Scott Black, executive director of the Xerces Society, noted that the pesticide was applied to the tree while it was flowering, an action that violates the product's instructions.
"Beyond the fact that a pesticide was applied to plants while they were attracting large numbers of bees, in this case the pesticide was applied for purely cosmetic reasons. There was no threat to human health or the protection of farm crops that even factored into this decision," stated Black.
Neonicotinoids, including dinotefuran, can be broadly applied as a spray, soil drench or seed treatment, however, the ability of these chemicals to translocate through a plant as it grows has led to the creation of a large market within chemical-intensive landscaping and agriculture. Once these systemic pesticides are taken up by a plant's vascular system, they are expressed through pollen, nectar and guttation droplets from which pollinators such as bees then forage and drink. Neonicotinoids kill sucking and chewing insects by disrupting their nervous systems.
Beginning in the late 1990s, these systemic insecticides also began to take over the seed treatment market. Clothianidin and imidacloprid are two of the most commonly used neonicotinoid pesticides. Both are known to be toxic to insect pollinators, and are lead suspects as causal factors in honey bee colony collapse disorder. An extensive overview of the major studies showing the effects of neonicotiniods on pollinator health can be found in Beyond Pesticides' What the Science Shows.
Several different crops in the Willamette valley of Oregon rely heavily on the pollination services provided by bumblebees. Blueberries, raspberries, blackberries and crop seed production, which are grown in Oregon, all rely on bumblebees for pollination. Mace Vaughn, pollinator conservation program director with the Xerces Society, told Oregon Live, "Bumblebees are the single most important natural pollinator in Oregon."
In the midst of the all the attention that is focused on the loss of honey bees and colony collapse disorder, wild pollinator losses are often overlooked. Pesticide risk mitigation measures intended to protect honey bees do not always constitute risk mitigation for other pollinators like bumblebees because they have different foraging practices, social structures and genetics. Minimal research has also been done on pesticide toxicity for wild pollinators.
This massive bee death marked an unfortunate beginning to National Pollinator Week, which was first declared in 2006 by Congress and the U.S. Department of Agriculture to raise awareness about the global decline of many pollinator species. During Pollinator Week and year round, Beyond Pesticides urges communities to come together to highlight the importance of pollinators through public education, the creation of pollinator friendly habitats and other important activities, while hundreds of actions to support pollinators took place across the U.S.
Though pollinator week is over, there are still many ways that you can get involved and help protect pollinators, from providing bee habitat in your yard, to keeping bees in your backyard or simply choosing to eat organic foods. Beyond Pesticides' BEE Protectivecampaign has all the educational tools you need to help pollinators.
Visit EcoWatch's BIODIVERSITY page for more related news on this topic.

The Center for Food Safety applauds the passage of a pollinator protection amendment Wednesday that was offered by Rep. Alcee Hastings (D-FL) to the Farm Bill currently being considered by the U.S. House of Representatives, a fitting and positive development during National Pollinator Week.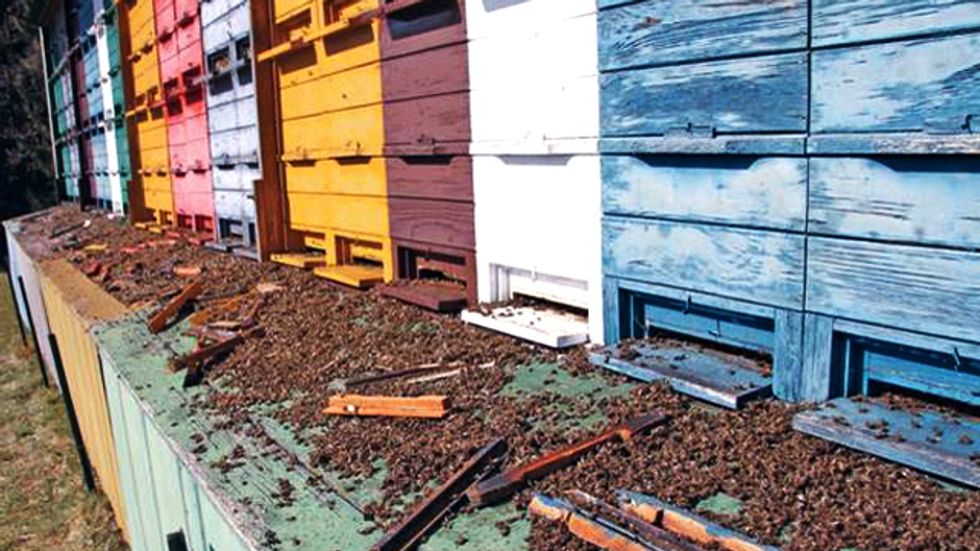 "Honey bees and other pollinators have been suffering record-high population losses," said Andrew Kimbrell, executive director of Center for Food Safety. "Pollinators are vitally important to agriculture and are an integral part of food production. These critical species are at the front lines of pesticide exposure and it is high time that the government do more to protect them."
The Hastings amendment, which passed 273-149 with 81 Republicans and 192 Democrats voting in favor, seeks to better improve federal coordination in addressing the dramatic decline of managed and native pollinators as well as direct the government to regularly monitor and report on the health of pollinators including bees, birds, bats and other beneficial insects.
In the U.S., pollination contributes to $20-30 billion in agricultural production annually. In North America, honey bees pollinate nearly 95 kinds of fruits, including many specialty crops like almonds, avocados, cranberries, oranges and apples.
"This year has shown the highest honey bee losses since colony collapse began; it is a clear message that we need to do more to protect pollinators. The Hastings amendment is a much needed win for pollinators everywhere and we hope it compels the government to do more to protect these vital species," added Kimbrell.
Earlier this month, Sen. Barbara Boxer (D-CA) filed a nearly identical amendment to the Senate Farm Bill but it was not voted on prior to the Senate passing its bill. The House has yet to vote on final passage of the bill, which is expected to come early next week. The Center for Food Safety is confident that the Senate will support the pollinator protection language when the two bills go to conference.
Visit EcoWatch's BIODIVERSITY and FARM BILL pages for more related news on this topic.

By Paul Towers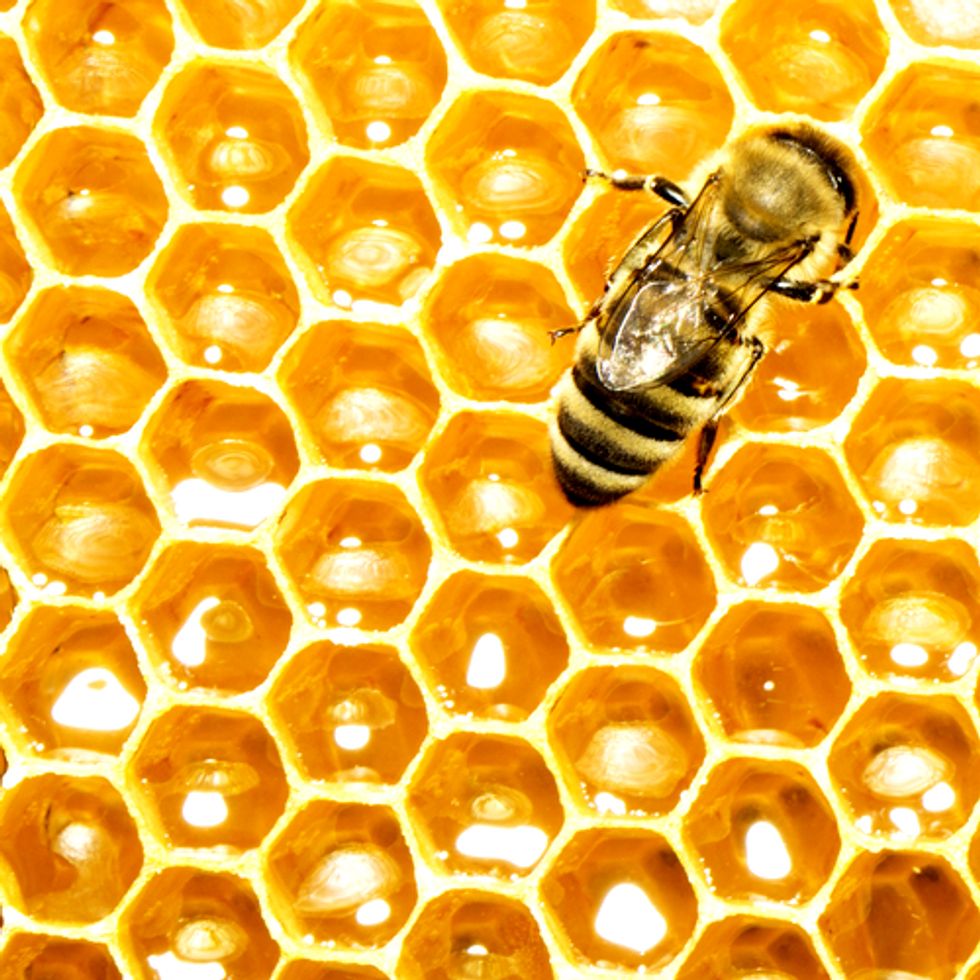 Photo courtesy of Shutterstock
Last week, the term "bee-washing" emerged in public conversation. It doesn't refer to some new bee cleaning service, but to the insidious efforts of Monsanto and other pesticide corporations to discredit science about the impacts of pesticides on bees—especially neonicotinoids—by creating public relations tours, new research centers and new marketing strategies.
This week, pesticide makers are showcasing these tactics during National Pollinator Week with offers of free seed packets to people who take their poorly named "pollinator pledge." The "bee-washing" term has gained traction as scientists and groups like Pesticide Action Network (PAN) continue to cut through the misinformation and point to the emerging body of science that points to pesticides as a critical factor in bee declines.
Monsanto hosted their first so-called Honey Bee Health Summit last week, a gathering at the company's headquarters in Missouri. Without question, some truly smart, dedicated scientists attended Monsanto's bee summit and are participating in these efforts.
And a similarly committed group of beekeepers who care about bees, beekeeping and our food system have also participated. What's increasingly clear, though, is that the credibility of these individuals is being used to shield the agenda of a handful of pesticide corporations and their bee-harming insecticide products. The corporate public relation gymnastics on display are truly impressive.
Unfortunately, Monsanto is not alone in its efforts.  Just this spring, Bayer sponsored a tour of its "specially-wrapped beehicle" and hosted a talk at Ohio State University in March, over loud objections from local beekeepers. 
Industry has largely set its sights on one issue to blame for bee declines. While lack of sufficient forage and diseases are a challenge to bee health and beekeeping, challenges exacerbated by the weakening effect of pesticides on bees, the pesticide industry has focused a large proportion of its attention on the varroa mite. And it's an easy distraction that places the burden of unprecedented bee losses on beekeepers—while subverting any blame for the widespread pesticide products.

Unfortunately for Monsanto & Co, and as most beekeepers and academics will say, the varroa mite has been around a long time, predating dramatic bee declines in the U.S. that started in 2006. While mites no doubt affect bee colonies, they are unlikely the primary driver of population declines.
There is a correlation, however, between the introduction of neonicotinoid pesticides (or neonics) on the market and bee die-offs. Independent studies show—and beekeepers corroborate from hands-on experience—that these pesticides weaken bees' immune systems, likely damaging their resistance to common challenges like the varroa mite.
Neonics are one of the largest growth sectors for the pesticide industry. And industry has a vested interest in keeping the neonic market growing. But we know that spin efforts to refocus attention on varroa mites were already attempted in Europe, and the approach has been largely unsuccessful. The European Union just put continent-wide restrictions on the use of neonics in place.
Pesticide corporations don't show any sign of letting up. If this spring and summer are any indication, then the "bee-washing" campaign will continue. Beekeepers will remain the victims of this targeted public relations campaign.
And the costs of are very real. Earlier this month, Jim Doan—a third generation commercial beekeeper from upstate New York—literally sold his farm due to bee losses. For years, he produced over half a million pounds of honey annually and eventually grew his business to 5,300 hives. But when neonicotinoid pesticides started being commonly used in the U.S., around 2006, Jim's bees started dying.
He's experienced serious losses to bees he brought to citrus groves in Florida and the cornfields of New York. And now, he only has 300 hives left. In an email he circulated last week, he wrote: "I am done. I cannot continue. Sold my farm 2 weeks ago, I am giving up, there is no hope here."
Bees are continuing to die off at unprecedented rates and beekeepers are going out of business. There is clearly something amiss—and the pesticide industry would have us believe that their products play no part in this alarming trend. PAN, beekeepers and our partners will continue to shine a light on corporate "bee-washing" and spin efforts to subdue or obfuscate the growing body of science pointing to this clear message: Pesticides are playing a key role in bee deaths.
Visit EcoWatch's BIODIVERSITY page for more related news on this topic.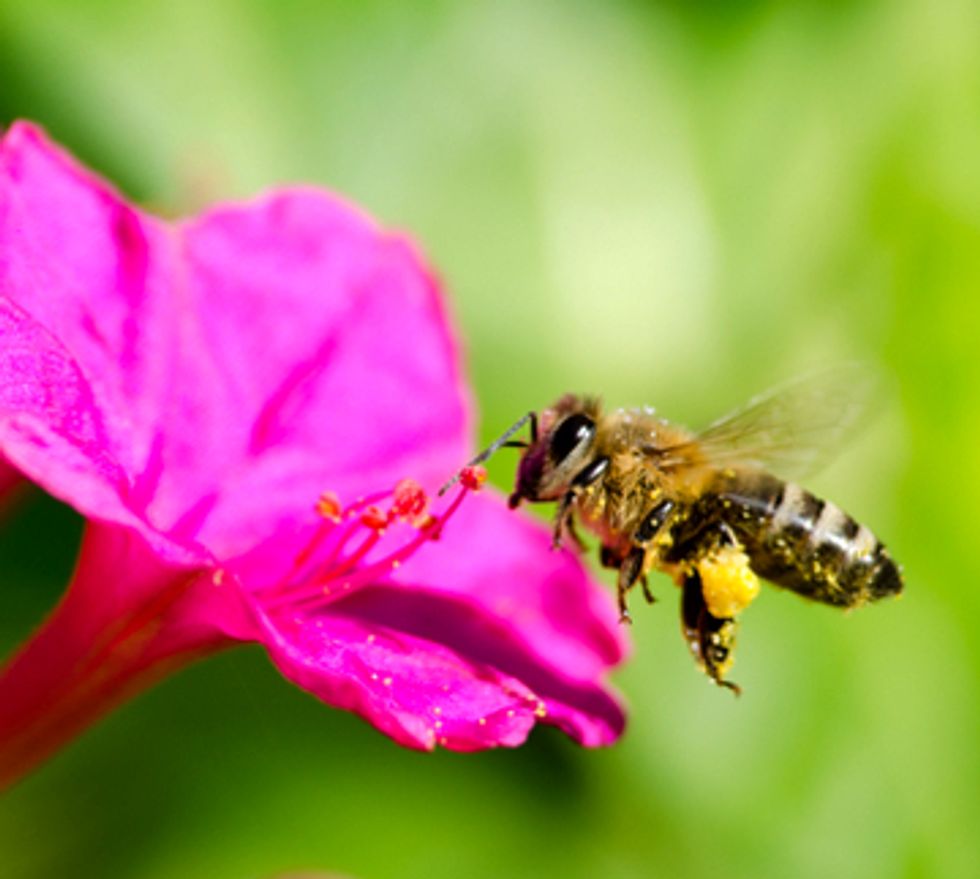 Photo courtesy of Shutterstock
Today, the British Beekeepers Association (BBKA) announced the results of its latest annual winter survival survey which show that the number of honey bee colonies lost over the winter was more than double that of the previous year, with all regions in England showing increased losses.
The overwinter survival of honey bee colonies is a composite measure of their fitness and the effect of various factors such as colony nutrition and the skill and experience of the beekeeper.
On average 33.8 colonies in every 100 were lost compared with 16.2 in the winter of 2011-2012. The losses principally reflect the impact of the continual poor and changeable weather during 2012 continuing into 2013 and exacerbated by the late arrival of spring. It is feared that the situation may have worsened since the survey closed at the end of March given the ongoing poor weather and the late arrival of spring.
The poor summer of 2012 meant that honey bees were regularly prevented from gathering pollen and foraging and when they could, there was a general scarcity of pollen and nectar throughout the season. Virgin queens were unable to mate properly leading them to become drone laying queens and causing those colonies affected to die-out.  
Winter Losses of Honey Bee Colonies in England Over Last Six Years

Importance of Winter Losses of Honey Bees
The honey bee is the only bee to maintain a colony throughout the winter reducing its colony size in autumn and relying on its stores of honey to last it through the winter months when it is too cold for foraging or there is no forage available. In winter, worker bees can live for up to five or six months. In the summer, worker bees only live for around six weeks. Honey bee queens live for three to four years but cannot survive without worker bees. In other species of bees or wasps only the queen survives by hibernating through the winter months.
Impact of Bad Weather on Honey Bee Colonies
Inability of the bees to forage during the year resulting in poorly developed colonies
Scarcity of pollen and nectar throughout the season; even if in flower, nectar output is temperature dependent
Poor weather at the time of mating of the new virgin queens resulting in inadequately mated queens leading to drone laying queens and colonies which can ultimately die out
Inadequate nutrition, especially pollen during the late summer when the specialized bees which take the colony through the winter are born 
Beekeepers have reported significant incidence of isolation starvation, which happens when the bees lose contact with their food reserves during the winter. Bees cluster closely together to maintain the hive temperature and consume the stores of honey closest to them. Having exhausted stores close to them they take advantage of any warmer weather to move within the hive to fresh stores. If the weather is too cold for them to move or if the cluster moves and re-groups having moved in the wrong direction, the colony may starve. Very often these colonies are found to have plenty of stores.
Honey bee colonies which are in a poor nutritional state become more vulnerable to disease and other stress factors.
Survey Results by Region

David Aston, BBKA chairman explains, "Those honey bee colonies which have survived the winter and are now prospering have done so in the main due to the careful nurturing through the winter by beekeepers who have spent much time and effort feeding and carrying out frequent checks on hives, incurring significant additional expense meeting the need to continually feed their bees.
"The training and education of beekeepers to be able to adapt their beekeeping practices to help their honey bees cope with this period of changing weather patterns is a high priority for all beekeeping associations."
Visit EcoWatch's BIODIVERSITY page for more related news on this topic.

By Rex Weyler
We know what is killing the bees. Worldwide Bee Colony Collapse is not as big a mystery as the chemical companies claim. The systemic nature of the problem makes it complex, but not impenetrable. Scientists know that bees are dying from a variety of factors—pesticides, drought, habitat destruction, nutrition deficit, air pollution, global warming and so forth. The causes of collapse merge and synergize, but we know that humanity is the perpetrator, and that the two most prominent causes appear to be pesticides and habitat loss.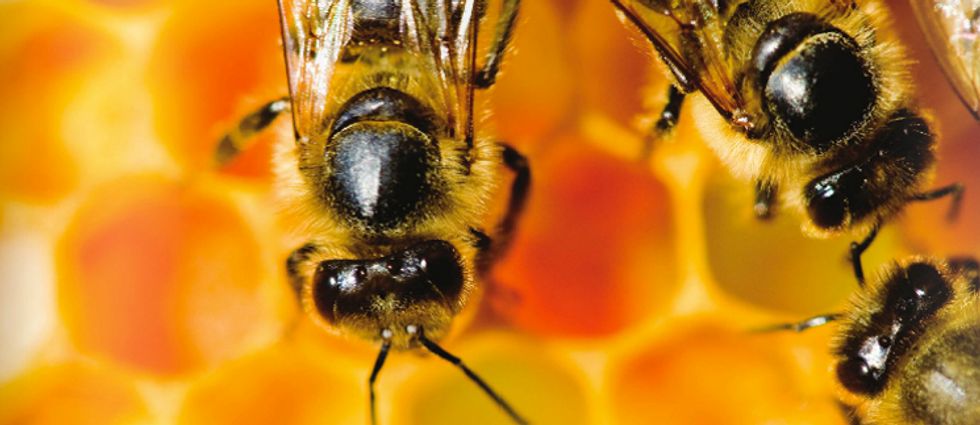 Biologists have found over 150 different chemical residues in bee pollen, a deadly "pesticide cocktail" according to University of California apiculturist Eric Mussen. The chemical companies Bayer, Syngenta, BASF, Dow, DuPont and Monsanto shrug their shoulders at the systemic complexity, as if the mystery were too complicated. They advocate no change in pesticide policy. After all, selling poisons to the world's farmers is profitable.
Furthermore, wild bee habitat shrinks every year as industrial agribusiness converts grasslands and forest into monoculture farms, which are then contaminated with pesticides. To reverse the world bees decline, we need to fix our dysfunctional and destructive agricultural system.
Bee Collapse
Apis mellifera—the honey bee, native to Europe, Africa and Western Asia—is disappearing around the world. Signs of decline also appear now in the eastern honey bee, Apis cerana.
This is no marginal species loss. Honey bees—wild and domestic—perform about 80 percent of all pollination worldwide. A single bee colony can pollinate 300 million flowers each day. Grains are primarily pollinated by the wind, but the best and healthiest food—fruits, nuts and vegetables—are pollinated by bees. Seventy out of the top 100 human food crops, which supply about 90 percent of the world's nutrition, are pollinated by bees.
Tonio Borg, European Commissioner for Health and Consumer Policy, calculates that bees "contribute more than €22 billion ($30 billion U.S. dollars) annually to European agriculture." Worldwide, bees pollinate human food valued at more than €265 billion ($350 billion). The bee collapse is a challenge to human enterprise on the scale of global warming, ocean acidification and nuclear war. Humans could not likely survive a total bee collapse.
Worker bees (females) live several months. Colonies produce new worker bees continuously during the spring and summer, and then reproduction slows during the winter. Typically, a bee hive or colony will decline by five to 10 percent over the winter and replace those lost bees in the spring. In a bad year, a bee colony might lose 15-20 percent of its bees.
In the U.S., where bee collapse first appeared, winter losses commonly reached 30-50 percent and in some cases more. In 2006, David Hackenberg, a bee keeper for 42 years, reported a 90 percent die-off among his 3,000 hives. U.S. National Agriculture Statistics show a honey bee decline from about 6 million hives in 1947 to 2.4 million hives in 2008, a 60 percent reduction.
The number of working bee colonies per hectare provides a critical metric of crop health. In the U.S., among crops that require bee pollination, the number of bee colonies per hectare has declined by 90 percent since 1962. The bees cannot keep pace with the winter die-off rates and habitat loss.
Europe Responds, U.S. Dithers
In Europe, Asia and South America, the annual die-off lags behind the U.S. decline, but the trend is clear, and the response is more appropriate. In Europe, Rabobank reported that the annual European die-offs have reached 30-35 percent and that the colonies-per-hectare count is down 25 percent. In the 1980s, in Sichuan, China, pear orchard pesticides obliterated local bees, and farmers must now pollinate crops by hand with feather dusters.
A European Food Safety Authority scientific report determined that three widely used pesticides—nicotine-based clothianidin, imidacloprid and thiametoxam—pose "high acute risks" for bees. These neonicotinoid pesticides—used in soils, on foliage and embedded in seeds—persist at the core of the toxic pesticide cocktail found in bee hives.
A Greenpeace scientific report identifies seven priority bee-killer pesticides—including the three nicotine culprits—plus clorpyriphos, cypermethrin, deltamethrin and fipronil. The three neonicotinoids act on insect nervous systems. They accumulate in individual bees and within entire colonies, including the honey that bees feed to infant larvae. Bees that do not die outright, experience sub-lethal systemic effects, development defects, weakness and loss of orientation. The die-off leaves fewer bees and weaker bees, who must work harder to produce honey in depleted wild habitats. These conditions create the nightmare formula for bee colony collapse.
Bayer makes and markets imidacloprid and clothianidin; Syngenta produces thiamethoxam. In 2009, the world market for these three toxins reached over $2 billion. Syngenta, Bayer, Dow, Monsanto and DuPont control nearly 100 percent of the world market for genetically engineered (GE) pesticides, plants and seeds.
In 2012, a German court criminally charged Syngenta with perjury for concealing its own report showing that its genetically modified corn had killed livestock. In the U.S., the company paid out $105 million to settle a class-action lawsuit for contaminating the drinking water for more than 50 million citizens with its "gender-bending" herbicide Atrazine. Now, these corporate polluters are waging multi-million-euro campaigns to deny responsibility for bee colony collapse.
In May, the European Commission responded, adopting a two-year ban on the three neonicotinoid pesticides. Scientists will use the two years to assess the recovery rate of the bees and a longer-term ban on these and other pesticides.
Meanwhile, the U.S. dithers and supports the corporations that produce and market the deadly pesticides. In May, as European nations took action, the U.S. Environmental Protection Agency (EPA) approved the neonicotinoid pesticides, in spite of a U.S. Department of Agriculture report warning about the dangers of the bee colony collapse.
Also in May, President Obama, signed the now infamous "Monsanto Protection Act"—written by Monsanto lobbyists—that gives biotech companies immunity in federal U.S. courts from damages to people and the environment caused by their commercial compounds.
Solutions Exist
Common sense actions could restore and protect the world's bees. Experienced bee keepers, apiculturists, farmers, the European Commission and the Greenpeace report, Bees in Decline have outlined these solutions:
Ban the seven most dangerous pesticides
Protect pollinator health by preserving wild habitat
Restore ecological agriculture
Ecological farming is the over-arching new policy trend that will stabilize human food production, preserve wild habitats and protect the bees. The nation of Bhutan has led the world in adopting a 100 percent organic farming policy. Mexico has banned GE corn to protect its native corn varieties. In January, eight European countries banned GE crops, and Hungary has burned over a 1,000 acres of corn contaminated with GE varieties. In India, scientist Vandana Shiva and a network of small farmers have built an organic farming resistance to industrial agriculture over two decades.
Ecological or organic farming, of course, is nothing new. It is the way most farming has been done throughout human history. Ecological farming resists insect damage by avoiding large monocultures and preserving ecosystem diversity. Ecological farming restores soil nutrients with natural composting systems, avoids soil loss from wind and water erosion, and avoids pesticides and chemical fertilizers.
By restoring bee populations and healthier bees, ecological agriculture improves pollination, which in turn improves crop yields. Ecological farming takes advantage of the natural ecosystem services, water filtration, pollination, oxygen production and disease and pest control.
Organic farmers have advocated better research and funding by industry, government, farmers and the public to develop organic farming techniques, improve food production and maintain ecological health. The revolution in farming would promote equitable diets around the world and support crops primarily for human consumption, avoiding crops for animal food and biofuels.
Ecosystems
The plight of the bees serves as a warning that we still may not quite understand ecology. Ecological farming is part of a larger paradigm shift in human awareness. The corporate denialists appear just like the Pope's shrouded inquisitors in 1615, who refused to look through Galileo's telescope to see the moons of Jupiter. Today's denialists refuse to recognize that Earth's systems operate within real limits. However, the state religion in this case is money, and the state religion won't allow it. The denialists cling to the presumed right to consume, hoard, and obliterate Earth's great bounty for private profits. But hoards of money won't reverse extinction, restore lost soils or heal the world's bee colonies.
A great reckoning awaits humanity if we fail to awaken from our delusions. Earth's delicately balanced systems can reach tipping points and collapse. Bees, for example, work within a limited range of marginal returns on the energy they exert to collect nutrition for their colonies. When winter bee deaths grow from 10 percent to 50 percent, the remaining bees are weakened by toxins, and the wild habitats shrink that thin, ecological margin of energy return can be squeezed to zero. Surviving bees expend more energy than they return in honey. More bees die, fewer reach maturity and entire colonies collapse. This crisis is a lesson in fundamental ecology.
Rachel Carson warned of these systemic constraints 50 years ago. Ecologists and environmentalists have warned of limits ever since. Bee colony collapse now joins global warming, forest destruction and species extinctions among our most urgent ecological emergencies. Saving the world's bees appears as one more necessary link in restoring Earth to ecological balance.
Visit EcoWatch's BIODIVERSITY page for more related news on this topic.