This website uses cookies to ensure you get the best experience while browsing it. By clicking 'Got It' you're accepting these terms.


The best of EcoWatch, right in your inbox. Sign up for our email newsletter!
Albin Lohr-Jones / EPA
By Jonathan Kaplan
President-elect Donald Trump has tapped Sonny Perdue, a long-time agribusiness leader, Democrat-turned-Republican state legislator, two-time governor of Georgia to lead the U.S. Department of Agriculture (USDA). Faced with a warming planet, increasing water scarcity, collapsing bee populations and other environmental challenges, the USDA needs a leader who will promote planet-friendly farming practices more than ever. Sonny Perdue is not an obvious champion for sustainable farming and he has made some troubling statements about climate change, but we look forward to learning more about his values and commitment.
With his hands at the controls of the USDA, Perdue would influence how food is grown, inspected, labeled and sold. The agency's 100,000 plus employees also manage a network of programs aimed at preventing hunger in the U.S.; buy much of the food served up to millions of public school children; manage food aid to nations abroad; try to anticipate, prevent and eradicate the arrival of invasive species and crop pests; promote rural development and renewable energy; and manage our national forests. The USDA also regulates food labels and claims, like USDA Organic, which have played a powerful role in growing the good food movement.
For those of us focused on the environment, the billions spent each year by USDA to promote more environmentally friendly farming practices is a particular priority. The USDA has significant discretion in how these funds are spent and can choose to promote farming practices that work in harmony with the natural environment (e.g. using beneficial insects to control crop pests) or practices that effectively subsidize conventional industrial agriculture. Perdue would also likely be influential in establishing the next 5-year U.S. farm policy or Farm Bill, which helps shapes the nation's agriculture.
An internet search finds little track record by Perdue on these issues. However, he recently penned a disturbing opinion piece in which he lambasts "liberals" for exaggerating the climate relevance of extreme weather events. He writes "It's become a running joke among the public and liberals have lost all credibility when it comes to climate science because their arguments have become so ridiculous and so obviously disconnected from reality."
Looking further back, however, we do find a few instances where Perdue has expressed interest in environmental stewardship:
In 2007 he encouraged water conservation, saying "Our state is blessed with a wealth of natural resources, but the drought has shown us that they are not unlimited. The stewardship of energy, land and water resources is vital to the lives of our state's citizens. Most importantly, conservation is the right thing to do, in times of scarcity or abundance."
He convened a "Governor's Energy Policy Council" in 2005 that issued a report recognizing the importance of climate change and recommending state action to address it.
His current agribusiness venture, Perdue Partners, sells a long list of conventional agricultural products, but there are a few organic products included; non-GMO conventional soybeans are also available "grown on contract."
To be clear, these are quite thin as environmental credentials. But compared to other cabinet nominees and to President-elect Trump himself, perhaps Perdue seems less hostile to the environment.
Under the Obama Administration, the USDA pledged to reduce agricultural global warming pollution in the U.S. by 120 million metric tons of carbon dioxide equivalent emissions per year by 2025—providing the same benefit as taking 25 million cars off the road annually. The agency's plans for doing this mostly entail implementing its existing programs. Here at the Natural Resources Defense Council, we'd hoped the next administration would be able to do significantly better. Before Sony Perdue is confirmed as Secretary of Agriculture, Americans need to know a lot more about his commitment to protecting natural resources and the environment.
Jonathan Kaplan is the director of the Food & Agriculture Program at the Natural Resources Defense Council.
A new report has found that U.S. land for organic farming reached 4.1 million acres in 2016, a new record and an 11 percent increase compared to 2014.
As of June 2016, the number of certified organic farms in the U.S. reached 14,979, a 6.2 percent increase of 1,000 farms compared to 2014 survey data.
The Mercaris Organic Acreage Report found that the top five states in organic cropland are California, Montana, Wisconsin, New York and North Dakota. California leads the U.S. with 688,000 acres. However, Montana has seen a 30 percent increase in organic farmland, reaching 417,000 acres in 2016, an increase of 100,000 acres since 2014 and adding 50 new organic farms.
The report also estimates that North Dakota, Colorado and New York all increased their organic farming acres by more than 40,000 since 2014. North Dakota has surpassed Oregon as the fifth leading state in organic acreage. Oregon is sixth followed by Colorado and Texas.
Scott Shander, an economist at Mercaris, attributes the increase in organic acres to farm economics and consumer demand for organic foods.
"The organic industry is growing and with lower commodity grain prices, and farmers are looking to add value and meet consumer demands," he said.

According to Alex Heilman, a sales associate at Mercaris, the number of organic acres is likely to continue increasing, especially with larger companies such as General Mills and Ardent Mills launching programs to increase organic acres.
"I think we will see more of an impact of those programs in the next few years as more farmers start the transition process (to organic)," he said.
Organic alfalfa/hay was the leading organic crop grown with more than 800,000 acres in 2016. This was followed by organic wheat, corn and soybeans with 482,000, 292,000, and 150,000 acres respectively. Organic oats reached a record level of 109,000 acres in 2016. Organic wheat showed the greatest increase with nearly 150,000 more acres since 2014 and a 44 percent increase since 2011. Plantings of organic corn increased by 58,000 acres since 2014.

The percentage of acres planted to organic crops such as wheat, corn, soybeans and oats remains small compared to conventional crops in the U.S. Organic corn accounts for only 0.31 percent of total corn acres; organic wheat was 0.9 percent of total wheat acres; organic soybeans were 0.2 percent of total soybean acres. Organic oats account for the highest percentage of an organic crop with 3.6 percent of total oat acres.
Acreage of both organic corn and soybeans has seen small increases as a percentage of total acres for both crops in the past few years, according to the report. This may be due to the fact that the U.S. is importing large amounts of organic corn and soybeans, which is depressing the U.S. market and prices for both crops. According Shander, 25 percent of organic corn and 75 percent of organic soybeans used in the U.S. are imported.

"It's a global market that is dictating U.S. prices," he said. "Demand for organic corn and soybeans is still growing strongly, but production in the U.S. is not growing as fast so more of the production will be international."
EcoWatch Daily Newsletter
The world is projected to hold a whopping 9.6 billion people by 2050. Figuring out how to feed all these people—while advancing rural development, reducing greenhouse gas emissions and protecting valuable ecosystems—is one of the greatest challenges of our era.
So what's causing the global food challenge, and how can the world solve it? Here, courtesy of the World Resources Institute (WRI), is a summary told in 18 graphics.
For more information, check out Creating a Sustainable Food Future: Interim Findings, a report produced by WRI, U.N. Environment Programme, U.N. Development Programme and the World Bank.
First, let's examine what's causing the global food crisis.
Feeding an Exploding Population
The world's population is projected to grow from about 7 billion in 2012 to 9.6 billion people in 2050. More than half of this growth will occur in sub-Saharan Africa, a region where one-quarter of the population is undernourished.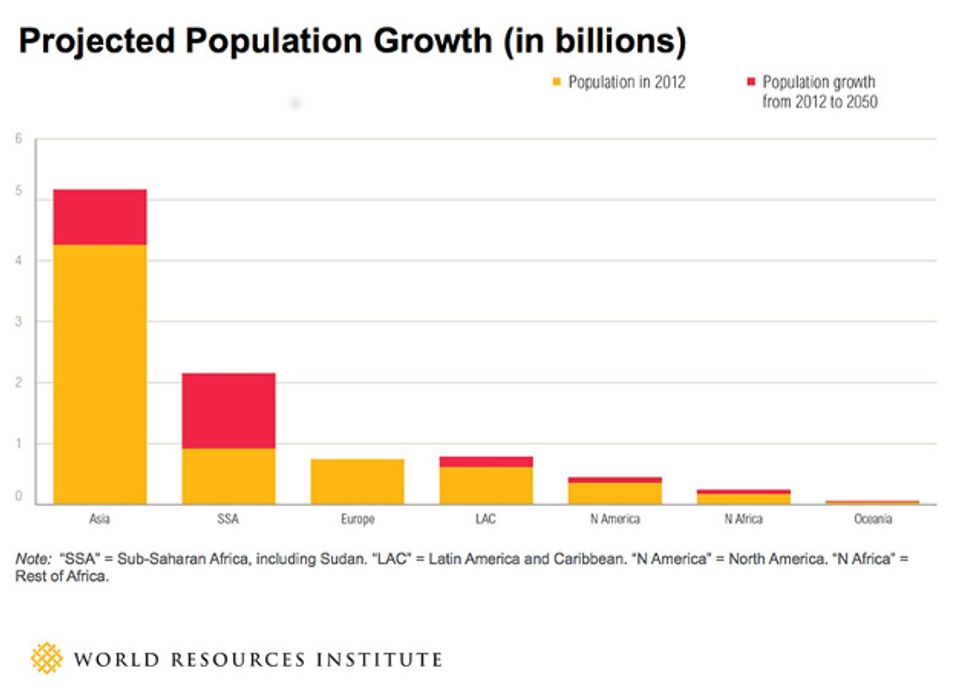 Shifting Diets
In addition to population growth, the world's per capita meat and milk consumption also is growing, especially in China and India, and is projected to remain high in the European Union, North America, Brazil and Russia. These foods are more resource-intensive to produce than plant-based diets.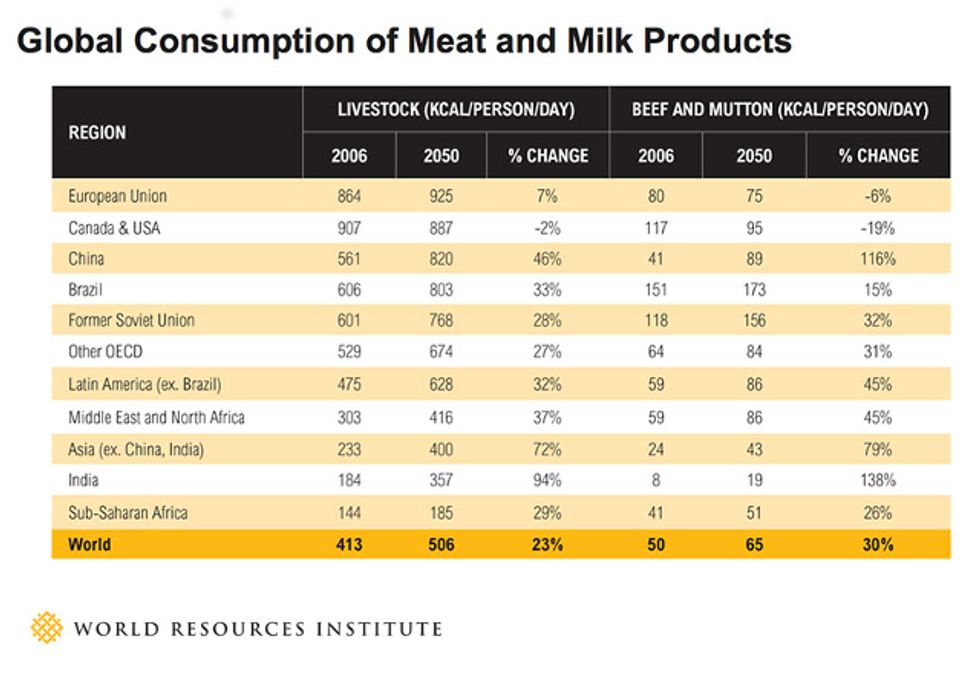 The Food Gap
Taking into account a growing population and shifting diets, the world will need to produce 69 percent more food calories in 2050 than it did in 2006.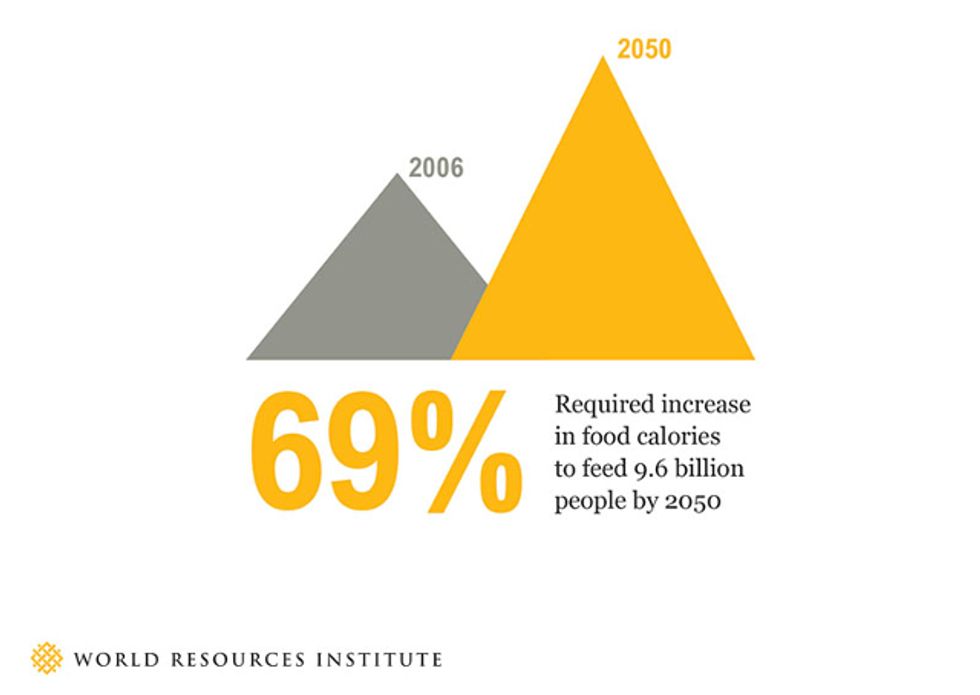 It's Not a Distribution Problem
We can't just redistribute food to close the food gap. Even if we took all the food produced in 2009 and distributed it evenly among the global population, the world will still need to produce 974 more calories per person per day by 2050.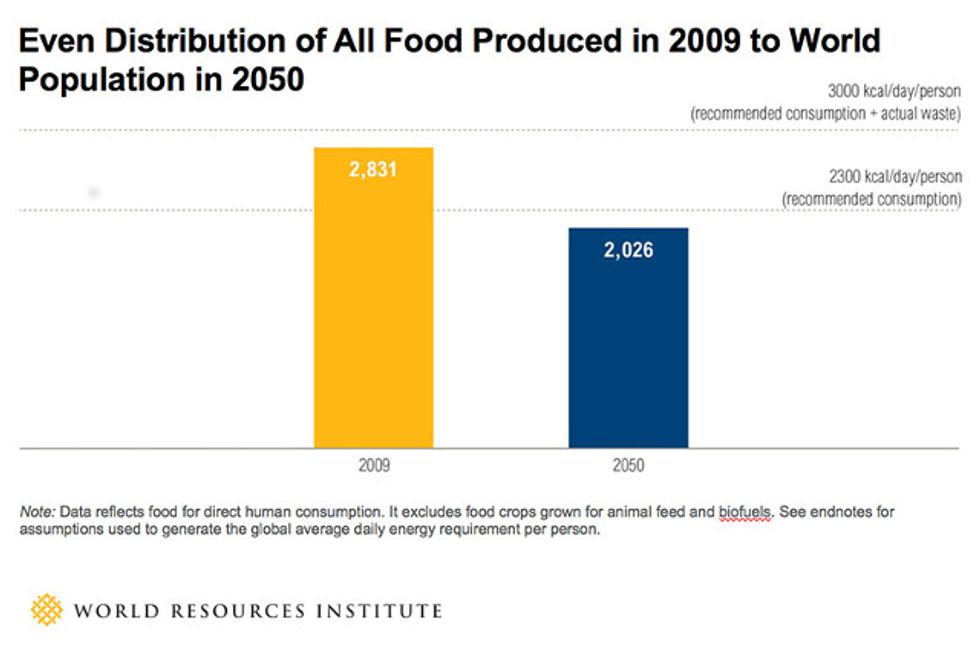 Agriculture's Environmental Footprint
But we can't just produce more food in the same way as today. We must reduce food's environmental impact. Agriculture contributes nearly one-quarter of global greenhouse gas emissions, uses 37 percent of landmass (excluding Antarctica) and accounts for 70 percent of all freshwater withdrawn from rivers, lakes and aquifers.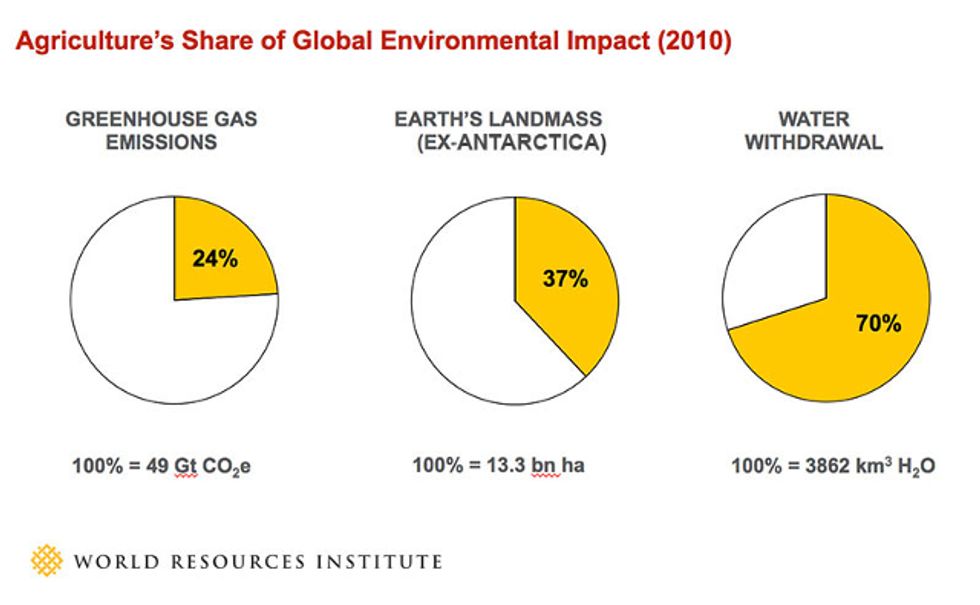 Climate Change and Water Stress Exacerbate the Challenge
Climate change is expected to negatively impact crop yields, particularly in the hungriest parts of the world such as sub-Saharan Africa.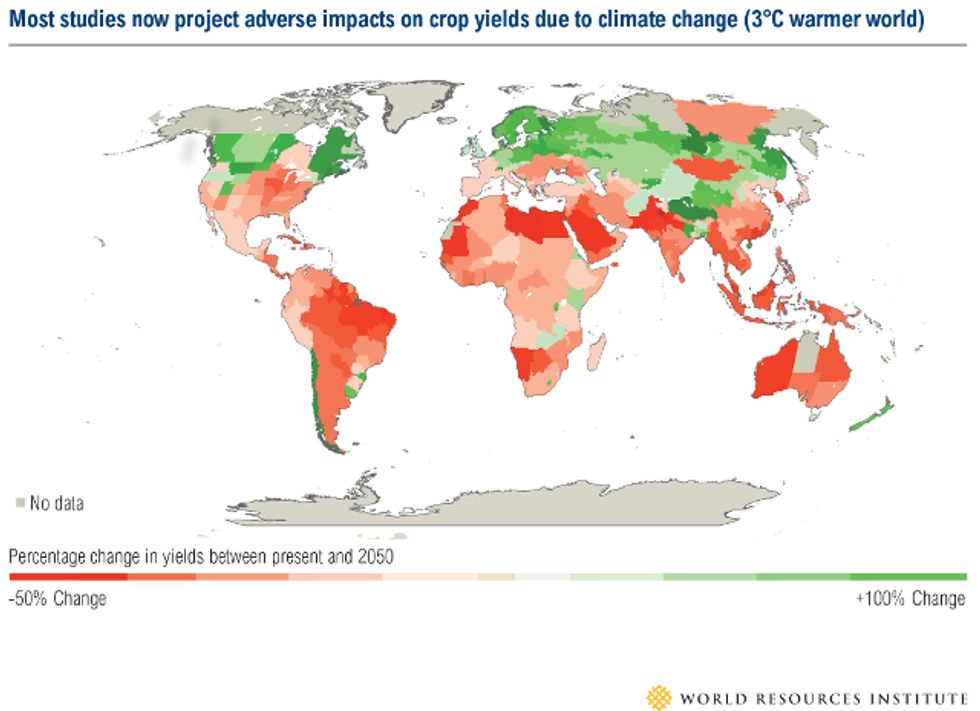 Growing water use and rising temperatures are expected to further increase water stress in many agricultural areas by 2025.
The Energy-Food Nexus
Another major challenge is biofuels' competition for land and crops. Producing 10 percent of all transport fuels from biofuels by 2050, as planned by some governments, would require 32 percent of global crop production but produce only 2 percent of global energy. It also would increase the food gap to roughly 100 percent. Conversely, eliminating the use of crop-based biofuels for transportation would close the food gap by roughly 14 percent.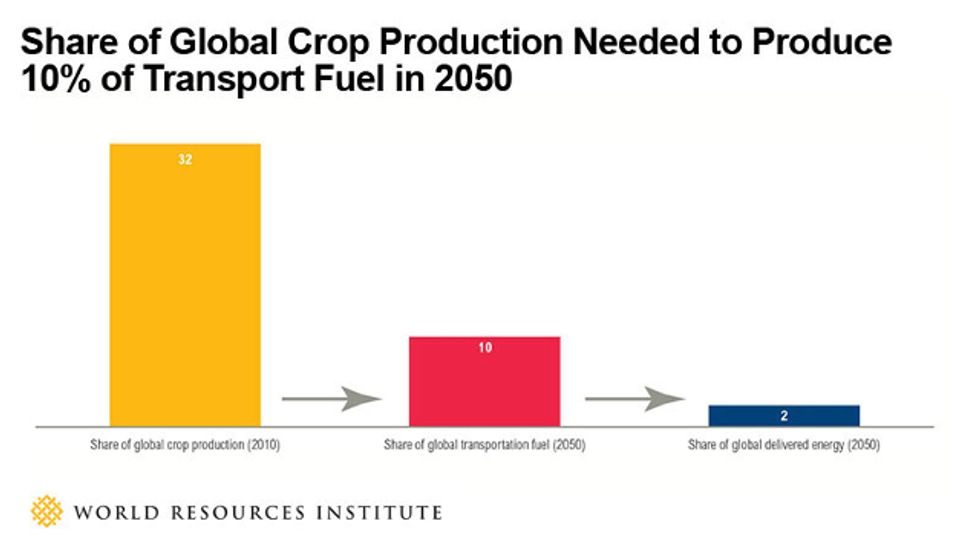 Food's Role in Economic Development
Around 2 billion people are employed in agriculture, many of them poor. We need to close the food gap in ways that enhance the livelihoods of farmers, especially the poorest.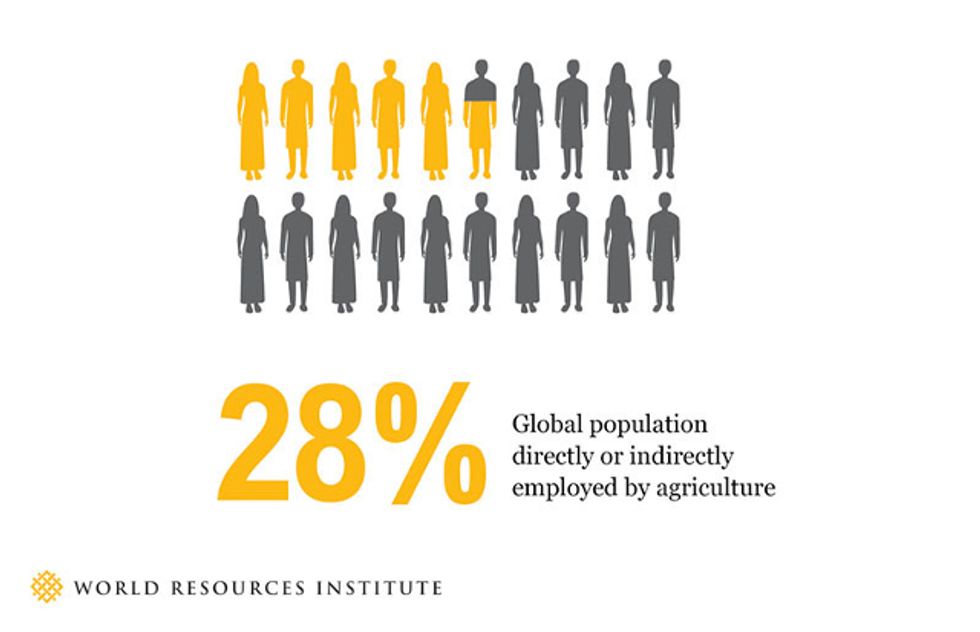 The "Great Balancing Act"
Achieving a sustainable food future, then, requires meeting three needs simultaneously: closing the food gap, supporting economic development and reducing agriculture's environmental impact.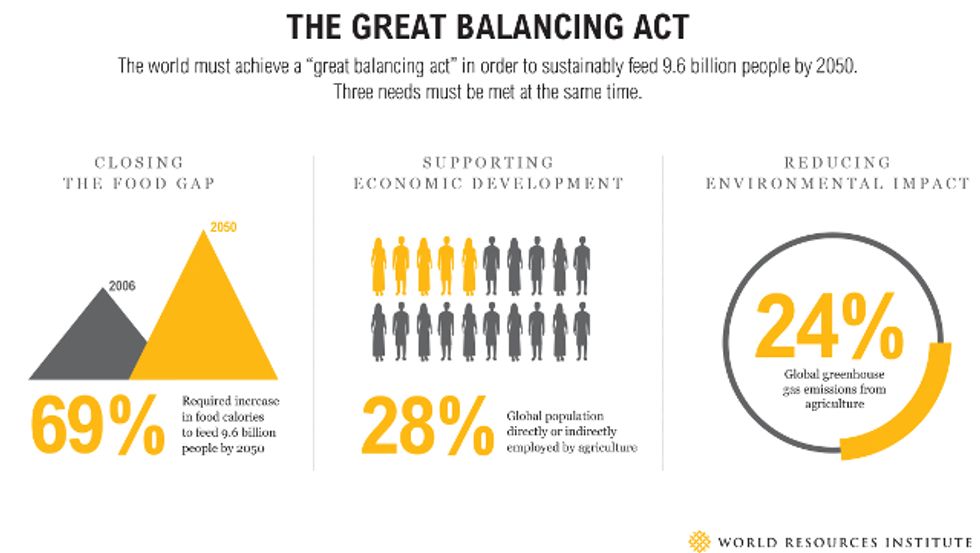 Now, let's look at solutions.
Reduce Food Loss and Waste
Roughly one-quarter of world's food calories are lost or wasted between field and fork. Cutting this rate in half could close the food gap by about 20 percent by 2050.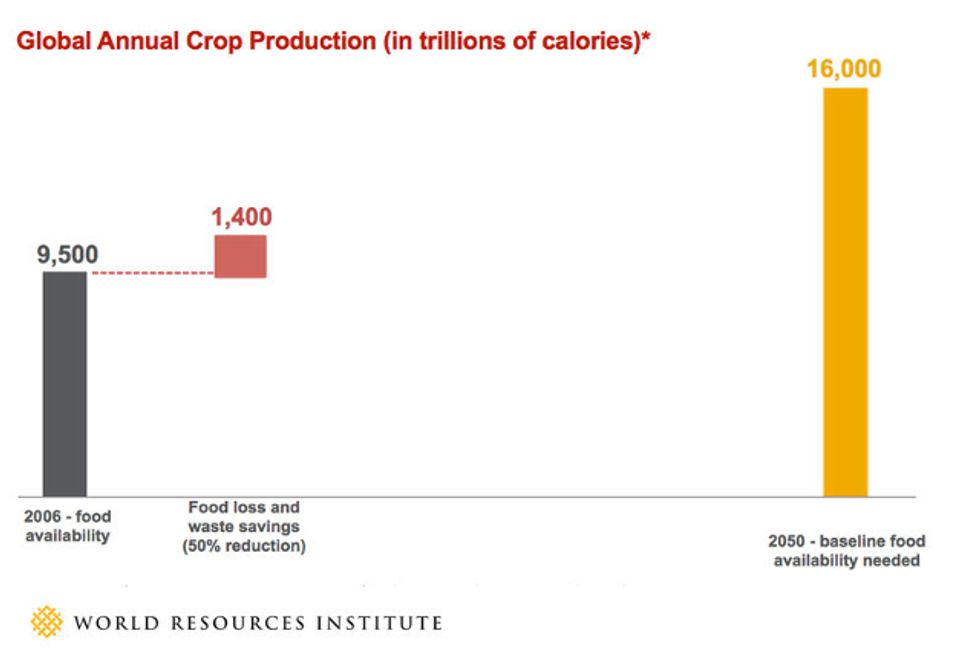 Shift to Healthier Diets
Beef is the least efficient source of calories and protein, generating six times more greenhouse gas emissions per unit of protein than pork, chicken and egg production. Shifting just 20 percent of the anticipated future global consumption of beef to other meats, fish or dairy could spare hundreds of millions of hectares of forest and savannah.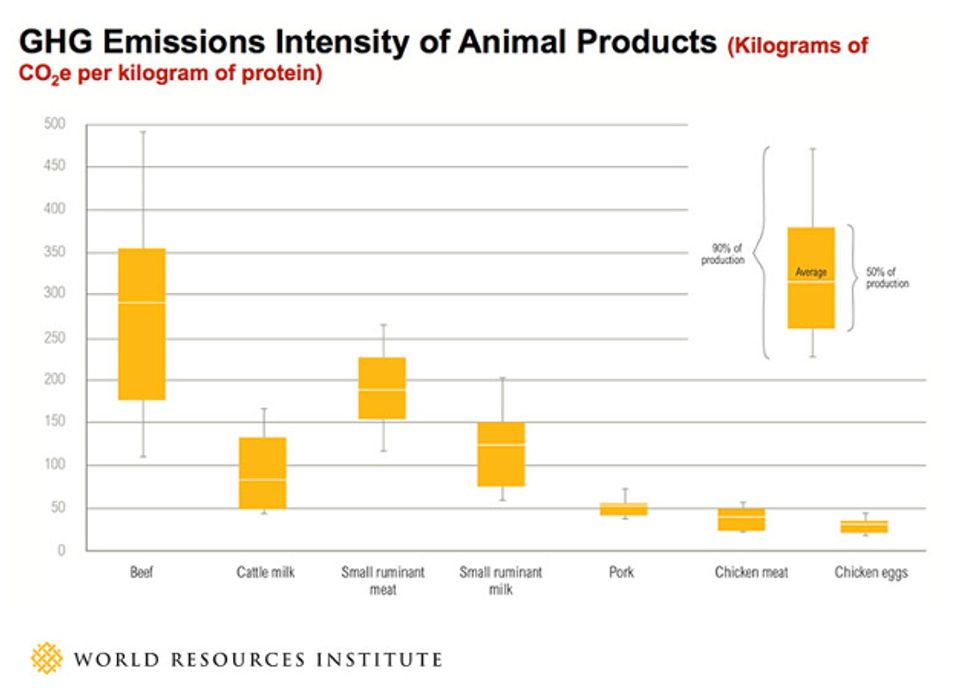 Achieve Replacement Level Fertility
Reducing population growth can help hold down food demand. While most regions are projected to reach replacement level fertility—or the rate at which a population exactly replaces itself from one generation to the next—sub-Saharan Africa's population is on course to more than double between now and 2050.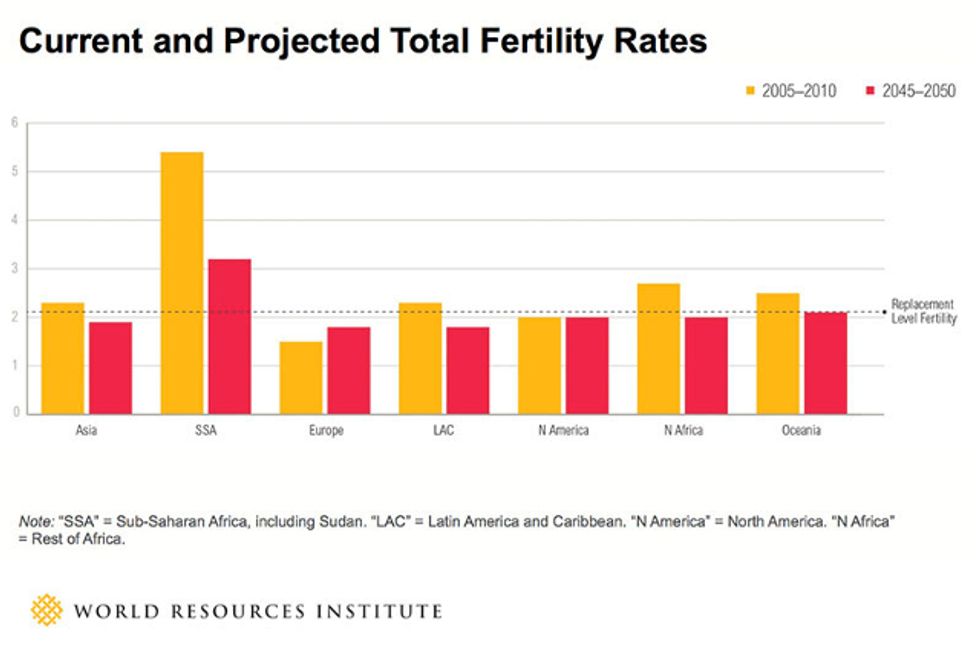 Boost Crop Yields
Boosting yields is particularly important in sub-Saharan Africa, which has world's lowest cereal yields but will account for one-third of all additional calories needed in 2050.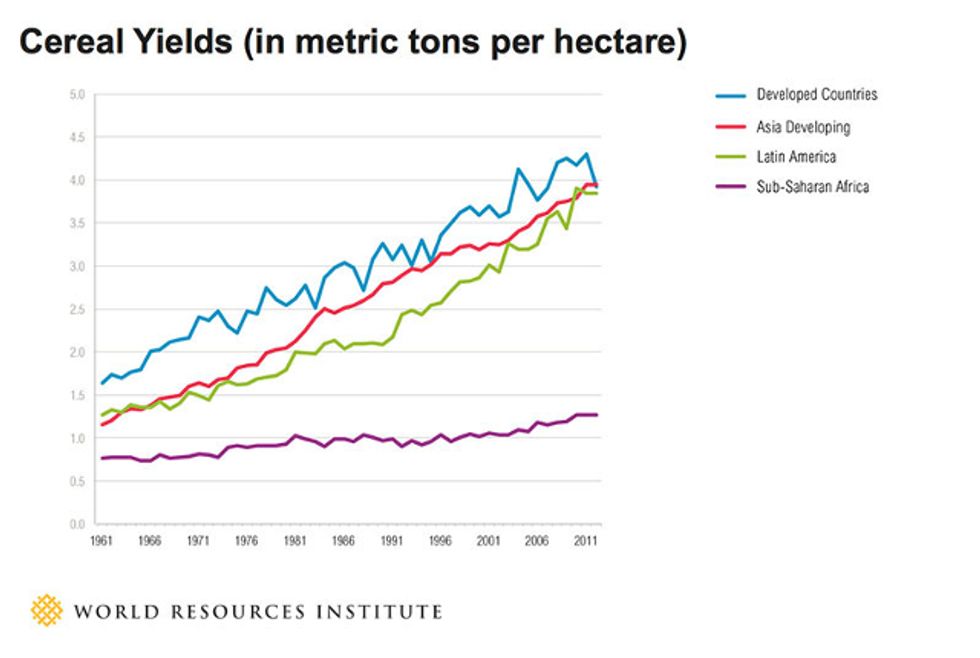 Improve Land and Water Management
Conservation agriculture, such as reduced tillage, crop rotations and mulching, increased maize yields in Malawi. Combining these techniques with agroforestry—intercropping with trees—further increased yields. These practices could be scaled up on more than 300 million hectares in sub-Saharan Africa.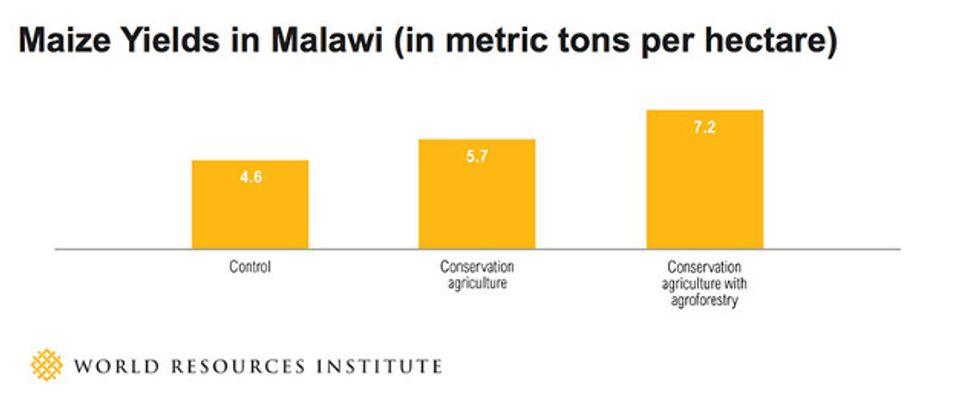 Shift Agriculture to Degraded Lands
Shifting agriculture land expansion to degraded lands can prevent deforestation, protect resources and curb climate change. For example, more than 14 million hectares of low-carbon degraded lands in Kalimantan, Indonesia are potentially suitable for oil palm development.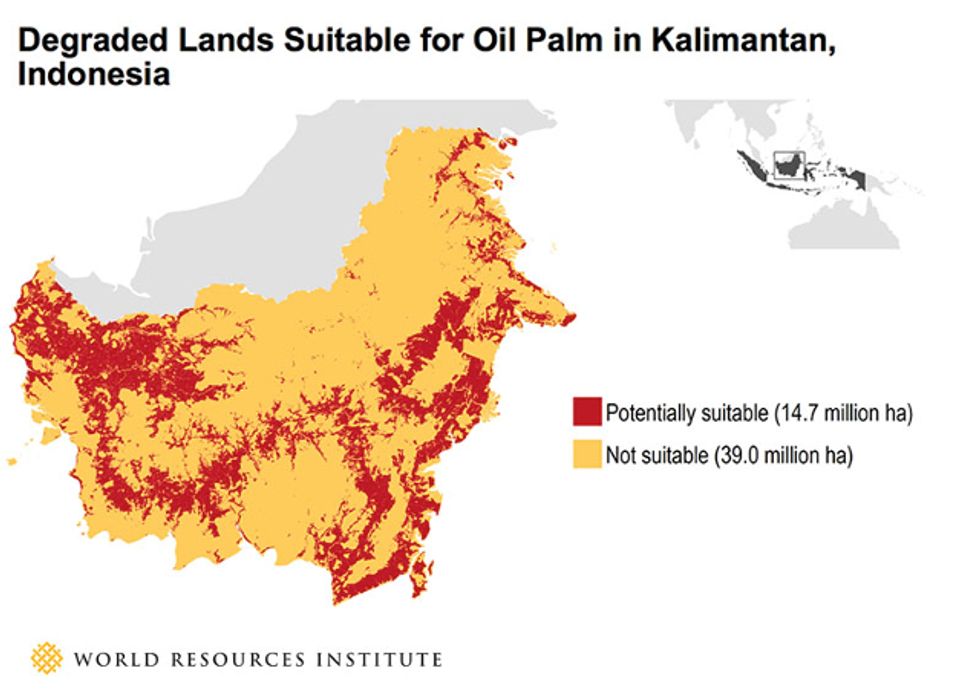 Increase Aquaculture's Productivity
As wild fish catches have plateaued, aquaculture has expanded, producing nearly half of fish consumed in 2009. To grow in a sustainable way, aquaculture will need to produce more fish per unit of land and water and reduce its reliance on wild-caught fish for feed.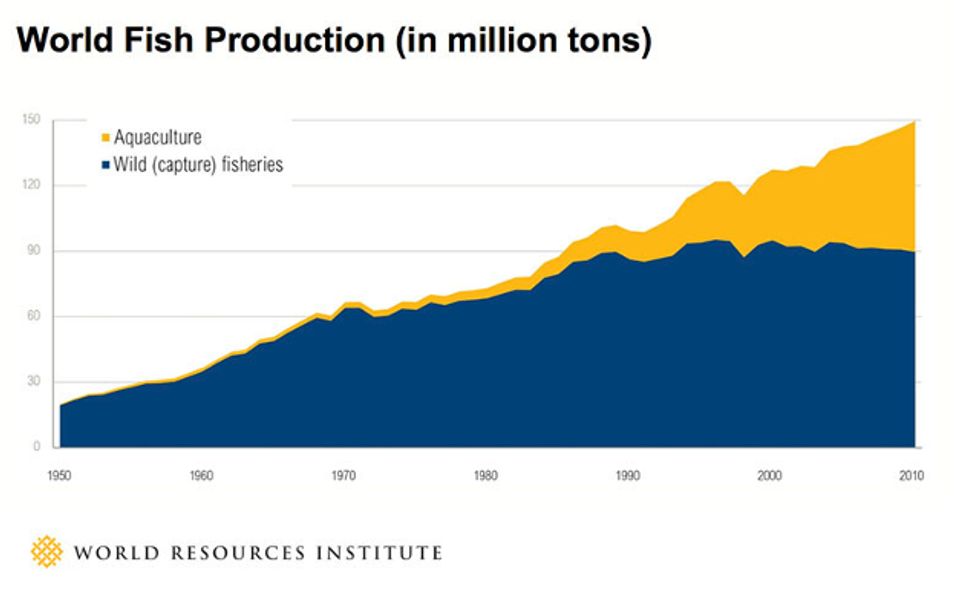 Closing the Food Gap
No one solution can create a sustainable food future. A menu of consumption- and production-focused strategies, including those presented here, can close the food gap and generate environmental, health and development co-benefits. But governments, business and others need to act quickly and with conviction to scale these solutions up.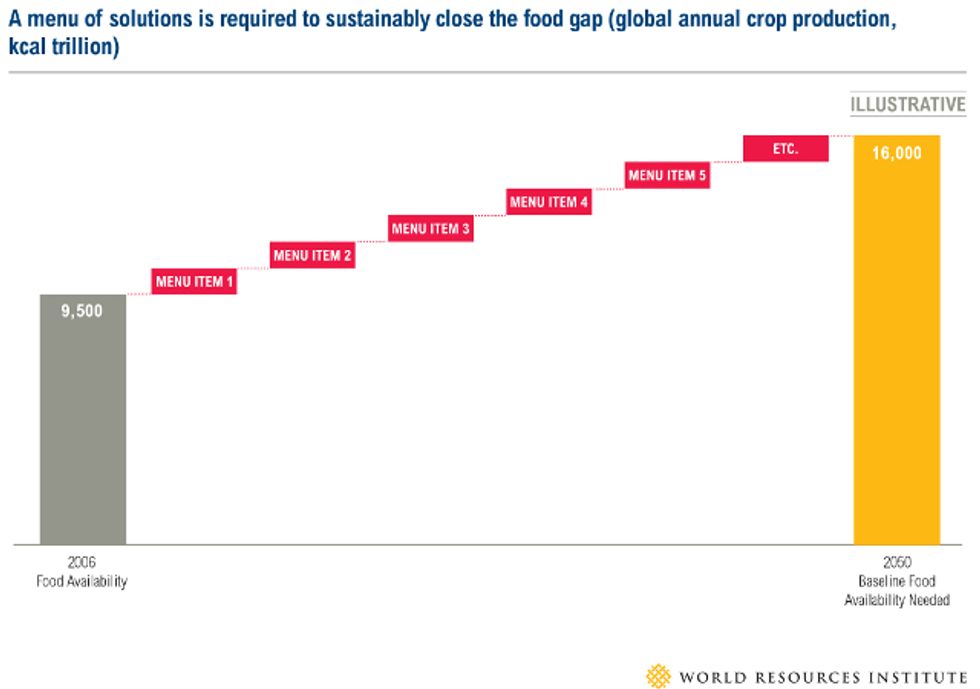 Visit EcoWatch's FOOD page for more related news on this topic.

This week on Moyers & Company in a rare television interview, Moyers talks to visionary author and farmer Wendell Berry to discuss a sensible, but no-compromise plan to save the Earth. We also examine the critical role of honey bees in our food supply and the threats they face in The Dance of the Honey Bee. And after the antics in Washington this week, Moyers shares his views on the government shutdown.
Wendell Berry, one of America's most influential writers who has written more than 40 novels, books of poetry, short stories and essays, has become an outspoken advocate for revolution. He's calling for immediate action to end industrial farming and return to the sustainable farming methods of years past. In his interview, Berry says: "People who own the world outright for profit will have to be stopped; by influence, by power, by us."
The short documentary Dance of the Honey Bee, narrated by Bill McKibben, takes a look at the determined, beautiful and vital role honey bees play in preserving life, as well as the threats bees face from a rapidly changing landscape. "Not only are we dependent on the honey bee for much of what we eat," says McKibben, "there is, of course, a grace and elegance they bring to the natural world that would diminish us all were they to disappear."
And this week's government shutdown has consequences for all of us, costing an estimated $300 million each day that the government is closed for business. Many Americans have voiced their frustrations with the fallout from the shutdown on Facebook, Instagram and Twitter using the hash tag #DearCongress. Here, Moyers shares his own frustrations, admonishing the Republican Party for holding the country hostage via an irrational "ransom list" of demands, while sabotaging democracy in the process.
Visit EcoWatch's BIODIVERSITY page for more related news on this topic.
———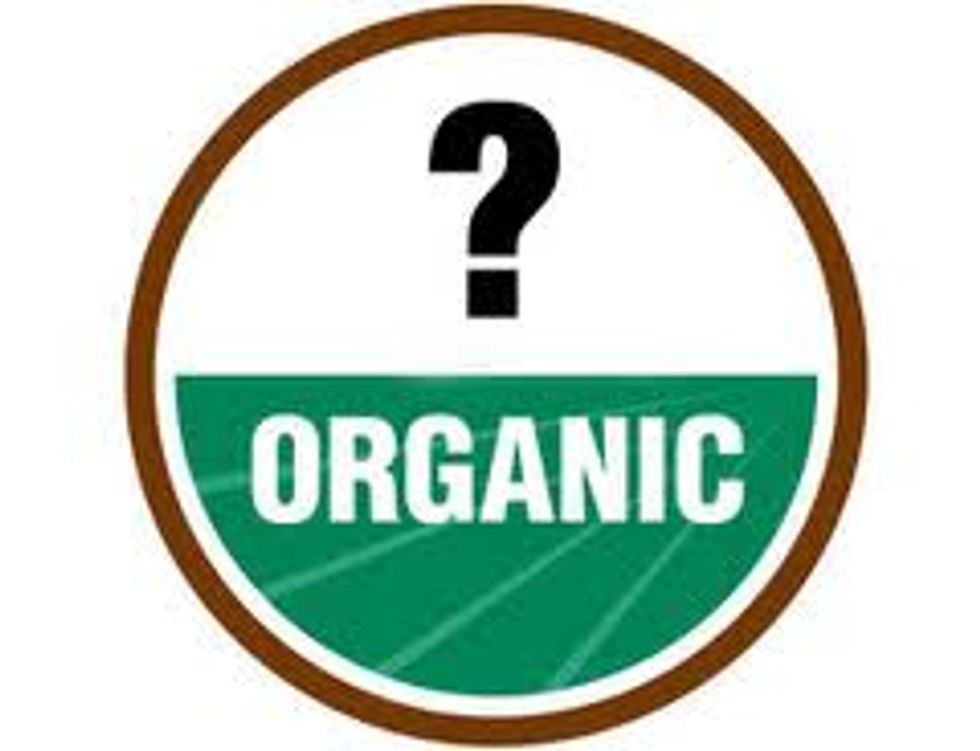 After years of deliberation in Congress, interagency meetings, lobbyist activity and a never-ending stream of food poisoning outbreaks, the Food and Drug Administration (FDA) is finally poised to implement the Food Safety Modernization Act (FSMA).
However, according to a just released white paper by The Cornucopia Institute, the FDA's draft rules are so off the mark that they might economically crush the country's safest farmers while ignoring the root threats to human health: manure contaminated with deadly infectious pathogens generated on "factory" livestock farms and high-risk produce-processing practices.
"In response to deadly outbreaks involving spinach, peanut butter and eggs, Congress acted decisively three years ago to pass the Food Safety Modernization Act," said Mark A. Kastel, codirector at The Cornucopia Institute. "Better oversight is needed but it looks like regulators and corporate agribusiness lobbyists are simultaneously using the FSMA to crush competition from the organic and local farming movement."
Cornucopia's report closely examines the FDA's draft regulations for implementing the new food safety law, and a new FDA guidance designed to control Salmonella in eggs produced by outdoor flocks. The report concludes that the new proposals would ensnare some of the country's safest family farmers in costly and burdensome regulations in a misdirected attempt to rein in abuses that are mostly emanating from industrial-scale farms and giant agribusiness food-processing facilities.
Family farm advocates, and groups representing consumers interested in high-quality food, thought they had won a victory when the Tester/Hagan amendment was adopted by Congress exempting farmers doing less than $500,000 in business from the new rules. But Cornucopia's report suggests the FDA seems more interested in a "one-size-fits-all" approach to food safety regulation.
In reality, the report suggests that small farms are not really exempt. The FDA is proposing that the agency can, without any due process, almost immediately force small farms to comply with the same expensive testing and record-keeping requirements as factory farms.
"In practical terms," explains Judith McGeary, a member of The Cornucopia Institute's policy advisory panel and executive director of the Farm and Ranch Freedom Alliance, "the FDA will be able to target small farms one-by-one and put them out of business, with little to no recourse for the farmers."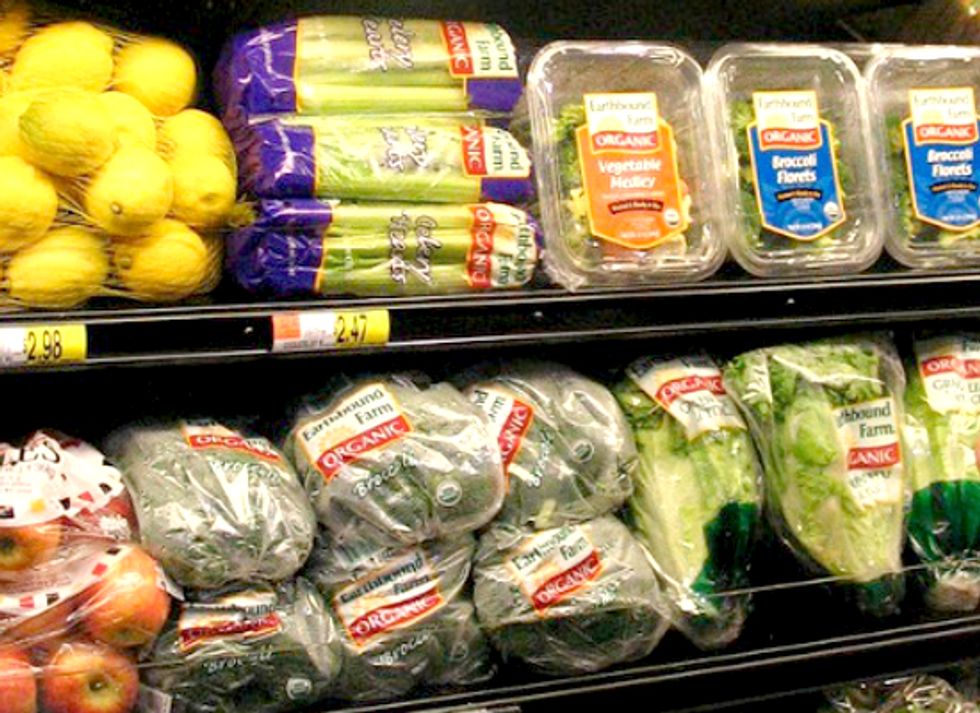 The FDA's economic analysis also shows that farms over $500,000 (still small in the produce industry) will be significantly impacted with some being driven out of business.
"The added expense and record-keeping time will potentially force many small and medium-sized local farms—owner-operated, selling at farmers markets directly to consumers or to local grocers and natural food co-ops—out of business," Kastel added.
The Cornucopia Institute is encouraging concerned farmers and consumers to visit its website and download a proxy letter to be sent to the FDA encouraging the agency to reconsider some of the key deficiencies in the proposed regulations.
The Institute's analysis points out that the FDA has wildly inflated the number of foodborne illnesses that originate from farm production (seed to harvest rather than contamination that occurs later in processing and distribution).
It also alleges that the FDA has failed to recognize that specific processed crops such as fresh-cut, or produce grown in certain regions are the genesis of 90 percent of dangerous outbreaks in fruits and vegetables. In addition to imports from countries like Mexico, where the most recent Taylor Farms Cyclospora outbreak originated, the evidence indicates that fresh-cut bagged/boxed salad mix and greens, other pre-cut vegetables and sprouts are much more prone to contamination.
"The proposed rule is a mess," said Daniel Cohen, owner of Maccabee Seed Company, a longtime industry observer. "The FDA has much greater expertise on food safety issues from harvest to the consumer, but focused instead on farming issues from planting to harvest. Limited, modest and more focused steps to improve on-farm food-safety could have produced simple, affordable, effective and enforceable regulation."
According to Cornucopia, the most important lost opportunity in the collaborative process between Congress, the FDA and the USDA is the lack of attention directed at the giant concentrated animal feeding operations, or CAFOs (factory farms) raising livestock. The massive amount of manure stored at these factory farms is commonly tainted by highly infectious bacteria that have been polluting America's air, water and farmlands.
"Federal regulators propose nothing to address sick livestock in animal factories and their pathogen-laden manure that is contaminating surrounding rural communities, nearby produce farms and our food supply," Kastel lamented.
No More Organic Eggs?
The 2010 salmonella outbreak in eggs, centered in Iowa, shone a spotlight on industrial-scale egg houses confining thousands of hens in filthy and dangerous conditions.
The salmonella outbreak led to comprehensive regulation and new guidance for organic farmers. Organic farmers are required by federal law to provide outdoor access to their hens and the new FDA guidance, according to Cornucopia, materially undermines this management practice. And they are doing this despite scientific evidence tying higher rates of pathogenetic contamination to older, massive factory farms with cages and forced molting (practices banned in organics) rather than raising birds outside.
"Their new guidance, on one hand, will make it difficult, expensive and maybe even impossible to have medium-sized flocks of birds outside," Kastel stated. "At the same time, the FDA has colluded with the USDA's National Organic Program to say that tiny 'porches', which hold only a minute fraction of the flock, will now legally constitute 'outdoor access.' This is a giveaway to conventional egg companies that are confining as many as 100,000 birds in a building and calling these 'organic.'"
The Cornucopia Institute has publicly stated that they are investigating legal action against regulators if enforcement action is not taken, under the Organic Foods Production Act, against the large industrial operations confining laying hens and broilers indoors.
The issue of food safety in Washington has been a contentious one, causing rifts even between nonprofits representing the interest of consumers and family farm organizations that have been historically aligned in support of organic and local food. Some consumer advocates pressed for no exemptions, even as farm policy experts have supplied evidence indicating smaller, family-operated farms are inherently safer.
"Only an idiot would not be concerned with food safety," said Tom Willey, a Madera, California, organic vegetable producer and longtime organic advocate.
"The antibiotic resistant and increasingly virulent organisms contaminating produce, from time to time, are mutant creatures introduced into the larger environment from confined industrial animal operations across the American countryside," added Willey. "The FDA's misguided approach could derail achievements in biological agriculture and a greater promise of food made safe through respect for and cooperation with the microbial community which owns and operates this planet upon which we are merely guests."
Visit EcoWatch's FACTORY FARMING page for more related news on this topic.
———

Global food waste is responsible for more greenhouse gas emissions than any country except for China and the U.S., according to a new report from the United Nations Food and Agriculture Organization (FAO). The report, Food Wastage Footprint: Impacts on Natural Resources, estimates that about one-third of all food—1.3 billion tons—is wasted every year.
Of course, the production of this food requires energy, water, chemicals and land. This means that almost 30 percent of the world's farmland is entirely wasted—1.4 billion hectares of land per year in total—as well as 250 cubic kilometers of water, the equivalent of the annual discharge of the River Volga in Europe. According to the report, the carbon footprint of wasted food is about 3.3 billion tons of carbon dioxide per year—more than any country, aside from China and the U.S. The wasted food costs approximately $750 billion a year.
The food wastage problem is a complicated one. In developed countries, most of the waste comes from consumers buying too much food and throwing away what they don't eat. In less developed countries, food waste often comes from inefficient farming and inadequate storage facilities.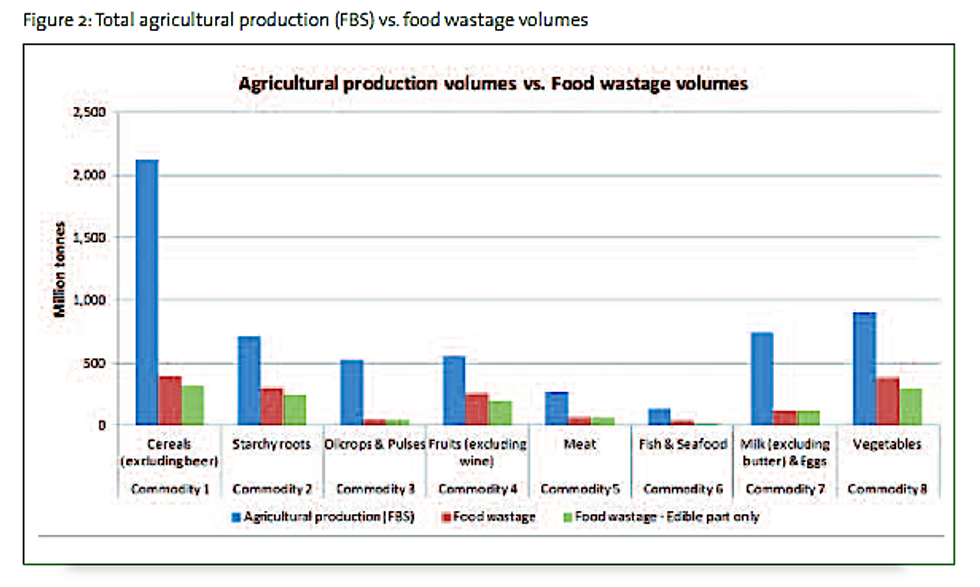 The report makes several suggestions about how to reduce food waste. First, improved communication between producers and consumers could result in more efficient supply chains. Better harvesting, packaging and shipping methods could also help to reduce food waste.
While these improvements can certainly make a difference, the solution—at least for the industrialized world—ultimately lies with individuals. We must develop a greater awareness about the foods that we consume, the effect that those foods have on the environment and the amount that we are needlessly wasting. We must actively seek to eat more sustainable foods and make an effort to buy and consume only what we need.
Visit EcoWatch's SUSTAINABLE AGRICULTURE page for more related news on this topic.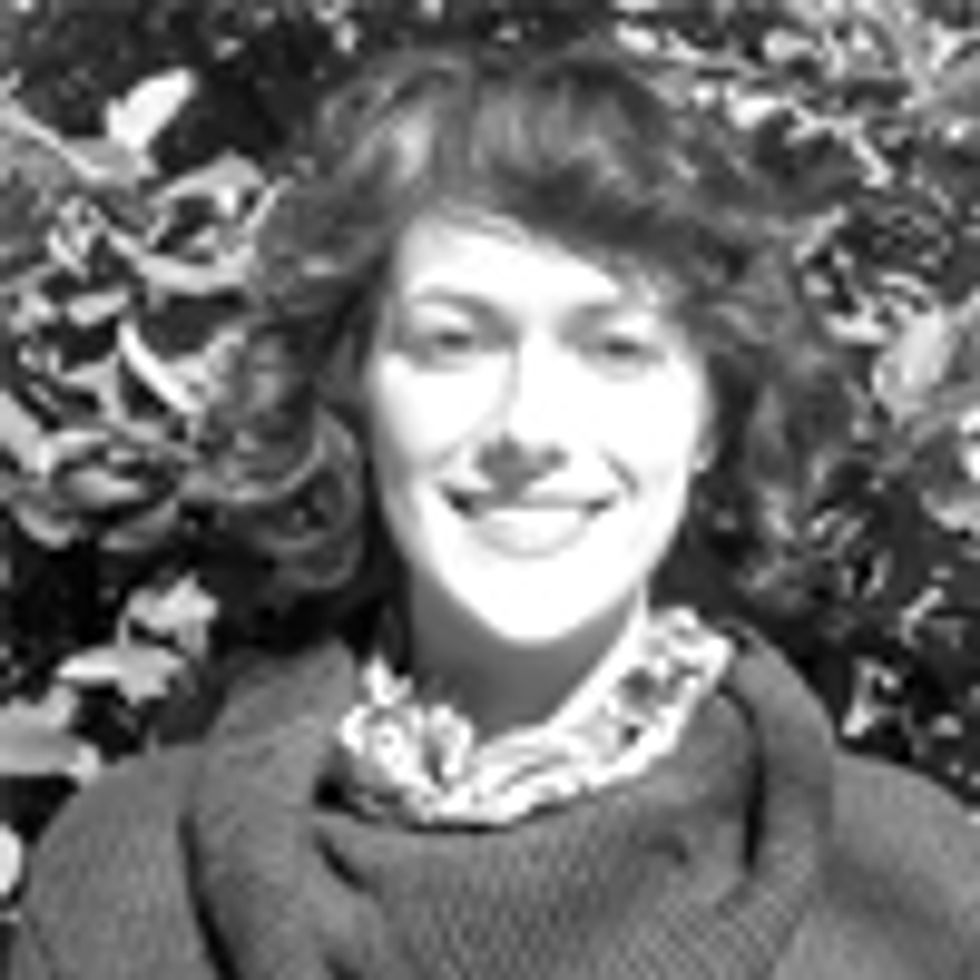 Facebook has been accused of being a facade for free speech as it has been known to censor controversial content. For example, earlier this year, Mark Zuckerberg was called out for practicing censorship when a Facebook ad by CREDO Mobile was pulled for criticizing his financial and political ties to the Keystone XL pipeline. 
The group March Against Monsanto announced yesterday on their Facebook page that Facebook removed an event page promoting a rally in St. Louis, MO, where the biotech giant is headquartered.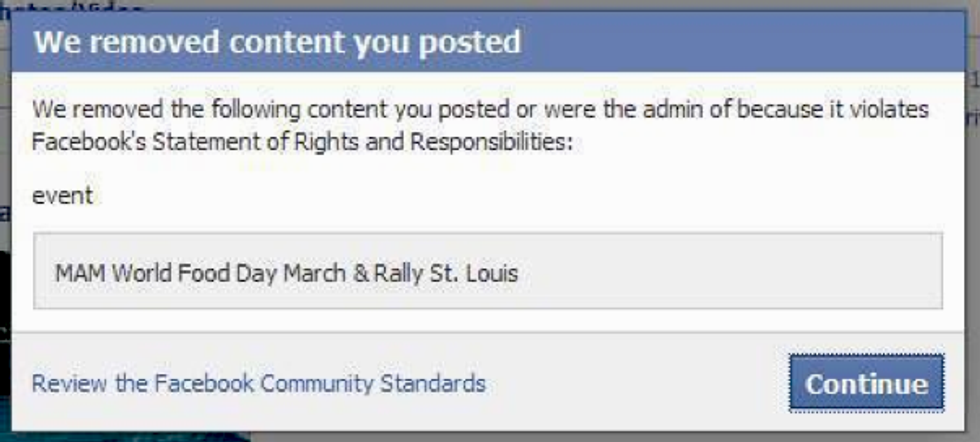 The rally is set to take place on Saturday, Oct. 12, with a broad coalition of regional groups and solidarity activists planning to converge at the company's corporate headquarters. While the event did not contain derogatory or inappropriate content, it was removed for violating Facebook's Statement of Rights and Responsibilities. The group has since created a new event page for the rally.
Back in May, history was made when 2 million people participated in solidarity protests across the globe to raise public awareness of Monsanto's toxic legacy in genetically engineering (GE) the food supply. The protests also aimed to promote sustainable farming while exposing the company's predatory corporate farming and corrupt business practices.
Not only has the outrage over Monsanto driven people to the streets, but it is also driving people to the polls. More than 90 pieces of legislation to label GE ingredients were proposed in at least 26 different states across the U.S. over the past year, with Washington State's Yes on 522 campaign pushing to let voters decide on mandatory GE labeling. The increased consumer demand for labeling is also driving down Monsanto's stock price as it becomes increasingly risky for long term investors.
It's safe to assume that the censorship by the media will continue as critical mass awareness is being reached on the issues that are challenging systemic corruption. But with March Against Monsanto planning more than 600 solidarity events worldwide with an estimated 3.6 million people pledging participation, it is also safe to assume that no amount of censorship is going to keep that awareness from growing.
Visit EcoWatch's GE FOOD page for more related news on this topic.

Gov. John Kitzhaber (D-OR) signed a bill into law last week, banning commercial production of canola—also known as rapeseed—until 2019 inside the 3 million acre Willamette Valley Protected District, one of the world's pre-eminent vegetable seed producing regions.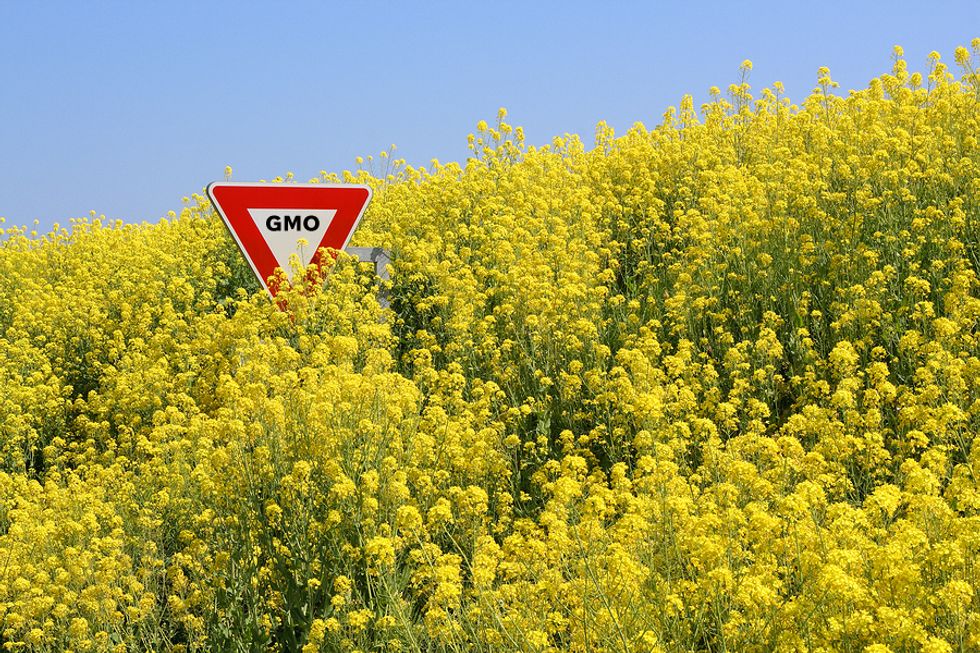 Center for Food Safety (CFS) had sued the Oregon Department of Agriculture after seed and organic vegetable farmers objected to a controversial decision to permit canola production in the Willamette Valley. In court filings, Center for Food Safety argued that canola readily cross-pollinates with brassica specialty seed crops like broccoli, kale and cabbage; spreads plant diseases and pests to brassica vegetable and seed crops; and can contaminate pure lots of vegetable and clover seed, rendering them unsalable in international and local markets.
According to Scientific American, 90 percent of canola is genetically engineered, which contaminates organic and conventional varieties, as well as cross-pollinates with weeds, creating new invasive species problems, as herbicide resistant traits spread to native weed populations.
"Oregon's lawmakers and governor have made the right decision: To protect the valuable industry in the Willamette Valley. The Oregon Department of Agriculture's unlawful action would have allowed dangerous canola planting into the Valley, jeopardizing both Oregon's farmers and environment," said George Kimbrell, senior attorney for Center for Food Safety. "This important agricultural market will now continue to be a revenue center for the state of Oregon and a source of good jobs for Oregonians."
"We applaud Governor Kitzhaber for signing HB 2427 into law. Canola is a very risky crop to introduce due to cross-pollination risk and increased pest and disease pressure on other important regional crops. The Willamette Valley should ultimately be protected for the long term, but this bill provides certainty and protections for the Willamette Valley's valuable specialty seed, fresh market vegetable and organic industries for the next several years, while ensuring future decisions are based on rigorous, peer-reviewed science," said Ivan Maluski, policy director for Friends of Family Farmers.
The new law overturns an unlawful rule adopted by the Oregon Department of Agriculture (ODA) in February 2013 that would have allowed thousands of acres of industrial canola to be planted over the next decade in a region where production of the plant for its seed has long been banned. The Oregon Department of Agriculture attempted in August 2012 to open the valley to widespread canola planting despite overwhelming public opposition. Center for Food Safety and Friends of Family Farmers, on behalf of individual growers, challenged ODA's original temporary rule, which would have allowed canola planting in the fall of 2012. The Oregon Court of appeals halted that rule-making as unlawful. Because of this successful challenge, no planting of canola has been allowed in the Willamette Valley.
ODA did not give up, again proposing planting this past spring. Thus on April 25, Center for Food Safety filed another lawsuit to halt ODA's rule to allow canola in the Willamette Valley on behalf of Friends of Family Farmers, Center for Food Safety, Universal Seed and Wild Garden Seed.
"Working closely with the farmers and allies, we were able to act fast to prevent ODA's disastrous decision from taking effect. Our court case prevented any canola from being planted, allowing time for our legislative strategy to work. Fortunately, this new law will trump the agency's unlawful rule that would have allowed planting. This valuable industry is safe from the threat of canola," added Kimbrell.
Visit EcoWatch's GE FOOD pages for more related news on this topic.
——–
By Dave Levitan
As municipal food composting programs spread across North America and Europe, no city faces a more daunting task than New York. Its Department of Sanitation collects more than 10,000 tons of trash every day, and another 1,700 tons of recyclable materials. A large portion of that waste, though, may soon have a future other than the landfill: Food scraps and other "organics" have long been just a part of New York's trash pile, but a pilot program in the city is aimed at rolling out collection of that material and composting it, a far more environmentally friendly method.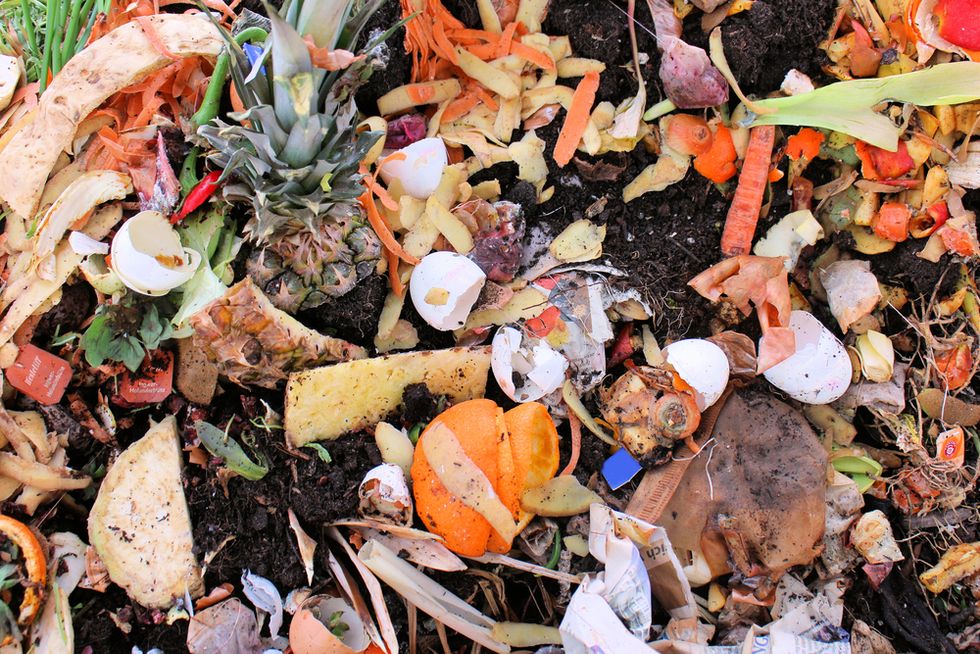 Photo courtesy of Shutterstock
"It's the next new thing in terms of municipal waste handling in the 21st century," says Eric Goldstein, a senior attorney with the Natural Resources Defense Council (NRDC) in New York. "Right now ... there are over 150 communities throughout the United States that are collecting organics at curbside. It's a national trend. It's revolutionary."
Many of those programs are still voluntary, and the bulk are in small cities and towns. But larger cities in North America—including San Francisco, Seattle, San Antonio, Toronto and Portland, OR—are moving rapidly ahead. And municipal composting efforts in many European countries are far advanced and steadily growing. In 2011, the 27 states in the European Union composted on average 15 percent of municipal waste, with Austria composting 34 percent, the Netherlands 28 percent, and countries like France, Spain, and Germany each composting about 18 percent.
In New York Mayor Michael Bloomberg's State of the City address this past February, he called food waste the city's "final recycling frontier," which holds true for the rest of the U.S., as well. According to the U.S. Environmental Protection Agency (EPA), the country as a whole produced 250 million tons of municipal solid waste in 2011, and compostable materials—which include yard trimmings, paper and paperboard, as well as food waste—comprised the largest component of that at 56 percent.
The environmental benefits of recycling that material are significant. As it decomposes in landfills, food and other organic waste produces methane, a greenhouse gas 25 times more powerful than carbon dioxide. According to the EPA, landfills are the third-largest source of methane in the U.S., behind industry and agriculture. Shipping waste long distances from cities to landfills produces even more greenhouse gas emissions. Composting, meanwhile, takes that waste and turns it into something usable: fertilizer. If cities like New York want to cut emissions, cut waste and even cut costs, composting is a proven way to go about it.
The good news is that of the 87 million tons of "recovered" waste in the U.S. in 2011—meaning waste that did not end up in a landfill—organic material accounted for the largest component. But most of that material was paper; food waste accounted for only 1.6 percent of the recovered total versus 14.5 percent of the generated total, the EPA says. The U.S. does a reasonably good job of keeping paper out of landfills thanks to recycling programs, but food almost universally still goes where it shouldn't.
New York is trying to change that with its new program. So far, compost collection is being offered in one neighborhood of Staten Island, and city officials say that after only a few months participation rates are above 40 percent. Contamination rates—meaning, the presence of non-compostable material in the compost bin—are at 1 percent or below. In Manhattan, about 100 city schools are also participating, with a goal of spreading to 400 schools by the end of the year. Two high-rise apartment buildings are included as well, with more to follow this fall.
"We spend over $85 million a year sending food waste to landfills, so there's a major cost," said Ron Gonen, New York City's deputy commissioner for recycling and sustainability, who heads up the composting program. He said so far the program is collecting at a pace on the order of "tens of thousands" of tons per year. "It's growing every day," said Gonen. "We're going to continue to expand, in all five boroughs." By 2014 the program will cover around 100,000 households.
Goldstein says that if New York demonstrates the economic and logistical viability of its program it could be a "bellwether" in the push to expand composting nationwide. But a few cities—in general, the green, progressive ones you might expect—have already taken the lead over the last decade. San Francisco—the second-densest large city in the U.S. after New York—is considered the frontrunner, thanks to legislation in 2002 that set a goal of diverting 75 percent of its waste from landfills by 2010 and achieving "zero waste" by 2020.
San Francisco's composting program began with restaurants and other businesses, and in 2009 an ordinance made it mandatory for all residents to separate organic material for collection. Instead of two bins to set out on the curb for trash and recyclables, there are now three. The green compost bins can include all food scraps, no matter how spoiled, along with vegetation from yards like leaves and flowers, and solid paper products including coffee cups, waxy paper, milk cartons and related items. The city collected its millionth ton of organic waste for composting last fall. Overall, 78 percent of San Francisco's waste is now diverted from landfills.
Seattle has a similar program, as does Portland; the latter went a step further and scaled back residential garbage pickup to only once every two weeks when the weekly compost pickup began.
Despite some early resistance and confusion—much of it related to every-other-week garbage collection—a survey in Portland found that 66 percent of residents rated the city's recycling and composting program as "good" or "very good" after one year, with another 20 percent neutral on the issue. Along with the positive reception, there has been clear progress. In the 12-month period prior to the October 2011 start of the composting program, 94,100 tons of garbage were collected. In the following 12 months, that figure fell to 58,300 tons. Meanwhile, collections of compostable material rose from 30,600 tons to 85,400 tons, a figure that includes yard waste.
There were questions early on about vermin, but moving the scraps from the garbage can to the compost bin doesn't change much, said Bruce Walker, Portland's solid waste and recycling program manager. The organic material in Portland travels to one of two facilities that are 15 and 90 miles from downtown. Walker said regular garbage gets trucked much farther, about 140 miles from the city, so the environmental savings are compounded. The composting facilities produce fertilizers that are sold to farms, tree nurseries and to the general public.
In Europe, the European Landfill Directive requires European Union member states to reduce "biodegradable municipal waste" sent to landfills to 35 percent of 1995 amounts by 2016. In the EU, 40 percent of waste is now composted or recycled, with 23 percent incinerated and 37 percent landfilled. Norway, Sweden, the Netherlands, Denmark, Switzerland, Belgium, Austria and Germany now send less than 3 percent of their waste to landfills. Copenhagen, one of the greenest cities in the world, stopped sending organic waste to landfills as far back as 1990.
Other European countries lag far behind, with Greece and eastern European nations such as Bulgaria, Lithuania and Romania doing almost no composting. Still, some of the swiftest progress has come from some former eastern bloc countries like Estonia. The capital city of Talinn has been collecting biodegradable kitchen waste separately since 2007, part of the reason why landfill rates in Estonia have dropped from close to 100 percent 15 years ago to below 60 percent today. Europe is also much farther along than the U.S. in using anaerobic digestion, a process that takes organic waste and turns it into biogas, which can be used to generate electricity.
In New York, the question of where to bring collected organic material is unresolved. The city has a request for proposals to build a new composting plant in or close to the city, but until then there aren't nearby facilities that can handle large amounts. Goldstein, of the NRDC, said that one possibility is to site facilities outside the city or partner with farms in the Catskills—sending the material 75 miles or so is still a huge improvement on the current system, which involves exporting to landfills sometimes many states and hundreds of miles away.
"The city has been really slow in terms of going through this process," said Christine Datz-Romero, co-founder and executive director of the Lower East Side Ecology Center, which has worked on composting in New York for two decades. "If we wanted a facility here in New York City we should have started that process a long time ago. For building a facility we're talking years. I see that as the biggest stumbling block because right now we have very limited capacity."
Should New York and numerous other U.S. cities and towns establish vibrant composting programs, the environmental benefits will be enormous, advocates say. "Ultimately, there's going to be very little left in the traditional garbage can," said Goldstein.
Visit EcoWatch's FOOD page for more related news on this topic.
——–
Early in July, Monsanto rolled out the red carpet for farm media in North Dakota, promoting its new, yet highly controversial, herbicide-resistant genetically engineered (GE) seeds. Touted at an industry field day in Cass County, these new soybean seeds are designed to be used with the volatile herbicide, dicamba—a close cousin of 2,4-D.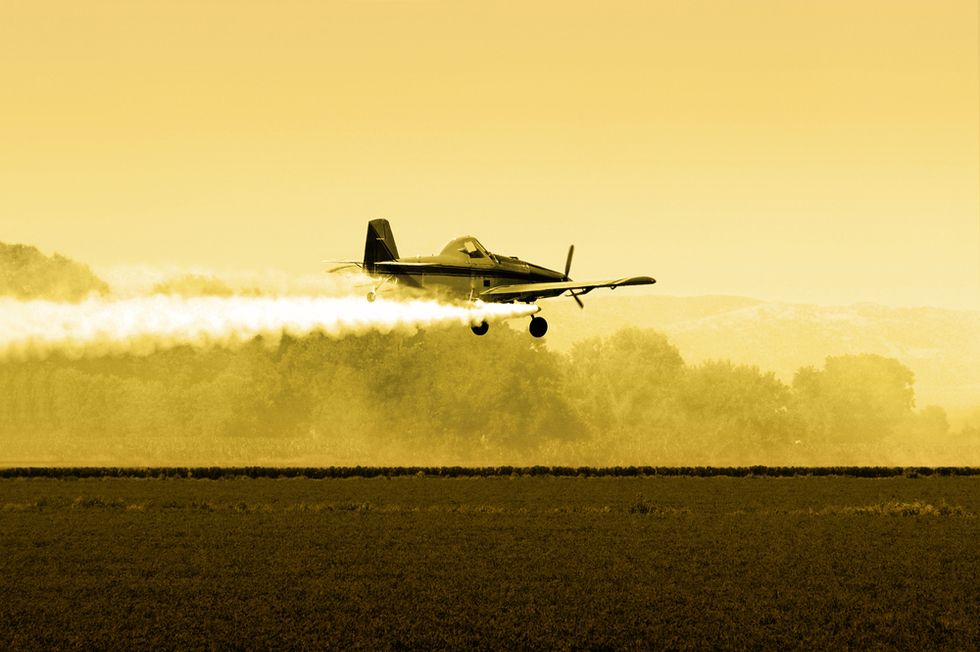 Photo courtesy of Shutterstock
Dicamba-resistant soy is still awaiting U.S. Department of Agriculture approval, as are 2,4-D-resistant corn and soy. And after receiving hundreds of thousands of comments opposing the approval of these crops, the agency recently extended its decision-making timeline. Despite the outcry, however, Monsanto has plowed full speed ahead, planting and spraying these crops in large, field-sized "ground-breaker" demonstration plots in North and South Dakota and in research plots in undisclosed locations.
Farmers, as well as other concerned citizens, are particularly worried about pesticide drift, crop damage and health harms that would likely accompany planting and spraying of dicamba- and 2,4-D-resistant crops.
Most at risk are fruit, nut and vegetable growers around the country, whose produce is highly susceptible to severe damage from 2,4-D and dicamba—herbicides known to volatilize and drift for miles. In one incident in California's San Joaquin valley, 2,4-D drifted 100 miles from where it was applied, damaging 15,000 acres of cotton and a pomegranate orchard along the way.
Not Buying "Improvements"
At the field day in July, a Monsanto representative claimed that the corporation was working on a new formulation of dicamba that wouldn't volatilize quite so easily or drift quite so far. The Monsanto employee acknowledged that dicamba residue in sprayer tanks would also be a serious problem, but explained that if growers are "good," "sophisticated" and "rigorous" in following detailed directions about nozzle size, wind speed and cleaning out their sprayers with 45 solid minutes of rinsing after use, then risk of destroying their own or neighbors' crops with inadvertent dicamba exposure could be minimized.
Waiting and watching until winds are precisely between three and ten mph? Not so feasible when you have to schedule a pesticide applicator's visit to your field well in advance. Forty-five minutes of rinsing? That's a lot of water to expect farmers to use, in a time of unpredictable rain and increasing water scarcity. Sounds a lot like a company set-up to blame the farmer as soon as anything goes wrong.
Produce industry leaders aren't convinced either. Steve Smith, agriculture director at Indiana-based Red Gold, the largest tomato processor outside of California, firmly rejected Monsanto's assurances. In an interview last week, Smith described Monsanto's guidelines as "woefully inadequate." Predicting growers will see a surge in dicamba-caused crop damage, Smith explained:
"Both the volatility and the direct drift threat are very real with dicamba. And it's not just to our crop. It's to homeowners and rural gardeners, it's to landscapes in the countryside, and we believe there's going to be a lot of people that's going to see effects from this." ­
Grape growers are also getting worried. With new wine industries emerging in virtually every state across the country—providing growers with a much-needed economic boost and way to diversify their production—reaction to the possible introduction of 2,4-D and dicamba crops has been negative.
Pesticide Drift: Old Problem, About to Get Worse
"We disked it up. They were gone. Two and a half acres of nothing, just bare ground." — Brett Middlesworth, Indiana tomato grower, describing crop loss due to herbicide drift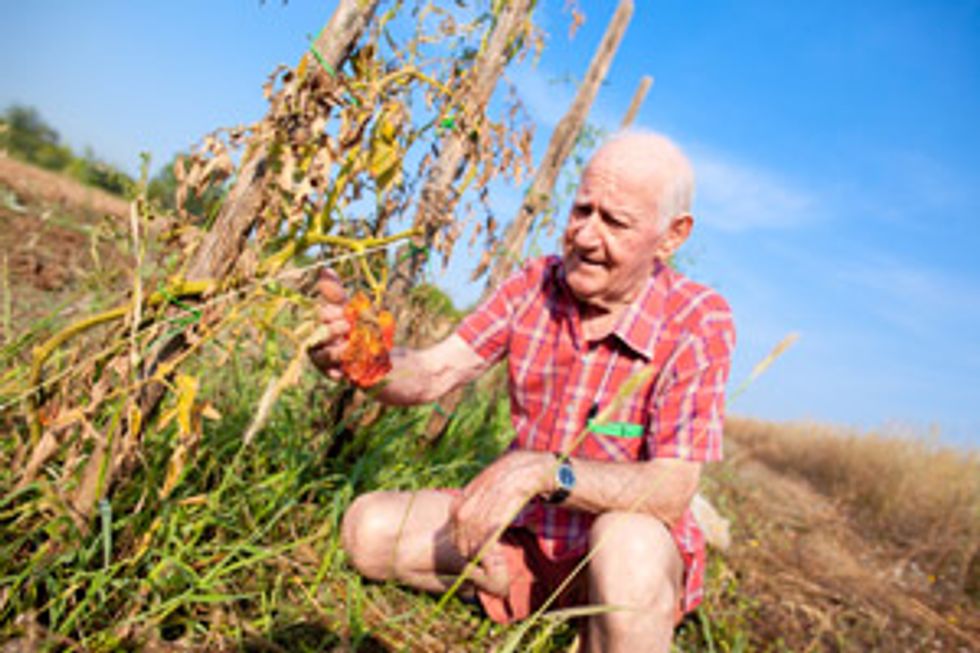 For years, pesticide drift has been hurting farmers, damaging their crops and making families in rural communities sick. One Indiana tomato farmer lost $45,000 worth of his crop and sustained permanent damage to his larynx after getting sprayed with RoundUp last summer. Organic farmers in Minnesota lost their organic certification and their crops as a result of drift. A generation of rural communities in California and Hawaii have been getting sick, while government agencies inexplicably delay implementing rules to safeguard children's health.
If 2,4-D and dicamba crops are introduced into the picture, the drift problem will quickly go from bad to worse. I've already written about the livelihood harms, and my colleague, Margaret Reeves, has warned of the health harms of these herbicide-based GE crops.
Apparently aware of growing opposition to these new herbicide-resistant crops—and in particular, farmers' worries that they will drive the emergence of yet more resistant superweeds—Monsanto is planning to offer financial incentives to farmers to spray additional types of herbicides. And if soybean growers don't adopt the new dicamba seeds, their conventional (or even their RoundUp-Ready) soy will be threatened, as dicamba drifts over from their neighbors' fields. So they'll pretty much have to get with the dicamba program.
Monsanto's latest product line might boost company sales for a time, but it fails to provide a pathway towards the safe, healthy and sustainable farming that American farmers want and deserve. For state-of-the-art, innovative pathways to such a vision, growers are practicing ecological farming methods across the U.S. today.
Visit EcoWatch's GE FOOD page for more related news on this topic.