This website uses cookies to ensure you get the best experience while browsing it. By clicking 'Got It' you're accepting these terms.
Pesticides in Produce: Which Fruits and Veggies Are in The 'Dirty Dozen' and 'Clean 15'
Apr. 29, 2014 02:28PM EST
Food
When it comes to the flow of information regarding pesticide levels found in fruits and vegetables in the U.S., consumers have been failed.
That's what the Washington D.C.-based Environmental Working Group (EWG) said Tuesday as it released its 2014 Shopper's Guide to Pesticides in Produce. The guide includes a list of the "Dirty Dozen"—the 12 fruits and vegetables with highest levels of pesticide residue, per EWG's analysis of testing data from the U.S. Department of Agriculture and Food and Drug Administration.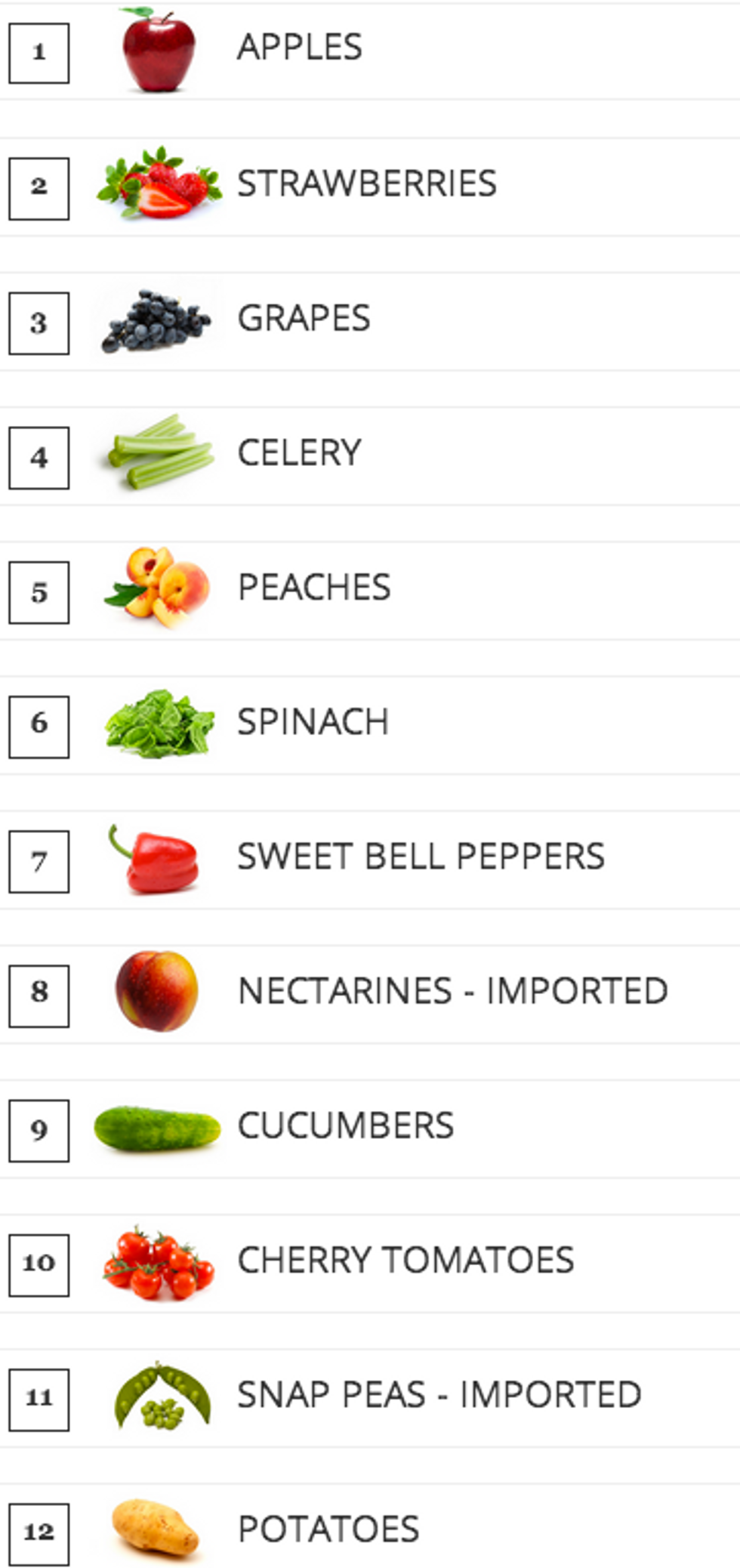 The research and advocacy nonprofit also ranked the "Clean Fifteen," a ranking of the fruits and vegetables with the least amounts of pesticide residue.


A provision of the Food Quality Protection Act of 1996 requires the U.S. Environmental Protection Agency (EPA) to inform people about potential hazards to their food from the presence of pesticides. EWG says that's largely been failure, thus necessitating its annual shoppers's guide.
"The agency provides some information on its website, but it does not list foods likely to contain the highest amounts of pesticide residues nor those that pose the greatest dangers to human health," according to an EWG statement.
In all, the EWG analyzed 48 fruits and vegetables. Here are some key findings about both the "Dirty Dozen" and "Clean Fifteen":
Avocados were the cleanest: Only 1 percent of avocado samples showed any detectable pesticides.
Some 89 percent of pineapples, 82 percent of kiwi, 80 percent of papayas, 88 percent of mango and 61 percent of cantaloupe had no residues.
No single fruit sample from the "Clean Fifteen" tested positive for more than 4 types of pesticides.
Detecting multiple pesticide residues is extremely rare on "Clean Fifteen" vegetables. Only 5.5 percent of "Clean Fifteen" samples had two or more pesticides.
Every sample of imported nectarines and 99 percent of apple samples tested positive for at least one pesticide residue.
The average potato had more pesticides by weight than any other food.
A single grape sample contained 15 pesticides. Single samples of celery, cherry tomatoes, imported snap peas and strawberries showed 13 different pesticides apiece.
"For decades, various toxic pesticides were claimed to be 'safe'—until they weren't, and either banned or phased out because they posed risks to people," said Sonya Lunder, EWG's senior analyst and principle author of the report.
"While regulators and scientists debate these and other controversies about pesticide safety, EWG will continue drawing attention to the fruits and vegetables with the highest pesticide loads."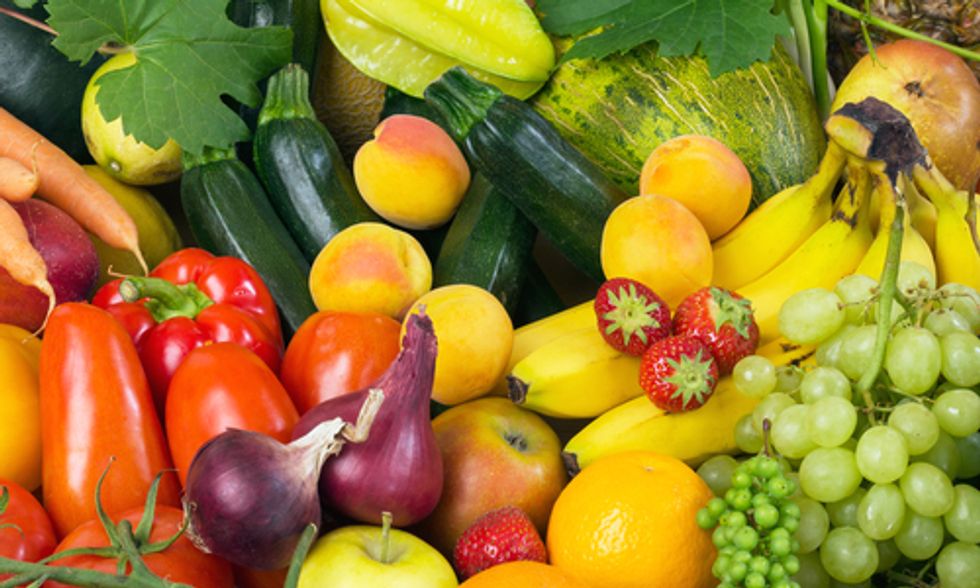 Photo courtesy of Shutterstock
——–
YOU ALSO MIGHT LIKE
Which State Best Supports Its Locally Grown Foods?
Even the FDA Doesn't Know What Chemicals Are in Your Food
Climate Change Will Make it Harder to Grow These 5 Foods
——–
EcoWatch Daily Newsletter
A new study shows that half of all Arctic warming and corresponding sea-loss during the late 20th century was caused by ozone-depleting substances. Here, icebergs discharged from Greenland's Jakobshavn Glacier. Kevin Krajick / Earth Institute /
EurekAlert!
The world awakened to the hole in the ozone layer in 1985, which scientists attributed it to ozone depleting substances. Two years later, in Montreal, the world agreed to ban the halogen compounds causing the massive hole over Antarctica. Research now shows that those chemicals didn't just cut a hole in the ozone layer, they also warmed up the Arctic.
Diane Wilson holds up a bag full of nurdles she collected from one of Formosa's outfall areas on Jan. 15. Julie Dermansky / DeSmogBlog
On the afternoon of Jan. 15, activist Diane Wilson kicked off a San Antonio Estuary Waterkeeper meeting on the side of the road across from a Formosa plastics manufacturing plant in Point Comfort, Texas.
After Wilson and the waterkeeper successfully sued Formosa, the company agreed to no longer release even one of the tiny plastic pellets known as nurdles into the region's waterways. The group of volunteers had assembled that day to check whether the plant was still discharging these raw materials of plastics manufacturing.
Malaysian Environment Minister Yeo Bee Yin (front 2nd L) and officials inspect a container containing plastic waste shipment on Jan. 20, 2020 before sending back to the countries of origin. AFP via Getty Images
The Southeast Asian country Malaysia has sent 150 shipping containers packed with plastic waste back to 13 wealthy countries, putting the world on notice that it will not be the world's garbage dump, as CNN reported. The countries receiving their trash back include the United States, the United Kingdom, France and Canada.
Trump leaves after delivering a speech at the Congress Centre during the World Economic Forum annual meeting in Davos on Jan. 21, 2020. JIM WATSON / AFP via Getty Images