5 Facts You Should Know About Pesticides on Fruits and Vegetables
A healthy diet begins with lots of fruits and vegetables, but some of your family's favorites may contain startling amounts of harmful pesticides.
Non-organic farmers spray synthetic pesticides on crops to kill weeds and insects—and the toxicity doesn't stop there. As they grow, plants absorb pesticides and residues linger on fruit and vegetable skins all the way to your kitchen, even after you wash them.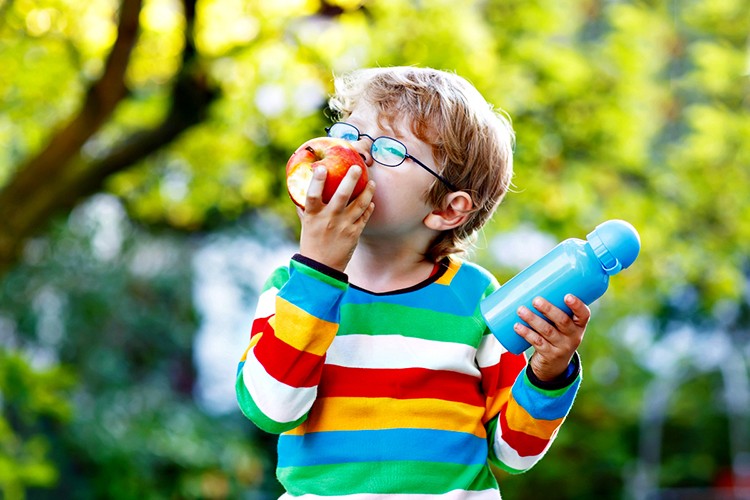 In the 2016 edition of its Shopper's Guide to Pesticides in Produce, the Environmental Working Group (EWG) breaks down the latest research on pesticide levels on fruits and vegetables and how you can make smart choices for your family.
Here's what you should know:
1. Eating foods with traces of pesticides is bad for your health—especially for kids.
Although the full scope of the threat is not yet known, research confirms that pesticide exposure can harm us in serious ways. Conventional growers use synthetic pesticides that can damage our brain and nervous system, disrupt our hormones and contribute to cancer.
In developing children, pesticide exposure contributes to neurological problems, which impair learning, memory and attention.
Kids eat more food than adults relative to their size and are less capable of processing chemicals that enter their small bodies. Both factors make them especially vulnerable to the hazardous effects of these chemicals.
2. Some fruits and vegetables have a lot of pesticide on them. Others aren't so bad.
And you might be surprised which are which. In the Shopper's Guide to Pesticides in Produce, EWG names the fresh fruits and veggies that contain the highest and lowest amounts of pesticides when you bring them home from the market.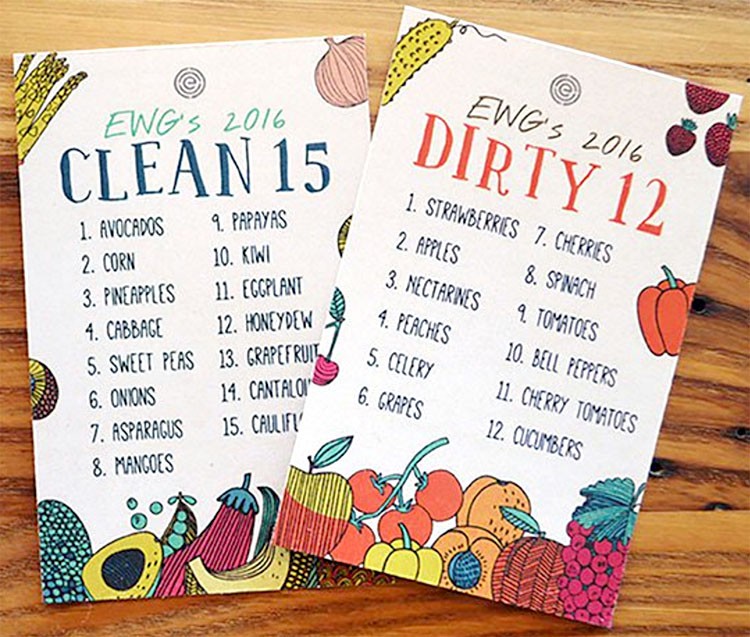 EWG analyzed data from the U.S. Department of Agriculture (USDA), whose tests revealed traces of at least one pesticide on nearly 75 percent of fruit and vegetable samples tested in 2014, the most recent year available.
Topping the Dirty Dozen list this year are strawberries, followed by apples, nectarines, peaches, celery and grapes. On the Clean Fifteen list, heart-healthy avocados take the number one spot. (That's especially good news for babies, since avocados make an excellent early solid food).
Click here to view the full lists.
3. There's more than one way to protect your family from pesticide on produce.
The surest way to limit pesticides on your fruits and veggies is to buy USDA-certified organic varieties, but these can be costly and hard to find.
We recommend buying organic whenever you can, but if your options are limited or your budget is tight, consult EWG's list and start prioritizing your purchases.
Strawberries and apples? Organic is best. Avocados and pineapple? Conventional is a good and healthy option.
4. Washing produce is a must—but it doesn't completely remove pesticide residues.
Some people think that thoroughly washing fruits and vegetables will remove all traces of pesticides. Cleaning produce removes dirt, traces of human handling and reduces some pesticides—but not all of them.
USDA tests fruit and vegetables as we typically eat them: washed and, when applicable, peeled (bananas, for example). That means EWG's Dirty Dozen and Clean Fifteen lists reflect pesticide levels on produce after it's already been washed.
Pesticide levels are even higher when fruits and veggies aren't washed, so rub your produce under running water before eating, even when you buy organic.
5. It's always a good choice to feed your family fruits and vegetables, whether conventional or organic.
Eating plenty of fruits and vegetables is one of the healthiest choices we can make, yet far too few people do. Less than a third of adults get the recommended daily amount—at least two servings of fruit and three servings of vegetables—according to the U.S. Centers for Disease Control and Prevention. The rates are even lower for teens.
While it's important to minimize your exposure to pesticides, regularly eating fruits and vegetables is the far bigger win for you and your loved ones.
YOU MIGHT ALSO LIKE
Big Ag Fights to the Bitter End to Keep Pesticide From Being Banned
How Kind Bars Are Helping Push the FDA to Reconsider What 'Healthy' Means
Is Roundup Sprayed at Your Local Park?
Results of Glyphosate Pee Test Are in 'And It's Not Good News'
By Andy Rowell
Donald Trump this week is launching an "energy week," pushing the argument that the U.S. will become a net exporter of oil and gas.
The president and his cronies are talking about a new era of "U.S. energy dominance," which could stretch for decades to come. However, no one believes the president anymore.
Keep reading...
Show less
www.elysee.fr
By Andy Rowell
There is a growing feeling within European capitals that a quiet, but deeply positive, revolution is happening under Emmanuel Macron in France.
Macron's opinion poll rating is high, especially boosted in how the young French president has reacted to Donald Trump on the international stage.
Keep reading...
Show less
Jun. 26, 2017 12:32PM EST
www.facebook.com
Keep reading...
Show less
Keep reading...
Show less
www.youtube.com
According to Bloomberg, "SeaWorld Entertainment Inc. received a subpoena earlier this month from regulators investigating disclosures and public statements by executives, including comments about the Blackfish documentary that caused a public backlash against the confinement of orcas.
Keep reading...
Show less
By Mary Mazzoni
In 2013, shoppers were reacquainted with the tragic story of their clothing when a massive factory collapse claimed the lives of more than 1,100 Bangladeshi garment workers.
The nonprofit Fashion Revolution, formed in response to that disaster, continues to track the apparel industry's progress on environmental stewardship and human rights. But four years later, big brands are still not doing enough to disclose their efforts to customers, the organization concluded in a recent report.
Keep reading...
Show less
Jun. 26, 2017 01:18PM EST
Hawaii Renewable Energy Alliance
The latest issue of the U.S. Energy Information's "Electric Power Monthly" (with data through April 30) reveals that—for the first time since the beginning of the nuclear era—renewable energy sources (i.e., biomass, geothermal, hydropower, solar—inc. small-scale PV, wind) are now providing a greater share of the nation's electrical generation than nuclear power.
Keep reading...
Show less
www.youtube.com
Check out this great 360° virtual reality video by NowThis on the world's largest indoor vertical farm, AeroFarms. Located in Newark, New Jersey, AeroFarms grows more than 2 million pounds of greens a year without sunlight, soil or pesticides.
As reported by EcoWatch in July 2105, the $30 million, 70,000-square-foot AeroFarms headquarters dwarfs Japan's (already impressive) 25,000-square-foot vertical indoor farm, which had been the world's largest until now.
www.facebook.com
"There's no such thing as clean coal," according to this ATTN: video.
Watch above as ATTN: explains the many hazards of coal beyond carbon emissions, that no matter what there's no reviving the coal industry and how investment in renewable energy is the best way forward.
Share this video if you think America needs real energy solutions.