This website uses cookies to ensure you get the best experience while browsing it. By clicking 'Got It' you're accepting these terms.
5 Facts You Should Know About Pesticides on Fruits and Vegetables
May. 19, 2016 11:51AM EST
Food
A healthy diet begins with lots of fruits and vegetables, but some of your family's favorites may contain startling amounts of harmful pesticides.
Non-organic farmers spray synthetic pesticides on crops to kill weeds and insects—and the toxicity doesn't stop there. As they grow, plants absorb pesticides and residues linger on fruit and vegetable skins all the way to your kitchen, even after you wash them.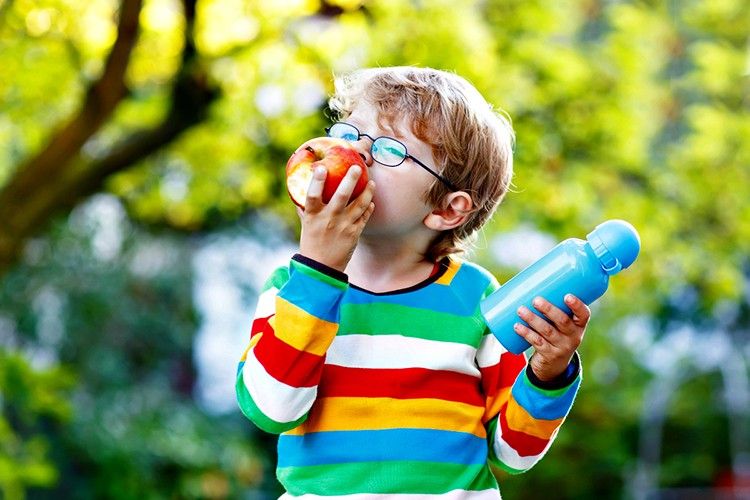 In the 2016 edition of its Shopper's Guide to Pesticides in Produce, the Environmental Working Group (EWG) breaks down the latest research on pesticide levels on fruits and vegetables and how you can make smart choices for your family.
Here's what you should know:
1. Eating foods with traces of pesticides is bad for your health—especially for kids.
Although the full scope of the threat is not yet known, research confirms that pesticide exposure can harm us in serious ways. Conventional growers use synthetic pesticides that can damage our brain and nervous system, disrupt our hormones and contribute to cancer.
In developing children, pesticide exposure contributes to neurological problems, which impair learning, memory and attention.
Kids eat more food than adults relative to their size and are less capable of processing chemicals that enter their small bodies. Both factors make them especially vulnerable to the hazardous effects of these chemicals.
2. Some fruits and vegetables have a lot of pesticide on them. Others aren't so bad.
And you might be surprised which are which. In the Shopper's Guide to Pesticides in Produce, EWG names the fresh fruits and veggies that contain the highest and lowest amounts of pesticides when you bring them home from the market.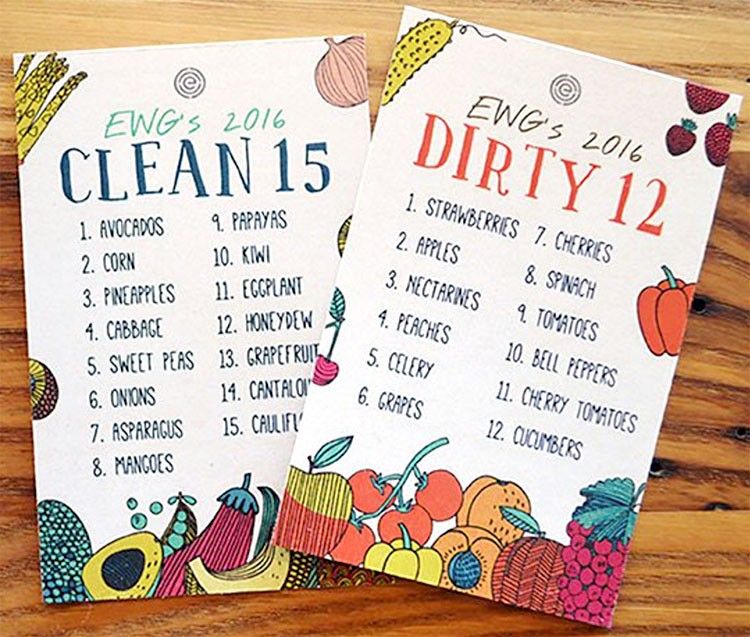 EWG analyzed data from the U.S. Department of Agriculture (USDA), whose tests revealed traces of at least one pesticide on nearly 75 percent of fruit and vegetable samples tested in 2014, the most recent year available.
Topping the Dirty Dozen list this year are strawberries, followed by apples, nectarines, peaches, celery and grapes. On the Clean Fifteen list, heart-healthy avocados take the number one spot. (That's especially good news for babies, since avocados make an excellent early solid food).
Click here to view the full lists.
3. There's more than one way to protect your family from pesticide on produce.
The surest way to limit pesticides on your fruits and veggies is to buy USDA-certified organic varieties, but these can be costly and hard to find.
We recommend buying organic whenever you can, but if your options are limited or your budget is tight, consult EWG's list and start prioritizing your purchases.
Strawberries and apples? Organic is best. Avocados and pineapple? Conventional is a good and healthy option.
4. Washing produce is a must—but it doesn't completely remove pesticide residues.
Some people think that thoroughly washing fruits and vegetables will remove all traces of pesticides. Cleaning produce removes dirt, traces of human handling and reduces some pesticides—but not all of them.
USDA tests fruit and vegetables as we typically eat them: washed and, when applicable, peeled (bananas, for example). That means EWG's Dirty Dozen and Clean Fifteen lists reflect pesticide levels on produce after it's already been washed.
Pesticide levels are even higher when fruits and veggies aren't washed, so rub your produce under running water before eating, even when you buy organic.
5. It's always a good choice to feed your family fruits and vegetables, whether conventional or organic.
Eating plenty of fruits and vegetables is one of the healthiest choices we can make, yet far too few people do. Less than a third of adults get the recommended daily amount—at least two servings of fruit and three servings of vegetables—according to the U.S. Centers for Disease Control and Prevention. The rates are even lower for teens.
While it's important to minimize your exposure to pesticides, regularly eating fruits and vegetables is the far bigger win for you and your loved ones.
YOU MIGHT ALSO LIKE
Big Ag Fights to the Bitter End to Keep Pesticide From Being Banned
How Kind Bars Are Helping Push the FDA to Reconsider What 'Healthy' Means
Is Roundup Sprayed at Your Local Park?
Results of Glyphosate Pee Test Are in 'And It's Not Good News'
EcoWatch Daily Newsletter
A house under construction with plastic bottles filled with sand to build shelters that better withstand the climate of the country where temperatures reach up to 50° C Awserd in the Saharawi refugee camp Dakhla on Dec. 31, 2018 in Tindouf, Algeria. Stefano Montesi / Corbis / Getty Images
A UN expert painted a bleak picture Tuesday of how the climate crisis could impact global inequality and human rights, leading to a "climate apartheid" in which the rich pay to flee the consequences while the rest are left behind.

The Oregon Senate Chamber. Cacophony / CC BY 3.0
Simple swaps that cut down on kitchen trash.
Sponsored
By Kayla Robbins
Along with the bathroom, the kitchen is one of the most daunting areas to try and make zero waste.
Artist's conception of solar islands in the open ocean. PNAS
Millions of solar panels clustered together to form an island could convert carbon dioxide in seawater into methanol, which can fuel airplanes and trucks, according to new research from Norway and Switzerland and published in the Proceedings of the National Academy of Sciences journal, PNAS, as NBC News reported. The floating islands could drastically reduce greenhouse gas emissions and dependence on fossil fuels.
Marcos Alves / Moment Open / Getty Images
More than 40 percent of insects could go extinct globally in the next few decades. So why did the U.S. Environmental Protection Agency (EPA) last week OK the 'emergency' use of the bee-killing pesticide sulfoxaflor on 13.9 million acres?
EcoWatch teamed up with Center for Biological Diversity via EcoWatch Live on Facebook to find out why. Environmental Health Director and Senior Attorney Lori Ann Burd explained how there is a loophole in the The Federal Insecticide, Fungicide, and Rodenticide Act under section 18, "that allows for entities and states to request emergency exemptions to spraying pesticides where they otherwise wouldn't be allowed to spray."
View of downtown Miami, Florida from Hobie Island on Feb. 2, 2019.
Michael Muraz / Flickr
The Democratic candidates for president descended upon Miami for a two-night debate on Wednesday and Thursday. Any candidate hoping to carry the state will have to make the climate crisis central to their campaign, as The New York Times reported.
By Sharon Kelly
On Monday, the Wall Street Journal featured a profile of Scott Sheffield, CEO of Pioneer Natural Resources, whose company is known among investors for its emphasis on drawing oil and gas from the Permian basin in Texas using horizontal drilling and hydraulic fracturing, or fracking.
Pexels
By Craig K. Chandler
The federal government has available to it, should it choose to use them, a wide range of potential climate change management tools, going well beyond the traditional pollution control regulatory options. And, in some cases (not all), without new legislative authorization.