This website uses cookies to ensure you get the best experience while browsing it. By clicking 'Got It' you're accepting these terms.
Red chilies and onions for sale in Tropea, Italy. Researchers found that those in Italy who eat chilies regularly have a lower risk of death. maudanros / Moment / Getty Images
Could chili peppers have life-saving properties? A recent study suggests they might.
EcoWatch Daily Newsletter
Istetiana / Getty Images
By Brian Barth
Santa Barbara-based farmer, chef, and educator Michelle Aronson is an outgoing type. She's become known among for her friends for a certain party trick: "I would get to know people and on the spot come up with their spirit vegetable."
Heirloom tomatoes at the Walnut Creek Farmers' market in California.
John Morgan / CC BY 2.0
By Tracy Matsue Loeffelholz
Sometime during the spring, backyard food growers decide what kind of tomatoes to grow: heirlooms or hybrids. Hybrid varieties have had the benefit of genetic tinkering that allows for some cool traits. But these seeds must be purchased new each year from the companies that create them.
Pexels
Climate change is boxing us into a dietary corner. Research last month suggested that avoiding meat and dairy was the best thing an individual could do to reduce their ecological footprint, but now scientists predict that rising global temperatures and other changes could make vegetable and legume alternatives harder to come by.
Large LED arrays like this are just one grow light option for indoor gardening and plants. nikkytok / Shutterstock.com
By Brian Barth
Indoor growing offers many advantages. The biggest benefits are the most obvious: garden pests can't get at your plants, and you have total control over the weather.
Yet unless you're lucky enough to have a solarium or greenhouse attached to your home, providing sufficient light to your plants will likely be an obstacle (shade-tolerant houseplants excepted). South-facing windows may provide enough light for a tray or two of seedlings, but if you want to grow vegetables, or any other sun-loving plants, to maturity, you're going to need grow lights.
Amazon has a new frontier it's looking to tackle: your garden. The tech company recently received a patent for a new service that would let users upload photos of their vegetable gardens then receive a variety of recommendations from Amazon including recipes for the specific veggies they've planted, gardening tools they might need, and even advice on what else to plant and exactly where in your plot it should go.
Sarsmis / Shutterstock
By Dan Nosowitz
On the heels of our country's very own secular harvest festival, the Center for Disease Control (CDC) released new data indicating just how few people are actually regularly eating the fruits of the harvest.
The CDC regularly publishes data on the health of the country, and, appropriately for the season, last week's ominous-sounding Morbidity and Mortality Weekly Report includes information on fruit and vegetable consumption.
By Maggie McCracken
Kale, cabbage, broccoli, brussels sprouts and cauliflower may all look different, but they're actually remarkably similar. These five veggies are all part of the Cruciferae family. We laymen commonly refer to them as cruciferous vegetables. In addition to being closely related, these five vegetables also have something else in common: They're some of the most nutritious vegetables on the planet.
We're not saying you shouldn't ever deviate away from the cruciferous family, but really, these five vegetables can fulfill a lot of your nutritional needs. Here are a few of the health benefits of cruciferous vegetables and some advice on how you can best prepare them at home.
Vitamins
First off, few vegetables are packed with as many different nutrients as cruciferous vegetables. They're rich in vitamins A, C and K, as well as the B-vitamin group, including the ever-important folic acid.
According to the University of Maryland Medical Center, vitamin A is super important for hair, skin and nail health, which makes cruciferous vegetables not only good for our bodies, but also our beauty routines. Vitamin A is also important for eyesight and is an important nutrient for pregnant and breastfeeding mothers.
Vitamin C, of course, strengthens the immune system and vitamin K is important for blood clotting function. Meanwhile, the hugely important nutrient folic acid (a B-group vitamin) is beneficial for healthy pregnancies. It's so important, in fact, that the Center for Disease Control recommends that all women of childbearing age consume 400 micrograms of folic acid daily to prevent potential birth defects.
Phytonutrients
Phytonutrients are a group of nutrients that can only be found in plants, hence their title, phtyo- (Greek for "plant") nutrients. The phytonutrient group glucosinolates is prevalent in cruciferous vegetables. In fact, according to World's Healthiest Foods, we simply can't get enough glucosinolates in our diet without consuming these kinds of veggies.
This is crucial because these phytonutrients play an important role in cancer prevention.
"Once converted into other molecules called isothiocyanates, the glucosinolates have an eye-opening track record in lowering the risk of certain cancers," World's Healthiest Foods states.
Calcium
We already know that calcium is important for bone health, but did you know that you can actually get plenty of calcium from cruciferous vegetables such as broccoli and kale? They may actually be preferable to dairy as a calcium source, because they are absorbed better, are paired with vitamin K (important for calcium absorption) and don't have the negative health effects of dairy.
Fiber
Finally, like all plant foods, cruciferous vegetables contain tons of fiber, which is great for our bodies. Fiber moves through the digestive tract, clearing the intestines, promoting regular bowel movements and increasing nutrient absorption. In fact, adequate fiber intake may just be the most important component in a weight loss program, according to Harvard University Researchers.
How to Prepare Cruciferous Vegetables
When it comes to broccoli, kale, cauliflower, brussels sprouts and cabbage, the rawer you can eat your veggies, the better. World's Healthiest Foods points out that the fresher your veggies are, the more likely they will be to have active enzymes, which contribute to vitamin and phytonutrient content.
To eat your broccoli raw, simply dip it in a tasty vegetable dip (ranch is a classic) and munch on it as a snack. You can also pick up raw broccoli cole slaw that makes for a great addition to salads.
Speaking of salads, use kale as one of your leafy greens in salad preparation. This will ensure you get the biggest bang for your buck in terms of nutrients. Cabbage is similar in its palatability on top of salads and in cole slaws.
Cauliflower and Brussels sprouts are difficult ones to eat raw due to their harder textures and bitter tastes. A great trick is to throw them in your food processor and grind them until they are a fine, grain-like texture. Then you can sprinkle them over salads or soups.
If none of these options sound appealing, don't worry—eating your cruciferous vegetables cooked will still give you a healthy dose of important nutrients.
"Recent research shows a definite dietary place for cruciferous vegetables in both raw and cooked form," asserts World's Healthiest Foods.
This article was reposted with permission from our media associate Care2.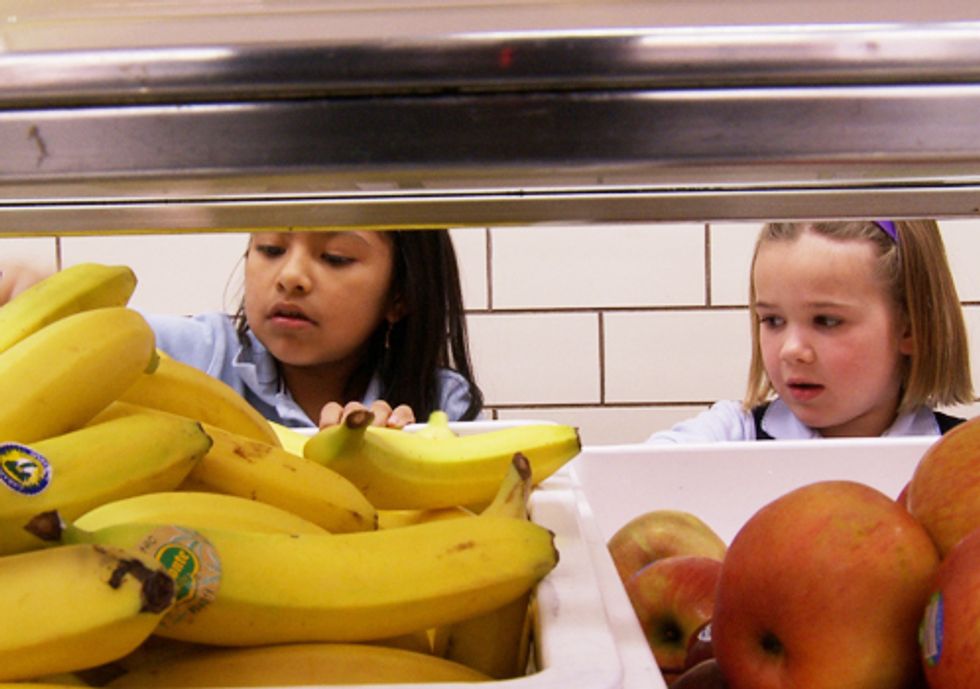 By Marion Nestle
Michelle Obama and Tom Vilsack announced new nutrition standards for school meals Jan. 25, to what seems to be near-universal applause (the potato growers are still miffed, according to the New York Times).
The new standards are best understood in comparison to current standards (see chart). They call for:
More fruits and vegetables
A greater range of vegetables
A requirement for whole grains
All milk to be 1 percent or less
Only non-fat milk to be permitted to be flavored
This may not sound like much. But given what it has taken the U.S. Department of Agriculture (USDA) to get to this point, the new standards must be seen as a major step forward.
See, for example, the comparison of an old and new weekly menu (this has not changed since USDA's original proposal in January last year).

The new one looks so much better. Now it's up to schools to make the new standards work, make the foods taste yummy, and get kids to be willing to try new foods.
To review the history—This all started when the USDA asked the Institute of Medicine (IOM) to design nutrition standards that would:
Increase the amount and variety of fruits, vegetables, and whole grains
Set a minimum and maximum level of calories
Focus more on reducing saturated fat and sodium
The new standards come pretty close to what the IOM recommended (see the earlier chart), with some now-famous exceptions. The IOM proposed limits on starchy vegetables. USDA then proposed to limit starchy vegetables to two servings a week. It also set a minimum for the amount of tomato sauce on pizza that could count toward vegetable servings.
Under pressure from potato growers and suppliers of school pizza, Congress weighed in and overruled the USDA on both counts.
The result—pizza now counts as a vegetable.
To give some idea of the extent of lobbying on all sides of this issue, USDA's January proposal elicited 132,000 public comments (these are someplace at www.regulations.gov and are addressed in the Federal Register notice).
I asked in a previous post whether this kind of congressional micromanagement made sense (absolutely not, in my view). I also wrote previously about the intense lobbying efforts to make sure these standards would never be released.
Despite congressional and industry opposition, the standards are out.
Applause is very much in order for Mrs. Obama's leadership on this issue.
Good work. Now let's get busy on the next challenges:
Set nutrition standards for competitive foods in schools—those sold outside of the lunch program as snacks and meal replacements.
Teach kids where food comes from.
Teach kids to cook.
For the record:
The initial press release—It is headlined "First Lady to Announce New Nutrition Standards for Meals Served in America's Schools: Public-Private Partnership Aims to Connect More Kids to Nutrition Programs." I'm not sure where the Public-Private Partnership comes into this.
USDA's actual press announcement provides links to the Nutrition Standards home page and other relevant documents.
Additions—Dana Woldrow sends this link to shed some light on the curious business of private-public partnerships. Here's one where Goya foods is giving out teaching materials in schools.
For more information, click here.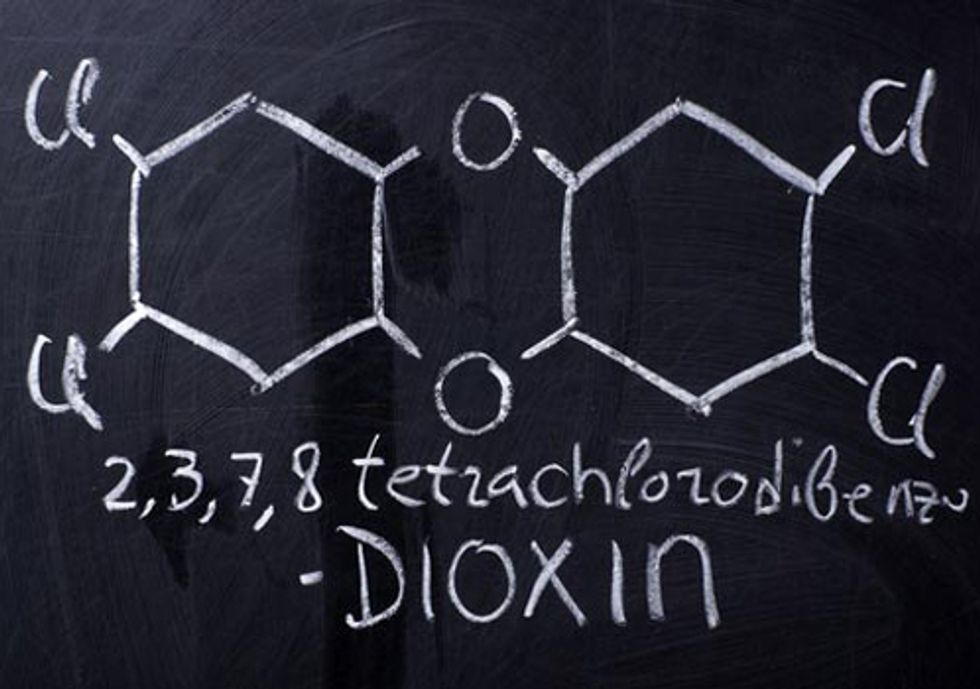 By Marion Nestle
The food and chemical industries are lobbying hard against what is expected to be a tough report from the U.S. Environmental Protection Agency (EPA). The report will set an upper limit for safe consumption of dioxins.
Most Americans consume dioxins at levels higher than this standard, mostly from food. About 90 percent of dioxins come from foods, particularly high-fat animal foods.
Dioxins mainly enter the food chain as by-products of industrial processes. To a lesser extent, they also come from natural processes such as volcanoes and forest fires. They contaminate land and sea, are consumed in feed, move up the food chain, and end up in the fatty parts of meat, dairy products and seafood.
Dioxins accumulate in fatty tissues and they increase the risk of human cancer more than any other industrial chemical.
The EPA is expected to recommend an intake limit of 0.7 picograms of dioxin per kilogram body weight per day. A picogram is one trillionth of a gram. The World Health Organization and European Union limit is higher—from 1 to 4 picograms per kilogram per day.
The food and chemical industries argue that the proposed EPA limit is too low.
The EPA thinks less is better. Dioxins are toxic and Americans typically consume amounts within the European range. A single hot dog can contain more dioxin than the proposed limit for a 2-year-old.
Dioxin levels in the U.S. have been declining for the last 30 years due to reductions in man-made sources, but they break down slowly and persist for a long time in the environment.
How to avoid them? The best way is to eat less high-fat meats, dairy foods and seafood. No wonder the food industry is alarmed.
A "Food Industry Dioxin Working Group" of trade associations such as the International Dairy Foods Association, the American Frozen Food Institute and the National Chicken Council wrote to the White House:
Under EPA's proposal…nearly every American – particularly young children—could easily exceed the daily RfD [reference dose] after consuming a single meal or heavy snack…The implications of this action are chilling.

Since the agency contends the primary route of human exposure to dioxin is through food, this could not only mislead and frighten consumers about the safety of their diets, but could have a significant negative economic impact on all U.S. food producers.
These groups singled out the media for particular blame:
The media will inevitably report on this change and in all likelihood misinterpret the RFD as a 'safe limit'. As a result, consumers may try to avoid any foods 'identified' as containing or likely to contain any dioxin.
Eat more fruits and vegetables anyone?
Congressman Ed Markey (D-MA) is urging the EPA to get busy and release its report:
The American public has been waiting for the completion of this dioxin study since 1985 and cannot afford any further delays…A baby born on the day the EPA completed its first draft health assessment would be 27 years old today. I'd like to see the final EPA analysis before it turns 28.
Let's hope the EPA does not cave in to industry pressure and releases the report this month as promised.
Technical note:
Dioxins collectively refers to hundreds of chemical compounds that share certain structures and biological characteristics. They fall into three closely related groups—the chlorinated dibenzo-p-dioxins (CDDs), chlorinated dibenzofurans (CDFs) and certain polychlorinated biphenyls (PCBs). The most studied is 2,3,7,8-tetrachlorodibenzo-p-dioxin (TCDD). PCBs are no longer produced in the U.S.
For more information, click here.
—————
Sign the petition to EPA Administrator Lisa Jackson at Change.org urging the EPA to release the dioxin assessment this month without delay so we can protect our kids from chemicals that cause cancer.