This website uses cookies to ensure you get the best experience while browsing it. By clicking 'Got It' you're accepting these terms.
Slow Food Europe Website Goes Live
Nov. 29, 2011 09:15AM EST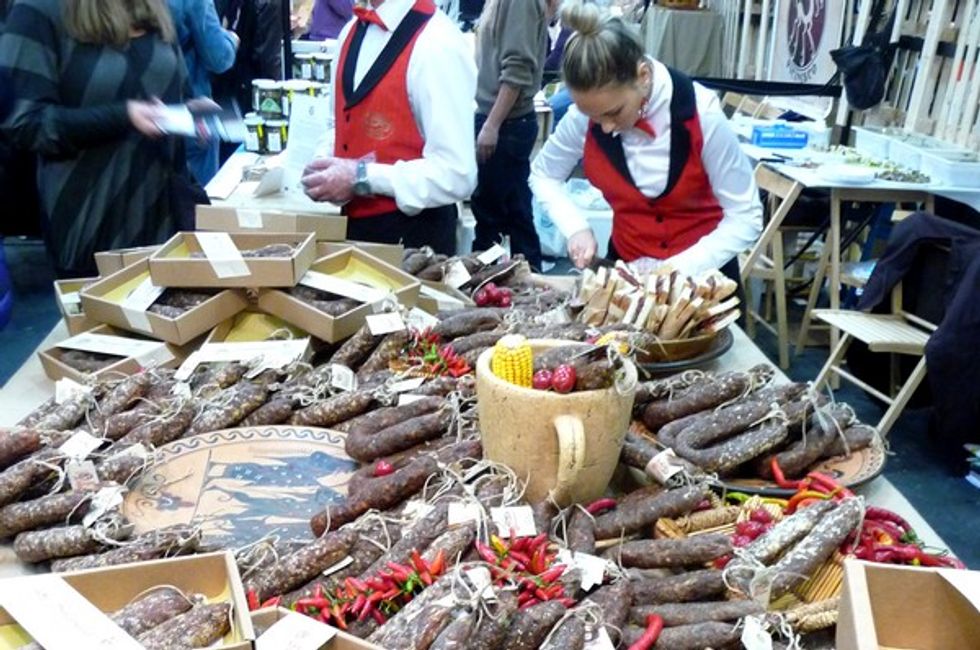 This November, Slow Food launches the new Slow Europe website to present the network's position on various European policies and give visibility to the activities carried out around Europe on food production issues such as agriculture, fisheries, biodiversity, climate change, cooperation and consumer awareness.
The Slow Food in Action section of the site will show how local groups are engaging their communities in the discussion about the future food system through debates, conferences, small and large events, and projects to support small-scale farmers and fishers. The site also provides position papers, communication materials and other tools and motivation for Slow Food and Terra Madre communities to link their activities to the European policy reform and spread the message to all citizens that these issues concern all of us and not only politicians.
At Euro Gusto, the biennial European Slow Food Fair that took place earlier in November, European Slow Food representatives involved in European Union policies met to identify strengths and challenges in influencing policies, and to decide on a common strategy. A draft of Slow Food's position paper on climate change, Climate Change and the Food System, was also presented. The final document will be published soon on the Slow Europe site. The conference, which was financed by the European Union, welcomed Paolo Di Croce, secretary general of Slow Food International, Irene Biglino, collaborator of Slow Food, Ariadna Rodrigo of Friends of the Earth Europe and Markéta Braine-Supkova from the International Urban Food Network. During the conference, participants analyzed the relationship between the food system and climate change—food production is among the main reasons responsible for climate change, and the exploding global population will need to be fed. It is necessary, therefore, to support a virtuous production model that respects ecosystems and values short production chains, the conference concluded.
Meanwhile, the Youth Food Movement in Holland is already organizing a meeting for Slow Food Youth European coordinators on the occasion of Terra Madre Day, to amalgamate their activities around the Common Agricultural Policy reform in the CAP2013 campaign. Their meeting will be followed by a public event where speakers, cooks, farmers and activists will gather at an-eat in, to enjoy food for change.
Visit the Slow Europe website by clicking here.
For more information, click here.
—————
Slow Food USA is part of a global, grassroots organization with supporters in over 150 countries who believe that food and farming should be sources of health and well-being for everyone. Through international and national advocacy, local projects and bringing people together through the common language of food, Slow Food members and supporters are making it easier to access real food that is good for us, good for those who produce it and good for the planet.
EcoWatch Daily Newsletter
Pope Francis celebrates an opening Mass for the Amazon synod, in St. Peter's Basilica, at the Vatican, Sunday, Oct. 6, 2019. Massimo Valicchia / NurPhoto / Getty Images
Pope Francis, in an effort to reignite his influence as a global environmental leader, released an impassioned document Feb. 12 entitled Dear Amazon — a response to the historic Vatican meeting last autumn regarding the fate of the Amazon biome and its indigenous people.

A flooded motorhome dealership is seen following Storm Dennis on Feb. 18 at Symonds Yat, Herefordshire, England. Storm Dennis is the second named storm to bring extreme weather in a week and follows in the aftermath of Storm Ciara. Although water is residing in many places flood warnings are still in place.
Christopher Furlong
/ Getty Images
Britain has been battered by back-to-back major storms in consecutive weekends, which flooded streets, submerged rail lines, and canceled flights. The most recent storm, Dennis, forced a group of young climate activists to cancel their first ever national conference, as CBS News reported.
A group of Fulani women and their daughters walk towards their houses in Hapandu village, Zinder Region, Niger on July 31, 2019. In the African Sahel the climate has long been inhospitable. But now rising temperatures have caused prolonged drought and unpredictable weather patterns, exacerbating food shortages, prompting migration and contributing to instability in countries already beset by crisis. LUIS TATO / AFP / Getty Images
At the 56th Munich Security Conference in Germany, world powers turned to international defense issues with a focus on "Westlessness" — the idea that Western countries are uncertain of their values and their strategic orientation. Officials also discussed the implications of the coronavirus outbreak, the Middle East and the Libya crisis.
Polar bears on Barter Island on the north slope of Alaska wait for the winter sea ice to arrive so they can leave to hunt seals, on Sept. 28, 2015.
cheryl strahl / Flickr
The climate crisis wreaks havoc on animals and plants that have trouble adapting to global heating and extreme weather. Some of the most obvious examples are at the far reaches of the planet, as bees disappear from Canada, penguin populations plummet in the Antarctic, and now polar bears in the Arctic are struggling from sea ice loss, according to a new study, as CNN reported.
By Petros Kusmu, George Patrick Richard Benson
We can all take steps to reduce the environmental impact of our work-related travels.
Individual actions — like the six described here — can cumulatively help prompt more collective changes, but it helps to prioritize by impact.
As the saying goes: be the change you want to see in the world.