This website uses cookies to ensure you get the best experience while browsing it. By clicking 'Got It' you're accepting these terms.
How to Create Your Indoor Edible Garden
Jan. 05, 2015 04:09PM EST
Food
It's the deep heart of winter. Those cheerful strings of lights and garlands of pine have come down. Perhaps you're flipping wistfully through the early-arriving seed catalogs, dreaming of warmer weather and sweet-smelling, fresh-tasting herbs and vegetables.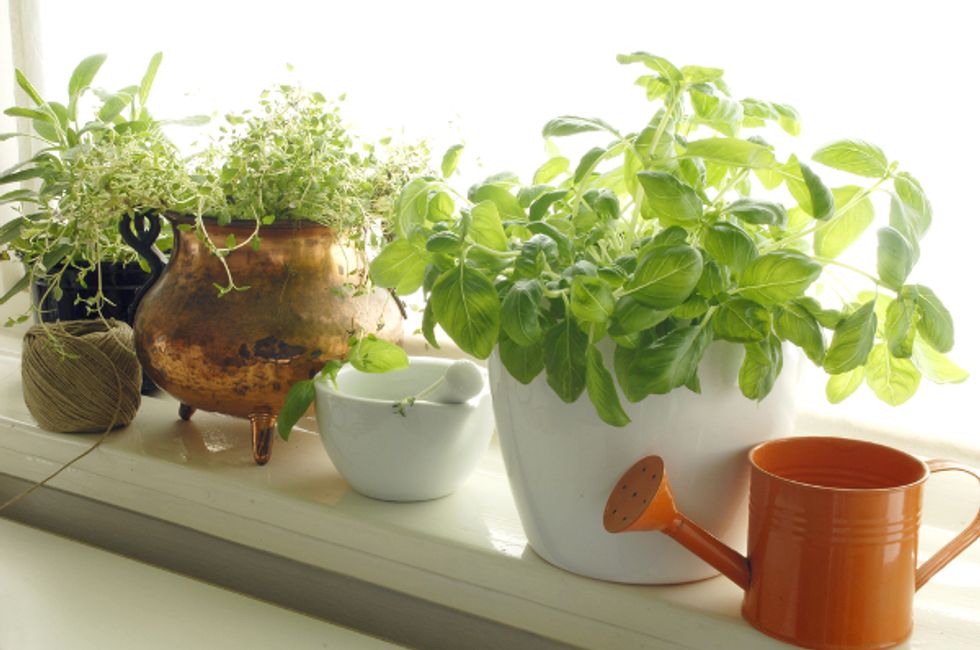 Photo credit: Shutterstock
There's no need to just dream. Maybe talk of hoop houses, cold frames and row covers leaves you scratching your head and a houseful of special shelves with grow lights installed is beyond your means and ability. But you have some of those tasty summer edibles all winter long without that much fuss and bother. Got a sunny windowsill or two? You're all set. Here are a few tips to get you started.
1. Be realistic in choosing what you grow. Pick out plants with shallow roots that do well in containers and thrive despite shorter days and less light. If you want to grow tomatoes in the winter, you're looking at a big investment of time and money; that's for people with well-equipped greenhouses. But if you'd like fresh salad greens year round, that's well within reach of even a casual grower. Radishes, lettuces of all types and many other leafy greens, such as kale, watercress and bok choy, all do well indoors and don't need special tending.
2. Winter is a great time to start playing around with fast-growing sprouts and microgreens, which are essentially early-harvested baby versions of lots of other plants such as kale, cabbage, cilantro, amaranth, broccoli and radishes. Many garden centers (and those seed catalogs you've been browsing) sell mixtures. You're looking at only a few weeks before you harvest a crop and because they are perishable, growing your own is always better than buying them at the supermarket, where they can be expensive. Microgreens are not only trendy, but they add variety to salads and pack a nutritional punch.
3. Try planting herb seeds like basil, dill, chives and parsley. Oregano, sage, thyme and rosemary, which grow better from planter starters than seeds, also do well inside. Keep that in mind this summer and bring in those pots of perennials come fall—or if they're planted in the ground, take cuttings and pot them up before the first frost comes. With luck, they will get you through until your outdoor plants awake from hibernation. More and more garden centers and even grocers are selling herb pots in the winter, so you can pick up these kitchen staples now. Most herbs only require a windowsill and occasional watering to keep going. Rosemary actually prefers cooler temperatures so keep it away from radiators, heating vents or space heaters.
4. Give them as much light as you can. Herbs and leafy greens typically need less light, even outdoors, that plants like tomatoes, peppers, squash and beans. In fact, most leafy greens don't do well in the heat of summer, and herbs have a tendency to thrive even in shadier sites, as anyone who has ever had a whack back a mint patch surely knows. It can boost your plants to expose them to a few grow lights even if you don't have a full system. Some plants, especially herbs, will probably make it through the window just on what daylight there is.
5. Go easy on fertilizing and watering. Plants need water and fertilizer to fuel their fast growth during peak summer months. They need less when they're indoors because their growth rate is slower. So don't overdo it. Make sure they're not soggy and make sure they've got plenty of space around them for air circulation so they don't attract fungus and mildew.
YOU MIGHT ALSO LIKE
How This Trending Diet Is Saving the Planet
10 Healing Herbs and Spices for Optimum Health
EcoWatch Daily Newsletter
A volcano erupts on New Zealand's Whakaari/White Island on Dec. 9, 2019.
Michael Schade / Twitter
A powerful volcano on Monday rocked an uninhabited island frequented by tourists about 30 miles off New Zealand's coast. Authorities have confirmed that five people died. They expect that number to rise as some are missing and police officials issued a statement that flights around the islands revealed "no signs of life had been seen at any point,", as The Guardian reported.
Guardians of the Forest monitor passersby entering Juracal Village in Araribóia Indigenous Reserve, Maranhão, Brazil on Aug. 8, 2015. Bonnie Jo Mount / The Washington Post via Getty Images
Two indigenous leaders were killed in a drive-by shooting in Northeast Brazil Saturday, and two others were injured.
Human activity is smothering the ocean, the largest study of its kind has found, and it poses a major threat to marine life.
Pexels
Up to 20% of people may have a food addiction or exhibit addictive-like eating behavior.
Spiced hot chocolate. Lilechka75 / iStock / Getty Images
Food is the cornerstone of the holiday season. It brings friends and family together to share memories, cultural traditions, and great flavors.