This website uses cookies to ensure you get the best experience while browsing it. By clicking 'Got It' you're accepting these terms.
How to Create Your Indoor Edible Garden
Jan. 05, 2015 04:09PM EST
Food
It's the deep heart of winter. Those cheerful strings of lights and garlands of pine have come down. Perhaps you're flipping wistfully through the early-arriving seed catalogs, dreaming of warmer weather and sweet-smelling, fresh-tasting herbs and vegetables.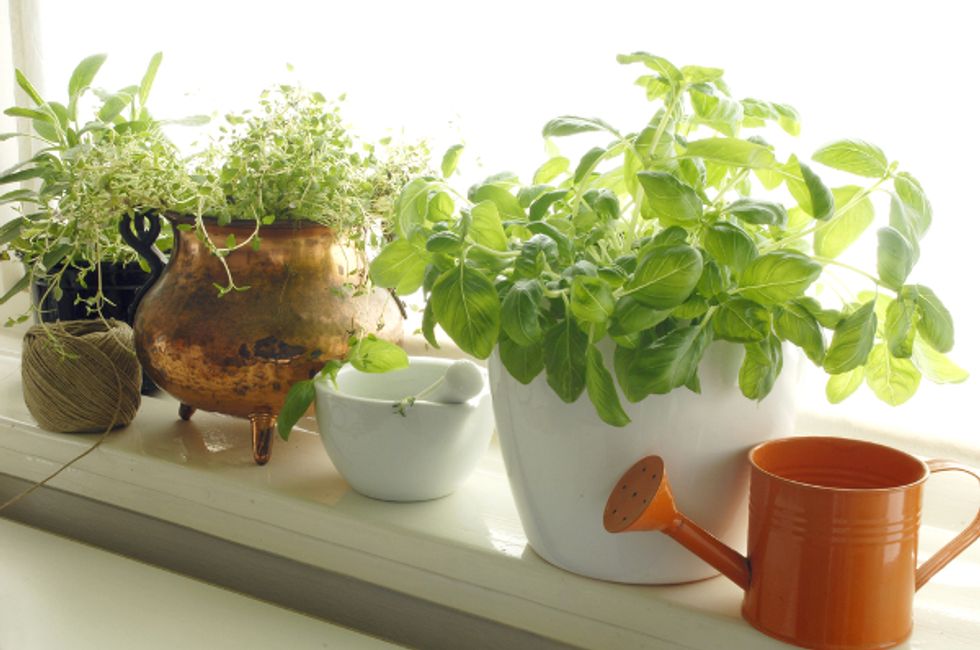 Photo credit: Shutterstock
There's no need to just dream. Maybe talk of hoop houses, cold frames and row covers leaves you scratching your head and a houseful of special shelves with grow lights installed is beyond your means and ability. But you have some of those tasty summer edibles all winter long without that much fuss and bother. Got a sunny windowsill or two? You're all set. Here are a few tips to get you started.
1. Be realistic in choosing what you grow. Pick out plants with shallow roots that do well in containers and thrive despite shorter days and less light. If you want to grow tomatoes in the winter, you're looking at a big investment of time and money; that's for people with well-equipped greenhouses. But if you'd like fresh salad greens year round, that's well within reach of even a casual grower. Radishes, lettuces of all types and many other leafy greens, such as kale, watercress and bok choy, all do well indoors and don't need special tending.
2. Winter is a great time to start playing around with fast-growing sprouts and microgreens, which are essentially early-harvested baby versions of lots of other plants such as kale, cabbage, cilantro, amaranth, broccoli and radishes. Many garden centers (and those seed catalogs you've been browsing) sell mixtures. You're looking at only a few weeks before you harvest a crop and because they are perishable, growing your own is always better than buying them at the supermarket, where they can be expensive. Microgreens are not only trendy, but they add variety to salads and pack a nutritional punch.
3. Try planting herb seeds like basil, dill, chives and parsley. Oregano, sage, thyme and rosemary, which grow better from planter starters than seeds, also do well inside. Keep that in mind this summer and bring in those pots of perennials come fall—or if they're planted in the ground, take cuttings and pot them up before the first frost comes. With luck, they will get you through until your outdoor plants awake from hibernation. More and more garden centers and even grocers are selling herb pots in the winter, so you can pick up these kitchen staples now. Most herbs only require a windowsill and occasional watering to keep going. Rosemary actually prefers cooler temperatures so keep it away from radiators, heating vents or space heaters.
4. Give them as much light as you can. Herbs and leafy greens typically need less light, even outdoors, that plants like tomatoes, peppers, squash and beans. In fact, most leafy greens don't do well in the heat of summer, and herbs have a tendency to thrive even in shadier sites, as anyone who has ever had a whack back a mint patch surely knows. It can boost your plants to expose them to a few grow lights even if you don't have a full system. Some plants, especially herbs, will probably make it through the window just on what daylight there is.
5. Go easy on fertilizing and watering. Plants need water and fertilizer to fuel their fast growth during peak summer months. They need less when they're indoors because their growth rate is slower. So don't overdo it. Make sure they're not soggy and make sure they've got plenty of space around them for air circulation so they don't attract fungus and mildew.
YOU MIGHT ALSO LIKE
How This Trending Diet Is Saving the Planet
10 Healing Herbs and Spices for Optimum Health
EcoWatch Daily Newsletter
The CDC has emphasized that washing hands with soap and water is one of the most effective ways to prevent the spread of COVID-19. Guido Mieth / Moment / Getty Images
The Centers for Disease Control has emphasized that washing hands with soap and water is one of the most effective measures we can take in preventing the spread of COVID-19. However, millions of Americans in some of the most vulnerable communities face the prospect of having their water shut off during the lockdowns, according to The Guardian.
A California newt (Taricha torosa) from Napa County, California, USA. Connor Long /
CC BY-SA 3.0
Aerial photos of the Sierra Nevada — the long mountain range stretching down the spine of California — showed rust-colored swathes following the state's record-breaking five-year drought that ended in 2016. The 100 million dead trees were one of the most visible examples of the ecological toll the drought had wrought.
Now, a few years later, we're starting to learn about how smaller, less noticeable species were affected.
Disinfectants and cleaners claiming to sanitize against the novel coronavirus have started to flood the market.
Natthawat / Moment / Getty Images
Disinfectants and cleaners claiming to sanitize against the novel coronavirus have started to flood the market, raising concerns for the U.S. Environmental Protection Agency (EPA), which threatened legal recourse against retailers selling unregistered products, according to The New York Times.
A customer packs groceries in reusable bags at a NYC supermarket on March 1, 2020. Eduardo Munoz Alvarez/Getty Images
The global coronavirus pandemic has thrown our daily routine into disarray. Billions are housebound, social contact is off-limits and an invisible virus makes up look at the outside world with suspicion. No surprise, then, that sustainability and the climate movement aren't exactly a priority for many these days.
Ingredients are displayed for the Old School Pinto Beans from the Decolonize Your Diet cookbook by Luz Calvo and Catriona Rueda Esquibel. Melissa Renwick / Toronto Star via Getty Images
By Molly Matthews Multedo
Livestock farming contributes to global warming, so eating less meat can be better for the climate.