This website uses cookies to ensure you get the best experience while browsing it. By clicking 'Got It' you're accepting these terms.
Fights Over Food Stamps and Commodity Insurance Stall Farm Bill
Jun. 28, 2013 10:46AM EST
Here we go again. After the 2012 fiasco in which Congress failed to pass a Farm Bill at the eleventh hour, the Senate rallied early this month to pass its version of the national food and farming legislation—which is up for debate and renewal every five years.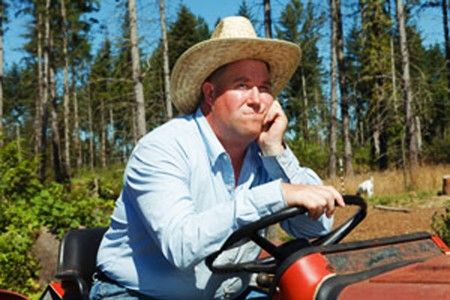 Ten days later, the Farm Bill died again when the House failed to pass its own version of the 2013 bill. It's not clear exactly what's up next. But we're rolling up our sleeves—again—to press for the best legislation possible, and we fully hope and expect that Congress will pass a Farm Bill this year. 
So what happened last week?
Here's the scoop. House Democrats resoundingly opposed dramatic cuts to the Supplemental Nutrition Assistance Program (SNAP, also known as food stamps) included in the proposed bill. The proposed bill would have severely narrowed this aspect of our nation's social safety net, knocking two million current recipients out of the SNAP program.
What Will it Take?
Since we can expect Tea Party Republicans to oppose any bill without even greater SNAP cuts, the other Republicans and Democrats will need to work together.
And there are clear signs this is possible. Before the bill failed, the House passed a historic amendment limiting commodity payments. As policy analysts for the National Sustainable Agriculture Coalition (NSAC) explain, this may be the key—along with agreement on SNAP—to revival of the Farm Bill.
And several amendments with bipartisan co-sponsorship included important limits on government payments for insurance premiums. Unfortunately many of those amendments were among the 100+ that never made it to the floor for debate and vote.
So, creating a Farm Bill that could pass in the House means making less draconian cuts to the SNAP program, keeping reforms to commodity payment programs that were agreed to in the floor debate and making substantive reforms to crop insurance programs—which have surpassed the commodity programs in terms of government expenditure.
It will also mean including bipartisan amendments for rural economic development, local and regional food systems, organic agriculture and fair competition.  
Meanwhile, On the Budget Side ...
In a separate process, both the House and Senate have to pass agriculture budgets every year to fund agriculture, rural development, nutrition and food safety programs. The huge gap in priorities between the House and Senate on the Farm Bill is also reflected in their budget proposals. They differ from one another by about $1.43 billion.
This week and last, the relevant Senate and House committees wrote up their proposal for agriculture spending for the 2014 fiscal year that begins Oct. 1. The full House is expected to take up the proposal next week. The full Senate will then follow.
While both House and Senate budgets allow for continued support of the important Conservation Stewardship Program, many conservation programs face cuts—including the Environmental Quality Incentives Program, the Wildlife Habitat Incentives Program and the Agricultural Management Assistance Program. Funding levels remain inadequate, even in the Senate bill, for the U.S. Department of Agriculture (USDA) to fully deliver the conservation programs. 
We're happy to report that both budgets continue support for some key rural development programs including the Value-Added Producer Grants. The Senate budget also continues to fund important sustainable agriculture research, education and extension including the Sustainable Agriculture Research and Education program—the cornerstone program that has funded research on sustainable agriculture systems over the past 25 years.
A Long Haul That Isn't Over
Following the Fourth of July holiday, Congress will pick up where they left off and will—for better or for worse—decide the fate of U.S. agriculture for the next five years.
We won't let our guard down, and will continue to let readers know when opportunities arise to put the pressure on policymakers in Congress to pass smart legislation that is responsible to taxpayers, farmers and consumers—now and for future generations.
Visit EcoWatch's FARM BILL and SUSTAINABLE AGRICULTURE pages for more related news on this topic.

EcoWatch Daily Newsletter
The Oregon Senate Chamber. Cacophony / CC BY 3.0
Artist's conception of solar islands in the open ocean. PNAS
Millions of solar panels clustered together to form an island could convert carbon dioxide in seawater into methanol, which can fuel airplanes and trucks, according to new research from Norway and Switzerland and published in the Proceedings of the National Academy of Sciences journal, PNAS, as NBC News reported. The floating islands could drastically reduce greenhouse gas emissions and dependence on fossil fuels.
Simple swaps that cut down on kitchen trash.
Sponsored
By Kayla Robbins
Along with the bathroom, the kitchen is one of the most daunting areas to try and make zero waste.
Marcos Alves / Moment Open / Getty Images
More than 40 percent of insects could go extinct globally in the next few decades. So why did the U.S. Environmental Protection Agency (EPA) last week OK the 'emergency' use of the bee-killing pesticide sulfoxaflor on 13.9 million acres?
EcoWatch teamed up with Center for Biological Diversity via EcoWatch Live on Facebook to find out why. Environmental Health Director and Senior Attorney Lori Ann Burd explained how there is a loophole in the The Federal Insecticide, Fungicide, and Rodenticide Act under section 18, "that allows for entities and states to request emergency exemptions to spraying pesticides where they otherwise wouldn't be allowed to spray."
View of downtown Miami, Florida from Hobie Island on Feb. 2, 2019.
Michael Muraz / Flickr
The Democratic candidates for president descended upon Miami for a two-night debate on Wednesday and Thursday. Any candidate hoping to carry the state will have to make the climate crisis central to their campaign, as The New York Times reported.
By Sharon Kelly
On Monday, the Wall Street Journal featured a profile of Scott Sheffield, CEO of Pioneer Natural Resources, whose company is known among investors for its emphasis on drawing oil and gas from the Permian basin in Texas using horizontal drilling and hydraulic fracturing, or fracking.
Pexels
By Craig K. Chandler
The federal government has available to it, should it choose to use them, a wide range of potential climate change management tools, going well beyond the traditional pollution control regulatory options. And, in some cases (not all), without new legislative authorization.
Denis Poroy / Getty Images
By Dan Gray
Processed foods, in their many delicious forms, are an American favorite.
But new research shows that despite increasing evidence on just how unhealthy processed foods are, Americans have continued to eat the products at the same rate.