This website uses cookies to ensure you get the best experience while browsing it. By clicking 'Got It' you're accepting these terms.
9 Ways to Cook for One With Zero Waste
Apr. 23, 2014 08:04AM EST
For us singletons living alone out there, and hey, there are a lot of us—27 percent of U.S. households to be exact—cooking for one can result in a lot of wasted food. Food packaging sized for bigger households, recipes designed to feed families, and confusing expiration dates all make it difficult to create properly portioned meals for one without wasting food and money. But with a few smart strategies, it's possible to stop throwing cash down the garbage disposal without resorting to eating frozen Lean Cuisines every night.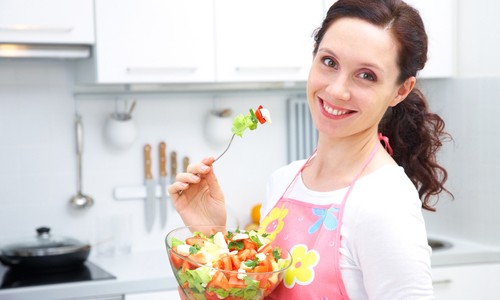 Photo courtesy of Shutterstock
Reducing food waste isn't just a pocketbook issue. On average, we Americans waste 40 percent of the food we produce. That's a waste of not only money, but also of precious land, water and energy. And when that waste ends up in a landfill, it creates methane gas, a greenhouse gas that is 21 times more potent than carbon dioxide.
Ready to start cooking for one with less waste? Here are some tips I've tried for making delicious, healthy and unique meals without throwing half of it in the garbage. Try a few and see what works best for you.
1. Keep a Food Waste Journal
If you're serious about wasting less food, keeping a food waste journal is a great first step. By getting a clear picture of what gets wasted—and why—you'll be better able to decide where you could adjust your habits. (Are you always throwing out bread? Freeze half a loaf when you get home from the grocery store.) Habits are tough to break, so a journal will also help you be mindful and pause before you toss. The UK's Love Food, Hate Waste campaign offers a free downloadable food waste diary. (Or, just keep a running list of those mushy bananas or moldy lasagna squares in your notebook or phone for a week.)
2. Seek Out Single-Serve Recipes
Sure, you can try to cut down a "serves 4-6″ recipe to a more manageable size, but the results aren't always as good—or you're left with half a can of tomatoes that ends up going bad before you can use the rest. Luckily, plenty of great cooking sites offer recipes designed with single folks in mind. Here are some good ones: PBS, Delish, Food Network and EatingWell.
3. Prep Once, Eat All Week
Despite what I wrote in tip #2, there is a place for family-size recipes in the single kitchen. Cooking one large staple item, like a pot roast or whole chicken (yes, a whole one!), can feed you all week and allow you to get creative with leftovers. On Sunday night I make a big dish that can be re-invented for dinners throughout the week. This week I went with a Southwestern chicken casserole. With minimal ingredients, only two pieces of cookware and quick prep time, this was a fantastic choice. I didn't adjust the portion size, and I was able to use the leftovers to make tacos on Tuesday, lettuce wraps on Wednesday and a soup on Thursday. One casserole fed me all week, but I didn't feel like I ate the same thing every day.
Here are a few other great "Sunday staple" recipes. I'm partial to dishes that require minimal prep and clean-up time. After all, I'm the one doing all the work!
Crock-pot rotisserie chicken from the Lean Green Bean
Adobe glazed turkey meatballs from SELF Magazine
Whole-wheat couscous with shrimp from MyRecipes.com
Butternut squash risotto from Simply Recipes, a great vegetarian staple to use throughout the week.
4. Make a "Big Salad"
For weekday lunches, I usually make a big salad Monday morning and add to it throughout the week so it doesn't feel like I'm eating the same salad for lunch every day. My go-to salad usually includes kale, shredded brussels sprouts, pomegranate seeds, edamame and goat cheese. I also make a big jar of dressing with olive oil, balsamic vinegar, dijon mustard and lemon, so assembling my salad each morning is easy. On Monday night maybe I'll cook two chicken breasts and use the second one in my salad the next day. Or in the morning I'll chop up leftover fruit from my granola and toss it in my base salad.
Bonus tip: Cover the salad bowl with a damp paper towel in the fridge to help keep lettuce fresh and crisp.
5. Shop at Farmers Markets or CSAs
I like to gather my weekly greens from a local farmers market. At a farmers market, I'm able to buy just the things I need, and I get fresh, beautiful produce, which makes me more motivated to cook it. I definitely think twice before I throw away an heirloom tomato grown by a local farmer compared to a kind of mushy one I grabbed from the supermarket. A CSA (community supported agriculture program) is also a good option, but many are designed with families in mind. See if you can buy a half-share, split it with a friend, or shop as you go instead of getting a big box every week. And when you do go to the grocery, try some of these strategies, like using a basket instead of a cart, having a snack before you go, and avoiding bulk purchases.
6. Get the Right Storage Containers
You may have some awesome leftovers, but they might go to waste if you don't have the proper means to keep them fresh or transport them to work for lunch. I love Glad to Go containers; they have separate compartments for dressing, and they are easy to wash and re-use. Adult lunch totes are becoming more and more popular, as well. I like BUILT's Gourmet Getaway Lunch Tote.
7. Learn the Truth About Food Date Labels
How many times have you watched your yogurt expire when it feels like you JUST got it? It turns out it might not have been "expired" after all. Dates on food labels can be confusing, to say the least, and don't really have anything to do with food safety. "Best-by," "use-by," "best if used by," or "use before" are voluntary, unregulated terms that tell you how long the product is likely to remain in its highest quality when unopened. A "sell by" date is the manufacturer's suggestion for when the grocery store should no longer sell the product, but doesn't tell you anything about how long it's safe to eat. Milk, for example, will typically be safe to drink for about a week after its "sell-by" date and if you freeze it, even longer. Learn to trust your eyes and nose and utilize the site StillTasty which lists almost every type of produce imaginable with proper fridge, freezer and pantry shelf life explanations.
Remember that freezers are a magical thing, food can stay fresh in there forever! Well, almost forever; uncooked chicken, for example, can stay safe to eat for almost a year. Just make sure to label your freezer packages with contents and a date.
8. Find Your Favorite "Kitchen Sink" Recipes
Single or not, we all end up with leftover portions of veggies and meat that aren't enough for a meal on their own. But with a few base recipes or techniques up your sleeve you can give new life to that quarter onion, half can of beans, and handful of shredded cheese. Sauté a few veggies into an omelet, simmer chopped chicken into a soup, or toss everything into a quick pasta dish. Plan to have one of these "kitchen sink" meals once a week, then save all your scraps in one area of the fridge. For me, it takes some of the stress out of cooking and is a fun challenge as well. If you need some ideas, check out our Kitchen Sink Pinterest board.
9. Swap Food with Friends
Make a big meal, invite your friends to bring a dish, and have containers ready to send everyone home with leftovers. That way you all get to try out new recipes and avoid eating the same thing over and over again. Trade off on hosting duties, share the love and minimize waste!
After all this talk about of us poor single people having to adapt to the hard knock life of cooking for one, let's not forget about the perks! Cooking for yourself means you can be adventurous, selfish even, since you don't have to please a variety of appetites and dietary restrictions. Be proud of your single self, take a risk and try something new. And, for all you Flight of the Conchords fans out there, I'm not crying—I'm just cutting onions for a lasagna … for one.
——–
YOU MIGHT ALSO LIKE
Go Green With a DIY Waste Audit
5 Ways to 'Eat Real' on a Budget
6 Spring Foods to Buy at the Farmers Market
——–
Prince William and British naturalist David Attenborough attend converse during the World Economic Forum annual meeting, on January 22 in Davos, Switzerland. Fabrice Cofferini /AFP / Getty Images
Britain's Prince William interviewed famed broadcaster David Attenborough on Tuesday at the World Economic Forum's annual meeting in Switzerland.
During the sit-down, the 92-year-old naturalist advised the world leaders and business elite gathered in Davos this week that we must respect and protect the natural world, adding that the future of its survival—as well as humanity's survival—is in our hands.
Electric vehicle sales took off in 2018, with a record two million units sold around the world, according to a new Deloitte analysis.
What's more, the accounting firm predicts that another 21 million electric cars will be on the road globally over the next decade due to growing market demand for clean transportation, government subsidies, as well as bans on fossil fuel cars.
Teenager Alex Weber and friends collected nearly 40,000 golf balls hit into the ocean from a handful of California golf courses.
Alex Weber /
CC BY-ND
Southwest Greenland had the most consistent ice loss from 2003 to 2012. Eqalugaarsuit, Ostgronland, Greenland on Aug. 1, 2018.
Rob Oo / CC BY 2.0
Greenland is melting about four times faster than it was in 2003, a new study published Monday in the Proceedings of the National Academy of Sciences found, a discovery with frightening implications for the pace and extent of future sea level rise.
"We're going to see faster and faster sea level rise for the foreseeable future," study lead author and Ohio State University geodynamics professor Dr. Michael Bevis said in a press release. "Once you hit that tipping point, the only question is: How severe does it get?"
Finally, some good news about the otherwise terrible partial government shutdown. A federal judge ruled that the Trump administration cannot issue permits to conduct seismic testing during the government impasse.
The Justice Department sought to delay—or stay—a motion filed by a range of coastal cities, businesses and conservation organizations that are suing the Trump administration over offshore oil drilling, Reuters reported. The department argued that it did not have the resources it needed to work on the case due to the shutdown.
Most people have heard of the Amazon, South America's famed rainforest and hub of biological diversity. Less well known, though no less critical, is the Pantanal, the world's largest tropical wetland.
Like the Amazon, the Pantanal is ecologically important and imperiled. Located primarily in Brazil, it also stretches into neighboring Bolivia and Paraguay. Covering an area larger than England at more than 70,000 square miles, the massive wetland provides irreplaceable ecosystem services that include the regulation of floodwaters, nutrient renewal, river flow for navigability, groundwater recharge and carbon sequestration. The wetland also supports the economies of the four South American states it covers.
Demonstrators participate in a protest march over agricultural policy on Jan. 19 in Berlin, Germany. Carsten Koall / Getty Images Europe
By Andrea Germanos
Organizers said 35,000 people marched through the streets of the German capital on Saturday to say they're "fed up" with industrial agriculture and call for a transformation to a system that instead supports the welfare of the environment, animals and rural farmers.

The fire that erupted after a pipeline explosion in Mexico Friday. FRANCISCO VILLEDA / AFP / Getty Images
By Patrick Rogers
If you have ever considered making the switch to an environmentally friendly electric vehicle, don't drag your feet. Though EV prices are falling, and states are unveiling more and more public charging stations and plug-in-ready parking spots, the federal government is doing everything it can to slam the brakes on our progress away from gas-burning internal combustion engines. President Trump, likely pressured by his allies in the fossil fuel industry, has threatened to end the federal tax credits that have already helped put hundreds of thousands of EVs on the road—a move bound to harm not only our environment but our economy, too. After all, the manufacturing and sale of EVs, hybrids, and plug-in hybrids supported 197,000 jobs in 2017, according to the most recent U.S. Energy and Employment Report.