9 Ways to Boost Your Immune System
It's time to replace your medicine cabinet with your spice rack, according to 16 research papers published in Nutrition Today summarizing a Science Summit held by the McCormick Science institute and the American Society for Nutrition in Washington, DC.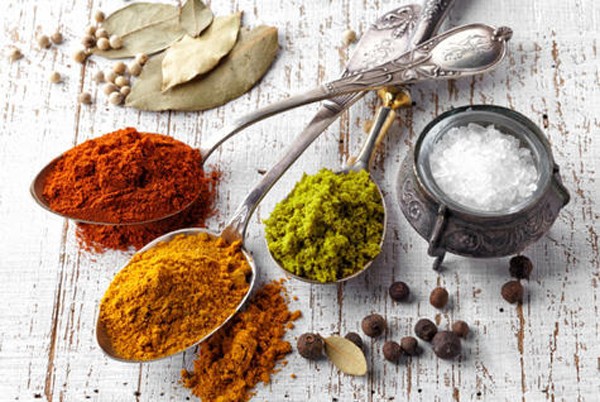 They named four major areas where herbs and spices can impact your health:
1. Spicing Up "Bland" Health Food So You Keep Eating Healthy
Health food has a reputation for being rather boring since it's not loaded up with fat and sugar (two things that taste really good). However, research from the University of Colorado found that adding spices to healthy dishes could make them just as appealing as full-fat versions. This means that "diet" food can be incorporated into a long-term plan for healthy eating.
2. Flavoring Food So You Can Swap Out the Salt
We turn to salt when our food doesn't have enough taste. Unfortunately, for people with high blood pressure on a low-sodium diet the menu can start looking pretty tasteless. Fortunately, research from Johns Hopkins found that simply adding spices led people to eat 966 milligrams of sodium per day less than those who didn't.
3. Helping You Feel Fuller, Longer
Not only does food seasoned with herbs and spices taste better, it also makes you feel fuller and boosts metabolism. Researchers from Maastricht University in the Netherlands found that adding red pepper helped increase satiety, and if you're full, you're less likely to reach for an unhealthy snack later in the day.
4. Reducing Heart Disease Risk Factors
While the healthy-eating strategies above can help you lose weight (which is protective against heart disease), the spices themselves may also have heart-healthy benefits. A review of research from The Pennsylvania State University found that adding spices to even a high-fat meal resulted in lower post-meal insulin and triglyceride levels.
Not sure which herbs to try to get the most health benefits? Elson Haas, MD, and Sondra Barrett, PhD, authors of Ultimate Immunity, share their favorite spices.
Cayenne Pepper
Haas and Barrett explain that cayenne gets its kick from the compound capsaicin. Not only does capsaicin turn up the heat, but it also can inhibit pain due to inflammation. Plus, this spice is a great source of antioxidants.
Cinnamon
Sure, cinnamon flavors every fall treat, but it can also help you fight off those fall colds as an immune stimulator. Plus, it prevents blood platelet clumping, inhibits inflammatory substances, and can regulate blood sugar.
Garlic
Vampires and colds beware—we're armed with garlic. Haas and Barrett point out that this cooking staple is antiseptic, contains antioxidants, and has been shown to help fight a cold, due to the effects of the compound allicin.
Ginger
While ginger is most famous for its ability to quell nausea, Haas and Barrett explain ginger also decreases inflammation, fights bacteria and fungi, and improves circulation.
Licorice
Unfortunately, we don't mean the candy. Licorice root, however, has the ability to lessen the inflammation response, especially in the stomach. (The authors do caution that, if taken in large amounts, it can raise blood pressure).
Oregano
The next time you make some homemade pasta sauce, be liberal with the oregano. Haas and Barrett point out that oregano has more antioxidants than apples, oranges or blueberries. Plus, it can help treat infections from fungi, bacteria or parasites.
Rosemary
Rosemary is a beautifully scented herb that reduces asthma and improves digestion and circulation. Plus, studies have shown that rosemary is protective against oxidative damage.
Thyme
With similar compounds as oregano, thyme is also a great way to fight off illnesses and, as an antioxidant, it protects your DNA from oxidative damage.
Turmeric
Turmeric gets its bright yellow color and its health benefits form curcumin. This compound is especially effective at protecting the liver, and it may even delay Alzheimer's disease.
YOU MIGHT ALSO LIKE
9 Incredible Health Benefits of Coffee
A coalition of conservation groups and others announced Thursday that a historic number of comments and petitions of support have been submitted to the U.S. Department of the Interior in support of Bears Ears National Monument. Despite the entirely inadequate 15-day comment period ending on May 26, more than 685,000 comments in support of Bears Ears National Monument have been collected.
Keep reading...
Show less
Rink Glacier in western Greenland, with a meltwater lake visible center. NASA/OIB
Scientists have had their eyes on Greenland as its iconic glaciers have begun disappearing due to a warming climate. But, what they didn't expect to see was a whole new type of melting.
Keep reading...
Show less
Mountain View Fire
By Lena Moffitt
An oil tanker in Mead, Colorado exploded, killing one and injuring three on Thursday. Authorities are continuing to investigate the cause of the explosion.
Keep reading...
Show less
Banner created by Alliance for Climate Education
Keep reading...
Show less
Twenty-two GOP senators sent a letter Thursday urging Donald Trump to pull out of the Paris agreement. They argued remaining in the deal could "upend" the administration's ability "to fulfill its goal of rescinding the Clean Power Plan."
Keep reading...
Show less
By Cheryl Johncox
The Federal Energy Regulatory Commission (FERC) rejected on Thursday Energy Transfer Partners' request to resume horizontal directional drilling at two sites for its Rover fracked gas pipeline. This rejection comes after numerous leaks into Ohio's wetlands, and Clean Air and Clean Water act violations. FERC has halted the process at only eight locations of the 32 where drilling is taking place under Ohio's wetlands and streams.
Keep reading...
Show less
By Nadia Prupis
A majority of people in eight countries say they are ready to change their lifestyles if it would prevent climate catastrophe, a survey on global threats released Wednesday found.
Keep reading...
Show less
May. 25, 2017 01:55PM EST
Bill Maher is sick of billionaires' obsession with Mars, more like "Mars-a-Lago," he said.
In a new animation produced by ATTN:, the popular talk show host of Real Time, discusses the perils of our planet, including how "climate change is killing us."
Keep reading...
Show less