This website uses cookies to ensure you get the best experience while browsing it. By clicking 'Got It' you're accepting these terms.


The best of EcoWatch, right in your inbox. Sign up for our email newsletter!
Perennial herbs will come back year after year if you take care of them right. (Note: This is a stock photo; not all herbs pictured are perennials. Please read the story for more information, and thank you.) Oksana Shufrych / Shutterstock
Growing vegetables successfully takes ample dedication and a fair bit of growing space—plus the knowledge to do it right. And once they run out, you have to plant them again! No so with perennial herbs!
Annual herbs like basil and dill must be planted anew each year, but most other commonly used herbs qualify as perennials. They will go dormant where winters are cold, only to perk back up again each spring.
By Michelle Schoffro Cook
Most people either think herbal medicines are useless or use them in the same way as drugs.
I can't tell you how many times I've been asked over the past 25 years since I first started in the natural health field, "What is the best herb for headaches?"
My answer is always the same, "That depends on whether your headaches are a symptom of stress, neck tension or misalignment, anxiety, excessive radiation from computer work or television, liver problems, gallbladder problems, blood sugar fluctuations, neurotoxic chemicals in your food, head trauma, chemicals in your home or office or other factor."
I think you get the point.

To help aid in the understanding of herbal medicines, here are 10 things you need to know about these powerful but misunderstood natural healers.
1. Herbal medicines work.
Just ask the billion-dollar pharmaceutical companies that are getting rich scouring the Earth for new plant compounds they can extract, synthesize, patent and then manufacture into so-called "wonder drugs."
There are thousands of studies documenting the efficacy of herbal medicines from around the globe for many common or serious health conditions. I pour through dozens of studies every day so I'm always amazed when someone who has no training or background in herbal medicines says, "They don't work," or "I don't believe in herbs."
Believe in herbs? People were more knowledgeable about the medicinal potency of herbs in the Dark Ages than in modern times if they are still uttering these ignorant words.
2. Herbal medicines tend to be safer than pharmaceuticals.
In the process of separating out plant compounds from the essential nutrients and other beneficial substances found naturally alongside the original compound in plants and then attempting to re-create these naturally occurring compounds in the laboratory—the list of side effects tends to grow. When used correctly in the correct form, most herbal medicines have an extensive history of safety.
3. Herbal medicines tend to be an affordable option.
As we keep watching greedy corporate pharmaceutical executives drive the price of their products up, it is good to know there are readily available natural options that tend to be much less expensive than their drug counterparts. Every human being on the planet has a right to health regardless of their income status.
4. Herbal medicine is the ultimate in sustainable medicine.

It is a local option that is readily available to people around the world, no matter how remote their communities may be. While some of the indigenous wisdom of herbal use may have been lost in some places, the plants still exist. Only in relatively recent times have we lost touch with these ancient healing agents in favor of drugs.
5. Most herbs contain dozens and sometimes hundreds of healing compounds.
These compounds tend to work best and cause the fewest side effects when used in synergy. As a result it is almost always better to take herbal medicines that use the whole, medicinal parts of the plant, such as teas or tinctures (alcohol extracts) rather than a single compound isolated in a laboratory.
6. Herbal medicines and pharmaceuticals may interact.
After all, they are both medicines. So, it's important to check with your doctor or qualified herbalist before taking both.
7. Herbs used in cooking retain their benefits.
Many people classify herbs as either culinary or medicinal, but in reality there is a tremendous amount of crossover. In other words, many of the herbs we regularly use for cooking also have great healing properties and vice versa.
8. Herbs should not be used in the same way drugs are used.
In the pharmaceutical world, the idea is to take this drug for this symptom. Herbs work on a holistic level: they strengthen the body from the inside out. So, they may take longer to notice the improvement of symptoms, but that is simply because they are going to the source of the problem first, not just slapping a Band-Aid-type solution to a symptom or set of symptoms.
9. Always make sure you are using the correct plant.

There are a variety of herbs referred to as oregano, for example, so always make sure that you know the scientific name of the plant you are interested in using for medicinal purposes. That way, you'll ensure greater efficacy and safety.
10. Always be sure to use the correct part of the plant.
Some plant parts may be toxic if used internally. For some plants the roots are the medicinal part while for others it may be the leaves, flowers or seeds. It is best to refer to a reputable guidebook or site that indicates the correct part of the plant to use prior to using herbal medicines.
This article was reposted with permission from our media associate Care2.

EcoWatch Daily Newsletter
Herbs have long been held in high esteem for natural hair care. Throughout history, herbs and other botanicals have been used in all kinds of hair-care products, from hair rinses and deep-conditioning treatments to remedies for dandruff, hair loss and other scalp problems.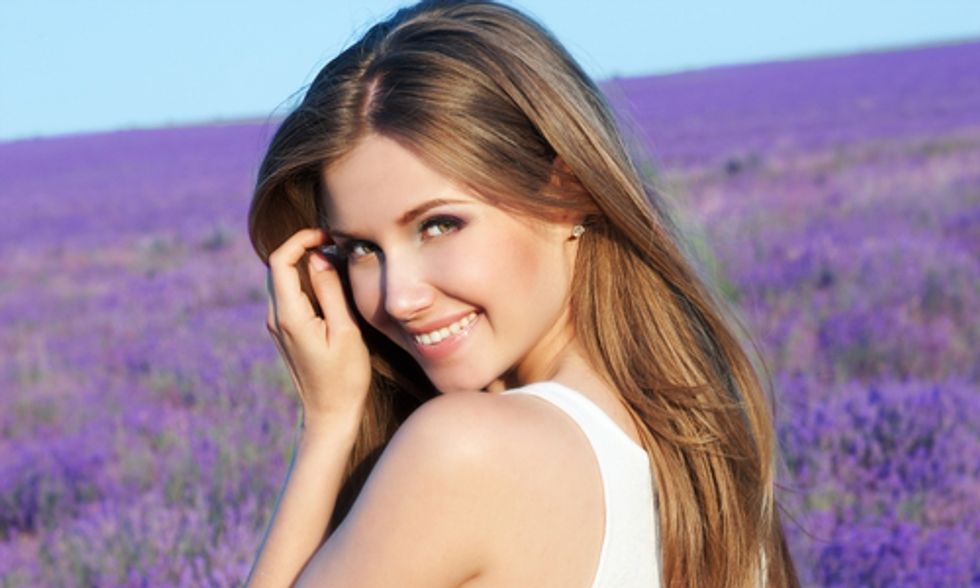 Herbs appropriate for all hair types include lavender, chamomile, nettle, rose and rosemary. Photo courtesy of Shutterstock
Rinses and conditioners are the best ways to bring the benefits of herbs to your hair. Many commercial shampoos tout the benefits of the herbs they contain. Although these herbal shampoos smell wonderful (and can lift your mood), they do little to truly improve hair health because they remain on your hair for just a short time.
For more lasting benefits, select herbal rinses and deep conditioners, which are left on your hair for a longer period of time and are therefore better able to coat and penetrate the hair shaft. Dry hair benefits from oil- and protein-rich deep-conditioning treatments.
You can use an herbal tea, or infusion, as a simple homemade hair rinse. Nettle, considered appropriate for all hair types, is one good choice. Or experiment with calendula, rosemary, sage or other herbs. Adding vinegar or lemon juice to the infusion will help restore your hair's natural pH. The vinegar scent dissipates quickly and will not remain in your hair.
Simple Herbal Hair Rinse
Ingredients:
1 teaspoon dried herb or handful of fresh herbs*
1 tablespoon apple cider vinegar or lemon juice
*Herbs traditionally used for treating dry hair include calendula, comfrey leaf and root and marshmallow root. Herbs appropriate for all hair types include chamomile, lavender, nettle, rose and rosemary. Scalp irritations can be soothed with calendula, comfrey or German chamomile, while dandruff can be helped with burdock, sage, nettle or rosemary.
Directions:
Place the herb or herbs in a bowl and pour 1 cup of boiling water over the top. Add the vinegar or lemon juice and steep, covered, for 10 to 15 minutes. Strain, let the infusion cool to a comfortable temperature, and pour it through freshly shampooed hair. (Makes enough for one use.)
Moisturizing Deep-Conditioning Treatment
Ingredients:
½ avocado (mashed), 1 tablespoon plain yogurt, or 1 tablespoon powdered milk
Egg yolk
1 to 2 tablespoons olive oil, coconut oil or shea butter
Directions:
In a medium bowl, combine the avocado, yogurt, or powdered milk and the egg yolk. Stir to thoroughly combine. Moisten the mixture with the olive oil, coconut oil, or shea butter. Work the conditioner thoroughly through your hair, paying special attention to the ends. Cover your head with a shower cap or plastic bag, and relax for 10 to 20 minutes. Rinse, then wash your hair thoroughly with a pH-balanced shampoo.
Herbal Hair Coloring
Herbs can be used to enhance hair color. The most important herbal hair dye comes from henna (Lawsonia inermis), used in Egypt, India and the Middle East for at least 8,000 years to provide hair with shine and striking red highlights. Other herbs, such as turmeric and saffron (for yellow) and nettle (for green), were also used. Commercial henna hair dyes come in a variety of colors, but only true, unadulterated henna creates the red color. Black henna, for example, contains a synthetic black hair dye.
Henna is also used to create temporary tattoos that are an important part of traditional Indian wedding ceremonies. The longer the henna remains on your skin, the darker and longer lasting the tattoo will be. The henna dye soaks into the outermost layer of skin and coats the hair shaft, but it does not permanently stain skin or hair.
Various other herbs can be used to enhance natural hair color, even though they are not true dyes. For example, hair rinses that contain German and Roman chamomile are used to add shine and bring out highlights in blond hair. Rosemary and sage rinses are believed to help enhance the natural beauty of brunette hair. 
Want to put herbs to more good use? Get beautiful from the inside out by working these beauty foods into your meal plans.
Adapted from Rodale's 21st Century Herbal by Michael Balick, PhD. This article originally appeared on Rodale News.

You Might Also Like
What to Avoid in Toothpaste, and How to Make Your Own
Cancer-Causing Chemical in Shampoos Subject of Ground-Breaking Legal Agreement
Powerful Antioxidant You Can Eat, Drink or Apply to Your Skin
Spices are widely used for increased health and well-being. Young adults, the elderly and anyone who is looking to find a healthier way of living can benefit from using spices when they cook meals. Just adding a few tasty spices to a meal is all that it takes. For those who are not likely to cook, or even learn, this information can be shared with others in the home who are more likely to cook.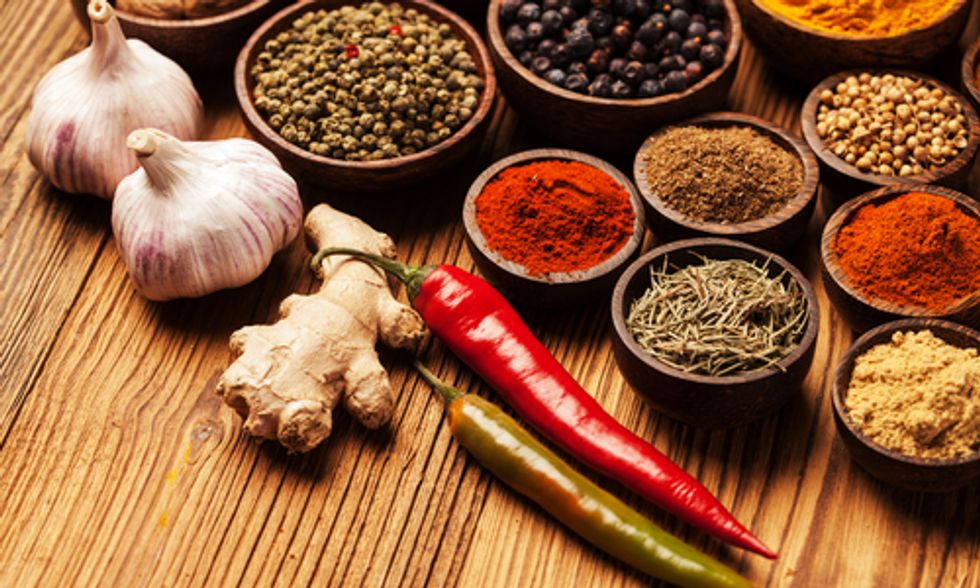 Spices are widely used for increased health and well-being. Photo courtesy of Shutterstock
Environmental harm
For anyone who needs a liver, colon, kidney or lymph detoxification for their body, spices are the way to go. The world around us is filled with toxins, pollution and bacteria that are harmful. Everyone needs help in battling the environmental issues which are constantly harming us, especially those who are more sensitive, have illnesses or are aging. And so many people take man-made medications on a daily basis. Why not attempt to balance the unnatural and the natural to obtain optimum health and well-being?
Examples of herbs and spices and what they can do for the body:
Turmeric - A powerful antioxidant that should be combined with pepper in order to be most effective. Antioxidants help the body regenerate itself after a toxic overload.
Nutmeg - This widely used spice comes from the evergreen tree and is used to make eggnog during the holiday season. It can help increase circulation as well as get rid of unhealthy, toxic cells in the body.
Peppercorn - Anything spicy helps increase the body's metabolism and circulation, including peppercorn. It's also used as a disinfecting agent for minor scrapes and cuts.
Ginger - Ginger is great for pain as well as digestive problems such as nausea. Nutrients from food are more easily absorbed when ginger is added to the recipe.
Red clover - Used for PMS, menopausal problems and cleansing the blood. It has been said to create a feeling of relaxation to promote good sleep.
Garlic - Garlic is widely used to prevent colds, flu and pneumonia during the winter months, as it's an immune-stimulating agent. Garlic can lower cholesterol, blood pressure and blood sugar. It can be used for much more, so do thorough research if you've been diagnosed with a disease or other illness.
Rosemary - This spice helps get the blood flowing and stimulates and cleanses the nervous system, which is comprised of the brain and spinal cord and is the most important system in the body.
Parsley - Parsley assists the body in its natural cleansing process because of its high levels of chlorophyll. Parsley may help with arthritis pain and cardiovascular disease because it contains alpha-linolenic acid, an omega-3 fatty acid.
Thyme - Thyme is a mint that contains calcium, iron and manganese, which work as antiseptic and antibacterial agents. It helps relieve respiratory troubles.
Cloves - If you have a toothache, be sure to add cloves to your food. This spice can also help with digestion and other pain in the body.
Unexpected results
Many people are striving to reach purity in body, mind and soul and are going to great lengths to get it. Men, women, young adults and the elderly, along with those who are focusing more on natural health, can obtain this purity and strength by adding something as simple as a spice to their recipes.
Creative minds have no problem with bending the rules in order to change a recipe—you never know what you might come up with in the end!