The of success or failure of nature-based solutions ultimately depends on the extent to which the world transitions to healthier, more sustainable planet-based diets. casanisaphoto / Getty Images
By Brent Loken
Natural ecosystems, such as forests, grasslands and oceans, do a pretty good job of storing carbon and supporting biodiversity.
It's therefore no surprise that Nature-based Solutions (NbS) – actions to protect, sustainably manage and restore natural or modified ecosystems, for the benefit of people and nature – are being widely discussed by NGOs, multi-stakeholder platforms and coalitions of countries as "win-win" solutions to the climate and biodiversity crises. But implementing NbS alone is not enough. Their success or failure ultimately depends on the extent to which the world transitions to healthier, more sustainable planet-based diets.
The connection between NbS and dietary patterns comes down to land. Land-use has generally been considered a local environmental issue, but it is becoming a force of global importance and may be the single most pressing environmental issue of our day. Nature-positive farming methods are often promoted as a way to feed humanity while reducing the environmental impact of food production. This includes sequestering more carbon in the soils and above-ground biomass such as trees, supporting biodiversity through wildlife corridors or riparian buffers, and reducing inputs such as nitrogen or pesticides. Yet even these types of NbS will drive an increase in demand for land if trends in food consumption patterns continue.
Food for Thought
The OECD-FAO Agricultural Outlook estimates that rising national GDPs will drive an increase in global meat consumption of 12% by 2030, with continued growth until 2050. Such increased demand would nearly double food-related greenhouse gas emissions and preclude any chance of keeping the global temperature increase to no more than 1.5 degrees Celsius. This increase in demand for meat will also continue to drive deforestation in the tropics, with devastating consequences for biodiversity.
We also need land to plant trees – and we need to plant lots of them. Tree planting has been promoted as another important NbS because trees can absorb and store greenhouse gases from the atmosphere, which is critical in our fight against climate change. In several studies, reforestation is offered as the most promising solution for storing carbon, including the potential to store up to 200 gigatonnes (Gt) of carbon – two-thirds of all the carbon released into the atmosphere since the Industrial Revolution – but only if a trillion trees are planted. This sounds great; however, feeding 10 billion people by 2050 requires that we figure out where we can expand the land needed to sequester carbon and reverse biodiversity loss, while guaranteeing food security.
Despite the global call for reforestation, we continue to deforest our planet. Between 2004 and 2017, an area of forest roughly the size of Morocco was lost, primarily in the tropics and sub-tropics. The biggest cause is agricultural expansion, in particular for cattle ranching in areas like the Amazon, Gran Chaco, Cerrado and Eastern Australia. There will only be enough land for reforestation at scale if we halt agricultural expansion and reduce the amount of land currently used to produce food. Again, this is largely dependent on changing what we eat.
A global shift to diets that contain a larger proportion of plant-based foods relative to animal-source foods could release enough agricultural land to sequester 5 Gt to 10 Gt of CO2-equivalent per year if this land was restored to native vegetation. This finding is consistent with several studies, including one that determined that a shift to plant-based diets has the potential to sequester 332 Gt to 574 Gt CO2, an amount equivalent to 99-163% of the CO2 emissions budget consistent with a 55% chance of limiting warming to 1.5 degrees Celsius.
Global carbon sequestration potential for current diets, those recommended by National Dietary Guidelines and others. WWF
No Magic Fix
There are already many efforts underway to implement NbS. For instance, the Global Future Council on Nature-Based Solutions is building support to "unlock more finance and catalyze meaningful action to enable a nature-positive economy." The WWF Global Grasslands and Savannahs Initiative is elevating the importance of these often overlooked biomes to ensure that the pursuit of NbS and other activities doesn't drive more loss of grassland ecosystems, while the 1t.org initiative aims to plant a trillion trees. These are but a few examples of important global efforts to implement NbS. However, these efforts must also be accompanied with a renewed emphasis on dietary change to ensure a significant reduction in overall demand for land for food production.
There is no magic "fix" to widespread adoption of healthy and sustainable diets. It requires hard work, political will and resources. There are some lessons, however, that can be drawn from past global transformations.
The first lesson is that no single actor or breakthrough is likely to catalyze systems change. Systems change will require actors at all scales and sectors engaged and working toward a shared set of goals. Secondly, science and evidence-gathering are keys to change, but lack of evidence must not be an excuse to delay action. The third lesson is that the full range of policy levers will be needed. It won't be enough to rely mainly on soft policy approaches, such as education campaigns or behavioral change initiatives. This must also be accompanied by regulatory or fiscal measures to ensure widespread adoption of healthy and sustainable diets.
It has been recently noted that achieving success in the climate crisis is like playing chess and requires "seeing the whole board." The same analogy works for the food system. Too often, and by far too many, diets are considered as pawns in the global game of food system transformation – the least significant pieces on the board. But in fact, pawns are the soul of the game and how they are arranged depends whether the game is won or lost.
The same holds true for diets. Without changing what we eat, we can't deliver a thriving future for people and planet. We ignore this strategy at our peril. It's time to realize the power of planet-based diets.
Reposted with permission from World Economic Forum.
EcoWatch Daily Newsletter
A coalition warns that another global pandemic will occur barring investment in measures to address the root causes of zoonotic disease outbreaks. Isabel Pavia / Getty Images
By Andrea Germanos
As the World Health Organization stresses the need for continued measures to prevent the spread of the coronavirus in the face of a global rise in cases, reporting out Tuesday spotlights a new coalition warning that another global pandemic will surely come barring investment in measures to address the root causes of zoonotic disease outbreaks.
"The Covid-19 vaccines will help rescue us from this current mess, but it won't do a thing to protect us from the next pandemic," Aaron Bernstein of the Harvard T.H. Chan School of Public Health told The Guardian.
"Only with actions that stop emerging infections where they start can we end our ill-fated game of Russian roulette with pathogens," he said.
Harvard Chan is part of the Preventing Pandemics at the Source coalition, which brings together a number of public health experts and environmental organizations. Other coalition partners include Harvard's Global Health Institute, EcoHealth Alliance, and Health in Harmony.
As The Guardian reported:
The coronavirus that causes Covid-19 is thought to have jumped from wild bats to humans and about two-thirds of diseases that infect humans start in other species, including the influenza, HIV, Zika, West Nile, and Ebola viruses. The increasing destruction of nature by farming, logging, and the wild animal trade has brought people and their livestock into closer contact with wildlife and led to a great increase in diseases crossing from animals to people in recent decades.

Simply put, the coronavirus crisis should come as no surprise; "it is something we helped create," the group says.
"In truth, we knew that a pandemic was coming, but we as a global community still failed to take actions to prevent it or adequately prepare for it," the coalition says on its website. "As a result, we are facing a worldwide health emergency of epic proportions along with a global economic crisis and massive human suffering."
The "broken relationship with nature" has made similar public heath crises, like MERS and Ebola, more frequent, and there is "a high risk that we will make the same mistake again."
The group points to research showing that "more than 335 emerging infectious disease outbreaks were reported worldwide from 1940 to 2004—over 50 per decade."
Humanity must seize this moment to undergo a transformation enabling a recognition of our intertwined relationship with nature to avoid another deadly and economically crippling pandemic, the coalition asserts.
To effect that change, the coalition proposes three broad steps. Among them is the creation of a "Prevention at the Source Policy Taskforce," which the group bills as a transdisciplinary body that would craft and endorse a set of recommendations to "push for bold, creative, and actionable policies that will be truly successful in preventing spillover, while also being forward-thinking enough to anticipate and mitigate risks and unintended repercussions."
A "Global Action Fund for Pandemic Prevention" would further prevention by financing "a pipeline of existing prevention solutions" and a search for new solutions.
Rounding out the solution blueprint is a proposed global campaign to boost public knowledge about pandemic prevention.
"A mindset shift is needed in governments around the world so that prevention is seen as a top political priority, alongside health systems preparedness. Influencing public opinion on a topic is one of the most effective advocacy tools that can help achieve this shift," the group said.
The coalition directed its focus last month to congressional leaders in the U.S.
In an open letter, the group called for "far more leadership and investment regarding pandemic prevention."
"If Covid-19 has made one thing clear, it is that the cost of even the boldest initiative to prevent future pandemics is orders of magnitude less than the price we pay once a pandemic occurs," they told lawmakers.
As such, the coalition said that coronavirus relief funds should include "a significant level of new funds" for programs that help prevent pandemics at the source. Specific measures they detailed included the creation of the proposed Global Fund for Pandemic Prevention, with an initial $2.5 billion commitment.
"'Building back better' also means enhancing global health security, which must include U.S. leadership and investments to prevent pandemics at the source," the group wrote.
Reposted with permission from Common Dreams.
waterlust.com / @tulasendlesssummer_sierra .
Each product featured here has been independently selected by the writer. If you make a purchase using the links included, we may earn commission.
The bright patterns and recognizable designs of Waterlust's activewear aren't just for show. In fact, they're meant to promote the conversation around sustainability and give back to the ocean science and conservation community.
Each design is paired with a research lab, nonprofit, or education organization that has high intellectual merit and the potential to move the needle in its respective field. For each product sold, Waterlust donates 10% of profits to these conservation partners.
Eye-Catching Designs Made from Recycled Plastic Bottles
waterlust.com / @abamabam
The company sells a range of eco-friendly items like leggings, rash guards, and board shorts that are made using recycled post-consumer plastic bottles. There are currently 16 causes represented by distinct marine-life patterns, from whale shark research and invasive lionfish removal to sockeye salmon monitoring and abalone restoration.

One such organization is Get Inspired, a nonprofit that specializes in ocean restoration and environmental education. Get Inspired founder, marine biologist Nancy Caruso, says supporting on-the-ground efforts is one thing that sets Waterlust apart, like their apparel line that supports Get Inspired abalone restoration programs.
"All of us [conservation partners] are doing something," Caruso said. "We're not putting up exhibits and talking about it — although that is important — we're in the field."
Waterlust not only helps its conservation partners financially so they can continue their important work. It also helps them get the word out about what they're doing, whether that's through social media spotlights, photo and video projects, or the informative note card that comes with each piece of apparel.
"They're doing their part for sure, pushing the information out across all of their channels, and I think that's what makes them so interesting," Caruso said.
And then there are the clothes, which speak for themselves.
Advocate Apparel to Start Conversations About Conservation
waterlust.com / @oceanraysphotography
Waterlust's concept of "advocate apparel" encourages people to see getting dressed every day as an opportunity to not only express their individuality and style, but also to advance the conversation around marine science. By infusing science into clothing, people can visually represent species and ecosystems in need of advocacy — something that, more often than not, leads to a teaching moment.

"When people wear Waterlust gear, it's just a matter of time before somebody asks them about the bright, funky designs," said Waterlust's CEO, Patrick Rynne. "That moment is incredibly special, because it creates an intimate opportunity for the wearer to share what they've learned with another."
The idea for the company came to Rynne when he was a Ph.D. student in marine science.
"I was surrounded by incredible people that were discovering fascinating things but noticed that often their work wasn't reaching the general public in creative and engaging ways," he said. "That seemed like a missed opportunity with big implications."
Waterlust initially focused on conventional media, like film and photography, to promote ocean science, but the team quickly realized engagement on social media didn't translate to action or even knowledge sharing offscreen.
Rynne also saw the "in one ear, out the other" issue in the classroom — if students didn't repeatedly engage with the topics they learned, they'd quickly forget them.
"We decided that if we truly wanted to achieve our goal of bringing science into people's lives and have it stick, it would need to be through a process that is frequently repeated, fun, and functional," Rynne said. "That's when we thought about clothing."
Support Marine Research and Sustainability in Style
To date, Waterlust has sold tens of thousands of pieces of apparel in over 100 countries, and the interactions its products have sparked have had clear implications for furthering science communication.
For Caruso alone, it's led to opportunities to share her abalone restoration methods with communities far and wide.
"It moves my small little world of what I'm doing here in Orange County, California, across the entire globe," she said. "That's one of the beautiful things about our partnership."
Check out all of the different eco-conscious apparel options available from Waterlust to help promote ocean conservation.
Melissa Smith is an avid writer, scuba diver, backpacker, and all-around outdoor enthusiast. She graduated from the University of Florida with degrees in journalism and sustainable studies. Before joining EcoWatch, Melissa worked as the managing editor of Scuba Diving magazine and the communications manager of The Ocean Agency, a non-profit that's featured in the Emmy award-winning documentary Chasing Coral.
For World Wildlife Day, seven "Champions of Nature" shared their picks for books that motivate them. Sam Edwards / Getty Images
By Kimberly Nicole Pope
During this year's Davos Agenda Week, leaders from the private and public sectors highlighted the urgent need to halt and reverse nature loss. Deliberate action on the interlinked climate and ecological crises to achieve a net-zero, nature-positive economy is paramount. At the same time, these leaders also presented a message of hope: that investing in nature holds the key to ensuring economic and social prosperity and resilience.
2021 will be a critical year to ensure a net zero, nature-positive future as world leaders come together for several key events and negotiations related to climate and nature. Ensuring a green recovery from the COVID-19 pandemic is also essential to ensure a prosperous and resilient future for humankind.
In honor of UN World Wildlife Day on March 3 and to provide inspiration for the important year ahead, seven members of the Champions for Nature community – which is leading the way towards a nature positive future by 2030 – have shared what they are reading that is giving them motivation to build a better world for people and planet.
Small Ideas to Change the World – Cyril Dion
Carlos Alvarado Quesada, President of Costa Rica
Cyril Dion invites us to "change stories to change history." The challenge of climate change for what it is, to change the history of humanity, where each person counts and each action, big or small, counts. As it should be in an interconnected world, we dream of more solidarity.
A Stone Sat Still – Brendan Wenzel
M Sanjayan, Chief Executive Officer, Conservation International
Our 19-month-old daughter would have it no other way. Brendan Wenzel's A Stone Sat Still has been read 600 times in our home during lockdown. Even so we still turn the pages with unhurried pleasure. We linger on its dreamy, dusky illustrations and its spring-water clear prose.
Each time we read it we fall in love with a new way of seeing nature; when viewed in different lights and at different heights, nature becomes the source of endless possibilities. For a grinding and tragic pandemic, a reminder of the value of nature and the importance of place is the perfect antidote.
The Essentials of Theory 'U' – Otto Scharmer
Cherie Nursalim, Vice-Chairman, Giti Group
"U" is a movement. "U" is a philosophy of "seeing" and "sensing" our system. "U" is a way of letting go and letting a new "U" emerge. "U" enables "ego" to "eco system shift." Otto lays out and synthesizes the core essences of his decades of practice with corporates, civil society and governments around the world in integrating science arts and consciousness. This is to me a must-read book and offers a pathway to happiness by bridging social, ecological and spiritual divides (Tri Hita Karana ways to Happiness in Balinese) aligned with UN SDGs.
Stones of Silence – George Schaller
Malik Amin Aslam Khan, Federal Minister of Climate Change and Adviser to the Prime Minister, Pakistan
The Himalayan travelogue by one of the world's leading conservationists searching for an encounter with one of the most elusive creatures on the planet – the mystical snow leopard – is what I am currently reading. The book is both a celebration of nature, as it beautifully penetrates and unravels the myth around the "mountain ghost," and an avid description of the spirituality residing in the vast emptiness of the mighty Himalayan landscapes.
George Schaller, the author of Stones of Silence (1980), is the person who, in the early 70's, inspired the creation of Pakistan's iconic Khunjerab National Park, which today conserves one of the world's largest populations of the snow leopard, Markhors, Himalayan Ibex and Marco Polo Sheep and who, a few months back, during COVID-19 quarantine supported the start of Pakistan's Protected Areas Initiative. As the world looks for a nature-positive recovery, the book is a must-read for all who yearn to taste a bit of nature – Himalayan magic mixed with the mystery of the snow leopard.
I quote from the book: "Wisps of clouds swirled around, transforming her into a ghost creature, part myth and part reality… Balanced precariously on a ledge and bitterly cold, I too stayed, unwilling to disrupt the moment… Then the snow fell more thickly, and dreamlike, the cat slipped away as if she had never been."
The Untold Story of the World's Leading Environmental Institution – Maria Ivanova
Inger Andersen, United Nations Under Secretary-General and Executive Director, United Nations Environment Programme
I highly recommend The Untold Story of the World's Leading Environmental Institution by Maria Ivanova. This is a must-read for anyone interested in the genesis and evolution of global environmental governance. As we approach the 50th anniversary of the UN Environment Program in 2022, this book provides valuable insights into how UNEP – and, indeed, environmental multilateralism – must rise to the challenges of a planet in crisis and lead us towards sustainable development.
Reality Bubble – Ziya Tong
Marco Lambertini, Director-General, WWF International
The Reality Bubble by Ziya Tong is a provocative book about humanity's main blind spots: what we didn't evolve to see, and what we should but don't see. The blindness, often convenient, of modern society. A reminder of our limitations, and the dangers of ignoring the impact we are having on the health and balance of the planet we should call home. A particularly important reminder in a year when only humanity's full awareness of our role in the natural world can trigger the deep cultural revolution in our minds and systemic change in our economy to avert disaster.
Losing Earth – Nathaniel Rich
Svein Tore Holsether, President & CEO, Yara International
The essence of this book is that we knew but didn't act. Nathaniel Rich tells the history of fighting climate change, and how the Charney report already in 1979 predicted the devastating effects of global warming. Based on this, I have used every opportunity to tell people that we have been sitting on the fence for four decades and have less than a decade to fix it. We don't have the time anymore to work in isolation, only collaboration can save us. The book was an eye-opener about how we have failed, how we can't afford to fail now, and how we must have a science- and fact-based way of working.
Reposted with permission from World Economic Forum.
A South Korean woman looks at a view of Seoul shrouded by fine dust during a polluted day on March 06, 2019 in Seoul, South Korea. Chung Sung-Jun / Getty Images
By Brett Wilkins
As the United Nations on Thursday released a report on the triple emergency of the climate crisis, the destruction of wildlife and habitats, and deadly pollution, the head of the world body sounded the alarm on what he called humanity's "senseless and suicidal war on nature."
TAZO Tree Corps
At the beginning of quarantine, the nine-time Grammy nominee, SZA, was releasing new songs because she was "bored" and "losing my mind," she told BAZAAR.com. But new music wasn't the only endeavor the singer-songwriter had underway.
On Wednesday, SZA along with the nonprofit organization American Forests and the TAZO tea company announced their partnership to fight for climate justice, according to a press release. Together they are launching the TAZO Tree Corps, a paid workforce that will plant trees in disadvantaged neighborhoods and underprivileged communities of color, BAZAAR.com reported.
"I can't tell you how many children I've met in the urban community, from all different colors of Black and Brown, that really just are not comfortable being in nature," the 30-year-old told BAZAAR.com, "I think the biggest takeaway from this is that quality of life and racism are so directly connected."
The TAZO Tree Corps will hire 25 fellows who will be trained in climate justice, tree planting and maintenance. The fellows will be locally hired from communities in Richmond, Virginia; Minneapolis; the Bronx; San Francisco and Detroit, HuffPost reported, specifically "where historical discriminating zoning practices have left many low-income communities and communities of color with less green space," according to a statement.
But the tree planting initiative recognizes more than just the value green spaces add to urban communities. It also recognizes "that environmental racism and classic racism are directly connected, and it's probably one of the worst aspects of inequality," SZA told BAZAAR.com.
While trees in the U.S. absorb 17.4 million tons of air pollution, improving air and water quality, communities most impacted by pollution carry a disproportionate burden from the climate crisis because they are situated near chemical treatment plants, highways or heavy polluters, according to a statement.
"Trees do more than beautify a neighborhood – they're life-and-death infrastructure for health equity and climate justice," Jad Daley, president and CEO of American Forests said in a statement.
The climate problem is increasingly being recognized as a racial justice problem. For example, a study published in 2019 found that on average, Black and Hispanic communities were burdened by a disproportionate amount of air pollution than whites. Planting trees can alleviate some of the burdens. But SZA and her partners are not the first ones to introduce tree-planting initiatives in marginalized communities.
In 2014 a local environmental non-profit organization, The Greening of Detroit, partnered with the city to plant 1,000 to 5,000 new trees each year, working in neighborhoods in Detroit with painful memories of environmental racism. When the city and organization sought support from these neighborhoods, they "met stiff resistance: Roughly a quarter of the 7,500 residents they approached declined offers to have new trees planted in front of their homes," Bloomberg CityLab reported.
To better understand why some residents resisted the trees even if they knew the benefits they could have in their neighborhoods, researchers reached out to residents. Following the 1967 race rebellion, some residents remembered the city of Detriot cutting down elm trees in their neighborhoods and using helicopters to spray the toxic DDT from above to better "surveil their neighborhoods," Bloomberg CityLab reported. These memories left them wary of plans to plant the trees back.
"It's not that they didn't trust the trees; they didn't trust the city," Bloomberg CityLab reported. Some of this mistrust also came from the fact that these tree-planting groups were organized by outsiders of their neighborhoods, coming from other parts of Detroit, the University of Vermont wrote in a statement.
Lessons learned from the 2014 project, may be informing the TAZO Tree Corps, which plans to hire locals that are directly and disproportionately affected by environmental racism.
"There's something about them creating job opportunity in the disproportionately affected communities that makes me very attracted to the whole situation," SZA told BAZAAR.com. By locally employing people to plant trees "you're actually insourcing, rather than outsourcing, from the direct community, then creating value," she added.
Apply to be a part of the TAZO Tree Corps here.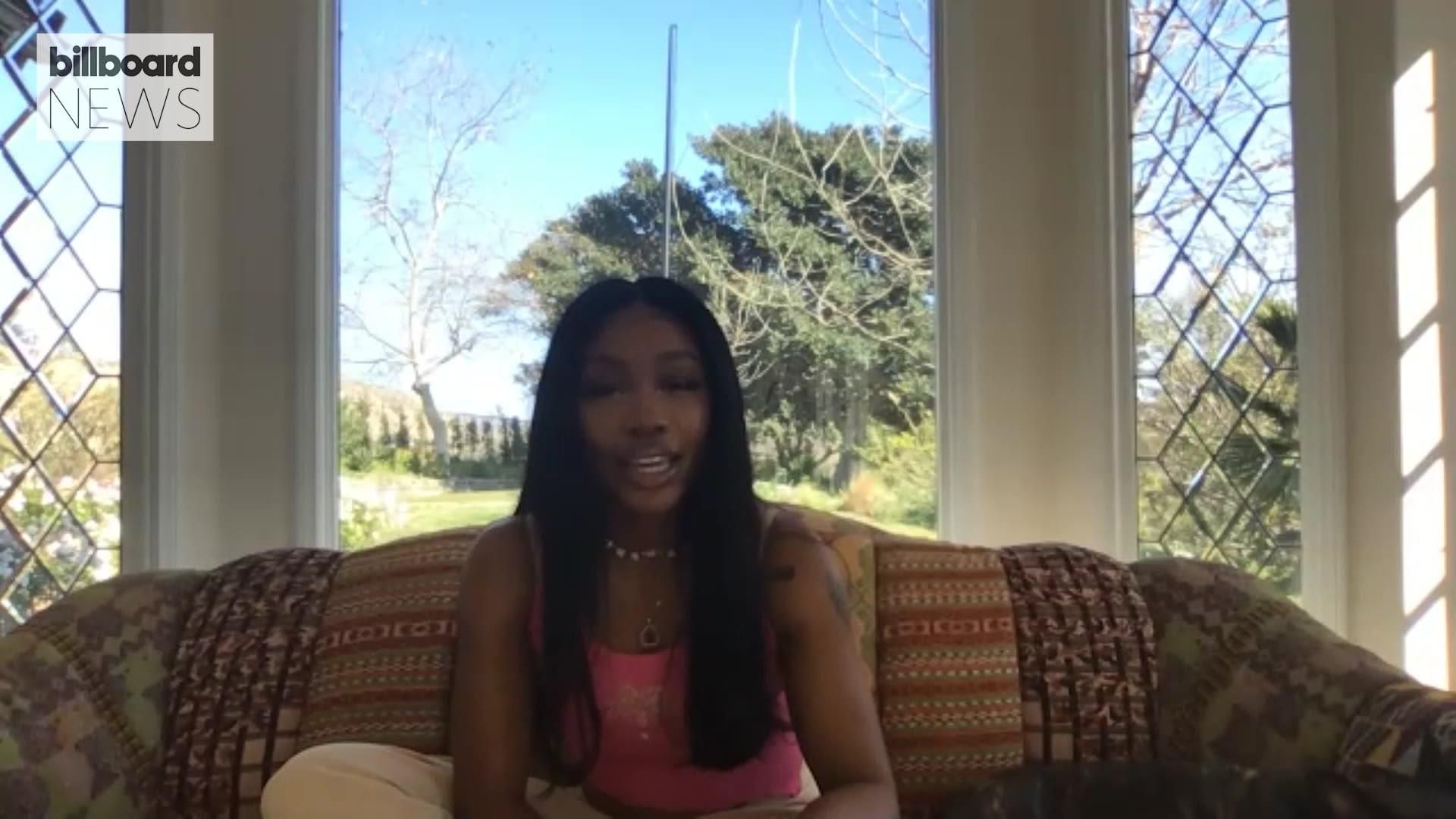 Billboard caught up with SZA to discuss her role with TAZO Tree Corps, maintaining her creative balance, positive affirmations, and the making of "Good Days."
From Your Site Articles
Related Articles Around the Web
For those who have dedicated their lives to heal and protect the planet, how do you honor that sacrifice after death? This is a question that has been on the minds of environmental activists for decades. Both cremations and traditional burials cause environmental damage that is not easy to reconcile. However, that is all changing with Recompose, a Seattle company that has recently opened the nation's first human composting funeral home, according to the Seattle Times.
Recompose offers an innovative funeral service that turns human remains into healthy soil. This service gives Washington state and surrounding residents a chance to make a positive environmental change through their death as well as their life.
In 2019, Governor Jay Inslee passed a bill legalizing composting as a form of human burial. This radical legislation — the first of its kind in the nation — was first inspired by Recompose's founder Katrina Spade and her idea for composting as an eco-conscious burial process. Spade and her neighbor Senator Jamie Pedersen pushed for the bill ardently, and in 2019 were finally successful.
Nearly a decade of research and development went into the founding of Recompose. Their website explains, recomposition "uses the process of 'natural organic reduction' to gently convert human remains into soil." Those kept at the Recompose funeral home are given an optional service and are then placed in mausoleum-like chambers where the composting process begins.
Katrina Spade, like many environmental activists, was frustrated with the limited options for environmentally friendly burial services. Due to the embalming process that most funeral homes use, burial sites are a major source of groundwater pollution. One of the most common embalming chemicals, formaldehyde, is classified as a carcinogen. Prior to the 2019 bill, the only legal and eco-friendly burial options were natural burial sites. There are only 160 of these sites in the entire country, so for those who don't have access to one of those, eco-friendly options are non-existent.
Now, those in the Pacific Northwest have an option that saves an entire metric ton of CO2 in their burial process. While body pickup is only available in King, Pierce, and Snohomish counties, the facility is accepting clients throughout the Northwest.
The entire service, including ceremony, obituary, death certificate, and transformation, is $5,500. After the composting process is complete, family members can choose to keep the soil or donate it to the Bells Mountain conservation forest. This forest restoration project welcomes family members to visit and see the real impact their loved one has made on the local environment.
Charlotte Bontrager, who was one of the first to take a deceased family member to Recompose, said about the process, "My mom was a very humble, loving person and would not want any kind of spotlight. But she'd be thrilled to know she was among this first group of pioneers."
Because of Katrina Spade and the Washington legislature's hard work, many more will have the opportunity to make a meaningful contribution to the Earth in their passing. To learn more about the program and services, you can visit their website.
From Your Site Articles
Related Articles Around the Web
Yosemite Firefall at Sunset, Yosemite National Park, California. heyengel / iStock / Getty Images Plus
There are very few places that capture the essence of American beauty better than Yosemite National Park. Millions of people visit each year to explore its mountainous terrain, or to experience Yosemite's unique natural wonders such as the giant sequoia groves or the hundreds of waterfalls that nourish the protected landscape.
One such waterfall takes the mainstage in mid-February as the park's most popular winter attraction. Known as the "Firefall," or Horsetail Falls during the spring and summer months, this waterfall glows fiery red in the wintertime as the sunset reflects off its waters. However, to see it in 2021 you'll have to make reservations soon.
Starting February 8, Yosemite will put a reservation system in place for day use of the park. The park is taking extra steps to ensure social distancing protocols are followed and risks are minimized during COVID-19, and encourage visitors who want to see Firefall to book soon.
heyengel / iStock / Getty Images Plus
The expected viewing dates begin February 13th and end February 25th. Due to the short timeframe that the Firefall is visible, reservations are expected to book quickly.
For those unfamiliar with the Firefall, it is a bizarre and beautiful natural phenomenon that can only occur for two weeks out of the year. At sunset, the waterfall transforms from an icy shower to a glowing flame that appears to flow like lava from the heights of El Capitan. This occurs due to the unique angle of the waterfall against the sunset during mid-February.
Despite its massive appeal, the Firefall is actually quite elusive. In order for the illusion to occur, Horsetail Falls must be experiencing a clear Western sky, have enough snowfall the night before, and experience warm temperatures to melt the snow and sustain the waterfall. Due to the angle of the sunset against the waterfall, it can only occur for approximately two weeks in February, but a cloudy day or freezing temperatures can get in the way of the incredible display.
Not only are the Firefalls rare, but they're also short-lived. The sunset will only be at the right angle for five to ten minutes, giving visitors a very short window to observe. However, those who have witnessed the Firefall believe it is always worth the effort.
Yosemite's Firefall was first discovered in 1978 by photographer Galen Rowell. He was driving past Horsetail Falls at sunset, and witnessed the anomaly long enough to capture the first photos. After sharing them with a soon-to-be worldwide audience, Firefall became the #1 attraction at Yosemite during the month of February.
Since then, the natural wonder that occurs on Horsetail falls has become a global spectacle, coveted by photographers, artists, and nature enthusiasts alike. Thousands of people visit the park during mid-February each year solely to chase the elusive majesty of this waterfall at sunset.
Horsetail Fall is located over the eastern edge of El Capitan, which is not possible to reach by car. The closest parking is one and a half miles from the actual viewing site, so it is important to book your reservation and arrive early if you want to catch a glimpse of it at sunset.
Savannah Hasty is an environmental writer with more than six years of experience and has written thousands of articles for clients around the world. Her work focuses on environmental news, lifestyle content, and copywriting for sustainable brands. Savannah lives on the sunny coast of Florida and is inspired by this to play an active role in the preservation of the state's marine life and natural ecosystems.
From Your Site Articles
Related Articles Around the Web
Pixabay
By Katherine Kornei
Clear-cutting a forest is relatively easy—just pick a tree and start chopping. But there are benefits to more sophisticated forest management. One technique—which involves repeatedly harvesting smaller trees every 30 or so years but leaving an upper story of larger trees for longer periods (60, 90, or 120 years)—ensures a steady supply of both firewood and construction timber.
To determine when this management practice first arose in Europe, researchers have analyzed oak construction timbers from historical buildings and archaeological sites dating from the 4th to 21st centuries. They spotted a characteristic tree ring pattern indicative of this technique in timber dating back to the 6th century. That was a surprise, the researchers noted, because this forest management practice shows up in historical documents beginning only in the 13th century.
A Pattern in the Rings
The coppice-with-standards management practice produces a two-story forest, said Bernhard Muigg, a dendrochronologist at the University of Freiburg in Germany. "You have an upper story of single trees that are allowed to grow for several understory generations."
That arrangement imprints a characteristic tree ring pattern in a forest's upper story trees (the "standards"): thick rings indicative of heavy growth, which show up at regular intervals as the surrounding smaller trees are cut down. "The trees are growing faster," said Muigg. "You can really see it with your naked eye."
Muigg and his collaborators characterized that dendrochronological pattern in 161 oak trees growing in central Germany, one of the few remaining sites in Europe with actively managed coppice-with-standards forests. They found up to nine cycles of heavy growth in the trees, the oldest of which was planted in 1761. The researchers then turned to a historical data set — more than 2,000 oak timbers from buildings and archaeological sites in Germany and France dating from between 300 and 2015 — to look for a similar pattern.
A Gap of 500 Years
The team found wood with the characteristic coppice-with-standards tree ring pattern dating to as early as the 6th century. That was a surprise, Muigg and his colleagues concluded, because the first mention of this forest management practice in historical documents occurred only roughly 500 years later, in the 13th century.
It's probable that forest management practices were not well documented prior to the High Middle Ages (1000–1250), the researchers suggested. "Forests are mainly mentioned in the context of royal hunting interests or donations," said Muigg. Dendrochronological studies are particularly important because they can reveal information not captured by a sparse historical record, he added.
These results were published in December in Scientific Reports.
"It's nice to see the longevity and the history of coppice-with-standards," said Ian Short, a forestry researcher at Teagasc, the Agriculture and Food Development Authority in Ireland, not involved in the research. This technique is valuable because it promotes conservation and habitat biodiversity, Short said. "In the next 10 or 20 years, I think we'll see more coppice-with-standards coming back into production."
In the future, Muigg and his collaborators hope to analyze a larger sample of historic timbers to trace how the coppice-with-standards practice spread throughout Europe. It will be interesting to understand where this technique originated and how it propagated, said Muigg, and there are plenty of old pieces of wood waiting to be analyzed. "There [are] tons of dendrochronological data."
Katherine Kornei is a freelance science journalist covering Earth and space science. Her bylines frequently appear in Eos, Science, and The New York Times. Katherine holds a Ph.D. in astronomy from the University of California, Los Angeles.
This story originally appeared in Eos and is republished here as part of Covering Climate Now, a global journalism collaboration strengthening coverage of the climate story.
From Your Site Articles
Related Articles Around the Web
RyanJLane / E+ / Getty Images
Toxins enter the body through what we eat, drink, breathe in, and process in any way. Once inside, toxins overtax our immune system and detoxification system and leave us more vulnerable to illness — not ideal during cold and flu season, and especially not this year during a pandemic — and make us age a little faster, too.
Fortunately, there are a lot of simple things you can do from the comfort of your own home to keep toxins out of your body, flush them out of your system faster, and boost your immunity all at the same time, says Dr. Bill Rawls, Medical Director of Vital Plan. He shares his top 10 strategies below.
1. Source Your Food Wisely
Try to stay away from packaged and processed foods that contain ingredients you can't pronounce, and instead reach for fresh food from natural sources. Aim to make vegetables more than 50% of your daily diet — their fiber is a great natural binder, and they're full of beneficial phytochemicals — and minimize your red meat consumption.
Also, whenever practical, choose organic over conventional products. That said, we know organic prices and accessibility can be an issue, so for help making strategic decisions, refer to the Environmental Working Group (EWG) "Dirty Dozen" and "Clean Fifteen" lists:
The Dirty Dozen:
Strawberries
Spinach
Kale
Nectarines
Apples
Grapes
Peaches
Cherries
Pears
Tomatoes
Celery
Potatoes
Raisins*
(*While raisins aren't technically a fresh food, the EWG found that they are "one of the dirtiest produce commodities on the market — and even some organic raisins are contaminated.")
The Clean Fifteen
Avocado
Sweet corn
Pineapple
Onion
Papaya
Frozen sweet peas
Eggplant
Asparagus
Cauliflower
Cantaloupe
Broccoli
Mushrooms
Cabbage
Honeydew
Kiwi
2. Consider Detoxifying and Immune-Boosting Herbs
There are a number of herbs and natural ingredients that can help support detoxification and immune health. Here are the ones at the top of Dr. Rawls' list:
Chlorella: This nutrient-rich freshwater algae binds to toxins so they can be eliminated from your body more efficiently. Chlorella works particularly well for withdrawing heavy metals. Pure chlorella can be purchased in the form of bulk powder, tablets, or capsules.
Milk Thistle: It's been used for thousands of years to support a healthy liver, the primary organ responsible for detoxification.
Dandelion: Known to help support liver function, research suggests dandelion helps promote the body's natural detoxification and elimination processes.
Bitters: Bitter flavors are important to digestion — they stimulate the release of the saliva, enzymes, and bile that help break down your food. Include bitter herbs and foods in each meal, or take a botanical extract that blends bitter herbs like dandelion root, burdock root, orange peel, and gentian root
Reishi mushroom: An extensively studied adaptogenic mushroom, reishi has exceptional immunomodulating and antiviral properties. It helps normalize inflammatory cytokines and promotes healthy immune response against threatening microbes.
Rhodiola: Another adaptogen, rhodiola improves stress tolerance by reducing fatigue, supporting energy levels, and improving tissue oxygenation.
Turmeric: This popular spice is well loved for its anti-inflammatory and antioxidant properties.
Shilajit: An herbo-mineral adaptogen, shilajit has a long history of use in traditional Indian medicine for longevity and strength. It's also an immunomodulator with antioxidant, anti-inflammatory, and antiviral properties.
Gotu Kola: Best known for improving memory and mood, gotu kola is also great for promoting a normal response to inflammation, balancing stress hormones, and supporting circulation.
Vital Plan is a certified B Corporation — one of only eight supplement companies recognized for achieving the highest standards of social and environmental performance, accountability, and transparency. If you make a purchase using the link above, EcoWatch may earn a commission.
3. Filter Your Water
Much of America's tap water has been shown to contain pollutants, so filtering what comes out of your kitchen sink is smart. To be sure you're using a filter that does the trick, keep these guidelines in mind:
Look for a filter certified by NSF International or the Water Quality Association.
Choose one that removes the contaminants in your water (check your local drinking water quality report to see what's present).
Change your water filters on time.
4. Choose Safe and Effective Cleaning Supplies
When buying household cleaning products, don't bring home chemicals that could harm your health more than some of the microbes you're trying to get rid of. Fortunately, there are a number of products on the market that work safely; here are some ways to shop wisely:
Look for the Green Seal, Ecologo, or Safer Choice (EPA) seals.
Opt for fragrance-free options.
Avoid triclosan and quaternary ammonium compounds or "quats." (One tactic is to choose products that don't advertise as "antibacterial.")
Consult the EWG's list of safe and effective products for guarding against coronavirus.
5. Opt for Non-Toxic Beauty and Personal Care Products
There are a lot of claims made on beauty and self-care products these days, but words alone, like "natural," "organic," "non-toxic," "clean," "green," and "eco-friendly," don't mean a thing — they aren't backed by any sort of regulatory or certification processes. Instead, to find non-toxic products you trust, you have to do a little research.
Start by checking reputable ratings databases like Skin Deep (EWG) and Think Dirty. Another good bet: Look for reliable third-party certifications on products labels, including:
USDA Organic
EWG Verified
Made Safe
NSF/ANSI 305
Natural Products Association Certified
Whole Foods Market Premium Body Care
6. Get Outside
One more reason to get outdoors beyond combatting cabin fever: The air in natural environments is generally much cleaner than indoor air. For one, outdoor air contains ⅔ less carbon dioxide, high levels of which negatively affect our productivity, sleep, and more.
Forest air in particular contains phytoncides, organic compounds emitted by trees and plants that have been shown to boost our immune system function, plus plants in general help neutralize toxic substances in the air. Forests, open spaces, and open water are also rich in negative ions, which reduce inflammation.
So take your pick of natural environs, and get out there as often as possible — while still maintaining at least 6 feet of distance between yourself and others, of course.
7. Bring Nature Indoors
Plants are natural air purifiers, so bringing some plants indoors can help clear the air in your home. Here's a list of the top 10 air-purifying plants to consider:
Areca palm
Lady palm
Bamboo palm
Rubber plant
Dracaena
English ivy
Dwarf date palm
Ficus
Boston fern
Peace lily
8. Drive Less, Move More
Staying off the roads decreases air pollution, and the fact that many of us are driving less these days is noticeably improving air quality. If your commute is on hold, try to translate some of your usual travel time into getting more physical activity, or sneak in more movement between other normal routines.
Exercise improves circulation, oxygenates your tissues, and enhances the work of the lymphatic system through muscle contractions — all of which make it easier to move toxins out of your body.
9. Practice Forgiveness
Through the practice of gratitude, we stay centered and in the present moment. This allows us to move through situations from our heart. Take time to forgive someone or yourself for things in the past. When we forgive, we expand and open up to endless possibilities.
10. Quit a Bad Habit
Are you a smoker? Pack rat? Chronically sleep-deprived? In a bad relationship? Toxins come into our lives in many forms. Consider if you're participating in any unhealthy patterns or holding onto anything that no longer serves you, and then find a way to limit those things in your life.
Dr. Rawls is a licensed medical doctor in North Carolina and a leading expert in integrative health. He has extensive training in alternative therapies, and is the Medical Director of Vital Plan, a holistic health and herbal supplement company in Raleigh, NC.
Reposted with permission from Vital Plan.
From Your Site Articles
Related Articles Around the Web
rf._.studio / Pexels
By Anne-Sophie Brändlin
If, this time last year, the world had been told it would spend much of the coming months in lockdown, few might have believed it. But that reality came, and it did so almost overnight, bringing with it a crashing end to the busy flow of life, which sees billions rushing from one appointment to the next without much time to think. Left to their own devices at home, people have had to find new ways to spend their time, and deal with anxiety and silence.
While some have taken to endurance sports in tiny spaces or been drawn to walk in nature or just breathe in fresh air, others have turned to practices like meditation, yoga, Tai Chi and shiatsu to calm their minds and decrease stress levels.
Seasoned practitioners believe these ancient mind and bodywork traditions offer an opportunity to better deal with crises such as the coronavirus pandemic. This doesn't only have a positive impact on our health and immune systems, but potentially on society and even the environment.
"These practices help to bring us into the present moment and help to connect us to the reality of the situation," said Jenny White, a British shiatsu practitioner who has been meditating for over two decades.
Children need support when learning about the climate crisis. Ghislain & Marie David de Lossy / Getty Images
By Louise Chawla
As an environmental psychologist who works to improve young people's access to nature, I recently completed a review that brings two bodies of research together: one on connecting children and adolescents with nature, and the second on supporting healthy coping when they realize they are part of a planet in peril.
Louise Chawla is a Professor Emerita of Environmental Design, University of Colorado Boulder.
Disclosure statement: Louise Chawla is affiliated with the Children and Nature Network as a member of their Scientific Advisory Committee.
Reposted with permission from The Conversation.
A person stands on a cliff overlooking Geiranger, Norway. Marco Bottigelli / Getty Images
By John R. Platt
These days many of us have a natural inclination to "doomscroll" — that constant refreshing of social media so we can gnash our teeth at the most recent bad news.
There's an alternative. Let's call it hopescrolling — the art and act of looking for beautiful things and important information to keep us inspired.
With the pandemic and election results still looming over our heads, here are 20 of our favorite nature- and environment-related Instagram accounts. May they fill your days with beauty and drive you to fight for the planet.
John R. Platt is the editor of The Revelator. An award-winning environmental journalist, his work has appeared in Scientific American, Audubon, Motherboard, and numerous other magazines and publications. His "Extinction Countdown" column has run continuously since 2004 and has covered news and science related to more than 1,000 endangered species. He is a member of the Society of Environmental Journalists and the National Association of Science Writers. John lives on the outskirts of Portland, Ore., where he finds himself surrounded by animals and cartoonists.
http://twitter.com/johnrplatt
http://johnrplatt.com
https://www.instagram.com/johnrplatt
Reposted with permission from The Revelator.