This website uses cookies to ensure you get the best experience while browsing it. By clicking 'Got It' you're accepting these terms.
6 Natural Ways to Avoid Getting Sick
Oct. 02, 2014 10:00AM EST
Food
Seems like every year around this time you start feeling worn down, a little congested, maybe develop a scratchy throat, and before you know it, you're faced with a full-blown cold. But this year can be different. Arm yourself with these six tips to evade nasty bugs before they knock you out.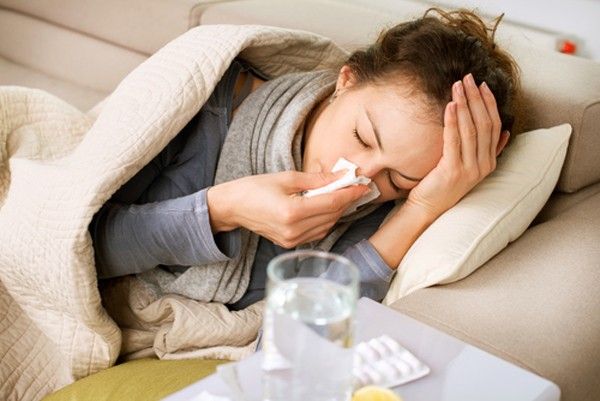 Photo credit: Shutterstock
1. Keep Clean, the Right Way
Hand washing is so important to keeping those harmful germs out of your body, but there is a right and a very wrong way to do it. The biggest bad-news culprit when it comes to washing your hands? Antibacterial soaps. Triclosan, the antimicrobial chemical, is a hormone disruptor; it damages your heart, and creates antibacterial-resistant superbugs. And it's totally pointless. The Food and Drug Administration and the American Medical Association have found that antibacterial soaps are no better than using regular soap.
2. Make Your Own Hand Sanitizer
Can't find a sink? Hand sanitizer is the next best thing. Just make sure you're not slathering on more triclosan. Instead, try this natural recipe from Renee Loux, author of Easy Green Living, for a clean hands spritz.
Ingredients:
2 tablespoons + 1 teaspoon plain aloe vera or lemon witch hazel
1/8 teaspoon tea tree oil
24 drops essential oils of lavender, lemon, cinnamon, peppermint, and/or thyme (use two or more varieties for good action and a balanced aroma, and also because these oils are potent)
4 drops grapefruit seed extract
Directions:
1. Mix all the ingredients in a 1-ounce glass spray bottle.
2. Shake well before using.
3. Spray two or three times on grimy paws and rub them together.
3. Bundle Up Strategically
Staying warm doesn't just help your immune system focus on the real threat; it can also help protect you from germs in the environment. Avoid warm winter clothing with claims of being "antibacterial," "germ-fighting" or "odor-free." These are often catchall terms for chemical- or nanoparticle-based ingredients. For a safe, warm, naturally antimicrobial material, look for hats and winter gear made of wool.
4. Say "Ohm" Instead of "Ah"
"Stress really hammers the immune system," says Danny Penman, PhD, author of Mindfulness. He explains that the human body evolved to suppress the immune system during times of great stress, such as getting chased by a tiger. "Under acute stress, the body diverts all its resources to escaping," he says. "The body doesn't waste time when we're being hunted with maintenance. The problem is, under long-term stress, the body has the same reaction, so it can't repair itself the way it's supposed to." And, while most of us aren't getting chased by tigers, we do face sustained stress from sources like jobs or financial worry.
The good news is meditation is the perfect solution to immunity-killing stress. Research has shown that participating in meditation programs decreases biomarkers associated with disease and increases activity of the immune system's protective "killer cells."
5. Trust Your Gut
Your gut bacteria are also proving to be insanely important for a strong immunity. In fact, research has shown that probiotic foods can help prevent colds in kids (a demographic that's especially prone to getting sick since young ones tend to constantly put things in their mouths).
6. Eat Your Breakfast
Not only is breakfast a chance to load up on nutrient-rich foods, such as eggs, but it also may keep you healthy. Research from Cardiff University found that eating breakfast was significantly related to lower rates of illness. This is a correlational study, so it's possible that those who ate breakfast also generally took better care of themselves, but we'll never balk at a good reason to eat some breakfast greens.
YOU MIGHT ALSO LIKE
Kale is King: 5 Reasons You Should Eat It
EcoWatch Daily Newsletter

georgeclerk / E+ / Getty Images
By Jennifer Molidor
One million species are at risk of extinction from human activity, warns a recent study by scientists with the United Nations. We need to cut greenhouse gas pollution across all sectors to avoid catastrophic climate change — and we need to do it fast, said the Intergovernmental Panel on Climate Change.
This research should serve as a rallying cry for polluting industries to make major changes now. Yet the agriculture industry continues to lag behind.
Edwin Remsburg / VW Pics / Getty Images
Botswana, home to one third of Africa's elephants, announced Wednesday that it was lifting its ban on the hunting of the large mammals.
"The Ministry of Environment, Natural Resources Conservation and Tourism wishes to inform the public that following extensive consultations with all stakeholders, the Government of Botswana has taken a decision to lift the hunting suspension," the government announced in a press release shared on social media.
Pxhere
By Richard Denison
Readers of this blog know how concerned EDF is over the Trump EPA's approval of many dozens of new chemicals based on its mere "expectation" that workers across supply chains will always employ personal protective equipment (PPE) just because it is recommended in the manufacturer's non-binding safety data sheet (SDS).
By Grant Smith
From 2009 to 2012, Gregory Jaczko was chairman of the Nuclear Regulatory Commission, which approves nuclear power plant designs and sets safety standards for plants. But he now says that nuclear power is too dangerous and expensive — and not part of the answer to the climate crisis.
A lake in Rocky Mountain National Park. Brett Walton / Circle of Blue
By Brett Walton
When Greg Wetherbee sat in front of the microscope recently, he was looking for fragments of metals or coal, particles that might indicate the source of airborne nitrogen pollution in Rocky Mountain National Park. What caught his eye, though, were the plastics.
Gabriele Holtermann Gorden / Pacific Press / LightRocket / Getty Images
In a big victory for animals, Prada has announced that it's ending its use of fur! It joins Coach, Jean Paul Gaultier, Giorgio Armani, Versace, Ralph Lauren, Vivienne Westwood, Michael Kors, Donna Karan and many others PETA has pushed toward a ban.
This is a victory more than a decade in the making. PETA and our international affiliates have crashed Prada's catwalks with anti-fur signs, held eye-catching demonstrations all around the world, and sent the company loads of information about the fur industry. In 2018, actor and animal rights advocate Pamela Anderson sent a letter on PETA's behalf urging Miuccia Prada to commit to leaving fur out of all future collections, and the iconic designer has finally listened.
Amer Ghazzal / Barcroft Media / Getty Images
If people in three European countries want to fight the climate crisis, they need to chill out more.
That's the conclusion of a new study from think tank Autonomy, which found that Germany, the UK and Sweden all needed to drastically reduce their workweeks to fight climate change.
Amazon Employees for Climate Justice held a press conference after the annual shareholder meeting on May 22. Amazon Employees for Climate Justice