What the Bundy Militia Can Learn From TransCanada
Ammon Bundy and his assault-rifle-packing militia took over the Malheur National Refuge in eastern Oregon to kick off the New Year. Their gripe appears to be the federal government's pesky grazing regulations interfering with their "right" to earn a profit off government land. Gonna' be a showdown at the last chance corral I guess.
Now I imagine Bundy and the boys don't take a liken' to Wall Street bankers any more than they do to the feds. But in this instance, the bankers could help Bundy a lot and maybe save his life.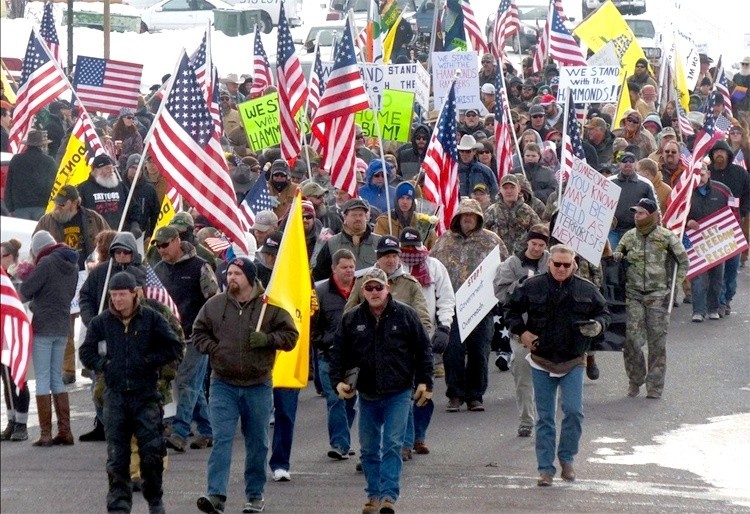 TransCanada, sponsor of the now dead Keystone XL pipeline and like Bundy no doubt, also dependent on preferred contractual access to public lands, shows the way. President Obama lobbed a final nail in the coffin by vetoing the pipeline and more recently by formally rejecting the project. But the deed was already done by the Saudis who killed it by unleashing a torrent of oil supply on the market, collapsing oil prices and ending the economic viability of Canada's grotesque tar sands and the need for the pipeline in the first place. In fact TransCanada had already withdrawn the plan from consideration.
However, that didn't stop TransCanada from now suing the U.S. for $15 billion in damages over Obama's decision that the Keystone XL pipeline was not in the interest of the U.S., including our "security, safety and environment."
"TransCanada has been unjustly deprived of the value of its multibillion-dollar investment by the U.S. administration's action," the company said in a statement after Obama formally rejected the planned pipeline prior to the Paris climate meeting, timed to bolster what he hopes will be his legacy as a leader on climate.
The Keystone XL pipeline decision was effected through a time-honored democratic process enshrined in the U.S. Constitution. Some agree with the decision, some don't. But that's not the point. The question is, on what basis can a foreign company sue the U.S. Government over a policy decision, putting American taxpayers at risk for $15 billion in this case?
The answer: by invoking the North American Free Trade Agreement (NAFTA) and its Investor-State Dispute Settlement (ISDS) clause. This clause, as I previously explained here and here, about the contentious Trans-Pacific Partnership (TPP) trade agreement now awaiting approval by Congress, amounts to a veritable "trading away of our sovereignty." The TransCanada suit proves the point and it's not the first such suit challenging a nation's sovereignty. TPP will open up this insanity to 13 countries and economic activity representing 40 percent of world GDP.
My advice to Bundy and his buddies holed up in Eastern Oregon facing a cold winter? Buy a ranch in Canada. Hire Goldman Sachs or JPMorgan to advise on a "tax inversion" in which using a legal slight of hand the Canadian ranch buys the Bundy ranch but Bundy remains in control of the combined operations (see the recent Pfizer inversion for details). Then sue the U.S. government for $15 billion under the ISDS mechanism of NAFTA claiming the Bureau of Land Management grazing regulations interfere with their right to make a profit on their investment. This gets the issue away from the annoying U.S. government and into the hands of a three-person extrajudicial tribunal to determine the outcome of the case. Sweet. In the meantime, stand down, holster your guns and thus, stay alive to fight another day. You can always ammo up later if the tribunal lets you down.
Oh and if Bundy doesn't have the cash to buy the Canadian ranch, no problem. There are a number of tougher than Bundy (no guns required) hedge funds that will be all too happy to lend money into a lawsuit and then corrupt the judicial process by bribing the lawmakers (sorry exercising their rights to free speech under Citizens United) to make a buck. For details, see the current battle in Puerto Rico where these hedge funds are using their campaign contribution derived power to influence legislators over the decision to refuse Puerto Rico access to the normal and civilized protections afforded other borrowers including Donald Trump—but not our children if they take out a student loan—under the bankruptcy code. No doubt these hedge funds will have some crafty ideas for how to swing a simple three-person tribunal. For a mere 20 percent of the profits plus expenses, it's a deal!
Insanity is the new normal in America.
YOU MIGHT ALSO LIKE
Fascinating Timeline: 30 Years of History of Climate and Energy in State of the Union Speeches
Arch Coal Files for Bankruptcy: Will Taxpayers Be Left Holding the Bag for Millions in Cleanup Costs?
3 Ways to Restore Power to the People
Porter Ranch Is Only Tip of the Iceberg Exposing Catastrophic Impacts of Natural Gas
As the Trump administration moves full speed ahead on boosting the oil and fossil fuel industry, opposition to increased pipeline construction is cropping up in different communities around the country.
Keep reading...
Show less
Minke whale stranding near Havergate Island in Suffolk. MCGA.
By Simon Evans
Last Saturday, two dead whales washed up on the coast of Suffolk, in eastern England, and a third was spotted floating at sea.
What happened next illustrates how news can spread and evolve into misinformation, when reported by journalists rushing to publish before confirming basic facts or sourcing their own quotes.
Keep reading...
Show less
By Monica Amarelo and Paul Pestano
Sun safety is a crucial part of any outdoor activity for kids, and sunscreen can help protect children's skin from harmful ultraviolet rays. Kids often get sunburned when they're outside unprotected for longer than expected. Parents need to plan ahead and keep sun protection handy in their cars or bags.
Keep reading...
Show less
By Joe McCarthy
A lot of people take part in community clean-up efforts—spending a Saturday morning picking up litter in a park, mowing an overgrown field or painting a fence.
Keep reading...
Show less
May. 26, 2017 03:22PM EST
Rink Glacier in western Greenland, with a meltwater lake visible center. NASA/OIB
Scientists have had their eyes on Greenland as its iconic glaciers have begun disappearing due to a warming climate. But, what they didn't expect to see was a whole new type of melting.
Keep reading...
Show less
May. 26, 2017 03:40PM EST
A coalition of conservation groups and others announced Thursday that a historic number of comments and petitions of support have been submitted to the U.S. Department of the Interior in support of Bears Ears National Monument. Despite the entirely inadequate 15-day comment period ending on May 26, more than 685,000 comments in support of Bears Ears National Monument have been collected.
Keep reading...
Show less
May. 26, 2017 02:50PM EST
Mountain View Fire
By Lena Moffitt
An oil tanker in Mead, Colorado exploded, killing one and injuring three on Thursday. Authorities are continuing to investigate the cause of the explosion.
Keep reading...
Show less
May. 26, 2017 01:27PM EST
Banner created by Alliance for Climate Education
Keep reading...
Show less


Get EcoWatch in your inbox