This website uses cookies to ensure you get the best experience while browsing it. By clicking 'Got It' you're accepting these terms.
What the Bundy Militia Can Learn From TransCanada
Jan. 12, 2016 09:51AM EST
Energy
Ammon Bundy and his assault-rifle-packing militia took over the Malheur National Refuge in eastern Oregon to kick off the New Year. Their gripe appears to be the federal government's pesky grazing regulations interfering with their "right" to earn a profit off government land. Gonna' be a showdown at the last chance corral I guess.
Now I imagine Bundy and the boys don't take a liken' to Wall Street bankers any more than they do to the feds. But in this instance, the bankers could help Bundy a lot and maybe save his life.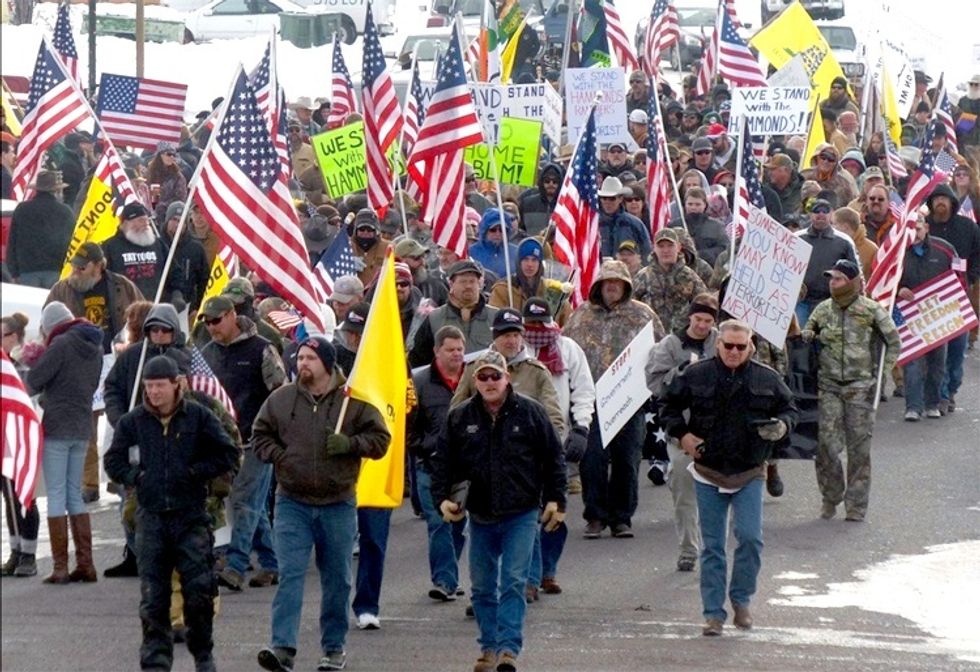 TransCanada, sponsor of the now dead Keystone XL pipeline and like Bundy no doubt, also dependent on preferred contractual access to public lands, shows the way. President Obama lobbed a final nail in the coffin by vetoing the pipeline and more recently by formally rejecting the project. But the deed was already done by the Saudis who killed it by unleashing a torrent of oil supply on the market, collapsing oil prices and ending the economic viability of Canada's grotesque tar sands and the need for the pipeline in the first place. In fact TransCanada had already withdrawn the plan from consideration.
However, that didn't stop TransCanada from now suing the U.S. for $15 billion in damages over Obama's decision that the Keystone XL pipeline was not in the interest of the U.S., including our "security, safety and environment."
"TransCanada has been unjustly deprived of the value of its multibillion-dollar investment by the U.S. administration's action," the company said in a statement after Obama formally rejected the planned pipeline prior to the Paris climate meeting, timed to bolster what he hopes will be his legacy as a leader on climate.
The Keystone XL pipeline decision was effected through a time-honored democratic process enshrined in the U.S. Constitution. Some agree with the decision, some don't. But that's not the point. The question is, on what basis can a foreign company sue the U.S. Government over a policy decision, putting American taxpayers at risk for $15 billion in this case?
The answer: by invoking the North American Free Trade Agreement (NAFTA) and its Investor-State Dispute Settlement (ISDS) clause. This clause, as I previously explained here and here, about the contentious Trans-Pacific Partnership (TPP) trade agreement now awaiting approval by Congress, amounts to a veritable "trading away of our sovereignty." The TransCanada suit proves the point and it's not the first such suit challenging a nation's sovereignty. TPP will open up this insanity to 13 countries and economic activity representing 40 percent of world GDP.
My advice to Bundy and his buddies holed up in Eastern Oregon facing a cold winter? Buy a ranch in Canada. Hire Goldman Sachs or JPMorgan to advise on a "tax inversion" in which using a legal slight of hand the Canadian ranch buys the Bundy ranch but Bundy remains in control of the combined operations (see the recent Pfizer inversion for details). Then sue the U.S. government for $15 billion under the ISDS mechanism of NAFTA claiming the Bureau of Land Management grazing regulations interfere with their right to make a profit on their investment. This gets the issue away from the annoying U.S. government and into the hands of a three-person extrajudicial tribunal to determine the outcome of the case. Sweet. In the meantime, stand down, holster your guns and thus, stay alive to fight another day. You can always ammo up later if the tribunal lets you down.
Oh and if Bundy doesn't have the cash to buy the Canadian ranch, no problem. There are a number of tougher than Bundy (no guns required) hedge funds that will be all too happy to lend money into a lawsuit and then corrupt the judicial process by bribing the lawmakers (sorry exercising their rights to free speech under Citizens United) to make a buck. For details, see the current battle in Puerto Rico where these hedge funds are using their campaign contribution derived power to influence legislators over the decision to refuse Puerto Rico access to the normal and civilized protections afforded other borrowers including Donald Trump—but not our children if they take out a student loan—under the bankruptcy code. No doubt these hedge funds will have some crafty ideas for how to swing a simple three-person tribunal. For a mere 20 percent of the profits plus expenses, it's a deal!
Insanity is the new normal in America.
YOU MIGHT ALSO LIKE
Fascinating Timeline: 30 Years of History of Climate and Energy in State of the Union Speeches
Arch Coal Files for Bankruptcy: Will Taxpayers Be Left Holding the Bag for Millions in Cleanup Costs?
3 Ways to Restore Power to the People
Porter Ranch Is Only Tip of the Iceberg Exposing Catastrophic Impacts of Natural Gas
EcoWatch Daily Newsletter
By Jennifer Molidor, PhD
Climate change, habitat loss and pollution are overwhelming our planet. Thankfully, these enormous threats are being met by a bold new wave of environmental activism.
President Donald Trump mocked water-efficiency standards in new constructions last week. Trump said, "People are flushing toilets 10 times, 15 times, as opposed to once. They end up using more water. So, EPA is looking at that very strongly, at my suggestion." Trump asked the Environmental Protection Agency (EPA) for a federal review of those standards since, he claimed with no evidence, that they are making bathrooms unusable and wasting water, as NBC News reported.
(L) Rushing waters of Victoria Falls at Mosi-oa-Tunya National Park, Zimbabwe pictured in January 2018. Edwin Remsberg / VW PICS / UIG / Getty Images (R) Stark contrast of Victory Falls is seen on Nov. 13, 2019 after drought has caused a decline. ZINYANGE AUNTONY / AFP / Getty Images
Monsanto's former chairman and CEO Hugh Grant speaks about "The Coming Agricultural Revolution" on May 17, 2016.
Fortune Brainstorm E / Flickr
By Carey Gillam
Former Monsanto Chairman and CEO Hugh Grant will have to testify in person at a St. Louis-area trial set for January in litigation brought by a cancer-stricken woman who claims her disease was caused by exposure to the company's Roundup herbicide and that Monsanto covered up the risks instead of warning consumers.
A volcano erupts on New Zealand's Whakaari/White Island on Dec. 9, 2019.
Michael Schade / Twitter
A powerful volcano on Monday rocked an uninhabited island frequented by tourists about 30 miles off New Zealand's coast. Authorities have confirmed that five people died. They expect that number to rise as some are missing and police officials issued a statement that flights around the islands revealed "no signs of life had been seen at any point,", as The Guardian reported.