This website uses cookies to ensure you get the best experience while browsing it. By clicking 'Got It' you're accepting these terms.
Ralf Broskvar
With the exception of the U.S., every country in the world has now expressed an intention to honor the Paris agreement, which means they have all committed to limiting global warming to well below 2 degrees Celsius above pre-industrial levels and to achieving net zero greenhouse gas emissions by the second half of the current century.
EcoWatch Daily Newsletter
By Johannes Friedrich, Mengpin Ge and Andrew Pickens
A lot has happened since countries met in Paris in 2015 and agreed on an accord to combat climate change. So far, more than 140 countries have ratified or otherwise joined the Paris agreement, representing more than 80 percent of global emissions. Several major economies, including Canada, Germany and Mexico, have also developed long-term plans to decarbonize their economies.
By Tim Radford
If humans burn all the fossil fuels at their disposal—and this could happen in the next two centuries—researchers predict that the planetary atmosphere would match the one that witnessed the days of the dinosaurs at the dawn of the Jurassic period, around 200 million years ago.
By Leo Hickman
The National Aeronautics and Space Administration (NASA), the U.S. space agency, has released an "eye-popping" three-dimensional animation showing carbon dioxide emissions moving through the Earth's atmosphere over the course of a year.
It says the 3-D visualization is "one of the most realistic views yet" of the "complex patterns in which carbon dioxide in the atmosphere increases, decreases and moves around the globe."
The data used to produce the visualization was collected by NASA's Orbiting Carbon Observatory-2 (OCO-2) satellite from September 2014 to September 2015. The data was then modeled and visualized by the Global Modeling and Assimilation Office at NASA's Goddard Space Flight Center in Greenbelt, Maryland.
Carbon Brief emailed some questions to NASA about the visualization, which it says is the first of its kind. The answers below are provided by Dr. Lesley E. Ott, a carbon cycle scientist at Goddard's Global Modeling and Assimilation Office and Gregory W. Shirah, who leads the development of Earth science-related scientific visualizations at Goddard.

Carbon Brief: How was the visualization "made"?
Dr. Lesley E. Ott: The carbon dioxide field was produced by combining information from our GEOS modeling system with OCO-2 observations using a technique called data assimilation. In this merged view, the model helps fill in gaps where OCO-2 can't observe and also provides more information about the 3D structure of atmospheric carbon dioxide, which is quite complex but can't be observed directly from the satellite. Meanwhile, the data helps correct errors in the model's emissions and transport patterns. This carbon dioxide analysis provides one of the most complete, data-driven views of atmospheric carbon dioxide to date.
Gregory W. Shirah: To make the actual visualization (ie, paint the pixels), we use Pixar's Renderman to render the images. We use Autodesk's Maya to set up the 3D environment and we used IDL to process the data. My colleague and I actually just gave a talk at Pixar today and showed this movie to them.
Carbon Brief: Specifically, what questions are you hoping it will help to answer?
Dr. Lesley E. Ott: The main goal of OCO-2 and most carbon cycle modeling is to better understand the processes that control carbon sources and sinks. About 50 percent of human emissions are absorbed by plants on land and in the oceans, but scientists don't have a good understanding of how or even where this is happening. We start by running the model with a 'first guess' of sources and sinks, and the data assimilation allows us to quantify how and where the model differs from the observations. Eventually, we'll be able to use these techniques to create more accurate maps of source and sinks, and from there we can improve climate models to better predict changes in the natural carbon cycle. This analysis product is something of a mid-point. We still have a lot of work left to do to understand the carbon cycle more fully, but developing these modeling and data assimilation tools is an important advance that will help us get where we need to be.
Carbon Brief: Why are these questions so important to answer?
Dr. Lesley E. Ott: Understanding the natural land and ocean carbon sinks is critical to understanding and predicting the trajectory of climate over the coming decades. If the land and ocean can't continue to sequester carbon at the current rate, we could see carbon dioxide accumulate in the atmosphere more quickly than we're expecting, leading to more rapid climate change.
Carbon Brief: The CO2 seems to be largely concentrated in the Northern hemisphere. Beyond this being where the majority of human-caused emissions are released, please can you explain the processes driving this and what the implications might be?
Dr. Lesley E. Ott: The highest carbon dioxide mixing ratios are seen in the Northern hemisphere during winter months. Most of the human emissions originate from this region, but it also holds the majority of the world's land masses and vegetation stocks, which decompose and release carbon during the winter. When plants start to grow again in the spring, you see massive amounts of carbon drawn out of the atmosphere, but not quite enough to balance out the increase from human emissions. If we ran the visualization for a longer time period, you would see the carbon dioxide released in the north mix with southern hemisphere air, but that inter-hemispheric mixing can take about a year. So even though that mixing is going on here, what really jumps out is the seasonal cycle of carbon dioxide.
Carbon Brief: How is this new visualization an advance on ones produced before?
Dr. Lesley E. Ott: Before OCO-2, we had a satellite called AIRS [Atmospheric Infrared Sounder] providing information about CO2. There's an example of what that data looks like here.
AIRS was designed to study temperature and moisture, primarily, but did give information about carbon dioxide in the mid- and upper troposphere. Since it has very little information near the surface to tell us about sources and sinks, it hasn't been as widely used as the datasets from GOSAT and OCO-2.

Looking at the OCO-2 data alone is also interesting—take a look at this.
and this.
The first animation shows the observations with minimal averaging at first and then switches to a view of the data averaged over larger areas to fill in the map. This is nice for giving a sense of what OCO-2 can and can't do. It's a huge advance over AIRS, both in terms of near surface sensitivity and accuracy. At 0.25 percent (or 1 parts per million, ppm), OCO-2 gives us one of the most accurate atmospheric composition measurements ever made from space. But the trade-off is that we can't make OCO-2 observations in cloudy regions or areas with high aerosol loadings. And because the measurement technique uses reflected sunlight, there are no measurements during night or polar night. OCO-2 also has a fairly narrow swath as you see early in the first video meaning that we can only observe a subset of the world every day, even under ideal conditions. When we try to average the measurements to cover some of these gaps, you can see that we get a sense of where CO2 is being taken up and released, but we still have large gaps in coverage in high-latitude regions and that sense of how CO2 moves through the atmosphere really isn't there.

As highlighted in the new animations, the alternative method of creating CO2 maps from observations through assimilation into a weather model (compared to the OCO-2 averaging shown above), preserves much more detail about the atmospheric transport. The model brings in information in areas without observations, but it also brings all the vertical information since the OCO-2 measurement is column only. This animation is also new and produced from the same dataset.
That really shows you how the data assimilation technique is working. Early on as the movie is going fairly slowly, there are some nice examples of how the model is helping us interpret what the observations are capturing. In the observations, we can see transitions between high and low CO2, but the merged product underlay helps us understand that those are due to the movement of weather fronts or plumes of fire emissions off of Africa. We chose to highlight the 3D visualization which is flashier, but this one is also quite informative.
Gregory W. Shirah: We have created some 3D (volumetric) visualizations in the past—I think of CO2 from AIRS—but they were very limited. For example, relatively small/regional areas, like Southern California or single snapshots in time from a swath of satellite data. To my knowledge, this is the first time a global, time-varying CO2 model has been shown this way. I'm not even sure if any global model has been shown this way.
Reposted with permission from our media associate Carbon Brief.
The Finnish government has announced plans to stop using coal, one of the the dirtiest fuels on the planet, by 2030.
By Alex Kirby
Humanity has now entered a new climate reality era, with carbon dioxide concentrations expected to remain above the level of 400 parts per million throughout 2016 and for many generations to come, the World Meteorological Organization (WMO) said.
The WMO—the United Nations system's leading agency on weather, climate and water—said the globally averaged concentration of carbon dioxide in the atmosphere reached "the symbolic and significant milestone of 400 parts per million" for the first time in 2015 and surged again to new records in 2016 on the back of the very powerful El Niño event.

CO2 levels reached the 400 ppm barrier for certain months during 2015 and in certain places, but they have never done so on a global average basis for the entire year. The WMO says in its annual Greenhouse Gas Bulletin that the growth spurt in CO2 was fueled by El Niño, which started in 2015 and had a strong impact well into this year.

This, it says, triggered droughts in tropical regions and reduced the capacity of "sinks" like forests, vegetation and the oceans to absorb CO2. These sinks currently absorb about half of CO2 emissions, but there is a risk that they could become saturated, increasing the proportion of carbon dioxide which stays in the atmosphere.
Between 1990 and 2015, the bulletin says, there was a 37 percent increase in radiative forcing—the warming effect on the climate—because of long-lived greenhouse gases such as carbon dioxide, methane and nitrous oxide from industrial, agricultural and domestic activities.
"The year 2015 ushered in a new era of optimism and climate action with the Paris climate change agreement. But it will also make history as marking a new era of climate change reality with record high greenhouse gas concentrations," said WMO Secretary-General Petteri Taalas. "The El Niño event has disappeared. Climate change has not."
"The real elephant in the room is carbon dioxide, which remains in the atmosphere for thousands of years and in the oceans for even longer. Without tackling CO2 emissions, we cannot tackle climate change and keep temperature increases to below 2 C above the pre-industrial era," added Taalas.
"It is therefore of the utmost importance that the Paris agreement does indeed enter into force well ahead of schedule on Nov. 4 and that we fast-track its implementation," said Taalas.
The Greenhouse Gas Bulletin provides a scientific base for decision-making and the WMO has released it ahead of the UN climate change negotiations to be held in the Moroccan city of Marrakech from Nov. 7-18. They will be seeking to translate the agreement into an effective way of coping with the new climate reality era the WMO has identified.

The bulletin says the pre-industrial level of about 278 ppm of CO2 represented a balance between the atmosphere, the oceans and the biosphere. Human activities, such as the burning of fossil fuels, have altered the natural balance and in 2015 globally averaged levels were 144 percent of pre-industrial levels. The increase of CO2 from 2014 to 2015 was larger than the previous year and the average over the previous 10 years.
The bulletin says the last El Niño, as well as reducing the capacity of vegetation to absorb CO2, led to an increase in CO2 emissions from forest fires. According to the Global Fire Emissions Database, CO2 emissions in equatorial Asia—where there were serious forest fires in Indonesia in August-September 2015—were more than twice as high as the 1997-2015 average.
Drought also has a big impact on CO2 absorption by vegetation and scientists saw similar effects during the 1997-98 El Niño.

Methane is the second most important long-lived greenhouse gas and contributes about 17 percent of radiative forcing. About 40 percent of methane is emitted into the atmosphere by natural sources like wetlands and termites, with the rest coming from human activities like cattle breeding, rice growing, fossil fuel exploitation, landfills and biomass burning.
Atmospheric methane reached a new high of about 1,845 parts per billion in 2015 and is now 256 percent of its pre-industrial level. Nitrous oxide's atmospheric concentration in 2015 was about 328 parts per billion, 121 percent of pre-industrial levels.
Reposted with permission from our media associate Climate News Network.

Methane emissions from the global fossil fuel industry are up to 60 percent greater than existing estimates, according to a new comprehensive analysis of global methane emissions.
Map showing global methane concentrations in January 2016 at a pressure of 400 hectopascals, or roughly 6km above the surface. Concentrations are higher in the northern hemisphere because both natural- and human-caused sources of methane are more abundant there.AIRS/Aqua/Nasa
The unaccounted-for emissions are 300 times more than California's Aliso Canyon leak.
According to current estimates, the fossil fuel industry contributes about 22 percent of global methane emissions and about 30 percent of total U.S. methane emissions. Methane has a higher warming potential than carbon dioxide in the short term.
Listen here to the NPR report:
For a deeper dive:
Guardian, New Scientist, TakePart, TIME, AL Jazeera, New York Magazine,NPR, Colorado Public Radio, Gizmodo

For more climate change and clean energy news, you can follow Climate Nexus on Twitter and Facebook, and sign up for daily Hot News.

Many hail the Paris agreement—set to cross the threshold this week to come into effect—as a panacea for global climate change. Yet tragically, this perspective neglects to take into account the scientific reality of our climate system, which tells a much different story.
Our latest research, Young People's Burden: Requirement of Negative CO2 Emissions, appeared Monday as a "Discussion" paper in Earth System Dynamics Discussion, and outlines how—if national governments neglect to take aggressive climate action today—today's young people will inherit a climate system so altered it will require prohibitively expensive—and possibly infeasible—extraction of CO2 from the atmosphere.
Global temperatures are already at the level of the Eemian period (130,000 to 115,000 years ago), when sea level was 6-9 meters higher than today. Considering the additional warming "in the pipeline," due to delayed response of the climate system and the impossibility of instant replacement of fossil fuels, additional temperature rise is inevitable.

Continued high fossil fuel emissions place a burden on young people to undertake "negative CO2 emissions," which would require massive technological CO extraction with minimal estimated costs of $104-$570 trillion this century, with large risks and uncertain feasibility.

Continued high fossil fuel emissions unarguably sentences young people to either a massive, possibly implausible cleanup or growing deleterious climate impacts or both, scenarios that should provide incentive and obligation for governments to alter energy policies without further delay.

The paper provides the underlying scientific backing for the Our Children's Trust lawsuit against the U.S. government, which argues that climate change jeopardizes the next generation's inalienable rights under the U.S. Constitution to life, liberty and the pursuit of happiness.

The paper offers an opportunity to examine the current state of the planet with respect to climate change. Four key takeaways include:
1. The Paris Climate Accord is a precatory agreement, wishful thinking that mainly reaffirms, 23 years later, the 1992 Rio Framework Convention on Climate Change. The developing world need for abundant, affordable, reliable energy is largely ignored, even though it is a basic requirement to eliminate global poverty and war. Instead the developed world pretends to offer reparations, a vaporous $100B/year, while allowing climate impacts to grow.
2. As long as fossil fuels are allowed to be held up as the cheapest reliable energy, they will continue to be the world's largest energy source and the likelihood of disastrous consequences for young people will grow to near certainty.
3. Technically, it is still possible to solve the climate problem, but there are two essential requirements: (1) a simple across-the-board rising carbon fee collected from fossil fuel companies at the source, and (2) government support for RD&D (research, development and demonstration) of clean energy technologies, including advanced generation, safe nuclear power.
4. Courts are crucial to solution of the climate problem. The climate "problem" was and is an opportunity for transformation to a clean energy future. However, the heavy hand of the fossil fuel industry works mostly in legal ways such as the "I'm an Energy Voter" campaign in the U.S. Failure of executive and legislative branches to deal with climate change makes it essential for courts, less subject to pressure and bribery from special financial interests, to step in and protect young people, as they did minorities in the case of civil rights.
For a deeper dive, click here.
Related Articles Around the Web
From Your Site Articles
By Jordyn Cormier
Cars are often used as the golden standard of environmental destruction. We know that our driving is hurtful to the environment. But, what about a burger? We don't instinctually associate meat consumption with climate change, but does the dark side of the meat industry give cars a run for their money? Which is actually worse—cows or cars?
Livestock emissions make up anywhere between 14.5 and 18 percent of total global greenhouse gas emissions. Comparably, the transportation sector is responsible for around 14 percent of emissions. By those numbers alone, our current system of meat production is extremely damaging. Perhaps more looming, however, is that while transportation creates CO2, livestock farming is hugely responsible for producing methane. As you may know, methane is 23 times more potent when it comes to warming the planet.
Yes, driving cars is no good, but meat production is unexpectedly worse for the environment. Besides all of the fertilizer and cow waste products that release methane, meat unfortunately has to be transported in refrigerated trucks from feedlots to slaughterhouses to processing centers to your local grocery store. In this way, factory farming combines all of the harmful effects of driving an 18 wheeler, plus some.
The issue is that meat does not appear as harmful upon cursory glance. You can see emissions coming out of your old car and seeping into the atmosphere. You can't see emissions coming out of your hamburger. (Although, if you could see cow farts, that'd be a different story, as they shouldn't be underestimated in their profound environmental impact. Buying grass-fed beef reduces entropic emissions (methane gas flatulence) in cows simply because their stomachs are designed to digest grass, not grains. So, small changes do make a difference).

If everyone enjoyed one meatless day a week—a simple and easily accomplished request, livestock emissions could be greatly reduced. Unfortunately, a rise in sustainable farming, while more humane and necessary, will not greatly alter the skyrocketing emissions caused by livestock. This is especially true since meat consumption is growing across the globe and projected to increase by around 70 percent by 2050. The only way to clean up our act is to change how we produce, consume and think about meat. We need to become less mat-centric as a whole.
Eating less meat is much more easily accomplished than converting our entire country's infrastructure to run off of renewable energy—although we still need to be moving in that direction. We can start eating less meat immediately. Consuming less meat is also one of the few tactics for reducing greenhouse emissions that actually costs the consumer less money. Private solar panels cost money. New, fuel efficient vehicles cost money. Eating less meat means you're potentially saving a little bit of money. It's something that we can all do.
Clearly, what we need is a shift in mindset. Meat consumption is deeply rooted and deeply held in many cultures, but it has become a dangerous obsession. It's like we are all sitting in a room steadily filling with smoke. It's clear that something is on fire, but no one else is doing anything, so we sit tight. But, if you were in that room alone and it started flooding with smoke, wouldn't you do something? Stop waiting for others to act. Make changes in your life to help the planet and others are sure to follow.
I don't believe that humans will ever stop eating meat. But, it should be a priority to practice moderation with our meat consumption, if not for our collective health, then for the planet's.
As the U.S. Environmental Protection Agency (EPA) announced that it would seek to reduce carbon pollution from power plants—a move that would put the U.S. on a trajectory to meeting its international climate obligations—Canada continued to move in the opposite direction.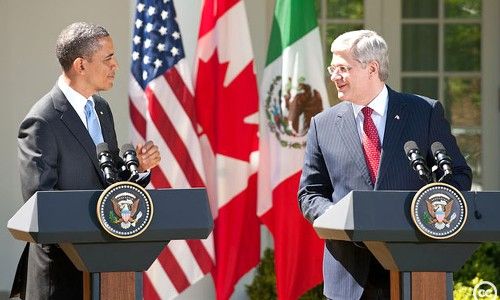 Canada has now confirmed it will no longer take action to limit carbon pollution from its tar sands sector until the U.S. takes simultaneous action on its oil and gas sector. Previously, Canada has indicated it would act unilaterally to ratchet down on soaring greenhouse gas emissions from its tar sands sector which pose the greatest barrier to the country meeting its international climate commitments. But any hope that the Obama Administration's announcement this week might instill simultaneous leadership for action from the current Conservative government evaporated.
Basically the Canadian position sets up a false equivalence as a way to justify doing nothing. The real issue is whether a country is acting to reduce its carbon pollution. The main way the U.S. can do that is to limit pollution from power plants—the single largest U.S. source, and that's just what the U.S. announced it was doing. The main way for Canada to cut carbon pollution is to reduce the burgeoning emissions from its tar sands development, and Canada just announced that it isn't doing that. So the contrast is clear: meaningful action vs. significant foot-dragging. Anything else is a distraction. In a historic announcement, the Obama Administration unveiled plans to cut U.S. carbon pollution emissions by 30 percent from 2005 levels by 2030, leading to climate and health benefits worth as much as $93 billion while avoiding up to 6,600 premature deaths and up to 150,000 asthma attacks in children. And the plan, if strengthened, could create more than 274,000 new jobs related to energy efficiency and renewable energy triggered by the standards.
Within a few hours of the U.S. announcement, the Canadian government said it was ready to work with the U.S. on rules for the continent's oil and gas sector. Canada's Environment Minister Leona Aglukkaq stated the Harper government "would like to work in concert with the United States on reducing greenhouse gas emissions from the oil and gas sector. The integration of our economies suggest our countries should be taking action together, not alone." This was echoed by Canadian Ambassador to the U.S. Gary Doer who took to the airwaves with a similar message.
But this reaction from the Canadian government (something they had already signaled in late 2013) is, in fact, a policy shift away from a promise it had made to the Canadian public that it would regulate this sector. Why is it so important for Canada to take action? Surging emissions from the tar sands industry are responsible for a quarter of national emissions, according to the Pembina Institute. Because of this, Canada is expected to miss its international 2020 climate target by a wide margin—more than the current emissions of Canada's entire electricity sector, according to the Pembina Institute.
The federal Canadian government clearly hopes that its call for harmonized federal regulations becomes a convenient distraction away from any attention to the fact that it has still not regulated its massive oil and gas industry. Let's keep in mind that work on these Canadian regulations started back in 2008. But now, almost eight years later, the long-promised regulations on its tar sands sector are merely a pipedream. Now, they are indicating they won't act unless the U.S. regulates carbon from its oil sector. There are good reasons why Canada should move ahead to regulate its tar sands sector (a sector which does not exist in the U.S.) given its significant contribution to Canada's climate pollution problem. In short, the two countries have very different emissions profiles.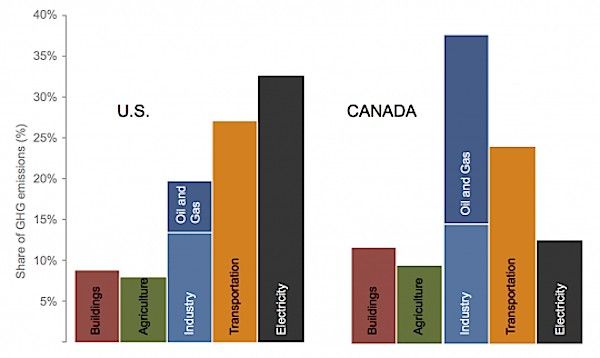 According to Canada's Pembina Institute, "The best way Ottawa could respond to today's announcement by the EPA would be to make an equally serious commitment to hit Canada's 2020 climate target, and produce the rules required to cut emissions from the oil and gas sector. The government's ongoing delay in releasing those rules is indefensible."
The Canadian government largely defends its failed climate record by pointing to its recently adopted regulations on coal-fired electricity. Canada has made good progress on its coal industry (largely due to leadership from its provinces like Ontario) but its federal regulations are weak and do not apply to existing units (built before July 2015) until they have reached the end of their economic life. What does this mean? This mean a coal plant can run for a full half century without federal GHG limits. For one unit in Alberta which started operations in 2011, this means continued operation without carbon pollution limits until 2061. Altogether, the coal regulations will reduce Canada's total emission by less than one percent.
In the end, the U.S. administration is working hard to demonstration international climate leadership to both meet its climate obligations and to help spur other countries to do the same. The question is whether Canada will look to this development as an opportunity to make serious progress on its climate commitments or whether it will be business as usual. 
Canada's position on climate ought to be part of the overall calculus for the Obama Administration and Secretary Kerry's State Department, which is evaluating the proposed Keystone XL tar sands pipeline. International climate leadership should be something they look for as part of the national interest determination. So far, Canada hasn't measured up.
--------
YOU ALSO MIGHT LIKE
Permanent Protest Setup at Proposed Tar Sands Strip Mine in Utah
Report Finds Investments in Alberta's Tar Sands 'Make Neither Economic Nor Climate Sense'
Canadian Tar Sands Poised to Flood European Market As U.S. Considers Lifting Export Ban
--------