EcoWatch joins Fabien Cousteau to remove marine debris in the Florida Keys and talk about the future of the oceans. Tiffany Duong / Ocean Rebels
Much of what we've been able to learn about the underwater world has built on the legacy of underwater explorer and pioneer Jacques Yves Cousteau. In 1943, Cousteau invented the aqua-lung, which completed his self-contained underwater breathing apparatus (SCUBA). This technology forever changed how humans interact with the blue world and remains the precursor of modern-day scuba diving equipment.
Cousteau's eldest grandson, Fabien, was born to continue his grandfather's legacy. Fabien learned to scuba dive on his fourth birthday and joined his famous grandfather on his legendary ships, the Calypso and Alcyone. Now, the younger Cousteau is following in his grandfather's footsteps and bubbles, taking the ocean exploration and conservation he grew up with and giving it a modern, technology-driven, community-focused revamp.
EcoWatch recently joined Fabien and members of his team at the Fabien Cousteau Ocean Learning Center (FCOLC) on marine debris cleanup dives in the Florida Keys. Funded and organized by the "Goal: Clean Seas Florida Keys" program, the program is a partnership between the Florida Keys National Marine Sanctuary, the National Marine Sanctuary Foundation and Blue Star Diving Operators, who are trained in the best practices for marine debris removal. The community-led collaboration grew out of the devastating aftermath from Hurricane Irma in Sept. 2017, which displaced approximately 154,000 lobster traps, many of which were dragged across sensitive ocean habitats for up to 15 miles. In its first year alone, trained operators helped remove more than 10,000 pounds of marine debris from sanctuary waters. Now in its third year, the program teamed up with locals from the Florida Keys and the FCOLC team to spread ocean awareness and remove traps from local coral reefs.
During a clean-up dive, Fabien Cousteau and Jesus Gudino use lift bags to bring derelict lobster traps up from the seafloor. Tiffany Duong / Ocean Rebels
While helping the environment, EcoWatch took the opportunity to interview aquanaut and ocean conservationist Fabien about all things ocean.
EcoWatch reporter Tiffany Duong (far right) joins Fabien Cousteau and FCOLC members Martín Molina Castellnon and Pamela Fletcher for a marine debris clean-up. Tiffany Duong / Ocean Rebels
Tiffany Duong (EcoWatch): First, how much debris did we take off the reefs today?
Fabien Cousteau: 664.8 pounds — we smashed the old record!
Fabien Cousteau removes rope tangled around a coral reef in the Florida Keys. Tiffany Duong / Ocean Rebels
EW: Why oceans? What's the appeal?
FC: When one has experienced the ocean world, it's impossible to turn your back on it. It's a privilege and a responsibility to share the adventure and the passion with other... And, I love it. I'm addicted to oceans.
EW: What is your favorite thing about the oceans?
FC: The sense of being, the sense of community. The sense of tranquility that it gives. The fact that it gives us everything that we require as well as the things that make us — the intangibles that give us our humanity.
EW: How do you remember your grandfather?

FC: I had the luck of spending the first 30 years of my life with my grandfather around. For years, maybe the first decade and a half, I just saw him as my grandfather. We would see him in family gatherings, whether in the field or at home. He would tell us stories. He would be how I imagine most grandparents are — very interested in their grandchildren and spending time with them. It wasn't until we were in a Japanese restaurant in New York City one day and people kept coming up to our table to interrupt our family time asking for him to sign things that I realized our grandfather wasn't just for us. We were sharing him with the world. And that's when I realized — very naïve of me — what an iconic public figure he was, especially for the ocean world.
Fabien Cousteau is pictured with his pioneering grandfather, Jacques Yves Cousteau. Fabien Cousteau
EW: Why should others care about the oceans?
FC: Without the oceans, we're a brown rock in space like all the others. The oceans set our planet apart and allow us to survive and thrive. We share the planet with all kinds of sentient beings. To envision a better future, we have to live in symbiosis with all of them.
EW: What's the current state of the planet?
FC: We're facing a terminal illness if we don't do something. It's not trite to say that... As a species, we are directly responsible for our very own future. We're the only species that can do that, that can determine its own future. And that's the most fundamentally important thing everyone needs to understand.
Fabien Cousteau is an aquanaut, ocean advocate and conservationist. Carrie Vonderhaar
EW: You're not just taking this sitting down. Tell us about the Fabien Cousteau Ocean Learning Center and what you're trying to do.
FC: The mission is to educate, empower and engage. It's based on a quote my grandpa told me as a kid: People protect what they love, they love what they understand, and they understand what they're taught. The only way we're getting out of this is if we fill the proverbial bucket together one drop at a time — one action at a time. We're all responsible for what we see today, so the solution isn't from one source like myself or an individual doing their best, it's all of us pitching in.
EW: What does that look like for you and FCOLC?
FC: We all need to do our part and invest in ocean protection, conservation and science. Our Nicaragua program is a great example of all three.
(Editorial Note: Per FCLOC Nicaragua Program Manager Pamela Fletcher and Operations Manager Martín Molina Castellnon, the Nicaragua program addressed three phases, and involves mangrove restoration and sea turtle conservation.)
Phase 1 involved the local and indigenous communities in mangrove restoration. As a critical blue carbon sink, mangroves sequester more carbon than any other plant or tree, Fabien noted.
Phase 2 evolved into the current sea turtle conservation project. Nesting beaches of several species are patrolled, and nests are protected from poachers. Eggs are then relocated to guarded hatcheries, and the community and local university students are empowered to create a future in conservation and science.
Phase 3, which has already started, will grow to include the empowerment of local women and girls. In transitioning the conservation program management to them, they take on the responsibility of protecting sea turtles and spreading awareness to their local communities. This builds the foundation for girls to envision a future in conservation and STEM. Girls and women also learn the tools for making conservation a viable business that can sustain them and their families.
Pamela Fletcher: Our biggest success is the shift we're seeing in how [the girls helping with the sea turtle program] value themselves in the community and value protecting these amazing species.
Martín Molina Castellnon: In Nicaragua, these things are all managed by men, and we transitioned them to be women. It's taken off like a rocket. One little girl who's only eight years old has been in the program for two years, and she collects plastics, brings them to school and tells her friends about what's happening in the oceans. She's our future pioneer.
FC: She's a trailblazer.
MMC: Women empowerment has really changed their lives. And, it's made a big difference in the community.
Proteus is a new prototype underwater research station that could revolutionize how research is conducted and what it can uncover. Yves Béhar / Fuseproject
EW: Now, tell me about Proteus.
(Editorial Note: Proteus is a conceptual underwater research station that Fabien hopes will change how underwater research is tackled. It will be the world's largest and most advanced underwater habitat located 60 feet below the surface in Curaçao. The goal is for it to be completely modular and customizable, run by renewable energy and filled with cutting-edge technology.)
FC: This is a very large project. Proteus will be like the International Space Station of the sea. That was by design, and it's meant to give people that image because a lot of science will be coming out of it. Educational components and broadcasting will be for the social good, for the benefit of humanity and the planet. Underwater habitats are the missing tool in underwater exploration. It doesn't take away from ships, ROVs, probes, scuba, etc. — it's something that fills a big gap we currently have.
EW: What gives you hope?
FC: What's exciting to me is that we know so little about the oceans. We've explored only five percent. That's a huge opportunity. But, we also need to understand we're having a huge impact on our oceans, too. We're treating it as a garbage can, but really, it's a closed-loop system that we're banking on. Now, that bank account is going bankrupt, so we need to fill it back up.
EW: Any advice to those reading?
FC: Protect the ocean as if your life depended on it — because it does.
Locals joined Fabien Cousteau and his team from the FCOLC for a marine debris cleanup dive in the Florida Keys. Tiffany Duong / Ocean Rebels
EcoWatch Daily Newsletter
A humpback whale, one of the species affected by the Pacific marine heat wave, breaches in Kenai Fjords National Park in the Gulf of Alaska. Kaitlin Thoreson / National Park Service
By Hannah Thomasy
From 2014 to 2016, the Gulf of Alaska experienced the worst marine heat wave of the decade. From single-celled organisms to top predators, practically no level of the ecosystem was left unscathed. During the Pacific marine heat wave, tens of thousands of dead seabirds washed up on beaches, unusually low numbers of humpback whales arrived in their summer habitats, and toxic algal blooms spread along the West Coast of North America.
Now, a new study in Scientific Reports casts doubt on whether Gulf ecosystems will be able to return to their pre–heat wave conditions. This study—a collaborative effort between researchers at NOAA and several other government and research organizations—combined dozens of data sets to build a detailed picture of how many heat wave–induced changes have persisted. Thanks in part to long-term monitoring efforts by Gulf Watch Alaska, a program established in 2012 to assess the ongoing effects from the 1989 Exxon Valdez oil spill, scientists were able to compare pre–heat wave and present conditions in several different sections of the ecosystem.
"We were able to show these impacts—from the intertidal out to the pelagic [open ocean] ecosystem, and from algae and phytoplankton on up to whales and commercial fisheries, and a lot of different species in between," said Robert Suryan, a NOAA marine biologist and lead author of the study.
Shannon Atkinson, a professor in the College of Fisheries and Ocean Sciences at the University of Alaska Fairbanks who was not involved in this study, said it's very important that we understand the changes taking place in the Gulf of Alaska. "The ecological significance is huge," she said. "We've seen such dramatic changes in the Far North…it really has made Alaska like a ground zero for climate change."
In addition to impacts on the animals that make their homes in the Gulf of Alaska, changes in the Gulf ecosystem could have major implications for the livelihoods of many Alaskans as well. This region supports subsistence fisheries, commercial fisheries, and a major tourism industry.
Changing Ecosystems
For some animals, the heat wave was devastating. Most metrics showed a decline in sea stars, herring, and Pacific cod; their populations today generally remain lower than pre–heat wave measures. Numbers of sea lion pups trended downward, and some areas had fewer nesting seabirds like common murres and kittiwakes.
But, Suryan pointed out, as some species suffered, others thrived. For example, researchers saw a major decrease in the amount of brown algae in the intertidal zone. That's bad news for species like herring, which lay their eggs on the algae. But as algae cover decreased, "that opened up space" for other organisms in the intertidal zone, explained Suryan. "In tidal communities, there's a lot of competition for space, so there was an increase in barnacles and mussels.… So that's a benefit to communities that rely more on those particular species."
Similarly, there have been positive and negative effects on different fisheries in the region. Although the Pacific cod fishery has suffered in the years during and since the heat wave, Suryan said that juvenile sablefish have been surviving and growing at greater rates than usual, so sablefish fisheries will likely do well in the coming years.
As ecosystems change, we as humans need to change how we interact with and manage them, researchers said. "With these types of studies, we're hopeful that we can really benefit the management of natural resources," said Suryan. "[We're] thinking about the communities in the region and the industries in the region—how can we help inform their adaptation to this change?"
An Uncertain Future
This study is just the beginning. Suryan looks forward to more focused research on the mechanisms by which these changes are occurring. Why do some species do better than others? Even within the same species, why do some age groups thrive while others decline? By understanding such mechanisms, he said, we will be better able to predict how the changing climate will affect the future of these important ecosystems.
In addition to measuring the number of animals in the population, Atkinson said that measuring things like reproductive rates and biomarkers of stress can also be valuable indicators of how well a group of animals is faring in a changing environment.
Unfortunately, climate change may not be the only threat these animals face. Atkinson said it's important to determine how animals will respond to cumulative stressors (including climate change, disease, and pollution) to predict how well populations will survive in the coming years.
This story originally appeared in Eos and is republished here as part of Covering Climate Now, a global journalism collaboration strengthening coverage of the climate story.
From Your Site Articles
Related Articles Around the Web
Chiradech / iStock / Getty Images
Portable generators allow you to power your devices and certain appliances, even away from home or when your primary power source is taken offline. These devices are also perfect for camping or outdoor adventures. A portable solar generator can give you the power you need with a smaller ecological footprint by using solar panels. In this article, we'll outline some of the top options available in 2021.

Our Picks for the Best Portable Solar Generators
Each product featured here has been independently selected by the writer. If you make a purchase using the links included, we may earn commission.
How We Reviewed Portable Solar Generators
A good portable generator will offer you backup power in a convenient and reliable way. We have reviewed some of the top models on the market today, and arrived at a few that we think stand out from the rest.
To rank the best solar generators, we considered the following criteria:
Size and weight. Smaller, more lightweight units offer much greater ease of use. We sought portable solar generators that aren't too challenging to lug around your home, or take with you when you go camping.
Battery storage capacity. While your generator absorbs light through a solar panel, that energy is ultimately stored in a battery. The battery storage capacity, measured in watt-hours (Wh) determines how long you can use the generator before it requires a recharge.
Inverter rating. Basically, inverter rating refers to the total number of watts that the solar generator can extract at any given time. Inverter rating, along with battery capacity, determine the wattage and power output of your generator.
Expandability. Some generators come with a predetermined number of solar panels, while some allow you to add more solar panels as needed. This is an important feature to consider when looking for generators.
Price point. Naturally, when looking for a new solar generator, staying on budget is always going to be a factor. We chose generators that are competitively priced.
The Best Portable Solar Generators
With these ranking factors in mind, here are our picks for the best portable solar generators available in 2021.
What Types of Batteries Do Solar Generators Use?

It's important to note that solar power generators may employ different kinds of batteries. The most common option is the lithium-ion battery. These tend to be more expensive than lead-acid batteries, at least on the front end. With that said, a lithium-ion battery will prove more durable, which usually makes it the smarter investment in the long run. Solar generators include charge controllers, which regulate the volts of energy coming from the solar panels to the battery to make sure the battery isn't overcharged and damaged.
The energy stored in the battery is converted from DC power into AC power using an inverter or adapter.
What Can You Power With a Portable Solar Generator?
There are different types of solar generators. A backup generator is primarily used to power your home, should your electricity go out. In this article, we focused on portable generators, which are mostly used for hiking and camping. With that said, a portable generator can also be really useful during power outages, potentially keeping your lights, electronic devices, and small devices or appliances on for several hours. Depending on the watts of power your solar system generator kit can support, you can use it to power things like phones, tablets, laptops, TVs, coffee makers, a mini-fridge, certain medical devices, and most anything you would plug into a car charger.
Some of the generators we've listed here can be charged by solar energy or via other sources, including vehicles and power outlets. These different charging solutions make a generator more versatile, though of course, solar energy is what you'll want to use if staying away from fossil fuels is your goal.
What are the Benefits of a Portable Solar Generator?
There are a number of reasons why you might consider a portable solar generator:
These units are ideally suited for camping and hiking. The ones on our list range in weight from under 10 pounds to over 50, but they are all fairly easy to cart around as needed, or to keep in your camper or RV.
Though they are not primarily intended to be emergency backup generators, they can certainly be used in that capacity. In particular, they can provide emergency power to important medical devices as well as phones and computers.
Unlike gas generators, portable solar generators offer power without making a lot of noise or creating a lot of fumes. This makes them much more appealing for campsites.
Portable solar generators are better for the environment, since they don't rely on gas or diesel fuel to run.
Using a solar generator is ultimately more cost-effective as you will never need to purchase fuel to recharge it.
Solar Power Can Take You Further
Solar power is one of the best options for dependable, renewable energy. Not only can it help power your house, but you can use these portable generators to carry that power with you, wherever you may go.
There are clearly lots of options on the market today. We hope our guide is helpful to you as you assess our own backup power needs, and as you determine which portable solar generator will give you the greatest value. Note that you can find many of these solar power options through third-party retailers like Amazon. Do your due diligence as you seek the perfect, portable solar solution for you and your family.
Josh Hurst is a journalist, critic, and essayist. He lives in Knoxville, TN, with his wife and three sons. He covers natural health, nutrition, supplements, and clean energy. His writing has appeared in Health, Shape, and Remedy Review.
Fire in one part of a community can contaminate the water system used by other residents, as Santa Rosa, California, discovered after the Tubbs Fire.
Justin Sullivan / Getty Images
By Andrew J. Whelton
More than 58,000 fires scorched the United States last year, and 2021 is on track to be even drier. What many people don't realize is that these wildfires can do lasting damage beyond the reach of the flames – they can contaminate entire drinking water systems with carcinogens that last for months after the blaze. That water flows to homes, contaminating the plumbing, too.

Over the past four years, wildfires have contaminated drinking water distribution networks and building plumbing for more than 240,000 people.
Small water systems serving housing developments, mobile home parks, businesses and small towns have been particularly hard-hit. Most didn't realize their water was unsafe until weeks to months after the fire.
The problem starts when wildfire smoke gets into the system or plastic in water systems heats up. Heating can cause plastics to release harmful chemicals, like benzene, which can contaminate drinking water and permeate the system.
As an environmental engineer, I and my colleagues work with communities recovering from wildfires and other natural disasters. Last year, at least seven water systems were found to be contaminated, suggesting drinking water contamination may be a more widespread problem than people realize.
Our new study identifies critical issues that households and businesses should consider after a wildfire. Failing to address them can harm people's health – mental, physical and financial.
Wildfires Make Drinking Water Unsafe
When wildfires damage water distribution pipes, wells and the plumbing in homes and other buildings, they can create immediate health risks. A building's plumbing can become contaminated by smoke getting sucked into water systems, by heat damaging plastic pipes – or contamination penetrating into the plumbing and leaching out slowly over time.
Since 2017, multiple fires have rendered drinking water systems unsafe, including the Echo Mountain, Lionshead and Almeda fires in Oregon, and the CZU Lightning Complex, Camp and Tubbs fires in California. Thousands of private wells have been affected too.
Being exposed to contaminated water can cause immediate harm, such as headaches, nausea, dizziness and vomiting. Short-term exposure to 26 parts per billion or more of benzene, a carcinogen, may cause a decrease in white blood cells that protect the body from infectious disease. Multiple fires have caused drinking water to exceed this level. A variety of other chemicals can exceed safe drinking water exposure limits too in the absence of benzene.
Households Are Not Being Adequately Warned
In a survey of 233 households affected by water contamination, we found people reported high levels of anxiety and stress linked to the water problems. Nearly half had installed in-home water treatment because of uncertainty about the water. Eighty-five percent had looked for other water sources, such as bottled water.
In some cases, we found that advice from government agencies placed households at greater risk of harm. It has sometimes left people exposed to chemicals, caused them to needlessly spend money and given them a false sense of security. Certified in-home water treatment devices, for example, are tested only to bring down 15 parts per billion of benzene to less than 5 parts per billion, the federal standard. These devices are not tested to treat hazardous waste-scale contaminated water that's been found after wildfires.
Following the 2020 CZU Lightning Complex Fire near Santa Cruz, California, a local health department correctly warned private well owners not to use their water and to test it, but a nearby damaged water system and the state did not warn 17,000 people against bathing in the contaminated water. It was only after test results proved the water had been unsafe all along that the system owner and state advised against bathing in it.
In Oregon, some damaged systems encouraged people to boil their drinking water, later finding that the water had benzene in it.
After the 2018 Camp Fire that devastated Paradise, California, the local health department correctly warned the entire county not to use or try to treat the drinking water, which had contamination above EPA's hazardous waste limit. But one water system and the state encouraged 13,000 people to try to treat it themselves.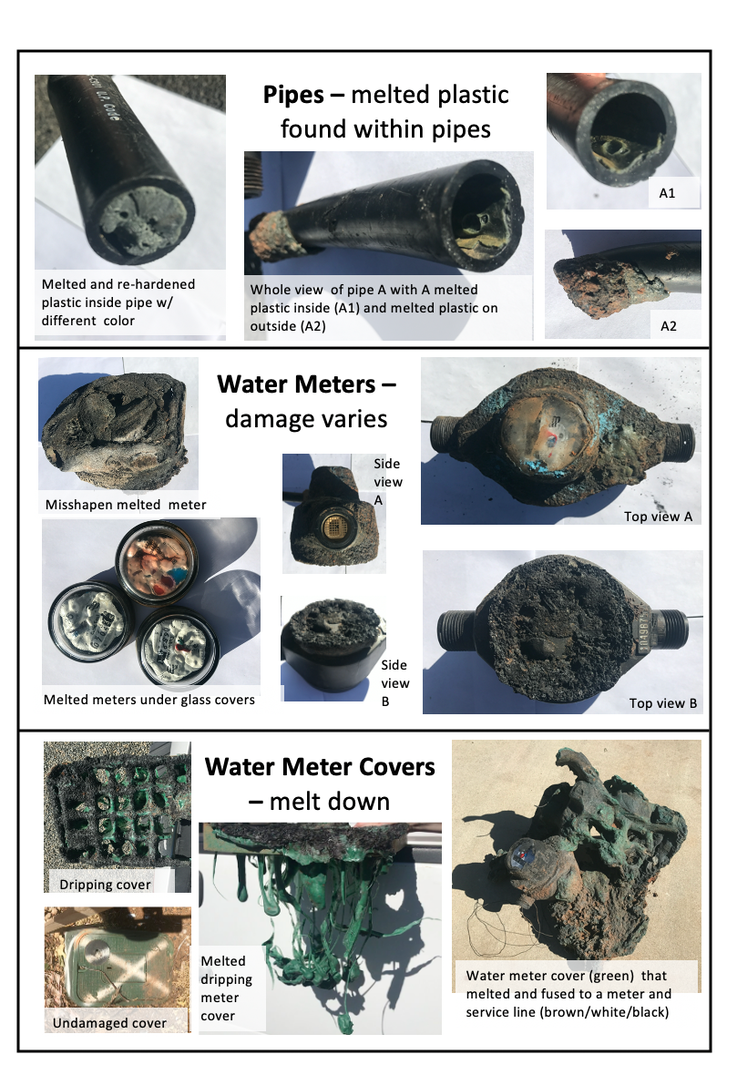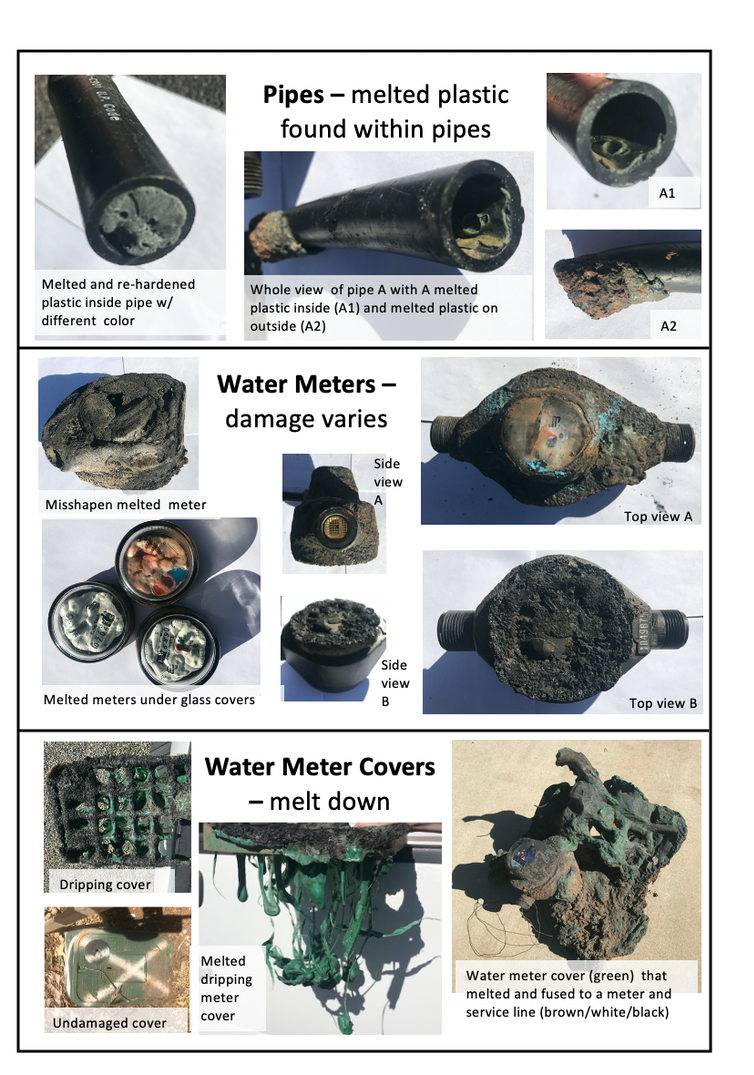 In all of these cases, the U.S. Environmental Protection Agency chose not to compel water utilities to explicitly notify customers about the water contamination and its risk.
Communities have received other bad information:
Commercial labs and government officials recommended flushing faucets for 5 to 15 minutes before collecting a water sample, thereby dumping out the contaminated plumbing water meant for testing.
Homeowners were led to believe a single cold water sample at the kitchen sink would determine if the hot water system and property service line was contaminated. It cannot.
People were led to believe that benzene water testing would determine if any other chemicals were present above safe limits. This is not possible.
What to look for after a nearby fire
Signs of potential contamination after a nearby wildfire could be loss of water pressure, discolored water, heat damage to water systems inside and outside buildings, and broken and leaking pipes, valves and hydrants.
Drinking water should be assumed to be chemically unsafe until proven otherwise.
Once a system is contaminated, cleanup can take months. The water system will have to be flushed and tested regularly to track down contamination. Health departments should also issue guidance on how to test private wells and plumbing.
When testing plumbing, include the property service line as well as the hot and cold water lines. Before collecting a water sample, the water must sit long enough in the plumbing so contamination can be found – 72 hours was the Tubbs Fire and Camp Fire standard. Tests should look for more than benzene.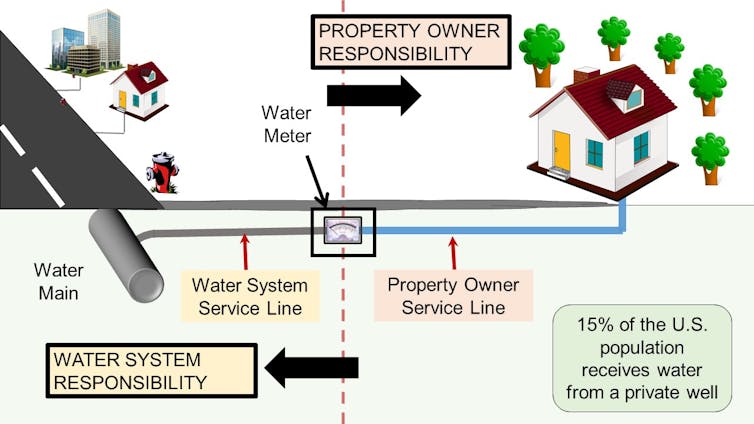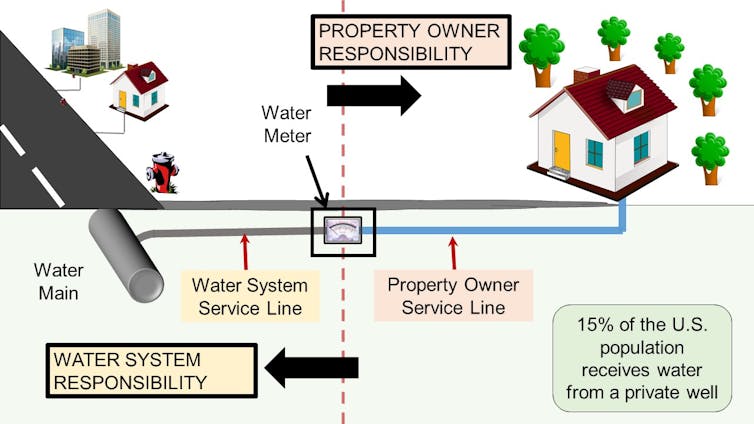 Who can help?
Many of the critical public health risks identified in our new study can be addressed by public health departments with financial support from state and local agencies.
Public health departments often have experience responding to water problems, such as legionella outbreaks, and can provide technical advice about both chemical exposures, building plumbing and private drinking water wells.
Andrew J. Whelton, Associate Professor of Civil, Environmental & Ecological Engineering, Director of the Healthy Plumbing Consortium and Center for Plumbing Safety, Purdue University

Disclosure statement: Andrew J. Whelton received funding from the U.S. National Science Foundation, Paradise Irrigation District, U.S. Environmental Protection Agency, Paradise Rotary Foundation, and Water Research Foundation.
Reposted with permission from The Conversation.
The new greenhouse will accelerate Lufa's mission to grow food. Lufa
By Sean Fleming
The world's largest rooftop greenhouse is in Montreal, Canada.
It measures more than 15,000m2 and produces more than 11,000kg of food per week.
The company behind it had to hire 200 new employees due to pandemic-driven demand.
Can you grow enough produce for an entire city in rooftop greenhouses? Two entrepreneurs in Montreal, Canada, believe it might be possible.
Lauren Rathmell and Mohamed Hage cofounded Lufa in 2009. The company has four urban gardens in the Canadian city, all in rooftop greenhouses. Lufa's most recent sits on top of a former warehouse and measures more than 15,000m2 – larger than the other three greenhouses combined. Its main crops are tomatoes and aubergines, producing more than 11,000kg of food per week. It is, the company says, the largest rooftop greenhouse in the world.
An Ambitious Goal
​Rathmell says the new greenhouse will accelerate Lufa's mission to grow food where people live and help it to meet an "ever-growing demand for fresh, local, and responsible foods".
The company – which says it's not trying to replace local farms and food makers, acknowledging that not everything can be grown on rooftops – follows what it calls 'responsible agriculture' practices. These include capturing and recirculating rainwater, energy-saving glass panels, and an absence of synthetic pesticides. Any waste is composted and reused, and food is sold directly to customers on the day it is harvested. Lufa also has a fleet of electric vehicles to make those deliveries.
"Our objective at Lufa is to get to the point where we're feeding everyone in the city," Hage said in an interview in Fortune. Lufa's fifth greenhouse is due to open later in 2021.
At the moment, Lufa grows food for around 2% of the city's population. While that might sound like a modest proportion, interest in urban agriculture is on the rise. Presently, agriculture in urban areas tends to be more common in developing countries. But the UN Food and Agriculture Organization (FAO) favors an increase in urban agriculture, saying it can have "important benefits for food security."
Urban farming is often more common among poorer members of society. UN FAO
A Growing Global Trend
Lufa produces more than 11,000kg of food per week, including tomatoes and aubergines. Lufa
Urban agriculture has been taking off in other parts of the world in recent years, too – from shipping containers in Brooklyn, New York City, to allotments in unused spaces in Brussels, Belgium.
And at 14,000 m2, there's Nature Urbaine in Paris – which claims to be the world's largest urban rooftop farm. Nature Urbaine rents out growing space to Parisians who want to grow their own crops. Tenant farmers pay around $450 per year per 1m2 sized plot. They get a welcome pack with everything they need to start growing, as well as regular access to the Nature Urbine gardening team who are on hand to offer advice and support.
Lufa's first greenhouse was opened in 2011, in Montreal's Ahuntsic-Cartierville borough, to grow herbs, microgreens, cucumbers and peppers. Two more were added in 2013 and 2017, with the fourth joining last year. It sits on top of a former Sears warehouse in the Saint-Laurent area of the city.
In addition to its own produce, Lufa also sells a selection of other locally made or grown food, including bread, cheese and drinks to its customers. Rising demand for its service, in the wake of the pandemic, led to the company hiring an additional 200 people, and partnering with 35 new farmers and food makers.
Lufa
Reposted with permission from the World Economic Forum.
Environmental activists carry a large snake pipeline as they protest against the Enbridge Line 3 oil pipeline on May 7, 2021 in Washington, DC. Drew Angerer / Getty Images
By Jessica Corbett
From fake oil spills in Washington, D.C. and New York City to a "people mural" in Seattle spelling out "Defund Line 3," climate and Indigenous protesters in 50 U.S. cities and across seven other countries spanning four continents took to the streets on Friday for a day of action pushing 20 banks to ditch the controversial tar sands pipeline.
"Against the backdrop of rising climate chaos, the continued bankrolling of Line 3 and similar oil and gas infrastructure worldwide is fueling gross and systemic violations of human rights and Indigenous peoples' rights at a global scale," said Carroll Muffett, president of the Center for International Environmental Law.
"It's time for the big banks to recognize that they can and will be held accountable for their complicity in those violations," Muffett added. His organization is part of the Stop the Money Pipeline coalition, more than 150 groups that urge asset managers, banks, and insurers to stop funding climate destruction.
More evidence has emerged that humans have been altering the environment for much longer than the current climate crisis.
A new study published in Science Advances Wednesday found evidence that humans used fire to change the landscape around Lake Malawi in Africa as early as 92,000 years ago.

"This is essentially what we call the earliest anthropogenic landscape on Earth," study coauthor and University of Oslo archeology professor David Wright said in a press release.
The finding was the result of a collaboration between scientists who study ancient ecosystems and scientists who study ancient humans, Scientific American explained. In 2018, Pennsylvania State University paleoecologist and study coauthor Sarah Ivory published a study on climate conditions around Lake Malawi over the past 636,000 years. Pollen, fossil, and sediment records showed that forests would grow around the lake during wet periods and disappear during dry periods. This remained unchanged until around 86,000 years ago. At this point, the forest returned briefly during the wet period, only to suddenly fade and shift into grassland along with some fire resistant tree species.
Yale University paleoanthropologist Jessica Thompson was also working around Lake Malawi. She told Ivory about a spike in human artifacts around 92,000 years ago, suggesting that humans had moved to the area. Investigating further, the researchers found increasing evidence of charcoal deposits in cores drilled from the lake bed following human arrival. Could humans have burned down the forests and permanently altered the vegetation?
"Hunter-gatherers who go after hooved mammals can find it hard to hunt prey when it's in a closed tree environment. So we suspect the humans who arrived in the Karonga district [around Lake Malawi] started burning down the forest to open the landscape for hunting," Wright explained in the University of Oslo release. "It may also have provided new foods like starchy tubers that like to grow in open areas."
There are other possible explanations, Thompson acknowledged in a Yale University press release. It is possible that the fires were not lit intentionally, but were started accidentally. The charcoal could just come from smaller fires lit for cooking or warmth.
But, either way, it shows that humans have long had a transformative impact on their environments.
"One way or another, it's caused by human activity," Thompson told Yale. "It shows early people, over a long period of time, took control over their environment rather than being controlled by it. They changed entire landscapes, and for better or for worse that relationship with our environments continues today."
Though it dates from the earliest point, the study is not the first to present data that hunter-gatherers altered landscapes with controlled burns. Other evidence has emerged from 50,000 years ago in Borneo, 45,000 years ago in New Guinea and 40,000 years ago in Australia, Scientific American pointed out.
For Wright, this may set back the date for the Anthropocene — the term for when human presence and activity altered the geologic record. On local levels, Wright says, this process began tens of thousands of years ago.
"Wherever humans are, we transform landscapes because of our natural vulnerabilities as a species," Wright told the University of Oslo. "We cannot manage landscapes without changing them."
From Your Site Articles
Related Articles Around the Web
A gas flare at an oil well site outside Williston, North Dakota on July 26, 2013. Andrew Burton / Getty Images
By Brett Wilkins
The critical importance of reducing global methane emissions, including those generated by the fossil fuel industry, is more significant than previously understood, according to a report published Thursday by the United Nations Environment Program.
The new global methane assessment concludes that slashing a pollutant that is 84 to 87 times more potent than carbon dioxide over a 20-year period is a crucial step needed to tackle the climate emergency.

According to the report, cutting methane emissions dramatically is relatively inexpensive and could be accomplished by repairing leaking fossil fuel pipelines, preventing natural gas venting during drilling, capturing gas emitted by landfills, and reducing animal agriculture.
"Reducing human-caused methane emissions is one of the most cost-effective strategies to rapidly reduce the rate of warming and contribute significantly to global efforts to limit temperature rise to 1.5°C," an executive summary of the report states, referring to the more ambitious goal of the Paris climate agreement.
"Available targeted methane measures, together with additional measures that contribute to priority development goals, can simultaneously reduce human-caused methane emissions by as much as 45%, or 180 million tonnes a year (Mt/yr), by 2030," the summary continues. "This will avoid nearly 0.3°C of global warming by the 2040s and complement all long-term climate change mitigation efforts."

"It would also, each year, prevent 255,000 premature deaths, 775 000 asthma-related hospital visits, 73 billion hours of lost labor from extreme heat, and 26 million tonnes of crop losses globally," it adds.
In a statement announcing the new report, UNEP Executive Director Inger Andersen said that "cutting methane is the strongest lever we have to slow climate change over the next 25 years and complements necessary efforts to reduce carbon dioxide."
Methane pollution is fueling the #ClimateCrisis, & the latest data from @CCACoalition and @UNEP shows that global m… https://t.co/SFO6qqiqSX

— Climate Nexus (@Climate Nexus)1620331440.0
As Common Dreams reported last month, a study published by the U.S. National Oceanic and Atmospheric Administration revealed that both carbon and methane emissions rose in 2020 to levels unseen on Earth for more than three million years, despite the temporary reduction in global emissions due to the coronavirus pandemic.

"The benefits to society, economies, and the environment are numerous and far outweigh the cost," Andersen said Thursday. "We need international cooperation to urgently reduce methane emissions as much as possible this decade."
"It is absolutely critical that we tackle methane and that we tackle it expeditiously," she stressed.
Environmental groups weighed in on the new report, with Center for Biological Diversity population and sustainability director Stephanie Feldstein noting the impact of animal agriculture on methane emissions.
"Methane from meat and dairy production has been ignored for far too long even though it's a leading source of climate pollution," Feldstein said in a statement. "Americans eat three times the global average of meat. We can't lower methane emissions with unproven half-measures that cater to the ag industry. We have to reduce meat consumption and production if we're going to effectively address agricultural methane."

Reposted with permission from Common Dreams.
From Your Site Articles
Related Articles Around the Web
The long-term survival of Velvet Scoters remains in serious jeopardy. BoukeAtema / Getty Images
By Nika Paposhvili

The wide-ranging sea duck known as the velvet scoter can be found in the skies and waters of nearly a dozen European and Asian countries, but it has almost disappeared from some of them. Just a few years ago, it was thought that the geographically isolated breeding population of these birds in the Caucasus was completely extinct. But a study conducted on the Javakheti plateau in 2017 revealed that Lake Tabatskuri in Georgia still holds a small breeding population of just 25-35 pairs. The long-term survival of this tiny population remains in serious jeopardy.
Species Name:
Velvet scoter or velvet duck (Melanitta fusca)
Description:
The velvet scoter is a medium-sized, stocky diving duck. The name comes from the velvety plumage of a male bird. The orange bill and light-blue eyes, with a tiny white mark under the eye, make it even more fascinating during mating season.
Where It's Found:
The breeding population of velvet scoter has disappeared in Armenia and Turkey, and nesting is now confined to just one site in the entire Caucasus: Lake Tabatskuri. This beautiful lake is in the Javakheti plateau region of southern Georgia, 2,000 meters (6,500 feet) above sea level. A small island in the northern part of the lake is now the birds' only natural breeding place in the region.
A velvet scoter duckling on Lake Tabatskuri, Georgia, which harbors the last breeding population of the species in the Caucasus. Nika Paposhvili. Used with permission.
IUCN Red List Status:
The velvet scoter is classified as vulnerable and is considered to be decreasing worldwide, with a three-generation decline estimated at 32-46%. However, the Caucasian geographically isolated population is in much more trouble and is a critically endangered species regionally.
Major Threats:
Nesting sites have been lost or disturbed through habitat degradation to irrigate adjacent agriculture land, as well as hay cutting on peninsulas and islands in the lakes. Additional factors that led to diminished numbers in the Caucasus include eutrophication (caused by agricultural intensification and wastewater), disturbances by boats, overfishing and bycatch, illegal hunting, removal of eggs by locals for food, and duckling and egg predation by Armenian gulls (Larus armenicus) that compete with the scoters for nesting sites. It is therefore crucial to protect these last remaining ducks before the species is completely wiped out.
Velvet scoter vs. Armenian Gull. Photo: Nika Paposhvili. Used with permission.
They still face some of the threats that led to their decline, with predation on ducklings by Armenian gulls having the greatest impact. This problem is compounded by the fact that numbers of Armenian gulls have dramatically increased in recent years — likely due to the easily accessible food at landfills as more human settlements have been established. Despite attempts by the brood-hen to deter attackers, most of the ducklings (roughly 60-70%) currently become victims in the few days after they hatch.
Notable Conservation Program(s) or Legal Protections:
Conservation actions to ameliorate conditions have already been initiated under our Conservation Leadership Programme project. As a result of raising awareness among local people and involving them in the project, anthropogenic factors (hunting, collecting eggs on the island, disturbance by boats in the feeding area) have been significantly reduced. But competition between species on the nesting grounds and gull predation on the scoter ducklings remain major problems, and we're now working to find appropriate ways to solve these problems. At the same time, we are working to form a long-term conservation action plan for the successful conservation of the breeding population.
My Favorite Experience:
It was a rainy, windy cold day when I first got to Lake Tabatskuri and set myself and my telescope up for birdwatching, looking for these rare birds. The rain was hitting me in the face, wetting the telescope and restricting my vision. Everything was against me, but I would not give up and stubbornly looked for a black duck in the raging waves, trying not to miss any part of the lake.
Finally, where I least expected it, in the one bay near to the village, I spotted a small flock of velvet scoter riding on the waves. It was a joy and at the same time a great assault on my emotions, hard to describe in words — like the feeling a father has when he first sees his first child.
I do not know how long I stood there, shell-shocked, before a local passerby found me and took me to her house to bring me back to reality.
What else do we need to understand or do to protect this species?
Lethal or nonlethal control of the gull population would have a positive impact on the scoters' reproductive success. However, a more detailed study is still needed before making this decision.
Nika Paposhvili has been obsessed with birds since childhood. He graduated with a bachelor's degree in business and administration and then worked at a bank for several months, but the dull experience convinced him to return to birds. He is now a Ph.D. student in the Faculty of Natural Sciences at Ilia State University, working on waterfowl and actively involved in their conservation in Georgia.
Reposted with permission from The Revelator.
Redwood trees in California. Rhett A. Butler
On Thursday, the Biden Administration formally laid out its vision for conserving 30% of America's land and waters by 2030.
The "America the Beautiful" report, released by the Departments of Commerce, Interior, and Agriculture, includes few specifics but conceptualizes how the U.S. can better protect and restore biodiversity, improve the resilience of ecosystems to climate change, and increase the accessibility of the nation's parks and wilderness areas. The document devotes significant attention to social justice, noting the government's campaigns that forced Indigenous Peoples from their lands and discriminatory policies that have limited opportunities for communities of color and low-income communities to access natural spaces.

"Together, these three issues pose grave risks to the abundance, resilience, and accessibility of the natural resources that are at the foundation of America's economy and well-being. These challenges, however, also present opportunities," states the document, which goes on to point out the potential for the "30×30" plan to create job opportunities and drive more sustainable economic growth, while combatting the effects of climate change and environmental degradation.
Kayakers off the Hawaiian coastline. Rhett A. Butler
The report envisions farms and ranches functioning as wildlife corridors and carbon sinks, fishery management practices that stabilize fish stocks, and a job creation plan through a Civilian Climate Corps akin to the Civilian Conservation Corps of the 1930s. It also proposes creating more "safe outdoor opportunities in nature-deprived communities" and supporting tribally-led conservation and restoration initiatives as well as increasing access for outdoor recreation, including hunting, fishing, and hiking across public lands that are currently inaccessible.

Given the potential Congressional opposition to the Biden Administration's agenda, the report tried to put emphasis on the bipartisan nature of conservation, including a number of statements from a range of organizations, coalitions, and lobby groups on their visions for "30×30", including what the policy could entail and deliver for their constituencies. For example, the American Farmland Trust called farmers, ranchers, and foresters "essential allies in the effort to reach the 30×30 goals for biodiversity conservation and climate mitigation."
"To be successful, these policies must embrace USDA's legacy of voluntary, incentive-based, and locally led conservation and be strategically targeted," said the group.
The Grand Tetons in Wyoming. Rhett A. Butler
A letter from Tribal Leaders and Tribal organization leaders published in the report said 30×30 needed to recognize the stewardship and sovereignty of Tribal Nations.

"Tribal Nations are key to the success of the 30×30 policy initiative in the U.S. as they are intrinsically linked, presently and historically, to existing and prospective protected areas. Tribal Nations are the original stewards of these lands and waters and have been the most effective managers and protectors of biodiversity since time immemorial," stated the letter. "The 30×30 policy serves as a vitally important opportunity to safeguard the environment, Tribal cultural values, strengthen the Nation-to-Nation relationship, and uphold Tribal sovereignty and self-determination."
Protecting 30 percent of the planet has emerged in recent years as an ambition of a number of countries, organizations, and movements. Proponents of the approach say it could help humanity make progress toward addressing some of the most critical environmental problems we've created, from the extinction crisis to climate change.
Reposted with permission from Mongabay.
From Your Site Articles
Related Articles Around the Web
Smoke billows from an unauthorized steel factory on November 4, 2016 in Inner Mongolia, China. Kevin Frayer / Getty Images
China now emits more greenhouse gas pollution than the 37 member nations of the OECD combined, a new report from the Rhodium Group says.
China's climate pollution has increased dramatically in recent decades and its cumulative emissions since 1750 are still far smaller than the cumulative pollution emitted by OECD nations.
China now accounts for more than a quarter of global climate pollution, well over double the U.S., Earth's second-largest polluter, which accounts for 11% of global climate pollutants.
China's much larger population, however, means its per-capita emissions are still far lower than the U.S., which remains the world's worst polluter per-capita.
For a deeper dive:
Bloomberg, Washington Post, Reuters, Axios, The Hill, Ars Technica, CNBC, The Independent

For more climate change and clean energy news, you can follow Climate Nexus on Twitter and Facebook, sign up for daily Hot News, and visit their news site, Nexus Media News.
Agoutis released in Colombia after being recovered from illegal trafficking. LUIS ROBAYO / AFP via Getty Images
Global inequality isn't just a problem for human populations. A new study has found that it is also a major factor in the wildlife trade.
The research, published in Science Advances Wednesday, found that wild animals were more likely to be traded from poorer nations to wealthier ones, and this could be the key to reducing a traffic that harms endangered species and public health.
"Our findings suggest that international policies for reducing the global wildlife trade should address inequalities between signatory states," the study authors wrote.
The trade in wildlife is a major cause of biodiversity loss, the study authors noted. Not only does it remove species from their ecosystems at unsustainable rates, it also risks introducing invasive species into new environments and bringing diseases like amphibian chytrid fungus to new populations. This last threat is a problem for humans too, and the wildlife trade has been linked to the coronavirus pandemic.
To better understand this problem, researchers looked at data from the Convention on International Trade in Endangered Species of Wild Fauna and Flora (CITES), which regulates the trade on an international level. The study authors, who are based in Hong Kong and Singapore, compared CITES data on international wild animal sales with socioeconomic information about the countries involved, as Phys.org explained.
They found that around 420 million wild animals were trafficked between 226 countries from 1998 to 2018. These animals were more likely to be traded from poorer to wealthier countries. For example, BBC News pointed out, wild frogs travel from Madagascar to the U.S., while fish caught in Thailand are sent to Hong Kong.
Overall, the U.S. was the No. 1 importer of wild animals, with France and Italy trailing behind in second and third place, the study found. Indonesia, Jamaica, and Honduras were the largest exporters on a country-by-country basis, while most wild animals on the market either came from Asia or the Panamanian region.
While the scale of this trade is enormous, the findings also suggest a solution, as study lead author Jia Huan Liew of the University of Hong Kong told BBC News. Liew argued that poorer, exporting countries should be given financial help to stop the trade over a period of time. The money would only become available if the country met its reduction targets.
"Funding would ideally be drawn from wealthy countries, given their commitment to the UN Sustainable Development Goals (SDG), and the fact that they play a disproportionately large role in the global wildlife market," Liev told BBC News.
The findings also come at a crucial moment for change, as the world has woken up to the dangers posed by wildlife trafficking in the wake of the coronavirus pandemic. This has led to a temporary ban on the trade and consumption of wild animals in China.
"To avoid returning to business as usual, we should take advantage of the public's awareness of the possible consequences of consuming wildlife products to reduce demand, and make the Chinese ban on wildlife consumption permanent," Liew told BBC News.
From Your Site Articles
Related Articles Around the Web
© Andy Carter / DeSmog
By Rich Collett-White and Rachel Sherrington
Fossil fuel companies could face legal challenges over their misleading advertising, after a DeSmog investigation uncovered the extent of their "greenwashing."
Environmental lawyers ClientEarth have put companies on notice with the publication of the Greenwashing Files. The analyses, which use DeSmog's research, show how adverts of major fossil fuel companies and energy producers continue to overemphasize their green credentials, giving the public a misleading impression of their businesses.
DeSmog analyzed the advertising output of Aramco, Chevron, Drax, Equinor, ExxonMobil, Ineos, RWE, Shell and Total, and compared this with the reality of the companies' current and future business activities.
ClientEarth submitted a complaint against BP's advertising in 2019, before the company decided to withdraw its "Possibilities Everywhere" campaign. The lawyers say other fossil fuel companies could face similar challenges if they mislead the public through their advertising. The group is calling for tobacco-style advertising bans and health warnings to counter fossil fuel companies' "deceptive" marketing.
DeSmog's investigation found messaging that touts companies' climate pledges without being transparent about their large emissions contributions is widespread across advertising campaigns and social media promotions.
The adverts regularly highlight the companies' preferred solutions to climate change — from carbon capture and storage, to experimental algae biofuels, and investment in renewable energy sources — without being open about the small percentage of overall investment allocated to these technologies, nor their various limitations.
The Greenwashing Files lay bare the contrast between the public image these adverts create, and the reality of the fossil fuel companies' activities.
All companies featured in this article were contacted for comment.
ExxonMobil – 'Powering Progress'
"We're working on ways to provide energy while addressing the risks of climate change, producing clean-burning natural gas to reduce emissions from power plants, capturing CO2 before it reaches the atmosphere, and exploring unexpected energy sources like biofuels made from algae," a reassuring voice tells us in Exxon's "Powering Progress" advert – one of several released in recent years that present the US oil giant as a leader in green technologies.
But while the ad shows Exxon scientists hard at work developing "algae farms" and technology designed to suck carbon dioxide from the air, its business activities tell a different story.

Exxon is increasingly an outlier among fossil fuel companies and other major emitters, having refused to set an absolute emissions reduction target, opting instead for gradual "carbon intensity" reductions which still allow for overall emissions to increase. It has no plans to cut oil and gas production, which energy analysts say is urgently needed to meet the goals of the Paris Agreement.
While Exxon remains responsible for a significant portion of global emissions – with documents in 2019 revealing a total annual output roughly equivalent to that of Canada – its spending on clean energies has been a tiny fraction of its investments, with just 0.2 percent of its investment in new projects going to low carbon sources between 2010 and 2018.
And while "Powering Progress" and other ads put Exxon's investments in algae biofuels at the fore, it has spent just $300 million on the technology in a decade, compared with yearly capital investment of around $20 billion. Experts doubt whether the technology will ever be commercially viable or usable at scale.
RWE – 'We are the new RWE'
A video by German energy giant RWE takes the viewer through landmark inventions that have spurred on human civilisation since the industrial revolution – the light bulb, the radio, mass transport – before arriving at the present day. "Every time has its energy," the ad tells us, adding that "times are changing. Society is changing. Companies are changing, and we are changing too."
The images cut to wind turbines, and the forces of nature that are powering what we are told is today's "renewable age." The company positions itself at the heart of this transition, telling the viewer it is "focusing on renewable energies and storage, for a sustainable world," and that it is providing "clean, reliable and affordable" energy as part of its transition to "the new RWE."

The campaign accompanies pledges to become "carbon neutral" by 2040 and oversee a significant expansion into wind and solar energy.
But the growth of RWE's low-carbon activities has not been matched by an exit from fossil fuels. RWE remains the largest emitter in Europe, according to a recent study by Greenpeace, and its three major lignite coal-fired power stations all feature in the EU's top five highest-emitting plants. Under current plans, it will continue to generate coal-fired electricity until the end of 2038, almost a decade after the deadline recommended for OECD countries by climate experts, at the same time as expanding its already significant fossil gas business.
Despite its claims to focus on clean energy, 80 percent of the company's energy still comes from non-renewable sources, mostly highly-polluting brown coal, hard coal and gas. The company also counts controversial and carbon-intensive biomass amongst its "renewable" energy sources despite warnings from scientists over its use.
Drax – 'Beyond Coal'
Drax, another energy company that now relies heavily on biomass and operates the UK's largest power station in North Yorkshire, has worked hard to bolster its green credentials in recent years, positioning itself as an ally in the fight against climate change.
Last year, it released an advert celebrating the company's shift away from coal-fired energy production, which it completed in March. Set to an uplifting soundtrack, the video calls the move a "major step towards Drax's ambition to become carbon negative by 2030," while touting a new "Zero Carbon Skills Taskforce" to ensure the surrounding area "isn't defined by its past, but by its future."
A 2020 year-in-review video meanwhile describes Drax as "among Europe's lowest carbon intensity power generators," producing "77 percent renewable electricity."
But the company's claims about the climate-friendliness of biomass, which has now taken over from coal as the principal source of energy at its power station thanks to generous government subsidies, have been widely disputed. Burning wood pellets has been found to be more carbon-intensive than fossil fuels in most circumstances, while experts doubt that trees planted in their place can re-absorb the carbon dioxide emitted, on a meaningful timescale.

Carbon capture and storage – another key plank of Drax's low-carbon strategy – remains uneconomical at scale, with the company's own use of the technology still in the pilot phase.
In response to questions from DeSmog, Drax said emissions from biomass energy are "already accounted for in the land-use sector and therefore considered carbon neutral at the point of combustion," in line with "established global best practice" set out by the UN IPCC.
It also said biomass should be considered renewable "because the forests we source from are growing and storing more carbon" and pointed to its plans for a bioenergy with carbon capture and storage (BECCS) unit by 2027, "creating tens of thousands of jobs" and "permanently removing millions of tonnes of carbon dioxide from the atmosphere each year."
Aramco – 'The Moment is Now'
The Saudi Arabian state-owned oil and gas giant, Aramco, became the most valuable listed company in history when it floated on the stock market at the end of 2019. But the fossil fuel behemoth is at pains to assure viewers it is concerned about more than just its bottom line.
In an advert titled "The Moment is Now," an Aramco employee tells a lecture theatre full of colleagues that "as we open up to the world, we know more than ever before that we must continue towards a sustainable future."
"We value the natural resources we discover but never forget it is our human energy that drives us to create a better world," she says to the audience, who reward her presentation with a standing ovation.
Elsewhere, the company insists it is driven by a "commitment to preserving the environment because protecting our planet is one of our most important values."

That's despite the company being the world's largest corporate greenhouse gas emitter, responsible for an estimated four percent of all global emissions since 1965.
Aramco's oil and gas reserves total more than those of ExxonMobil, Chevron, Shell, BP and Total combined, while the company refuses to disclose its full emissions. Its majority shareholder, the Saudi Arabian government, has been at the forefront of efforts to stall international action on climate change for decades. At the last UN climate talks in Madrid, over a third of Saudi Arabia's representatives were associated with the oil and gas industry, many with Aramco.
Equinor – 'This is what changed us.'
Previously trading under the name Statoil, the Norwegian state-owned oil and gas company Equinor rebranded in 2018, with the hope of highlighting its transformation into a "broad energy company" and its growing low-carbon energy division.
Equinor explained its reasons for the name change in an advert called "Equinor. This is what changed us." Scenes of raging storms and melting ice caps are displayed while the narrator says: "Some changes are so profound that they transcend everything. Changes that require us to find a new balance."
In a more recent ad, the company insists that "emissions must come down and it must happen fast."

Equinor is certainly taking steps to increase its investments in low-carbon technologies, with plans to up its renewable energy capacity to 4-6 gigawatts by 2026, and has set a "net zero" emissions target for 2050.
But this shift is largely in addition to, rather than in place of, its core oil and gas business. The company is still exploring for more oil and gas reserves and does not intend to start reducing its fossil fuel production before 2030. Last year, it opened the largest oil field in Western Europe and is heavily involved in ventures in the Arctic.
Equinor promotes natural gas as the "perfect fuel to balance renewable energy" and was given a warning two years ago by the UK's Advertising Standards Authority for claiming the fuel was a "low-carbon" energy source.
Another technology the company touts is carbon capture and storage (CCS), but all of the projects it is involved in currently amount to less than three percent of its overall emissions.
Greenwashing Files
ClientEarth lawyer Johnny White said the collection of adverts showed the fossil fuel companies were involved in a "great deception."
"We need to reduce reliance on fossil fuels. But instead of leading a low-carbon transition, these companies are putting out advertising which distracts the public and launders their image," he said.
"These adverts are misrepresenting the true nature of companies' businesses, of their contribution to climate change, and of their transition plans," he added, saying that "we cannot underestimate the real world impact this advertising has on the pace of change."
You can find the full set of adverts and analyses here.
Additional research by Michaela Herrmann. Edited by Mat Hope.
Disclaimer: ClientEarth lawyer Sophie Marjanac sits on the board of DeSmog UK Ltd.
Reposted with permission from DeSmog.