This website uses cookies to ensure you get the best experience while browsing it. By clicking 'Got It' you're accepting these terms.


The best of EcoWatch, right in your inbox. Sign up for our email newsletter!
Toxic Algal Blooms Pose Health Risks to Wildlife, Pets and People
May. 09, 2013 09:55AM EST
Climate
By Fay Augustyn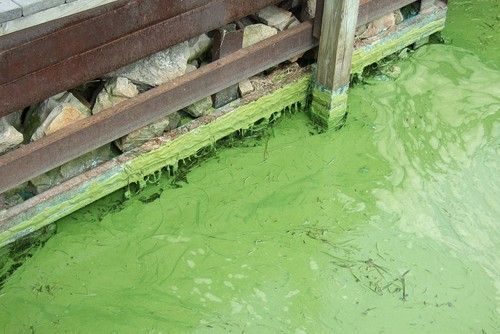 As we all learned in school, the Great Lakes are an immense source of freshwater. In fact, they are the largest system of freshwater lakes in the entire world and contain nearly one-fifth of the fresh surface water found on Earth. They provide drinking water to more than 40 million people, cover an area nearly the size of Oregon and contain a wide variety of habitats, including wetlands, dunes and forests, which are home to thousands of plant and animal species.
Despite the vast and perceived pristine nature of the Great Lakes, they face many threats. The waters of the lakes are not unlimited—on average, less than one percent is renewed annually from rainfall, runoff and groundwater. Invasive species and water pollution also are persistent threats. Failing infrastructure causes the release of raw and partially treated sewage, which contain bacteria and other pathogens that make people sick, into waterways that flow into the Great Lakes. In addition, sediment and fertilizers from urban and agricultural areas are carried by stormwater and irrigation runoff, adding to the heavy load of nutrients and other pollutants in the lakes.
These nutrients help to fuel the growth of algal blooms, thick green masses of foul-smelling slimy algae that can cover lakes. While not all algal blooms produce toxins, those that do, like blue-green algae, can kill wildlife and family pets, and make people sick. In the past three years, 100 cases of illness and at least two dog deaths have been reported in Wisconsin alone. Algae also can clog pipes, taint drinking water supplies and contaminate seafood. And this is not a problem confined only to the Great Lakes—algal blooms occur in freshwater lakes and in coastal areas all over the U.S.
Because of climate change, occurrences of algal blooms are only likely to worsen as conditions become more favorable. Recent research indicates that the 2011 algal bloom in Lake Erie, the largest in its recorded history, occurred as a result of conditions expected to become commonplace in the future. The predominant type of algae in the 2011 bloom produced a potent liver toxin that was found at levels up to 200 times the World Health Organization's limit. As climate change fuels more heavy rainfall events, combined sewer systems are likely to be quickly overwhelmed, leading to the release of sewage during overflow events. Several weeks ago, torrential rainfall caused 12 Wisconsin municipalities to dump nearly 53 million gallons of untreated sewage and stormwater into neighboring waterways. Heavy rainfall also will likely increase the volume of nutrient-rich stormwater and agricultural runoff. Additionally, warmer temperatures support the growth of algae. Together, these factors create near-perfect conditions for the occurrence and spread of harmful algal blooms.
In a joint effort to guide state action on climate and water preparedness, American Rivers and the Natural Resources Defense Council recently published the Getting Climate Smart guide, which contains a variety of strategies to reduce runoff and sewer overflows that provide nutrients for algal blooms to thrive. The guide also offers strategies to minimize public health impacts when harmful algal blooms occur. Green infrastructure to reduce stormwater runoff into combined sewer systems and greater public awareness during harmful algal bloom outbreaks are but a few examples.

In recent years, Wisconsin has adopted rules to reduce the amount of phosphorus released into waterways. A few states also are making progress when it comes to alerting the public about the danger of harmful algal blooms. Several Ohio state agencies have collaborated on an algae awareness website, which provides basic information on harmful algal blooms and a map of active advisories. The state even has established standards for the postings of recreational advisories.
The public also can report sightings of blue-green algae through the website for further investigation. Washington state and King County have collaborated on a similar website that also shows the results of algae sampling data statewide. For the Gulf of Mexico region, National Oceanic and Atmospheric Administration has developed an early detection and forecasting system that uses data from satellite, buoys and other sources to monitor and forecast harmful algal blooms. The dissemination of this information to local health officials then can help them to alert the public to take the appropriate precautions.
The impacts of climate change are wide-ranging, and no region of the country or sector is likely to be left unscathed. Some climate impacts like drought and flooding are relatively well known whereas awareness of other impacts like harmful algal blooms is not as widespread. The broad nature of climate change impacts underscores the need for states to be prepared. And our Getting Climate Smart guide shows them how.
Correction: An earlier version of this article misspelled Natural Resources Defense Council.
EcoWatch Daily Newsletter
Pxhere
By Richard Denison
Readers of this blog know how concerned EDF is over the Trump EPA's approval of many dozens of new chemicals based on its mere "expectation" that workers across supply chains will always employ personal protective equipment (PPE) just because it is recommended in the manufacturer's non-binding safety data sheet (SDS).
By Grant Smith
From 2009 to 2012, Gregory Jaczko was chairman of the Nuclear Regulatory Commission, which approves nuclear power plant designs and sets safety standards for plants. But he now says that nuclear power is too dangerous and expensive — and not part of the answer to the climate crisis.
A lake in Rocky Mountain National Park. Brett Walton / Circle of Blue
By Brett Walton
When Greg Wetherbee sat in front of the microscope recently, he was looking for fragments of metals or coal, particles that might indicate the source of airborne nitrogen pollution in Rocky Mountain National Park. What caught his eye, though, were the plastics.
Gabriele Holtermann Gorden / Pacific Press / LightRocket / Getty Images
In a big victory for animals, Prada has announced that it's ending its use of fur! It joins Coach, Jean Paul Gaultier, Giorgio Armani, Versace, Ralph Lauren, Vivienne Westwood, Michael Kors, Donna Karan and many others PETA has pushed toward a ban.
This is a victory more than a decade in the making. PETA and our international affiliates have crashed Prada's catwalks with anti-fur signs, held eye-catching demonstrations all around the world, and sent the company loads of information about the fur industry. In 2018, actor and animal rights advocate Pamela Anderson sent a letter on PETA's behalf urging Miuccia Prada to commit to leaving fur out of all future collections, and the iconic designer has finally listened.
Amer Ghazzal / Barcroft Media / Getty Images
If people in three European countries want to fight the climate crisis, they need to chill out more.
That's the conclusion of a new study from think tank Autonomy, which found that Germany, the UK and Sweden all needed to drastically reduce their workweeks to fight climate change.
Amazon Employees for Climate Justice held a press conference after the annual shareholder meeting on May 22. Amazon Employees for Climate Justice
An artist's rendering of the recomposition facility. MOLT Studios
Washington became the first U.S. state to legalize human composting Tuesday, offering residents a more environmentally friendly way to dispose of their remains, AFP reported.
Mr.TinDC / Flickr / CC BY-ND 2.0
Many nutrients are essential for good health.