This website uses cookies to ensure you get the best experience while browsing it. By clicking 'Got It' you're accepting these terms.
The Solution Under Our Feet: How Regenerative Organic Agriculture Can Save the Planet
Jan. 06, 2015 09:09AM EST
Climate
[Editor's note: This article is part one of a two-part series. Read part two.]
Many of us are now choosing to eat holistically grown foods. We want:
• more nutrition from our food.
• to avoid toxic pesticides and GMOs.
• to create safer conditions for farmers and rural communities.
• to protect the water, air and soil from contamination by toxic agrochemicals.
While these reasons are important, one critical issue is missing from today's conversation about food. The concept is simple, yet virtually unknown. The solution to our global food and environmental crisis is literally under our feet.
If you take away only one thing from this article, I want it to be this quote from esteemed soil scientist Dr. Rattan Lal at Ohio State University: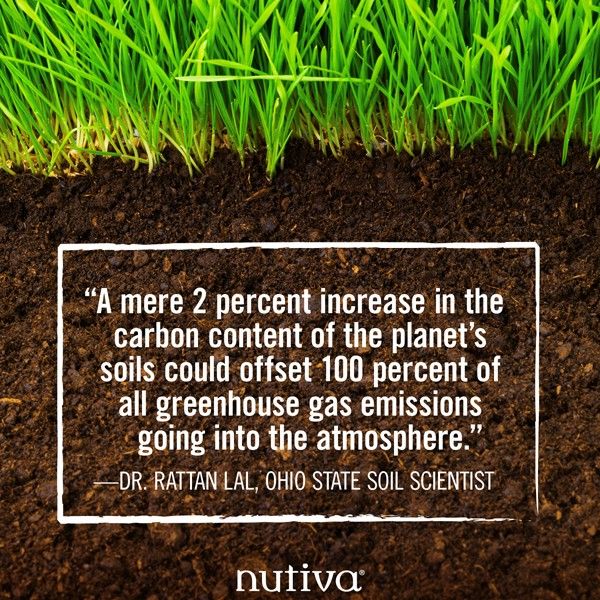 Through the past hundred years, we've steadily increased our rate of digging up and burning carbon-rich matter for fuel. This is disturbing the oceanic ecosystem in profound ways that include reducing the plankton that feeds whales and provides oxygen for humans. And we're not just talking about the extinction of whales. As I'll detail in this article, even Maine lobsters could become a relic of the past.
We've severely disrupted the balance in the "carbon triad" by clearing rainforests, degrading farmland, denuding pasturelands, and burning coal and oil. The carbon triad? Yes; think of the three main carbon sinks: the atmosphere, the oceans and the humus-sphere. While I'm sure you're familiar with the first two, you might not know about the latter carbon sink. Humus is the organic component of soil. (Gardeners create it as compost.) The humus-sphere is made up of the stable, long-lasting remnants of decaying organic material, essential to the Earth's soil fertility and our ability to grow nutrient-rich crops.
Up until now, the big oil companies Exxon, Chevron and Shell have been perceived as the main climate villains. Yet a new and growing movement of "carbon cycle-literate" people and organizations now realize that Monsanto, DuPont, Syngenta and big ag are much worse. We now know that 20-30 percent of all manmade green house gases in the atmosphere comes from industrial agriculture. Chemicals are for cars, not for the soil. By dumping agricultural chemicals onto our soils, we disrupt nature's delicate balance of water, soil and air.
In his recent Huffington Post piece "Nature Wants Her Carbon Back," Larry Kopald writes, "How is it possible that with the entire planet focusing on reducing CO2 emissions we're not even paying lip service to the single largest contributor?"
Tom Newmark, ex-CEO of New Chapter and co-founder of the Carbon Underground Project, has said it best: "Many NGOs view carbon and agriculture as the 'enemy.' The regenerative movement sees carbon as our friend, and agriculture as our natural ally to help our friend carbon return to the land." The challenge is that the enemies of all things natural, i.e., Monsanto, DuPont and Syngenta, are culture jamming in hope that the regenerative message won't go viral.
Two of those three carbon sinks are maxed out, while the soil, where the humus-sphere resides, has lost most of its humus due to the use of industrial farming techniques and bad land-management practices. This leaves the soil as the primary sink where our excess carbon can be sequestered. Yet nature is abundant and forgiving. Recent research in the fields of wetland, pasture, forest and crop production has illustrated that, by changing our management strategies, we can create more nature-centric systems that improve our quality of life rather than degrading it.
Carbon Farming Defined
Carbon farming is an agricultural system implementing practices that improve the rate at which CO2 is removed from the atmosphere and converted to plant material and/or organic matter in the soil. Today excess carbon is falling into our oceans and creating acidic conditions that threaten plant and animal species. If we remove carbon from the atmosphere and oceans by implementing the practices of regenerative organic agriculture, we'll sequester carbon into the soil and expand the soil's water-holding capacity. Building organic matter into the soil's humus layer is essential for growing the healthful foods humanity needs.
As a 2014 Rodale Institute report states, "Organically managed soils can convert carbon CO2 from a greenhouse gas into a food-producing asset." Two major upsides to this approach are drought-proof soils and, thanks to more nutrient-rich foods, reduced healthcare costs.
If this is the first you've heard about this idea, it's because the good news is just starting to trickle out. For example, the Marin Carbon Project's work with compost and rangeland was recently featured on the cover of the San Francisco Chronicle.
The mission of the Carbon Cycle Institute (part of the Marin Carbon Project) is "to stop and reverse global warming by advancing natural, science-based solutions that remove atmospheric carbon while promoting environmental stewardship, social equity and economic sustainability." The institute is also focused on carbon-cycle literacy, a form of savvy still greatly lacking in the general population, by educating and empowering people to make more informed choices and to demand that elected officials do the same.
Recently the American Carbon Registry, a nonprofit organization that creates protocols for carbon usage, approved standards that would reward ranchers for land practices that sequester carbon. Rancher John Wick, a Carbon Cycle Institute founder, has said, "Our proposal is that there is a whole other paradigm—that agriculture practices can be . . . the art of transforming atmospheric carbon into biospheric carbon." As of this writing, I understand that Gov. Jerry Brown's office plans to visit Wick's ranch.
From the regenerative agriculture movement has also come a fascinating new book by Kristin Ohlson that I strongly recommend: The Soil Will Save Us: How Scientists, Farmers and Foodies Are Healing the Soil to Save the Planet.
EcoWatch Daily Newsletter
Tuna auctions are a tourist spectacle in Tokyo. Outside the city's most famous fish market, long queues of visitors hoping for a glimpse of the action begin to form at 5 a.m. The attraction is so popular that last October the Tsukiji fish market, in operation since 1935, moved out from the city center to the district of Toyosu to cope with the crowds.

gmnicholas / E+ / Getty Images
Kristan Porter grew up in a fishing family in the fishing community of Cutler, Maine, where he says all roads lead to one career path: fishing. (Porter's father was the family's lone exception. He suffered from terrible seasickness, and so became a carpenter.) The 49-year-old, who has been working on boats since he was a kid and fishing on his own since 1991, says that the recent warming of Maine's cool coastal waters has yielded unprecedented lobster landings.
Aerial view of lava flows from the eruption of volcano Kilauea on Hawaii, May 2018. Frizi / iStock / Getty Images
Hawaii's Kilauea volcano could be gearing up for an eruption after a pond of water was discovered inside its summit crater for the first time in recorded history, according to the AP.
The Eqip Sermia Glacier is seen behind a moraine left exposed by the glacier's retreat during unseasonably warm weather on Aug. 1 at Eqip Sermia, Greenland. Sean Gallup / Getty Images
hadynyah / E+ / Getty Images
By Johnny Wood
The Ganges is a lifeline for the people of India, spiritually and economically. On its journey from the Himalayas to the Bay of Bengal, it supports fishermen, farmers and an abundance of wildlife.
The river and its tributaries touch the lives of roughly 500 million people. But having flowed for millennia, today it is reaching its capacity for human and industrial waste, while simultaneously being drained for agriculture and municipal use.
Here are some of the challenges the river faces.
By Jake Johnson
As a growing number of states move to pass laws that would criminalize pipeline protests and hit demonstrators with years in prison, an audio recording obtained by The Intercept showed a representative of a powerful oil and gas lobbying group bragging about the industry's success in crafting anti-protest legislation behind closed doors.
Reposted with permission from our media associate Common Dreams.

DESIREE MARTIN / AFP / Getty Images
Wildfires raging on Gran Canaria, the second most populous of Spain's Canary Islands, have forced around 9,000 people to evacuate.