This website uses cookies to ensure you get the best experience while browsing it. By clicking 'Got It' you're accepting these terms.
Scientists are bringing life on Mars closer and closer to reality by growing edible plants in soil similar to that of the red planet.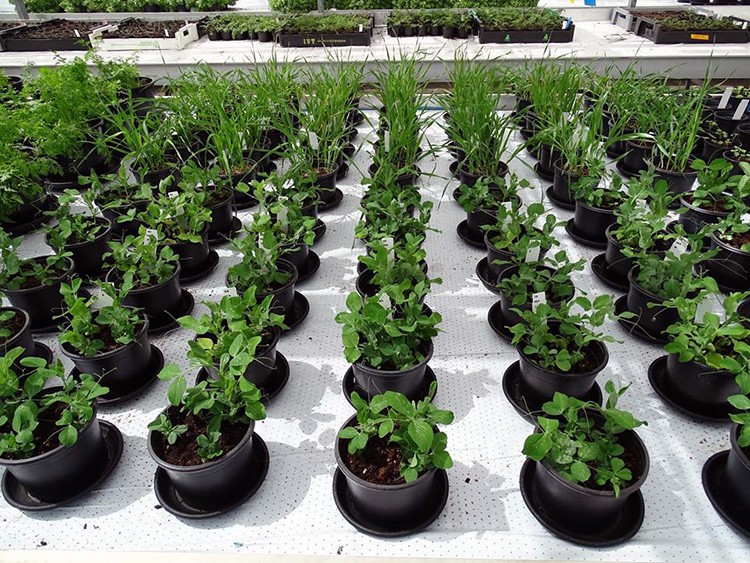 Researchers at Wageningen University in the Netherlands successfully grew 10 crops of which four so far have been tested and claimed edible, according to a Mars One statement. Radishes, peas, rye and tomatoes grown in Mars-like soil were deemed safe for human consumption.
"These remarkable results are very promising," senior ecologist Wieger Wamelink said. "We can actually eat the radishes, peas, rye, and tomatoes and I am very curious what they will taste like."
Scientists at Wageningen University have experimented with growing crops on Mars- and Moon-like soil simulants, developed by the National Aeronautics and Space Administration, since 2013.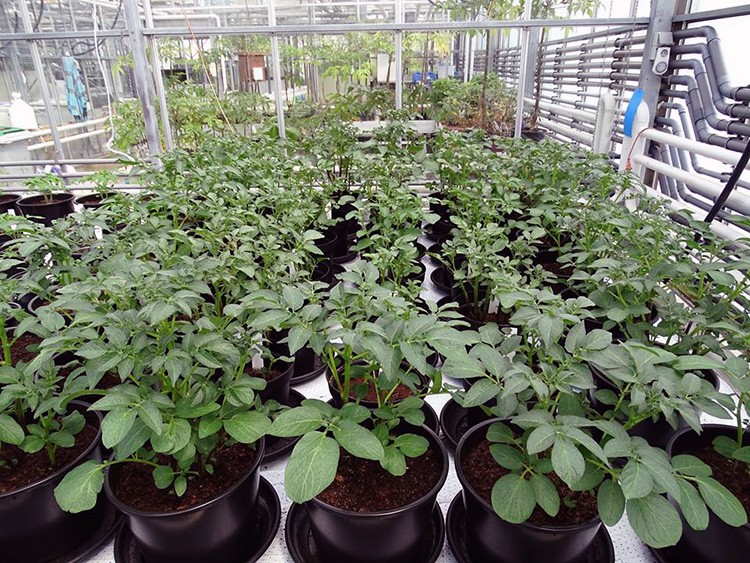 The first round of experiments proved that plants could in fact be grown in the soil. Scientists then needed to test if the plants produced in the soil simulants would be edible.
Mars' soil contains heavy metals—aluminum, copper, iron, manganese, zinc, arsenic, cadmium, chrome, nickel and lead—that could be poisonous if consumed at certain levels.
"Mars One is very proud to support this important research," Bas Lansdorp, CEO and co-founder of Mars One, said. "Growing food locally is especially important to our mission of permanent settlement, as we have to ensure sustainable food production on Mars."
Wamelink and team's research is being funded by a crowdfunding campaign, which run until the end of August. So far, the project has raised 12,745 euros out of a goal of 25,000. The remaining money will fund the testing of the other six crops, including potatoes.
"It's important to test as many crops as possible, to make sure that settlers on Mars have access to a broad variety of different food sources," Wamelink said.
Watch Wamelink talk about the experiments in more depth in this video:
YOU MIGHT ALSO LIKE:
Whistling Sound Coming From Caribbean Sea Can Be Heard From Space
NASA Astronaut Snaps Best Picture of Strawberry Moon
NASA: Porter Ranch Gas Leak Was So Big It Could Be Seen From Space
Who knew that the Windy City has become so green? As Co.Exist reported, Chicago is quietly becoming the country's urban agriculture capital with 821 growing sites across the city, from small community gardens to multimillion dollar indoor farms, according to the Chicago Urban Agriculture Mapping Project. Even O'Hare's Terminal 3 is home to the world's first airport aeroponic garden.

Farmed Here is the first organically-certified indoor vertical aquaponic farm in Illinois. Photo credit: Farmed Here
Chicago's "urban farming renaissance" has been led by a burgeoning indoor farm market, Co.Exist writes. This includes FarmedHere, a 90,000-square-foot space in Bedford Park that is not only the first organically-certified indoor vertical aquaponic farm in Illinois, it's also the largest indoor farm in North America. FarmedHere's two-story farming facility currently sits on the site of a formerly abandoned warehouse in the outskirts of Chicago.
FarmedHere's produce is grown in a sustainable environment where 97 percent of fresh water is reused and plants are grown without the use of herbicides or pesticides. The farm's LED lighting system mimics outdoor conditions, meaning plants don't need natural sunlight to grow.
EcoWatch previously mentioned how urban farming has really made a comeback in the U.S. in recent years. Cities around the world are developing and expanding their local food systems to create a more sustainable method of food production and distribution, which will become increasingly necessary as cities adapt to climate change.
Farmed Here CEO Nate Laurell also mentioned to Co.Exist that investors are becoming increasingly interested in indoor farming as LED lighting and solar energy drive operation costs "cheaper and cheaper." Incidentally, Chicago has relatively cheap electricity, with Chicago area households paying 15.4 cents per kilowatt hour versus the New York metro area average of 18.2 cents per kilowatt hour.
Projections show that the global vertical farming market is expected reach $3.88 billion by 2020, a figure that Laurell says is lower than what it actually might be.
"The greens market for Chicagoland alone is $400 million dollars," Laurell said. "Given the market is so big, and it's so top of mind for people where their food came from and how it was grown, even if only some fraction of that food grew in an indoor environment, when you extrapolate to other cities in the U.S. and abroad, you'd easily reach $4 billion; $4 billion seems light."
Laurell explained that vertical farming is ideal compared to outdoor agriculture as it produces local food year-round, has a small geographic footprint, a high yield per cubic foot ratio and slashes food miles.
"On the consumer side, there is a large demand for local food, food grown close to the city. People want to know where their food comes from and cut out transportation miles to get more freshness," he added.
Farmed Here plans to expand to up to 15 cities within the next decade, Laurell said.
Urban Till is another indoor hydroponic farm. Located on the west side of Chicago, the company offers herbs and microgreens to more than 200 clients in the area, the Chicago Tribune reported last year.
CEO Brock Leach told the publication that Urban Till will expand nationally and internationally with its proprietary hydroponics this year.
"We have an intellectual property to produce more water from the air than what we use in the farm at no additional cost of electricity, and we're able to produce agricultural goods without water supply to do so," Leach said.
Chicago's Pullman Park district also hosts the largest rooftop greenhouse in the world, a behemoth 75,000 square foot green space, built and opened by Gotham Greens in 2015.
"Our Pullman facility annually grows up to 10 million heads of leafy greens and herbs, year-round, for the finest retailers and restaurants across the greater Chicagoland area," the venture boasts.
The climate controlled greenhouse facility also sits on top of an already environmentally friendly factory occupied by eco-soap company Method.
Gotham Greens has three existing greenhouses in New York. "Chicago was a logical expansion because it is a large city—by market the third largest—a cold weather place with a short growing season and a limited supply of year-round local produce," Viraj Puri, CEO and cofounder of Gotham Greens, told Co.Exist.
"The traditional farmer in Illinois turns a head of lettuce twice a year, every 60 days—maybe a third turn if they're lucky. We do 25 crop turns per year, and a lot of that has to do with controlling climate, temperature, humidity, light and carbon dioxide," Puri added.
YOU MIGHT ALSO LIKE
Interactive Map Shows How 6,500 Factory Farms Put North Carolinians at Risk
3 Aquaponic Farms in Brooklyn Killing It
World's First Off-Grid ReGen Village Will Be Completely Self-Sufficient Producing Its Own Power and Food
Nation's First Urban Farming School Teaches Kids to Grow and Cook Their Own Food
The Solar Impulse 2 landed in Seville on Thursday, completing its historic trip across the Atlantic Ocean.
Solar Impulse 2, a sun-powered aircraft, took off from John F. Kennedy International Airport in New York City at 2:30 a.m. on June 20. The flight to Seville, Spain, took approximately 90 hours to complete—traveling at 140 km/h (about 87 mph). Bertrand Piccard, a Swiss adventurer, piloted the airplane.
"The Atlantic is the symbolic part of the flight," Piccard told The Guardian. "It is symbolic because all the means of transportation have always tried to cross the Atlantic, the first steamboats, the first aeroplane, the first balloons, the first airships and, today, it is the first solar-powered aeroplane."
Here are 10 best photos from Piccard's journey on the Solar Impulse 2: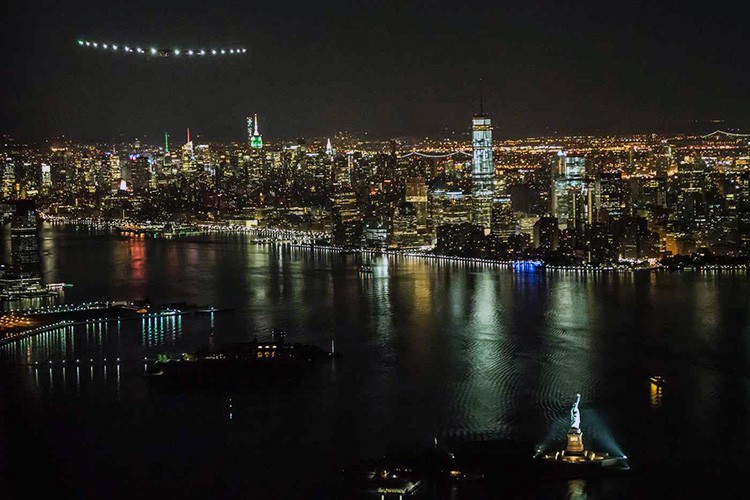 The Solar Impulse 2 makes an historic flight over the Statue of Liberty before landing at New York's JFK airport on June 11. Photo credit: Jean Revillard, Solar Impulse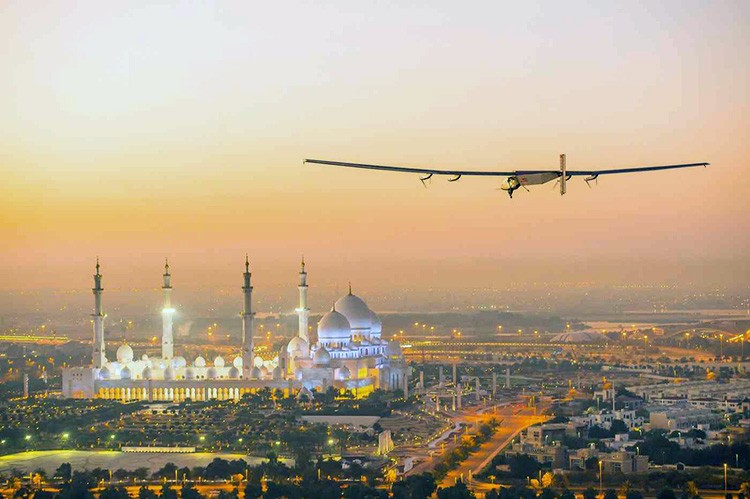 Solar Impulse 2 flies over the Sheikh Zayed Grand Mosque in Abu Dhabi as it prepares for take off for the first leg of its journey to Muscat, Oman. Photo credit: Reuters via The Guardian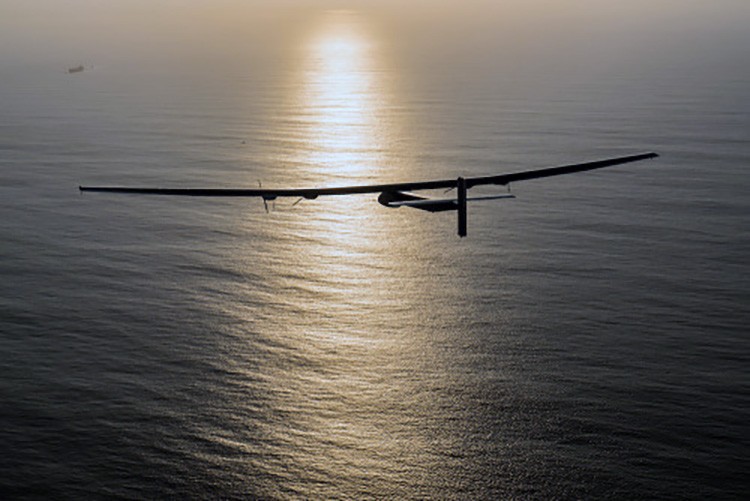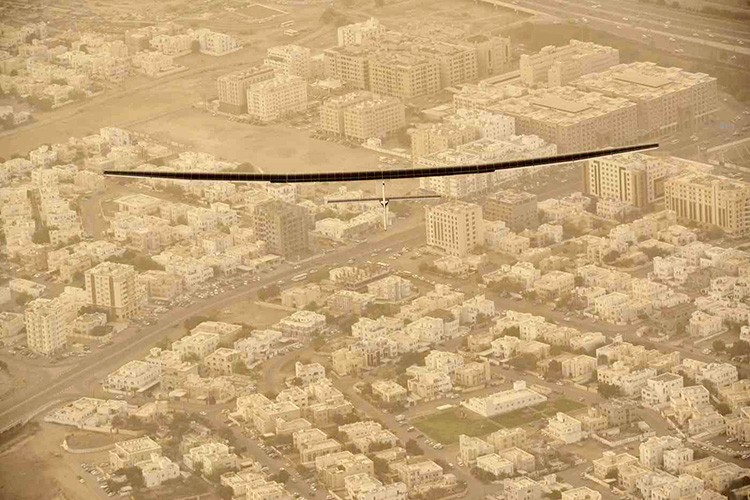 After a pit stop in Oman, Solar Impulse 2 sets off for Ahmedabad, India, on March 10, 2015. Photo credit: Jean Revillard, Solar Impulse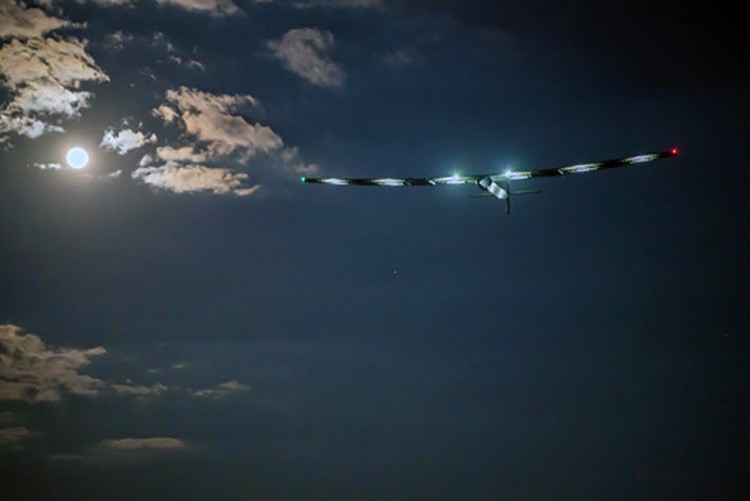 strawberry moon
. Photo credit: Solar Impulse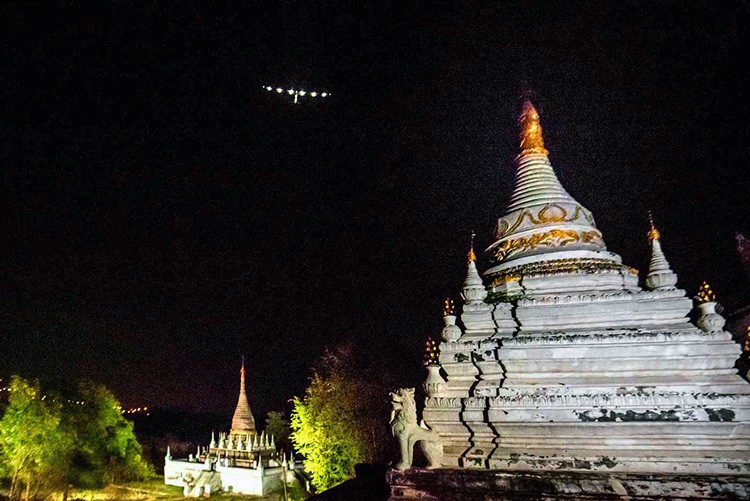 The Solar Impulse 2 landing in Mandalay, Myanmar, after the flight from Varanasi in India on March 19, 2015. Photo credit: Stefatou, Solar Impulse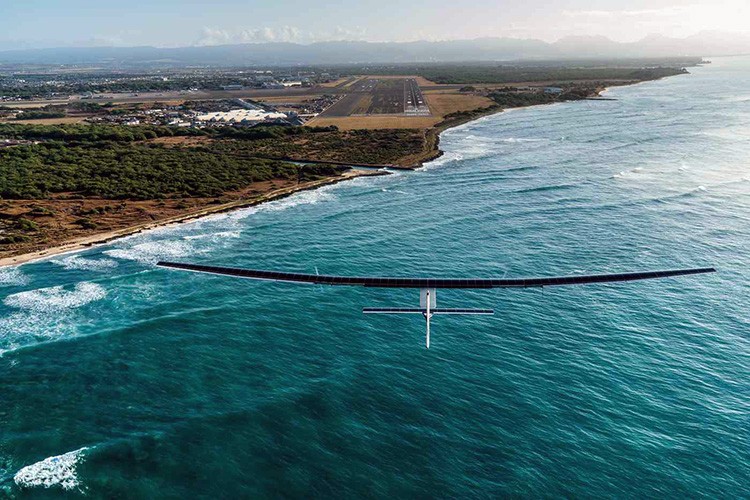 The Solar Impulse 2 team completed a record-breaking longest solar flight across the pacific from Nagoya, Japan to Hawaii—117 hours and 52 minutes. Photo credit: Solar Impulse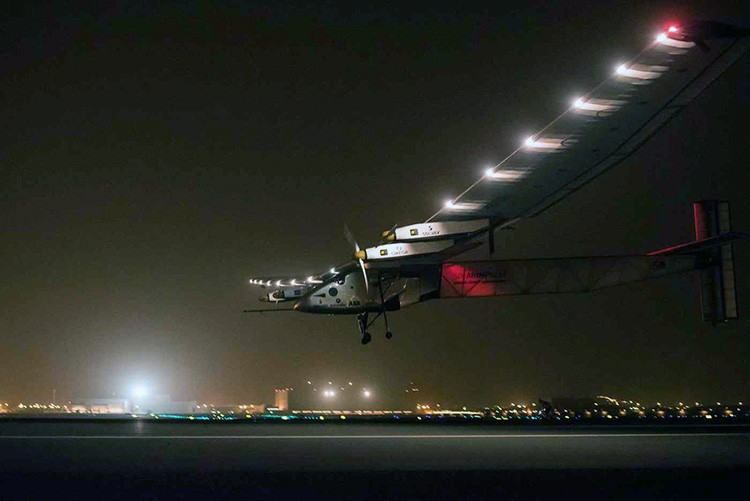 The Solar Impulse 2 lands in Muscat, Oman. Photo credit: Stefatou, Solar Impulse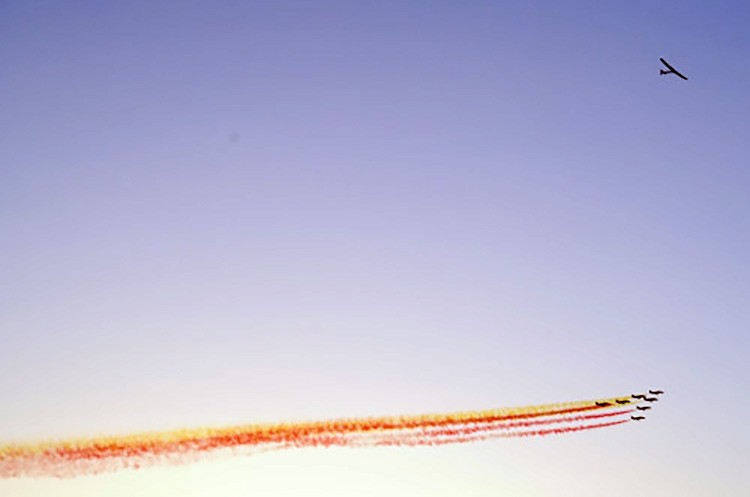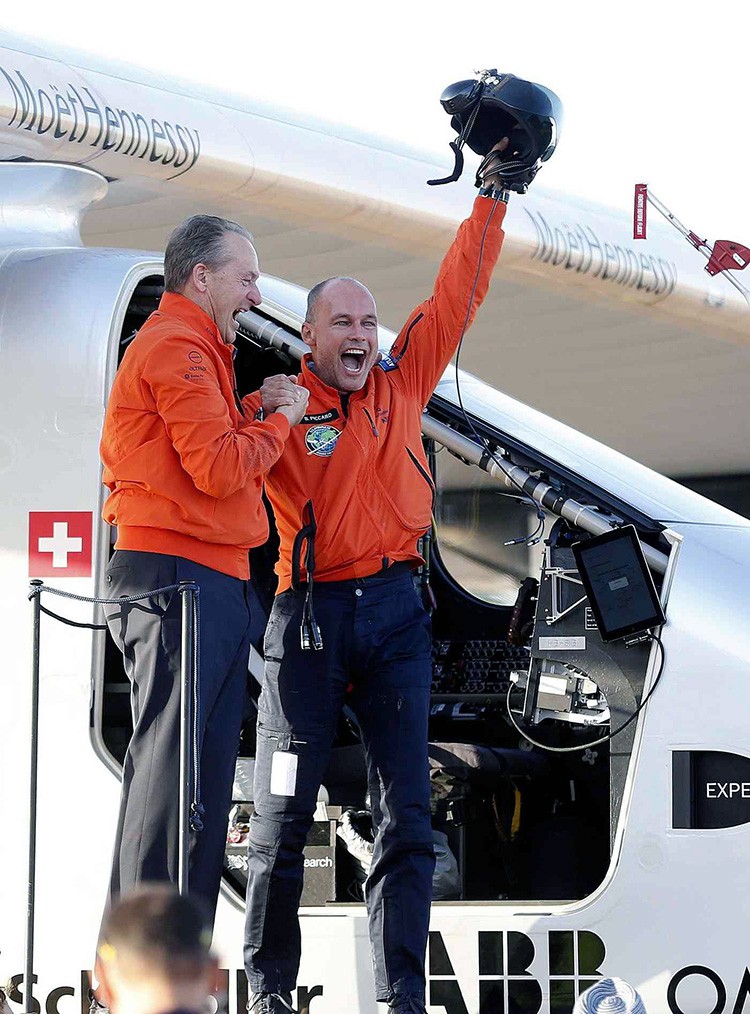 Piccard and Borschberg celebrate after completing the first ever crossing of the Atlantic by a solar-powered aeroplane. Photo credit: Jose Manuel Vidal, EPA via The Guardian
Piccard chronicled his journey on Twitter:
YOU MIGHT ALSO LIKE:
Sweden Opens World's First Electric Highway
Stanford Professor's New Zero-Net Energy Home Sets the Standard for Green Living
World's First 24/7 Solar Power Plant Powers 75,000 Homes
By Jodie Van Horn
Here at the Ready for 100 campaign, we believe in using bold messages to highlight bold opportunities. We know that achieving 100 percent clean energy will completely transform our communities, our economy and our environment and we are in awe of the growing movement of people who are bringing about that change.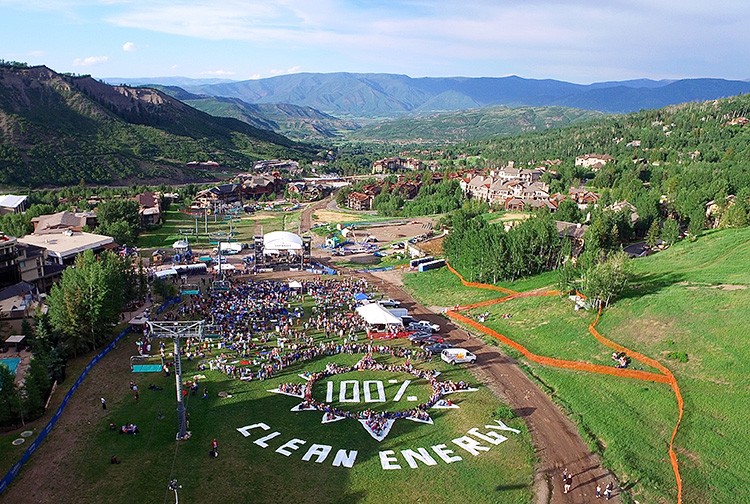 We have a vision where every community is powered by clean energy sources, where no child has to stay home because of an asthma attack from dirty air and where people can find good jobs in industries that help protect our planet, not pollute it.
What's more, we believe that social change can be fun and that creativity and ingenuity can help us move the world as it is toward the world as we dream it can be.
So this summer, we're launching the #ReadyFor100 national tour, a "human art" event where thousands of people come together in cities across the country to create bold images showcasing the demand for clean energy.
In our launch event last night in Aspen, Colorado—one of the first cities in the country to commit to 100 percent clean energy—hundreds of people gathered in historic Snowmass Village to form an aerial image of a "human sun," designed by renowned aerial-artist John Quigley.
Over the next few months, you'll see similar art events happening in cities both large and small, from the East Coast to the West Coast, showing the public demand for 100 percent clean energy.
Sixteen municipalities across the country, including major cities like San Diego and San Francisco, have already committed to 100 percent clean energy and a movement is growing to urge other mayors to follow suit.
Aerial art events are a way to showcase how people, joining together, can build something dazzling, where the whole is greater than the sum of its parts. We hope that the people who join us at these events will bring their friends, families and anyone who wants to be inspired by a vision for a better future.
To join an "aerial art" event in a city near you, visit www.readyfor100.org to find out more details about our national tour.
YOU MIGHT ALSO LIKE
Will This Grandmother Go to Prison for Peaceful Resistance Against Fracking?
Sweden Opens World's First Electric Highway
Stanford Professor's New Zero-Net Energy Home Sets the Standard for Green Living
By Tim Radford
Human-induced climate change promises to make life a lot harder for one of Australia's most charismatic species—the koala.
The herbivorous marsupial (Phascolarctos cinereus), unique to the world's largest island, is rarely seen. It moves slowly, lives high in the canopy on a diet of eucalyptus leaves, sleeps for up to 20 hours a day and yet is known to billions worldwide as the model for a cuddly toy loved by children.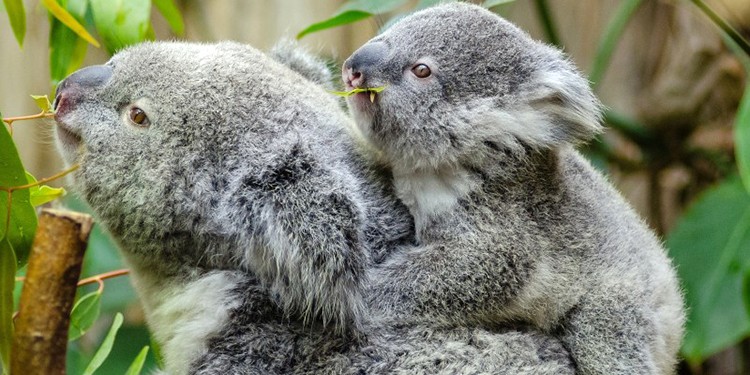 Its demands are few: a supply of fresh eucalyptus foliage, a little water to drink and somewhere quiet to flourish. But a new study in Global Change Biology suggests that by 2070 much of its native homeland won't provide what it takes to make a home any more.
Potential Range
Natalie Briscoe, an ecologist at the University of Melbourne and colleagues used everything they knew about koalas—behavior, body size, fur depth and physiology—to predict how much energy and water koalas would need to survive at any location. They made the assumption that eucalyptus trees would be available everywhere.
Then they used their knowledge of the animal to make a map of potential koala habitat 60 years from now. And they found the animal's potential range dramatically smaller.
The problem lies not in inexorable global warming—average planetary atmospheric temperatures have risen by 1 C in the last century and the world has pledged to keep the overall rise to lower than 2 C— but in the frequency of extremes of heat and drought. And in a land of extremes, more extremes are on the way.
Dr. Briscoe said:
"Studies of climate change impacts on wildlife have often focused on how changes in average temperature or rainfall will affect species, but our research highlights the importance of thinking about the extreme conditions that will be most stressful for the animals—such as hot, dry periods—and how these may change in the future.
"By developing a better understanding of what controls species distributions now, we are much better placed to forecast how these may shift in the future."
The researchers also correlated all the known koala locations and then matched that data with climate records from the recent past—another way of helping understand what climate change can do to wildlife. Both models predicted that the animal would suffer in the hotter, drier parts of its range.
Rainfall Patterns
The summer of 2013 broke all records for temperature extremes in Australia and researchers expect rainfall patterns to be disrupted and heatwaves and droughts to grow in number and intensity with time.
The challenge for conservationists is to identify those regions where the koala is more likely to survive. Ecologists call these places refugia: in times of stress, a species retreats to a limited range and expands when conditions improve.
"There is a lot of uncertainty when predicting the impacts of climate change on species, particularly when climate change leads to novel weather patterns," Dr. Briscoe said.
"Comparing predictions from different models allows us to more confidently predict the location of havens where koalas could survive in the future."
YOU MIGHT ALSO LIKE
NOAA: World's Worst Coral Bleaching Event to Continue 'With No Signs of Stopping'
Cub of Beloved Grizzly Killed by Car as FWS Plans to Delist Yellowstone Bear
Buzz Kill: How the Pesticide Industry Blocks Bee Protections Nationwide
6 Million Tropical Fish Imported Into U.S. Each Year Are Exposed to Cyanide Poisoning
Mark Z. Jacobson's new digs is the perfect home for the prominent renewable energy advocate.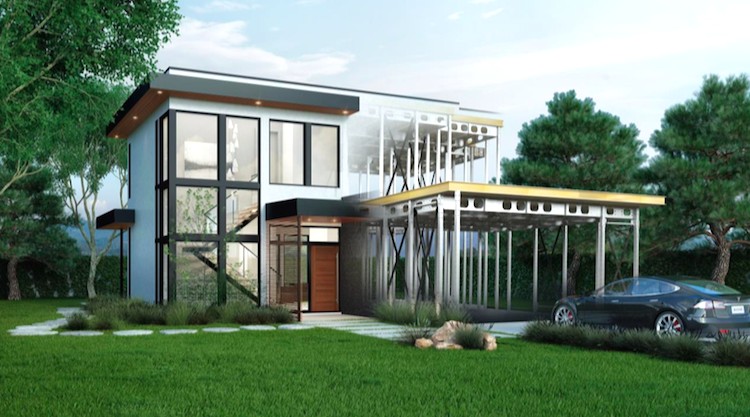 This zero-net energy home took only a few weeks to build. Photo credit: Bone Structure
The Stanford professor's Solutions Project famously lays out roadmaps for 139 countries, including the world's major greenhouse gas emitters, to switch to 100 percent clean, renewable energy generated from wind, water and sunlight for all purposes by 2050. He made an appearance on the Late Show With David Letterman in 2013 and said we already have enough wind to power the entire world "seven times over."
It's no surprise then that his new house is incredibly eco-friendly. The 3,200-square-foot, three-bedroom, three-bathroom home was designed and built by Canadian prefab homes company BONE Structure. The building is zero-net energy (ZNE), which means that the total amount of energy used by the home equals the amount of energy created on site.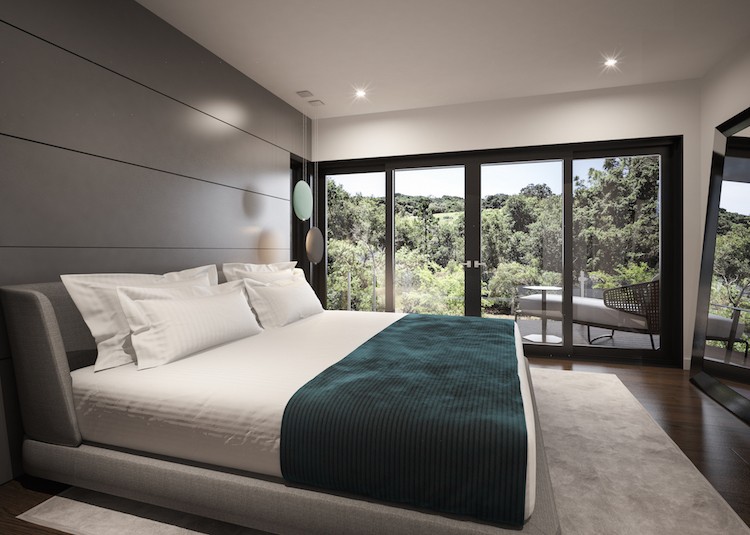 A rendering of the master bedroom. Photo credit: BONE Structure
The house runs on 100 percent electricity with the help of rooftop solar, a Tesla Powerwall for energy storage, a Tesla charger for his electric car and Nest appliances. The property doesn't even have gas lines.
"The net energy efficiency, once the envelope is leak-proof, is due not only to the structure but also to energy sources and appliances," Jacobson said. "I have no gas going onto the property; instead, all energy comes from electricity. I will use electric cars, heat pumps for air and water heating, and an electric induction stove. The house will be powered by solar panels on the rooftop and energy will be stored using Tesla batteries in the garage."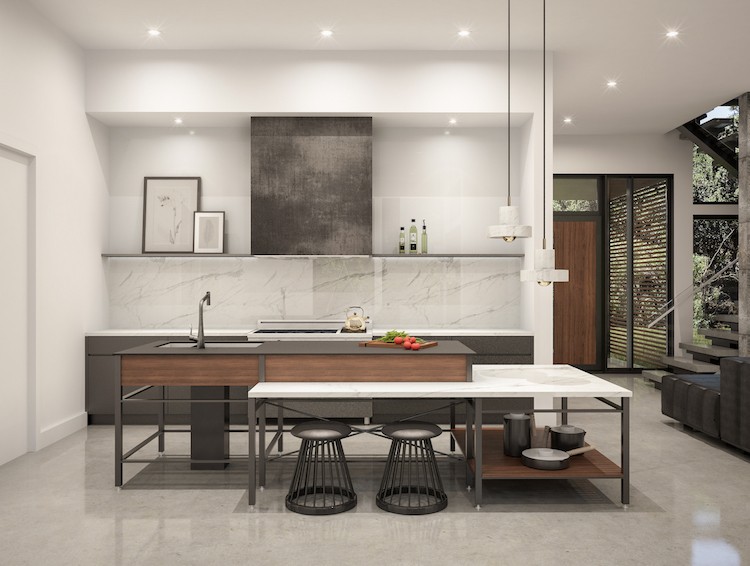 A rendering of the kitchen. Photo credit: BONE Structure
Jacobson, who is the head of the Atmosphere and Energy Program at Stanford University, commissioned the company to build his new abode in order to meet his green building standards.
"I study climate and air pollution problems and try to solve them through large scale, clean, renewable energy and I try to practice what I preach," he said.
Jacobson also pointed out that because BONE Structure's homes are prefabricated, it reduces waste, decreases dust and minimizes disruption to neighbors because they are faster to build.
The home's shell is made of 89 percent recycled steel that is 100 recyclable, seismically resilient (ideal for earthquake-prone California) and safe from damage by termites and mold.
BONE Structure's homes are built from columns and beams that are laser cut in a manufacturing plant, making it endlessly customizable.
"The steel frame system allows for exciting design features that would not be possible using traditional building methods," Jacobson, who lives on an odd-shaped lot, explained. "Interior spaces and window lines can run up to 25 feet between columns."
Additionally, as Curbed reported, thanks to a "clip-together design," the frame took less than a week to put together. According to the publication, "another week was spent spraying it with a soy-based foam that, once dry, should provide an airtight envelope that insulates and keeps the steel from shrinking or contracting with the weather."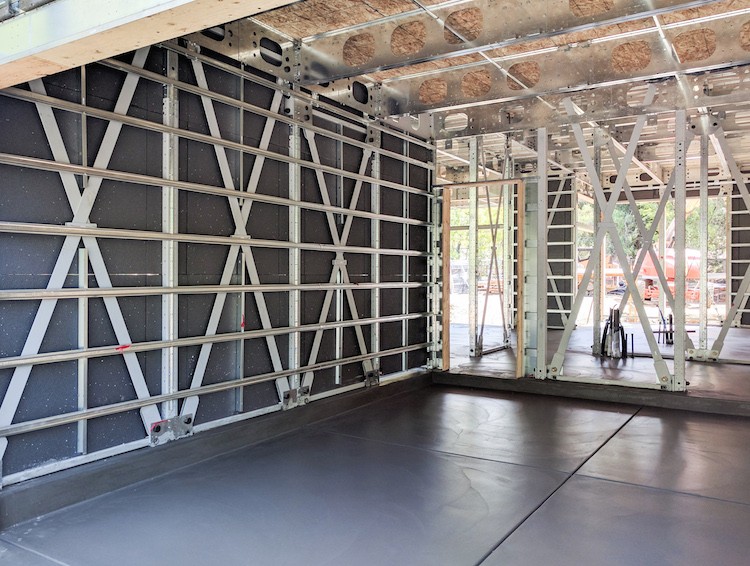 The garage under construction. Photo credit: BONE Structure
The house is designed to meet California's ZNE goal that calls for all new houses in the state to be ZNE by 2020. Jacobson's new residence is the first BONE Structure home in California.
"This is a great first project for BONE Structure in California and a perfect example of the benefits of our system," Charles Bovet, vice president of BONE Structure, U.S., said. "Stanford is an academically and environmentally focused community and a perfect location for our first net zero home. Our shells are net zero ready, meaning they are extremely energy efficient and with the addition of a small solar system they can produce more energy than they consume."
The company, which has an office in San Francisco, expects to build 50 more new homes in California this year and is also is scaling up to produce 1,000 residences per year "to address growing demand for this disruptive home construction technology making it the only net zero-ready energy builder that can produce homes on a large scale."
YOU MIGHT ALSO LIKE
3 Aquaponic Farms in Brooklyn Killing It
World's First Large-Scale Carbon-Neutral Brewery Now in Operation
World's First Off-Grid ReGen Village Will Be Completely Self-Sufficient Producing Its Own Power and Food
Nation's First Urban Farming School Teaches Kids to Grow and Cook Their Own Food