Scientists are bringing life on Mars closer and closer to reality by growing edible plants in soil similar to that of the red planet.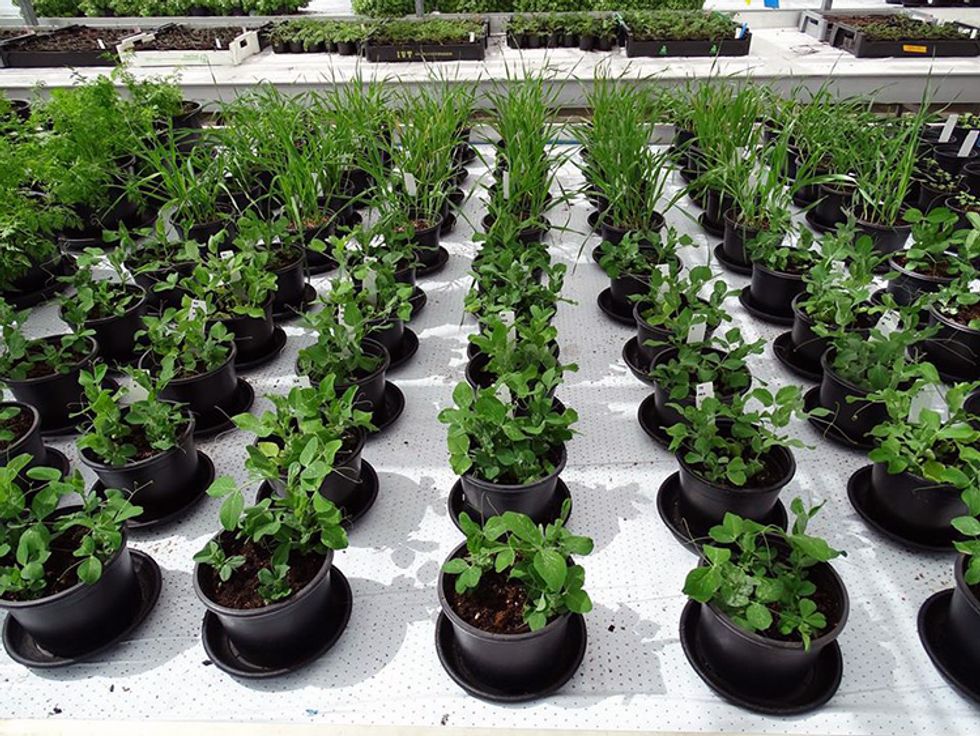 Researchers at Wageningen University in the Netherlands successfully grew 10 crops of which four so far have been tested and claimed edible, according to a Mars One statement. Radishes, peas, rye and tomatoes grown in Mars-like soil were deemed safe for human consumption.
"These remarkable results are very promising," senior ecologist Wieger Wamelink said. "We can actually eat the radishes, peas, rye, and tomatoes and I am very curious what they will taste like."
Scientists at Wageningen University have experimented with growing crops on Mars- and Moon-like soil simulants, developed by the National Aeronautics and Space Administration, since 2013.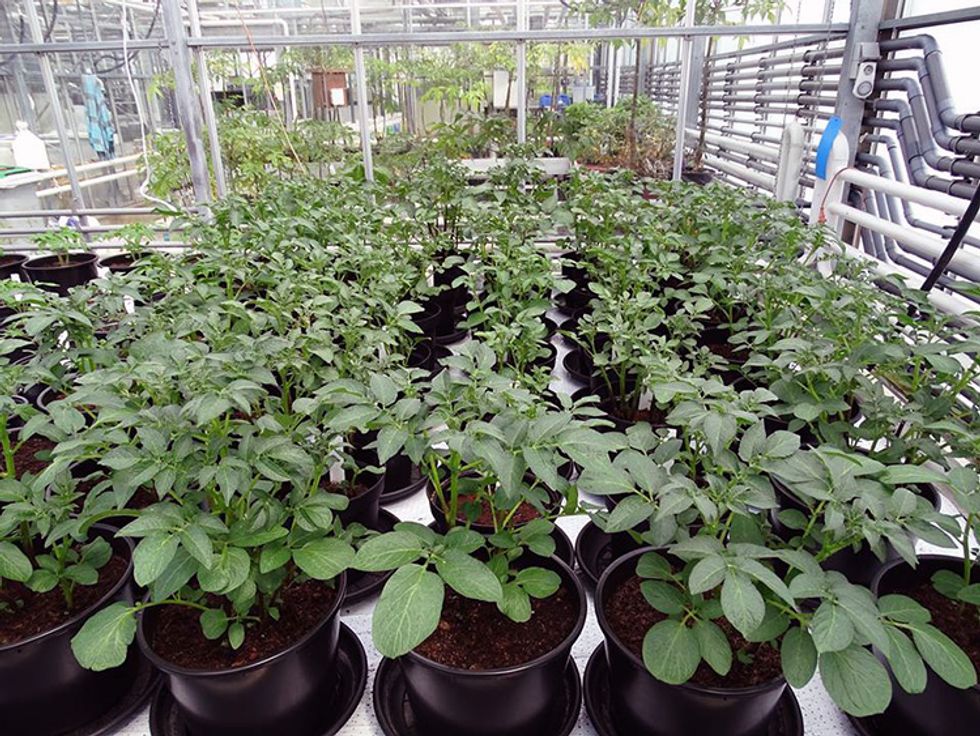 The first round of experiments proved that plants could in fact be grown in the soil. Scientists then needed to test if the plants produced in the soil simulants would be edible.
Mars' soil contains heavy metals—aluminum, copper, iron, manganese, zinc, arsenic, cadmium, chrome, nickel and lead—that could be poisonous if consumed at certain levels.
"Mars One is very proud to support this important research," Bas Lansdorp, CEO and co-founder of Mars One, said. "Growing food locally is especially important to our mission of permanent settlement, as we have to ensure sustainable food production on Mars."
Wamelink and team's research is being funded by a crowdfunding campaign, which run until the end of August. So far, the project has raised 12,745 euros out of a goal of 25,000. The remaining money will fund the testing of the other six crops, including potatoes.
"It's important to test as many crops as possible, to make sure that settlers on Mars have access to a broad variety of different food sources," Wamelink said.
Watch Wamelink talk about the experiments in more depth in this video:
YOU MIGHT ALSO LIKE:
Whistling Sound Coming From Caribbean Sea Can Be Heard From Space
NASA Astronaut Snaps Best Picture of Strawberry Moon
NASA: Porter Ranch Gas Leak Was So Big It Could Be Seen From Space
EcoWatch Daily Newsletter
Who knew that the Windy City has become so green? As Co.Exist reported, Chicago is quietly becoming the country's urban agriculture capital with 821 growing sites across the city, from small community gardens to multimillion dollar indoor farms, according to the Chicago Urban Agriculture Mapping Project. Even O'Hare's Terminal 3 is home to the world's first airport aeroponic garden.

Farmed Here is the first organically-certified indoor vertical aquaponic farm in Illinois. Photo credit: Farmed Here
Chicago's "urban farming renaissance" has been led by a burgeoning indoor farm market, Co.Exist writes. This includes FarmedHere, a 90,000-square-foot space in Bedford Park that is not only the first organically-certified indoor vertical aquaponic farm in Illinois, it's also the largest indoor farm in North America. FarmedHere's two-story farming facility currently sits on the site of a formerly abandoned warehouse in the outskirts of Chicago.
FarmedHere's produce is grown in a sustainable environment where 97 percent of fresh water is reused and plants are grown without the use of herbicides or pesticides. The farm's LED lighting system mimics outdoor conditions, meaning plants don't need natural sunlight to grow.
EcoWatch previously mentioned how urban farming has really made a comeback in the U.S. in recent years. Cities around the world are developing and expanding their local food systems to create a more sustainable method of food production and distribution, which will become increasingly necessary as cities adapt to climate change.
Farmed Here CEO Nate Laurell also mentioned to Co.Exist that investors are becoming increasingly interested in indoor farming as LED lighting and solar energy drive operation costs "cheaper and cheaper." Incidentally, Chicago has relatively cheap electricity, with Chicago area households paying 15.4 cents per kilowatt hour versus the New York metro area average of 18.2 cents per kilowatt hour.
Projections show that the global vertical farming market is expected reach $3.88 billion by 2020, a figure that Laurell says is lower than what it actually might be.
"The greens market for Chicagoland alone is $400 million dollars," Laurell said. "Given the market is so big, and it's so top of mind for people where their food came from and how it was grown, even if only some fraction of that food grew in an indoor environment, when you extrapolate to other cities in the U.S. and abroad, you'd easily reach $4 billion; $4 billion seems light."
Inside the Nation's Largest Organic Vertical Farm https://t.co/UtZjda9EfR @SoilAssociation @eatsustainable

— EcoWatch (@EcoWatch)1445392516.0
Laurell explained that vertical farming is ideal compared to outdoor agriculture as it produces local food year-round, has a small geographic footprint, a high yield per cubic foot ratio and slashes food miles.
"On the consumer side, there is a large demand for local food, food grown close to the city. People want to know where their food comes from and cut out transportation miles to get more freshness," he added.
Farmed Here plans to expand to up to 15 cities within the next decade, Laurell said.
Chicago #Urban #Agriculture Mapping Project http://t.co/MMQ1um7oki #farming #gardens #health #food http://t.co/tJs4VByOhw

— Doing Things Differently (@Doing Things Differently)1434530097.0
Urban Till is another indoor hydroponic farm. Located on the west side of Chicago, the company offers herbs and microgreens to more than 200 clients in the area, the Chicago Tribune reported last year.
CEO Brock Leach told the publication that Urban Till will expand nationally and internationally with its proprietary hydroponics this year.
"We have an intellectual property to produce more water from the air than what we use in the farm at no additional cost of electricity, and we're able to produce agricultural goods without water supply to do so," Leach said.
Chicago's Pullman Park district also hosts the largest rooftop greenhouse in the world, a behemoth 75,000 square foot green space, built and opened by Gotham Greens in 2015.
"Our Pullman facility annually grows up to 10 million heads of leafy greens and herbs, year-round, for the finest retailers and restaurants across the greater Chicagoland area," the venture boasts.
The climate controlled greenhouse facility also sits on top of an already environmentally friendly factory occupied by eco-soap company Method.
Lettuce for days.🌱🌱🌱🌱 #Chicago #HappyMonday https://t.co/fCTN40w5iB

— Gotham Greens (@Gotham Greens)1465836179.0
Gotham Greens has three existing greenhouses in New York. "Chicago was a logical expansion because it is a large city—by market the third largest—a cold weather place with a short growing season and a limited supply of year-round local produce," Viraj Puri, CEO and cofounder of Gotham Greens, told Co.Exist.
"The traditional farmer in Illinois turns a head of lettuce twice a year, every 60 days—maybe a third turn if they're lucky. We do 25 crop turns per year, and a lot of that has to do with controlling climate, temperature, humidity, light and carbon dioxide," Puri added.
YOU MIGHT ALSO LIKE
Interactive Map Shows How 6,500 Factory Farms Put North Carolinians at Risk
3 Aquaponic Farms in Brooklyn Killing It
World's First Off-Grid ReGen Village Will Be Completely Self-Sufficient Producing Its Own Power and Food
Nation's First Urban Farming School Teaches Kids to Grow and Cook Their Own Food
waterlust.com / @tulasendlesssummer_sierra .
Each product featured here has been independently selected by the writer. If you make a purchase using the links included, we may earn commission.
The bright patterns and recognizable designs of Waterlust's activewear aren't just for show. In fact, they're meant to promote the conversation around sustainability and give back to the ocean science and conservation community.
Each design is paired with a research lab, nonprofit, or education organization that has high intellectual merit and the potential to move the needle in its respective field. For each product sold, Waterlust donates 10% of profits to these conservation partners.
Eye-Catching Designs Made from Recycled Plastic Bottles
waterlust.com / @abamabam
The company sells a range of eco-friendly items like leggings, rash guards, and board shorts that are made using recycled post-consumer plastic bottles. There are currently 16 causes represented by distinct marine-life patterns, from whale shark research and invasive lionfish removal to sockeye salmon monitoring and abalone restoration.

One such organization is Get Inspired, a nonprofit that specializes in ocean restoration and environmental education. Get Inspired founder, marine biologist Nancy Caruso, says supporting on-the-ground efforts is one thing that sets Waterlust apart, like their apparel line that supports Get Inspired abalone restoration programs.
"All of us [conservation partners] are doing something," Caruso said. "We're not putting up exhibits and talking about it — although that is important — we're in the field."
Waterlust not only helps its conservation partners financially so they can continue their important work. It also helps them get the word out about what they're doing, whether that's through social media spotlights, photo and video projects, or the informative note card that comes with each piece of apparel.
"They're doing their part for sure, pushing the information out across all of their channels, and I think that's what makes them so interesting," Caruso said.
And then there are the clothes, which speak for themselves.
Advocate Apparel to Start Conversations About Conservation
waterlust.com / @oceanraysphotography
Waterlust's concept of "advocate apparel" encourages people to see getting dressed every day as an opportunity to not only express their individuality and style, but also to advance the conversation around marine science. By infusing science into clothing, people can visually represent species and ecosystems in need of advocacy — something that, more often than not, leads to a teaching moment.

"When people wear Waterlust gear, it's just a matter of time before somebody asks them about the bright, funky designs," said Waterlust's CEO, Patrick Rynne. "That moment is incredibly special, because it creates an intimate opportunity for the wearer to share what they've learned with another."
The idea for the company came to Rynne when he was a Ph.D. student in marine science.
"I was surrounded by incredible people that were discovering fascinating things but noticed that often their work wasn't reaching the general public in creative and engaging ways," he said. "That seemed like a missed opportunity with big implications."
Waterlust initially focused on conventional media, like film and photography, to promote ocean science, but the team quickly realized engagement on social media didn't translate to action or even knowledge sharing offscreen.
Rynne also saw the "in one ear, out the other" issue in the classroom — if students didn't repeatedly engage with the topics they learned, they'd quickly forget them.
"We decided that if we truly wanted to achieve our goal of bringing science into people's lives and have it stick, it would need to be through a process that is frequently repeated, fun, and functional," Rynne said. "That's when we thought about clothing."
Support Marine Research and Sustainability in Style
To date, Waterlust has sold tens of thousands of pieces of apparel in over 100 countries, and the interactions its products have sparked have had clear implications for furthering science communication.
For Caruso alone, it's led to opportunities to share her abalone restoration methods with communities far and wide.
"It moves my small little world of what I'm doing here in Orange County, California, across the entire globe," she said. "That's one of the beautiful things about our partnership."
Check out all of the different eco-conscious apparel options available from Waterlust to help promote ocean conservation.
Melissa Smith is an avid writer, scuba diver, backpacker, and all-around outdoor enthusiast. She graduated from the University of Florida with degrees in journalism and sustainable studies. Before joining EcoWatch, Melissa worked as the managing editor of Scuba Diving magazine and the communications manager of The Ocean Agency, a non-profit that's featured in the Emmy award-winning documentary Chasing Coral.
The Solar Impulse 2 landed in Seville on Thursday, completing its historic trip across the Atlantic Ocean.
Solar Impulse 2, a sun-powered aircraft, took off from John F. Kennedy International Airport in New York City at 2:30 a.m. on June 20. The flight to Seville, Spain, took approximately 90 hours to complete—traveling at 140 km/h (about 87 mph). Bertrand Piccard, a Swiss adventurer, piloted the airplane.
"The Atlantic is the symbolic part of the flight," Piccard told The Guardian. "It is symbolic because all the means of transportation have always tried to cross the Atlantic, the first steamboats, the first aeroplane, the first balloons, the first airships and, today, it is the first solar-powered aeroplane."
Here are 10 best photos from Piccard's journey on the Solar Impulse 2: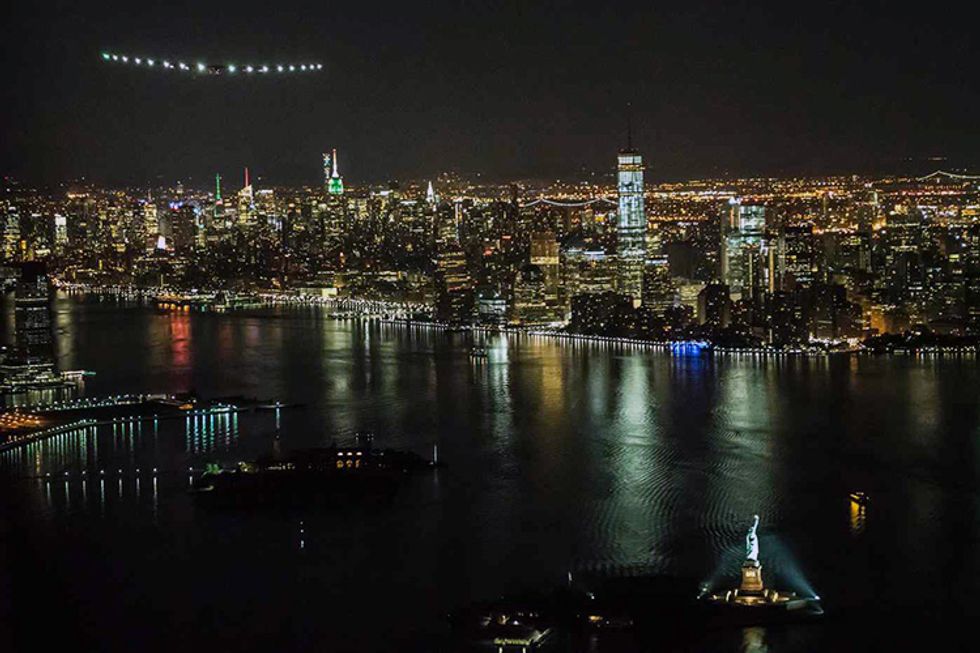 The Solar Impulse 2 makes an historic flight over the Statue of Liberty before landing at New York's JFK airport on June 11. Photo credit: Jean Revillard, Solar Impulse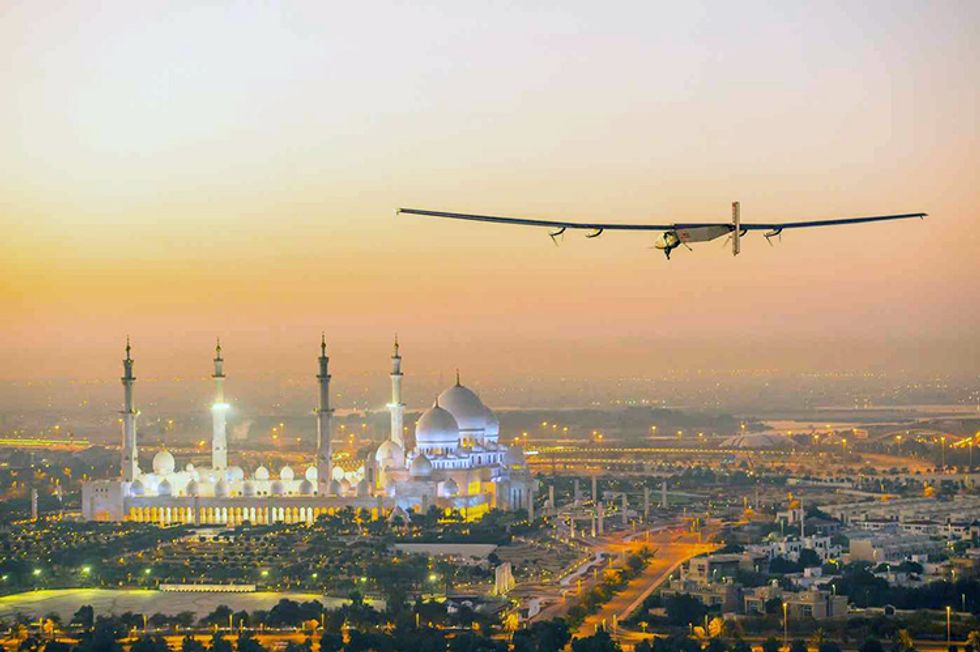 Solar Impulse 2 flies over the Sheikh Zayed Grand Mosque in Abu Dhabi as it prepares for take off for the first leg of its journey to Muscat, Oman. Photo credit: Reuters via The Guardian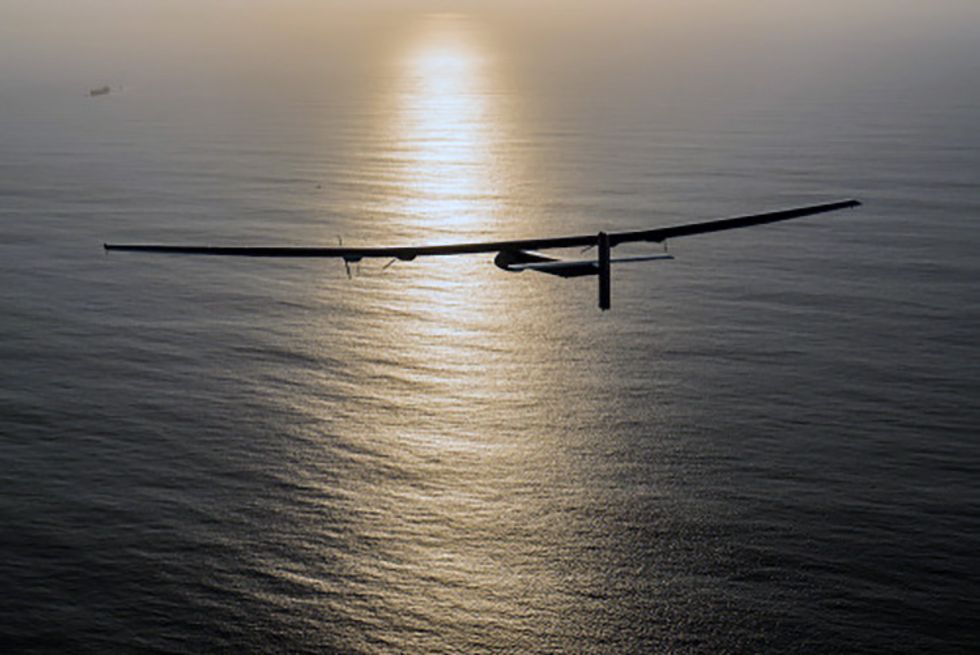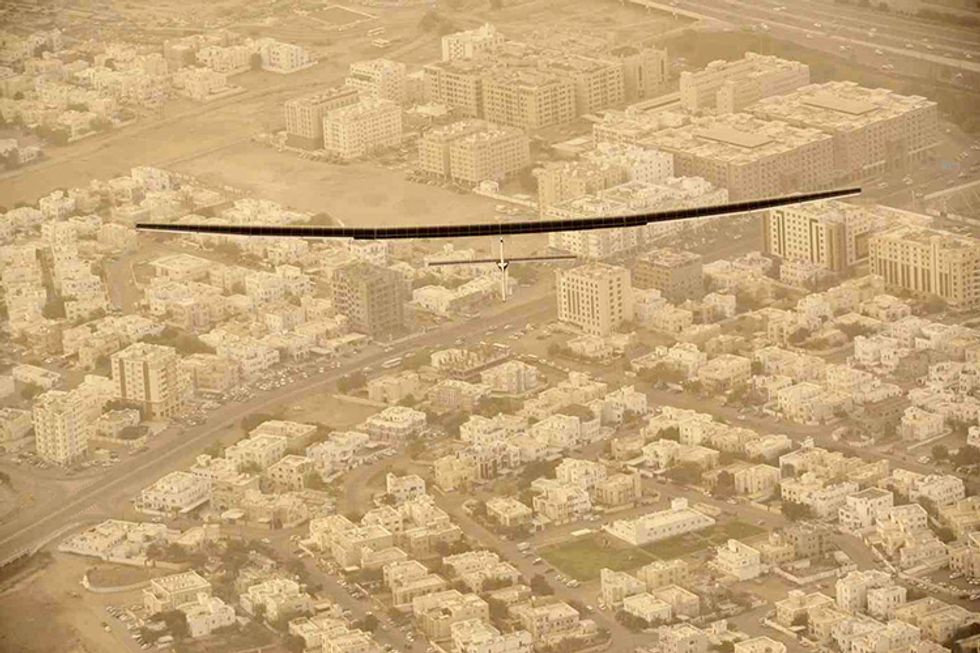 After a pit stop in Oman, Solar Impulse 2 sets off for Ahmedabad, India, on March 10, 2015. Photo credit: Jean Revillard, Solar Impulse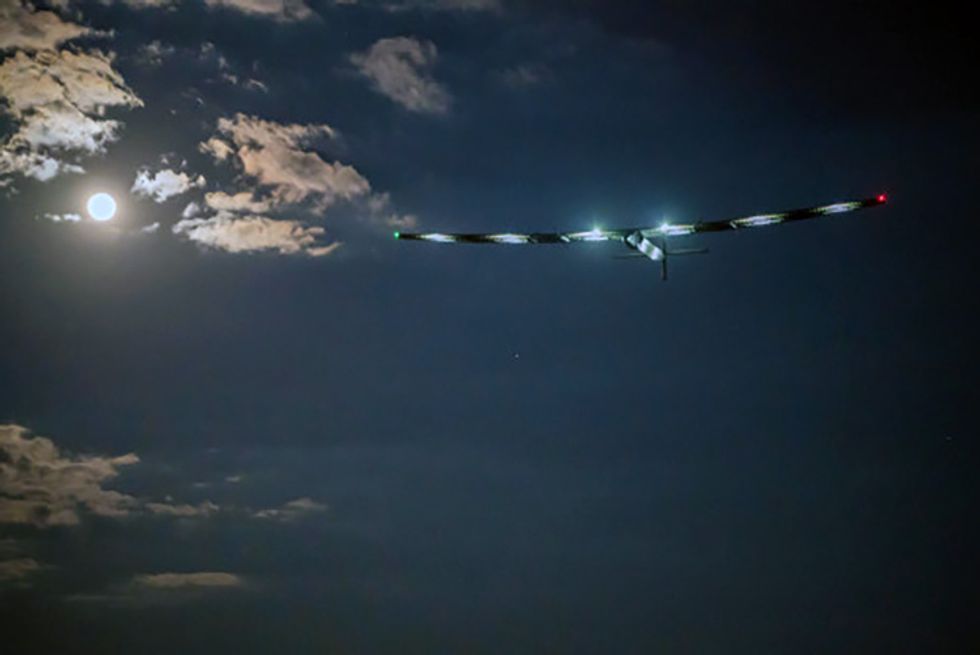 strawberry moon
. Photo credit: Solar Impulse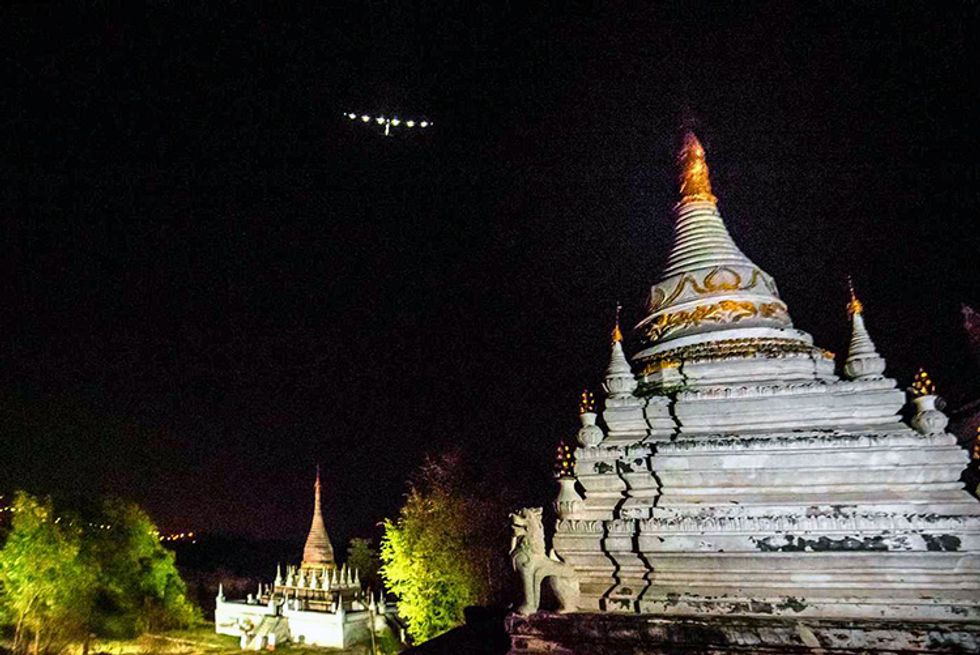 The Solar Impulse 2 landing in Mandalay, Myanmar, after the flight from Varanasi in India on March 19, 2015. Photo credit: Stefatou, Solar Impulse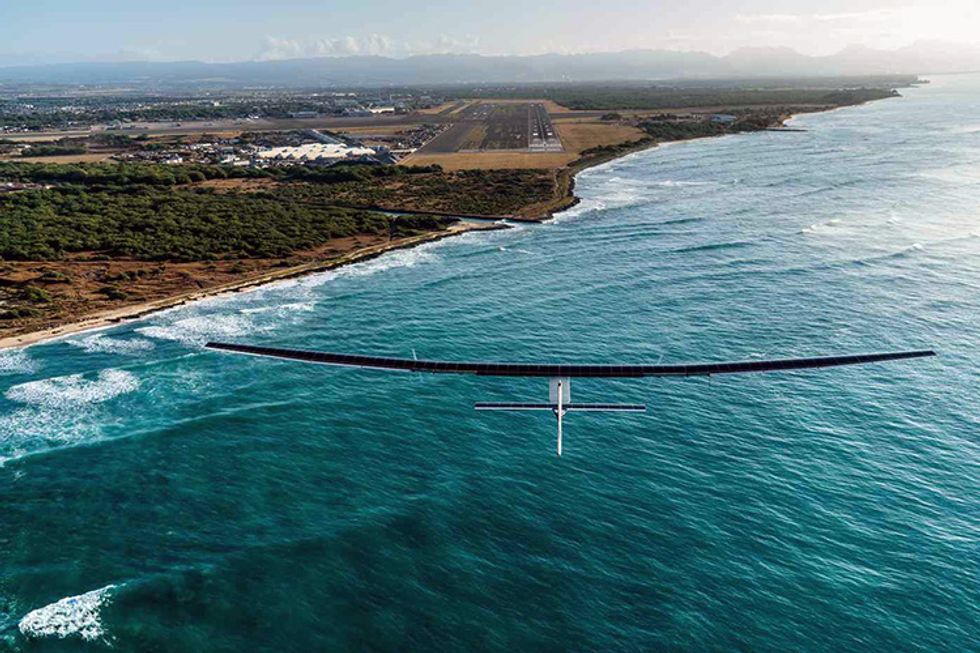 The Solar Impulse 2 team completed a record-breaking longest solar flight across the pacific from Nagoya, Japan to Hawaii—117 hours and 52 minutes. Photo credit: Solar Impulse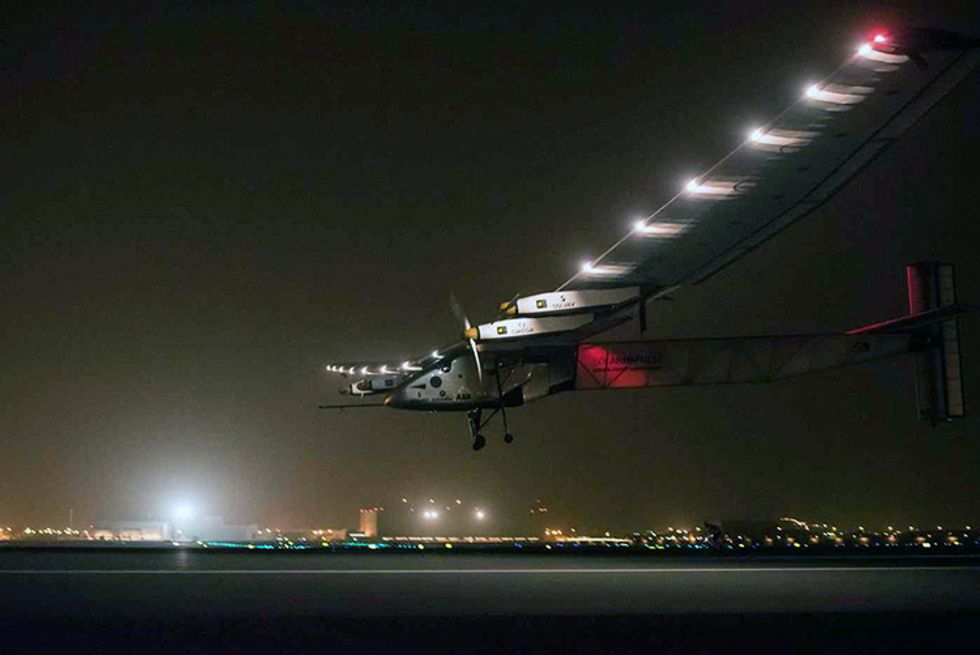 The Solar Impulse 2 lands in Muscat, Oman. Photo credit: Stefatou, Solar Impulse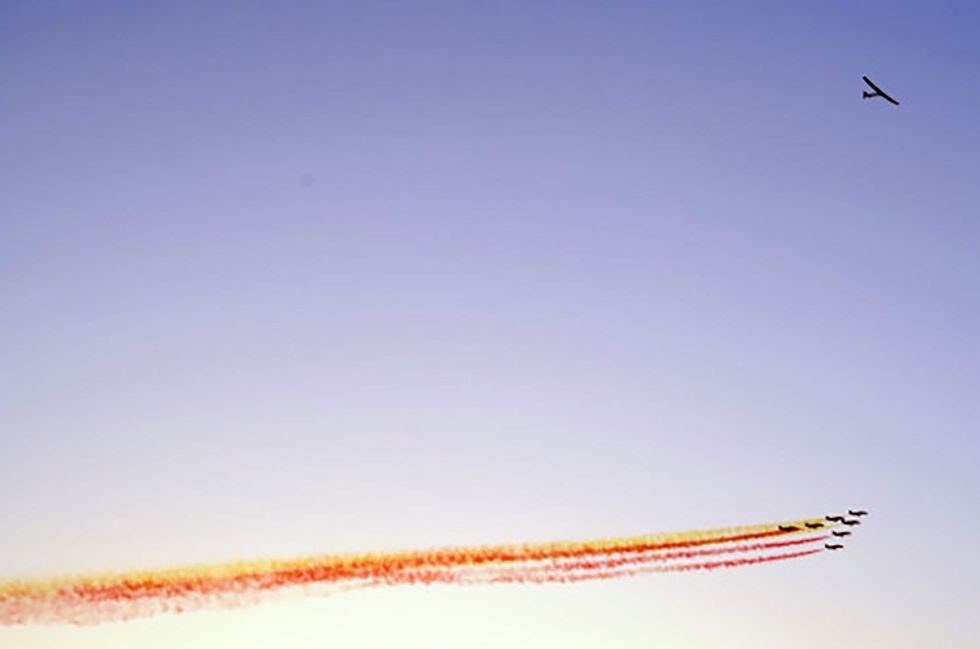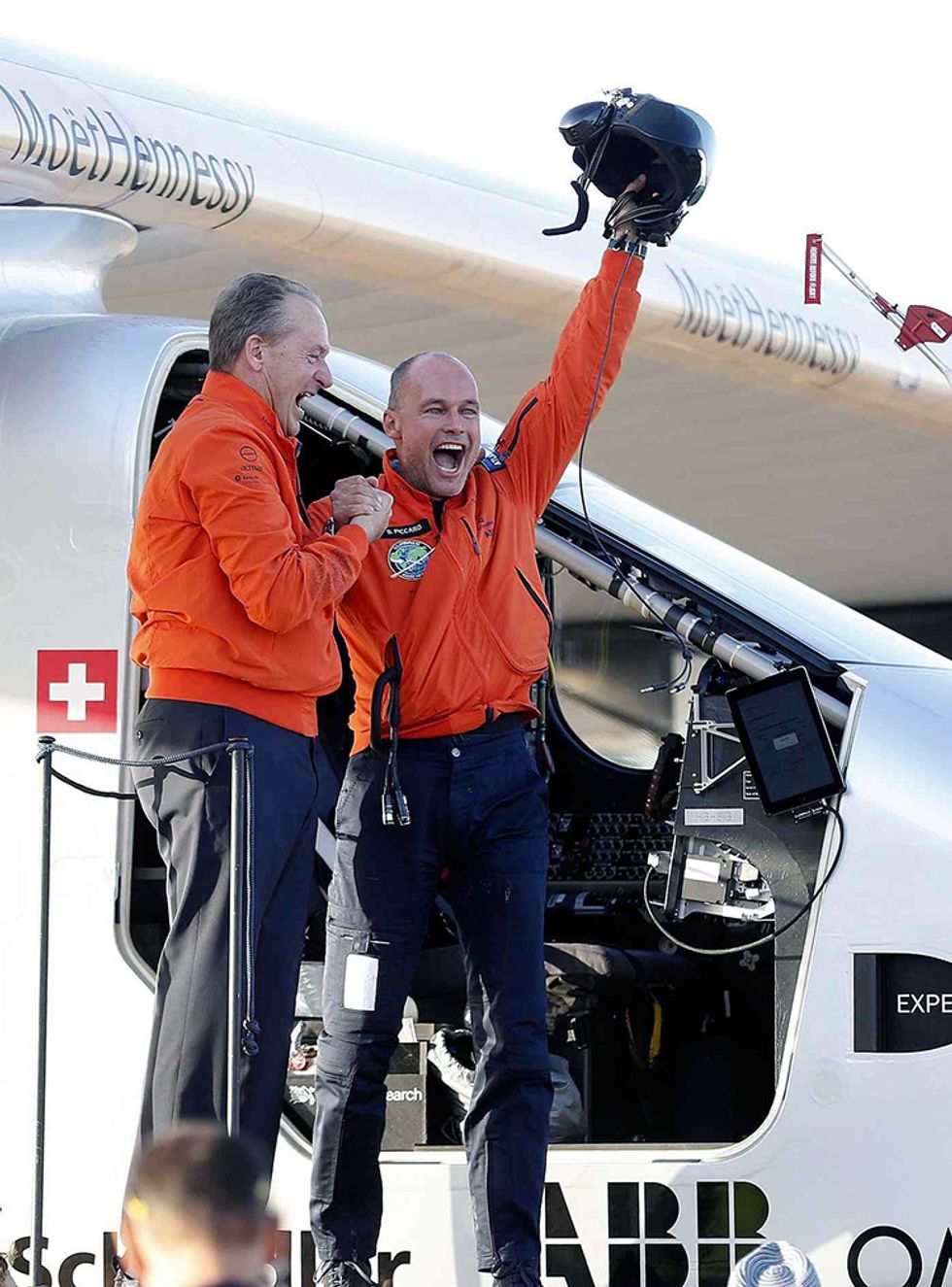 Piccard and Borschberg celebrate after completing the first ever crossing of the Atlantic by a solar-powered aeroplane. Photo credit: Jose Manuel Vidal, EPA via The Guardian
Piccard chronicled his journey on Twitter:
YOU MIGHT ALSO LIKE:
Sweden Opens World's First Electric Highway
Stanford Professor's New Zero-Net Energy Home Sets the Standard for Green Living
World's First 24/7 Solar Power Plant Powers 75,000 Homes
By Jodie Van Horn
Here at the Ready for 100 campaign, we believe in using bold messages to highlight bold opportunities. We know that achieving 100 percent clean energy will completely transform our communities, our economy and our environment and we are in awe of the growing movement of people who are bringing about that change.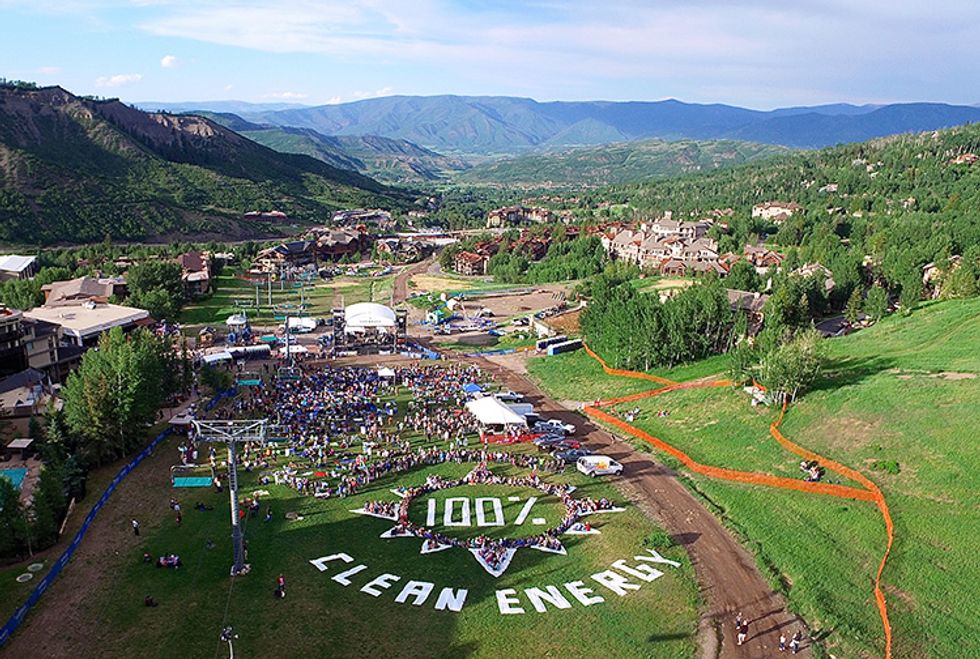 We have a vision where every community is powered by clean energy sources, where no child has to stay home because of an asthma attack from dirty air and where people can find good jobs in industries that help protect our planet, not pollute it.
What's more, we believe that social change can be fun and that creativity and ingenuity can help us move the world as it is toward the world as we dream it can be.
So this summer, we're launching the #ReadyFor100 national tour, a "human art" event where thousands of people come together in cities across the country to create bold images showcasing the demand for clean energy.
In our launch event last night in Aspen, Colorado—one of the first cities in the country to commit to 100 percent clean energy—hundreds of people gathered in historic Snowmass Village to form an aerial image of a "human sun," designed by renowned aerial-artist John Quigley.
Over the next few months, you'll see similar art events happening in cities both large and small, from the East Coast to the West Coast, showing the public demand for 100 percent clean energy.
Sixteen municipalities across the country, including major cities like San Diego and San Francisco, have already committed to 100 percent clean energy and a movement is growing to urge other mayors to follow suit.
Aerial art events are a way to showcase how people, joining together, can build something dazzling, where the whole is greater than the sum of its parts. We hope that the people who join us at these events will bring their friends, families and anyone who wants to be inspired by a vision for a better future.
To join an "aerial art" event in a city near you, visit www.readyfor100.org to find out more details about our national tour.
YOU MIGHT ALSO LIKE
Will This Grandmother Go to Prison for Peaceful Resistance Against Fracking?
Sweden Opens World's First Electric Highway
Stanford Professor's New Zero-Net Energy Home Sets the Standard for Green Living
By Tim Radford
Human-induced climate change promises to make life a lot harder for one of Australia's most charismatic species—the koala.
The herbivorous marsupial (Phascolarctos cinereus), unique to the world's largest island, is rarely seen. It moves slowly, lives high in the canopy on a diet of eucalyptus leaves, sleeps for up to 20 hours a day and yet is known to billions worldwide as the model for a cuddly toy loved by children.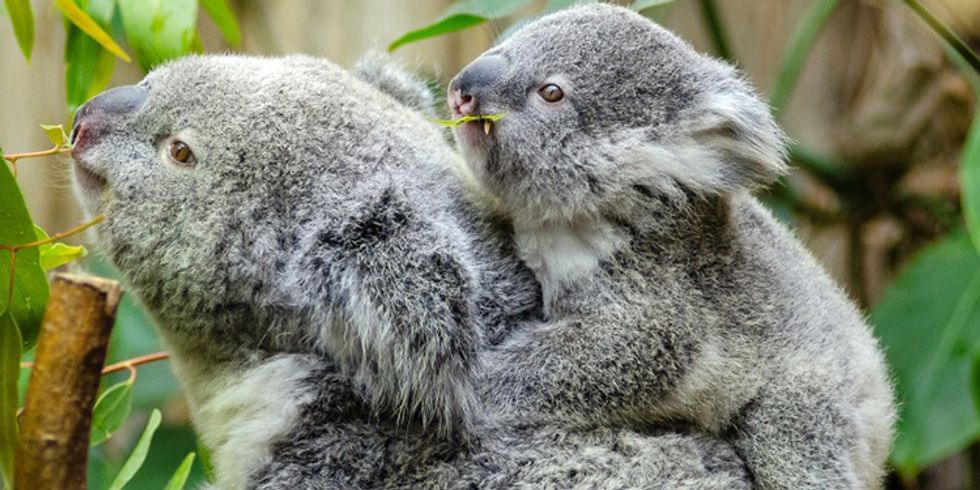 Its demands are few: a supply of fresh eucalyptus foliage, a little water to drink and somewhere quiet to flourish. But a new study in Global Change Biology suggests that by 2070 much of its native homeland won't provide what it takes to make a home any more.
Potential Range
Natalie Briscoe, an ecologist at the University of Melbourne and colleagues used everything they knew about koalas—behavior, body size, fur depth and physiology—to predict how much energy and water koalas would need to survive at any location. They made the assumption that eucalyptus trees would be available everywhere.
Then they used their knowledge of the animal to make a map of potential koala habitat 60 years from now. And they found the animal's potential range dramatically smaller.
The problem lies not in inexorable global warming—average planetary atmospheric temperatures have risen by 1 C in the last century and the world has pledged to keep the overall rise to lower than 2 C— but in the frequency of extremes of heat and drought. And in a land of extremes, more extremes are on the way.
Dr. Briscoe said:
"Studies of climate change impacts on wildlife have often focused on how changes in average temperature or rainfall will affect species, but our research highlights the importance of thinking about the extreme conditions that will be most stressful for the animals—such as hot, dry periods—and how these may change in the future.
"By developing a better understanding of what controls species distributions now, we are much better placed to forecast how these may shift in the future."
The researchers also correlated all the known koala locations and then matched that data with climate records from the recent past—another way of helping understand what climate change can do to wildlife. Both models predicted that the animal would suffer in the hotter, drier parts of its range.
Rainfall Patterns
The summer of 2013 broke all records for temperature extremes in Australia and researchers expect rainfall patterns to be disrupted and heatwaves and droughts to grow in number and intensity with time.
The challenge for conservationists is to identify those regions where the koala is more likely to survive. Ecologists call these places refugia: in times of stress, a species retreats to a limited range and expands when conditions improve.
"There is a lot of uncertainty when predicting the impacts of climate change on species, particularly when climate change leads to novel weather patterns," Dr. Briscoe said.
"Comparing predictions from different models allows us to more confidently predict the location of havens where koalas could survive in the future."
YOU MIGHT ALSO LIKE
NOAA: World's Worst Coral Bleaching Event to Continue 'With No Signs of Stopping'
Cub of Beloved Grizzly Killed by Car as FWS Plans to Delist Yellowstone Bear
Buzz Kill: How the Pesticide Industry Blocks Bee Protections Nationwide
6 Million Tropical Fish Imported Into U.S. Each Year Are Exposed to Cyanide Poisoning
Mark Z. Jacobson's new digs is the perfect home for the prominent renewable energy advocate.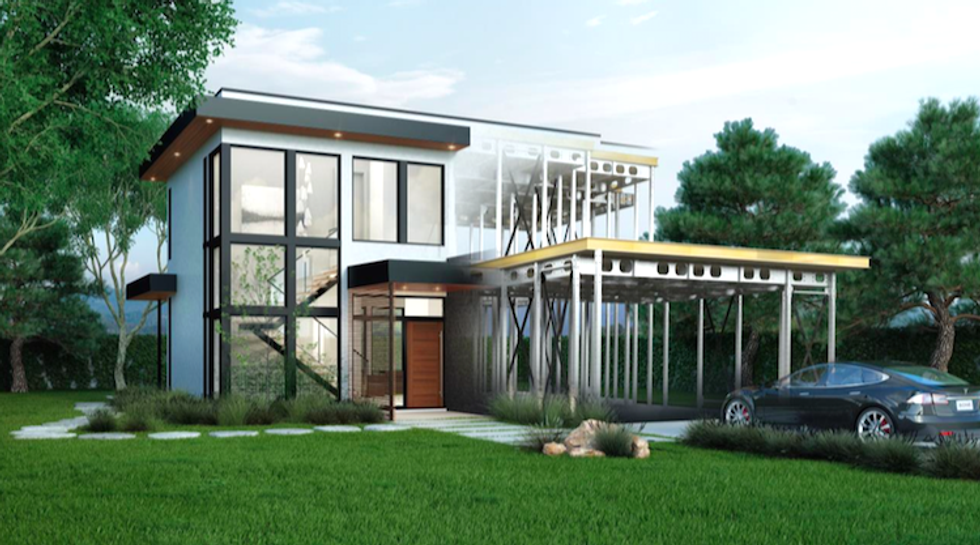 This zero-net energy home took only a few weeks to build. Photo credit: Bone Structure
The Stanford professor's Solutions Project famously lays out roadmaps for 139 countries, including the world's major greenhouse gas emitters, to switch to 100 percent clean, renewable energy generated from wind, water and sunlight for all purposes by 2050. He made an appearance on the Late Show With David Letterman in 2013 and said we already have enough wind to power the entire world "seven times over."
It's no surprise then that his new house is incredibly eco-friendly. The 3,200-square-foot, three-bedroom, three-bathroom home was designed and built by Canadian prefab homes company BONE Structure. The building is zero-net energy (ZNE), which means that the total amount of energy used by the home equals the amount of energy created on site.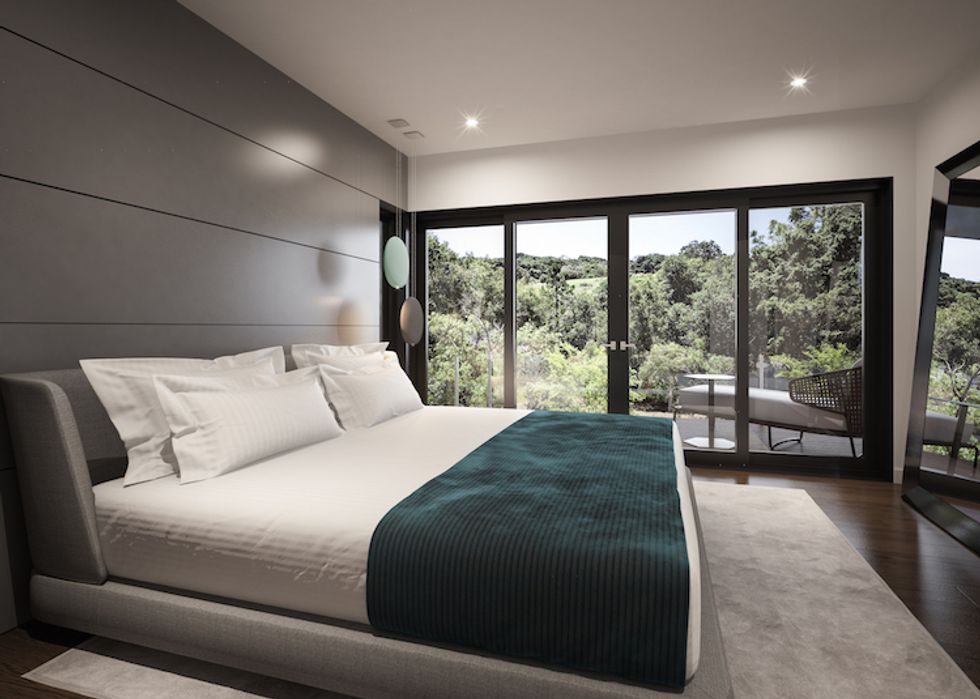 A rendering of the master bedroom. Photo credit: BONE Structure
The house runs on 100 percent electricity with the help of rooftop solar, a Tesla Powerwall for energy storage, a Tesla charger for his electric car and Nest appliances. The property doesn't even have gas lines.
"The net energy efficiency, once the envelope is leak-proof, is due not only to the structure but also to energy sources and appliances," Jacobson said. "I have no gas going onto the property; instead, all energy comes from electricity. I will use electric cars, heat pumps for air and water heating, and an electric induction stove. The house will be powered by solar panels on the rooftop and energy will be stored using Tesla batteries in the garage."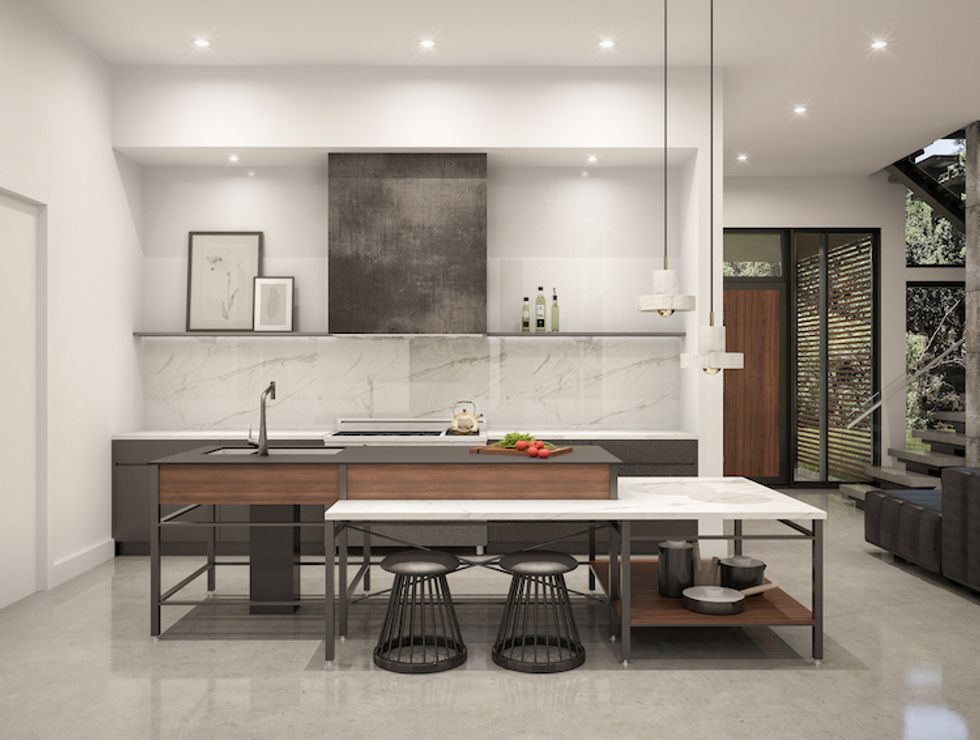 A rendering of the kitchen. Photo credit: BONE Structure
Jacobson, who is the head of the Atmosphere and Energy Program at Stanford University, commissioned the company to build his new abode in order to meet his green building standards.
"I study climate and air pollution problems and try to solve them through large scale, clean, renewable energy and I try to practice what I preach," he said.
Jacobson also pointed out that because BONE Structure's homes are prefabricated, it reduces waste, decreases dust and minimizes disruption to neighbors because they are faster to build.
The home's shell is made of 89 percent recycled steel that is 100 recyclable, seismically resilient (ideal for earthquake-prone California) and safe from damage by termites and mold.
Prefab steel frame reduces waste, errors, time in home build @BONE_Structure @theguigzbaz @CharlesBovet @g_labrosse https://t.co/EuCPeI4JAU

— Mark Z. Jacobson (@Mark Z. Jacobson)1463182340.0
BONE Structure's homes are built from columns and beams that are laser cut in a manufacturing plant, making it endlessly customizable.
"The steel frame system allows for exciting design features that would not be possible using traditional building methods," Jacobson, who lives on an odd-shaped lot, explained. "Interior spaces and window lines can run up to 25 feet between columns."
Additionally, as Curbed reported, thanks to a "clip-together design," the frame took less than a week to put together. According to the publication, "another week was spent spraying it with a soy-based foam that, once dry, should provide an airtight envelope that insulates and keeps the steel from shrinking or contracting with the weather."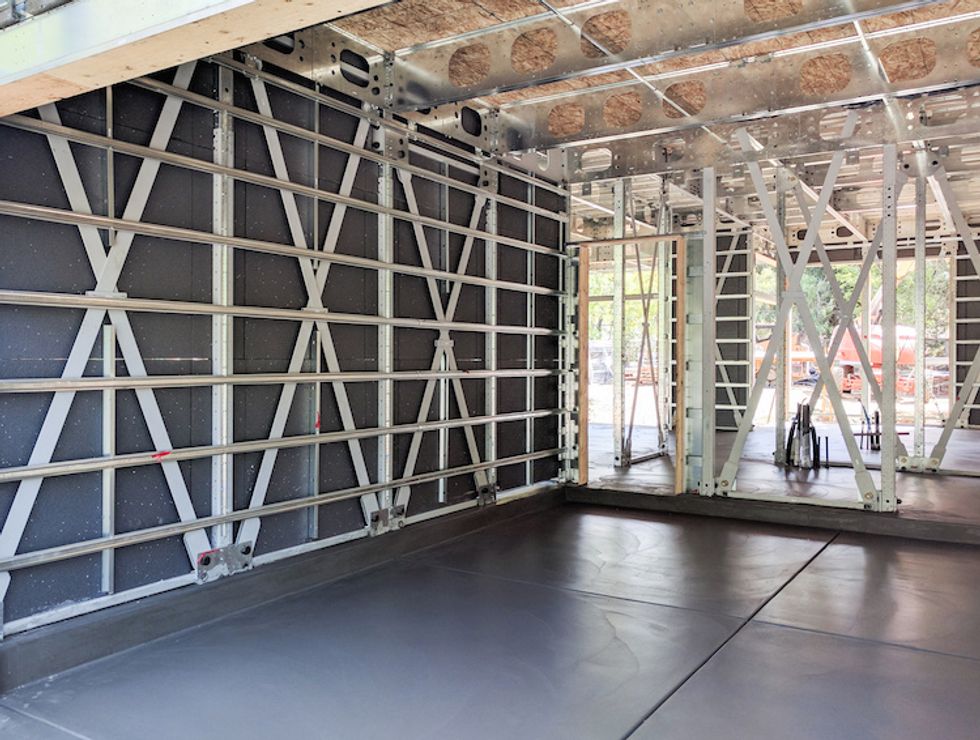 The garage under construction. Photo credit: BONE Structure
The house is designed to meet California's ZNE goal that calls for all new houses in the state to be ZNE by 2020. Jacobson's new residence is the first BONE Structure home in California.
"This is a great first project for BONE Structure in California and a perfect example of the benefits of our system," Charles Bovet, vice president of BONE Structure, U.S., said. "Stanford is an academically and environmentally focused community and a perfect location for our first net zero home. Our shells are net zero ready, meaning they are extremely energy efficient and with the addition of a small solar system they can produce more energy than they consume."
The company, which has an office in San Francisco, expects to build 50 more new homes in California this year and is also is scaling up to produce 1,000 residences per year "to address growing demand for this disruptive home construction technology making it the only net zero-ready energy builder that can produce homes on a large scale."
Future=now: elec car+#Powerwall+engy-effic prefab @elonmusk @teslamotors @charlesbovet @theguigzbaz @SolutionsProj https://t.co/AKuZjAIkVb

— Mark Z. Jacobson (@Mark Z. Jacobson)1466226938.0
YOU MIGHT ALSO LIKE
3 Aquaponic Farms in Brooklyn Killing It
World's First Large-Scale Carbon-Neutral Brewery Now in Operation
World's First Off-Grid ReGen Village Will Be Completely Self-Sufficient Producing Its Own Power and Food
Nation's First Urban Farming School Teaches Kids to Grow and Cook Their Own Food
Boyan Slat's ambitious plan to rid the world's oceans of plastic has taken another step towards reality with its first prototype to be tested at sea. The Ocean Cleanup Foundation, founded by the 21-year-old Slat, has deployed a 100-meter clean-up boom today in the North Sea in The Netherlands.
The prototype was unveiled before its main partners, the Dutch government and marine contractor Royal Boskalis Westminster N.V.
The system will be installed roughly 12 nautical miles off the Dutch coast where it will undergo sensor-monitored tests for the next year. According to The Guardian, the vulcanized rubber barrier will passively coral floating trash into a V-shaped cone via the ocean's natural currents. The structure is anchored at a depth of up to 4.5 kilometers by a cable sub-system.
Today is a major occasion for Slat, who came up with his highly publicized concept a few years ago when he was only a teenager.
"This is a historic day on the path toward clean oceans," he said.
The organization pointed out that although some trash may be caught during the North Sea prototype test, collecting plastic is not its objective. Rather, "the objective is to test how The Ocean Cleanup's floating barrier fares in extreme weather at sea—the kind of conditions the system will eventually face when deployed in the Great Pacific Garbage Patch."
"At the North Sea test site, conditions during a minor storm are more severe than those in exceptionally heavy storms (occurring once every 100 years) in the Pacific Ocean," the organization said.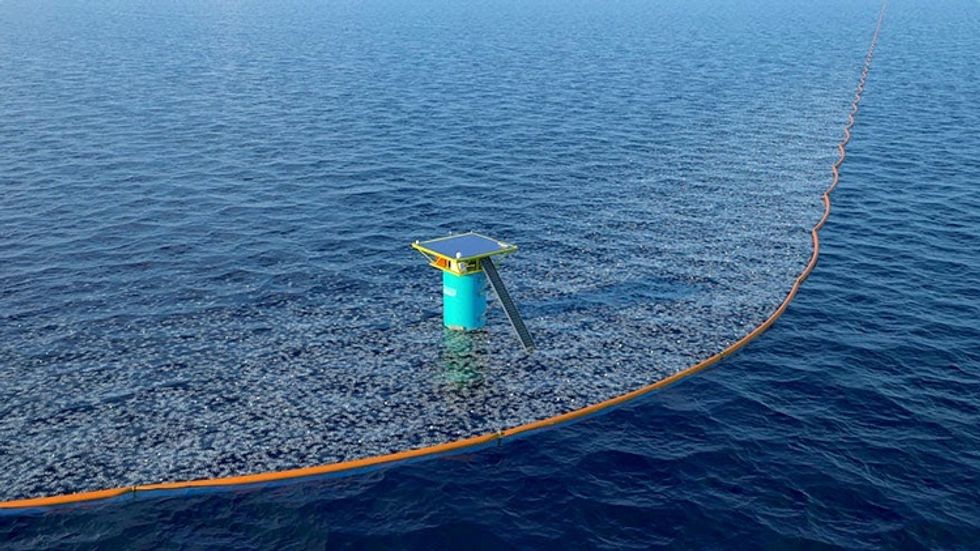 A rendering of Boyan Slat's proposed Ocean Cleanup Project that features 60 kilometer-wide net and boom system to passively capture drifting plastic. The aim is to clean up nearly half of the Great Pacific Garbage Patch's plastic pollution in 10 years. Photo credit: Ocean Cleanup Project
If everything goes as planned, the first operational pilot system will be launched off Japan's coast in 2017 to stop plastic pollution from reaching Tsushima island. By 2020, The Ocean Cleanup with deploy a full-scale, 100-kilometer-long system between Hawaii and California to tackle the Great Pacific Garbage Patch.
Slat, however, noted that a successful test does not necessarily mean the North Sea prototype will survive. "I estimate there is a 30 percent chance the system will break, but either way it will be a good test."
Prototype has arrived at test site https://t.co/oD5GTGKnQm

— Boyan Slat (@Boyan Slat)1466677331.0
The Ocean Cleanup describes itself as the "world's first feasible concept to clean the oceans of plastic," and the team saw successful tests of scaled-down prototypes at the Maritime Research Institute Netherlands last year.
The Dutch government, which is in full support of the project, is convinced of its feasibility, as The Guardian reported. The entire project will eventually cost an estimated 300 million euros.
"The Ocean Cleanup is an inspiring example of how we can tackle the growing problem of ocean pollution," Dutch Environment Minister Sharon Dijksma said. "I hope that with the help of the Dutch government, Boyan's prototype will turn out to be the successful solution for cleaning up the mid-ocean gyres. This is crucial to prevent permanent damage to the environment and marine life, due to the degradation and fragmentation of plastic waste materials."
Today @BoyanSlat @TheOceanCleanup launches his #TOCprototype in Scheveningen. #Plasticsoup #innovation https://t.co/zfbgOkO2Zn

— MinisterieEZK (@MinisterieEZK)1466582626.0
Some experts have written off Slat's idea. As Marcus Eriksen, 5 Gyres co-founder and an ocean scientist wrote, "There are no islands of plastic, rather a smog of plastic that pervades the oceans."
UK-based Eunomia Research & Consulting recently compiled a report that shows an astounding 94 percent of the plastic that enters the ocean ends up on the ocean floor, with an estimated average of 70 kilograms of plastic per square kilometer on the seabed.
But Slat has taken his critics head-on with a 530-page feasibility report composed of 70 scientists and engineers. The report concluded that the concept "is indeed likely a feasible and viable ocean cleanup technique." Their conclusion has also been peer-reviewed by external experts, Slat attested in a blog post.
EcoWatch has extensively covered the increasingly devastating crisis of ocean plastic, with roughly 8 million tons of plastic dumped into the world's oceans every year.
Since 2010, at least 66 million trees have died in California due to drought and rising temperatures, the U.S. Forest Service reported. At last count in October, the death toll was at 40 million trees.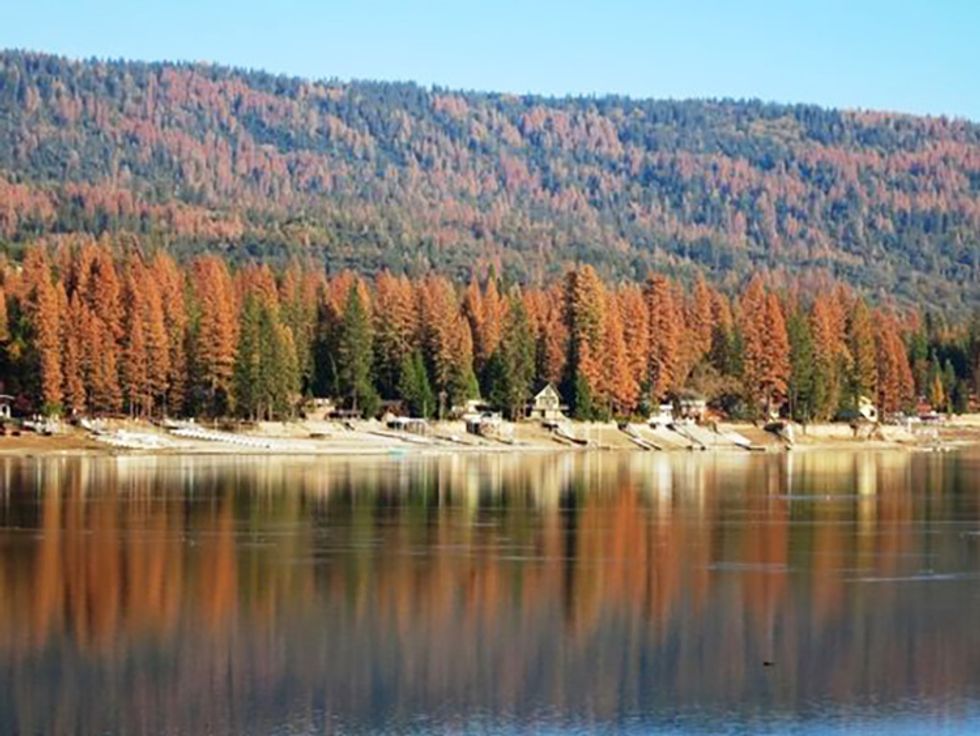 The ongoing, five-year drought in California has made trees increasingly vulnerable to insects and disease and the 65 percent increase in tree die-off has officials concerned about the possibility of a disastrous wildfire season.
"Tree die-offs of this magnitude are unprecedented and increase the risk of catastrophic wildfires that puts property and lives at risk," said U.S. Agriculture Secretary Tom Vilsack.
For a deeper dive: Climate Central, AP, USA Today, Los Angeles Times
For more climate change and clean energy news, you can follow Climate Nexus on Twitter and Facebook, and sign up for daily Hot News.
YOU MIGHT ALSO LIKE
Obama Visits Yosemite, Warns of Risks From Climate Change
Norway Becomes World's First Country to Ban Deforestation
87,000 NASA Images Show a Greening Arctic
Jaguar Shot Dead After Olympic Torch Passing Ceremony in Brazil
In a deal that Elon Musk has dubbed a "no brainer," Tesla Motors has made an offer to acquire solar installation company SolarCity in a stock deal worth a reported $2.8 billion.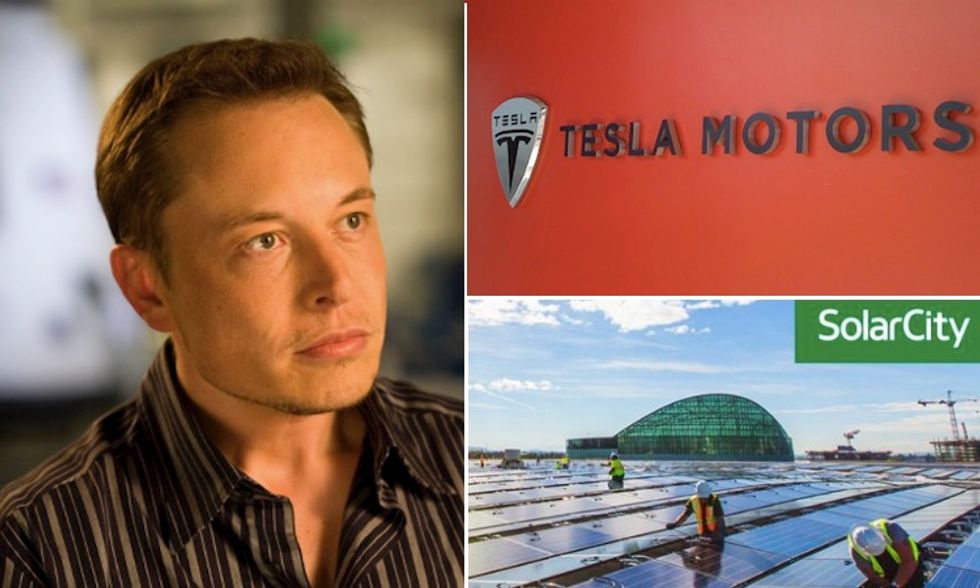 The electric car company made the announcement Tuesday and explained the offer in a blog post:
Tesla's mission has always been tied to sustainability. We seek to accelerate the world's transition to sustainable transportation by offering increasingly affordable electric vehicles. And in March 2015, we launched Tesla Energy, which through the Powerwall and Powerpack allow homeowners, business owners and utilities to benefit from renewable energy storage.
It's now time to complete the picture. Tesla customers can drive clean cars and they can use our battery packs to help consume energy more efficiently, but they still need access to the most sustainable energy source that's available: the sun.
"The world does not look for another car company, the world looks for sustainable energy companies," Musk told reporters in a conference call on Tuesday.
The prolific entrepreneur is the chairman of SolarCity, which was founded and is operated by his cousins, Lyndon Rive and Peter Rive. Musk is the largest individual shareholder of both companies, with 21.3 percent of Tesla and 22 percent of SolarCity, according to estimates.
SolarCity is the top residential solar installer in the country. Its customers pay for the panels with a monthly fee that's typically less than what they would pay to the power company. A marriage between the two companies would seamlessly tie SolarCity's panels with Tesla's Powerwall batteries. Having a solar-plus-storage system installed by a single company would allow an easier transition to customers to unhook themselves from a carbonized grid.
This morning, in a conference call to reporters and shareholders, Musk further discussed the rationale behind the offer. He said that the idea of consolidating Tesla and SolarCity "has been floated over the years" and it would be "extremely unwieldy" to operate as two companies.
Tesla makes offer to acquire SolarCity https://t.co/bo6TaeGvCJ

— Tesla (@Tesla)1466544004.0
In its blog post, Tesla listed off a number of "significant benefits to our shareholders, customers and employees" if the deal is completed:
We would be the world's only vertically integrated energy company offering end-to-end clean energy products to our customers. This would start with the car that you drive and the energy that you use to charge it, and would extend to how everything else in your home or business is powered. With your Model S, Model X, or Model 3, your solar panel system, and your Powerwall all in place, you would be able to deploy and consume energy in the most efficient and sustainable way possible, lowering your costs and minimizing your dependence on fossil fuels and the grid.
We would be able to expand our addressable market further than either company could do separately. Because of the shared ideals of the companies and our customers, those who are interested in buying Tesla vehicles or Powerwalls are naturally interested in going solar, and the reverse is true as well. When brought together by the high foot traffic that is drawn to Tesla's stores, everyone should benefit.
We would be able to maximize and build on the core competencies of each company. Tesla's experience in design, engineering, and manufacturing should help continue to advance solar panel technology, including by making solar panels add to the look of your home. Similarly, SolarCity's wide network of sales and distribution channels and expertise in offering customer-friendly financing products would significantly benefit Tesla and its customers.
We would be able to provide the best possible installation service for all of our clean energy products. SolarCity is the best at installing solar panel systems, and that expertise translates seamlessly to the installation of Powerwalls and charging systems for Tesla vehicles.
Culturally, this is a great fit. Both companies are driven by a mission of sustainability, innovation, and overcoming any challenges that stand in the way of progress.
"This is what the world needs ... this is Earth's solution," Musk said of the merger this morning. Musk has long been a champion solar energy and highly critical of fossil fuels and the fossil fuel industry.
"We have to look back on gas engine cars like we look back on steam engines," as well as power from fossil fuels, Musk added.
The fact that Musk has the biggest slice of both companies leaves Musk in a bit of an awkward situation, media reports have noted. Electrek explained that the offer to SolarCity "will be contingent on a vote from the shareholders and Musk will abstain from voting his shares due to his vested interest in the deal."
Analysts and investors do not appear happy with the plan. Reuters reported that Tesla's stock price spiraled more than 13 percent to $189.99 following the announcement yesterday. At the same time however, shares of SolarCity soared about 18 percent to $25.02.
This is what happened to the stocks after Tesla announced its bid for SolarCity https://t.co/KJfj1sc7jZ https://t.co/bjPgHbKmVv

— MarketWatch (@MarketWatch)1466602282.0
Electrek also observed that shareholders are "calling the deal a 'bailout' of SolarCity, especially after Musk bought another $10 million worth of shares last year—before the stock fell 60 percent in 2016."
SolarCity is also in an ongoing battle against regulators and utilities in states that are unfriendly to rooftop solar, aka the "solar wars" in Nevada over net metering, which allows homeowners to offset the cost of their panels by selling any electricity they don't use back to the grid. Nevada's NV Energy has been fighting these policies tooth and nail.
Musk, however, shot down the idea of a "bailout" of SolarCity, calling it a "false description."
YOU MIGHT ALSO LIKE
Get Solar Easier, Faster and Cheaper With Groundbreaking NYC Solar Map
Solar Impulse 2 Takes Off for Historic Odyssey Across the Atlantic
World's First 24/7 Solar Power Plant Powers 75,000 Homes
An historic agreement has been reached between Pacific Gas and Electric (PG&E), Friends of the Earth and other environmental and labor organizations to replace the Diablo Canyon nuclear reactors with greenhouse-gas-free renewable energy, efficiency and energy storage resources. Friends of the Earth says the agreement provides a clear blueprint for fighting climate change by replacing nuclear and fossil fuel energy with safe, clean, cost-competitive renewable energy.
BREAKING: California's Diablo Canyon nuclear plant to be replaced with 100% clean energy! https://t.co/3VQuCIReKJ

— NRDC (@NRDC)1466514647.0
The agreement, announced today in California, says that PG&E will renounce plans to seek renewed operating licenses for Diablo Canyon's two reactors—the operating licenses for which expire in 2024 and 2025 respectively. In the intervening years, the parties will seek Public Utility Commission approval of the plan which will replace power from the plant with renewable energy, efficiency and energy storage resources. Base load power resources like Diablo Canyon are becoming increasingly burdensome as renewable energy resources ramp up. Flexible generation options and demand-response are the energy systems of the future.
By setting a certain end date for the reactors, the nuclear phase out plan provides for an orderly transition. In the agreement, PG&E commits to renewable energy providing 55 percent of its total retail power sales by 2031, voluntarily exceeding the California standard of 50 percent renewables by 2030.
"This is an historic agreement," Erich Pica, president of Friends of the Earth, said.
"It sets a date for the certain end of nuclear power in California and assures replacement with clean, safe, cost-competitive, renewable energy, energy efficiency and energy storage. It lays out an effective roadmap for a nuclear phase-out in the world's sixth largest economy, while assuring a green energy replacement plan to make California a global leader in fighting climate change."
A robust technical and economic report commissioned by Friends of the Earth served as a critical underpinning for the negotiations. The report, known as Plan B, provided a detailed analysis of how power from the Diablo Canyon reactors could be replaced with renewable, efficiency and energy storage resources which would be both less expensive and greenhouse gas free.
With the report in hand, Friends of the Earth's Damon Moglen and Dave Freeman engaged in discussions with the utility about the phase-out plan for Diablo Canyon. The Natural Resources Defense Council was quickly invited to join. Subsequently, International Brotherhood of Electrical Workers Local 1245, Coalition of California Utility Employees, Environment California and Alliance for Nuclear Responsibility partnered in reaching the final agreement. The detailed phase out proposal will now go to the California Public Utility Commission for consideration. Friends of the Earth (and other NGO parties to the agreement) reserve the right to continue to monitor Diablo Canyon and, should there be safety concerns, challenge continued operation.
The agreement also contains provisions for the Diablo Canyon workforce and the community of San Luis Obispo.
"We are pleased that the parties considered the impact of this agreement on the plant employees and the nearby community," Pica said. "The agreement provides funding necessary to ease the transition to a clean energy economy."
Diablo Canyon is the nuclear plant that catalyzed the formation of Friends of the Earth in 1969. David Brower left the Sierra Club and founded Friends of the Earth over a disagreement about nuclear power and the Diablo Canyon plant specifically. The plant was the first issue on the organization's agenda and it has been fighting the plant ever since. This agreement is not only a milestone for renewable energy, but for Friends of the Earth as an organization.
YOU MIGHT ALSO LIKE
World's First 24/7 Solar Power Plant Powers 75,000 Homes
Help Put an End to Coal Mining on Public Lands
Nation's Largest Residential Solar Storage Project to Launch This Summer
Today marks a special day for astronomy enthusiasts. The summer solstice and June's strawberry moon will coincide for the first time in nearly 70 years.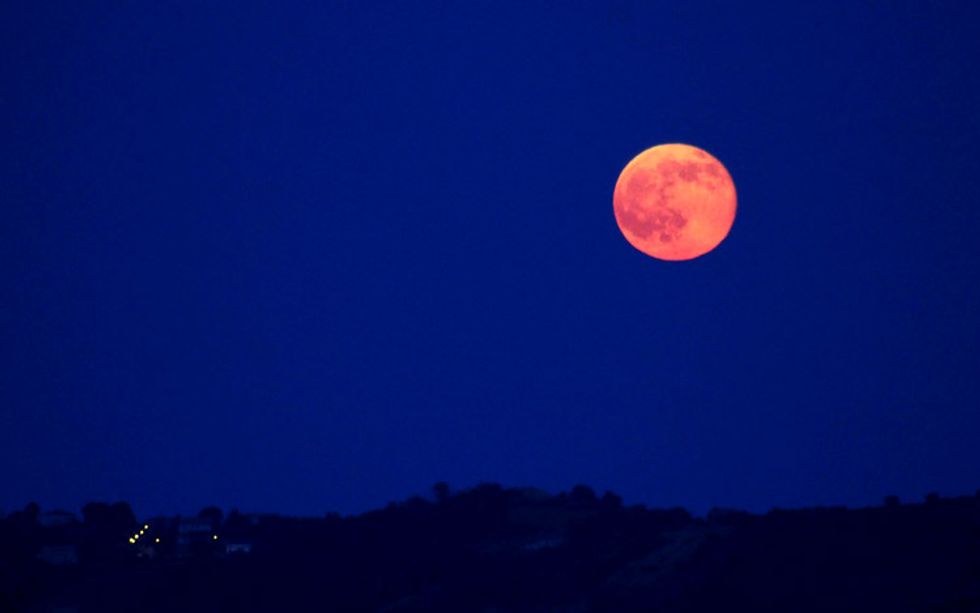 In the Northern Hemisphere, the summer solstice marks the longest day of the year and the official start of summer. The solstice officially starts at 6:34 p.m. ET, the exact time the sun will be in the northernmost position in the sky, directly over the Tropic of Cancer, according to National Geographic.
As the sun sets in the west, the moon will rise in the east. It will fill the sky with rose-tinted light.
This astronomical phenomenon hasn't occurred since 1948, the Baltimore Sun reported.
While the summer solstice and June full moon combination is rare, it is actually mathematically predicted to happen every 15 years, Flarmer's Almanac reported. During a live stream event hosted tonight by the almanac and Slooh, astronomer Bob Berman will discuss why its been so long since the last occurrence.
"Having a full moon land smack on the solstice is a truly rare event," Berman said. "We probably won't push people off pyramids like the Mayans did, but Slooh will very much celebrate this extraordinary day of light with fascinating factoids and amazing live telescope feeds."
Heads up: Full "Strawberry" moon to coincide w/ summer solstice for first time since 1948 https://t.co/IqGOR6agnA https://t.co/AHkewTB5Sm

— KTLA (@KTLA)1466283903.0
The Algonquin tribe called June's full moon the strawberry moon because it marked the time of year they should gather ripening fruit, according to the Farmer's Almanac. In Europe, June's full moon is also known as the Rose or the Honey moon.
Raven Fon wrote an article for The Earth Child suggesting five different ways to celebrate the solstice/full moon combination event. Ideas include:
Burning herbs. Fon suggests burning any or all of the following herbs to celebrate the solstice: Ruta, Verbena, Misletoe, Lavender, Thyme, Fennel, Plantain, Artemisia or the grass of St. John.
Drink to the sun. Enjoy a cup of cinnamon or ginger tea to honor the sun and its warmth. Make a celebratory toast.
Set your intention. Fon said the moon has significant manifestation powers, so this astronomical phenomenon is a great time to set your intention(s). Make a list of things you want to bring into and release from your life. The list can include behaviors, goals and desires.
Just enjoy the event. The solstice/full moon even is time to be free, Fon wrote. She suggests putting some music on and dancing to express yourself.
Take a dip. Fon suggests finding a body of water and taking a dip in it. "As full moon pushed and pulls the waters of our Earth, a purification takes place." Taking a dip will rejuvenate and invigorate your soul, she said.
YOU MIGHT ALSO LIKE:
NASA: Porter Ranch Gas Leak Was So Big It Could Be Seen From Space
See the World From a Polar Bear's Point Of View
NASA Finds Enormous Planet 3,700 Light Years Away
World's First 'Spotty Dog' and Cow-Like Sheep Created Using Gene Editing
Temperatures climbed rapidly over the weekend in Arizona and southern California, hitting a scorching 118 F in Phoenix and leading to four deaths. The excessive heat stoked at least four major wildfires in the region and more than 300 million people remain under heat warnings or advisories.
The heat will intensify in the Southwest today. Records likely to fall: https://t.co/ejW5LlH7oV https://t.co/JaPWpwuos7

— The Weather Channel (@The Weather Channel)1466343008.0
A Phoenix-bound flight was forced to return to Houston due to the extreme heat conditions. The National Weather Service issued a list of record-setting temperatures in cities across southern California, as CNN Meteorologist Pedram Javaher called it the hottest start to summer ever in California, New Mexico and Arizona.
The National Weather Service issued a list of record-setting temperatures in cities across the Southwest. Here's a sampling:
Burbank: 109 (previous: 104 degrees, set in 1973)

Chula Vista: 93 (previous: 88, set in 1957)

El Cajon: 104 degrees (previous: 94, set in 2001)

Escondido: 103 (previous: 102, set in 1929)

Idyllwild: 94 (previous: 93, set in 1954)

Indio: 118 (previous: 117, set in 1945)

Palm Springs: 118 (previous: 116, set in 2008)

Ramona: 106 (previous: 102, set in 2008)

Riverside: 111 (previous: 107, set in 1922)

Sandberg: 101 (previous: 94 degrees, set in 1961)

Santa Ana: 103 (previous: 95, set in 1973)

Thermal: 119 (previous: 118, set in 2008)

Woodland Hills: 109 (tying previous record, set in 2008)
Heat Watches & Warnings have been issued by @NWS for parts of CA. Get the latest alerts here https://t.co/3jJvYNlLtg https://t.co/xgU3Tijh7b

— Cal OES (@Cal OES)1466277234.0
As the climate warms, the most extreme heat events are becoming dramatically more frequent.
For a deeper dive:
News: CNN, Chicago Tribune, NBC, ABC13, AP, Motherboard, Fox, CBS News, LA Times, USA Today, Washington Post
Background: Climate Signals
For more climate change and clean energy news, you can follow Climate Nexus on Twitter and Facebook, and sign up for daily Hot News.
YOU MIGHT ALSO LIKE
Extreme Heat to Sear Southwest, Plains: Phoenix Could Approach 120 Degrees
Dangerous Heat Wave to Grip the U.S.: 10 Ways to Survive Extreme Heat
Carbon Dioxide Levels Set to Pass 400 ppm and Remain Above Symbolic Threshold Permanently
May Shatters Yet Another Monthly Heat Record as CO2 Levels Soar