This website uses cookies to ensure you get the best experience while browsing it. By clicking 'Got It' you're accepting these terms.
Climate Change Puts Squeeze on Cuddly Koalas
Jun. 24, 2016 08:38AM EST
Climate
By Tim Radford
Human-induced climate change promises to make life a lot harder for one of Australia's most charismatic species—the koala.
The herbivorous marsupial (Phascolarctos cinereus), unique to the world's largest island, is rarely seen. It moves slowly, lives high in the canopy on a diet of eucalyptus leaves, sleeps for up to 20 hours a day and yet is known to billions worldwide as the model for a cuddly toy loved by children.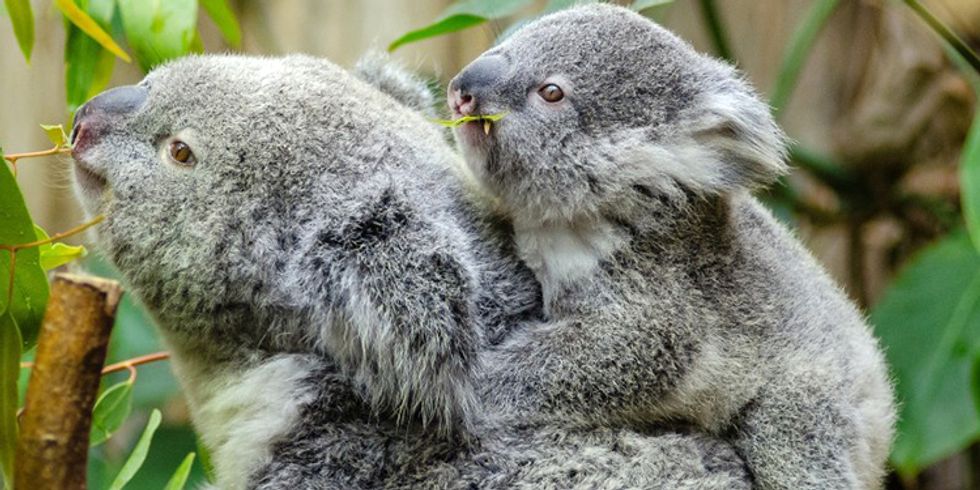 Its demands are few: a supply of fresh eucalyptus foliage, a little water to drink and somewhere quiet to flourish. But a new study in Global Change Biology suggests that by 2070 much of its native homeland won't provide what it takes to make a home any more.
Potential Range
Natalie Briscoe, an ecologist at the University of Melbourne and colleagues used everything they knew about koalas—behavior, body size, fur depth and physiology—to predict how much energy and water koalas would need to survive at any location. They made the assumption that eucalyptus trees would be available everywhere.
Then they used their knowledge of the animal to make a map of potential koala habitat 60 years from now. And they found the animal's potential range dramatically smaller.
The problem lies not in inexorable global warming—average planetary atmospheric temperatures have risen by 1 C in the last century and the world has pledged to keep the overall rise to lower than 2 C— but in the frequency of extremes of heat and drought. And in a land of extremes, more extremes are on the way.
Dr. Briscoe said:
"Studies of climate change impacts on wildlife have often focused on how changes in average temperature or rainfall will affect species, but our research highlights the importance of thinking about the extreme conditions that will be most stressful for the animals—such as hot, dry periods—and how these may change in the future.
"By developing a better understanding of what controls species distributions now, we are much better placed to forecast how these may shift in the future."
The researchers also correlated all the known koala locations and then matched that data with climate records from the recent past—another way of helping understand what climate change can do to wildlife. Both models predicted that the animal would suffer in the hotter, drier parts of its range.
Rainfall Patterns
The summer of 2013 broke all records for temperature extremes in Australia and researchers expect rainfall patterns to be disrupted and heatwaves and droughts to grow in number and intensity with time.
The challenge for conservationists is to identify those regions where the koala is more likely to survive. Ecologists call these places refugia: in times of stress, a species retreats to a limited range and expands when conditions improve.
"There is a lot of uncertainty when predicting the impacts of climate change on species, particularly when climate change leads to novel weather patterns," Dr. Briscoe said.
"Comparing predictions from different models allows us to more confidently predict the location of havens where koalas could survive in the future."
YOU MIGHT ALSO LIKE
NOAA: World's Worst Coral Bleaching Event to Continue 'With No Signs of Stopping'
Cub of Beloved Grizzly Killed by Car as FWS Plans to Delist Yellowstone Bear
Buzz Kill: How the Pesticide Industry Blocks Bee Protections Nationwide
6 Million Tropical Fish Imported Into U.S. Each Year Are Exposed to Cyanide Poisoning
EcoWatch Daily Newsletter
Blue whale (Balaenoptera musculus) surfacing, showing the remains of a blow and its mottled appearance near South Georgia Island in the Polar Regions. Mick Baines & Maren / Getty Images
The largest animal on Earth is proving that wildlife protections work.
More than 300 people were forced to evacuate and 46 were sent to the hospital after a gas pipeline ruptured in Mississippi Saturday.

Pexels
By Tim Lydon
Climate-related disasters are on the rise, and carbon emissions are soaring. Parents today face the unprecedented challenge of raising children somehow prepared for a planetary emergency that may last their lifetimes. Few guidebooks are on the shelves for this one, yet, but experts do have advice. And in a bit of happy news, it includes strategies already widely recognized as good for kids.
Pexels
Be it Nina Simone and James Brown for civil rights, Joni Mitchell and Marvin Gaye for the environment, or Jackson Browne and Buffalo Springfield for nuclear disarmament, musicians have long helped push social movements into the limelight.
Yulia Lisitsa / iStock / Getty Images Plus
Collagen is the most abundant protein in your body.
It is the major component of connective tissues that make up several body parts, including tendons, ligaments, skin, and muscles.