This website uses cookies to ensure you get the best experience while browsing it. By clicking 'Got It' you're accepting these terms.
Climate Change Puts Squeeze on Cuddly Koalas
Jun. 24, 2016 08:38AM EST
By Tim Radford
Human-induced climate change promises to make life a lot harder for one of Australia's most charismatic species—the koala.
The herbivorous marsupial (Phascolarctos cinereus), unique to the world's largest island, is rarely seen. It moves slowly, lives high in the canopy on a diet of eucalyptus leaves, sleeps for up to 20 hours a day and yet is known to billions worldwide as the model for a cuddly toy loved by children.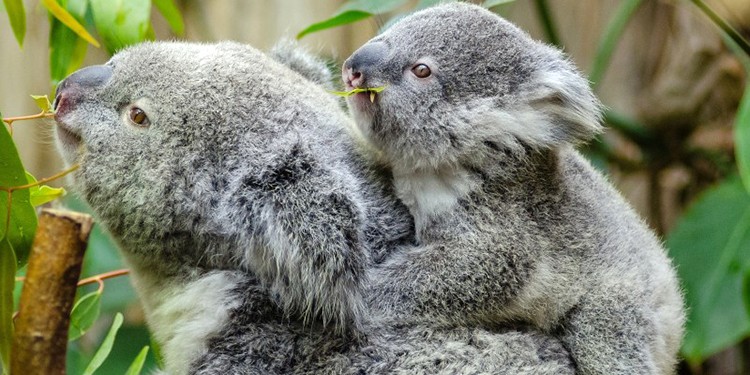 Its demands are few: a supply of fresh eucalyptus foliage, a little water to drink and somewhere quiet to flourish. But a new study in Global Change Biology suggests that by 2070 much of its native homeland won't provide what it takes to make a home any more.
Potential Range
Natalie Briscoe, an ecologist at the University of Melbourne and colleagues used everything they knew about koalas—behavior, body size, fur depth and physiology—to predict how much energy and water koalas would need to survive at any location. They made the assumption that eucalyptus trees would be available everywhere.
Then they used their knowledge of the animal to make a map of potential koala habitat 60 years from now. And they found the animal's potential range dramatically smaller.
The problem lies not in inexorable global warming—average planetary atmospheric temperatures have risen by 1 C in the last century and the world has pledged to keep the overall rise to lower than 2 C— but in the frequency of extremes of heat and drought. And in a land of extremes, more extremes are on the way.
Dr. Briscoe said:
"Studies of climate change impacts on wildlife have often focused on how changes in average temperature or rainfall will affect species, but our research highlights the importance of thinking about the extreme conditions that will be most stressful for the animals—such as hot, dry periods—and how these may change in the future.
"By developing a better understanding of what controls species distributions now, we are much better placed to forecast how these may shift in the future."
The researchers also correlated all the known koala locations and then matched that data with climate records from the recent past—another way of helping understand what climate change can do to wildlife. Both models predicted that the animal would suffer in the hotter, drier parts of its range.
Rainfall Patterns
The summer of 2013 broke all records for temperature extremes in Australia and researchers expect rainfall patterns to be disrupted and heatwaves and droughts to grow in number and intensity with time.
The challenge for conservationists is to identify those regions where the koala is more likely to survive. Ecologists call these places refugia: in times of stress, a species retreats to a limited range and expands when conditions improve.
"There is a lot of uncertainty when predicting the impacts of climate change on species, particularly when climate change leads to novel weather patterns," Dr. Briscoe said.
"Comparing predictions from different models allows us to more confidently predict the location of havens where koalas could survive in the future."
YOU MIGHT ALSO LIKE
NOAA: World's Worst Coral Bleaching Event to Continue 'With No Signs of Stopping'
Cub of Beloved Grizzly Killed by Car as FWS Plans to Delist Yellowstone Bear
Buzz Kill: How the Pesticide Industry Blocks Bee Protections Nationwide
6 Million Tropical Fish Imported Into U.S. Each Year Are Exposed to Cyanide Poisoning
Three scissor-tailed flycatcher fledglings in a mesquite tree in Texas. Texas Eagle / CC BY-NC 2.0
By Gary Paul Nabhan
President Trump has declared a national emergency to fund a wall along our nation's southern border. The border wall issue has bitterly divided people across the U.S., becoming a vivid symbol of political deadlock.
PeopleImages / E+ / Getty Images
By Daniel Ross
Hurricane Florence, which battered the U.S. East Coast last September, left a trail of ruin and destruction estimated to cost between $17 billion and $22 billion. Some of the damage was all too visible—smashed homes and livelihoods. But other damage was less so, like the long-term environmental impacts in North Carolina from hog waste that spilled out over large open-air lagoons saturated in the rains.
Hog waste can contain potentially dangerous pathogens, pharmaceuticals and chemicals. According to the state's Department of Environmental Quality, as of early October nearly 100 such lagoons were damaged, breached or were very close to being so, the effluent from which can seep into waterways and drinking water supplies.
This picture taken on May 21, 2018 shows discarded climbing equipment and rubbish scattered around Camp 4 of Mount Everest. Decades of commercial mountaineering have turned Mount Everest into the world's highest rubbish dump as an increasing number of big-spending climbers pay little attention to the ugly footprint they leave behind. DOMA SHERPA / AFP / Getty Images
China has closed its Everest base camp to tourists because of a buildup of trash on the world's tallest mountain.
Researchers tested the eggs of Arctic northern fulmers like these in Nunavut, Canada.
Fiona Paton / Flickr
By Madison Dapcevich
Plastics have been recorded in every corner of the world, from the remote icy waters of Antarctica to the bellies of deep-sea fishes. Now, preliminary findings presented at this year's American Association for the Advancement of Science (AAAS) annual meeting in Washington, DC suggest that bird eggs from the high Arctic—one of the most remote wildernesses on the planet—show evidence of contamination from chemicals used in plastics.