This website uses cookies to ensure you get the best experience while browsing it. By clicking 'Got It' you're accepting these terms.
Boyan Slat's Ocean Cleanup Project Launches Historic First Prototype at Sea
Jun. 23, 2016 09:50AM EST
Business
Boyan Slat's ambitious plan to rid the world's oceans of plastic has taken another step towards reality with its first prototype to be tested at sea. The Ocean Cleanup Foundation, founded by the 21-year-old Slat, has deployed a 100-meter clean-up boom today in the North Sea in The Netherlands.
---
The prototype was unveiled before its main partners, the Dutch government and marine contractor Royal Boskalis Westminster N.V.
The system will be installed roughly 12 nautical miles off the Dutch coast where it will undergo sensor-monitored tests for the next year. According to The Guardian, the vulcanized rubber barrier will passively coral floating trash into a V-shaped cone via the ocean's natural currents. The structure is anchored at a depth of up to 4.5 kilometers by a cable sub-system.
Today is a major occasion for Slat, who came up with his highly publicized concept a few years ago when he was only a teenager.
"This is a historic day on the path toward clean oceans," he said.
The organization pointed out that although some trash may be caught during the North Sea prototype test, collecting plastic is not its objective. Rather, "the objective is to test how The Ocean Cleanup's floating barrier fares in extreme weather at sea—the kind of conditions the system will eventually face when deployed in the Great Pacific Garbage Patch."
"At the North Sea test site, conditions during a minor storm are more severe than those in exceptionally heavy storms (occurring once every 100 years) in the Pacific Ocean," the organization said.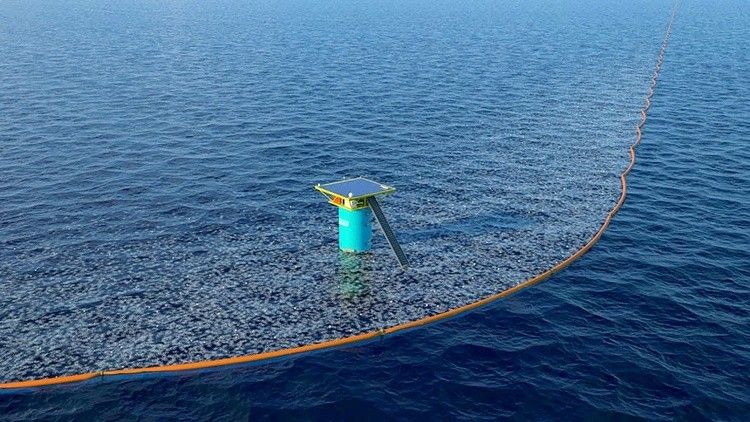 A rendering of Boyan Slat's proposed Ocean Cleanup Project that features 60 kilometer-wide net and boom system to passively capture drifting plastic. The aim is to clean up nearly half of the Great Pacific Garbage Patch's plastic pollution in 10 years. Photo credit: Ocean Cleanup Project
If everything goes as planned, the first operational pilot system will be launched off Japan's coast in 2017 to stop plastic pollution from reaching Tsushima island. By 2020, The Ocean Cleanup with deploy a full-scale, 100-kilometer-long system between Hawaii and California to tackle the Great Pacific Garbage Patch.
Slat, however, noted that a successful test does not necessarily mean the North Sea prototype will survive. "I estimate there is a 30 percent chance the system will break, but either way it will be a good test."
The Ocean Cleanup describes itself as the "world's first feasible concept to clean the oceans of plastic," and the team saw successful tests of scaled-down prototypes at the Maritime Research Institute Netherlands last year.
The Dutch government, which is in full support of the project, is convinced of its feasibility, as The Guardian reported. The entire project will eventually cost an estimated 300 million euros.
"The Ocean Cleanup is an inspiring example of how we can tackle the growing problem of ocean pollution," Dutch Environment Minister Sharon Dijksma said. "I hope that with the help of the Dutch government, Boyan's prototype will turn out to be the successful solution for cleaning up the mid-ocean gyres. This is crucial to prevent permanent damage to the environment and marine life, due to the degradation and fragmentation of plastic waste materials."
Some experts have written off Slat's idea. As Marcus Eriksen, 5 Gyres co-founder and an ocean scientist wrote, "There are no islands of plastic, rather a smog of plastic that pervades the oceans."
UK-based Eunomia Research & Consulting recently compiled a report that shows an astounding 94 percent of the plastic that enters the ocean ends up on the ocean floor, with an estimated average of 70 kilograms of plastic per square kilometer on the seabed.
But Slat has taken his critics head-on with a 530-page feasibility report composed of 70 scientists and engineers. The report concluded that the concept "is indeed likely a feasible and viable ocean cleanup technique." Their conclusion has also been peer-reviewed by external experts, Slat attested in a blog post.
EcoWatch has extensively covered the increasingly devastating crisis of ocean plastic, with roughly 8 million tons of plastic dumped into the world's oceans every year.
EcoWatch Daily Newsletter
Pexels
Singapore will become the first country in the world to place a ban on advertisements for carbonated drinks and juices with high sugar contents, its health ministry announced last week. The law is intended to curb sugar consumption since the country has some of the world's highest diabetes rates per capita, as Reuters reported.
A typical adult takes around 20,000 breaths per day. If you live in a megacity like Beijing, with many of those lungfuls you're likely to inhale a noxious mixture of chemicals and pollutants.
Fred Stone holds his brown swiss cow Lida Rose at his Arundel dairy farm on March 18 after a press conference where he spoke about PFAS chemical contamination in his fields. Gregory Rec / Portland Portland Press Herald via Getty Images
By Susan Cosier
First there was Fred Stone, the third-generation dairy farmer in Maine who discovered that the milk from his cows contained harmful chemicals. Then came Art Schaap, a second-generation dairy farmer in New Mexico, who had to dump 15,000 gallons of contaminated milk a day.
Protesters attend the 32nd Annual Fur-Free Friday demonstration on Nov. 23, 2018 in Beverly Hills, California. Ella DeGea / Getty Images
California Governor Gavin Newsom signed into law a bill that that bans the sale and manufacture of fur products in the state. The fur ban, which he signed into law on Saturday, prohibits Californians from selling or making clothing, shoes or handbags with fur starting in 2023, according to the AP.
By Simon Evans
During the three months of July, August and September, renewables generated an estimated total of 29.5 terawatt hours (TWh), compared with just 29.1TWh from fossil fuels, the analysis shows.
A demonstrator waves an Ecuadorian flag during protests against the end of subsidies to gasoline and diesel on Oct. 9 in Quito, Ecuador. Jorge Ivan Castaneira Jaramillo / Getty Images
Protesters block the road outside Mansion House in London during an XR climate change protest. Gareth Fuller / PA Images via Getty Images
Protestors marched outside the Prudential Center in Newark, New Jersey on Monday, August 26, during the MTV Video and Music Awards to bring attention to the water crisis currently gripping the city. Karla Ann Cote / NurPhoto / Getty Images
By Will Sarni
It is far too easy to view scarcity and poor quality of water as issues solely affecting emerging economies. While the images of women and children fetching water in Africa and a lack of access to water in India are deeply disturbing, this is not the complete picture.