This website uses cookies to ensure you get the best experience while browsing it. By clicking 'Got It' you're accepting these terms.
Stanford Professor's New Zero-Net Energy Home Sets the Standard for Green Living
Jun. 23, 2016 10:05AM EST
Mark Z. Jacobson's new digs is the perfect home for the prominent renewable energy advocate.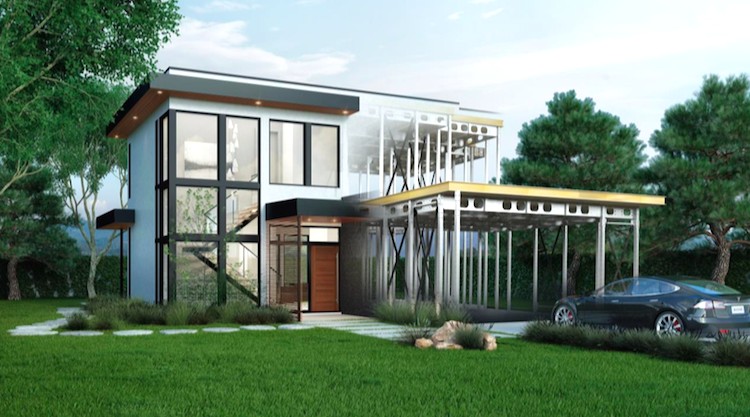 This zero-net energy home took only a few weeks to build. Photo credit: Bone Structure
The Stanford professor's Solutions Project famously lays out roadmaps for 139 countries, including the world's major greenhouse gas emitters, to switch to 100 percent clean, renewable energy generated from wind, water and sunlight for all purposes by 2050. He made an appearance on the Late Show With David Letterman in 2013 and said we already have enough wind to power the entire world "seven times over."
It's no surprise then that his new house is incredibly eco-friendly. The 3,200-square-foot, three-bedroom, three-bathroom home was designed and built by Canadian prefab homes company BONE Structure. The building is zero-net energy (ZNE), which means that the total amount of energy used by the home equals the amount of energy created on site.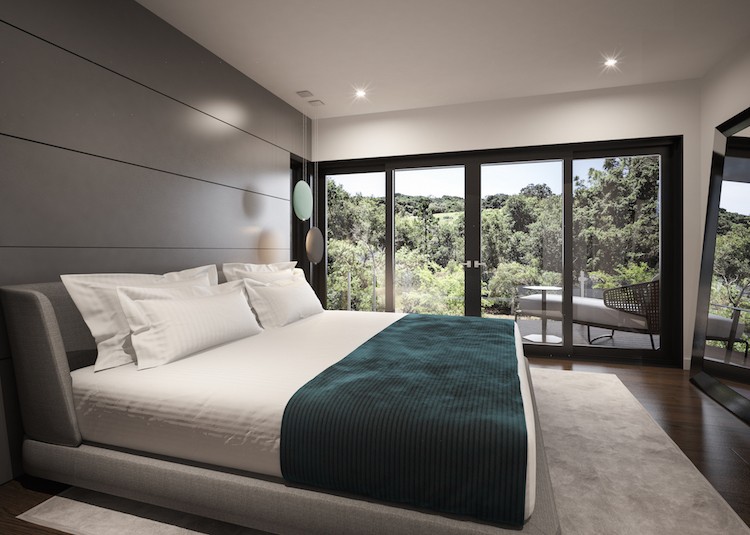 A rendering of the master bedroom. Photo credit: BONE Structure
The house runs on 100 percent electricity with the help of rooftop solar, a Tesla Powerwall for energy storage, a Tesla charger for his electric car and Nest appliances. The property doesn't even have gas lines.
"The net energy efficiency, once the envelope is leak-proof, is due not only to the structure but also to energy sources and appliances," Jacobson said. "I have no gas going onto the property; instead, all energy comes from electricity. I will use electric cars, heat pumps for air and water heating, and an electric induction stove. The house will be powered by solar panels on the rooftop and energy will be stored using Tesla batteries in the garage."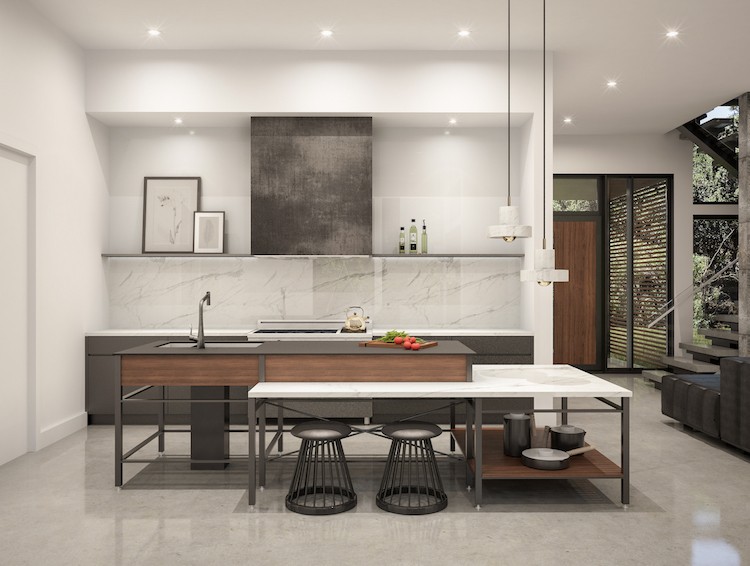 A rendering of the kitchen. Photo credit: BONE Structure
Jacobson, who is the head of the Atmosphere and Energy Program at Stanford University, commissioned the company to build his new abode in order to meet his green building standards.
"I study climate and air pollution problems and try to solve them through large scale, clean, renewable energy and I try to practice what I preach," he said.
Jacobson also pointed out that because BONE Structure's homes are prefabricated, it reduces waste, decreases dust and minimizes disruption to neighbors because they are faster to build.
The home's shell is made of 89 percent recycled steel that is 100 recyclable, seismically resilient (ideal for earthquake-prone California) and safe from damage by termites and mold.
BONE Structure's homes are built from columns and beams that are laser cut in a manufacturing plant, making it endlessly customizable.
"The steel frame system allows for exciting design features that would not be possible using traditional building methods," Jacobson, who lives on an odd-shaped lot, explained. "Interior spaces and window lines can run up to 25 feet between columns."
Additionally, as Curbed reported, thanks to a "clip-together design," the frame took less than a week to put together. According to the publication, "another week was spent spraying it with a soy-based foam that, once dry, should provide an airtight envelope that insulates and keeps the steel from shrinking or contracting with the weather."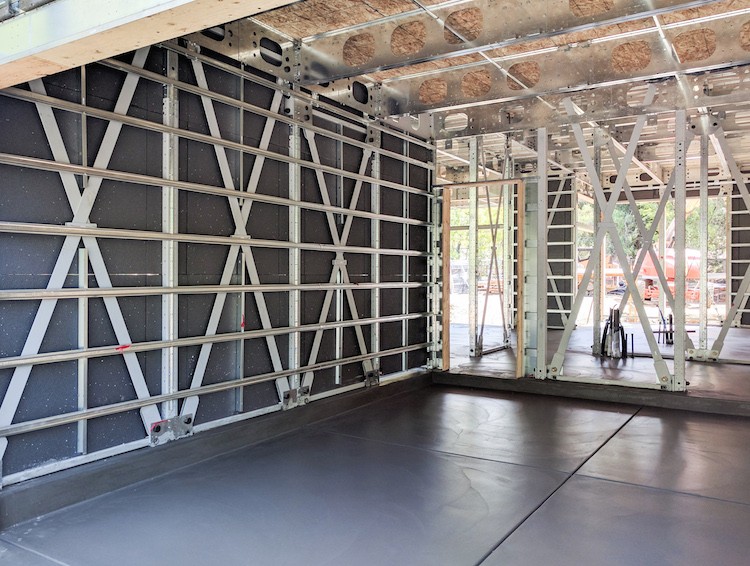 The garage under construction. Photo credit: BONE Structure
The house is designed to meet California's ZNE goal that calls for all new houses in the state to be ZNE by 2020. Jacobson's new residence is the first BONE Structure home in California.
"This is a great first project for BONE Structure in California and a perfect example of the benefits of our system," Charles Bovet, vice president of BONE Structure, U.S., said. "Stanford is an academically and environmentally focused community and a perfect location for our first net zero home. Our shells are net zero ready, meaning they are extremely energy efficient and with the addition of a small solar system they can produce more energy than they consume."
The company, which has an office in San Francisco, expects to build 50 more new homes in California this year and is also is scaling up to produce 1,000 residences per year "to address growing demand for this disruptive home construction technology making it the only net zero-ready energy builder that can produce homes on a large scale."
YOU MIGHT ALSO LIKE
3 Aquaponic Farms in Brooklyn Killing It
World's First Large-Scale Carbon-Neutral Brewery Now in Operation
World's First Off-Grid ReGen Village Will Be Completely Self-Sufficient Producing Its Own Power and Food
Nation's First Urban Farming School Teaches Kids to Grow and Cook Their Own Food
EcoWatch Daily Newsletter
Offutt Air Force Base after flooding on March 17. U.S. Air Force / TSgt. Rachelle Blake
A regenerating stand of rainforest in northern Costa Rica. Matthew Fagan / CC BY-ND
By Matthew Fagan, Leighton Reid and Margaret Buck Holland
Tropical forests globally are being lost at a rate of 61,000 square miles a year. And despite conservation efforts, the global rate of loss is accelerating. In 2016 it reached a 15-year high, with 114,000 square miles cleared.
At the same time, many countries are pledging to restore large swaths of forests. The Bonn Challenge, a global initiative launched in 2011, calls for national commitments to restore 580,000 square miles of the world's deforested and degraded land by 2020. In 2014 the New York Declaration on Forests increased this goal to 1.35 million square miles, an area about twice the size of Alaska, by 2030.
Compassion Over Killing
By Cheryl Leahy
Do you think almond milk comes from a cow named Almond? Or that almonds lactate? The dairy industry thinks you do, and that's what it's telling the Food and Drug Administration (FDA).
For years, the dairy industry has been flexing its lobbying muscle, pressuring states and the federal government to restrict plant-based companies from using terms like "milk" on their labels, citing consumer confusion.
By Jeremy Deaton
A driver planning to make the trek from Denver to Salt Lake City can look forward to an eight-hour trip across some of the most beautiful parts of the country, long stretches with nary a town in sight. The fastest route would take her along I-80 through southern Wyoming. For 300 miles between Laramie and Evanston, she would see, according to a rough estimate, no fewer than 40 gas stations where she could fuel up her car. But if she were driving an electric vehicle, she would see just four charging stations where she could recharge her battery.
d3sign / Moment / Getty Images
Common sense should not be taken for granted when people are discussing nutrition.
A fire erupted Sunday at a petrochemical plant in Deer Park, Texas.
NowThis News / YouTube screenshot
By Andrea Germanos
A petrochemical plant near Houston continued to burn for a second day on Monday, raising questions about the quality and safety of the air.

The Deer Park facility is owned by Intercontinental Terminals Company (ITC), which said the fire broke out at roughly 10:30 a.m. Sunday. Seven tanks are involved, the company said, and they contain naptha, xylene, "gas blend stocks" and "base oil."
"It's going to have to burn out at the tank," Ray Russell, communications officer for Channel Industries Mutual Aid, which is aiding the response effort, said at a news conference. It could take "probably two days" for that to happen, he added.
The hillsides dyed orange with poppies may look like something out of a dream, but for the Southern California town of Lake Elsinore, that dream quickly turned into a nightmare.
The town of 66,000 people was inundated with around 50,000 tourists coming to snap pictures of the golden poppies growing in Walker Canyon as part of a superbloom of wildfires caused by an unusually wet winter, BBC News reported. The visitors trampled flowers and caused hours of traffic, The Guardian reported.
The Humane Society of the United States uncovered a one-year pesticide test on 36 beagles contracted by Dow AgroSciences at a Michigan lab.
The Humane Society of the United States / YouTube screenshot
A controversial pesticide test that would have resulted in the deaths of 36 beagles has been stopped, the Humane Society of the United States (HSUS) and the company behind the test announced Monday. The announcement comes less than a week after HSUS made the test public when it released the results of an investigation into animal testing at Charles River Laboratories in Michigan.
"We have immediately ended the study that was the subject of attention last week and will make every effort to rehome the animals that were part of the study," Corteva Agriscience, the agriculture division of DowDupont, said in a statement announcing its decision.