Exxon Sues Massachusetts Attorney General to Block Climate Fraud Investigation
ExxonMobil filed a lawsuit against Massachusetts Attorney General Maura Healey in an effort to block a subpoena that would require the oil and gas giant to hand over 40 years of internal communications relating to whether the company misrepresented its knowledge of climate change to investors.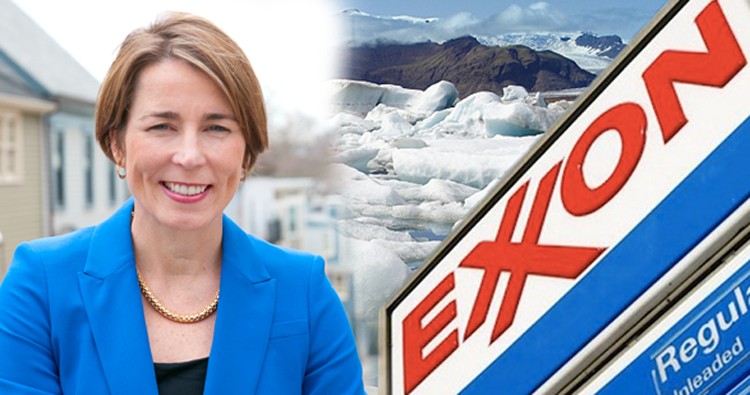 The 33-page injunction was filed in federal district court in Fort Worth, Texas on Wednesday.
In the searing complaint, Exxon called the investigation a "fishing expedition" that is "nothing more than a weak pretext for an unlawful exercise of government power to further political objectives."
"Attorney General Healey is abusing the power of government to silence a speaker she disfavors," the complaint states.
Exxon believes Healey's April 19 subpoena violates its constitutional rights on free speech, unreasonable search and seizure and equal protection, Reuters reported. The company seeks either an injunction to halt the investigation or for the court to rule that the investigation is without legal merit.
In response to the lawsuit, Healey's office said that its investigation is "based not on speculation, but on inconsistencies about climate change in Exxon documents which have been made public."
"The First Amendment does not protect false and misleading statements in the marketplace," Healey's communications director Cyndi Roy Gonzalez said in a statement provided to EcoWatch.
The Boston Herald reported that Healey's broad subpoena is also 
demanding communications between Exxon and 12 think tanks that are critical of climate change, as well as information on whether Exxon funded the groups.
According to the Herald, Exxon does not believe it should respond to the subpoena because of a four-year statute of limitations on Healey's claims. It also has not sold fuel, owned a retail location or sold securities in Massachusetts during that time.
"Exxon's assertion that we cannot investigate it because the company has not engaged in business here in Massachusetts is completely preposterous and is a clear attempt to delay and distract from the real issues," Gonzalez countered. "We will continue to fight aggressively on the basis of our clear legal authority to obtain the information that we need to ensure the Massachusetts public is protected."
Exxon has brought a similar suit against Virgin Islands Attorney General Claude Walker in the same Fort Worth district court. The company also says that Walker's subpoena demanding internal climate change-related records violates its free speech and should be protected from unreasonable searches and seizures.
"For many months, Exxon Mobil has engaged in an unprecedented effort to limit the ability of state attorneys general to investigate fraud and unfair business practices and to protect Massachusetts consumers, investors and the public," Gonzalez said.
Healey and Walker are among 20 state Attorneys General that have launched a multi-state effort to investigate and prosecute Exxon and other industry giants for fraud and suppression of key climate science.
The coalition was convened by New York Attorney General Eric Schneiderman, who in November announced a state investigation into Exxon after reporting revealed that the oil giant had for decades known and suppressed evidence about the dangers that fossil fuels posed to the environment and then purposely disseminated false information in order to boost its profits.
InsideClimate News reported that Exxon has been cooperating with Schneiderman's own subpoena, and has turned over thousands of pages of documents.
"It is deeply troubling that Exxon has taken the extraordinary step of refusing to comply with a lawful subpoena sent in the course of a serious fraud investigation," Schneiderman spokesman Matt Mittenthal told EcoWatch in response to the suit against Healey. "The law is clear: The First Amendment does not give any corporation the right to commit fraud."
YOU MIGHT ALSO LIKE
Here's How We Get to 100% Renewable Energy
Wall Street Journal Willing to Print Truth About Climate Change if You Pay Them
World's Biggest Banks Are Driving Climate Change, Pumping Billions Into Extreme Fossil Fuels
Court Documents Show Peabody Energy Funded Dozens of Climate Denial Groups
www.facebook.com
Keep reading...
Show less
Keep reading...
Show less
www.elysee.fr
By Andy Rowell
There is a growing feeling within European capitals that a quiet, but deeply positive, revolution is happening under Emmanuel Macron in France.
Macron's opinion poll rating is high, especially boosted in how the young French president has reacted to Donald Trump on the international stage.
Keep reading...
Show less
Hawaii Renewable Energy Alliance
The latest issue of the U.S. Energy Information's "Electric Power Monthly" (with data through April 30) reveals that—for the first time since the beginning of the nuclear era—renewable energy sources (i.e., biomass, geothermal, hydropower, solar—inc. small-scale PV, wind) are now providing a greater share of the nation's electrical generation than nuclear power.
Keep reading...
Show less
www.youtube.com
Check out this great 360° virtual reality video by NowThis on the world's largest indoor vertical farm, AeroFarms. Located in Newark, New Jersey, AeroFarms grows more than 2 million pounds of greens a year without sunlight, soil or pesticides.
As reported by EcoWatch in July 2105, the $30 million, 70,000-square-foot AeroFarms headquarters dwarfs Japan's (already impressive) 25,000-square-foot vertical indoor farm, which had been the world's largest until now.
www.youtube.com
According to Bloomberg, "SeaWorld Entertainment Inc. received a subpoena earlier this month from regulators investigating disclosures and public statements by executives, including comments about the Blackfish documentary that caused a public backlash against the confinement of orcas.
Keep reading...
Show less
Wikipedia
By Franziska Spritzler, RD, CDE
Boosting your metabolic rate can help you lose body fat. However, most "fat-burning" supplements on the market are either unsafe, ineffective or both.
Fortunately, several natural foods and beverages have been shown to increase your metabolism and promote fat loss.
Keep reading...
Show less
Jun. 25, 2017 04:50PM EST
Monsanto, the maker of the glyphosate-based herbicide Roundup, filed a motion June 16 in U.S. District Court, Northern District of California to reconsider the chemical's addition to California's Proposition 65 list of agents known to cause cancer.
The agrochemical giant made this move based on a June 14 Reuters investigation of Dr. Aaron Blair, a lead researcher on the World Health Organization's International Agency for Research on Cancer (IARC) committee, that classified glyphosate as a "2A probable human carcinogen" in March 2015.
Keep reading...
Show less
Jun. 25, 2017 04:40PM EST
By Avery Friedman
Algae is often considered a nuisance, but for Sweden, the rapidly growing sea plant is now an asset.
As the Scandinavian country works to cut all of its greenhouse gas emissions by 2045, it's using algae to sop up the carbon emissions from cement.
Keep reading...
Show less