This website uses cookies to ensure you get the best experience while browsing it. By clicking 'Got It' you're accepting these terms.
Tesla Makes $2.8 Billion Offer to Acquire SolarCity
Jun. 22, 2016 09:44AM EST
In a deal that Elon Musk has dubbed a "no brainer," Tesla Motors has made an offer to acquire solar installation company SolarCity in a stock deal worth a reported $2.8 billion.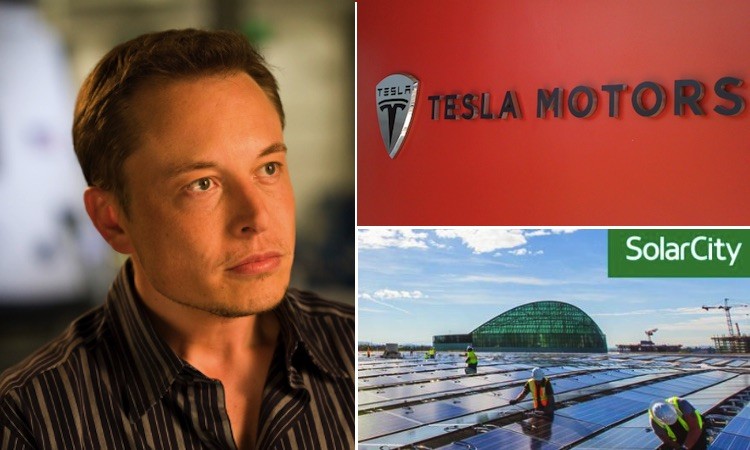 The electric car company made the announcement Tuesday and explained the offer in a blog post:
Tesla's mission has always been tied to sustainability. We seek to accelerate the world's transition to sustainable transportation by offering increasingly affordable electric vehicles. And in March 2015, we launched Tesla Energy, which through the Powerwall and Powerpack allow homeowners, business owners and utilities to benefit from renewable energy storage.
It's now time to complete the picture. Tesla customers can drive clean cars and they can use our battery packs to help consume energy more efficiently, but they still need access to the most sustainable energy source that's available: the sun.
"The world does not look for another car company, the world looks for sustainable energy companies," Musk told reporters in a conference call on Tuesday.
The prolific entrepreneur is the chairman of SolarCity, which was founded and is operated by his cousins, Lyndon Rive and Peter Rive. Musk is the largest individual shareholder of both companies, with 21.3 percent of Tesla and 22 percent of SolarCity, according to estimates.
SolarCity is the top residential solar installer in the country. Its customers pay for the panels with a monthly fee that's typically less than what they would pay to the power company. A marriage between the two companies would seamlessly tie SolarCity's panels with Tesla's Powerwall batteries. Having a solar-plus-storage system installed by a single company would allow an easier transition to customers to unhook themselves from a carbonized grid.
This morning, in a conference call to reporters and shareholders, Musk further discussed the rationale behind the offer. He said that the idea of consolidating Tesla and SolarCity "has been floated over the years" and it would be "extremely unwieldy" to operate as two companies.
In its blog post, Tesla listed off a number of "significant benefits to our shareholders, customers and employees" if the deal is completed:
We would be the world's only vertically integrated energy company offering end-to-end clean energy products to our customers. This would start with the car that you drive and the energy that you use to charge it, and would extend to how everything else in your home or business is powered. With your Model S, Model X, or Model 3, your solar panel system, and your Powerwall all in place, you would be able to deploy and consume energy in the most efficient and sustainable way possible, lowering your costs and minimizing your dependence on fossil fuels and the grid.
We would be able to expand our addressable market further than either company could do separately. Because of the shared ideals of the companies and our customers, those who are interested in buying Tesla vehicles or Powerwalls are naturally interested in going solar, and the reverse is true as well. When brought together by the high foot traffic that is drawn to Tesla's stores, everyone should benefit.
We would be able to maximize and build on the core competencies of each company. Tesla's experience in design, engineering, and manufacturing should help continue to advance solar panel technology, including by making solar panels add to the look of your home. Similarly, SolarCity's wide network of sales and distribution channels and expertise in offering customer-friendly financing products would significantly benefit Tesla and its customers.
We would be able to provide the best possible installation service for all of our clean energy products. SolarCity is the best at installing solar panel systems, and that expertise translates seamlessly to the installation of Powerwalls and charging systems for Tesla vehicles.
Culturally, this is a great fit. Both companies are driven by a mission of sustainability, innovation, and overcoming any challenges that stand in the way of progress.
"This is what the world needs ... this is Earth's solution," Musk said of the merger this morning. Musk has long been a champion solar energy and highly critical of fossil fuels and the fossil fuel industry.
"We have to look back on gas engine cars like we look back on steam engines," as well as power from fossil fuels, Musk added.
The fact that Musk has the biggest slice of both companies leaves Musk in a bit of an awkward situation, media reports have noted. Electrek explained that the offer to SolarCity "will be contingent on a vote from the shareholders and Musk will abstain from voting his shares due to his vested interest in the deal."
Analysts and investors do not appear happy with the plan. Reuters reported that Tesla's stock price spiraled more than 13 percent to $189.99 following the announcement yesterday. At the same time however, shares of SolarCity soared about 18 percent to $25.02.
Electrek also observed that shareholders are "calling the deal a 'bailout' of SolarCity, especially after Musk bought another $10 million worth of shares last year—before the stock fell 60 percent in 2016."
SolarCity is also in an ongoing battle against regulators and utilities in states that are unfriendly to rooftop solar, aka the "solar wars" in Nevada over net metering, which allows homeowners to offset the cost of their panels by selling any electricity they don't use back to the grid. Nevada's NV Energy has been fighting these policies tooth and nail.
Musk, however, shot down the idea of a "bailout" of SolarCity, calling it a "false description."
YOU MIGHT ALSO LIKE
Get Solar Easier, Faster and Cheaper With Groundbreaking NYC Solar Map
Solar Impulse 2 Takes Off for Historic Odyssey Across the Atlantic
World's First 24/7 Solar Power Plant Powers 75,000 Homes
Prince William and British naturalist David Attenborough attend converse during the World Economic Forum annual meeting, on January 22 in Davos, Switzerland. Fabrice Cofferini /AFP / Getty Images
Britain's Prince William interviewed famed broadcaster David Attenborough on Tuesday at the World Economic Forum's annual meeting in Switzerland.
During the sit-down, the 92-year-old naturalist advised the world leaders and business elite gathered in Davos this week that we must respect and protect the natural world, adding that the future of its survival—as well as humanity's survival—is in our hands.
Electric vehicle sales took off in 2018, with a record two million units sold around the world, according to a new Deloitte analysis.
What's more, the accounting firm predicts that another 21 million electric cars will be on the road globally over the next decade due to growing market demand for clean transportation, government subsidies, as well as bans on fossil fuel cars.
Teenager Alex Weber and friends collected nearly 40,000 golf balls hit into the ocean from a handful of California golf courses.
Alex Weber /
CC BY-ND
Southwest Greenland had the most consistent ice loss from 2003 to 2012. Eqalugaarsuit, Ostgronland, Greenland on Aug. 1, 2018.
Rob Oo / CC BY 2.0
Greenland is melting about four times faster than it was in 2003, a new study published Monday in the Proceedings of the National Academy of Sciences found, a discovery with frightening implications for the pace and extent of future sea level rise.
"We're going to see faster and faster sea level rise for the foreseeable future," study lead author and Ohio State University geodynamics professor Dr. Michael Bevis said in a press release. "Once you hit that tipping point, the only question is: How severe does it get?"
Finally, some good news about the otherwise terrible partial government shutdown. A federal judge ruled that the Trump administration cannot issue permits to conduct seismic testing during the government impasse.
The Justice Department sought to delay—or stay—a motion filed by a range of coastal cities, businesses and conservation organizations that are suing the Trump administration over offshore oil drilling, Reuters reported. The department argued that it did not have the resources it needed to work on the case due to the shutdown.
Most people have heard of the Amazon, South America's famed rainforest and hub of biological diversity. Less well known, though no less critical, is the Pantanal, the world's largest tropical wetland.
Like the Amazon, the Pantanal is ecologically important and imperiled. Located primarily in Brazil, it also stretches into neighboring Bolivia and Paraguay. Covering an area larger than England at more than 70,000 square miles, the massive wetland provides irreplaceable ecosystem services that include the regulation of floodwaters, nutrient renewal, river flow for navigability, groundwater recharge and carbon sequestration. The wetland also supports the economies of the four South American states it covers.
Demonstrators participate in a protest march over agricultural policy on Jan. 19 in Berlin, Germany. Carsten Koall / Getty Images Europe
By Andrea Germanos
Organizers said 35,000 people marched through the streets of the German capital on Saturday to say they're "fed up" with industrial agriculture and call for a transformation to a system that instead supports the welfare of the environment, animals and rural farmers.

The fire that erupted after a pipeline explosion in Mexico Friday. FRANCISCO VILLEDA / AFP / Getty Images
By Patrick Rogers
If you have ever considered making the switch to an environmentally friendly electric vehicle, don't drag your feet. Though EV prices are falling, and states are unveiling more and more public charging stations and plug-in-ready parking spots, the federal government is doing everything it can to slam the brakes on our progress away from gas-burning internal combustion engines. President Trump, likely pressured by his allies in the fossil fuel industry, has threatened to end the federal tax credits that have already helped put hundreds of thousands of EVs on the road—a move bound to harm not only our environment but our economy, too. After all, the manufacturing and sale of EVs, hybrids, and plug-in hybrids supported 197,000 jobs in 2017, according to the most recent U.S. Energy and Employment Report.