Researchers say there's a growing epidemic of tap water distrust and disuse in the U.S. Teresa Short / Moment Open / Getty Images
By Asher Rosinger
Imagine seeing a news report about lead contamination in drinking water in a community that looks like yours. It might make you think twice about whether to drink your tap water or serve it to your kids – especially if you also have experienced tap water problems in the past.
Why tap wins every time.
Asher Rosinger is an assistant professor of biobehavioral health, anthropology, and demography and director of the Water, Health, and Nutrition Laboratory at Penn State University.

Disclosure statement: Asher Rosinger receives funding from the National Science Foundation on an unrelated project. This work was supported by the Ann Atherton Hertzler Early Career Professorship funds, and the Penn State Population Research Institute (NICHD P2CHD041025). The funders had no role in the research or interpretation of results.
Reposted with permission from The Conversation.
EcoWatch Daily Newsletter
By Quinn McVeigh
About 2.3 million Americans are exposed to high natural strontium levels in their drinking water, a metal that can harm bone health in children, according to a United States Geological Survey study.
The study, published in Applied Geochemistry, found that almost every groundwater sample across 32 U.S. aquifers had detectable strontium levels, while 2.3 percent exceeded 4 milligrams per liter (mg/L), the maximum amount that people should consume routinely, according to the U.S. Environmental Protection Agency (EPA). The public and private wells extending from these aquifers provide drinking water for 2.3 million people.
While low amounts of natural strontium are safe and even beneficial for the human body, these high concentrations can stunt bone growth in children who lack adequate calcium intake. Strontium can replace calcium in bones, weakening them and limiting development, according to Sarah Yang, the Wisconsin Department of Health Services' groundwater toxicologist.
"We're more worried about infants and children because their bones are actively growing," Yang told EHN. "Generally infants and children can absorb more strontium in their intestines, and adults can't."
High strontium in drinking water is linked to rickets in children, an extremely rare skeletal condition causing soft, sometimes deformed, bones.
Strontium, a soft metal that originates from minerals like celestine, makes its way into drinking water naturally. Aquifers with high strontium concentrations are often surrounded by carbonate rock containing limestone and dolomite.
In the USGS study, author MaryLynn Musgrove, a research physical scientist, found that 86 percent of people exposed to high strontium levels drink water supplied by carbonate rock aquifers. More than half of them are using Florida's underground reservoirs, where some freshwater has been blending with limestone and dolomite for 26,000 years.
Texas' carbonate aquifers also stood out.The Edwards-Trinity aquifer system, a sandstone and carbonate formation spanning from Oklahoma to western Texas, had the most frequent occurrence of high strontium concentrations in its corresponding wells.
Dolomite is abundant in the bedrock of eastern Wisconsin, where strontium levels are among the highest of U.S. drinking water supplies.
While the USGS study mainly looked at areas exceeding 4 mg/L of strontium in samples, some communities living atop these dolomite layers drink water with more than 25 mg/L, the one-day health advisory limit for children.
"We have a lot of communities that have values above 20, 30, 50 mg/L," John Luczaj, a professor of geosciences at University of Wisconsin, Green Bay, told EHN.
Removal of Strontium From Drinking Water
While its radioactive sibling, strontium-90, is regulated, natural strontium contamination is unregulated by the EPA.

The major dilemma, according to Victor Rivera-Diaz, a writer and researcher for Save the Water, is that it is still a "public health mystery." While some research has conclusively linked strontium to bone degradation, a lack of data has kept the EPA from regulating it under the Safe Drinking Water Act.
"It is a problem," Rivera-Diaz told EHN. "It definitely requires more attention, even more so in the areas that are prone to high contamination."
But this is easier said than done, Rivera-Diaz explained.
Strontium cannot be removed with conventional water treatment technology. Thus, communities would have to look to other systems, such as point-of-entry reverse osmosis.
"Some of these technologies can be quite costly, so that might be a barrier for lower-income communities," Rivera-Diaz said.
Reverse osmosis systems and water softeners are incredibly effective in removing strontium concentrations.
"If it was up to me, I would, in the short term, figure out a way to subsidize technologies that are proven to filter out strontium, especially in those communities where those levels are well above 4 mg/L," Rivera-Diaz said.
Reposted with permission from Environmental Health News.
From Your Site Articles
Related Articles Around the Web
waterlust.com / @tulasendlesssummer_sierra .
Each product featured here has been independently selected by the writer. If you make a purchase using the links included, we may earn commission.
The bright patterns and recognizable designs of Waterlust's activewear aren't just for show. In fact, they're meant to promote the conversation around sustainability and give back to the ocean science and conservation community.
Each design is paired with a research lab, nonprofit, or education organization that has high intellectual merit and the potential to move the needle in its respective field. For each product sold, Waterlust donates 10% of profits to these conservation partners.
Eye-Catching Designs Made from Recycled Plastic Bottles
waterlust.com / @abamabam
The company sells a range of eco-friendly items like leggings, rash guards, and board shorts that are made using recycled post-consumer plastic bottles. There are currently 16 causes represented by distinct marine-life patterns, from whale shark research and invasive lionfish removal to sockeye salmon monitoring and abalone restoration.

One such organization is Get Inspired, a nonprofit that specializes in ocean restoration and environmental education. Get Inspired founder, marine biologist Nancy Caruso, says supporting on-the-ground efforts is one thing that sets Waterlust apart, like their apparel line that supports Get Inspired abalone restoration programs.
"All of us [conservation partners] are doing something," Caruso said. "We're not putting up exhibits and talking about it — although that is important — we're in the field."
Waterlust not only helps its conservation partners financially so they can continue their important work. It also helps them get the word out about what they're doing, whether that's through social media spotlights, photo and video projects, or the informative note card that comes with each piece of apparel.
"They're doing their part for sure, pushing the information out across all of their channels, and I think that's what makes them so interesting," Caruso said.
And then there are the clothes, which speak for themselves.
Advocate Apparel to Start Conversations About Conservation
waterlust.com / @oceanraysphotography
Waterlust's concept of "advocate apparel" encourages people to see getting dressed every day as an opportunity to not only express their individuality and style, but also to advance the conversation around marine science. By infusing science into clothing, people can visually represent species and ecosystems in need of advocacy — something that, more often than not, leads to a teaching moment.

"When people wear Waterlust gear, it's just a matter of time before somebody asks them about the bright, funky designs," said Waterlust's CEO, Patrick Rynne. "That moment is incredibly special, because it creates an intimate opportunity for the wearer to share what they've learned with another."
The idea for the company came to Rynne when he was a Ph.D. student in marine science.
"I was surrounded by incredible people that were discovering fascinating things but noticed that often their work wasn't reaching the general public in creative and engaging ways," he said. "That seemed like a missed opportunity with big implications."
Waterlust initially focused on conventional media, like film and photography, to promote ocean science, but the team quickly realized engagement on social media didn't translate to action or even knowledge sharing offscreen.
Rynne also saw the "in one ear, out the other" issue in the classroom — if students didn't repeatedly engage with the topics they learned, they'd quickly forget them.
"We decided that if we truly wanted to achieve our goal of bringing science into people's lives and have it stick, it would need to be through a process that is frequently repeated, fun, and functional," Rynne said. "That's when we thought about clothing."
Support Marine Research and Sustainability in Style
To date, Waterlust has sold tens of thousands of pieces of apparel in over 100 countries, and the interactions its products have sparked have had clear implications for furthering science communication.
For Caruso alone, it's led to opportunities to share her abalone restoration methods with communities far and wide.
"It moves my small little world of what I'm doing here in Orange County, California, across the entire globe," she said. "That's one of the beautiful things about our partnership."
Check out all of the different eco-conscious apparel options available from Waterlust to help promote ocean conservation.
Melissa Smith is an avid writer, scuba diver, backpacker, and all-around outdoor enthusiast. She graduated from the University of Florida with degrees in journalism and sustainable studies. Before joining EcoWatch, Melissa worked as the managing editor of Scuba Diving magazine and the communications manager of The Ocean Agency, a non-profit that's featured in the Emmy award-winning documentary Chasing Coral.
President Joe Biden and Vice President Kamala Harris during remarks on COVID-19 response and vaccinations at South Court Auditorium in the Eisenhower Executive Office Building on March 29, 2021. Demetrius Freeman / The Washington Post via Getty Images
Today in Pittsburgh, President Biden will outline his American Jobs Plan, proposals for major infrastructure investments in clean energy, water system updates, and other economy-growing initiatives designed to create millions of jobs, address aging infrastructure and lessen racial and other inequities throughout the economy.
Biden's $2 trillion plan to fight climate change and revitalize the American economy includes calls for Congressional funding to the tune of: $16 billion to employ union oil and gas workers to cap orphaned oil and gas wells and clean up mines, $35 billion in clean tech R&D to address the climate crisis, $85 billion to modernize public transit systems, $174 billion to promote electric vehicles through consumer incentives, supply chain support, charging network build outs, school bus electrification, and electrifying the federal fleet, $100 billion for power grid modernization and resilience, and $213 billion to build, modernize, and weatherize affordable housing.
Biden's plan also calls for investing $111 billion to improve the country's drinking water systems, including eliminating all lead water pipes and service lines in the country. Labor and environmental groups called for even greater ambition and spending to "build a more just, equitable, clean and more prosperous American economy" in a letter to Biden and Democratic Congressional leaders. Funding will pay for itself over 15 years, the administration says, by a combination of eliminating fossil fuel subsidies, raising corporate taxes, ending offshore-tax havens and strengthening corporate tax enforcement.
The plan also calls for passage of a bill aimed at significantly strengthening workers' rights to organize. The $2 trillion plan push is just the first of the administration's massive two-part infrastructure investment agenda as Biden is expected to release part two, the "American Families Plan" in two weeks.
For a deeper dive:

The Washington Post, POLITICO Pro, The New York Times, POLITICO, Pittsburgh Post-Gazette, Vox; Labor and green groups: Bloomberg; Pay-fors and taxes: The Washington Post, POLITICO, The New York Times
For more climate change and clean energy news, you can follow Climate Nexus on Twitter and Facebook, sign up for daily Hot News, and visit their news site, Nexus Media News.
A farm worker sprays pesticides on lemon groves in Spain. Worledit / iStock / Getty Images Plus
About one third of the world's agricultural land is at high risk from pesticide pollution, a new study has found.
The research, published in Nature Geoscience Monday, looked at the use and spread of 92 active pesticide ingredients in 168 countries. They considered an area at risk if the concentration of a chemical exceeded the limit at which it would have no effect, and at high risk if that concentration exceeded the limit by a factor of 1,000.
"Our study has revealed 64 percent of the world's arable land is at risk of pesticide pollution," University of Sydney Research Associate and the study's lead author, Dr Fiona Tang said in a University of Sydney press release. "This is important because the wider scientific literature has found that pesticide pollution can have adverse impacts on human health and the environment."

Further, a total of 31 percent of land was at high risk, the study authors wrote.
Pesticides, herbicides and fungicides are widely used to boost productivity in farming, the press release noted. However, they have unintended consequences for human and environmental health. They can enter bodies of water through runoff or by entering the groundwater, contaminating drinking water. Pesticides like chlorpyrifos have been shown to harm the cognitive development of children, while others have been linked to cancer. They also pose a threat to wildlife such as bees and birds.
These threats are why the research is important, Tang told AFP.
"It is significant because the potential pollution is widespread and some regions at risk also bear high biodiversity and suffer from water scarcity," she said in an AFP article published by Phys.org.
Specifically, 34 percent of the high risk areas were in regions with high biodiversity while five percent were in water-scarce areas, the study found. Nineteen percent of the high risk areas were in low or middle income countries.
Regionally, Asia had the most high-risk land, with China, Japan, Malaysia and the Philippines especially impacted, the press release said. In Europe, almost 62 percent of agricultural land was at high risk, AFP reported. This was largely due to high concentrations in Russia, Ukraine and Spain.
The researchers looked at 59 herbicides, 21 insecticides and 19 fungicides and based their calculations on application rate data from the U.S. Geological Survey and the UN Food and Agriculture Organization. They then used a model to estimate how much of the pesticides would remain in the soil, atmosphere, groundwater and surface water.
The researchers pointed out that pesticide use is only expected to increase in the future because of the climate crisis and population growth.
"In a warmer climate, as the global population grows, the use of pesticides is expected to increase to combat the possible rise in pest invasions and to feed more people," coauthor and University of Sydney associate professor Federico Maggi said in the press release.
However, the researchers advised a different path.
"We urgently recommend that a global strategy is established to transition towards sustainable agriculture and sustainable living with low pesticide inputs and reduced food loss and food waste to achieve responsible production and consumption in an acceptable, profitable system," they wrote.
From Your Site Articles
Related Articles Around the Web
One type of algae in the Great Lakes, Cladophora, readily tangles up with plastic microfiber. Brenda Lafrancois / National Park Service
By Andrew Blok
Great Lakes algae is catching huge amounts of microplastics.
Researchers found that one type of algae, which has greatly expanded its range within the Great Lakes and is one of the most abundant algae by weight there, could catch up to one trillion pieces of microplastic in the Great Lakes.
"It's just a massive amount of these microscopic particle pollutants that are now part of our environment," Julie Peller, a professor of chemistry at Valparaiso University whose recent research revealed the microplastics-algae dynamic, told EHN.
Peller and colleagues say the study may offer insight into how we can stop the microplastic pollution — any plastic debris less than five millimeters long — from getting into the lakes. However, in the meantime, algae are often used as shelter for freshwater species at the bottom of the food chain, so the findings suggest that these microplastic hiding spots could be contaminating Great Lakes fish — and the people that eat them.
The Hiding Spots for Great Lakes Plastic
There are a lot of microplastics in the Great Lakes, one of the world's largest freshwater ecosystems and the drinking water source for 30 million people. While less well understood than ocean plastics, the tiny bits of plastic are pretty much ubiquitous throughout the five lakes. Research shows they're in tap water and beer brewed with water from the Great Lakes. Surface water samples show huge numbers of microplastics, but statistical models always predict more microplastics are in the lakes than are found by sampling.
Finding them in algae helps close some of that gap.
"I think that we found one of those reservoirs where some of the microplastics have been, for lack of a better word, hiding," said Peller, whose recently published study in Environmental Pollution documented the close interactions between algae and microplastics.
This study examined the most abundant group of algae in the Great Lakes: Cladophora. Cladophora, which looks a bit like green hair, readily tangles up with plastic microfibers, which are shed from synthetic clothing, carpets, and other cloth.
Nearly every penny-sized sample of Cladophora collected from the lakes contained at least one microfiber, Peller said. Even samples from apparently pristine locations, like near Sleeping Bear Dunes National Lakeshore in the northwest corner of Michigan's Lower Peninsula, contained microplastics.
Peller's team also took clean, living Cladophora samples and added plastic microfibers to them. Plastic microfibers quickly adhered to the algae in a process called adsorption, in which two substances stick together because of a molecular attraction.
"The affinity between microplastics and Cladophora may offer insights for removing microplastic pollution," Peller and colleagues wrote in the study. In fact, adsorption already plays a major role in stopping microplastic pollution.
Attracted to Sludge
Synthetic fabrics shed microfibers when washed, so microfibers are often most abundant near populous areas where they enter the environment through treated wastewater.

Even without special plastic screening technology, removing 90 percent of plastics is not only possible, but probable, Heng Zhang, the assistant director of monitoring and research at Metropolitan Water Reclamation District of Greater Chicago, told EHN. Studies of wastewater treatment plants around the world put the removal rate as high as 98 percent.
A main goal of wastewater treatment is removing particles of organic waste by screening and settling out waste into a sludge. Because microplastics tend to attach to these particles, like they do to algae, a lot of it is captured by processes designed before microplastic pollution started gaining attention.
"I have to admit, it wasn't designed. It just happened by chance or by nature or the characteristics of the stuff," Zhang said.
Removal rates of 90 percent or higher still leave a lot of microplastics in the Great Lakes. Some researchers estimate 10,000 metric tons (or about 11,000 tons) of plastic pollution enters the Great Lakes each year.
But regulation will likely dictate when new microplastic removal technology is developed.
"I don't see any EPA guidelines that says we need to start looking at the technology to remove that," Zhang said. "It looks like microplastics is down to the very end of the priority list."
Until then, wastewater treatment plants are likely to focus on other areas, Zhang said.
Pollutants like metals, nutrients and emerging contaminants like improperly disposed pharmaceuticals take precedence now.
If or when microplastics become a focus of wastewater treatment it makes sense to "start with what has worked," Zhang wrote in a follow-up email. There would still be questions to answer about efficacy, cost and consequences — such as safe disposal after microplastic is collected.
Plastics at the Base of the Food Web
Cladophora is a genus of freshwater algae that has increased in the Great Lakes with the arrival of invasive mussels. Filter-feeding zebra and quagga mussels have spread throughout the Great Lakes basin, sucking light-blocking algae and plankton out of the water. As the water cleared and sunlight could reach greater depths, Cladophora expanded its range to deeper waters.

Cladophora is different from the toxic blue-green algae that has caused problems for some Great Lakes water supplies. But there's so much of it now it's become a nuisance, Meredith Nevers, a research ecologist for the U.S. Geological Survey and a co-author of the new study, told EHN.
The sheer amount of long, stringy Cladophora in the lakes — up to 129,000 tons, according to one estimate — means it's likely playing a significant role in microplastic's fate in the Great Lakes.
"If there are microfibers and microplastics in the lake, there's no question they're going to get tangled up in filaments of algae," Nevers said.
Great Lakes fish don't eat Cladophora, but it provides shelter for zooplankton and other invertebrates, which are a major food source for some prey fish. The mingling of microplastics with natural fish food could be one entry point for microplastics into the food chain. Further, by catching microplastics, algae may be keeping them suspended in the water for longer where they're more likely to be eaten.
"It wouldn't surprise me to have microplastics enter food webs through the invertebrates that live in and graze on Cladophora," Eric Hellquist wrote in an email to EHN. Hellquist is a professor of biological sciences at State University of New York Oswego.
Once microplastics enter a food chain, they can make their way up to fish species that humans eat, research shows.
Hellquist and his students surveyed prey fish — such as alewife, sculpin, and invasive round gobies — in Lake Ontario and found that 97 percent of 330 fish had microfibers in their digestive tracts. The majority of microplastics found were microfibers, he said.
Higher up the food chain, microplastics were present in most animals, too. In 40 chinook salmon, Hellquist found that 92 percent had microplastics in their digestive tract. Of 33 coho salmon, 82 percent had ingested microplastics. Hellquist's students found, on average, 3.5 to 4 pieces of plastic in each salmon.
Research is beginning to show harmful effects on fish from microplastics. Microplastics are often found in their gills and digestive systems, but also within muscle tissue. When ingested they've been found to have harmful effects on fish digestion, metabolism, growth and brain function. They've also been associated with higher levels of toxic substances in fish.
Research suggests that fish consumption could be one way that microplastics get into people.
'It's Just So Huge'
The study of microplastics in the Great Lakes is still a relatively young field and a lot of questions need to be answered.

One thing is clear: the amount of microplastics in the Great Lakes is huge.
"It's hard to think about because it's so large," Peller said.
However, Peller thinks the stickiness of algae might inspire better removal technology.
"I think that a lot of times when we look for solutions to problems that we as humans have created, we often find a lot of insight into nature's natural mechanism for cleansing itself," she said.
Reposted with permission from Environmental Health News.
From Your Site Articles
Related Articles Around the Web
A megadrought worsened by climate change is creating and exacerbating problems across the Western U.S. as NOAA predicts precipitation levels below historical norms through June.
A resident of Austin, Texas scrapes snow into a bucket to melt it into water on Feb. 19, 2021. Winter storm Uri brought historic cold weather, leaving people in the area without water as pipes broke. Joe Raedle / Getty Images
By Andrea Germanos
President Joe Biden is being called on to back newly reintroduced legislation that seeks to remedy the nation's drinking water injustices with boosts to infrastructure and the creation of a water trust fund.
"From the plague of water shutoffs due to unaffordable bills during a pandemic, to the recent heartbreaking scenes across the South of frozen pipes leaving millions without water, it has become desperately clear that our country is in a water crisis," said Food & Water Action executive director Wenonah Hauter in a statement Thursday.
"Grave crises require robust solutions, and this is just what the WATER Act provides," said Hauter.
The WATER Act — the acronym for the Water Affordability, Transparency, Equity, and Reliability Act of 2021 — was reintroduced Thursday by Democratic Reps. Brenda L. Lawrence (Mich.) and Ro Khanna (Calif.). Sen. Bernie Sanders (I-Vt.) introduced the companion legislation in the Senate.
Supporting the measure is a diverse collection of over 500 organizations including Corporate Accountability, the Communications Workers of America (CWA), Food & Water Watch, and the NAACP. Seventy-four lawmakers in the House and Senate are co-sponsors.
It's no coincidence the communities with the highest rates of coronavirus infections are the same ones with dirty w… https://t.co/LFSqgPaSN8

— Rep. Ro Khanna (@Rep. Ro Khanna)1614274075.0
Echoing Hauter, Lawrence said in a statement that we "have a water crisis in the United States that affects every corner of our country." And waiting to act on the issue, she added, is simply not an option.
"Access to clean and safe drinking water is a basic human right," said Lawrence.
According to a summary from the Michigan Democrat's office, the WATER Act:
Provides $34.85 billion a year to drinking water and wastewater improvements;
Creates a water trust fund;
Creates up to nearly one million jobs across the economy and protect American workers;
Prioritizes disadvantaged communities with grants and additional support;
Expands funding for technical assistance to small, rural, and Indigenous communities;
Funds projects to address water contamination from PFAS;
Requires U.S. EPA to study water affordability, shutoffs, discrimination, and civil rights violations by water providers;
Upgrades household wells and septic systems;
Helps homeowners replace lead service lines; and
Provides more than $1 billion a year to update water infrastructure in public schools.
Assets for the trust fund would be created by "rolling back a small portion of the Trump administration's corporate tax cuts by increasing the corporate income tax rate by 3.5 percentage points."
Affordability has long been a drinking water-related concern in communities across the U.S. — as have other issues including the presence of a class of chemicals known as PFAS and privatization woes. The Flint, Michigan water crisis also punctuated concerns about the management of water systems and drinking water safety.
Events over the past year have only underscored the need for public investment in the nation's water systems, WATER Act supporters say.
"The crisis in Texas illuminated how vital access to running water is for human survival. And the Covid-19 pandemic has put on display the unjust reality of America's water affordability, reliability, and equity crisis," said Brittany Alston, deputy research director of Action Center on Race & the Economy (ARCE).
Alston said that the WATER Act represented "a real solution" to those problems. She added, "The only way to combat America's water crisis is with this type of bold, reparative change that both challenges corporate power and addresses water affordability, accessibility, and quality across the entire country, especially in low-income and BIPOC communities."
In a June op-ed at The Guardian, Sanders and Lawrence — who also teamed up last year to introduce the WATER Act — detailed the nation's water crisis, writing, in part:
Unbelievably, when it comes to water infrastructure, America's challenges resemble those of a developing country. The American Society of Civil Engineers gives our drinking water infrastructure a "D" grade and our wastewater infrastructure a "D+." The Environmental Protection Agency estimates that raw sewage overflows at least 23,000 times each year. Up to 1.7 million Americans lack access to basic plumbing facilities such as a toilet, tub, shower, or basic running water. Almost 200,000 households have absolutely no wastewater system. Up to 10 [million] homes across America get water through lead pipes. Six years since the start of its water crisis, Flint still does not have clean water. Meanwhile, in Denmark, South Carolina, families are forced to travel 20 miles each month in order to collect clean drinking water.
Not only do Americans have to deal with poor-quality and often toxic drinking water, we have the "privilege" of paying an arm and a leg for it. Before the coronavirus pandemic hit, nearly 14 [million] households were unable to afford their water bills, whose prices increased more than 40% since 2010. At this rate, more than a third of American households may not be able to afford their water bills five years from now. ⁠Furthermore, due to the economic meltdown caused by the coronavirus, millions of Americans who don't know where their next paycheck will come from are now at risk of losing their water service. As public health officials warn that this deadly disease will be with us for quite some time, how are families supposed to wash their hands regularly when their utility company is shutting off their water?
According to Food & Water Watch's Hauter, the need for swift action is clear.
"The time for Congress and the Biden administration to make this critical legislation a priority has very clearly come," she said. "Our country can't wait any longer for a functional, safe, and affordable water system for every community."
Reposted with permission from Common Dreams.
From Your Site Articles
Related Articles Around the Web
TAZO Tree Corps
At the beginning of quarantine, the nine-time Grammy nominee, SZA, was releasing new songs because she was "bored" and "losing my mind," she told BAZAAR.com. But new music wasn't the only endeavor the singer-songwriter had underway.
On Wednesday, SZA along with the nonprofit organization American Forests and the TAZO tea company announced their partnership to fight for climate justice, according to a press release. Together they are launching the TAZO Tree Corps, a paid workforce that will plant trees in disadvantaged neighborhoods and underprivileged communities of color, BAZAAR.com reported.
"I can't tell you how many children I've met in the urban community, from all different colors of Black and Brown, that really just are not comfortable being in nature," the 30-year-old told BAZAAR.com, "I think the biggest takeaway from this is that quality of life and racism are so directly connected."
The TAZO Tree Corps will hire 25 fellows who will be trained in climate justice, tree planting and maintenance. The fellows will be locally hired from communities in Richmond, Virginia; Minneapolis; the Bronx; San Francisco and Detroit, HuffPost reported, specifically "where historical discriminating zoning practices have left many low-income communities and communities of color with less green space," according to a statement.
But the tree planting initiative recognizes more than just the value green spaces add to urban communities. It also recognizes "that environmental racism and classic racism are directly connected, and it's probably one of the worst aspects of inequality," SZA told BAZAAR.com.
While trees in the U.S. absorb 17.4 million tons of air pollution, improving air and water quality, communities most impacted by pollution carry a disproportionate burden from the climate crisis because they are situated near chemical treatment plants, highways or heavy polluters, according to a statement.
"Trees do more than beautify a neighborhood – they're life-and-death infrastructure for health equity and climate justice," Jad Daley, president and CEO of American Forests said in a statement.
The climate problem is increasingly being recognized as a racial justice problem. For example, a study published in 2019 found that on average, Black and Hispanic communities were burdened by a disproportionate amount of air pollution than whites. Planting trees can alleviate some of the burdens. But SZA and her partners are not the first ones to introduce tree-planting initiatives in marginalized communities.
In 2014 a local environmental non-profit organization, The Greening of Detroit, partnered with the city to plant 1,000 to 5,000 new trees each year, working in neighborhoods in Detroit with painful memories of environmental racism. When the city and organization sought support from these neighborhoods, they "met stiff resistance: Roughly a quarter of the 7,500 residents they approached declined offers to have new trees planted in front of their homes," Bloomberg CityLab reported.
To better understand why some residents resisted the trees even if they knew the benefits they could have in their neighborhoods, researchers reached out to residents. Following the 1967 race rebellion, some residents remembered the city of Detriot cutting down elm trees in their neighborhoods and using helicopters to spray the toxic DDT from above to better "surveil their neighborhoods," Bloomberg CityLab reported. These memories left them wary of plans to plant the trees back.
"It's not that they didn't trust the trees; they didn't trust the city," Bloomberg CityLab reported. Some of this mistrust also came from the fact that these tree-planting groups were organized by outsiders of their neighborhoods, coming from other parts of Detroit, the University of Vermont wrote in a statement.
Lessons learned from the 2014 project, may be informing the TAZO Tree Corps, which plans to hire locals that are directly and disproportionately affected by environmental racism.
"There's something about them creating job opportunity in the disproportionately affected communities that makes me very attracted to the whole situation," SZA told BAZAAR.com. By locally employing people to plant trees "you're actually insourcing, rather than outsourcing, from the direct community, then creating value," she added.
Apply to be a part of the TAZO Tree Corps here.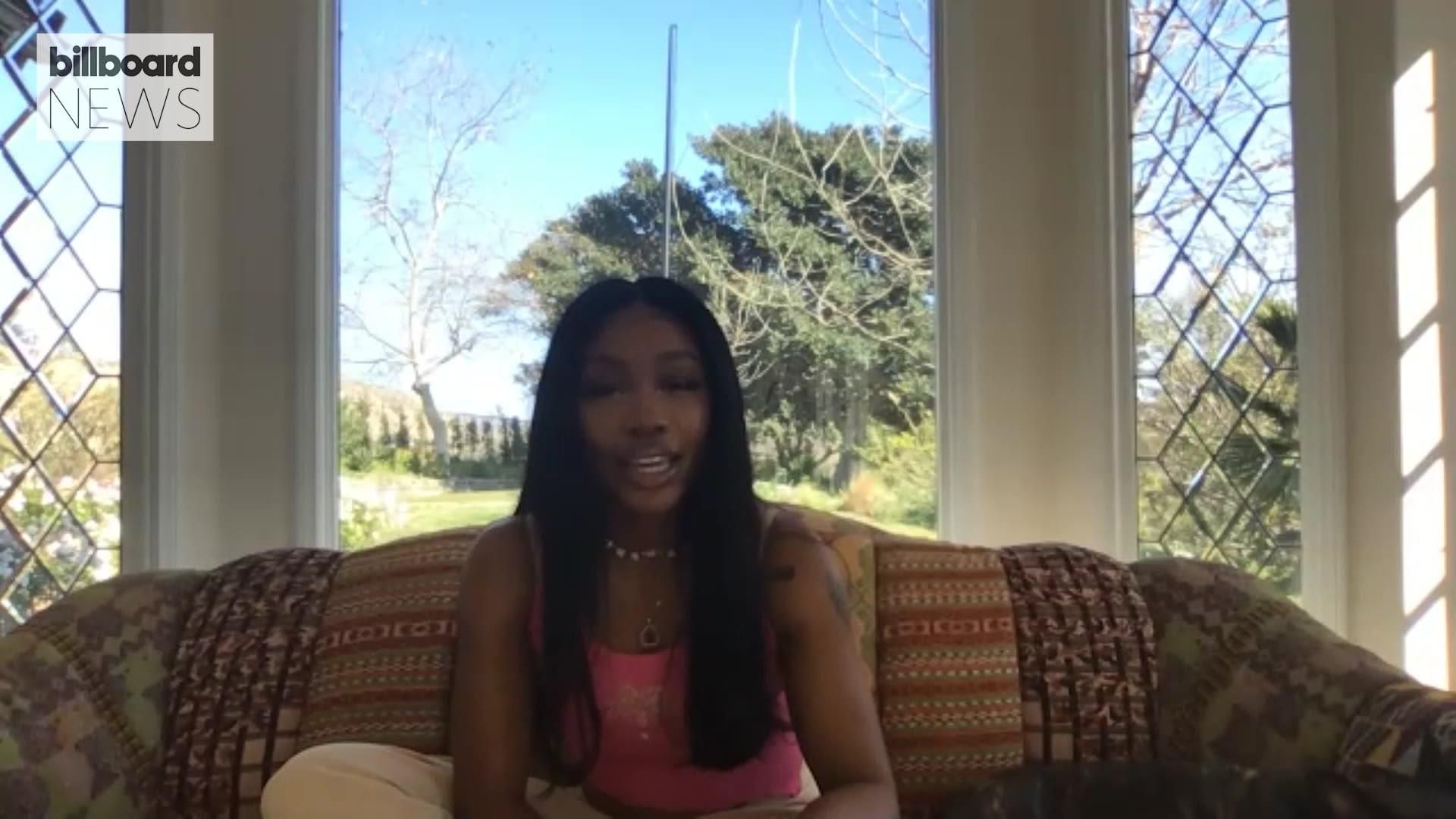 Billboard caught up with SZA to discuss her role with TAZO Tree Corps, maintaining her creative balance, positive affirmations, and the making of "Good Days."
From Your Site Articles
Related Articles Around the Web
People gather in front of a church before participating in a national mile-long march to highlight the push for clean water in Flint on Feb. 19, 2016 in Flint, Michigan. The march was organized in part by Rev. Jesse Jackson. Bill Pugliano / Getty Images
By Derrick Z. Jackson
No punishment has yet fit the crime of the Flint water crisis, complete with its child poisoning and lethal outbreak of Legionnaire's disease. After a prior investigation fell apart in 2019, Michigan state prosecutors unveiled a slew of fresh charges against nine figures involved in the fateful penny-pinching move to switch Flint's water supply from Lake Huron to the Flint River in 2014. The river's waters, made corrosive from decades of industrial pollution, ate at Flint's old water pipes, releasing lead into drinking water and into the brains of thousands of children.
Lead is a neurotoxin with irreversible effects and is not safe to ingest at any level. The New York Times and Education Week reported in 2019 that the percentage of Flint's school children who qualified for individualized special education services more than doubled from 13 percent before the crisis to 28 percent after. Add to those victims, the one dozen people who did not survive their bouts with Legionnaire's disease, a type of pneumonia that scientists linked to the water supply switch. The PBS program Frontline determined in 2019 that a total of 115 Flint residents had died of pneumonia during the outbreak, suggesting deaths attributed to Legionnaire's had been undercounted, potentially by up to a factor of nearly 10.
Seven of the nine defendants — which include former state health and communications officials, former state-appointed emergency managers, and an ex-Flint public works manager — are staring down 5 to 15 years in prison for crimes including involuntary manslaughter and perjury. Former Michigan Governor Rick Snyder, however, only faces two relatively minor counts of willfully neglecting to intervene in his underlings' incompetence and failing to adequately protect the public against disaster.
In theory, Snyder could end up in prison for a year, and prosecutors say it is possible he could face more charges. Without them, he would be getting off easy for being asleep at the wheel during one of the greatest instances of environmental injustice in recent American memory.
Or was he truly "asleep"? Snyder's excuse during the crisis and ever since is that he never knew enough to stop the falling dominoes of decisions and cover-ups happening underneath him. Yet plenty of circumstantial documentation begs the contrary.
The City of Flint switched its water supply to the Flint River in April 2014. Snyder testified to the House Committee on Oversight and Government Reform in March of 2016, saying it was not until October 2015 that he learned that Flint's drinking water had dangerous levels of lead and not until early 2016 that he became aware of the Legionnaire's disease epidemic. "As soon as I became aware of it," Snyder said, "we held a press conference the next day."
However, Tim Walberg, a congressman from Michigan and member of the House Oversight Committee confronted his fellow Republican with documents indicating that senior state environmental and communications officials were emailing about concerns regarding a Legionnaire's outbreak in Flint back in March 2015.
The Detroit Free Press, reporting on documents obtained by Progress Michigan, a watchdog group, cited a March 10, 2015, email from the environmental health supervisor of Genesee County, where Flint is the most populous city, saying that the dozens of Legionnaire's cases diagnosed at the time "closely corresponds with the timeframe of the switch to Flint River water." (The bacteria that causes Legionnaires is naturally occurring in many water systems across the country, and one water expert believes the switch over likely exacerbated an existing bacterial issue with the supply.) The supervisor characterized the epidemic as a "significant and urgent public health issue" and said the information was "explicitly explained" to Snyder's environmental quality officials.
This month, the online investigative news site The Intercept detailed a series of back-and-forth phone calls dating back even earlier, to October 2014, between Snyder and his chief of staff Dennis Muchmore. Those calls occurred at the same time Muchmore was in dialogue with top state health officials, which included a phone call with someone at the Michigan Health and Hospital Association. A special prosecutor characterized that call as "presumably about the outbreak." That call took place more than a year before Snyder told Congress he had found out about the deadly bacteria.
That same month that General Motors realized that the switch away from the Huron River was corroding new engine parts at its Flint plant. How much logic — or humanity — should it have taken to proactively wonder what the water was doing to residents, especially children, given what it was doing to car parts?
The Detroit Free Press reported that Valerie Brader, senior policy adviser and deputy legal counsel to Snyder, wrote other top aides in an October 14, 2014, email that Flint's water was "an urgent matter to fix," and that the supply should switch back to Lake Huron water delivered via Detroit's regional system. Michael Gadola, then Snyder's chief legal counsel, responded: "My Mom is a City resident. Nice to know she's drinking water with elevated chlorine levels and fecal coliform." Gadola, who today is a Michigan state appeals court judge, agreed Flint "should try to get back on the Detroit system as a stopgap ASAP before this thing gets too far out of control."
Yet somehow Snyder allegedly knew little or nothing of these discussions swirling about him. Two major reports have concluded the buck stopped with him. A Flint Water Task Force report, which Snyder himself commissioned, said in 2016 that while the state's environmental agency bore "primary responsibility" for causing the Flint water crisis, Snyder bore "ultimate accountability" for decisions coming out of his office.
Then a 2018 report by the University of Michigan's School of Public Health concluded Snyder bore "significant legal responsibility" for failing to heed citizen complaints at the outset of the crisis, issue a timely emergency declaration, and wrest control from negligent state environmental and health officials. "Flint residents' complaints were not hidden from the governor," the report's authors wrote. "He had a responsibility to listen and respond."
Snyder, however, has been so unscathed by what happened in Flint that Harvard's Kennedy School of Government awarded him a prestigious research fellowship in 2019. But howls from Flint, and an online protest petition started by a Kennedy School alum and signed by nearly 7,000 people forced Snyder to withdraw from the fellowship two days after it began.
The renewed spotlight on Snyder's role in the water crisis comes at a critical time for those who work for environmental justice. Newly inaugurated President Biden has, on paper, given it unprecedented prominence in his federal agenda. Many nominees for his Cabinet have scored significant victories for communities dealing with pollution, including his nominee for attorney general, Merrick Garland, who would oversee the creation of the first environmental and climate justice unit within the Department of Justice.
Snyder's blithe attitude about Flint symbolizes the urgency with which a Biden administration must make it clear to politicians and corporations that it is no longer business-as-usual to dump on poor people and communities made up predominately of people of color. At the federal level, Biden promises a Justice Department that will "hold corporate executives personally accountable — including jail time where merited." That is a heavy lift in a nation where corporate executives largely continue to live large no matter how many faulty planes drop out of the sky, how many defective cars kill people, how many predatory banking practices cause people to lose their homes and life savings, and how many particles of pollution causes cancer and brain damage. CEOs might get fired, they might get fined, but they rarely face bars.
A paper last year by legal scholars from the University of Pennsylvania and the University of Southern California noted "the near disappearance of individual liability, especially for top executives," in corporate crimes over the last decade. It concluded that "an enforcement regime that is limited in its ability to levy fines at an optimal level must rely on other forms of punishment — such as the imposition of liability on guilty individuals and the top executives who facilitate their crimes — to increase deterrence. Only then will corporate criminal punishment be seen as more than a cost of doing business."
Similarly, Cary Coglianese and Sierra Blazer of the Penn Program on Regulation at the University of Pennsylvania Law School, co-wrote a 2019 op-ed in The Hill during the height of the scandals surrounding Boeing, after two of its 737 Max planes crashed, killing 346 passengers and crew members. Donald Trump's Department of Justice had prosecuted lower-level technical pilots for fraud related to the federal approval process of the Max. "Prosecutions of lower-level employees would do nothing to assure the public that incentives at the very top of the organization align with passenger safety," the pair wrote.
This month, Trump's Justice Department announced a $2.5 billion settlement with Boeing over the fraud charges. No executive went to jail. Nadia Milleron, who lost her daughter, Samya Stumo, summed up the outcome for the Washington Post: "This is just a blip for Boeing."
To-date, the Flint water crisis has been a blip for Snyder. Environmental injustice nationally will also remain a blip, if governors and CEOs can keep throwing underlings under the bus while riding off in their limousines. As it now stands, the prosecution of lower-level employees will not assure Flint residents who live with the effects of being poisoned that the law is aligned with their safety.
Reposted with permission from the author and Grist.
A protester demonstrates against the Dakota Access Pipeline on March 10, 2017 in Washington, DC. Justin Sullivan / Getty Images
A three-judge panel on the U.S. District Court of Appeals from the D.C. Circuit agreed Tuesday with a lower court ruling that the pipeline's crossing at the Missouri River near the Standing Rock Sioux Reservation is illegal and requires an in-depth environmental review, the Grand Forks Herald reported.
"We are pleased that the D.C. Circuit affirmed the necessity of a full environmental review, and we look forward to showing the U.S. Army Corps of Engineers why this pipeline is too dangerous to operate," Standing Rock Sioux Tribe Chairman Mike Faith said in an Earthjustice press release.
The Standing Rock Sioux Tribe has long opposed the pipeline's crossing under Lake Oahe, a drinking water source for the tribe that is located just off of their reservation, the Grand Forks Herald explained. It became the subject of massive Indigenous-led protests in 2016 and 2017, leading the Obama administration to withhold a key permit for the project.
However, the Trump administration approved the pipeline without a full Environmental Impact Statement (EIS) of the Missouri River crossing, a coalition of Sioux tribes explained in a letter to President Joe Biden. The Army Corps of Engineers began an EIS of the crossing in September based on the lower court ruling, the Grand Forks Herald reported. This is expected to take up to 13 months, but the tribes and their allies are calling on the Biden administration to shut the pipeline down entirely.
Biden has promised to focus on the climate crisis in office, and canceled the Keystone XL pipeline on day one of his administration, leading Indigenous and environmental activists to call for a shutdown of all contested fossil fuel pipelines.
"Especially after the Keystone XL decision, the pressure is increasing for the Biden administration to take action here," Jan Hasselman, an Earthjustice attorney who represents the Standing Rock Sioux, told Reuters.
Meanwhile, pipeline proponents considered Tuesday's court decision a win because the court did not order the pipeline to shut down while the EIS is completed. A lower court had originally ordered the pipeline to shut down in July, but that has been reversed.
"I think the big point is that the court did not rule that DAPL is not safe," Ron Ness, president of the North Dakota Petroleum Council, told the Grand Forks Herald.
The Dakota Access pipeline is the main pipeline delivering oil from North Dakota's Bakken field, which is the second-largest shale development in the U.S., according to Reuters. It currently has the capacity to carry 570,000 barrels of oil a day, but both state regulators and pipeline operators want to double that in coming years, the Grand Forks Herald reported. It is owned by Energy Transfer Partners.
Kevin Maillefer / Unsplash
By Lynne Peeples
Editor's note: This story is part of a nine-month investigation of drinking water contamination across the U.S. The series is supported by funding from the Park Foundation and Water Foundation. Read the launch story, "Thirsting for Solutions," here.
In late September 2020, officials in Wrangell, Alaska, warned residents who were elderly, pregnant or had health problems to avoid drinking the city's tap water — unless they could filter it on their own.
More than 3,000 miles (4,800 kilometers) away, the people of Scituate, Massachusetts, received a letter that same month cautioning about the same group of contaminants in their drinking water.
At issue wasn't any of the well-known and widely feared water infiltrators such as E. coli or per- and polyfluoroalkyl substances (PFAS). The culprit chemicals tainting taps from Cocoa, Florida, to the Finger Lakes of New York to a correctional facility in Only, Tennessee, are, in fact, less recognized yet more ubiquitous: disinfection by-products.
"Take a glass of water. You may or may not have pesticides, pharmaceuticals, PFAS and lead in it. Usually not," says Susan Richardson, a professor of biochemistry at the University of South Carolina in Columbia. "But there's always something that is in your drinking water, and that's disinfection by-products."
Aptly named, the chemicals form in water when disinfectants that are widely used to kill pathogens in municipal drinking water facilities react with organic compounds. These compounds may be present in the water as a result of natural processes such as the decay of leaves and animal matter, as well as human activities that may release solvents, pharmaceuticals, pesticides and industrial chemicals. Exposure to disinfection by-products through drinking, bathing or swimming has been linked to potential increased risks of low birthweight babies, birth defects, miscarriages and cancer.
"Disinfection is hugely important. We've got to kill those pathogens," says Richardson. "We had millions of people dying from waterborne illnesses before we started disinfecting water in the 1800s."
Cholera and typhoid fever were once deadly and pervasive threats. Still today, when concentrations of disinfectants fall too low, drinking water can become a breeding ground for dangerous pathogens such as Legionella, E. coli, even cholera.
"It's a trade-off between inactivating pathogens that are going to make people sick today versus the long-term, low-level risk of chemicals in the water," says Christy Remucal, an associate professor of civil and environmental engineering at the University of Wisconsin–Madison.
Striking a balance may be even more challenging today as waters become increasingly compromised due to population growth, wastewater intrusion, energy exploration, climate change — and now the Covid-19 pandemic, according to Richardson.
During the pandemic, many places have increased use of chlorine for disinfection in indoor and outdoor settings and during wastewater treatment, resulting in the potential for higher levels of disinfection by-products. Authors of a study published in October warn that this "upsurge and overuse of chlorine-based disinfectants" may pose a threat to human health "by impacting water quality."
Concentrations of harmful chemicals have also likely increased in buildings left vacant during Covid-19 shutdowns. The longer that water sits in pipes, explains Richardson, the longer it has to react with disinfectants and form more by-products.
Still, Gregory Korshin, a professor of civil and environmental engineering at the University of Washington in Seattle, encourages perspective on the issue of disinfection by-products. The answer, he and others say, is not to stop disinfecting water, nor is it for everyone to buy bottled water.
"There is a dark side of disinfection," adds Korshin. "But this doesn't compromise the notion that drinking water in the U.S. is safe."
Unintended Consequences
Chemists first discovered disinfection by-products in treated drinking water in the 1970s. The trihalomethanes they found, they determined, had resulted from the reaction of chlorine with natural organic matter. Since then, scientists have identified more than 700 additional disinfection by-products. "And those only represent a portion. We still don't know half of them," says Richardson, whose lab has identified hundreds of disinfection by-products.
Identification of disinfection by-products is incredibly difficult, she explains, because these chemicals are not simply flowing down a river from an industrial site or running off a farm. "They didn't exist before," she adds. "It's a complete unknown — there's no preconceived idea of what these chemicals look like."
Another research team recently discovered more previously unidentified disinfection by-products. As they described in a January 2020 study, potentially carcinogenic chemicals are formed through the interaction of chlorine and not only organic matter in the environment but also manmade materials that include phenols such as bisphenol A (BPA) and other plasticizers, as well as sunscreen agents and antimicrobials.
"These phenol compounds are incredibly widespread because of their properties," says Carsten Prasse, a coauthor on the study and an assistant professor of environmental health and environmental engineering at Johns Hopkins University. He highlights their use in both plastic pipes and plastic bottles, which frequently carry drinking water.
What's Regulated and What's Not?
The U.S. Environmental Protection Agency (EPA) currently regulates 11 disinfection by-products — including a handful of trihalomethanes (THM) and haloacetic acids (HAA). While these represent only a small fraction of all disinfection by-products, EPA aims to use their presence to indicate the presence of other disinfection by-products. "The general idea is if you control THMs and HAAs, you implicitly or by default control everything else as well," says Korshin.
EPA also requires drinking water facilities to use techniques to reduce the concentration of organic materials before applying disinfectants, and regulates the quantity of disinfectants that systems use. These rules ultimately can help control levels of disinfection by-products in drinking water.
Click the image for an interactive version of this chart on the Environmental Working Group website.
Still, some scientists and advocates argue that current regulations do not go far enough to protect the public. Many question whether the government is regulating the right disinfection by-products, and if water systems are doing enough to reduce disinfection by-products. EPA is now seeking public input as it considers potential revisions to regulations, including the possibility of regulating additional by-products. The agency held a two-day public meeting in October 2020 and plans to hold additional public meetings throughout 2021.
When EPA set regulations on disinfection by-products between the 1970s and early 2000s, the agency, as well as the scientific community, was primarily focused on by-products of reactions between organics and chlorine — historically the most common drinking water disinfectant. But the science has become increasingly clear that these chlorinated chemicals represent a fraction of the by-product problem.
For example, bromide or iodide can get caught up in the reaction, too. This is common where seawater penetrates a drinking water source. By itself, bromide is innocuous, says Korshin. "But it is extremely [reactive] with organics," he says. "As bromide levels increase with normal treatment, then concentrations of brominated disinfection by-products will increase quite rapidly."
Emerging data indicate that brominated and iodinated by-products are potentially more harmful than the regulated by-products.
Almost half of the U.S. population lives within 50 miles of either the Atlantic or Pacific coasts, where saltwater intrusion can be a problem for drinking water supplies. "In the U.S., the rule of thumb is the closer to the sea, the more bromide you have," says Korshin, noting there are also places where bromide naturally leaches out from the soil. Still, some coastal areas tend to be spared. For example, the city of Seattle's water comes from the mountains, never making contact with seawater and tending to pick up minimal organic matter.
Hazardous disinfection by-products can also be an issue with desalination for drinking water. "As desalination practices become more economical, then the issue of controlling bromide becomes quite important," adds Korshin.
Other Hot Spots
Coastal areas represent just one type of hot spot for disinfection by-products. Agricultural regions tend to send organic matter — such as fertilizer and animal waste — into waterways. Areas with warmer climates generally have higher levels of natural organic matter. And nearly any urban area can be prone to stormwater runoff or combined sewer overflows, which can contain rainwater as well as untreated human waste, industrial wastewater, hazardous materials and organic debris. These events are especially common along the East Coast, notes Sydney Evans, a science analyst with the nonprofit Environmental Working Group (EWG, a collaborator on this reporting project).
The only drinking water sources that might be altogether free of disinfection by-products, suggests Richardson, are private wells that are not treated with disinfectants. She used to drink water from her own well. "It was always cold, coming from great depth through clay and granite," she says. "It was fabulous."
Today, Richardson gets her water from a city system that uses chloramine.
Toxic Treadmill
Most community water systems in the U.S. use chlorine for disinfection in their treatment plant. Because disinfectants are needed to prevent bacteria growth as the water travels to the homes at the ends of the distribution lines, sometimes a second round of disinfection is also added in the pipes.
Here, systems usually opt for either chlorine or chloramine. "Chloramination is more long-lasting and does not form as many disinfection by-products through the system," says Steve Via, director of federal relations at the American Water Works Association. "Some studies show that chloramination may be more protective against organisms that inhabit biofilms such as Legionella."
If a drinking water facility fails to meet EPA regulations for disinfection by-products, one relatively easy and cheap modification is to add ammonia to the existing treatment, turning chlorine to chloramine. Many large community water systems in the U.S. now use chloramine. By doing so, according to Richardson, they have dropped levels of regulated disinfection by-products by up to as much as 90%.
However, there is one major drawback to this shift: the creation of potentially more harmful by-products. "It might push down on regulated disinfection by-products, but then other things pop up that are even more toxic," says Richardson, whose research team discovered previously unknown disinfection by-products in chloraminated drinking water. One of those finds, iodoacetic acid, is the most DNA-damaging disinfection by-product known to date.
Prasse underscored the concern: "From a regulatory perspective, we could say we're fine. But it's a false sense of security."
Rather than continuing on the toxic treadmill of replacing one potentially toxic chemical for another, a more effective solution may be to focus upstream in the treatment process — such as keeping organics out of the system in the first place. "That requires engineers, chemists, toxicologists and regulators to come together and figure something out," says Prasse.
Alternative Approaches
When he moved to the U.S. from Germany, Prasse says he immediately noticed the bad taste of the water. "You can taste the chlorine here. That's not the case in Germany," he says.
In his home country, water systems use chlorine — if at all — at lower concentrations and at the very end of treatment. In the Netherlands, chlorine isn't used at all as the risks are considered to outweigh the benefits, says Prasse. He notes the challenge in making a convincing connection between exposure to low concentrations of disinfection by-products and health effects, such as cancer, that can occur decades later. In contrast, exposure to a pathogen can make someone sick very quickly.
But many countries in Europe have not waited for proof and have taken a precautionary approach to reduce potential risk. The emphasis there is on alternative approaches for primary disinfection such as ozone or ultraviolet light. Reverse osmosis is among the "high-end" options, used to remove organic and inorganics from the water. While expensive, says Prasse, the method of forcing water through a semipermeable membrane is growing in popularity for systems that want to reuse wastewater for drinking water purposes.
Remucal notes that some treatment technologies may be good at removing a particular type of contaminant while being ineffective at removing another. "We need to think about the whole soup when we think about treatment," she says. What's more, Remucal explains, the mixture of contaminants may impact the body differently than any one chemical on its own.
Richardson's preferred treatment method is filtering the water with granulated activated carbon, followed by a low dose of chlorine.
Granulated activated carbon is essentially the same stuff that's in a household filter. (EWG recommends that consumers use a countertop carbon filter to reduce levels of disinfection by-products.) While such a filter "would remove disinfection by-products after they're formed, in the plant they remove precursors before they form by-products," explains Richardson. She coauthored a 2019 paper that concluded the treatment method is effective in reducing a wide range of regulated and unregulated disinfection by-products.
Greater Cincinnati Water Works installed a granulated activated carbon system in 1992, and is still one of relatively few full-scale plants that uses the technology. Courtesy of Greater Cincinnati Water Works.
Despite the technology and its benefits being known for decades, relatively few full-scale plants use granulated active carbon. They often cite its high cost, Richardson says. "They say that, but the city of Cincinnati [Ohio] has not gone bankrupt using it," she says. "So, I'm not buying that argument anymore."
Greater Cincinnati Water Works installed a granulated activated carbon system in 1992. On a video call in December, Jeff Swertfeger, the superintendent of Greater Cincinnati Water Works, poured grains of what looks like black sand out of a glass tube and into his hand. It was actually crushed coal that has been baked in a furnace. Under a microscope, each grain looks like a sponge, said Swertfeger. When water passes over the carbon grains, he explained, open tunnels and pores provide extensive surface area to absorb contaminants.
While the granulated activated carbon initially was installed to address chemical spills and other industrial contamination concerns in the Ohio River, Cincinnati's main drinking water source, Swertfeger notes that the substance has turned out to "remove a lot of other stuff, too," including PFAS and disinfection by-product precursors.
"We use about one-third the amount of chlorine as we did before. It smells and tastes a lot better," he says. "The use of granulated activated carbon has resulted in lower disinfection by-products across the board."
Richardson is optimistic about being able to reduce risks from disinfection by-products in the future. "If we're smart, we can still kill those pathogens and lower our chemical disinfection by-product exposure at the same time," she says.
Reposted with permission from Ensia.
Former Michigan Governor Rick Snyder is seen testifying on Flint, Michigan's tainted water scandal on Capitol Hill in Washington, DC, March 17, 2016. Saul Loeb / AFP / Getty Images