This website uses cookies to ensure you get the best experience while browsing it. By clicking 'Got It' you're accepting these terms.


The best of EcoWatch, right in your inbox. Sign up for our email newsletter!
There will soon be an app that allows users to buy surplus food that would otherwise become food waste for a discounted price from restaurants and grocery stores.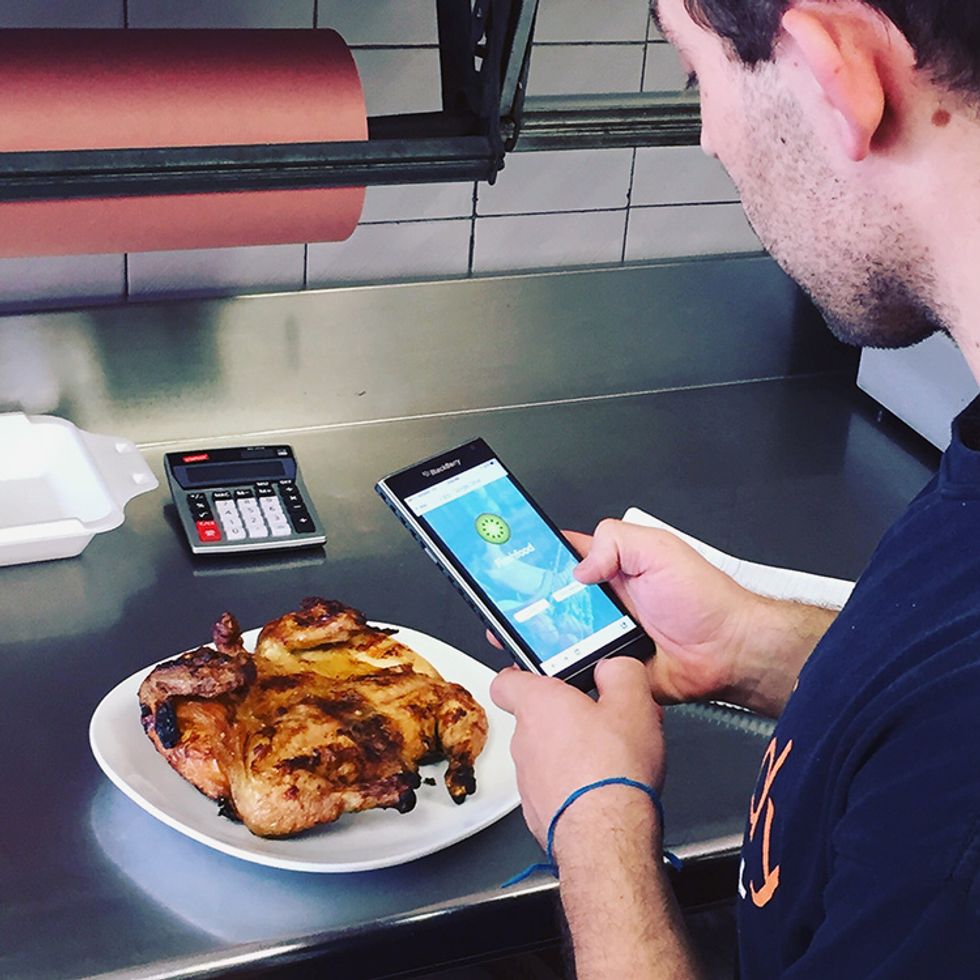 Photo credit: Flashfood via Facebook
Every year in Canada, roughly $31 billion worth of food is wasted. Flashfood, a Toronto-based app start-up founded by Josh Domingues, hopes to lower that number. App users will be able to purchase high-quality food at severely discounted prices.
"Our goal is to end hunger," Domingues told Motherboard blog. "I know it sounds crazy, but by utilizing the sharing economy and creating a sustainable company, I believe we can expand our service to the point where we can help those less fortunate."
Restaurants and grocery stores will post a photo of food that is close to its best-before date with a description and a discounted price of at least 60 percent off. That percent is required by the app, TreeHugger reported, but Domingues' target discount is 75 percent.
Flashfood users will be able to select specific stores or types of food and will receive notifications whenever a new offer is posted, Motherboard said. Customers will pay by credit card via the app and be given a confirmation code to show the retailer.
"If food waste were a country, it would be the third-largest producer of greenhouse gas, behind China and the States," Domingues told Toronto Now. "It's upsetting. It's heartbreaking."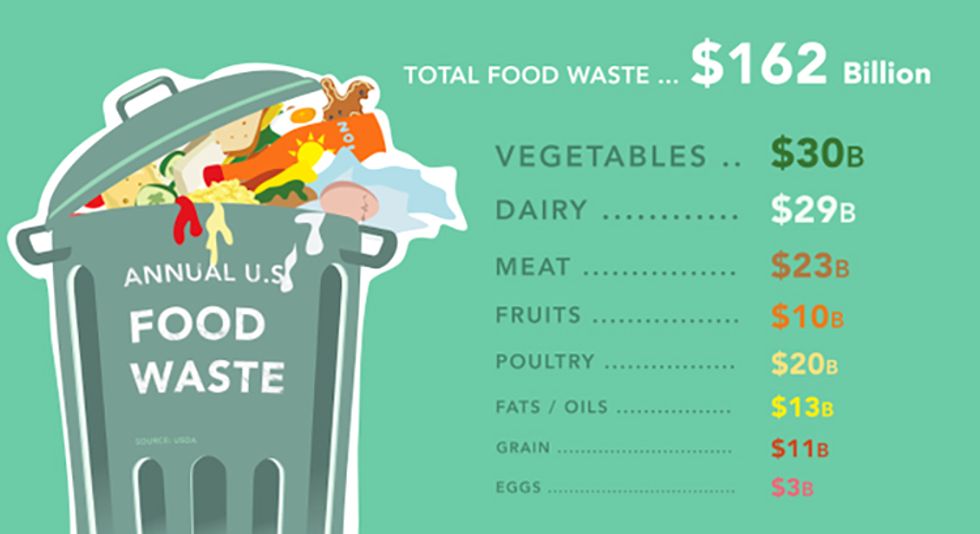 Roughly one third of food produced globally for human consumption is lost or wasted, according to the UN Food and Agriculture Organization. An amount equivalent to approximately 1.3 billion tonnes. Lost and wasted food amounts to roughly $680 billion and $310 billion in industrialized and developing countries, respectively.
Reducing the amount of food wasted could save nearly $130 billion a year and reduce the stress placed on the planet from food production.
"The difficulty is often in knowing where to start and how to make the biggest economic and environmental savings," Dr. Richard Swannell, director of sustainable food systems at Waste & Resources Action Programme, said.
The program's 2015 study, Strategies to Achieve Economic and Environmental Gains by Reducing Food Waste, "produced international guidance on how to achieve that through implementing effective food waste prevention strategies that can be used across the world," Swannell added.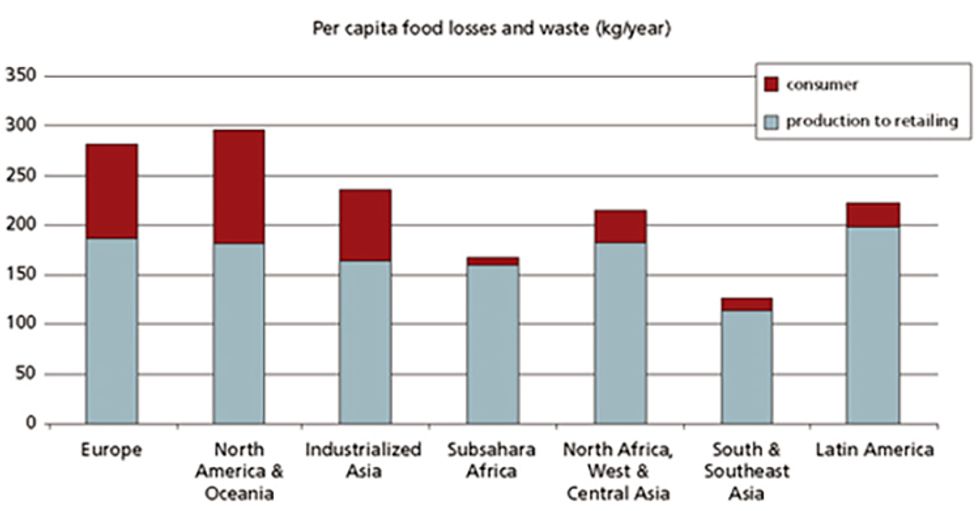 Photo credit: UN Food and Agriculture Organization
Domingues agreed.
"The biggest issue with food waste is logistics," he said. "If a food company wants to donate its food, there are costs of transportation and preservation issues."
Flashfood will alleviate that with 75 percent of the consumer's payment going to the retailer and 25 percent to Flashfood. There are no sign up costs for the retailer and Flashfood will even provide stores with iPads to take pictures of the food available for sale, Motherboard reported.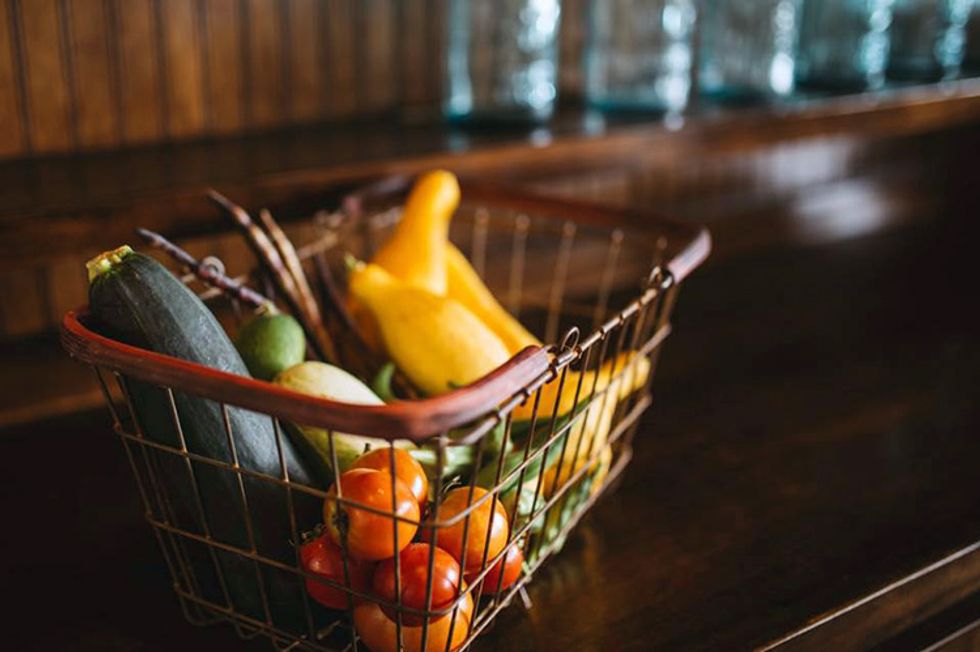 Photo credit: Flashfood via Facebook
Fifteen Canadian restaurants have already signed up for Flashfood. Domingues also worked out a deal with a major grocery chain, according to TreeHugger.
Flashfood is set to launch Aug. 1 in Toronto, hopefully spreading the service to the rest of Canada by 2017.
YOU MIGHT ALSO LIKE:
DARK Act Compromise Could Preempt Vermont's GMO Label Law
2.6 Million Dead Bees Delivered to EPA Headquarters
Interactive Map Shows How 6,500 Factory Farms Put North Carolinians at Risk
China's Plan to Cut Meat Consumption by 50% Cheered by Arnold Schwarzenegger, James Cameron
Boyan Slat's ambitious plan to rid the world's oceans of plastic has taken another step towards reality with its first prototype to be tested at sea. The Ocean Cleanup Foundation, founded by the 21-year-old Slat, has deployed a 100-meter clean-up boom today in the North Sea in The Netherlands.
EcoWatch Daily Newsletter
In a deal that Elon Musk has dubbed a "no brainer," Tesla Motors has made an offer to acquire solar installation company SolarCity in a stock deal worth a reported $2.8 billion.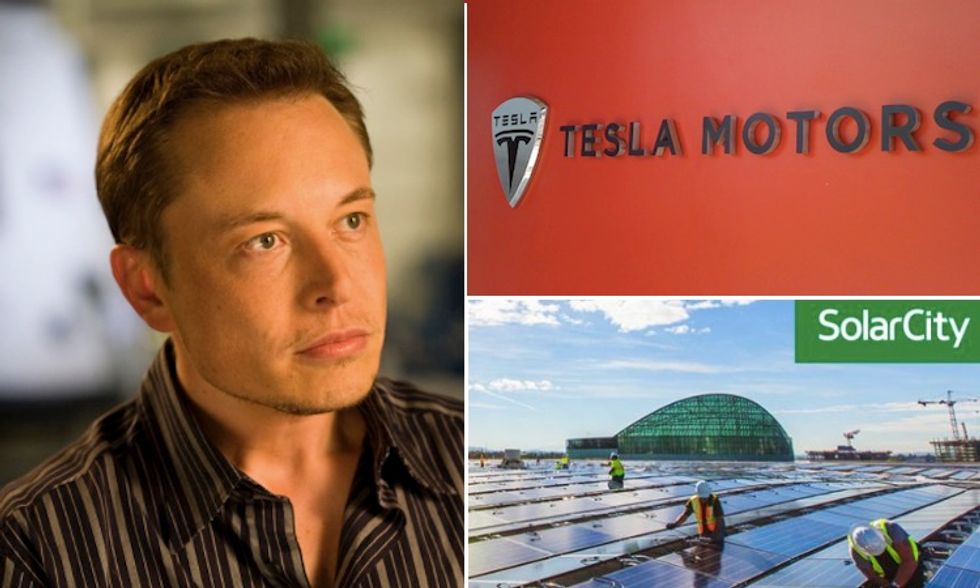 The electric car company made the announcement Tuesday and explained the offer in a blog post:
Tesla's mission has always been tied to sustainability. We seek to accelerate the world's transition to sustainable transportation by offering increasingly affordable electric vehicles. And in March 2015, we launched Tesla Energy, which through the Powerwall and Powerpack allow homeowners, business owners and utilities to benefit from renewable energy storage.
It's now time to complete the picture. Tesla customers can drive clean cars and they can use our battery packs to help consume energy more efficiently, but they still need access to the most sustainable energy source that's available: the sun.
"The world does not look for another car company, the world looks for sustainable energy companies," Musk told reporters in a conference call on Tuesday.
The prolific entrepreneur is the chairman of SolarCity, which was founded and is operated by his cousins, Lyndon Rive and Peter Rive. Musk is the largest individual shareholder of both companies, with 21.3 percent of Tesla and 22 percent of SolarCity, according to estimates.
SolarCity is the top residential solar installer in the country. Its customers pay for the panels with a monthly fee that's typically less than what they would pay to the power company. A marriage between the two companies would seamlessly tie SolarCity's panels with Tesla's Powerwall batteries. Having a solar-plus-storage system installed by a single company would allow an easier transition to customers to unhook themselves from a carbonized grid.
This morning, in a conference call to reporters and shareholders, Musk further discussed the rationale behind the offer. He said that the idea of consolidating Tesla and SolarCity "has been floated over the years" and it would be "extremely unwieldy" to operate as two companies.
In its blog post, Tesla listed off a number of "significant benefits to our shareholders, customers and employees" if the deal is completed:
We would be the world's only vertically integrated energy company offering end-to-end clean energy products to our customers. This would start with the car that you drive and the energy that you use to charge it, and would extend to how everything else in your home or business is powered. With your Model S, Model X, or Model 3, your solar panel system, and your Powerwall all in place, you would be able to deploy and consume energy in the most efficient and sustainable way possible, lowering your costs and minimizing your dependence on fossil fuels and the grid.
We would be able to expand our addressable market further than either company could do separately. Because of the shared ideals of the companies and our customers, those who are interested in buying Tesla vehicles or Powerwalls are naturally interested in going solar, and the reverse is true as well. When brought together by the high foot traffic that is drawn to Tesla's stores, everyone should benefit.
We would be able to maximize and build on the core competencies of each company. Tesla's experience in design, engineering, and manufacturing should help continue to advance solar panel technology, including by making solar panels add to the look of your home. Similarly, SolarCity's wide network of sales and distribution channels and expertise in offering customer-friendly financing products would significantly benefit Tesla and its customers.
We would be able to provide the best possible installation service for all of our clean energy products. SolarCity is the best at installing solar panel systems, and that expertise translates seamlessly to the installation of Powerwalls and charging systems for Tesla vehicles.
Culturally, this is a great fit. Both companies are driven by a mission of sustainability, innovation, and overcoming any challenges that stand in the way of progress.
"This is what the world needs ... this is Earth's solution," Musk said of the merger this morning. Musk has long been a champion solar energy and highly critical of fossil fuels and the fossil fuel industry.
"We have to look back on gas engine cars like we look back on steam engines," as well as power from fossil fuels, Musk added.
The fact that Musk has the biggest slice of both companies leaves Musk in a bit of an awkward situation, media reports have noted. Electrek explained that the offer to SolarCity "will be contingent on a vote from the shareholders and Musk will abstain from voting his shares due to his vested interest in the deal."
Analysts and investors do not appear happy with the plan. Reuters reported that Tesla's stock price spiraled more than 13 percent to $189.99 following the announcement yesterday. At the same time however, shares of SolarCity soared about 18 percent to $25.02.
Electrek also observed that shareholders are "calling the deal a 'bailout' of SolarCity, especially after Musk bought another $10 million worth of shares last year—before the stock fell 60 percent in 2016."
SolarCity is also in an ongoing battle against regulators and utilities in states that are unfriendly to rooftop solar, aka the "solar wars" in Nevada over net metering, which allows homeowners to offset the cost of their panels by selling any electricity they don't use back to the grid. Nevada's NV Energy has been fighting these policies tooth and nail.
Musk, however, shot down the idea of a "bailout" of SolarCity, calling it a "false description."
YOU MIGHT ALSO LIKE
Get Solar Easier, Faster and Cheaper With Groundbreaking NYC Solar Map
Solar Impulse 2 Takes Off for Historic Odyssey Across the Atlantic
World's First 24/7 Solar Power Plant Powers 75,000 Homes
Sysco Corp, the world's largest foodservice distributor, will be the first company of its kind to commit to sourcing 100 percent cage-free eggs in its entire supply chain in the U.S. by 2026.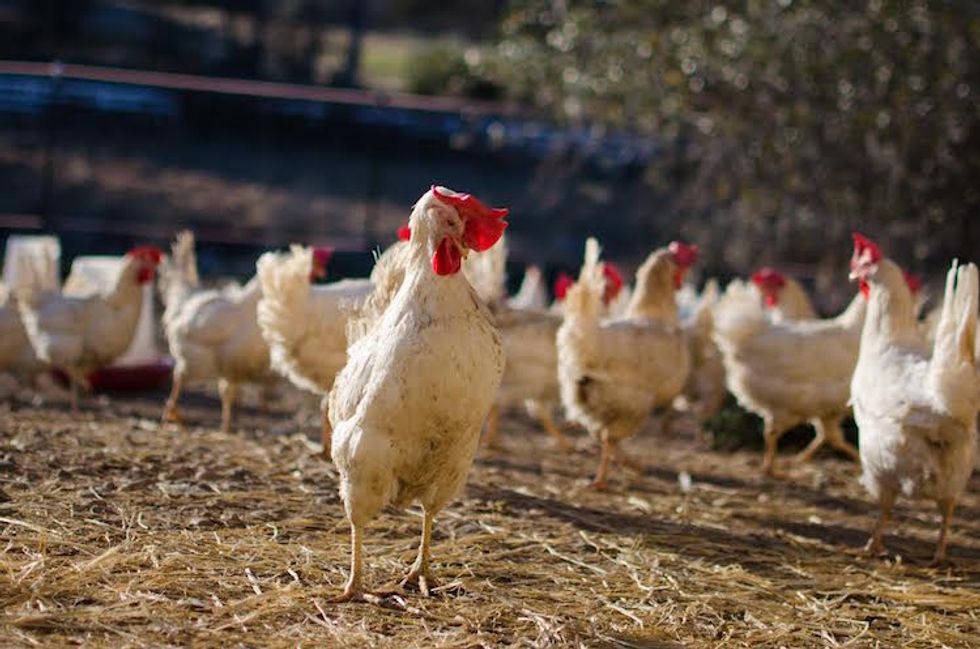 Food distributor Sysco Corp is the latest major company to switch to cage-free eggs. Photo credit: Stephanie Frankle at Animal Place
The company, which clocked $48.7 billion in sales last year—about $10 billion more than McDonald's—supplies food to restaurants, healthcare and educational facilities, hotels and inns and hospitality businesses nationwide, with approximately 425,000 customers to its name. It operates from 194 locations throughout the U.S., Bahamas, Canada, Ireland and Northern Ireland.
Sysco's commitment to cage-free eggs comes after strategic conversations with The Humane League, which approached the company about the policy. The international animal protection nonprofit pointed out that although Sysco previously has an animal welfare policy and a commitment to eliminate gestation crates for sows, the company had not yet addressed the cages used in its egg supply chain. Following conversations, The Humane League and Sysco negotiated a 10-year timeline that allows the company to accommodate their massive supply chain.
Sysco's clients go through innumerable amounts of eggs, making its latest commitment a huge blow to the inhumane practice of confining egg-laying hens in cages in the U.S.
"What this means is that distributors are going cage-fee," David Coman-Hidy, executive director for The Humane League, told EcoWatch. "It's going to impact the entire country."
Significantly, this also impacts Sysco's restaurants and other clients that have not made the decision to go cage-free, Coman-Hidy pointed out, making it "one more nail in the coffin for battery cages."
Although the label "cage-free" has its problems, the food industry's overall shift to cage-free eggs is a big step for animal welfare. The vast majority of eggs that we see in the U.S.—such as standard supermarket varieties and, yes, the ones that Sysco has been distributing—come from hens confined in battery cages. These hens cannot spread their wings, they cannot walk around or express other normal hen behaviors. They may never see the light of day.
So why pressure companies to switch to cage-free and not, say, "pasture-raised" or other more humane alternatives?
"We're focused on what could reduce the most suffering," Coman-Hidy said. For now, it appears that cage-free is the most feasible and realistic switch for giant multibillion dollar companies.
Sysco said that the transition to a 100 percent cage-free egg supply chain by 2026 will require significant collaboration amongst industry participants, including its suppliers, to specifically address food affordability and environmental concerns. The company said it is committed to working through the supply chain to achieve a sustainable solution for both egg producers and its customers.
The Humane League has previously influenced a number of major companies across several industries, including Walmart, The Walt Disney Company, Kroger, Target, Aldi, Denny's, Nestle, General Mills, Costco, PepsiCo, Grupo Bimbo, Unilever, Carnival Cruises and Starwood Hotels to convert exclusively to cage-free eggs.
Notably, the organization is also responsible for United Egg Producer's recent commitment of eliminating the practice of male chick culling in the U.S. The decision will prevent the suffering of 260 million chicks and 960,000 hens each year.
The Humane League is hoping to eliminate the use of battery cages around the world and is pressuring global companies to end the practice, Coman-Hidy said.
YOU MIGHT ALSO LIKE
Cub of Beloved Grizzly Killed by Car as FWS Plans to Delist Yellowstone Bear
Buzz Kill: How the Pesticide Industry Blocks Bee Protections Nationwide
6 Million Tropical Fish Imported Into U.S. Each Year Are Exposed to Cyanide Poisoning
Apple is seeking to sell a whole different product. No, not cars—yet. Try renewable energy. The iPhone maker has created an energy subsidiary in Delaware called Apple Energy LLC to sell surplus electricity generated by its various renewable energy projects.
Documents seen by PV Tech show that Apple has applied to the U.S. Federal Energy Regulatory Commission (FERC) to sell excess power from solar panels on top of its Cupertino, California headquarters as well as energy generated by its solar farms, hydroelectric plants and biogas facilities across the country.
This is big news. Most corporations usually sell surplus energy to power companies, but the tech titan is basically creating a green energy pipeline to consumers.
"If Apple's application is approved, it will be able to sell electricity directly to its customers—eliminating the need for utility power," PV Tech observed.
In the FERC filing, Apple has requested to sell energy at market rates rather than wholesale since it's not an major energy company and cannot influence electricity prices, PV Tech noted.
"Applicant seeks the same blanket authorization and waivers of the commission's rules and filing requirements previously granted to other entities authorized to transact at market-based rates," Apple's tariff states.
The Apple blog 9to5Mac suspects that Apple's FERC filing is following in the footsteps of Green Mountain Power, which also sells renewable energy to homeowners. Another guess is that Apple's potential new energy company could help fuel Apple's long-rumored electric car project.
Apple has requested the tariff be granted within 60 days of its June 6 filing, so we'll have to wait until then to see if it takes off.
In recent years, Apple has worked hard to shrink its global carbon footprint, and CEO Tim Cook is known for being a green leader.
"Climate change is one of the great challenges of our time, and the time for action is now," Cook said. "The transition to a new green economy requires innovation, ambition and purpose."
The company 
boasts
 that all its
data centers
and most of its stores and corporate offices are now powered by green, renewable energy. Apple has plans for 
521 megawatts of solar projects
 globally, as well as other investments in hydroelectric, biogas and geothermal power, which generates enough power to cover 93 percent of its worldwide energy usage. The company wants to eventually operate with 100 percent renewable energy.
YOU MIGHT ALSO LIKE
World's First Large-Scale Carbon-Neutral Brewery Now in Operation
Solar Added More New Capacity Than Coal, Natural Gas and Nuclear Combined
Solar War Continues in North Carolina: Nonprofit vs. Duke Energy
Does Ground-Breaking India-U.S. Announcement Put Clean Energy in the Catbird Seat?
Heinekens are now brewed with clean energy. The global beer company's Göss Brewery in Austria is the first carbon-neutral brewery of its scale in the world.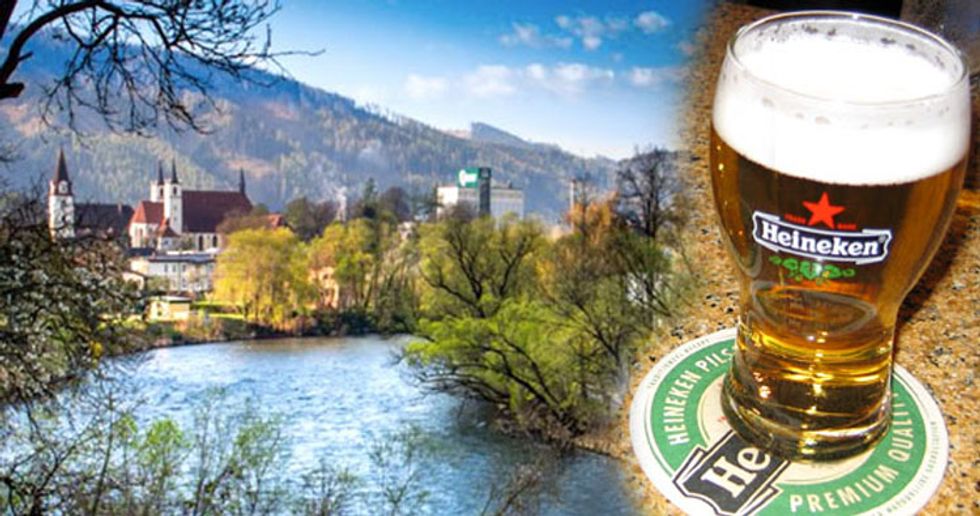 The facility, which kicked off its green upgrades back in 2003, has now met 100 percent of its energy needs via clean power sources including hydropower, solar thermal energy from a 1,500-square-meter photovoltaic array and biomass district heating, in which 40 percent of the brewery's heat requirements comes from surplus heat discharged from a neighboring sawmill.
The site is also incredibly savvy with waste. It hosts its own grain fermentation plant that converts production waste into biogas—the first plant of its kind a major brewery. The grain fermentation plant converts 18,000 tons of the brewer's grains, filter residues and other byproducts from beer-making process into biogas annually. Residues from the fermentation plant are used as fertilizer.
Here are some other eco-friendly strides the brewery—a finalist for the 2016 European Union Sustainable Energy Award—has achieved:
Ninety percent of the waste heat generated in the brewing process is used to heat water

A new type of boiling system is used during the brewing process, which helps to save electricity and water

Energy generated from brewery residues will be used to generate steam and any excess volumes will be converted into electric current

100 percent of raw materials used at the Göss Brewery come from Austria
As Inhabitat reported, the brewery's operations will cut carbon emissions from approximately 3,000 tonnes a year to zero.
"Through a combination of innovative technology, creative thinking and partnerships with our local community, we have turned a heritage brewery into the world's first major zero carbon brewery," Göss brew master Andreas Werner told the publication.
"Our Göss brewery may be in a small town but our goal was to make a big impact. I am proud of what we have achieved for the Heineken Company and want to help our other breweries, and the wider brewing industry, make renewable energy part of their energy mix, just as we have done."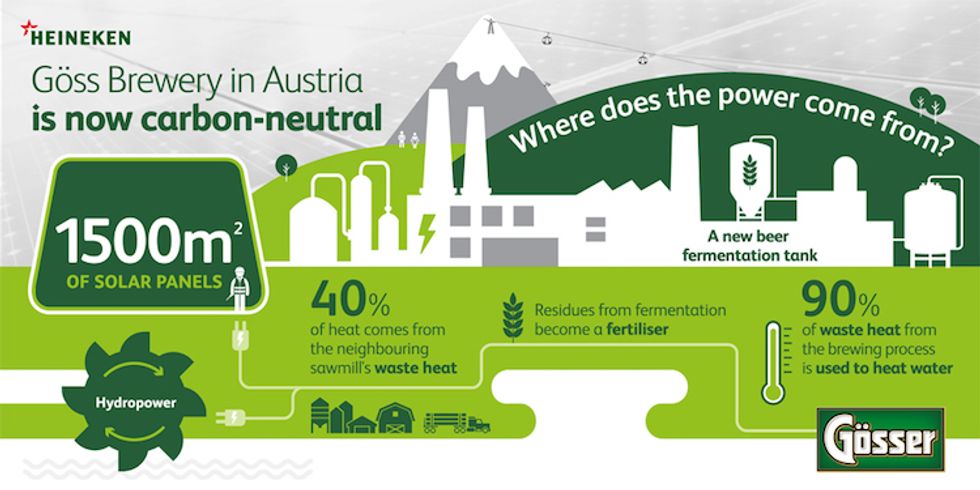 The Göss Brewery's zero carbon status is only one example of Heineken's overall environmental goals. According to a blog post from Michael Dickstein, Heineken's global director of sustainable development, the beer-maker is now the world's largest user of solar energy in beer production.
The company's Brewed by the Sun campaign boasts a number of solar achievements including:
100,000 glasses of Wieckse beer brewed through solar energy at the Den Bosch brewery in the south of the Netherlands

Birra Morretti Baffo d'Oro is brewed with 100 percent Italian malted barley and 100 percent Italian sun

The company's rooftop solar installation in Singapore, which brews the local Tiger beer, is the size of three football pitches
Heineken, the world's third-largest brewer, is aiming to slash 40 percent of carbon emissions from global productions by 2020 through its Brewing a Better Future strategy.
The beer brewing industry is not immune to the effects of climate change. In the U.S., the ever-changing environment is a threat to the domestic beer market, as Ceres wrote:
Warmer temperatures and extreme weather events are harming the production of hops, a critical ingredient of beer that grows primarily in the Pacific Northwest. Rising demand and lower yields have driven the price of hops up by more than 250 percent over the past decade. Clean water resources, another key ingredient, are also becoming scarcer in the West as a result of climate-related droughts and reduced snow pack.
Several U.S. breweries have integrated sustainability into their business practices such as investing in renewable energy, energy efficiency, water efficiency, waste recapture and sustainable sourcing in order to reduce their environmental footprint.
YOU MIGHT ALSO LIKE
World's First Off-Grid ReGen Village Will Be Completely Self-Sufficient Producing Its Own Power and Food
Nation's First Urban Farming School Teaches Kids to Grow and Cook Their Own Food
This Green-Roofed Hobbit Home Can Be Built in Just 3 Days
The 2016 Sustainia100 is out today and this year's solutions provide a glimpse into a global business landscape that is seizing a world of opportunities that arise from the UN's newly adopted Sustainable Development Goals (SDGs).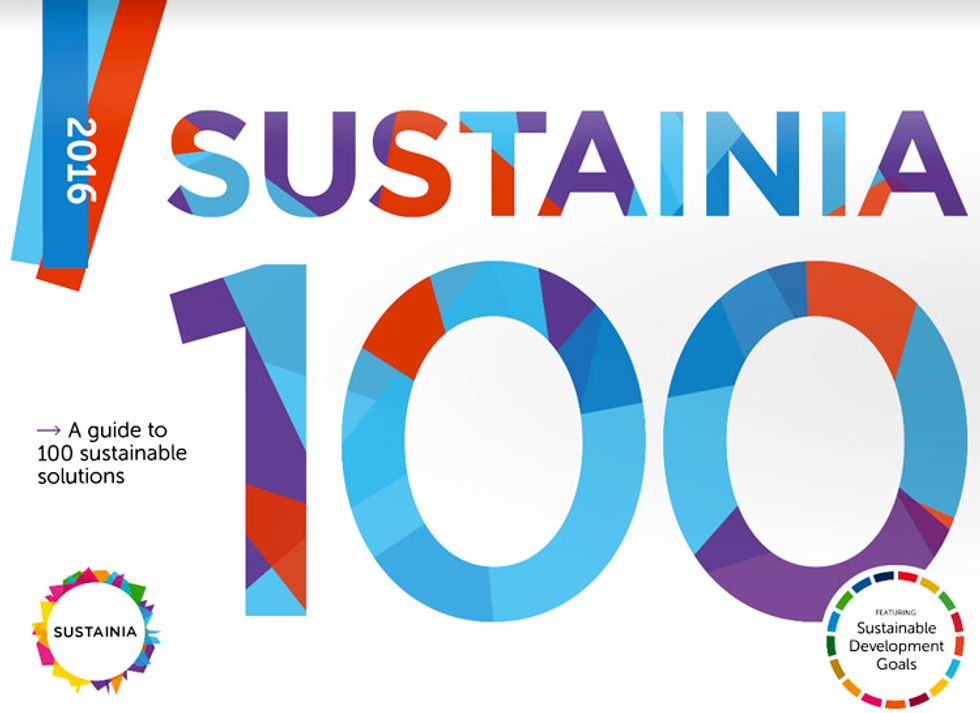 Get ready for an inspirational round-the-world trip to the 100 most innovative, available, scalable and sustainable solutions to the world's most pressing challenges. From health solutions that tackle climate change to renewable energy products that alleviate gender inequality, this year's Sustainia100 sets out the most outstanding solutions which respond to the interconnected global challenges addressed through the Sustainable Development Goals.
According to our findings, this is the year of "systemic opportunity" with more businesses around the world acknowledging the business case for solving global risks.
"The term 'systemic' often brings to mind intractable problems, such as systemic poverty or systemic corruption. The global goals give us focus and pace, so we think it's time to reclaim the word and talk about systemic opportunity, instead. The Sustainia100 shows us that the most compelling and successful solutions tackle multiple challenges and global goals, in one go," Morten Nielsen, managing director of Sustainia, explained.
The Sustainia100 is the fifth of its kind, behind which sits a database of more than 4,500 solutions from all over the world. This year's edition features solutions deployed in 188 countries and more than half come from the SME sector.
In her foreword to the Sustainia100, Lise Kingo, the executive director of United Nations Global Compact, reflects on the pace and direction set by the Sustainable Development Goals:
"The Sustainia100 offers us 100 reasons to be hopeful and inspired as we embark on this 15 year journey. The innovative thinking needed to accomplish the SDGs by 2030 already exists today. Now our task is to spread the word about these transformative solutions in order to help them scale and inspire new actors to take part in forging the path to a more sustainable future."
Since 2012, the Sustainia100 has tracked the rise of the circular economy, big data, leapfrog technologies, climate resilience and community action as some of the most defining trends within sustainable action. In 2016, the publication highlights four new trends that stem from the solutions identified.
Morten Nielsen continued: "The trends we've noted point to this new era of systemic opportunity. You can readily see this in the way that cities are becoming health facilitators or the disruption of the time-old electric grid, as just two great examples of big shifts in opportunity-spotting. It's exciting to see global markets respond favorably to this new landscape of sustainable action."
Here are the 100 solutions:
YOU MIGHT ALSO LIKE
Cleveland Soon to Be Home to the Nation's First Offshore Wind Farm in Fresh Water
The Book the Fracking Industry Doesn't Want You to Read
New Solar Loan Program Now Available in 14 States
Dubai to Build World's Largest Concentrated Solar Power Plant
Scientists estimate that more than 5 million pieces of plastic are floating in the world's oceans. From flip-flops to microbeads, this pollution poses a serious risk for marine animals, which often mistake plastic for food and starve to death or get caught in plastic packaging and suffocate. Giant plastic islands like the Great Pacific Garbage Patch can span for miles.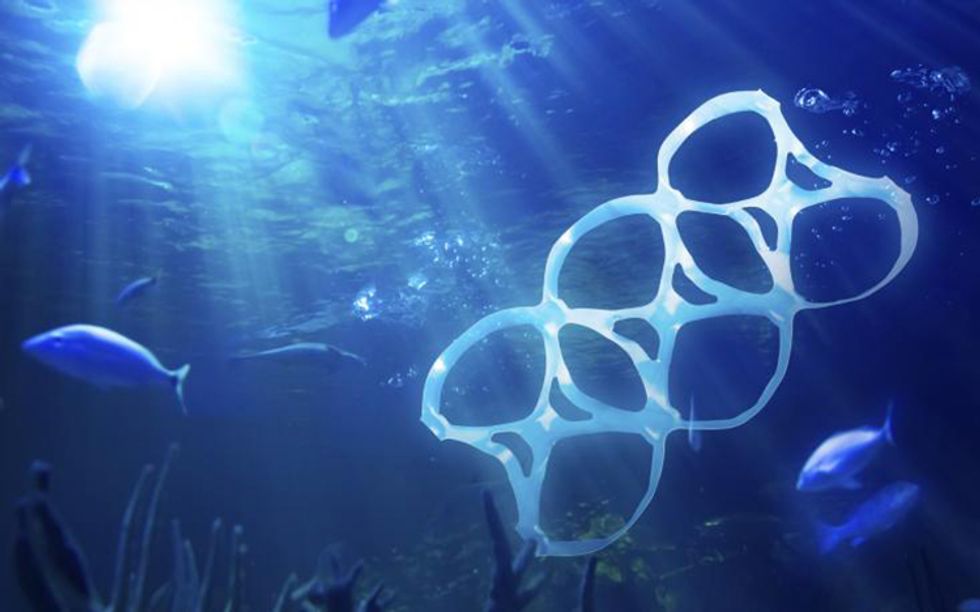 Since it's too late to stop that trash from entering the seas, the question is how do we clean it up? Here are some creative ideas.
1. Run Green
Activewear companies are known for using synthetic fibers and plastics in their products to make them more durable. Alongside Patagonia and Nike, sportswear giant Adidas will start showcasing sleek, ocean-friendly designs. Last year, Adidas partnered with Parley for the Oceans, an organization that provides a platform for designers, to focus on creating inventive, sustainable new products. The Adidas x Parley, which hits the market later this year, will be made from recovered ocean plastic, run through a 3-D printer to create a stylish running shoe.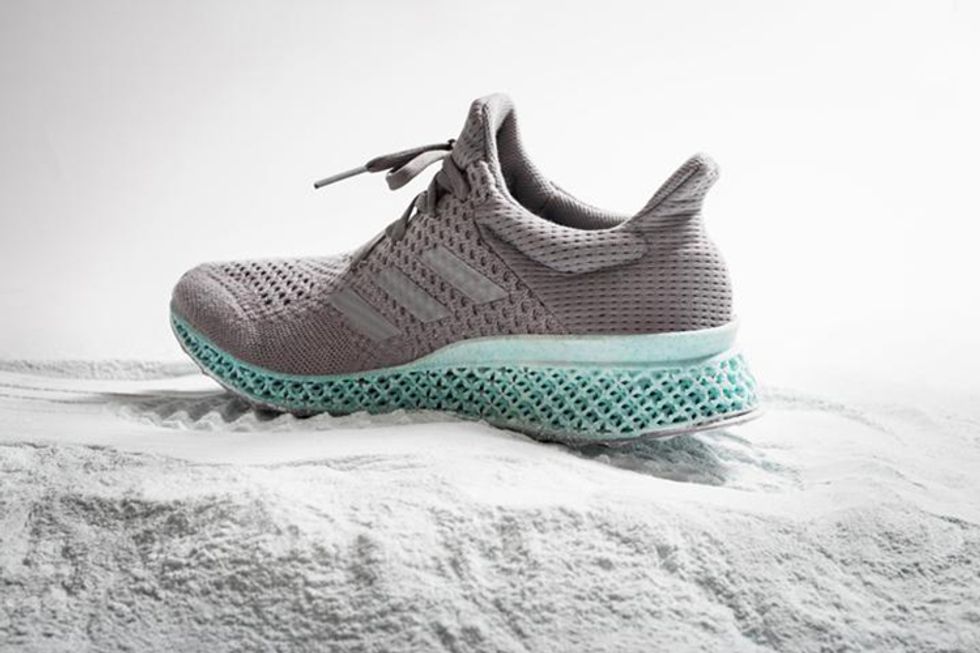 2. Guilt-Free Drinks
Buying six-packs of soda can have a deadly effect on sea turtles, seals and seabirds—even if you recycle the cans. The plastic rings that hold the cans together can get tangled on an unsuspecting animal's neck or accidentally eaten, which can kill an animal or stunt its growth. Enter the Edible Six Pack Ring, a potential replacement for its plastic cousin. Created by Saltwater Brewery in Florida, these digestible rings are made from barley and other natural materials, so they are biodegradable and sea life can safely eat them. We'll drink to that!
3. Style Guide
Pharrell Williams might not be the first person who comes to mind when you think about green innovations, but the singer turned fashion designer is making waves in the world of ecofriendly fashion. Williams's newly released clothing line, RAW for the Oceans, is helping turn ocean plastic into wearable fashion. The line is part of his larger G-Star RAW clothing collection, which is made using a four-step process that takes plastics found along shorelines worldwide and breaks them down into a weavable clothing fiber called Bionic Yarn, a product cofounded by Williams. The music star's new ocean-centric line includes trendy jeans, graphic tees and modern kimonos.
4. Plastic Paradise
Trash may be turning our oceans into a deadly plastic soup, but SPARK, an international architectural design firm is looking to turn this polluting mess into something beautiful. The company hopes to repurpose plastic ocean garbage into brightly colored, solar-powered beach huts along Singapore's East Coast Park. The huts will utilize high-density polyethylene plastic—known for its flexibility—from the South Pacific Garbage Patch to create the "scales" that make up each hut's outer shell. The artichoke-shaped structures are designed to perch atop recycled-glass stems so that future beach campers can look out across a (hopefully) cleaner ocean.
5. Clean Dishes, Clean Ocean
The cleaning-products company Method offers an ocean plastic dish and hand soap that is doing double-duty against pollution. Method recovers plastic from the ocean, prevents the creation of new plastic by recycling and helps clean shorelines, including removing over one ton of plastics from Hawaii's beaches. Plus, its soaps are largely biodegradable and its factory uses wind energy to power production. Once a limited-time product, Method's ocean-plastic bottles are now available across the country.
YOU MIGHT ALSO LIKE
This Super Sustainable House Can Be Built in One Day
17 Young Social Entrepreneurs Who Are Making the World a Better Place
Remarkable Forest Hotel Takes Green Architecture to a Whole New Level
By Conscious Company Magazine
Conscious Company Magazine partnered with leading accelerators, incubators and educational institutions to identify 17 rising entrepreneurs who see things differently, are shaking the tree, disrupting industries, making money and doing good. These individuals are bold. They're young. They're fearless. And they are the face of the up-and-coming generation of change makers willing to risk it all to make the world a better place.
Angaza LTD. – Maria Mayanja, Co-Founder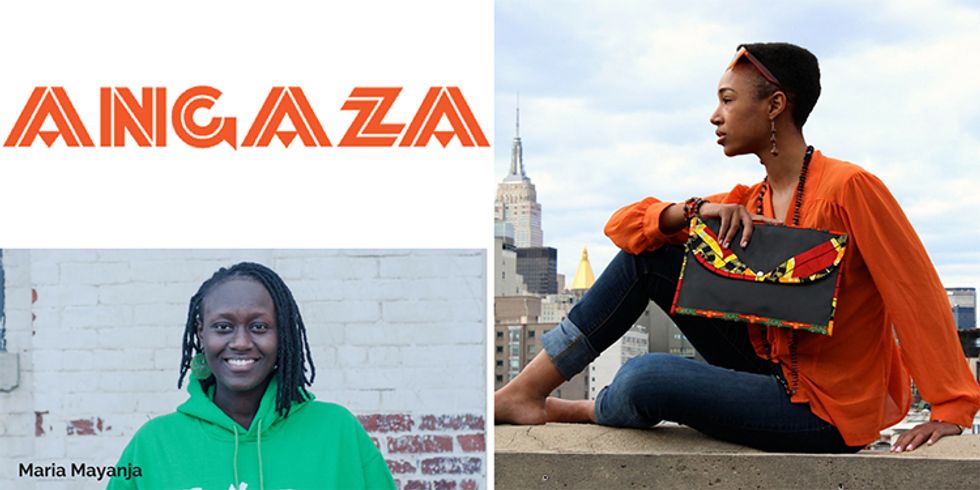 Founded: 2012
Location: Kengali, Rwanda
Industry: Ethical Fashion
For Upcycling Non-Biodegradable Waste Into Accessories
At Angaza Ltd., Maria and her team upcycle Kigali's non-biodegradable waste into fashion accessories such as bags, wallets and gadget covers, creating green jobs along the way. The team is also revolutionizing the way environmental issues are taught in schools in Rwanda by engaging students in fun, hands-on activities such as tree planting, competitions and upcycling to engender a more conscious generation of Africans rooted in sustainable practices.
"I am passionate about environmental conservation and want to help people understand it better in a 'non-rocket science' kind of way."
www.angazarwanda.com | facebook | twitter
Because International – Kenton Lee, Founder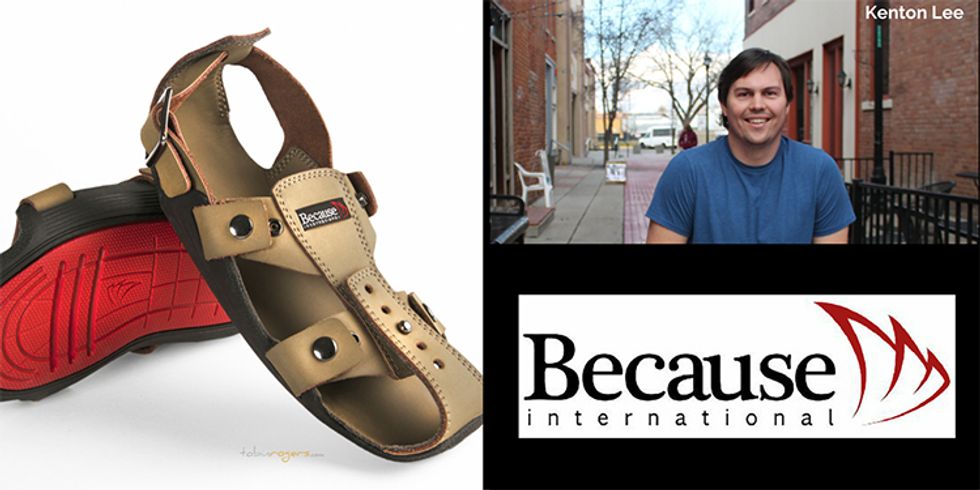 Founded: 2009
Location: Nampa, ID
Industry: Ethical Footwear
For Creating a Shoe That Kids Won't Outgrow
Over two billion people have some kind of soil-transmitted disease. More than 300 million kids do not have shoes—and countless more have shoes that do not fit. When kids have shoes that fit, they can stay healthy and continue to go to school, help their families and communities and have as many chances to succeed as possible. Kenton and the team at Because International have created The Shoe That Grows—a shoe that can adjust and expand five sizes and last up to five years—to address this problem. The team distributes shoes to kids worldwide, providing a pair of shoes that fits year after year.
"The mission of my life is to put other people in the best possible position to succeed and I absolutely love doing this for kids around the world. I am constantly inspired as I listen to those living in extreme poverty to hear their thoughts, ideas and dreams for how their daily lives can be improved."
www.becauseinternational.org | www.theshoethatgrows.org | facebook | twitter
Ecoprise – Bhuwan K.C., Founder and CEO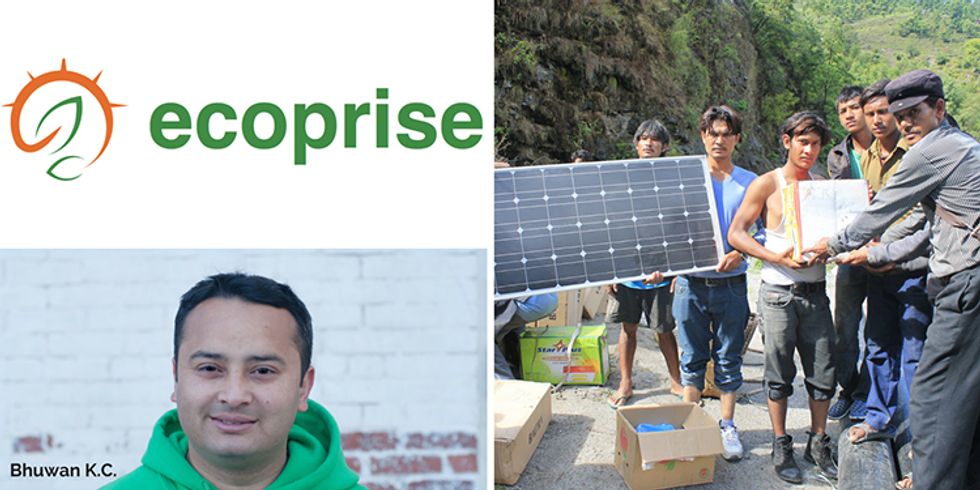 Founded: 2012
Location: Nepal
Industry: Clean Energy
For Providing Clean Energy to Base-of-the-Pyramid Communities
Through Ecoprise, Bhuwan and his team provide clean energy solutions to base-of-pyramid communities in Nepal to create economic, environmental and social benefits. The company's model is based on appropriate technology design, shared distribution channels and specific knowledge-transfer processes. The company works with banks, co-ops and self-help groups to develop financing programs that increase affordability and incorporate a support package that includes credit, marketing, sales materials and business skills training.
"Through my work at Ecoprise, we improve the lives of millions of Nepalis who face energy poverty and would not have knowledge and access to these solutions if we did not exist."
www.meroecoprise.org | facebook | twitter
EZBZ Inc. – Shana Schlossberg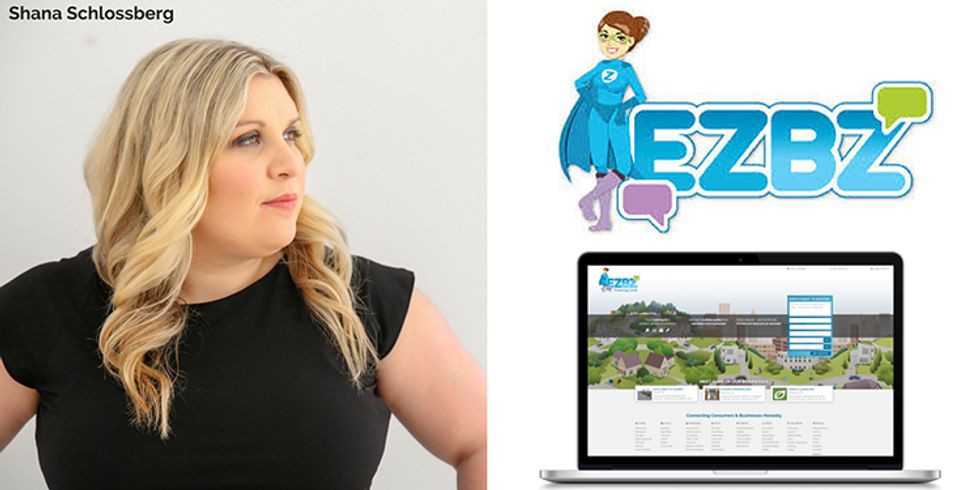 Founded: 2011
Location: New York City
Industry: Internet Marketplace
For Connecting Consumers With Local Businesses
Shana and the folks at myEZBZ.com directly connect consumers with local businesses through an online concierge service. Using proprietary technology
that can match any consumer request
 with related local businesses in minutes,
 the website presents a consumer with all 
reputable local businesses at the same
time and creates a level playing field
 where large and small companies have the
 same opportunity to win the consumer's
business. A business cannot pay more to 
receive an advantage and the consumer 
is able to support local businesses instead 
of the larger corporations that usually 
dominate first-page results on most other 
search platforms.
"I have been working with local businesses for over 15 years and always felt that marketing platforms work against them instead of for them. I wanted to create a platform that facilitated connections between consumers and businesses in a fair and honest way."
www.myEZBZ.com | facebook | twitter
Green Monday – David Yeung, Co-Founder and CEO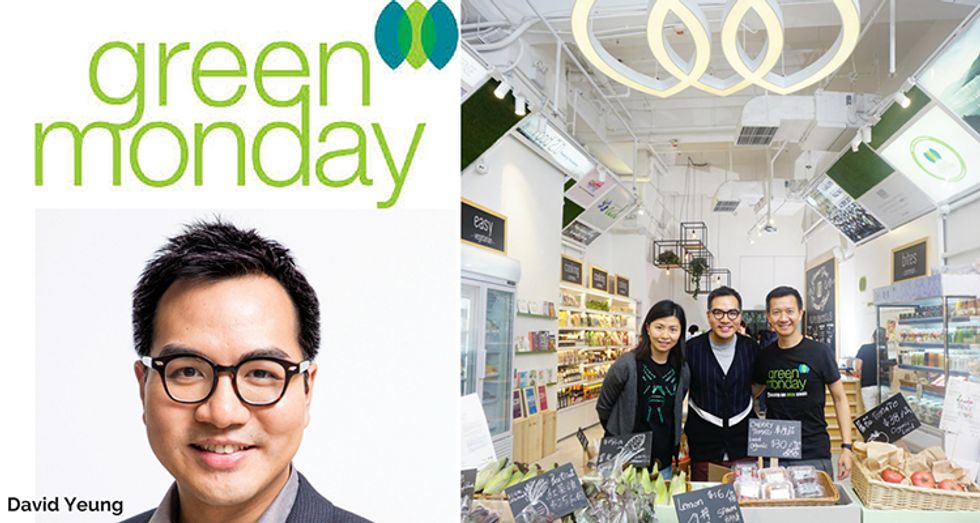 Founded: 2012
Location: Hong Kong, China and U.S.
Industry: Food
For Creating a Platform to Get a Country to "Go Green"
David Yeung and Green Monday are on a mission to combat climate change and global food insecurity. Using a plant-based diet as an entry point to promote a low-carbon, healthy and sustainable lifestyle, the group has created a platform that enables businesses, schools and individuals to make green behavior happen. The platform is built upon both a social pillar and a venture pillar. The social side drives advocacy campaigns to raise awareness and demand for a green lifestyle, while the venture side takes an active role in the market to increase the supply of green choices by way of impact investing, corporate consulting and food retail and distribution.
"Our planet is sick, people's health is suffering and animals are subject to unimaginable cruelty. As a long-time vegetarian, I know that if we can mobilize a collective shift to a more plant-based diet, all these environmental and social problems can be much alleviated."
www.greenmonday.org | facebook | twitter
Koe Koe Tech – Michael Lwin & Dr. Yar Zar Min Htoo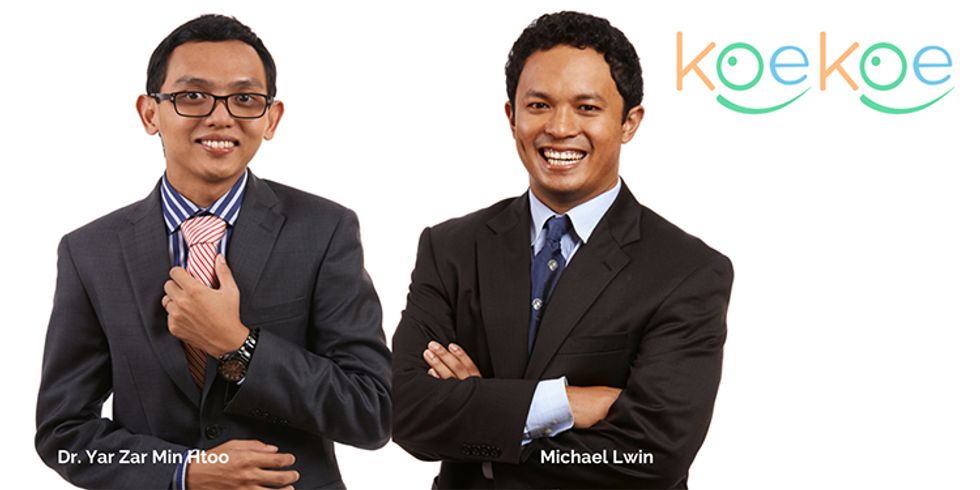 Founded: 2013
Location: Yangon, Myanmar
Industry: IT, Healthcare
For Making Healthcare More Accessible
In Myanmar, eight children die every hour. Thirty-two million people suffer from infectious diseases such as malaria, dengue, tuberculosis and HIV/AIDS. Eighteen million people suffer from hypertension. Dr. Yar Zar Min Htoo, co-founder 
of Koe Koe Tech, contracted Hepatitis B from a rural doctor who reuses dirty needles. As a result, Yar Zar Min Htoo and his cousin Michael Lwin developed Koe Koe Tech. With just a phone and the company's mobile health apps, a rural person in Myanmar can gain access to Population Services International-generated information in 32 health categories; the ability to teleconsult with quality doctors (who use clean needles), rural health workers and midwives; and the ability to purchase high-quality, lower-cost health products.
"As a Myanmar-American who lived a comfortable, healthy, relatively easy
life in comparison to my co-founder, I feel that it
 is fundamentally unjust that one's life outcomes are largely predicted by luck—luck of geographic location of birth, luck of the socioeconomic status of the family one is born into, luck of one's ethnic, gender and national identity." – Michael Lwin
Lucky Iron Fish – Gavin Armstrong, Founder and President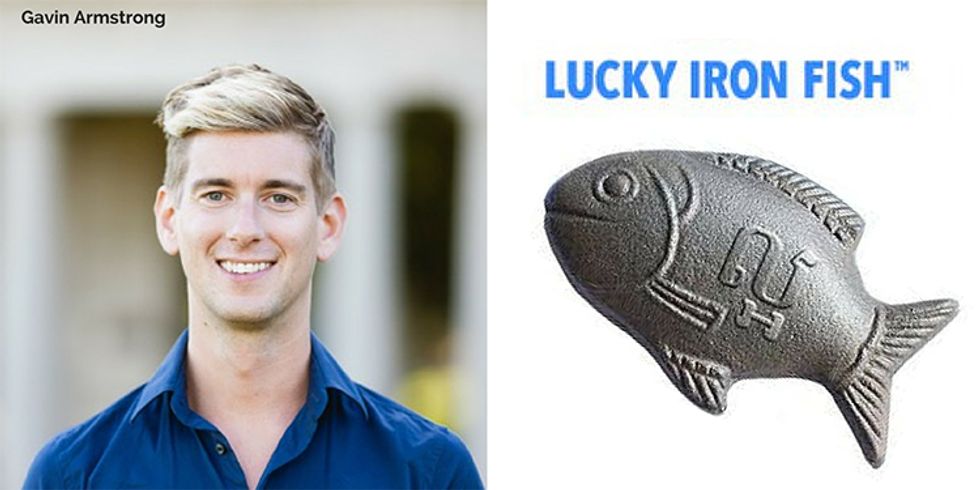 Founded: 2012
Location: Guelph, Ontario and Cambodia
Industry: Natural Health
For Creating a Simple Solution to Combat Iron Deficiency
Iron deficiency is the world's most common micronutrient issue, negatively impacting the lives of half of the world's population, mainly women and children in developing countries. Gavin and the folks at Lucky Iron Fish have developed a simple solution to combat iron deficiency in Cambodia and beyond. The Lucky Iron Fish is a simple at-home fortification tool. Boiling the company's product for ten minutes as a part of food preparation can release
up to 90 percent of a person's daily required iron intake. The product can be re-used for up to five years and only costs around $5. It is shaped like a fish—a symbol of luck in Cambodia.
"We are committed to being a true social enterprise with a positive social attribute in every aspect of how we do business and it is my hope that we can prove that social enterprises are not a fad but the future of business."
www.luckyironfish.com | facebook | twitter
MiiR – Bryan Pape, Founder and CEO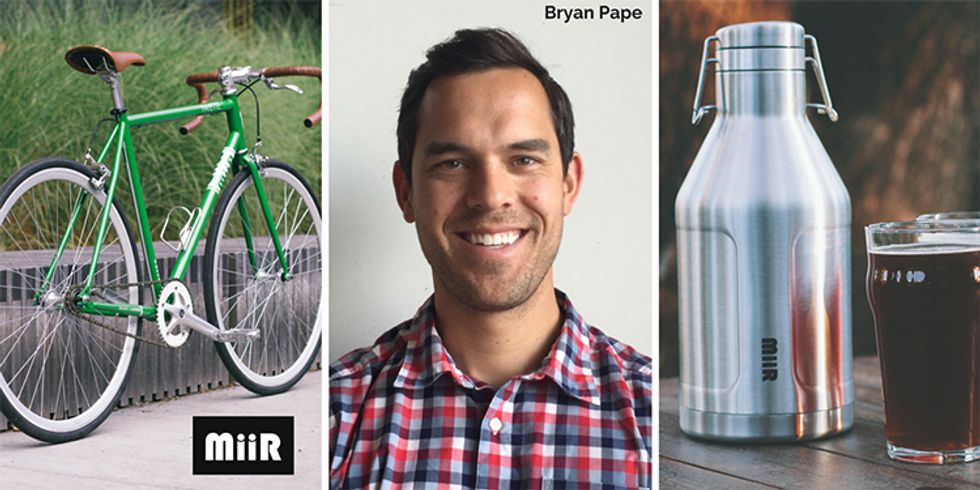 Founded: 2010
Location: Seattle
Industry: Adventure and Lifestyle Products
For Creating Activewear That Truly Gives Back
Bryan and his team at MiiR inspire and empower through amazing design and transparent giving. The company's line of bottles (water bottles, growlers and tumblers) directly facilitates clean water projects, its line of bags gives to educational initiatives and its line of bikes gives bikes to those in need in developing countries.
"We believe in good design and that products should be functional and beautiful and also believe companies have the unique ability to change the world for the better."
www.miir.com | facebook | twitter
Obamastove SPC. – Yusuf Tura, Founder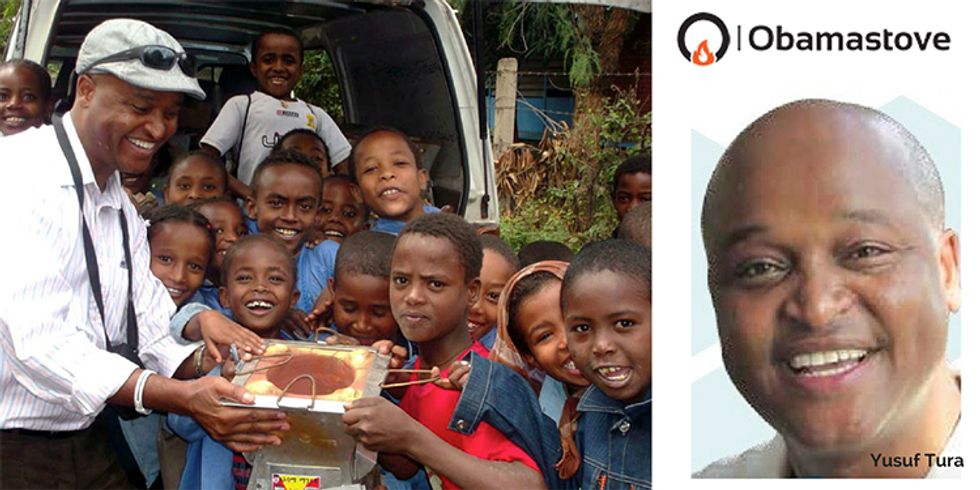 Founded: 2007
Location: Ethiopia
Industry: Cookstoves
For Designing An Affordable Cookstove
An estimated three billion people regularly breathe in poisonous smoke from open fire cooking. It is becoming one of the world's most pressing health and environmental problems, killing more than four million people each year, according to the World Health Organization. Yusuf Tura
is tackling this problem head-on through his company Obamastove, a designer, manufacturer and distributor 
of locally made, low-cost cookstoves. In addition to cookstoves, Obamastove also manufactures improved briquettes, which are custom-made to fit inside its Obamastoves. The company has made, sold and delivered more than 250,000 stoves, each costing less than $10 and the product is now the top-selling stove in Ethiopia.
"The stove saves lives and the environment and creates green jobs for extremely poor communities. I am most inspired by the team that I work with and the villagers we serve who are living on less than $1 per day."
Regrained – Jordan Schwartz & Dan Kurzrock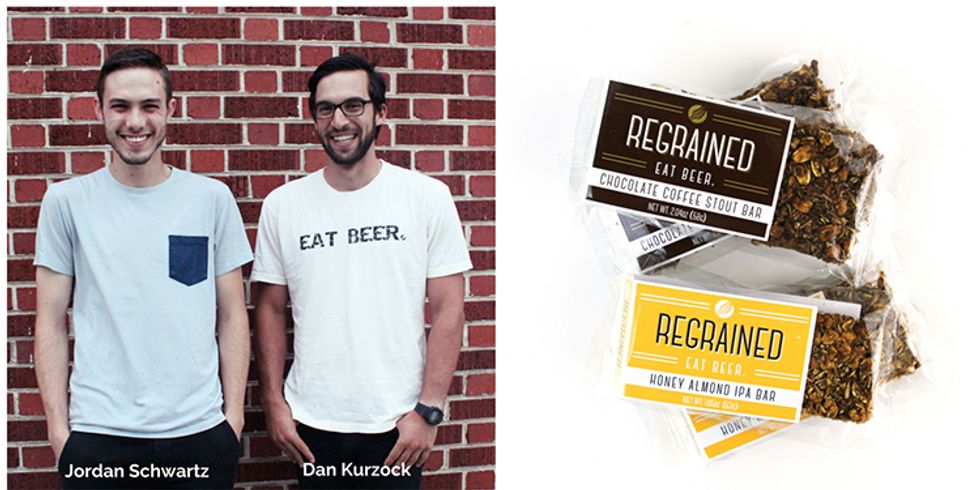 Founded: 2012
Location: San Francisco
Industry: Packaged Food
For Turning "Waste" From Breweries Into Healthy Food
Craft beer is booming and with 
it, so is food waste. Eighty-five percent of brewing's by product
 is grain—more than six billion pounds annually. Breweries extract sugars as a liquid and the physical grain that is left behind with its protein and fiber is considered "waste." Yet, this grain can offer the food system a sustainable source of nutrition. Dan and Jordan teamed up to create ReGrained to upcycle this grain and close the loop by turning it into delicious food, like granola bars.
"We are inspired
by the potential to find the sweet spot between profit and purpose by creating win-wins for our customers, partners, community and planet." — Jordan Schwartz
"We see our work as an opportunity to use entrepreneurship as a means of creating a more sustainable urban economy—simultaneously upcycling 'waste' and feeding people." — Dan Kurzrock
www.regrained.com | facebook | twitter
Resonate – Ayla Schlosser & Solange Impanoyimana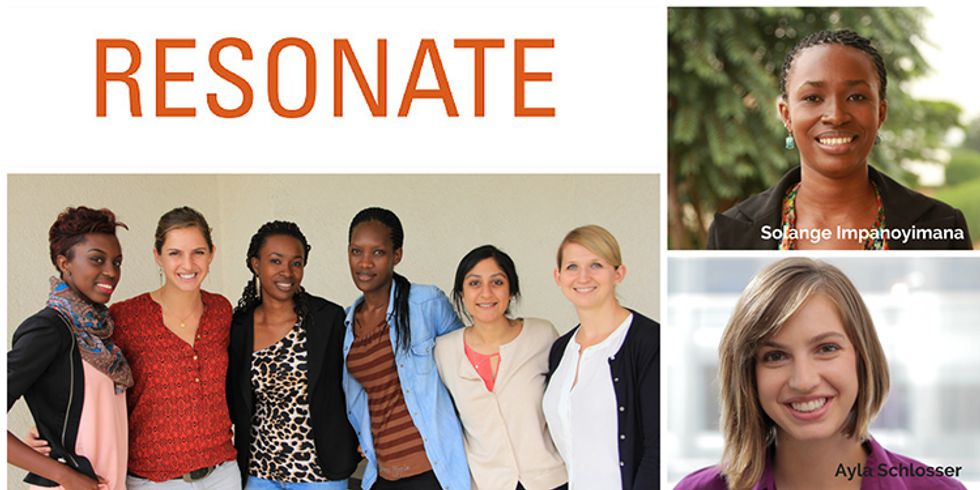 Founded: 2013
Location: Rwanda & East Africa
Industry: Women's Rights & International Development
For Empowering Women to Become Leaders in Their Communities
Resonate provides experiential leadership training to women and girls in Rwanda and throughout
 East Africa in order to support and unite them to lead change in their communities. Gender inequality inhibits the growth and development of communities both locally and globally. By coaching women to become leaders, Resonate unleashes their self-confidence, strength and power to lead positive growth in their communities.
"I want to live in a world where every little girl can be or do anything she dreams up—Resonate is building that dream into a reality." — Ayla
"Every day I get to witness the transformation of the women we work with—women like Francine, who was previously unable to live
up to her dream to be a leader and who now conducts monthly meetings to solve problems in her community—and that gives me hope for a better future." — Solange Impanoyimana
www.resonateworkshops.org | facebook | twitter
Shea Yeleen – Rahama Wright, CEO and Founder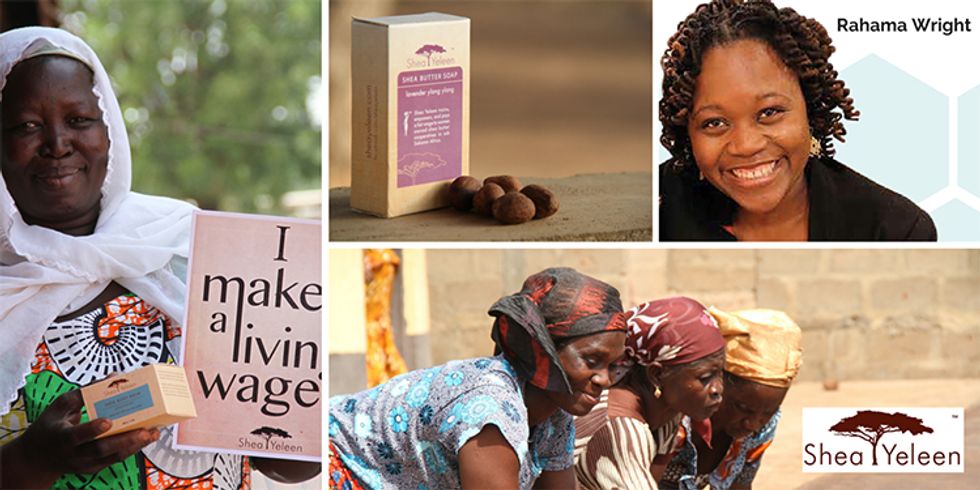 Founded: 2005
Location: Washington, DC and Ghana
Industry: Beauty and Agri-business
For Employing Women Through Shea Butter
The motto of Shea Yeleen is Transform your Skin, Transform a Community. For the last decade, Rahama and the Shea Yeleen team have committed their efforts to supporting economic empowerment of women producers of shea butter in rural Ghana. The company helps Ghanaian women bring high-quality organic shea butter products to the global marketplace while providing them with a source of living wages. Through the business model that Rahama has developed, shea trees are protected from being cut down, consumers have access to healthy and natural bodycare products and women are financially and emotionally empowered.
"I want to live in a world where women everywhere have the financial stability to care for themselves and their families. Each time I visit the shea cooperative and hear a story from a woman who was able to save money or send her child to school, it keeps me going."
www.sheayeleen.com | facebook | twitter
Tonle – Rachel Faller, Founder and Creative Director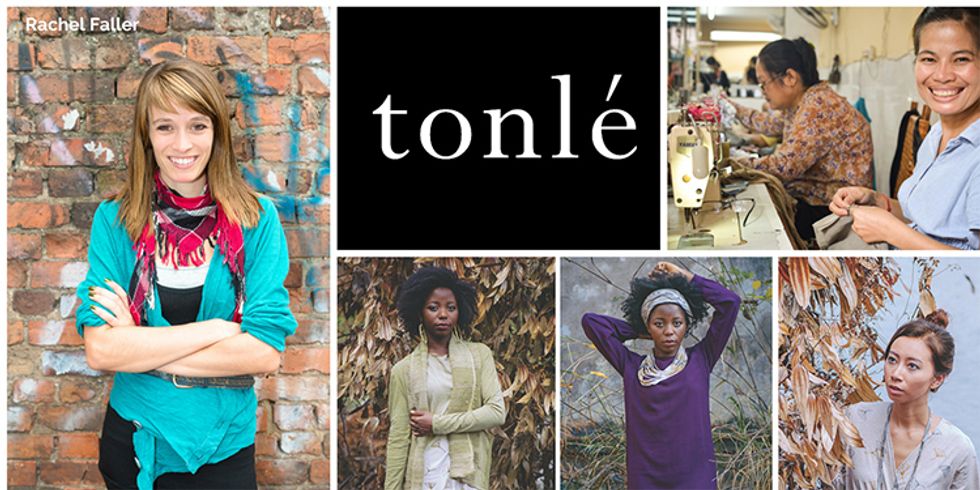 Founded: 2013
Location: Producing products in Cambodia, selling internationally in 15 countries
Industry: Ethical Fashion
For Turning Garment Waste Into Clothes
The garment industry is the world's second largest polluter, throwing away about half of what it 
produces (approximately 50 million tons) in wasteful manufacturing. Imagine if we could cut this pollution in half just by wasting less. Rachel and her team at Tonlé are on a mission to prove that that's possible. Using remnants discarded by large manufacturers, the company produces beautiful, comfortable garments and uses every scrap, creating zero waste in the process. In one year, Rachel and her team have saved 22,000 lbs of textiles, 70 tons of CO2, 450 lbs of pesticides and 46,296,600 gallons of water. And they're just getting started.
"It's hard to say whether the environmental significance of what we're doing or the positive changes in people's lives that we see through our work is more important to me, because at the end of the day how we treat the planet is destroying people's lives today—and we have to do something about that."
www.tonledesign.com | facebook | twitter
4P Foods – Tom McDougall, Founder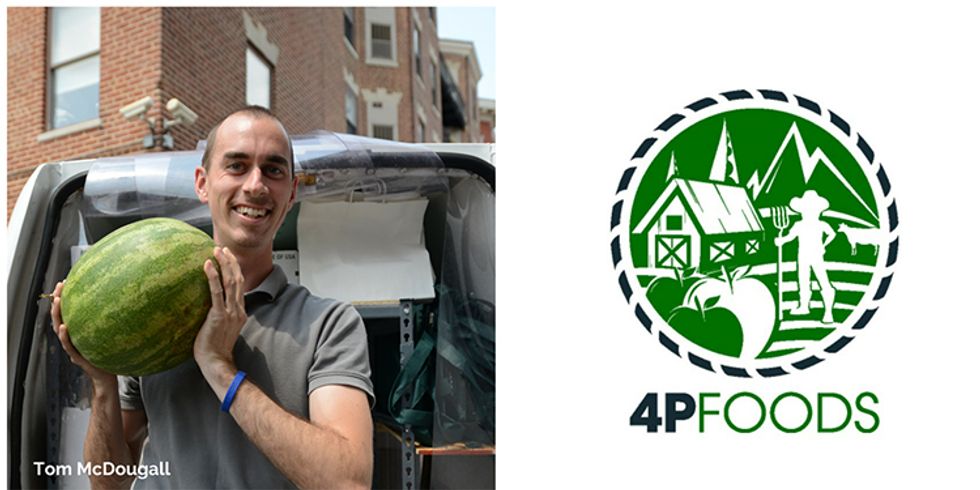 Founded: 2014
Location: Virginia, Maryland and Washington, DC
Industry: Local Food
For Bringing Healthy Food to Food Deserts
Tom and the good people at 4P Foods are working to fix the broken food system by bridging the gap between small family farms that use sustainable practices and those who want
 to support them. The company also uses the power of that community to get good, healthy food into the food deserts that need it most—those that bear a disproportionate burden of the externalized costs of industrial food production. In a sense, Tom and his team are delivering food from good people to good people and, perhaps more importantly, using food as a tool for social justice.
"Our farmers, our members, our team, our partners—as individuals they are all amazing, but the change that is possible when they are all working towards the same vision is humbling, inspiring and powerful."
www.4pfoods.com | facebook | twitter
YOU MIGHT ALSO LIKE
BMW South Africa Unveils Solar Carport to Charge Electric Vehicles
South African Solar-Powered Eco-Village Will Be Car-Free
Grow Your Own Food Right in Your Kitchen With This DIY Aquaponics Kit
Ultimate Family Bike Raises More Than $1 Million in 1 Day of Kickstarter Campaign
On the heels of Canada's approval of GMO salmon, Friends of the Earth U.S. and a coalition of more than 30 consumer, health, food safety and fishing groups released updated numbers Wednesday showing that nearly 80 major food retailers have committed to not sell genetically engineered salmon, despite FDA's approval last November.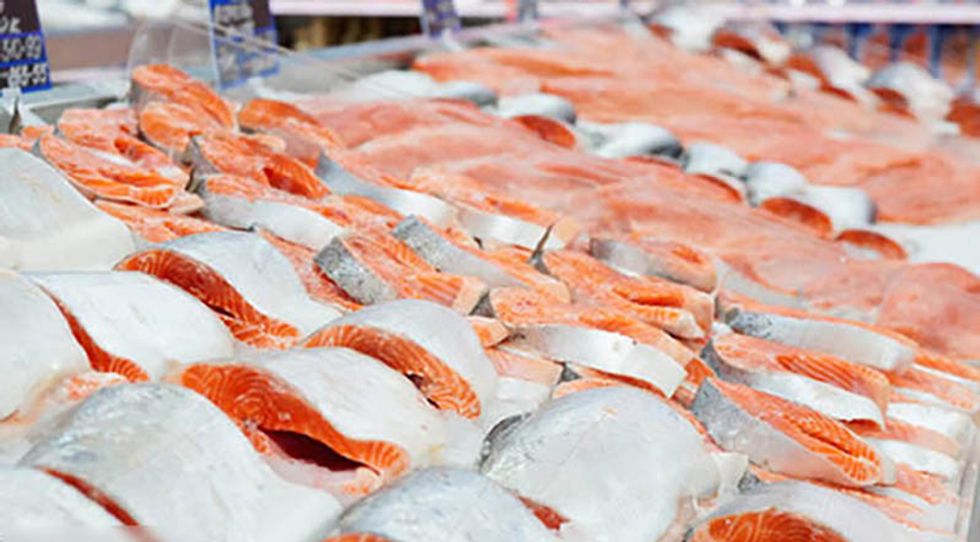 "Despite irresponsible approvals, the growing number of commitments from retailers demonstrates there is no market for GMO salmon," Dana Perls, senior food and technology campaigner with Friends of the Earth, said. "Retailers and restaurants are wisely listening to their customers and rejecting GMO salmon."
Albertsons Companies, owner of Albertsons, Safeway, Vons, ACME, Shaw's and others, stated its commitment to not sell GMO salmon.
"Albertsons Companies and its family of stores, have no plans to carry GE salmon," Jonathan Mayes, Albertsons Companies senior vice president, said in a statement. "The seafood products we offer will continue to be selected consistent with our Responsible Seafood Policy and our partnership with FishWise."
Albertsons Companies, which acquired Safeway in January 2015, continued Safeway's policy on sustainable seafood and GMO salmon for all of its banner stores.
With Albertsons Companies banner stores, a total of more than 79 grocery retailers with more than 11,000 stores have now made commitments to not sell the GMO salmon, including Albertsons, Safeway, Costco, Kroger, Target, Trader Joe's and Whole Foods, along with restaurant chains including Red Lobster and Legal Sea Foods.
Walmart, the world's largest retailer, and Publix are among the last remaining large retail grocers in the U.S. that have not said publicly whether or not they will sell GMO salmon.
A growing body of science suggests that GMO salmon may pose serious environmental and public health risks, including potentially irreversible damage to wild salmon populations.
In the wake of controversy over the U.S. approval, the U.S. has put in place an import ban on GMO salmon until labeling standards are established. The day after Canada's announcement, Provincial Fisheries Minister of Nova Scotia announced the province will ban the farming of GMO fish.
YOU MIGHT ALSO LIKE
David Suzuki: How to Feed the World as the Planet Warms
Vandana Shiva: Small Farmers Are Foundation to Food Security, Not Corporations Like Monsanto
Did Your State Make the Top 10 List for Its Commitment to Local Food?