This website uses cookies to ensure you get the best experience while browsing it. By clicking 'Got It' you're accepting these terms.
Students Study Renewable Energy on Denmark's Island of Samso
Sep. 24, 2014 02:17PM EST
Renewable Energy
College of the Atlantic is an University partner on EcoWatch.
Thirteen students, two graduate students and two faculty members from College of the Atlantic (COA) are in Europe for two weeks, studying ways to bring energy independence and cost reductions to Maine islands.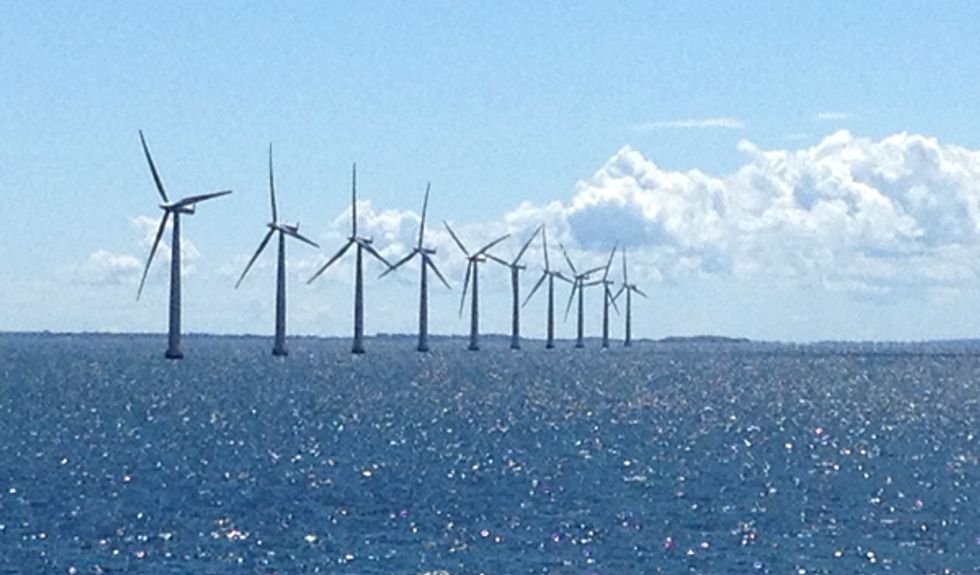 In a unique partnership with the Island Institute funded by the Fund for Maine Islands, COA students are engaged in a "monster course" that's actually three distinct, one-credit courses: Energy and Technology, Impact Investing and Islands: Energy, Economy and Community.
While interacting with COA faculty members Jay Friedlander and Anna Demeo, with Maine islanders and with energy researchers from Denmark, students also are attending the renowned Samso Energy Academy, to learn firsthand from residents of this farming and tourist community how Samso became "carbon negative" (absorbing more carbon emissions than it produces) through efficiency upgrades, wind and solar power production, biomass-distributed district heating, and other elements of a renewable energy portfolio.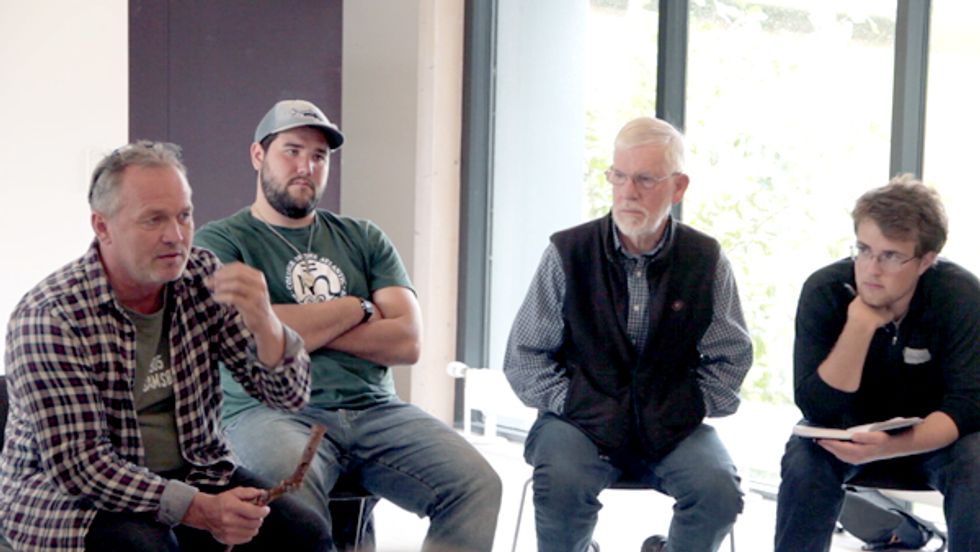 In early October, they will return to Maine and the course will continue. Students will work to develop project ideas and feasibility studies for energy initiatives that Maine islanders can implement on the Maine coast to help their communities become more sustainable.
"Bringing education beyond the classroom and taking on real problems elevates the learning to a new level and merges thought and action," said Friedlander, the Sharpe-McNally Chair of Green and Socially Responsible Business. "Students are more engaged and have depth of understanding far beyond the textbook."
You can follow the unique educational experience of COA students in Samso by reading their blog posts, which will be posted regularly at EcoWatch.
Samso was appointed Denmark's renewable energy island in 1997. With the appointment, the goal was to become self-sufficient in renewable energy and "create a demonstration window for the proven technologies of the time."
The local community on Samsø owns 11 land-based wind turbines that produce more than enough power to cover the entire island's electricity consumption. The islands community earns a larger or smaller amount of money depending on how large a share they have in the wind turbine.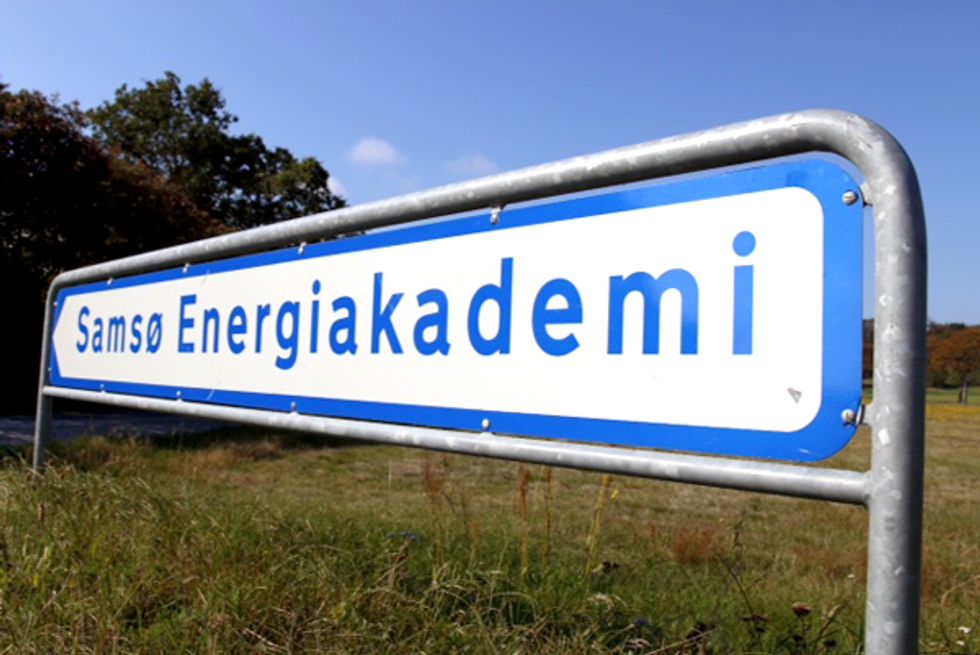 All 21 wind turbines produce electricity which the "samsings" (residents of Samsø) sell to the mainland. Approximately 4,000 samsings have started their own household economy, which has developed new areas of jobs.
Study is occurring at Samso Energy Academy (Samso Energiakademi)—an international meeting center where new exhibitions about technology and social measures are continuously developed to promote energy reductions with a focus on the earth's survival.
The Academy is a local workplace with 12 persons in the project staff, who works with renewable energy and energy savings worldwide. The Energy Academy also houses Energy Service Samsø, where the island's residents get free advice when they want to figure out where the savings are for example by isolation or how to replace the oil burner.
The Energy Academy organizes seminars, conference, workshops and corporate events. More than 6,000 politicians, journalists and students from around the world each year visit Samsø to see the renewable energy island and learn from the pioneering community's experience.
Each student in the course will have the opportunity to develop an energy project that reflects the needs and priorities of his or her own community. Island Institute staff and COA faculty will work with participants to support project development by focusing on three main elements throughout the course: energy technology, financing and business development, and community engagement.
Sample project topics could include community-owned offshore wind, implementing island-wide energy efficiency, accessing alternative heating fuels and systems, evaluating offshore wind power or developing energy-focused ecotourism.
"Creating synergy between two leading institutions on the coast of Maine will amplify our ability to effectively address some of the greatest challenges to the sustainability of the region's year-round island communities," said college president Darron Collins '92.
"College of the Atlantic is home to leading scholars in human ecology while the Island Institute brings more than 30 years of experience in community development and a rich network of community partners," Collins said. "This collaboration will facilitate the sharing of information, from world-class research to a grounded understanding of local assets and strategies, to develop and implement appropriate, viable solutions."
YOU MIGHT ALSO LIKE
We Can Run the Planet on 100% Renewable Energy
We Can Transition to 100% Renewable Energy Starting Today
EcoWatch Daily Newsletter
Pexels
Vitamin C is a very important nutrient that's abundant in many fruits and vegetables.
BLM drill seeders work to restore native grasses after wildfire on the Bowden Hills Wilderness Study Area in southeast Oregon, Dec. 14, 2018. Marcus Johnson / BLM / CC BY 2.0
By Tara Lohan
In 2017 the Thomas fire raged through 281,893 acres in Ventura and Santa Barbara counties, California, leaving in its wake a blackened expanse of land, burned vegetation, and more than 1,000 destroyed buildings.
Brogues Cozens-Mcneelance / EyeEm / Getty Images
Fruit juice is generally perceived as healthy and far superior to sugary soda.
Pexels
By Danielle Nierenberg and Katherine Walla
As the holiday season ramps up for many across the world, Food Tank is highlighting 15 children's books that will introduce young eaters, growers and innovators to the world of food and agriculture. Authors and organizations are working to show children the importance — and fun — of eating healthy, nutritious and delicious food, growing their own produce, and giving food to others in need.
Pixabay
Purple cabbage, also referred to as red cabbage, belongs to the Brassica genus of plants. This group includes nutrient-dense vegetables, such as broccoli, Brussels sprouts, and kale.